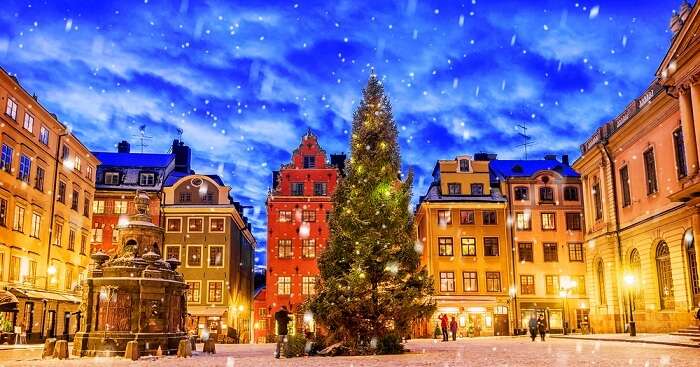 Best Time To Go

May, June, Sep
Currency

Dollar
Major Airports

Heathrow Airport
Souvenirs

Chocolates
Few places on this planet stir up as much passion as Europe does. There's something about its cities that leave you in awe; something that is not confined by boundaries. While the snow-clad Alps inspire every adventure junkie to put on those trekking shoes, the historical monuments make the cities housing them every history-lover's dream destination. And not to mention the shimmering rivers & canals, the vast grasslands, and the night skies lit with every shade that one might find only on the ground. The most beautiful cities in Europe are painted with all those colors; and a lot more.
Lucky are those who already stay in these beautiful cities of Europe. For they need not take an off to witness the beauty. All they need is a motivation to spend a weekend in most beautiful European cities; something that they'll always have.
The following pictures of the most beautiful European cities are sure to want to pack your bags and head to Europe right away.
The Most Beautiful Cities In Europe You Must Visit
Take a peek at the most charming cities and towns spread across the vast continent of Europe. We bet you won't be able to resist a trip these once you've seen what they offer!
Florence
Venice
Rome
Milan
Amalfi
Naples
Bologna
Bern
Lucerne
Zurich
Interlaken
Montreux
Wengen
Salzburg
Vienna
Barcelona
Madrid
Paris
Annecy
Bordeaux
Mostar, Bosnia and Herzegovina
Rovaniemi, Finland
London, England
Edinburgh, Scotland
Amsterdam, Netherlands
Bruges, Belgium
Copenhagen, Denmark
Dubrovnik, Croatia
Bergen, Norway
Port Santorini, Greece
Prague, Czech Republic
Budapest, Hungary
Istanbul, Turkey
Stockholm, Sweden
Nuremberg, Germany
Beautiful Cities In Italy
Here are some of the most charming cities and towns in Italy that you must visit during your tour to Europe.
1. Florence: The Cradle Of Renaissance

Loved by both history geeks and couples, Florence is a charming city in Italy that shot to fame after the movie "Inferno" was shot here. It's the capital city of Italy and is located in the Tuscany region. It is home to various masterpieces of Renaissance art and architecture. Famed for iconic sights like the Duomo cathedral and the Galleria dell'Accademia, it is a must visit place in Europe.
Suggested Read: 10 Cheapest Cities In Europe Where Backpackers Can Travel On A Budget!
2. Venice: World's Most Beautiful Canal City

Be it the gondola dotted turquoise waters of this city or the romantic architecture, Venice never fails to impress visitors with its Instagrammable lanes and canals. Other than ancient architecture, the Glass Factory, the islands, and the picture-perfect canals, this place is also famous for its shopping lanes where you'll find the best fashion and lifestyle merchandise from top brands.
Must Read: 26 Best Places To Visit In Venice In 2022 – The Most Beautiful Canal City Of The World | 15 Things To Do In Venice For An Engrossing Holiday
3. Rome: The Eternal City

The indisputable home of the Pope, Rome is a politically and culturally important city in Italy. This sprawling cosmopolitan houses some of the most prominent and influential art, architecture, and cultural hubs in the country. It is popular for the ancient ruins such as the Forum and the Colosseum, as well as the St. Peter's Basilica and the Vatican Museums located in Vatican City.
Must Read: 10 Must-See Tourist Places In Rome: Flipping Through The Pages Of Roman History
4. Milan: The Fashion Capital Of Italy

Milan is a charming metropolis located in the northern Lombardy region of Italy. It is known as the global capital of fashion and design and houses various high-end restaurants and shops. With endless options to shop from, it is every shopaholic and artist's paradise.
Suggested Read: 15 Best Hotels In Italy: From Classy To Affordable Ones
5. Amalfi: The Cliff-city By The Coast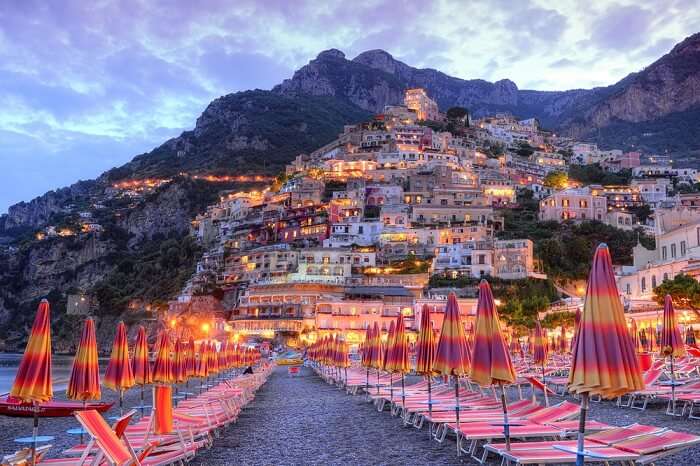 Set in a dramatic natural setting right under picture-perfect steep cliffs, Amalfi is a beautiful town. Other than the beaches, the famous aspect of this town is the Arab-Norman Sant'Andrea cathedral located in the very heart of the town, as well as the Museo Arsenale Amalfi.
Suggested Read: 12 Best Islands In Europe For 2022 Honeymoon Packed With Romance & Passion
6. Naples: Melting Pot Of Greek & Roman Cultures

Situated in southern Italy, Naples is nestled on the Bay of Naples near the towering Mount Vesuvius, the infamous active volcano that had destroyed the Roman town of Pompeii long ago. Naples is home to an abundance of important art and architecture belonging to the 2nd millennium B.C. some of the major landmarks of this place include Duomo di San Gennaro cathedral, the lavish Royal Palace, and the Castel Nuovo.
Suggested Read: 10 Tourist Places In Italy That Are Sinfully Gorgeous
7. Bologna: A Harmonious Medieval Medley

Bologna happens to be a lively, historic town in northern Italy that charms visitors every time. The most prominent feature of this place is the beautiful Piazza Maggiore, which is a sprawling plaza lined with arched colonnades, cafes, as well as medieval and Renaissance structures. Some of these famous structures include the City Hall, the Fountain of Neptune, and the Basilica di San Petronio.
Suggested Read: The Travel Account Of His Trip To Italy Is A Real Inspiration For Travelers #MustRead
Beautiful Cities In Switzerland
While it's not easy to single out one beautiful city in Switzerland, we still have given you the option of the most charming ones to help you decide.
8. Bern: The Captivating Swiss Capital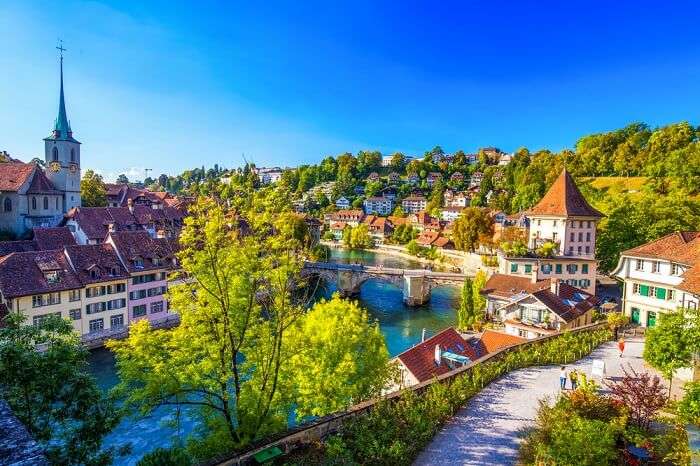 Bern is the capital city of Switzerland and is located around the shimmering Aare River. It had originated back in the 12th century and the locals have still preserved its medieval architecture in the Altstadt (Old Town). It is also home to the Swiss Parliament and the Neo-Renaissance Bundeshaus (Federal Palace).
Suggested Read: 14 Spectacular Switzerland Tourist Attractions That Are Worth A Visit In 2022!
9. Lucerne: The Atmospheric City In Switzerland

Lucerne is bounded by picturesque snow-capped mountains and has the famous and charming Lake Lucerne right in the middle. Its well-preserved medieval architecture is also another attraction that calls people here, along with the colorful Altstadt (Old Town).
Suggested Read: Australia Tourist Attractions: Do You Dare To Visit All These 49 Places On Your 2022 Aussie Trip?
10. Zurich: Cultural And Contemporary

Zurich is the primary center for banking and finance in Switzerland and also in the world. It lies over Lake Zurich in northern Switzerland, which is the main attraction the whole city and provides a great venue for cruising in Switzerland. Other than this, history lovers like to roam around in the Old Town that reflect this city's pre-medieval history and is set on either side of the Limmat River.
Must Read: 15 Splendid Places To Visit In Zurich In 2022 While On A Swiss Vacation!
11. Interlaken: Home To Glacier-fed Lakes

Located in the mountainous Bernese Oberland region of Switzerland, Interlaken is a traditional resort town that is tucked on a rather narrow stretch of valley. It is situated between the emerald-colored waters of Lake Thun and Lake Brienz, and is famous for its old timber houses and its stunning landscapes complete with hills, thick forests, alpine meadows, and glaciers.
Suggested Read: 14 Terrific Things To Do In Portugal To Soak In The Rich Portuguese Flavor
12. Montreux: A Resort Town On Lake Geneva

This is another traditional resort town and it is located between steep hills and the stunning Lake Geneva. It's popular because of its mild microclimate and the Montreux Jazz Festival that is held here every July. couples and families love this town for its flower fields, sculptures, Mediterranean trees, the grand Belle Époque buildings, and the medieval island castle of Château de Chillon.
Suggested Read: Top 20 Things To Do In Switzerland On Your Europe Holiday In 2022
13. Wengen: Photogenically Poised On A Mountain Ledge

This is a surreal Swiss Alpine village famed for its timber chalets and belle époque hotels. It has the Jungfraubahn railway that goes up to the Jungfrau summit and gives stunning views of the Aletsch Glacier from the top. It is also popular for the charming cable car ride it provides to travelers to reach Männlichen's slopes and trails and view the beautiful Eiger and Mönch peaks from there.
Suggested Read: Finland Tourism – Land Of A Thousand Lakes Is Every Traveler's Dream Destination
Beautiful Cities In Austria
See what cities and towns hold the real charm of this beautiful country bounded by snow-capped Alps and the most vivid culture in Europe.
14. Salzburg: The Stage Of The World

Set in the lap of the beautiful Swiss Alps, this is a mesmerizing and soothing town in Austria famed for its blissful weather, charming architecture, gardens, and stunning landscapes. The famous Hollywood flick "The Sound Of Music" was shot in these very landscapes and you will surely be thrilled to visit them all during your trip!
Suggested Read: In Pictures: A Breathtaking Kaleidoscope Of Austria's Most Beautiful Spots
15. Vienna: Steeped In Imperial History

If you wish to experience the true heritage and history of Austria, you must visit the city of Vienna, which happens to be Austria's capital. Lying on the Danube River, this city's artistic and intellectual legacy and its deep connection with legends like Mozart, Beethoven, and Sigmund Freud attracts many travelers to this place. Don't forget to visit the imperial palace of Schönbrunn here and tale a horse carriage ride across the city.
Must Read: Top 20 Places To Visit In Vienna On Your Next Trip In 2022!
Beautiful Cities In Spain
Learn about the amazing culture and traditions of the Spanish in these pretty and welcoming cities of Spain in Europe.
16. Barcelona: Enchanting Seaside City With Boundless Culture

Barcelona takes pride in being the cosmopolitan capital of Spain's Catalonia region. Famed for its art and architecture, Barcelona has various art galleries and museums spread across the city. It is also popular for its architecture that can be seen in prominent structures like the Sagrada Família church. The lively nightlife, aquarium, and beaches also attract people here.
Must Read: 15 Best Things To Do In Barcelona That Are Enough To Relish The Real Taste Of Spain!
17. Madrid: The Golden Metropolis

If you wish to witness the popular Spanish dance called Flamenco, then you must visit the city of Madrid brimming with culture, colors, and music. This city is known for its elegant boulevards and huge manicured parks such as the Buen Retiro, along with the old Hapsburg Madrid area where travelers and locals like to hang out.
Suggested Read: 20 Most Beautiful Cities In Spain: Get Spellbound By Them On A Trip In 2022
Beautiful Cities In France
These French cities and towns are sure to mesmerize you and your travel companions and leave you wishing you could stay here forever!
18. Paris: Instantly Recognisable; Forever Amiable

This city needs no description or introduction. Every couple's dream destination, this romantic city is among the most beautiful in the whole world, and not just Europe. Being France's capital, it is the prime center for art, fashion, food, and culture in this country. Be it a cruise on the River Seine or the views of the city from the top of the Eiffel Tower, this city will leave you beguiled!
Must Read: 7 Amazing Travel Hacks For Visiting Paris On A Budget Vacation In 2022
19. Annecy: The Venice Of Savoie

This sweet Alpine town is where Lake Annecy merges into the Thiou River, creating a sight to beautiful to be missed. This town is famous for the Vieille Ville (the old town square), lined with cobbled streets, winding canals, and eye-warming pastel-colored houses. When here, you must also pay a visit to the medieval Château d'Annecy overlooking the city.
Suggested Read: Serene Alternatives To Europe's Most Crowded Cities
20. Bordeaux: Of Sunlit Vineyards & Neoclassical Architecture

Bordeaux is the home of the popular wine-growing region of France. Other than enormous expanses of vineyards, this port city is also famous for its Gothic Cathédrale Saint-André, charming public gardens, age-old mansions, and noteworthy art museums like the Musée des Beaux-Arts de Bordeaux.
Suggested Read: 27 Incredibly Charming Places To Visit In France In 2022
Other Beautiful Cities In Europe
Still haven't had your fill of the most beautiful cities in this vast continent? Well, see some more that you can visit:
21. Mostar, Bosnia And Herzegovina: A Beautiful Slice Of The Past

The crown jewel of Bosnia and Herzegovina, this city straddles the Neretva River which is what makes it so picture-perfect. It is famed for its iconic Stari Most (Old Bridge), uniquely lined alleys full of shops and market stalls, the Koski Mehmed-Pasha Mosque that offers gorgeous panoramic views of the city, and the Old Bridge Museum.
Suggested Read: 10 Tourist Places In Italy That Are Sinfully Gorgeous
22. Rovaniemi, Finland: Official Hometown Of Santa Claus

If your idea of a European vacation revolves around riding a reindeer-pulled sled down a snowy valley or skiing on icy slopes, then Rovaniemi is the right place for you to be. And the fact that it's totally picturesque and will provide wonderful backdrops for your Instagram feed will be a cherry on the cake! This capital of Lapland is the official home of Santa Claus and a great place for viewing the Northern Lights.
Suggested Read: 15 Free Things To Do In Europe For Backpackers And Budget Travelers
23. London, England: The Gothic Grandeur By The River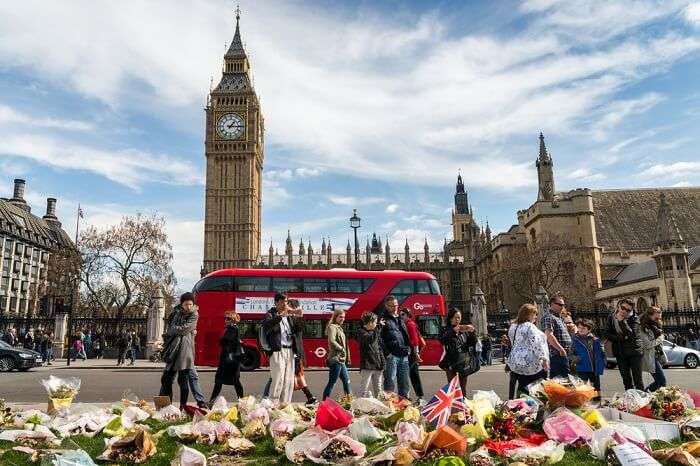 The home of iconic attractions like Big Ben, London Eye, Thames River, Houses of Parliament, Westminster Abbey, London is among the most beautiful and busiest cities of the world. Many scenes from the renowned Harry Potter franchise were shot in strategic locations across this city, including the King's Cross train station. You can also visit the exciting Warner Bros studio when you're here.
Suggested Read: Celebrate Your Honeymoon In London Like A Royal Affair With This Travel Guide!
24. Edinburgh, Scotland: Athens Of The North

Tucked in the glorious hills of Scotland, Edinburgh is known for its medieval history and architecture. Dotted with gardens, neoclassical buildings, and important structures like the famed Edinburgh Castle, Arthur's Seat, Holyrood Park, and Calton Hill, this gorgeous city must not be missed.
Suggested Read: 15 Best Places To Visit In Scotland In 2022 On Your Next U.K. Trip!
25. Amsterdam, Netherlands: Of Cycles, Bridges, Canals, & Museums

The gorgeous and exciting capital of the Netherlands, Amsterdam is on every youngster's list. It is known for its artistic heritage, expansive canal system, narrow houses, and famous museums like the Van Gogh Museum, Rijksmuseum, and Stedelijk. Other than cruising, people here can explore the city on cycles and get a taste of the nightlife.
Must Read: Sizzling Nightlife In Amsterdam: 10 Best Clubs & Bars
26. Bruges, Belgium: The Canal City Of Soaring Towers And Cobbled Lanes

Bruges is characterized by its stunning canals, cobbled streets, and medieval buildings like the 14th-century Stadhuis (City Hall). The city has a port called Zeebrugge that serves as an essential center for fishing and European trade. The Burg Square and Markt Square are charming areas known for their many shops and cafes.
Suggested Read: In Pictures: 18 Most Beautiful Canal Cities In The World
27. Copenhagen, Denmark: The Happiest City In The World

This beautiful capital city of Denmark is tucked on the coastal islands of Zealand and Amager. Some of the most iconic landmarks and attractions in the city include the Öresund Bridge, Indre By, Frederiksstaden, Amalienborg Palace, Christiansborg Palace, and the Rosenborg Castle that is surrounded by lush gardens and houses Denmark's crown jewels.
Suggested Read: Things To Do While Celebrating Christmas In Europe: A Perfect Vacation
28. Dubrovnik, Croatia: Bewitching Jewel In The Adriatic

Offering panoramic views of the gorgeous Adriatic Sea, this is a charming city of Croatia. Other than its awesome shops and restaurants, Dubrovnik is famed for its distinctive architecture and attractions including the Old Town, St. Blaise Church, Renaissance Sponza Palace, Gothic Rector's Palace, and the Stradun (or Placa).
Suggested Read: Croatia Honeymoon: All You Need To Plan An Incredible Escape In 2022
29. Bergen, Norway: An Outburst Of Colors Among The Norwegian Fjords

Perched on Norway's southwestern coast, Bergen is surrounded by snowy mountains and glassy fjords, including the country's longest and deepest fjord called Sognefjord. It's main attraction are its colorful wooden houses situated on the old wharf that are truly charming to witness. One can take the Fløibanen Funicular and go up to the Fløyen Mountain for stunning panoramic views of the city and some exciting hiking trails.
Suggested Read: 10 Romantic Things To Do In Norway For Couples
30. Port Santorini, Greece: Of Multicolored Cliffs

A picture-perfect blend of white and blue architecture with the turquoise blue sea in the backdrop, this unique town is located on one of the Cyclades islands in the Aegean Sea. It's rugged landscape was formed after a volcanic eruption in the 16th century BC. A favorite of couples and honeymooners, this place is famous for its whitewashed houses, jagged cliffs, and beaches comprising of black, red and white lava pebbles.
Must Read: Santorini Honeymoon Is The Romantic Escape Newlyweds Dream Of!
31. Prague, Czech Republic: The City Of A Hundred Spires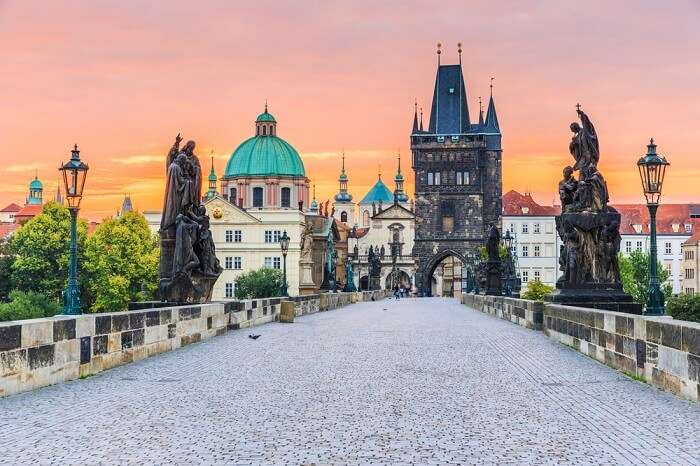 The capital city of the Czech Republic is known for its ancient architecture and the famous Vltava River where one can sail away on a lavish cruise. Some of the prime attractions that draw travelers here include the Old Town Square, the Astronomical Clock, the Charles Bridge, Prague Castle, Vysehrad Castle, and the Lennon Wall.
Must Read: Prague Honeymoon Guide: 13 Sizzling Recipes To Spice Up Your Trip To The Land Of 100 Spires
32. Budapest, Hungary: Gothic Grandeur On The Danube

Divided by the scenic River Danube, Budapest is the capital city of Hungary filled with ancient architecture and various exciting avenues to hang out. Travelers come here from far and wide to see notable landmarks like the Chain Bridge, Buda Hill located on the hilltop, Buda's Old Town, History Museum, Matthias Church, and the Fishermen's Bastion.
Suggested Read: 31 Festivals In Europe That Will Up The Fun Factor Of Your Euro Tour In 2022
33. Istanbul, Turkey: Where The Continents Collide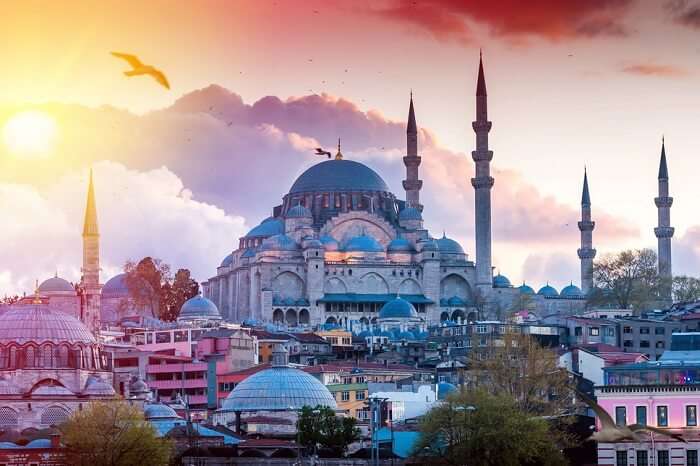 Often called the bridge between Europe and Asia, Istanbul lies on the Bosphorus Strait and is an important city in Turkey. Reflecting the age-old and unique culture of Turkey that is a blend of Islamic and Roman heritage and traditions, Istanbul has many charming attractions that people like to explore. The Sultanahmet district, the Roman-era Hippodrome, the Egyptian obelisks, the Hagia Sophia, and the various Hammam baths laid out across the city draw people here.
Must Read: 20 Tourist Hot Spots That Make Istanbul A Perfect Holiday Destination
34. Stockholm, Sweden: Of Harbor-side Elegance

Spread out like a spider web, Stockholm encompasses 14 islands and over 50 bridges making up an extensive Baltic Sea archipelago. It's famed for its cobblestone streets and ochre-colored buildings in the Old Town. Other than these, the city is famous for the 13th-century Storkyrkan Cathedral, Kungliga Slottet Royal Palace, the Nobel Museum, and its various sightseeing boats and ferries.
Suggested Read: Top 27 Places To Visit In Greece In 2022 For A Perfect Mediterranean Vacation
35. Nuremberg, Germany: Of History By The Water Bodies

Nuremberg happens to be the second-largest city in Bavaria, Germany, after the capital city of Munich. However, it is often referred to as the largest city in Germany owing to its massive population of 511,628 inhabitants. It was once the center of the Nazi rule in Germany, the marks of which can still be seen in its iconic architecture and buildings.
Further Read: 10 Most Popular Europe Trips To Plan 2022's Ultimate Escape
Wanna head to these beautiful cities in Europe? Book a Europe holiday and begin your journey right away. Don't forget to tell us about your experience of touring these scenic cities and towns once you're back!
Disclaimer: TravelTriangle claims no credit for images featured on our blog site unless otherwise noted. All visual content is copyrighted to its respectful owners. We try to link back to original sources whenever possible. If you own the rights to any of the images, and do not wish them to appear on TravelTriangle, please contact us and they will be promptly removed. We believe in providing proper attribution to the original author, artist or photographer.
Please Note: Any information published by TravelTriangle in any form of content is not intended to be a substitute for any kind of medical advice, and one must not take any action before consulting a professional medical expert of their own choice.
Frequently Asked Questions About The Beautiful Cities In Europe
Fore more info, see these common queries travelers usually have:
Which is the most beautiful country in Europe?
With so many beautiful countries in Europe, it is not possible to single out one. Some of the most charming countries you can visit here include Switzerland, Austria, Scotland, Turkey, Iceland, Greece, Croatia, France, and Norway.
Which country is the richest in Europe?
Luxembourg is the richest country in Europe with the highest per capita income.
Is Krakow cheaper than Budapest?
The hotels in Budapest are a little pricey, which is why Budapest is considered to be more expensive than Krakov.
Which is the most dangerous country?
According to the 2018 GPI report, South Sudan is the most dangerous country to be in at present.
---
Looking To Book An International Holiday?
Book memorable holidays on TravelTriangle with 650+ verified travel agents for 65+ domestic and international destinations.
---
People Also Read:
Romantic Cities In The World Cheapest Cities In Asia Beautiful Destinations In Asia