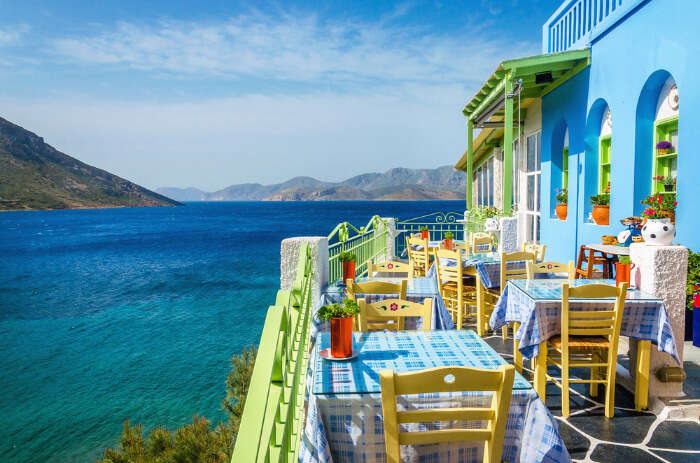 Restaurants in Rhodes, Greece are like a catalogue of the best flavours of Greece. From traditional recipes, to a modern reinvention, you will get too see the best of the culinary art right here! With so many restaurants located in a serene neighbourhood, you will also find some of the best places to eat in Rhodes lined on the seaside. From friendly cafes, to sophisticated villas that are converted into restaurants, there are many types of eateries, each one better than the first!
Top 12 Rhodes Restaurants
If this is your first visit to the city, here are some of the best Rhodes restaurants for you to add to your itinerary. Serving delectable meat, burgers, sushi, and especially Greek seafood, there is no better place to explore this culinary world than here!
1. Marco Polo Cafe
Located in one of the most posh hotels of Rhodes, Marco Polo Cafe is the shining gem of the Marco Polo Mansion. The mansion dates back to the 15th century, which brings with it the most lavish Ottoman designs, and an air of class. While the gardens depict the lives of the royals, you will find the decor too matching to royalty, with a large collection of tapestry from all over the world. The food served here cannot be appreciated enough. Along with exquisite flavours, everything from the fresh produce to the presentation is beyond expectations. Since it is one of the best Rhodes old town restaurants, a visit here for any foodie is a must!
Must Try: Tagliata, Saffron Panna Cotta, Seafood Salad
Location: Agiou Fanouriou 37, Rodos 851 00, Greece
Cuisine: Mediterranean, European, Greek
Google Rating: 4.8
Website
Must Read: Greece In December 2021: A Guide To Explore The Gem Of Aegean Sea During Winters!
2. Mavrikos
Famous for being one of the oldest restaurants in this area, Mavrikos enjoys a huge loyal customer base. What once started as just a dream, has today achieved a new level in the culinary world. The journey that started in 1912, is today one of the best restaurants in Rhodes, with some of the most important people of the world making it a point to dine here. What is commendable is that the recipes based on age old family secrets, still remain a mystery, adding an incredible value to all that is served here. At the same time, the restaurant also loves to experiment with modern techniques! They also have an excellent collection of wine, some of which are locally sourced.
Must Try: Calamari sautéed with beetroots and saffron, cuttlefish-ink risotto, grilled tuna with a colis of balsamic syrup, lamb in kumquat sauce
Location: Lindos 851 07, Greece
Cuisine: Greek, Mediterranean
Google Rating: 4.2
3. Kerasma
A fairly new addition to the cuisine culture of Rhodes, Kerasma was established in 2010. And in just a small period of time, it has risen to be amongst the best culinary experiences of the city of Rhodes! With an aim to bring a modern turn to the traditional delicacies of Greece, Kerasma has become one of the best restaurants in Rhodes. While here, their fusion dishes are a must, and if you are a seafood lover, you must try their grilled octopus dipped in honey. With a cellar rich in some of the most exquisite wines, you will be spoilt for choice for the perfect brew here!
Must Try: Lamb shank, tiramisu, gluten free options
Location: Leontos 6, Rodos 851 00, Greece
Cuisine: Greek, Mediterranean
Google Rating: 4.7
Website
Suggested Read: 10 Places To Visit In Mykonos For An Ideal Vacation In The Picturesque Island Of Greece!
4. Hatzikelis
Lauded by critics from all over the world, Hatzikelis enjoys a loyal patronage from the best of the world. With their signature dishes stealing the limelight almost all the time, they also have a few surprises up their sleeve for those flavour adventurers. Another plus point of this restaurant is their courtyard seating. Fragrant with bushes and flowers, and overlooking the beautiful ruins of the Church of the Virgin, it is one of the best Rhodes restaurants to plan a romantic dinner in the city. Famous for its seafood, it is no less that a sin to come here and not eat their special fish preparations!
Must Try: Shrimps in ouzo sauce, mussels, steak, cutlets, moussaka
Location: αλχαδεφ 9, Rodos 851 00, Greece
Cuisine: Greek
Google Rating: 4.4
5. Melenos Lindos
With a historic air, and the beauty of the past, Melenos Lindos is a mystical place to visit in Rhodes. While the villa gives a 17th century feel, it is the rooftop restaurant that allures romantics into its comforts. The entire place lights up at night, while during the day, the gorgeous views of Aegean can be enjoyed from the rooftop. Look down onto the street, and the cobblestone streets lined with blooming bougainvillea is a stunning sight! They serve comfort food, warm and cosy, which at once make you feel at home. To have the best experience, you must visit it during sunset, although, it is recommended that you book a table for the same in advance.
Must Try: Lamb cutlets, beef fillet, moussaka, mille feuille
Location: Lindos, Lindos Rhodes 851 07, Greece
Cuisine: Greek, European, Mediterranean
Google Rating: 4.5
Website
Suggested Read: 15 Greek Islands That Must Figure In Your Greece Travel Itinerary
6. Nireas
Another restaurant in Rhodes that is known for its seafood is Nireas. A perfect retreat for the sightseeing tourists on a bright afternoon, the lush greenery, and the cool shade is perfect during the summers. The ambience of the restaurant is also very calm and soothing. While here, be sure to try some seafood, as they offer everything from squids to fish, and their preparations too are quite exciting. For those who love seafood, you would know that there is no better joy that fresh seafood, prepared with the best sauce. The experience is also enhanced by the prompt service and friendly staff!
Must Try: Seared Tuna with sesame seeds, crab cakes, tiramisu
Location: Sofokleous 22, Rodos 851 00, Greece
Cuisine: Mediterranean, Greek
Google Rating: 4.4
7. Ta Kioupia
Redesigning the flavors of traditional Greece recipes, Ta Kioupia is a restaurant in Old Town Rhodes that is gaining steady popularity. A gourmet restaurant of a kind, this upscale restaurant was opened with an aim to be the best at everything! The ambiance is elite and stunning, and cozy and comfortable at the same time. One of the finest Rhodes restaurants Greece, this place also boasts of an excellent menu, with seafood, as well as meat dishes, not to mention an excellent collection of wine! Located amidst the bustling of the Old Town, this is a quiet place to enjoy some delicate, delicious food. Enjoy!
Must Try: Tzatziki, kleftiko
Location: Greece, Menekleous 22, Rodos 851 00, Greece
Cuisine: Mediterranean, Greek
Google Rating: 3.9
Suggested Read: 12 Best Resorts In Greece That Make You Feel Like Royalty
8. Taverna Kostas
Do you have that one place back home, where your menu is decided, the seat is fixed, and so is the company? Taverna Kostas is that place among the many Rhodes restaurants, Greece. Homely comfort food, full of flavours, an ambience that will make you feel at home, and the staff that are like friends and family. If you are here for a few days, and visit this restaurant a couple of times, don't be surprised if you see some locals here again and again. It is loved by all here, and is sure to tickle your taste buds too!
Must Try: Calamari, octopus' salad, sea bream, moussaka, baklava
Location: Pithagora 62, Rodos 851 00, Greece
Cuisine: Mediterranean, Greek
Google Rating: 4.7
9. Tamam
If you already have this restaurant on your list of must visits, you would already be aware that booking a table here in advance is a must! While the queue may seem unlimited, it is well worth the wait too. Tourists find this to be amongst the best restaurants in Rhodes for its excellent food, homely comfortable services, and an atmosphere of fun and energy. When it comes to the cost too, this restaurant charges the best prices! The quality of food surpasses the prices, and you will leave having had the best culinary experience of Rhodes! Do make sure you give this restaurant a try!
Must Try: Pork shank, steak, mussels, shrimp meal
Location: Leontos 1, Rodos 851 00, Greece
Cuisine: Greek
Google Rating: 4.8
Website: https://www.tamamrhodes.gr/en/menu.html
Website
Suggested Read: 10 Hotels in Greece That Are A Treat For The Senses!
10. Arhontiko
With an atmosphere of cruising along the sea, Arhontiko is set in a 17th-century villa that was initially the home of a Captain. With sea chests, pebbled flooring, and arches giving it the perfect sophisticated look, the soft cushion seating, the warm energy, and the simplistic design brings a sense of comfort to all! For a more romantic seating, head to their outdoor terrace, that offers guests incredible views of the Acropolis. Staying true to its theme, and religious to its reputation, this is among the best Rhodes restaurants with a view and is popular amongst seafood lovers. Serving delicious seafood preparations, there is nothing that you will order and regret. And surely, you are bound to come here multiple times during your visit!
Must Try: Grilled squid, steak
Location: Lindos 851 07, Greece
Cuisine: Greek, Mediterranean
Google Rating: 4.5
11. Meltemi
A favourite amongst locals, as well as frequenting tourists, Meltemi carries with it a unique reputation. While the restaurant may not seem very impressive from outside, you step in, and you would have entered a whole different world! The atmosphere is light, friendly, and energetic, the staff and service prompt and efficient, and the food… simply excellent! Greek food at its best, you must gorge on the seafood here, while overlooking the gorgeous waters, making it one of the loveliest Rhodes restaurants with a view. This beachside restaurant must be on your list of where to eat in Rhodes, and if it isn't as yet, add it now!
Must Try: Eggplant saganaki, sea bass, mussels, tzatziki, stuffed squid
Location: 8,, Pl. Kountourioti, Rodos, Greece
Cuisine: Greek, Mediterranean
Google Rating: 4.3
Suggested Read: 8 Restaurants In Hungary That Can Match Any European City For Culinary Travel
12. Akti Ixia
A multi-cuisine restaurant in Rhodes, Akti Ixia is popular amongst travelers looking for a quick bite in the middle of the day, or maybe a quiet drink at night. From sushi to burgers, you can find it all here, not to mention excellent Greek dishes too! When the sun sets, the restaurant sparkles. Especially the poolside area. People usually like to take a short swim, before gorging on the delicacies that are served here. Apart from the exciting poolside area, there is another section right next to the sea which serves as the perfect place for a quiet meal with your someone special.
Must Try: Tortillas, sandwiches
Location: Leof. Iraklidon, Rodos 851 01, Greece
Cuisine: American, Mediterranean
Google Rating: 4.6
Further Read: A Honeymoon In Greece Is All You Need For A Perfect Beginning Of Your Married Life
Greek cuisine is exciting to say the least! And with so many exciting options in Rhodes, you are bound to have a great experience here. So plan a trip to Greece with your friends and family and unleash the foodie in you! What are you waiting for? Go on and enjoy the most delish fare you'll ever taste!
---
Looking To Book An International Holiday?
Book memorable holidays on TravelTriangle with 650+ verified travel agents for 65+ domestic and international destinations.
---