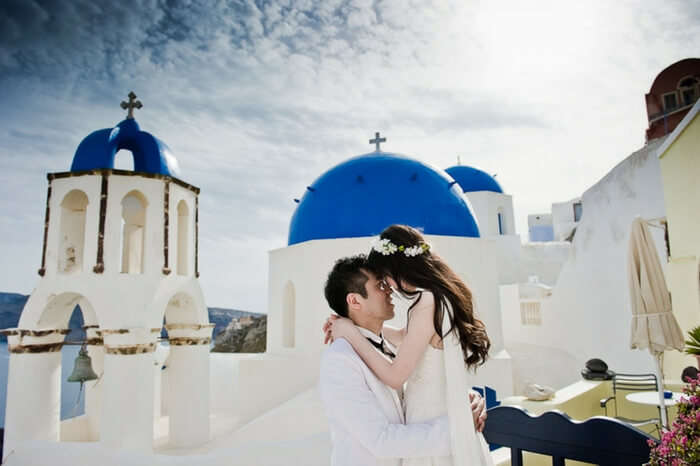 They say fairy tales are fantasies that don't exist, but only after you have been on a honeymoon in Greece you believe in those dreamy stories coz you've actually lived one!
Greece is an alluring Balkan nation spread in bits and pieces across the Aegean Sea in the Southeast of Europe. It charming natural beauty and beautiful architecture make it a hot pick amid popular honeymoon destinations in the world. From the black sand beaches in Santorini to picturesque resorts in Mykonos and further to the colonies of whitewashed houses in Oia, and Crete, the ancient city dating back to almost 5th century B.C. is the true love!
As you explore the popular beaches of Greece riding a cruise, pour yourself and your partner a glass of bubbly, catch the breathtaking view of the sun slipping past a volcano, and sway along the cruise deck to the tune of the wind brushing past; right there in the sea of blue – you'll agree that a honeymoon in Greece is the best thing to have ever happened to you!
Table Of Content
1. Best Time To Visit Greece
2. 10 Best Places To Visit In Greece For Honeymoon
3. Romantic Things To Do On Your Greece Honeymoon
4. 5 Best Romantic Hotels In Greece For Newlyweds
5. Frequently Asked Questions About Greece Honeymoon
Best Time To Visit Greece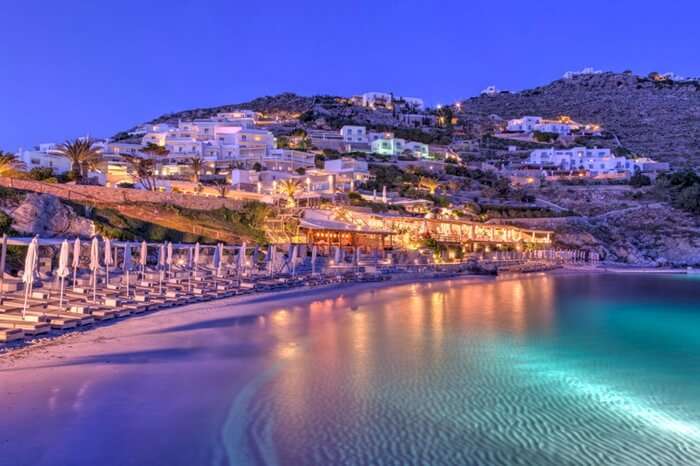 Best time to visit Greece for honeymoon: May to early July is pleasantly warm and makes perfect conditions for lovely couples looking at outdoor activities. While September to October is Autumn in Greece and is considered as the best time to go on a honeymoon in Greece. The weather mostly pleasant and the sky remains clear. Occasional showers make the weather even better!
How to reach Greece: Athens Railway Station is well connected with other countries across Europe. If you are traveling by air, Elefthérios Venizélos International Airport in Athens is connected with major cities across the world.
Traveling within Greece: All islands of Greece are well connected to each other by means of water transport. Cruises and ferries make the most convenient option to travel from one island to the other.
10 Best Places To Visit In Greece For Honeymoon
Jutting into the Aegean sea, Greece is a massive cluster of more than 300 islands well embedded in the vast waterbody, but only a few islands stand apart from the rest and boast of tempting places exclusively for newly married couples.
1. Athens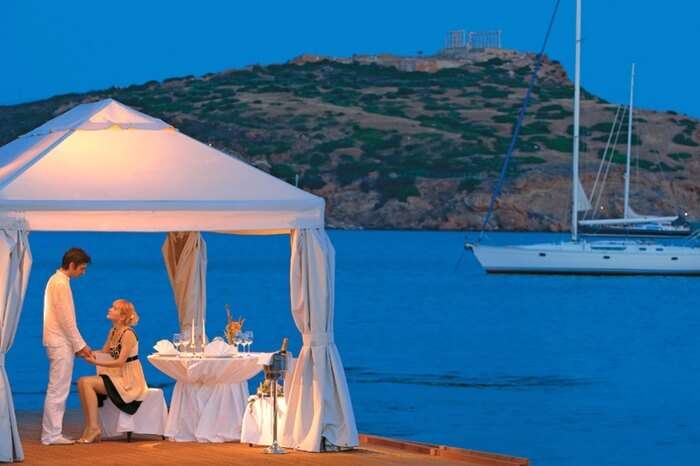 Explore the rustic ruins and magnificent structures in the capital city on your Greece honeymoon. A day tour covering the National Gardens, the Temple of Zeus, the Acropolis museum and the Parthenon is the perfect way to begin your romantic rendezvous in the land of Aphrodite – Greek goddess of love and beauty.
The ancient streets overlooked by giant churches and rustic buildings have treasured stories from the bygone era, see if you can read any as you tour the famous ruins! And while you visit them, don't forget to feast on the best of Mediterranean cuisine, and live every bit of your honeymoon in Greece.
Other attractions during a honeymoon in Athens: Mount Lycabettus (panoramic view), Temple of Hephaestus, National Museum
10 Castles In Greece That Testify The Country's Glorious Past
2. Santorini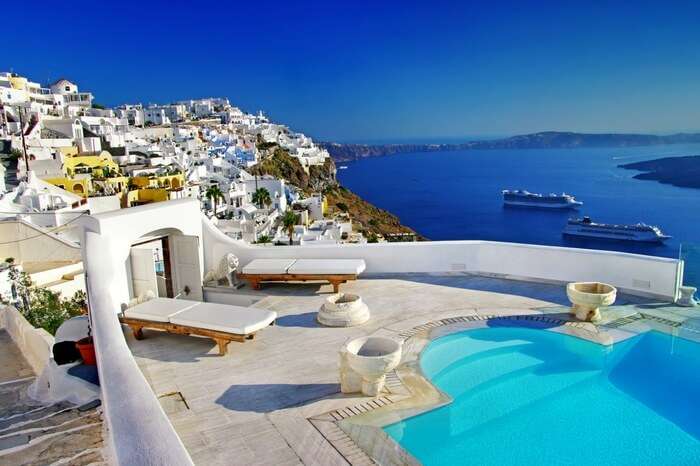 Over decades the iconic town of Santorini has remained a muse of the film industry, and its charisma doesn't seem to give up on honeymooners from across the world. Colorful cave houses reflecting the shades of white and blue cut an elegant picture and charm every onlooker – backpackers, families, and couples on a honeymoon in Greece included!
Walk down the boulevard of love in the naturally decorated cities of Oia and Fira, and dine by the Aegean Sea as the mild breeze soaked in mist brushes past you. From quaint cafes, bistros to picturesque churches, momentous cruise rides to the spellbinding sunsets, Santorini – on your Greece honeymoon places- pampers beautiful couples in all the possible ways.
Other attractions on your honeymoon in Santorini: Prehistoric Thera Museum, Santo Winery, Perissa Beach, Red Beach, Old Port to Fira cable car ride, Kamari beach– the black pebble beach, donkey ride at 588 steps and coming down to old harbor of Fira, and sunset dinner in a restaurant at Amoudi port
95 Best Honeymoon Destinations In The World In 2022 For A Romantic Escape!
3. Plaka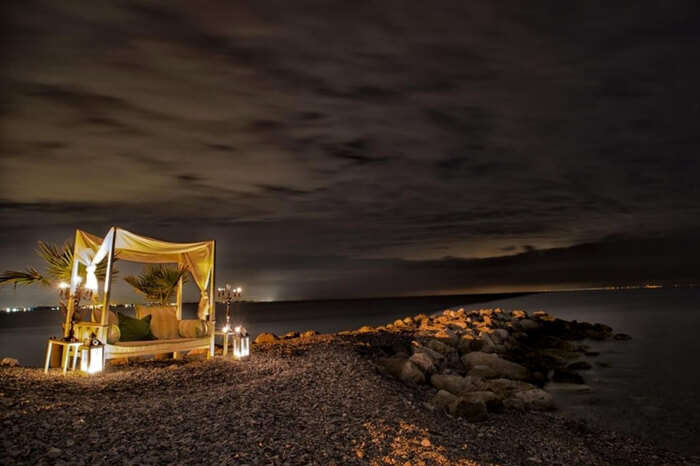 A district in Athens, Plaka can be considered a quiet retreat while looking for places to visit in Greece for honeymoon. Neoclassical houses, victorian streets, and secluded beaches act as the perfect lure for every honeymooner. Plaka also has quite a few local food joints and souvenir shops brimming with artefacts, something that most of the lovely couples look forward to on their honeymoon.
Located in the close proximity of the main town in Athens, Plaka is the place where you can spare a day. Brace yourself to get fascinated by the imposing architectures in the town from the pre-medieval era, they make an experience of the lifetime.
Other attractions during a honeymoon in Plaka: Prehistoric Thera, ancient Agora, Theater of Dionysus, and The Tower of the Winds
4. Corfu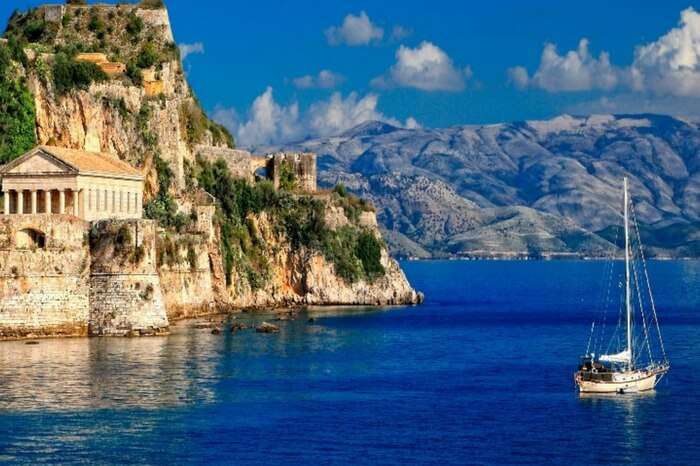 Graced by the Ionian Sea, Corfu Island is a cozy retreat for the pretty lovebirds flocking to Greece for a honeymoon. Of all the dreamy honeymoon spots in Greece, Corfu is a place where you must stay a day or two on your honeymoon.
Sun-kissed beaches decked up with swirling crystal clear waters, imposing volcanic mountains and nature's magnificence makes Corfu an ideal pick to spend your dream date in one of the most popular honeymoon destinations in Europe.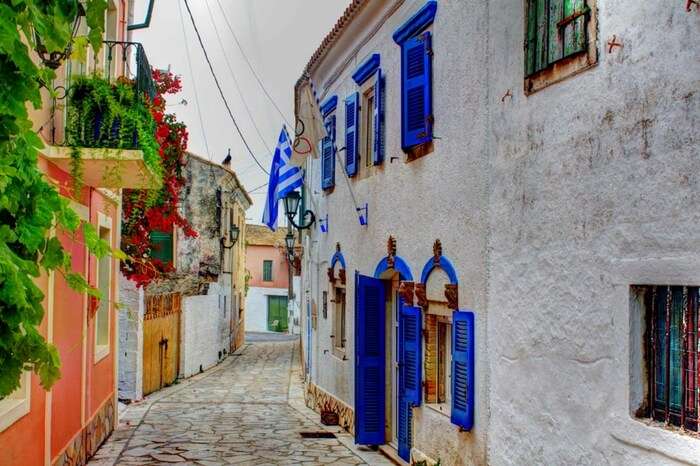 Corfu – the second largest island in Greece is a place to discover romance by the beautiful beaches and monuments from the bygone era. You can also plan a stay in one of the romantic resorts and hotels in Greece located on the shoreline of one of the picturesque islands of Greece.
Other attractions during a honeymoon in Corfu: Hike to Mount Pantokrator, Plan a visit to scuba centers at Paleokastrítsa, explore the old castles, sleepy villages, and Kérkyra old town
5. Mykonos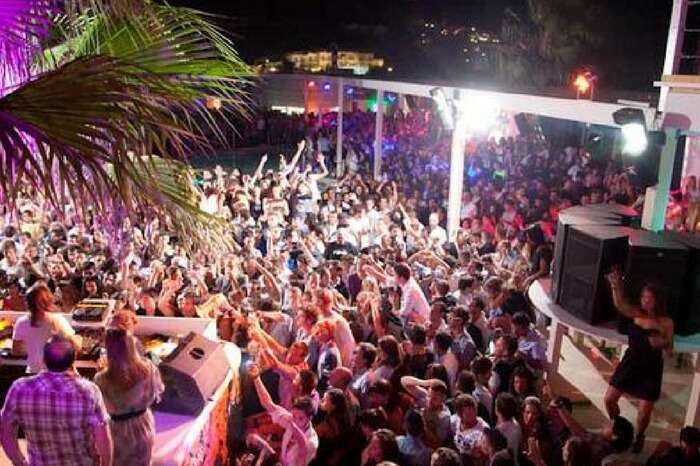 If you are looking for some happening nightlife at a place brimming with thumping music, Mykonos it is! One of the best Greece honeymoon places, Mykonos has plenty of discotheques and pubs where you can drench yourself in total madness. Dance and celebrate with your partner into the night and make the moments of your beautiful honeymoon count. This one is surely the most visited Greece honeymoon destinations!
Consider these throbbing places in Mykonos where you can dance the night out!
Ramrod for terrace view of the harbor and drag shows post-midnight
Cavo Paradiso for theme nights and huge pools
Space Club for under 30 crowd, theme nights and large dance floors
Icarus for terrace party and late-night drag shows
El Pecado for sangria, rum-based drinks, and fine cuisine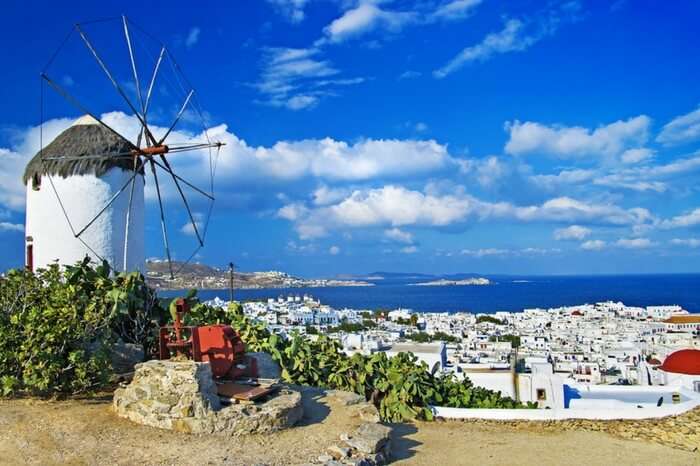 Besides, ancient Greek ruins in Delos, Maritime Museum, secluded beaches, and traditional windmills must be on the check-list of every couple finalizing a Greece honeymoon itinerary. The aesthetic beauty of these places glowing with inherent charm and quietude will transport you into a different sphere altogether.
Other attractions during a honeymoon in Mykonos: Megali Ammos beach, Gondola ride at Little Venice, rustic charm of Matoyianni Street, iconic Windmill, happening Kalafatis Beach, views from Armenistis Lighthouse
6. Nafplio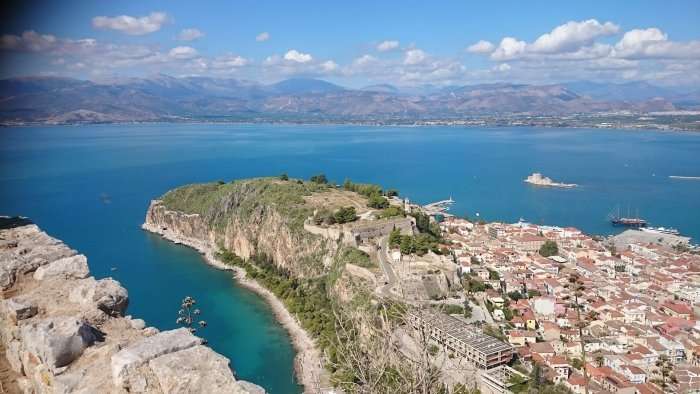 Located in eastern Peloponnese, Nafplio is one of the most beautiful cities in Greece. Environed with spectacular history and mythological stories, this place has ancient walls, monuments, statues, Venetian buildings, and more such unique attractions.
Perfect for lovebirds seeking an ideal honeymoon destination and a non-cliche experience, Nafplio is a great place to be. You can go for a romantic walk along the promenade or take a rejuvenating swim in the beach.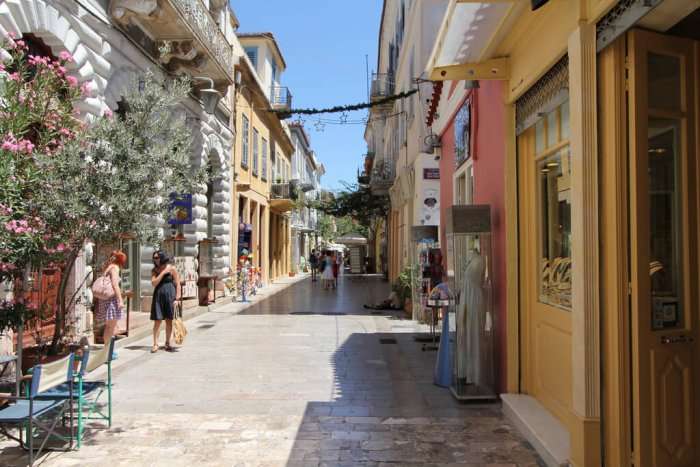 Nafplio is situated only 94 km away from Athens, which makes it accessible enough by bus or a car. If you two are looking for privacy and a love-filled ride, rent a car and drive to the city by yourself. We are pretty sure that you'd end up with an impeccable romantic experience.
Other attractions during a honeymoon in Nafplio: War Museum, Palamidi Castle, Syntagma Square, and more.
Journey To The Greek Isles: Why It's A Must On Every Indian's Bucket List Now!
7. Spetses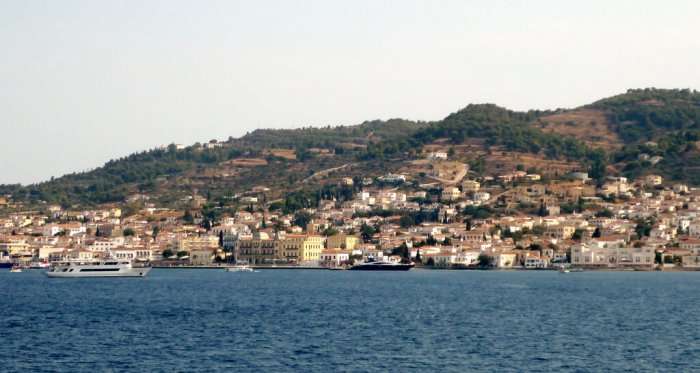 If you and your significant other have always desired a honeymoon like shown in Bollywood or Hollywood, then Spetses is the best Greek island to visit. You can go for a long romantic stroll or explore the tinsel town on a horse-drawn carriage. And since there are no private vehicles on the island, experiencing the vibes of the era gone by is much easier here.
Picturesque and historically significant, this place also has a lot of unique events which you both can be a part of. Other places to see are the beaches where you can soak up the sunshine for hours.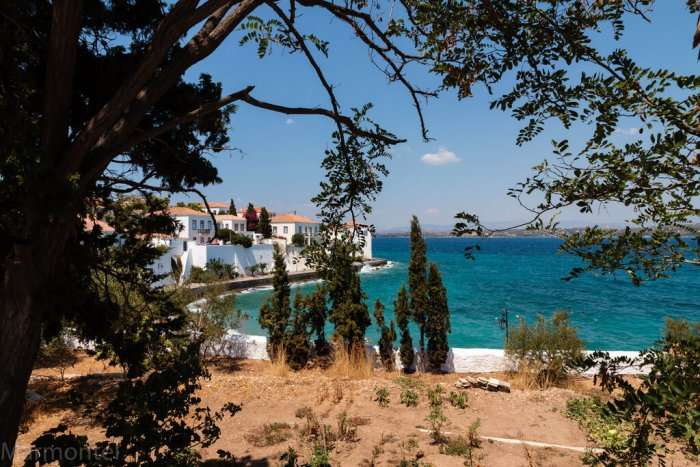 Another thing that makes this place so fascinating is the way you reach here. Unlike via bus or car, a great romantic option to reach here is via a ferry which you can take from Hydra, Aegina, or Poros. Sailing amidst nature with gorgeous views around will surely fill up your trip experience with a bountiful of beautiful memories.
Other attractions during a honeymoon in Spetses: Cathedral of Ayios Nikolaos, The Naval Battle, The House of Bouboulina and Beaches, Armata Festival
8. Monemvasia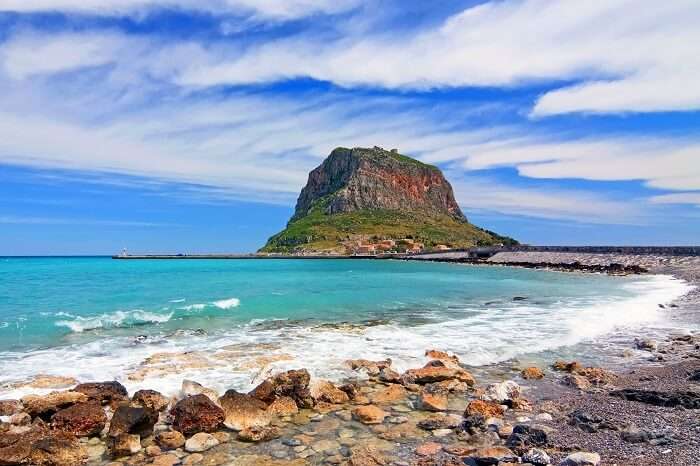 Monemvasia is a stunning island in Greece that has an interesting story about its inception. The place is also known as Castle Town and is believed to be carved out of the back of a single rock which protects the city from intruders. The place is known to be home to numerous popular attractions including enormous Byzantine fortress that entices travelers with its unique beauty. 
Most Romantic Cafes: Taverna Epidilion, Voltes, Emvasis
Best Places For Couples: Monemvasia Fortress, and Agia Sofia Church
9. Rhodes Island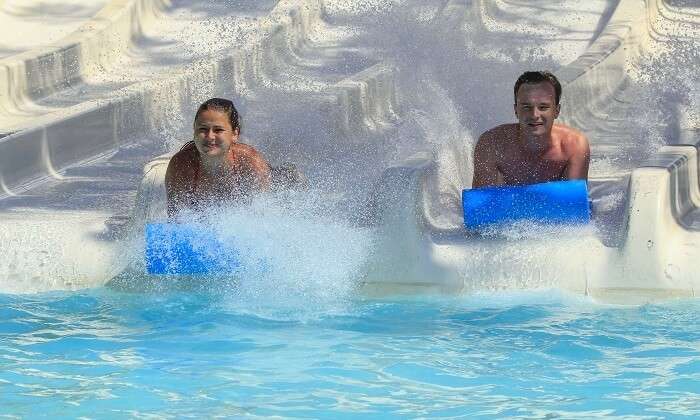 Rhodes Island is one of the best honeymoon destinations in Greece and lures couples from across the world with its enticing beauty. You will witness the golden sands and turquoise waters amidst the peaceful ambiance. This island purveys a blend of modernity and traditions in an alluring manner. The Palace of the Grand Master is one of the most popular attractions here which was established in the 7th century.  
Most Romantic Cafes: BarraTres, and Yachting Club
Best Places For Couples: Palace of the Grand Master of the Knights of Rhodes, Lindos Acropolis, Elli Beach, and The Valley of the Butterflies.
10. Lesbos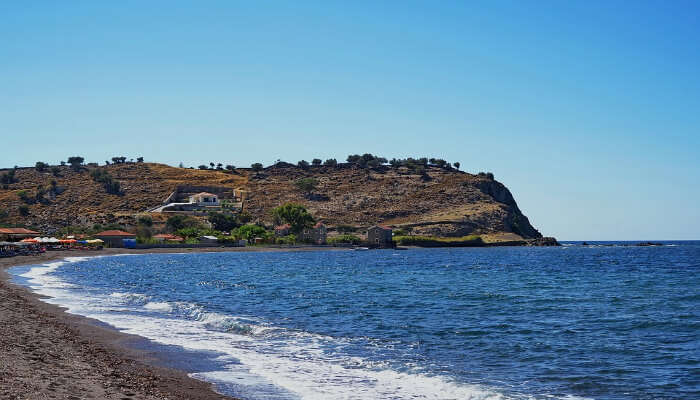 Another destination offering a perfect honeymoon in Greece is Lesbos. It is the third biggest island in Greece and is known for its impeccable beauty. The place follows quite strict rules to preserve the natural beauty of this stunning island. The vibrant flora and fauna and the mesmerizing olive gardens of Lesbos enthrall wanderers with its unique beauty.
Most Romantic Cafes: Kantina, Hacienda Cafe Bar, and Art Cine Cafe
Best Places For Couples: Greek Ouzo Barbayanni (The Museum), Natural History Museum of the Lesvos Petrified Forest, and Castle of Mytilene

Romantic Things To Do On Your Greece Honeymoon
Honeymoon in Greece is a culmination of romantic experiences submerged in nature's vividness. Momentous walk along a picture perfect beaches, luxe stay villas overlooking the infinite sea and then treating yourself to the sumptuous Mediterranean cuisines in the labyrinth of colorful structures, Greece brims with romantic surprises for every beautiful couple.
Here are the 5 most enthralling experiences to turn your honeymoon in Greece into a memorable rendezvous!
1. Sunset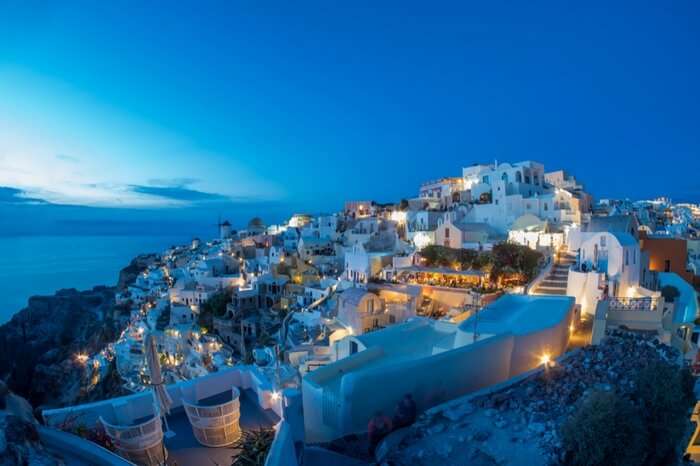 Fira and Oia are the two renowned towns set up in the dreamy locale of Santorini island in Greece and make for the perfect places to relish timeless experiences. The beautiful domed houses of Oia and Fira mostly draped in bougainvillea are set against the picturesque rock cliffs and act as the perfect backdrop for photography.
Oia town jutting into the Aegean Sea has one of the most beautiful sunset spots in the world. No wonder it's the pride of Santorini. The artistic domes of churches, symmetrical pattern of cave houses and breathtaking sunset view from Oia, put this place among the best of honeymoon destinations in Greece.
Pro-tip: A 15-minute walk to the south of Fira will take you to Pyrgos hill top, a place lesser people have heard of. This place offers you the panoramic view of the entire island like no other place. The 6-hour Pyrgos, wine tasting, and sunset tour is highly recommended.
2. Hot Springs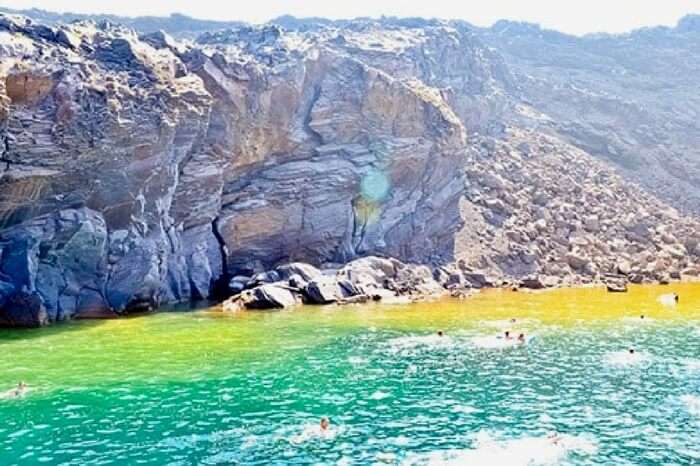 Make the most out of your honeymoon in Greece by unraveling what Santorini treasures in the vastness of the ocean. As you take a private boat tour, you come across the islets of Palea Kameni, where your guide will ask you to dive in and swim a small distance. As you take a few strokes, you will feel that the temperature of the water is gradually going from cold to warm.
These are hot springs, formed as a result of volcanic eruptions in the active mountain overlooking Santorini, are a prominent highlight of Santorini Greece honeymoon.
3. Dining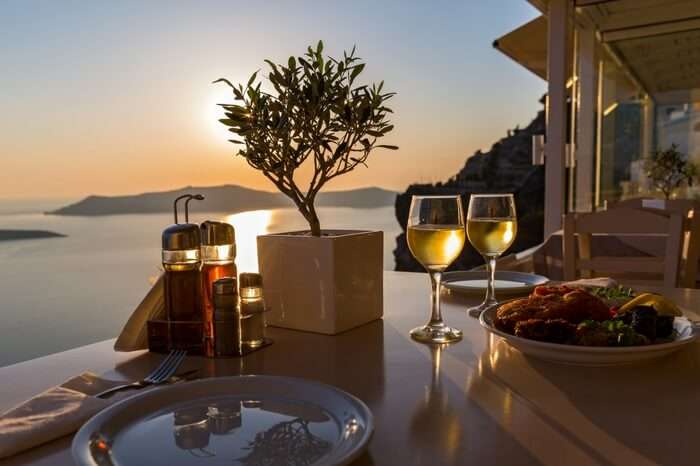 Eat by the sea, drink by the tides, dance on the turf, and soak in the magical vibes!
Be it rooftop restaurants in Santorini or seafood restaurants in Amoudi Bay, Greece has ample of options to fascinate the lovebirds looking for a romantic dining experience during the honeymoon.
Pamper your taste buds with Greek specialties such as Tomatokeftedes – Santorini Tomato Fritters with bits of mint, tomato, and onion chunks, Ellinikos – Greek Coffee with traditional long handled coffee copper pot and Kolokithokeftedes – balls crispy outside and creamy inside are salty & tasty feta cheese with a bit of fresh mint.
Don't miss these romantic restaurants in Greece where you dine with a view!
1. Ambrosia Restaurant, Santorini – A neoclassical Greek restaurant located at the top of a cliff near the main church in Oia village
2. V Lounge Cafe & Cocktail Bar, Fira – A romantic restaurant located on the rooftop of Panorama Boutique Hotel, perfect for romantic dining on your Greece honeymoon
3. Katharos Lounge, Oia – Cozy dining place in the heart of Santorini located on the clifftop at Katharos Beach in Oia!
4. Franco's Cafe, Pyrgos – One of the best-kept secrets of Santorini, serving some of the yummiest cocktails, delicious snacks
5. La Maison, Imerovigli – Nothing betters a dinner here, in the heart of Santorini, on a honeymoon with your wifey!
4. Yacht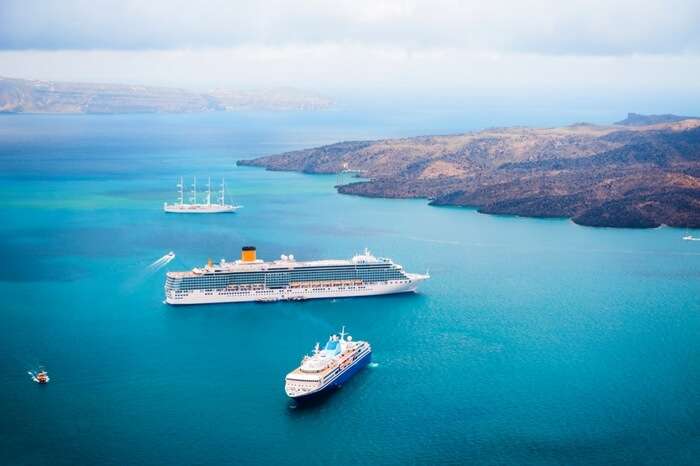 Cruise through the Greece isles basking in the glory of magical moments in the mid of the sea. The ride casts its magical spell on the honeymooners and makes them go a step further as they plan to exp the best during their honeymoon.
Cruising through the deep blue waters of Aegean Sea is an enthralling experience for couples on a honeymoon in Greece.
Some of the highlights of these yacht tours are:
Throbbing nightlife at the happening islands of Greece
Calm and soothing retreat of islands
Crystal clear blue waters and white/black sands
Delicious Mediterranean cuisine
Magnificent structures that are centuries old
5. Naxos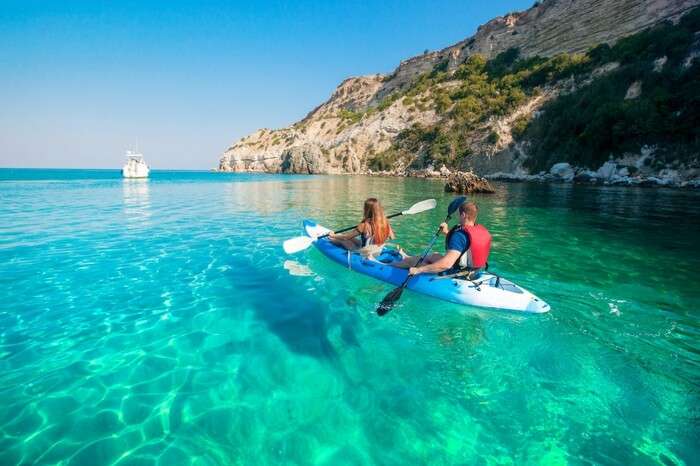 For all the fun loving and adventurous couple, Naxos in Greece is the place to be. Plenty of beaches around, myriad of water activities, and scenic view everywhere make Naxos a prime attraction for honeymooners in Greece.
Of all the enchanting beaches on the island, Agia Anna, Mikri Vigla, Orkos, Aliko, Maragas, and Pyrgaki stand out. These are the beaches where you can go and explore the tranquility and hidden charm of nature.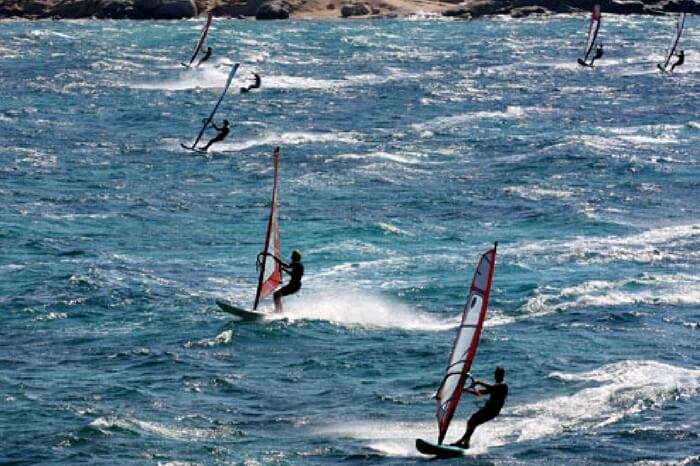 Naxos island is the perfect place to explore historical sites, sightseeing tours, and good food. Moreover, you can take up cultural tours of the places nearby and learn about the great past of the place.
But if watersports and adventure are your priority Naxos is the perfect sojourn for a Greece honeymoon. You can pick from a number of water sports activities offered here. Some of them are:
Yacht sailing
Windsurfing
Hiking & trekking
Horse riding
Scuba diving
Note: Don't forget to visit the Venetian Castle in Naxos
22 Best Honeymoon Destinations In Europe In Summer For A Perfect Escape!
5 Best Romantic Hotels In Greece For Newlyweds
Planning a Greece Honeymoon? Check out the most romantic accommodations in Greece here. Everything said and done, there is absolutely nothing that matches the comfort and panache of an elegant stay overlooking a sea, gaping at a live mountain volcano and viewing a perfect sunset. The best of Greece honeymoon resorts offer all of the above and much more!
1. Csky Hotel, Santorini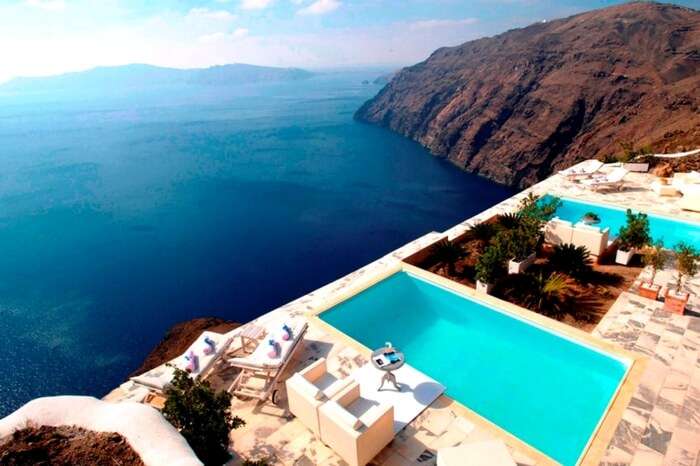 Image Source
Offering a perfect luxurious escapade in the land where dreams come true, this resort located in Santorini, will sweep you off your feet with stunning views from the hotel rooms. Don't forget to experience the fine dinner by the pool that this resort offers and get ready to soak in all the bliss that Greece has to offer with freshly served local cuisines while you watch the beautiful sunset from here.
Suggested stay: Honeymoon Suite with private pool for indoor jacuzzi and private infinity pool
Tariff: INR 38800 per night onwards
Website | Reviews
2. Adamant Suites, Santorini
With a fabulous view of the sunset and the sea, you cannot go wrong with this hotel with your beloved for your Greece honeymoon. That's right! Brilliantly designed suites decorated with tasteful furniture and more awaits you at this site along with outdoor hot tubs for a reviving experience with your partner. It's close proximity to the town's main attractions will surely work in your favour.
Suggested stay: Emerald Suite for stunning view from the outdoor jacuzzi
Tariff: INR 9700 per night onwards
Website | Reviews
3. Kirini Suites And Spa, Santorini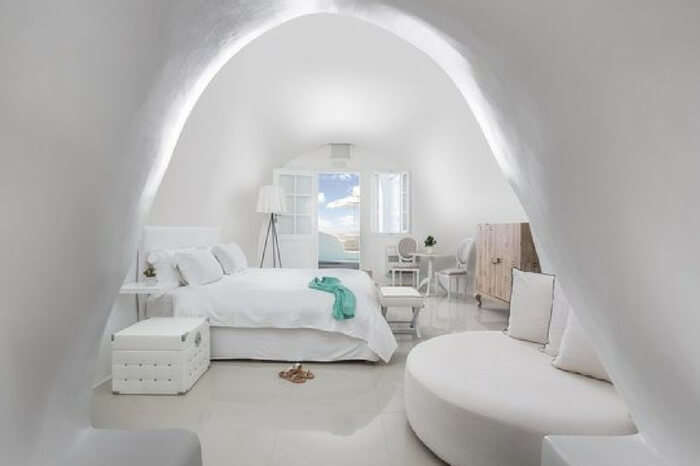 Image Source
A 5-star property offering mesmerizing views of the Aegean Sea from the terraces is surely worth staying at with your partner. A recent renovation at this property allows you to take benefit of all the luxury amenities including the new spa area along with the pool. So, while you're out and about in this land with your partner, don't forget to check out this property for you comfortable stay.
Suggested stay: Romantic Splendour Honeymoon Suite for Mediterranean colors and exquisite interiors
Tariff: INR 25000 per night onwards
4. Corfu Imperial, Corfu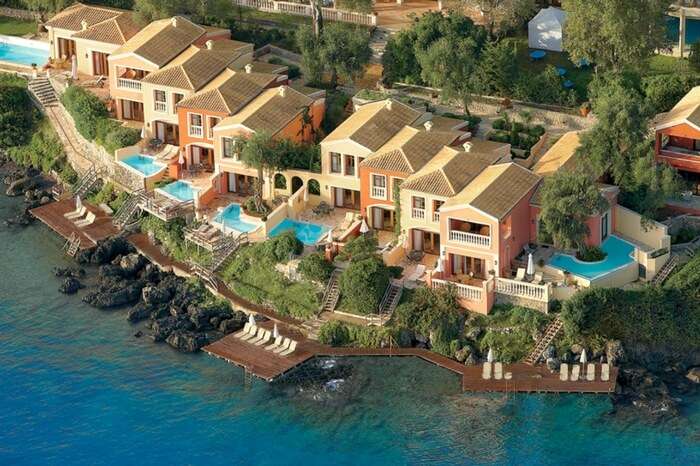 Image Source
Looking for a place with spectacular views of the Ionian sea? Well, this is your kinda place for sure! Lined with 4 private beaches and an outdoor pool, its exclusive dining settings and top-notch chefs will make you crave for more! A lounge bar, cocktail bar and and a pool bar will tempt you to try all things fun here with your partner!
Suggested stay: Deluxe Guestroom for sea view
Tariff: INR 12700 per night onwards
5. Grand Resort Lagonissi, Athens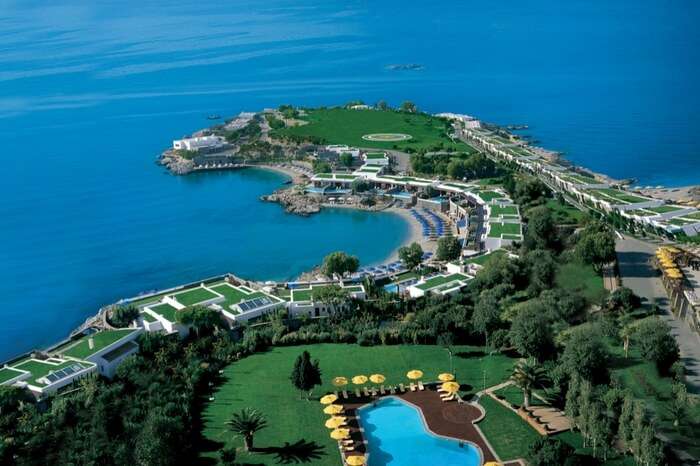 If you're looking for a place to stay with chic rooms and in-room massage facility, this is the place to be. With 10 in-house restaurants on board serving all kinds of international cuisines and Greek delicacies, you surely cannot go wrong with this hotel. It's strategic location allows you some really splendid views from your rooms that you'll surely enjoy with your partner.
Suggested stay: Luxury Sea View Room for private balcony with perfect view
Tariff: INR 22000 per night onwards
Website | Reviews
Top 27 Places To Visit In Greece In 2022 For A Perfect Mediterranean Vacation
The wonderful blend of unscathed nature, myriad of colors, and ancient architecture is Greece! A perfect sojourn in the heart of Europe surrounded by the trio of Ionian, Aegean, and the Mediterranean Sea. Plan a honeymoon trip to Greece!
Frequently Asked Questions About Greece Honeymoon

Is Greece good for honeymoon in December?
If you are brave at heart and love chilly weather, then, Greece honeymoon will surely make you capture the beautiful memories of lifetime.
What Are The Best Greece Islands For Honeymoon?
Some of the best Greek islands for honeymoon are Mykonos, Santorini, Rhodes and more.
What is the minimum Greece honeymoon cost?
The minimum Greece honeymoon cost varies from INR 50,000 to INR 1,00,000 per person.
Is Greece a romantic place?
Home to places like Santorini, Athens, Mykonos, Corfu, and more, every nook and corner of Greece oozes a romantic vibe. From its crystal clear waters to the white and blue architecture, everything makes for a picture-perfect backdrop.
What is the nicest Greek island?
Naming any one island in Greece the nicest is a tough call to make, merely because all the places are beautiful and have varied experiences for its travelers. While Santorini may seem the best to some, some newlyweds would love spending time in Corfu or Mykonos.
Is it expensive to visit Greece?
Given the sheer white and blue beauty of Greece, it surely comes across as an expensive place. But if you book your tickets at the right time, plan your trip at the best time, and stay at the right places in the right season, a holiday in Greece wouldn't burn any holes in your pocket.
What is the cheapest Greek island to visit?
Kea and Agistri are the most affordable islands to visit in Greece. Close to the Cyclades group and Athens respectively, these two places make for a great budget escape.
Which Greek island is the least touristy?
Located south of Corfu, Paxoi is the smallest and the least touristy island. It has small pebble beaches and villages, and an ideal place for those who love to sail or swim. However, being a lesser known place on the map, this place remains an offbeat destination in Greece.
---
Looking To Book An International Honeymoon?
---
People also read:
Honeymoon in Singapore Honeymoon in Turkey Honeymoon in Croatia
Comments
comments