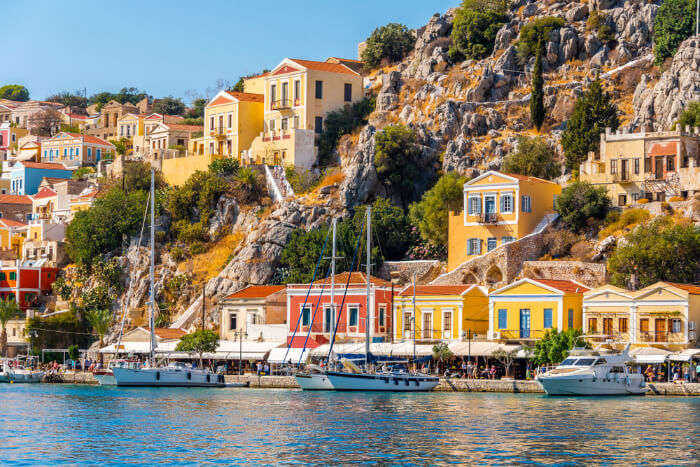 Greece is a popular tourist destination for many obvious reasons. Not only is Greece remarkably breathtaking because of its large mountains and sandy beaches but it also has so much history linked to it. There are so many different historical ruins that you can explore and so many adventures that you can embark on.

If you are visiting Greece in October then you might be asking yourself, is it hot in Greece in October? The answer is no. Although people usually think that it is scorching throughout the year, the weather in Greece is actually mild and pleasant, so one doesn't have to miss out on the beautiful beaches. The temperature in Greece during October can be anywhere between 24°C to 14°C.
10 Top Things To Do In Greece In October
Here are some of the best activities that you can indulge in while on your trip to Greece during the month of October. Take a look and note them down!
Athena's House – Explore It
Mount Olympus – Climb It
Kleftiko Beach – Spend A Leisure Time
Skaros Rock – Go For A Hike
Labyrinth Theme Park – Have A Fun Day
Spondi Restaurant – Satiate Your Hunger
Wine Tasting – Go Try It
Reptisland – Meet The Reptiles
Greek National Football Museum – Take A Tour
Monemvasia Fortress – Admire The Ruins
1. Athena's House – Explore It

If you are visiting Greece during October, make sure to check out Parthenon, the house of Athena. You can find this at the top of Acropolis, the ancient citadel. Although the journey here is a bit difficult because of the steep rocks, that is the price you pay to experience what was once a part of the Greek mythology. If you are a Greek mythology lover, do take the time to drop in here. The view you get from here includes the beautiful sea, which will not let you down. It might be a little too crowded so try to visit during the weekdays.
Greece In December 2022: A Guide To Explore The Gem Of Aegean Sea During Winters!
2. Mount Olympus – Climb It

If you enjoy hiking, you shouldn't miss out on this experience. Climbing up the mountain of the Gods is no easy task but it is something that just brings an entirely different sense of achievement. If you visit Greece in early October, the weather is mild and although it takes about 3 hours to get here, it is definitely worth the view. When you reach the top you can get a great view of the lush green mountains and fresh air that will surely motivate you enough for the hike down. Make sure to head here in the morning to experience a beautiful sunrise.
3. Kleftiko Beach – Spend A Leisure Time

Since the Greece weather in October is not too warm or too cold, it is just pleasant enough for a dip in the clear blue water at the Kleftiko Beach. Although it is rather small it is very popular for a reason. One gets to enjoy scenic views and you can observe the different cliffs as well as you swim through differently sized caves. You can even go kayaking through the caves here. The water isn't too deep either, so it is ideal for both beginners and children. Make sure to carry your snorkelling gear too. If you don't want to take part in any activities, you can just relax on the warm sand and enjoy the cool breeze at the beach.
10 Places To Visit In Mykonos In 2022 For An Ideal Vacation In The Picturesque Island Of Greece!
4. Skaros Rock – Go For A Hike

The weather in Santorini, Greece in October is ideal for hiking. You can take the stairs, but then you will have to hike for about 20-30 minutes to get to the top. However, what waits for you there is absolutely picturesque. Once you reach Skaros Rock you can get an amazing view of Santorini, inclusive of the mountains and the sea. Make sure to head here earlier so that you can enjoy a beautiful sunset as it descends behind the mountains. Later head down the trail to find a prehistoric church in the opposite direction of the rock.
5. Labyrinth Theme Park – Have A Fun Day

This theme park is very easy to find and the entrance fee is very reasonable. Apart from having plenty of fun things for children to do, there are things that might appeal to adults as well. You can find a mini-golf course and a small model village that is similar to that of the times of Greek Gods. There is archery, quad biking, laser mazes, and much more. There is also horse riding, pottery creation and a game called Escape Atlantis which is very popular here. Once you are done here, you can check out the gift shop for souvenirs.
15 Greek Islands That Must Figure In Your Greece Travel Itinerary
6. Spondi Restaurant – Satiate Your Hunger

If you feel like you need to taste authentic Athenian cuisine, then this is the place for you. This 2 star Michelin restaurant has a historic ambience because of how well it has combined brick and stone into its interior. The furniture is comfortable and the ambience is something that fails to go unnoticed. You can even sit outside under the stars and enjoy your meal. If you visit, do try the foie gras and the wine they make.
7. Wine Tasting – Go Try It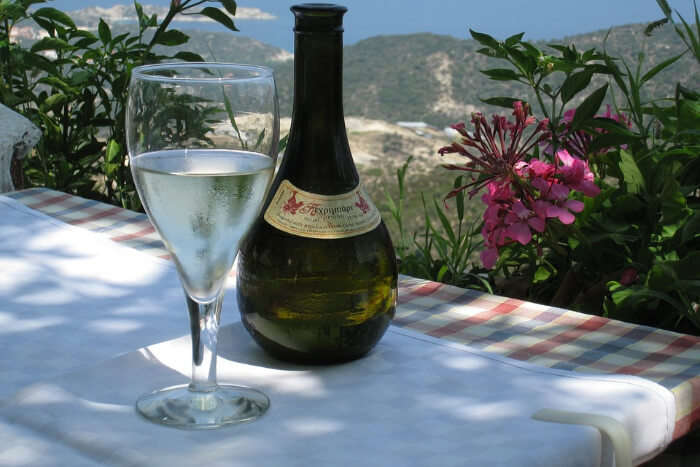 If you visit Greece in late October, then it will definitely be cold there. So, what better way to warm yourself up than by indulging in some sparkling wine? You will get to hear the story about Dionysus, the Greek God and how he had introduced wine into the world. You will also get to learn about the conditions required for the grapes to survive and how wine is made. You can taste 5 different kinds of wine and can pair it with meat or cheese from a platter that you are given. At the end of the day, you will get to know how to differentiate between good and bad wine. You can even buy wine here if you like any.
12 Best Resorts In Greece That Make You Feel Like Royalty
8. Reptisland – Meet Reptiles

If the weather in Greece in October is rather pleasant, then you can even spend the day out. If you like reptiles or you want to learn more about them then visit the Reptisland. They have more than 40 different types of reptiles including lizards, snakes, crocodiles, and turtles. You get to interact with them and can also hold them. The guide will tell you all about the reptiles here, where you can find them, and how to take care of them. If you are in the neighbourhood, don't miss out on experiencing this place.
9. Greek National Football Museum – Take A Tour

This football fans paradise can be found on Tsouderos street and is a real gem. If you are a football fan, then make sure to stop by. The museum might be really small and consists of just 2 rooms but it has plenty of original footballs, trophies, t-shirts, tickets, and much more. The owner has collected original items for over 45 years and he can give you a detailed guide and story about each item. The museum focuses on Greek football but also has plenty of information and items of foreign countries. You can even try on some of the t-shirts here. The entrance is free for such a great experience.
10 Hotels in Greece That Are A Treat For The Senses!
10. Monemvasia Fortress – Admire The Ruins

This is a very interesting place to visit. Once you pass through the gates, it feels like you have traveled back in time. There are stone-paved streets and beautiful restaurants with amazing views. It takes a while to get to the top because of the steep rocks but the view from the top is beautiful. This simple little town has a lot of small shops and restaurants. There are a lot of churches, and souvenir shops around here and you can even find a few beaches. Take your time to explore this town and all that it has to offer. Be careful not to get lost in the different lanes, it may almost seem like a maze!
October Festivals In Greece

One of the main festivals of the Greek population, Oxi (No) Day, is celebrated in October on the 28th day of the month. Also referred to as the "Day of No", is celebrated publicly as General Metaxas rejected the final warning given by Benito Mussolini, the Italian dictator, during World War II. There are parades held every year on this day to remember the bravery of the General. Adults, as well as children, are excited about this parade. The shops remain closed till the afternoon so that everyone can enjoy the parade in the morning and later open their shops in the evening.
A Honeymoon In Greece Is All You Need For A Perfect Beginning Of Your Married Life
Greece is a place that is well known for its natural beauty and its past. Most people often come here to find out more about Greek mythology. Weather in Greece for October holiday is ideal for travelers as it is neither too cold nor too hot. Moreover, now you know the best things to do in Greece in October, so book your holiday with TravelTriangle for an amazing time in Greece.
---
Looking To Book An International Honeymoon?
Book memorable honeymoon on TravelTriangle with 650+ verified travel agents for 65+ domestic and international destinations.
---