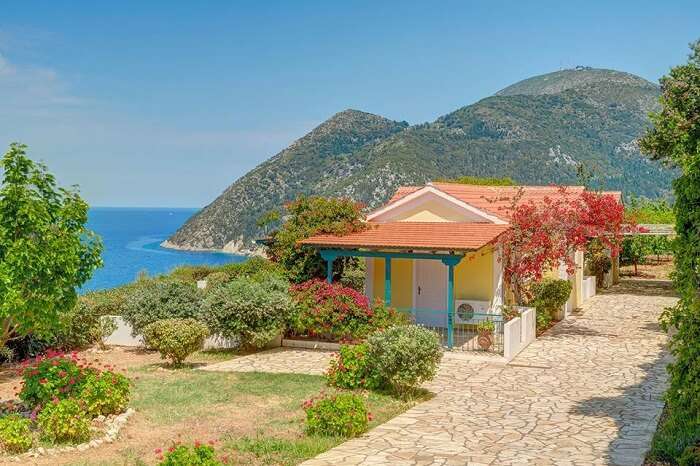 Whitewashed villages, sunny beaches, and delicious cuisines, this is what comes to one's mind when one thinks about Greece. Greece ranks among the top travel destinations in Europe and many people visit the paradise every year to take in the breathtaking sights and experiences.
With hundreds of islands and mountainous lands, this travel destination will indeed leave you in awe. The stunning landscapes, historic destinations, and a vibrant nightlife also make it one of the best tourist hotspots in the continent. But if witnessing all of this is important, it is equally significant to stay at a remarkable place. With so many gorgeous cottages in Greece, you've got just the right place to stay and relax on your trip. So, ditch the hotel and maybe experience the life of ultimate comfort at these top cottages.
10 Coziest Greece Cottages
Take a look at this list to know about the 10 best cottages in Greece, where you can live during your holiday for ultimate comfort and privacy.
1. White River Cottages

White River Cottages, located in the southeastern corner of Crete, is one of the magical holiday retreats in Greece. This holiday retreat is a collection of 13 cottages, lying scattered among the pine and olive groves in Aspros Potamos Valley. If you are looking for a calm and rejuvenating holiday, head to White River Cottages, your ideal holiday home. The cottages in this place are designed in a fashion that they beautifully blend in with the rocky hillside and the pine groves. Surrounded by nature, these cottages are a perfect spot to relax and unwind.
Location: Gailos Crete, Greece
Must Read: Greece In December 2022: A Guide To Explore The Gem Of Aegean Sea During Winters!
2. Koutsounari Traditional Cottages

If you decide to stay at Koutsounari Traditional villages, then you will be offered an unforgettable experience filled with simplicity and authenticity. Koutsounari Cottages first opened their doors to guests in 1974 and has been striving to offer the best of services to their guests since then. The cottages are set and designed in a manner that they are totally environment friendly and offers various modern amenities and facilities. Surrounded by nature and offering a panoramic view of the Libyan Sea, Koutsounari Traditional Cottages is the perfect place to chill out during your holidays in Greece.
Location: Koutsounari, Greece
3. Skiathos Garden Cottages

Located among lush green hillside, overlooking the beautiful sand beach of Megali Amme, Skiathos Garden Cottages offer a very relaxing stay. These cottages are a range of four detached houses perched atop an evergreen hill. The hotels rooms and suites are full of all luxurious and modern amenities, each offering a breathtaking panoramic view of the sea and the staff there work diligently to make your stay here very comfortable and enjoyable.
Location: Skiathos, Greece
Suggested Read: 10 Places To Visit In Mykonos In 2022 For An Ideal Vacation In The Pretty Greek Island!
4. Ilyessa Cottages

Ilyessa Cottages is family owned and operated business, where the cottages are designed following the traditional architecture of Zante. Set in a plush green environment, the cottage surroundings is lined fig and olive trees. This six residence cottages of the Ilyessa Complex is an ideal holiday retreat for families and the place is totally kid friendly. Here, at Ilyessa Cottages, you can taste the unique products of the local Alykes region and enjoy a very peaceful and warm stay, while travelling around in Greece.
Location: Alykes, Greece
5. Palatina – Agriturismo – Philoxenia Cottages

Palatine Cottages is a family operated business, situated in the north eastern part of Naxos. Located in the quaint village of Galini, this place offers some stunning views of the Amitis beach. You can easily reach the sunny and sandy beaches of Naxos from this places and enjoy your day in the fresh blue waters. Moreover, at Palatina cottages you also get to taste the unique, local cuisines and enjoy the warm hospitability of the village. Spending a summer holiday here in Palatina, by the Naxos beaches, you can enjoy a peaceful vacation.
Location: Galini, Greece
Suggested Read: 15 Greek Islands That Must Figure In Your Greece Travel Itinerary
6. Nakou Villages

Nakou villages located in Koutsounari region, is situated in the top of a hill, offering you some stunning views of the Libyan Sea. The location is surrounded by natural landscapes and lush green environment. The skilled staffs at Nakou village make sure that your holiday is an ideal one. The modern and minimalist aesthetic of the place blended with the traditional elements makes Nakou village an ideal setting for holidays.
Location: Koutsounari, Greece
7. Alegria Villas

The Algeria Villas is a perfect summer holiday retreat. The Villas comprise of six houses with pools in each of them. Every house comes with a set of two bedrooms, bathrooms combined with a kitchen, living room and balcony. The interior of the villas is designed luxuriously and is fully equipped with all modern amenities. Along with all these facilities, you will find an ecological children's park and a BBQ. Algeria Villas have received many awards and recommendations from well-known international companies, making it the perfect location to enjoy your vacation in the summer.
Location: Nickolas Beach, Vasilikos.
Suggested Read: 12 Best Resorts In Greece That Make You Feel Like Royalty
8. Rigas Hotel

Image Source
Rigas Hotel, situated in the Skopelos region is surrounded by nature on all sides. You can get some nice viewpoints from this place making it a perfect location to relax and enjoy your vacations comfortably. Food is especially good at Rigas, there specialty being Italian cuisine mixed with Greek ingredients, a burst of flavors on your taste buds. It is also one of the only bike friendly hotel in the island, offering various bike friendly services. This luxurious vacation retreat is suitable even for winters.
Location: Skopelos, Greece
9. Mt. Valley Boutique Chalets

Mont Valley Boutique Chalets is a luxurious holiday retreat with extensive views of Mount Parnassos. The chalets come equipped with all modern amenities and comprises of 2 bedrooms with a fireplace, stone walls, wooden beamed roof, giving off the rustic vibe. Within a km from this lovely vacation home you can find various restaurants, cafes and mini markets. The Parnassos Ski Resort is only about 20 km away with Arachova center 5 km away.
Location: Arachova, Greece
Suggested Read: 10 Hotels in Greece That Are A Treat For The Senses!
10. Cavos Sunset View Cottages

Built on the side of the Ithaca Mountains, Cavos Sunset View Cottages offers some panoramic view of the Kefalonia Bay and islands. These cottages are a perfect combination of luxury and leisure and provides one of the most exclusive holiday experience in Greece. The cottages come equipped with all the essential modern services and amenities along with private balconies and a swimming pool facility. At Cavos Sunset View Cottages, they aim to make your vacation an enjoyable and relaxing experience. Cavos Sunset View Cottages, with all its quality service and skilled staff, is pleased to welcome visitors from all over the world.
Location: Ithaca, Greece
Further Read: A Greece Honeymoon In 2022 Is All You Need For A Perfect Beginning Of Your Married Life
Greece is undoubtedly one of the most beautiful travel destinations in the entirety of Europe. With its sandy beaches and such comfortable staying places, it is indeed a pleasurable place to see and experience, which is why you should plan your trip to Greece with TravelTriangle right away. We can vouch you'd have the best holiday of your life.
---
Looking To Book An International Holiday?
Book memorable holidays on TravelTriangle with 650+ verified travel agents for 65+ domestic and international destinations.
---