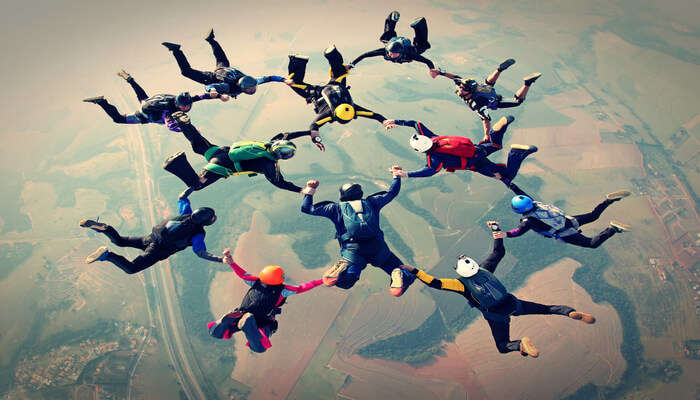 Skydiving, also known as parachuting, is the adventure sport of jumping from an airplane from about an altitude of 14000 m. This involves freefalling and soaring in the vast blue skies. Greece is a beautiful country with several archaeological sites, stunning beaches, and delicious food. This is a popular tourist destination, and thousands of people all around the world are attracted to its charm.
Skydiving in Greece is a beautiful experience, and the delightful sights here cannot be missed. The best skydiving in Greece is all about flying like a bird at the height of 10000 m above the ground level and gazing at the wild beauty and enthralling landscapes. Test your limits at the best place to skydive in the world. The winds and the skies here provide all the kick and endorphins in the world.
Skydiving In Greece
Greece is a country with world-class extreme sports facilities. Some of the most thrilling skydiving adventures can be found here. Check out the list of best skydiving in Greece
Tandem Skydive
Static Line Diving
Accelerated Free Fall
1. Tandem Skydiving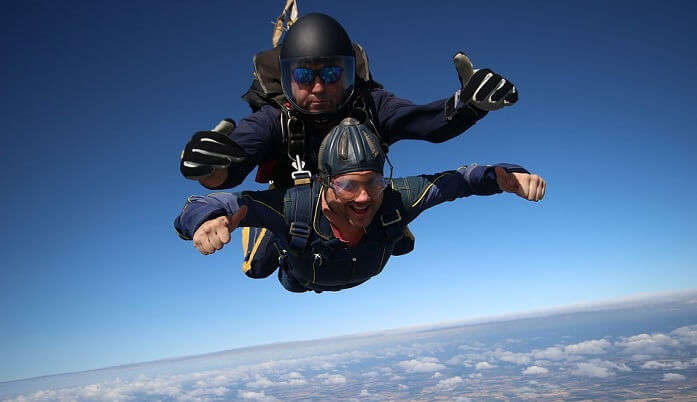 Tandem skydiving is an experience where you are attached to your instructor's harness throughout the fall. It's the most popular way to experience skydiving for the first time. The instructor guides you from the beginning to the end. A tandem skydive places the entire responsibility of the dive on the instructor, and you do not have to worry about piloting the canopy, freefall, and landing. Everyone can do tandem Skydiving, and you do not need to be certified or trained in it.
Tandem skydiving is usually cheaper and an excellent choice for beginners who want to experience what skydiving is all about. This does not require any prior experience and is an excellent choice for solos. Tandem skydiving costs £200 for an hour in Greece. You can also get a group discount by getting all your friends and soaring together.
2. Static Line Diving

Greece has one of the world's best Static line diving. It involves one full day of training followed by the final adventure on the next day. In this activity, the parachute opens directly from the 'static line,' which is attached to the aircraft. You can then fly and canopy yourself. Here all the skydives carried out are solo, unlike that of tandem diving. Sign up for a static Line diving class in Greece and enjoy the endorphin rush of jumping alone from the plane and letting the wind set you free.
3. Accelerated Free Fall

Greece offers the best accelerated freefall courses that can transform you from a beginner to a fully qualified skydiver. It usually has eight levels, and on the first day, you get to experience tandem jumping, followed by intensive training to become an efficient skydiver.
Best Places For Skydiving In Greece
The best place to Skydive in Greece has locations with Automatic Activation Device that deploy parachutes on their own. The drop zones are well equipped and have all the latest technology that ensures the safety of the rider. If you are looking for the answer to where to get the best Greece Skydiving experience, here's your list of the best places to skydive in Greece-
1. Pachi airfield, Megara

Located at a 45-minute drive from Athens, Pachi is a stunning village that beholds panoramic views of the country from above. Small straw huts, estuaries, and beautiful farms are the characteristics of this place. Skydiving from here is the best skydiving experience in Greece. The best places in the country, along with skydiving instructors from the Greece Skydiving institute, are present here. The site also has a comfortable waiting room with tasty snacks and great coffee to enjoy before your skydive.
2. Kapadia, Voita

Skydiving in the Kopaida airfield of Voitia is a beautiful experience. The grand views offered here are breathtaking. Experience the freefall from 3500 AGL at a speed of 200 km/hr. The place is the most common choice for skydiving enthusiasts. The vast field and green meadows here are a dream for many.
Best Time For Skydiving In Greece
The best time to skydive in Greece is between late April to early November. If you are traveling on a budget, March, April, and May are the best months to get some steal deals and discounts. July and August are the busiest months, and usually, skydiving spots tend to be crowded. July and August are the hottest months in Greece with a lot of humid wind currents.
Tips For Skydiving In Greece
Relax and breathe – It's always advisable to maintain a balanced and composed state of mind before a skydive. Relax and take deep breaths. Do not panic. Keep breathing through your nose and let the air reach all your organs. Remain in an oxygenated stage throughout the journey.
Always buy the photographs and videos- The adventure day will pass in a whirlwind, and you will not know when it gets over. Getting pictures and videos is an excellent option to see how it all went. It's also a good memory to go back to. Your first skydiving memory should always stay with you.
It's okay to feel nervous – Skydiving is a sport that requires you to be active and energetic to enjoy it the best. It's normal to be worried. It's all a part of the process. The best skydiving in Greece will give you butterflies. Remember, it's all a part of the experience. Dwell in the feeling and enjoy your first jump across the beautiful terrain of Greece.
How To Reach Greece
Greece is the country on the coast of Southwest Europe with many small islands defining it. It has sun-bleached ruins and piercing skies. Here's a list of ways you can reach Greece.
By Air: Elefthérios Venizélos International Airport in Athens is the hub for all international flights from around the world. Regular trips to Athens are available from all major cities in the world.
By road: If you are traveling to Europe, you can drive through the neighboring countries like Turkey, Romania, and Bulgaria by several buses that run daily. You can also fire a car that can drop you to the starting point of skydiving location. Several Eurostar buses frequently run from neighboring countries to Greece.
By Rail: Greece has a strong network of well-connected railways. You can travel from Croatia, Switzerland, Italy, Turkey, Netherland, and Austria easily. The Euro rail pass will be helpful for all your rail travels. Train travel to Greece will show you the best sceneries of Europe. Train travel is also slightly cheaper, and if you are a budget traveler, this is your best option.
By Sea: Many cruises from several neighboring countries run daily to Greece islands. They offer a good experience in the beautiful sea waters.
Greece is the ultimate travel and adventure destination. The beaches, the sunsets, and the skies here are to die for. Windsurfing, Rambling, and Sailing are other adventure sports here. Greece offers the best security and safety while skydiving. You will forever cherish the skydiving experience here, and the majestic beaches and sea will haunt your dreams forever. Greece is also a country that will surprise you with its culture and great food. If you are looking for adventure sports and skydiving on a budget, Greece is where you should be. What are you waiting for? Try Skydiving in Greece across these incredible skies on our vacation in Greece !
Disclaimer: TravelTriangle claims no credit for images featured on our blog site unless otherwise noted. All visual content is copyrighted to its respectful owners. We try to link back to original sources whenever possible. If you own the rights to any of the images, and do not wish them to appear on TravelTriangle, please contact us and they will be promptly removed. We believe in providing proper attribution to the original author, artist or photographer.
Please Note: Any information published by TravelTriangle in any form of content is not intended to be a substitute for any kind of medical advice, and one must not take any action before consulting a professional medical expert of their own choice.
Frequently Asked Questions About Skydiving In Greece
What are the age requirements for Tandem Skydiving?
The minimum age to perform a Tandem skydive is not set in Greece. You must sign a mandate that states all the risks and basic safety requirements. Anyone below the age of 18 is allowed with parental consent. The guardian must accompany the child. Young children are assessed from case to case, depending on whether they will fit into the harness or not.
How long will the entire adventure take?
The entire journey takes about three hours from the drop at the base camp to the final landing. The time given to you is to reach the base camp and not the plane time.
What should I wear to have a great experience?
Comfortable fitting clothes according to the weather are advised. Wear shirts, sweatshirts, athletic shoes, and shorts. Avoid wearing clothes with embellishments and threads. Also, avoid wearing flip-flops and shoes with heels.
What is the cost of skydiving in Greece?
Skydiving in Greece will cost anything between £200- £250. It is based on your location and the altitude you select. Additional charges are added for video recording and photographs.
Are contact lenses allowed?
Yes, contact lenses are allowed. Goggles that set over your glasses or lens are always provided. The safety gear is up to date, and full care of your safety is taken.
People Also Read:
Skydiving In Victoria Skydiving In Spain Skydiving In Queensland