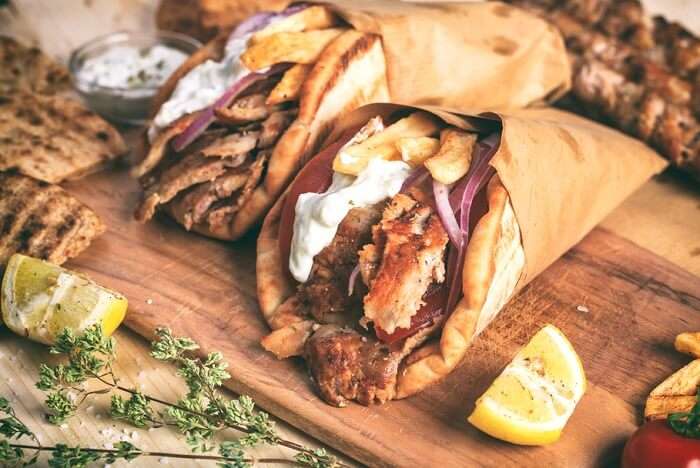 We all know that Greece is famous for its mythological legends, and exotic locations. Other than this, Greece is also home to some of the most delicious dishes ever. Not many people might be aware of the amazing Mediterranean food in Greece, but from dips to salads, and the mouth-watering meat, there are many sumptuous Greek Food you can experiment.
10 Best Greek Food Dishes
If you are planning a trip to Greece, and want a taste of some of the best food available there, refer to our guide of the famous Greek foods you should try at least once during your lifetime. Here's a list of the unique dishes Greece offers to its travelers. Read on to know more about these culinary delights:
1. Moussaka
If you are staying in one of the best resorts in Greece and looking for a tradition dish, this Greek cuisine can be made with any meat, but is traditionally made with either lamb or beef, and is prepared by slow cooking the minced meat in a tomato sauce and layered with aubergines, eggplants, and creamy Bechamel sauce. A classic among Greek food names, this popular dish can be found in almost all taverns and restaurants in Greece, and is also a loved dish in many Greek homes, and hence prepared often during Greek festivals.
 A Greece Honeymoon In 2022 Is All You Need For A Perfect Beginning Of Your Married Life
2. Souvlaki
The Greek word Souvlaki, in English, translates to "meat on a skewer", and this cuisine in Greece can be found in any Greek food menu. The meat, either lamb, beef or chicken is seasoned well and later on fried before it is served on a plate along with some french fries, vegetables and the ever famous tzatziki sauce. Traditionally, the dish is served wrapped in pita bread, but in some places, they serve the meat separately on skewers, and the pita bread is served on the side.
3. Keftethes
Another one from the traditional Greek food recipes, is this appetizer which is a twist on the classic Italian meatballs, where the meatballs are crunchier than any of the meatballs you've ever tasted before. These delicious meatballs are usually a starter, along with pita bread and a creamy sauce, but can also be turned into a main dish, and served with some flavoured rice or a crunchy salad. An easy recipe, this is one of those Greek food ideas that can be tried at home.
15 Greek Islands That Must Figure In Your Greece Travel Itinerary
4. Amygdalota
For all the health conscious people who want to enjoy a tasty treat on their vacation, can try these delicious almond-based cookies. An important part of Greek food culture, these biscuits are often consumed with tea or coffee or even milk sometimes, as a late afternoon snack, and can also be found at any Greek food festival because of their popularity.
5. Tomatokeftedes
For all vegetarians reading this list, don't be disappointed as there are a number of delicious Greek dishes that are vegetarian, such as this appetizer dish, which consists of drained tomatoes, mixed with mint and onion and then deep fried till they form fritters. It is usually served as a mezze dish along with some tzatziki sauce and some pita bread as well. This is one of the traditional Greek food recipes and a highly recommended dish for you to try on your visit to Greece.
 12 Best Resorts In Greece That Make You Feel Like Royalty
6. Feta Me Meli
This is one of the unique types of Greek food that can be eaten both, as an appetizer, and as a dessert. This dish is prepared by wrapping some feta cheese in a batter of filo pastry dough, before being placed in an oven and baked. After the dish is taken out of the oven, it is slightly drizzled over with honey, creating an amazing balance between sweet and savoury, and a wonderful explosion of flavours in your mouth.
7. Galaktoboureko
This Greek dish is a dessert and is one of the most popular among the Greek food and drink dishes. A batter of phyllo dough is baked to perfection and then a generous dose of butter is poured over the dish. Any sweet tooth will absolutely enjoy this dish, and will definitely not be satisfied with just one portion. A perfect dessert companion for your evening tea or coffee, this beloved Greek dish can be found in many Greek homes, and cafes as well.
 10 Places To Visit In Mykonos In 2022 For An Ideal Vacation In The Pretty Greek Island!
8. Yemista
Speaking of the Greece national food, we could not leave this delicious dish off our list. This dish is a main course that is prepared by stuffing tomatoes with rice, and cooked with many herbs. If you are looking for a non-vegetarian version of the dish, the stuffing can also be made out of minced meat, either chicken, beef or lamb. Though the traditional dish is made out of tomatoes, there are modern twists where other vegetables, like bell peppers, are used too. Don't miss out on this traditional dish on your visit to this beautiful country.
9. Saganaki
This traditional dish can be used in a variety of ways and the most popular is it being used as an entrée. It's also one of the easiest dishes to be prepared, using only two main ingredients, flour and cheese, and what could be a better combination than these two delicious food items. The cheese is dipped in bread crumbs and then deep fried till the cheese turns golden brown. Though the original ingredient is cheese, variations of this dish can be prepared with ingredients like prawns, chicken, and other meats and vegetables. You will fall in love with this Greek delicacy, and the best part is that it can easily be prepared even in the comfort of your own home.
 10 Hotels in Greece That Are A Treat For The Senses!
10. Halvas
Ending the Greek foods list on a sweet note with this traditional Greek dessert, that can be found in any Greek restaurant, tavern or bakery. The best part about this dish is that no eggs, dairy or butter is used in this dessert, so it's an absolute delight for vegans who are usually so restricted with options with it comes to desserts. Semolina, sugar, oil, and water are the four main ingredients used to prepare this sweet dish and the dish is usually served either with ice cream or gelato. It's no secret that food prices in Greece are pretty high, but this dessert is both delicious and easy on the pocket and you will fall in love with how soft and sweet it is.
These are only some of the best dishes that you can try in Greece, and many more amazing culinary delights await you on your visit to this country. Book your trip with TravelTriangle and enjoy some amazing Greek food.
For our editorial codes of conduct and copyright disclaimer, please click here.
Frequently Asked Questions About Greek Food
What is the most famous food in Greece?
Moussaka is considered as one of most famous food dishes in Greece. The dish is made of minced meat, potato topped with a creamy bechamel sauce.
What is served in a traditional Greek dinner?
In Greece, grains, bread, potatoes, pasta and rice are eaten almost every day. It is quite common in to find dishes which are made with olives, eggplant, cucumbers, olive oil, tomatoes, and spinach.
What is a typical Greek lunch?
Usually the Greek lunches are light in nature which includes home-made vegetable stew and casserole. It will be served bread with staple sides of cheese, wine and salad.
What is the largest meal in Greece?
Mesimeriano is known as the largest meal in Greece. It consists of roasted meat, Feta Cheese and grilled fish.
---
People Also Read:
Restaurants In Tukang Singapore Restaurants In Canggu Bali Restaurants In Candi Dasa Bali