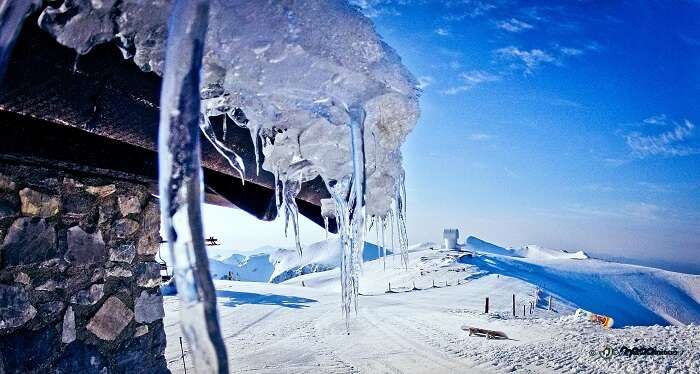 There can be no place other than the paradisiacal Greece that makes even the blues look happier. Of all the seasons that fit the bucket to visit this blue and white heaven, it is a different and one of a kind experience to explore offbeat places, and indulge in the most thrilling experiences on a trip to Greece in December.
And for those who've been looking forward to such an experience, this detailed guide is all you need to explore the best of Greece in December.
Weather Of Greece In December 2018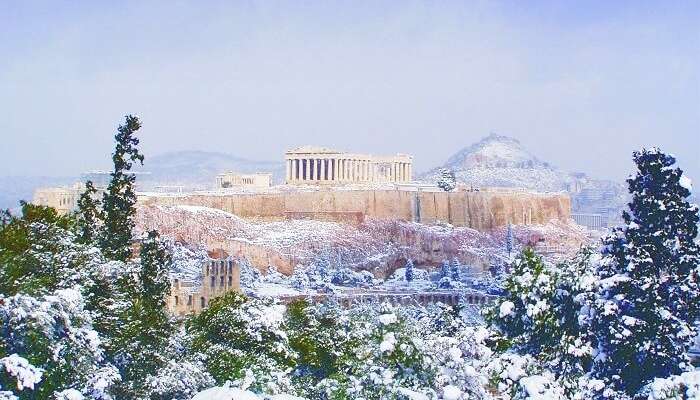 Suggested Read: New Zealand In December Is Too Much Fun. Pick Your Reasons And Plan A Trip Now!
The weather of Greece in December 2018 is usually cloudy with normal chances of rain pouring in. The temperature fluctuates from a minimum of 9°C to a maximum of 14°C. However, whereas the average Greece temperature in December remains somewhere around 12°C.
How To Reach Greece
For those who are flying into the island by air, can access the paradise via Elefthérios Venizélos International Airport which is located in Athens. For other travelers who wish to travel from neighboring countries via railways, can deboard at the Athens Railway Station which offers great connectivity with all the major countries across Europe.
Average Budget Per Person In Greece
The main features that go into an account while planning a budget like that of meals, accommodation, local transfers, sightseeing, shopping, and other expenses have been considered to calculate an estimated budget for an exquisite vacation in Greece in December.
However, this average budget remains just an estimate for one person while and travelers are advised to carry extra cash with them before traveling to Greece in December.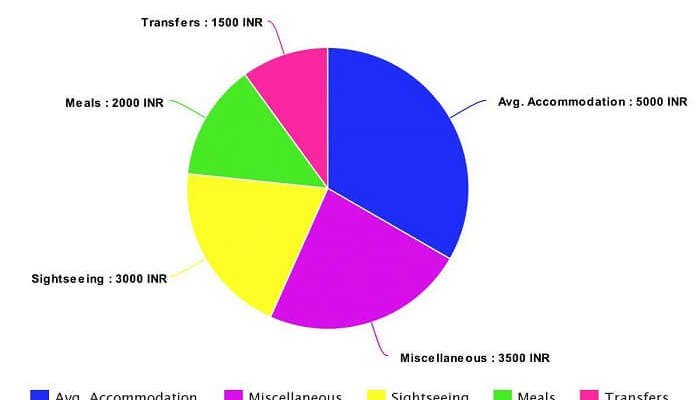 Flights: INR 65,000 approx. (round trip)
Accommodation Range: INR 4,000 to INR 6,000 (double-sharing basis & taxes excluded)
Avg. Accommodation: INR 5,000
Meals: INR 2,000 to INR 2,500 (Lunch & Dinner – excluding taxes)
Sightseeing: INR 3,000 approx.
Transfers: INR 1,500 to INR 2,000 approx.
Miscellaneous: INR 3,500 to INR 4,000
Average Budget Per Person Per Day: INR 15,000 OR 180 Euros to 200 Euros per person
Please Note:
Flight rates have not been included in the average budget per person as it may differ from person to person and the source of their destination origin.
For accommodation, an average price range has been provided of which the lower limit has been taken into account to arrive at an estimated expenditure in Greece.
Also, the lower limit has been included to calculate the average budget.
Suggested Read: 10 Castles In Greece That Testify The Country's Glorious Past
Best Places To Visit In Greece In December 2018
Though there are many major attractions that one may visit either on their trip to Greece in December for honeymoon or during a leisure holiday, there are few unexplored treasures that one can explore on their Greece vacation in December.
1. Zagorochoria or Zagori
Located in the northwestern region of Greece amidst the mountains of Pindus in Epirus, Zagori or Zagorochoria as it is called, is a beautiful region that has a total number of 46 villages only. With an uncanny resemblance with the shape of an downward equilateral triangle, Zagori is surrounded by Mount Mitsikeli, the Aoos river, and the Mount Tymfi on all four sides. Much famed for offering one of the best trails for hiking, Zagori boosts the Greece tourism in December to a major extent.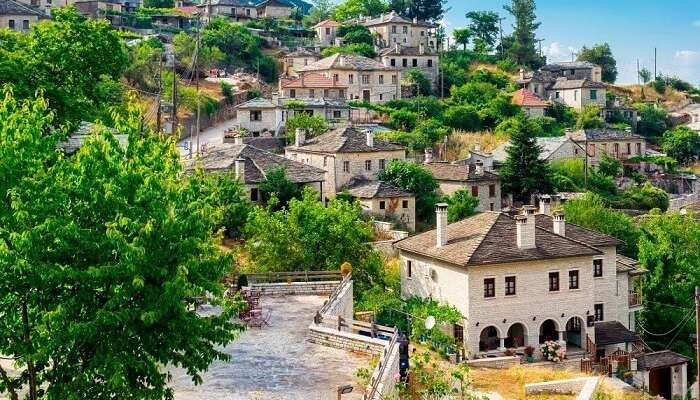 Suggested Read: A Romantic Trip To Greece Exploring The Jewels Of The Aegean Sea
Must Experiences: Hiking at Aoös National Park, canyoning and river rafting in Vikos Gorge, skiing at the Lake Ioannina, exploring the Perama Cave, trekking at Tymfi, and Smolikas mountains, camping at Pindus National Park, and much more.
How To Reach: The closest airport to Zagori is that of Ioannina which is located at a distance of about 64 kilometers and takes 1 hour to cover the whole distance. One can also board local buses from the neighboring cities of Athens, Patra, and Thessaloniki.
---
Europe Holiday Packages On TravelTriangle
Explore the most beautiful places to visit in Europe, from Paris to the Venice canals and from the Greek islands to the Swiss alps. Book customized packages by expert agents on TravelTriangle. Inclusive of airport transfers, cab, resort, sightseeing and meals. Best holiday experience Guaranteed. Book Now
---
2. Thessaloniki
The gorgeous capital city of Macedonia, Thessalonica, Thessaloniki, or Salonica happens to be Greece's second largest city and also one of the best places to visit in Greece. Much famed to be the co-capital of Greece, it was previously honored as the co-queen of the Byzantine Empire. Also, for those who plan on visiting Greece in December, it is a must to witness this magical city and its charm during winters.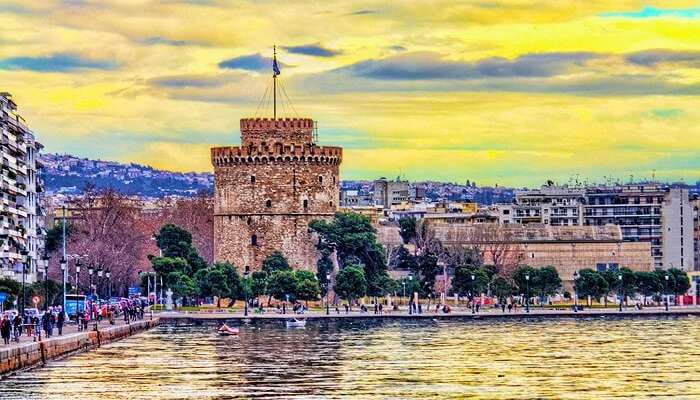 Must Experiences: Explore the White Tower of Thessaloniki, walk through the past at Aristotelous Square, visit the Arch of Galerius and Rotunda, admire the Hagia Sophia at Thessaloniki, explore the Archaeological Museum of Thessaloniki, and much more.
How To Reach: For those who're traveling by air, can take a flight till the Macedonia International Airport which is the nearest airstrip. For those who wish to travel by train, can get to Thessaloniki from major cities in Greece via the new train system.
3. Pelion
Striking a perfect balance between modern luxury and old-world charm, Pelion is a compilation of small villages which are nestled between the Aegean Sea, and the Gulf of Pagasitikos. Of beaches, gardens, and mesmerizing sunsets, the surreal landscape of Pelion serves as a perfect getaway for making the most of Greece Christmas holidays.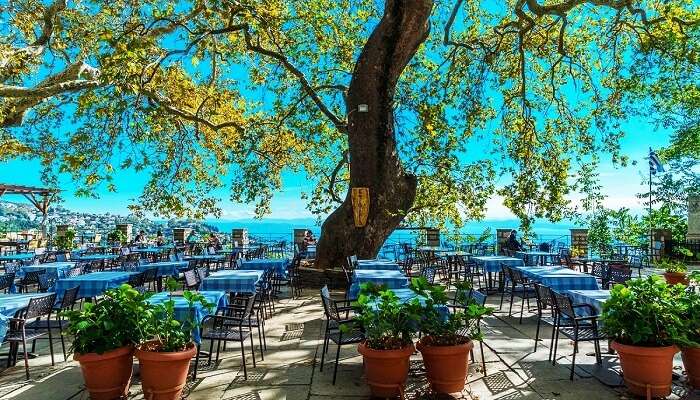 Must Experiences: Trace the history of Centaurs, Skiing at Agriolefkes, explore the amazing flora in Tsangarada, watch a mesmerizing sunset from the Makrinitsa, bask in the sun at Pelion beaches, and much more.
How To Reach: Located at a distance of about 30 kilometers from Volos, the closest airstrip to Pelion is that of the airport of Nea Anchialos. One can also board the green buses of Frequent KTEL from Volos to Pelion.
Suggested Read: 15 Greek Islands That Must Figure In Your Greece Travel Itinerary
4. Karpenisi
Laden with snow, Karpenisi is a quaint little getaway in the heart of Evrytania which is a perfect place to explore on your trip to Greece in December. Considered to be a mecca for adventure enthusiasts, Karpenisi serves as a perfect escape for those who are in for some thrill. Be it amidst the nature or by the beach, Karpenisi has something to offer to every travelers.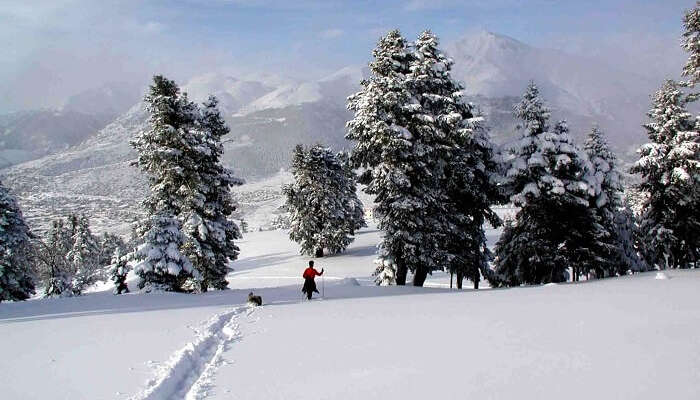 Must Experiences: Skiing at Velouchi Ski Centre, rock climbing and caving at the Black Cave, rafting on the rapid waters of River Tavropos and Trikeriotis, kayaking at Kremaston Lake, horseback riding by the Karpenisiotis river, mountain biking in the fir forests, bike trip to Mt. Kaliakouda, and much more.
How To Reach: The best way and the most frequently used way of reaching Karpenisi is by road from the town of Lamia. Located at a distance of about 75 kilometers, the route takes the travelers through dense forests, lush environs, and a diverse landscape on the way.
Suggested Read: 10 Places To Visit In Mykonos For An Ideal Vacation In The Pretty Greek Island!
5. Monemvasia
Located in the little quaint town of Laconia, Monemvasia is an island getaway set on the eastern coast of Peloponnese. Home to some of the ancient Byzantine churches dating back to the medieval period, Monemvasia is also much famed as the Rock or the famous Gibraltar of the East. Literally translating into the single entrance which is derived from the Greek words of "Mone" and "Emvasia", it is one of the must-visit Greek islands in December.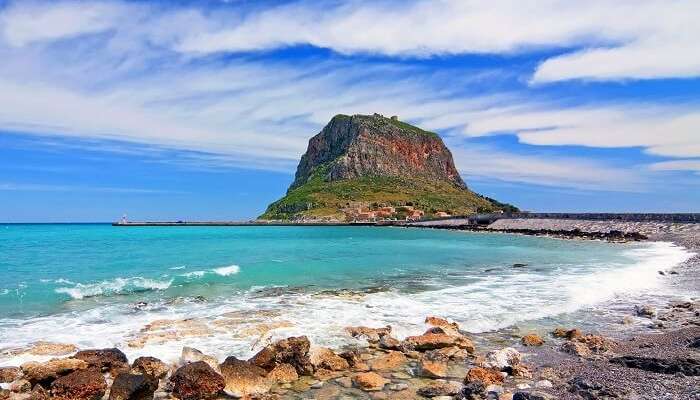 Suggested Read: In Pictures: 30 Most Beautiful Cities In Europe That Will Make You Want To Take The EuroTrip Now!
Must Experiences: Explore the Ancient Gate To The Monemvasia, visit the Church of St. Anne, explore Agia Sofia or the Acropolis which is also called Castle Of Monemvasia, visit the Monemvasia Lighthouse, and much more.
How To Reach: The closest airport to Monemvasia is that of the International Airport of Athens which is located at a distance of 330 kilometers. One can also choose to board the green buses from either Athens or the nearby cities of Sparti or Molai and the whole bus journey takes about 5 hours.
Things To Do During Winters In Greece
1. Visit The Temple Of Apollo At Delphi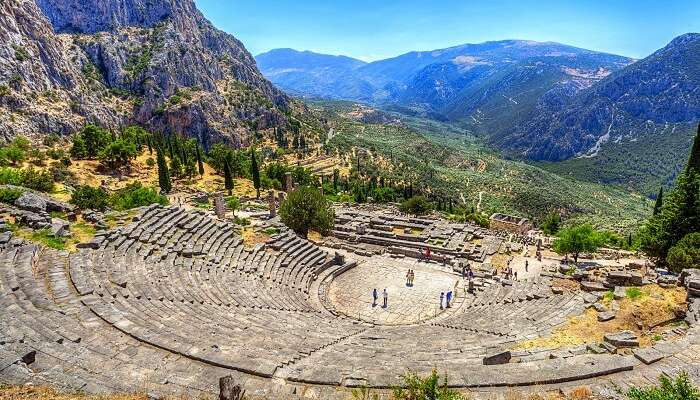 Considered to be one of the most magnificent structures on the mainland, the Temple of Apollo at Delphi remains close to the heart of Greece as a major landmark of the city. Having restored six of the remaining Doric columns, the ancient ruins of the Temple of Apollo at Delphi dating back to 300 BC are a must-visit on your trip to Greece in December.
Location: Delphi 330 54, Greece
2. Explore The Magnificent Mount Athos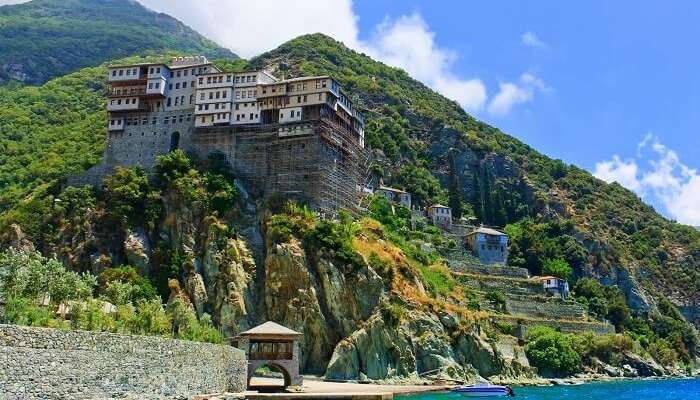 Known as the Holy Mountain in Greek, Mount Athos is a magnificent home to about twenty marvelous monasteries whose traditions date back to the era of 800 AD. With the presence of Christianity for more than 1800 years, make sure on your trip to Greece in December that you interact with few of about two thousand monks who are leading a simple life and find beauty in isolation.
Location: Northeastern Region of Greece
Elevation: 6670 ft.
3. Reach Atop The Great Meteora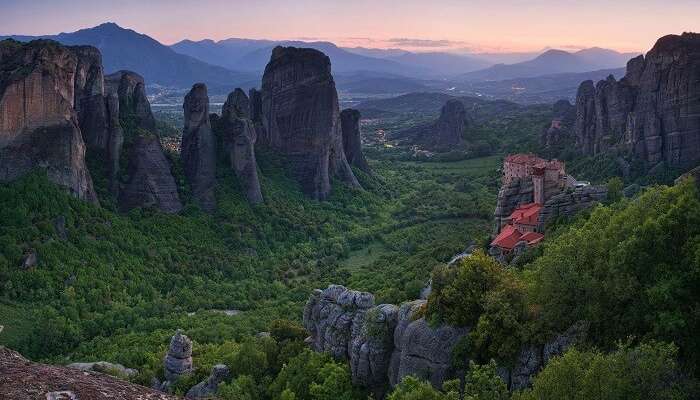 Natural and massive boulders that serve as the strong pillars to six of the most beautiful monasteries perched on top, Meteora is a series of rock formations that are set in the heart of Kalambaka town. Though it is only next to Mount Athos in terms of importance, the Meteora is also one of the most significant UNESCO World Heritage Sites which is listed under five categories and is undoubtedly a must-visit on your trip to Greece in December.
Location: Kalambaka 422 00, Greece
4. Swim In The Thermal Lake Vouliagmeni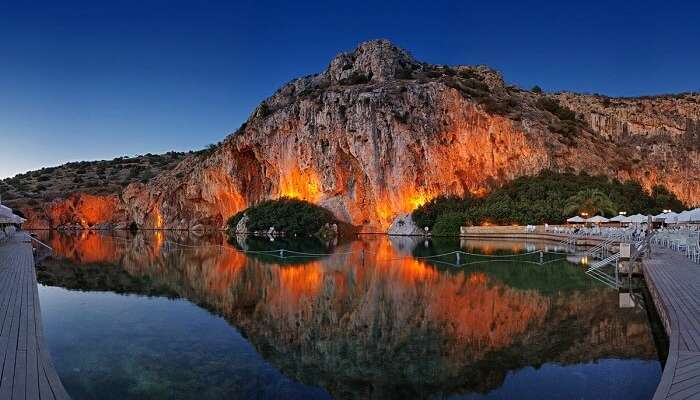 Filled with crystal clear and shimmering blue waters, Lake Vouliagmeni is probably the most surreal craters of the world and swimming in it is one of the favorite things to do in Greece. Not leaving a stone unturned in hypnotizing the travelers with its charm, the lake is also famous for its significant medicinal values and serves the travelers as a natural mineral spa.
Location: Vouliagmeni, Greece
5. Be A Part Of Greek Festivities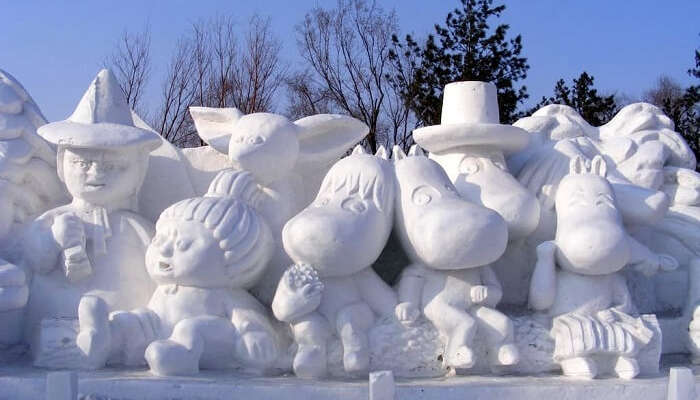 Suggested Read: Know Why Dana Villas In Santorini Needs To Be On Every Couple's Bucket List!
For those who've been to Greece and those lucky ones who live in this paradise, need no introduction to how grand and lively the celebrations are in this blue haven. With festivities starting twelve days before the day of Christmas and continuing till the first week of January, Christmas and New Year celebrations are full of energy and life in Greece. Giving the festivities a meaning, Christmas is celebrated equally in a spiritual manner as much as it is celebrated with its traditions in place. Hence, for those who're looking forward to go on trip to Greece in December, it is a must to celebrate the festivals in the Greeks' way!
Must Experiences At Greece In December 2018
1. Relish Skiing In Peloponnese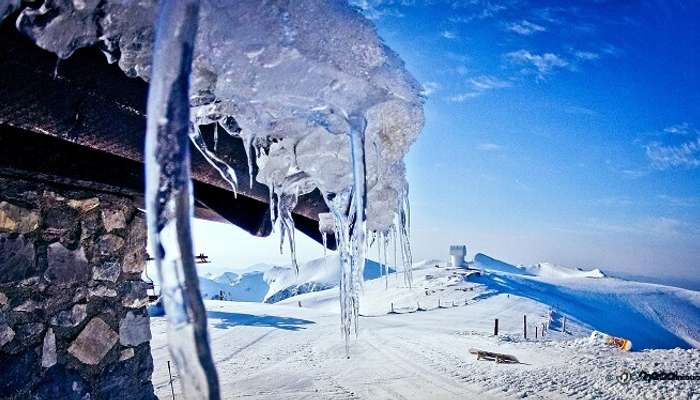 Featuring exclusive ski lifts to transfer the travelers to the skiing point, the ski resorts nestled in the region of Peloponnese at set at a massive height of about 7789 ft. Bound by thick layers of snow and the slopes measuring upto 7.3 kilometers in length, your trip to Greece in December is totally incomplete without experiencing skiing in Peloponnese.
Ski passes cost about 14 Euros for a day ticket.
2. Unravel The Magic Of Ionian Islands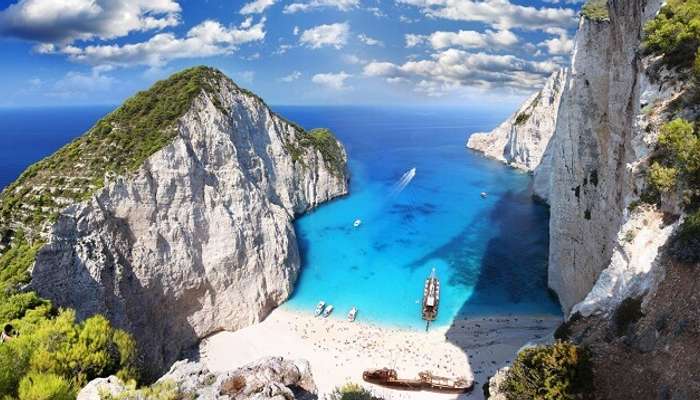 Much acclaimed to be a perfect destination in the heart of Aegean Sea, the Ionian Islands ooze natural beauty and grace that is best witnessed on a Greece honeymoon. From historical monuments to exotic beaches, from its baroque architecture to its lively cafes, and from the best of diving centres to the peaceful sites for rejuvenating your mind, body, and soul, the Ionian islands offer just the perfect environs for an unforgettable vacation in Greece in December.
Capital: Corfu Island
3. Experience The Best Of Island Hopping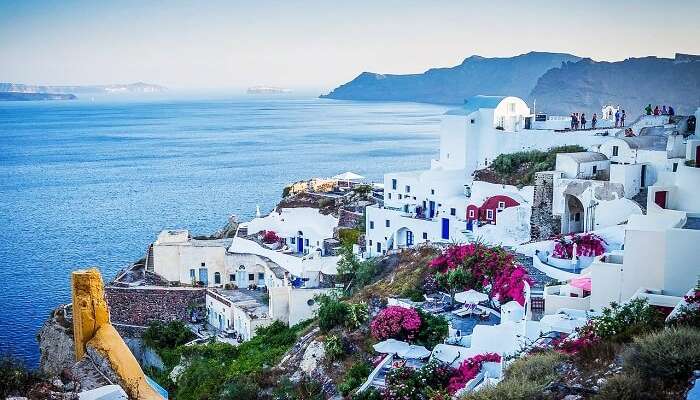 To cherish more of the happy blues while you're still holidaying in Greece in December, it is a must to experience island hopping at its best along the shimmering coastline of Aegean Sea. Touring four of the most famous islands of Greece of Santorini, Milos, Paros, and Mykonos on a motorboat is one of the best experiences that one can indulge in Greece.
Best Hotels In Greece all travellers
1. Aristi Mountain Resort Hotel
Located at a distance of about five kilometers from the renowned Moni Panagias church, Aristi Mountain Resort Hotel is a classic hotel that showcases brilliance in form of stone-built architecture which encompasses of all the modern amenities.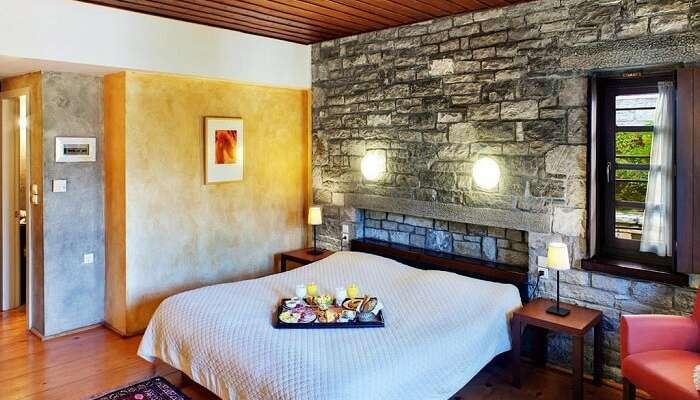 Suggested Read: 20 Kickass Honeymoon Destinations In 2018: Perfect Backdrops For Your Love Story
Address: Aristi Zagoriou, Aristi 440 04, Greece
Price/Night: Starts from INR 8,700 (double-sharing basis & tax excluded)
TripAdvisor Ratings: 5/5
Website | Reviews
2. Anatolia Hotel
Set at a distance of about two kilometers from the famous Aristotelous Square's waterfront, this contemporary hotel, offers a comfortable stay moulded in modern amenities and an impeccable service.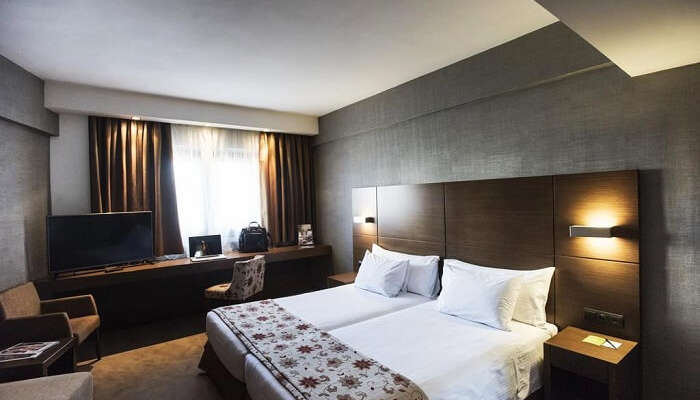 Address: Lagkada 13, Thessaloniki 546 29, Greece
Price/Night: Starts from INR 9,300 (double-sharing basis & tax excluded)
TripAdvisor Ratings: 4.5/5
Website | Reviews
3. The View Village
Located in the foothills of Mount Velouchi, the View Village is an epitome of elegance and comfort in the lap of nature. Offering surreal views of the surrounding mountains, the View Village is indeed one of the best hotels in Greece.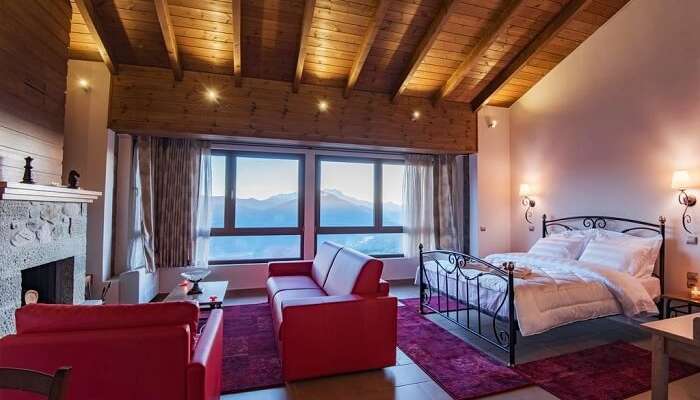 Address: Mýloi, Karpenisi 361 00, Greece
Price/Night: Starts from INR 10,600 (double-sharing basis & tax excluded)
TripAdvisor Ratings: 5/5
Website | Reviews
Best Restaurants In Greece
1. Gostijo Kosher Restaurant
Literally translating into "sharing food" in the local language of the Sephardic Jews, Gostijo is a cultural restaurant that offers traditional and authentic Sephardic cuisine to the guests on their visit to Greece in December.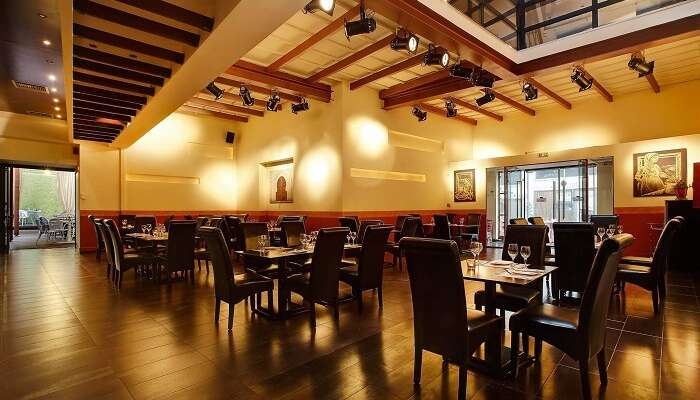 Suggested Read: 15 Best Things To Do In Santorini For An Impeccable Island Holiday!
Must Try: Boureka, Gyro, Souvlaki, and Salmon
Location: Esopou 10, Athens Greece 105 54, Greece
Timings: Monday to Thursday – 4 pm to 11 pm; Sunday – 1 pm to 11 pm; Closed on Fridays & Saturdays
Cuisine: Mediterranean, Jewish
Average Meal For Two (With Wine): Starts from INR 2,000 (tax excluded)
Google Ratings: 4.6/5 | Reviews | Website
2. Aleria
A modern-day restaurant built in a contemporary style, dining at Aleria is all about finding joys in each and every dish. Set inside the premises of a neoclassical villa, Aleria serves the most delicious Mediterranean cuisine in the heart of Greece.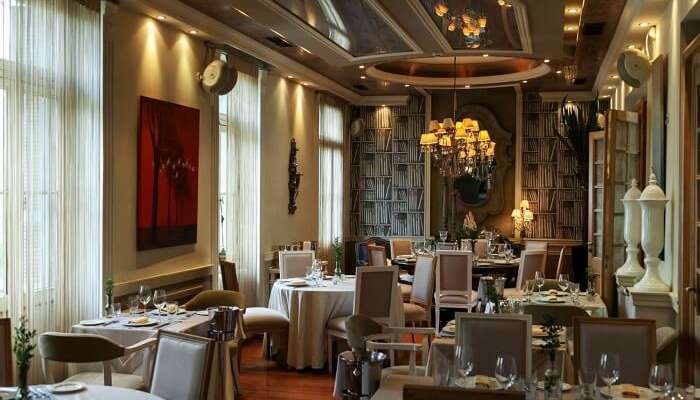 Must Try: Roasted Lamb, and Rice Pudding
Location: Meg. Alexandrou 57, Athina 104 35, Greece
Timings: Monday to Saturday – 7:30 am to 11:30 pm
Cuisine: Greek, Mediterranean, and European
Average Meal For Two (With Wine): Starts from INR 3,500 (tax excluded)
Google Ratings: 4.7/5 | Reviews | Website
3. Tudor Hall
Serving the best of Greek cuisine infused with modern flavors, the Tudor Hall restaurant is famous for offering unparalleled views of the renowned Acropolis. Set on the 7th floor of King George Hotel, it is a must to try the signature cocktails at this restaurant.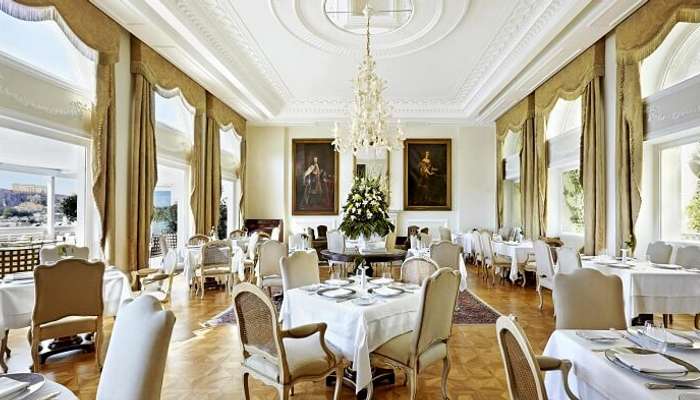 Must Try: Grilled Scallops, and Tagliolini
Location: Vasileos Georgiou A 3, Athina 105 64, Greece
Timings: Monday to Sunday – 6:30 am to 11 am; 6 pm to 12:15 am
Cuisine: Mediterranean, European, and Greek
Average Meal For Two (With Wine): Starts from INR (tax excluded)
Google Ratings: 4.6/5 | Reviews | Website
Getting Around Greece
Water transport is the main mode of transportation between all the islands of Greece. From small motorboats to ferries and cruises, there are a lot of options to get a transfer from one island to the other via water transport.
Frequently Asked Questions About Greece In December
Q: What is the best time to go to Greece on a holiday?
A: Though the best time to visit Greece is from the months of mid-April to mid-June, and from September to mid-October, many travelers prefer traveling to this paradise in winters to relish the best of snowfall.
Q: What type of clothes are most suitable in Greece in December?
A: Make sure you carry enough woolen clothes and suitable winter wear as the temperature in Greece tends to drop tremendously during the night in winters.
Q: What are the best ways of getting around Greece in December?
A: The best way of getting around Greece is to make use of the ferries and the other water transportation modes.
Planning a fun-filled holiday in Greece? Treat yourself to a perfect Greece tour package with TravelTriangle that will make your trip to Greece in December the most cherished one!
Must Read: 12 Best Resorts In Greece That Make You Feel Like Royalty
---
Looking To Book An International Holiday?
Book memorable holidays on TravelTriangle with 650+ verified travel agents for 65+ domestic and international destinations.
---
Comments
comments