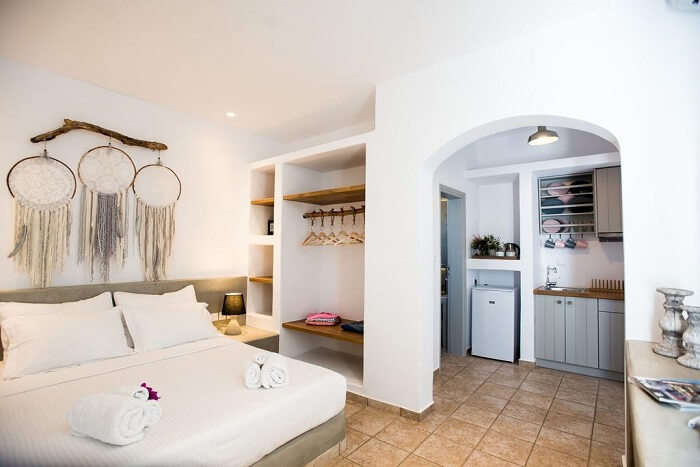 Travelling is one activity that can never cease to exist anytime soon. And where there is travel, there always is the issue of accommodation, and that is one commodity people have to spend most on, money wise, as well as, time-wise. Of late, homestays have started gaining popularity; as well as, they are always growing in numbers nowadays. Today we will talk about homestays in Greece, which will allow you a more homely, peaceful stay among solitude. A trip to Greece will always be prolonged, as Greece is filled to the brim with history and wondrous sights. So, it is essential that you choose wisely where you stay. So, you might be wondering, where to stay in Greece? There are numerous homestays in Greece, of which not all will be of your taste. So, it is essential that you research well and choose what is best for you. And we are here to help!
8 Best Homestays In Greece
As discussed above, there are a whole lot of homestay options available in Greece. And, undoubtedly, homestays are the best options to go for, when it comes to a stay in solitude, and isolation from another family or group of travelers. So, we have made a list of some of the best and cheap homestays in Greece. Homes have been chosen to suit most of our travelers' requirements.
1. Homestay on a Yacht

This is a unique homestay in Greece. Staying in this one is an adventure in itself. This homestay is actually a yacht, 15 meters long. Originally belonging to Steph and Andy, who has been sailing for the last 8 years, they have recently opened up their yacht for guests. The homestay will give you a complimentary breakfast. However, you have to pay for all other kinds of food. And you will not be allowed to cook your own food. The yacht will be sailing among a number of Greek islands and will go ashore in the evenings. It will let you check out the local taverns.
When without guests, you will find the yacht docked off the coast of Poros.
Location: Poros, Greece.
Price: Rs. 11, 789 per night onwards.
Must Read: Greece In December: A Guide To Explore The Gem Of Aegean Sea During Winters!
2. Romantic Villa In Mykonos

Owned by George, this actually is his family's summer home. Since 2014, he has been opening up this home to guests. They mostly host smaller groups of guests, something of about 5 people. Extremely clean, and with great furnishing, this is your perfect romantic getaway; a must for any vacation. Located on a hill facing west, this home will present you with the perfect sunsets. The home will keep you away from the party scene, but so far away that you couldn't approach if you wanted to. The clubs are just about 10 minutes from this home. The house has a big campus and is kind of isolated, which in turn, will let you be away from being bothered by any. You could choose to stay by the trees during the day, or chose to walk the 15 minutes to the beach.
Location: Kounoupas, Mykonos Island, Greece.
Price: Rs. 5,835 onwards.
Suggested Read: 10 Hotels in Greece That Are A Treat For The Senses!
3. Monastiraki Homestay

Pretty close to the Monastiraki flea market, this homestay is actually the whole of the first of a building in the area. Very neatly and intricately designed by the proprietor, this big house will give you easy access to the Acropolis. Apart from that, you get in-house laundry facilities, internet access, and air conditioning. The rooms welcome, couples, families, and students.
Location: Monastiraki
Price: Rs. 1,869
4. Artistic Basement Homestay

65-year-old Maria Maya has converted her basement into living quarters. A former graphic designer, Maya has done some pretty commendable work on her basement, which will brightly welcome you. On the level, however, you will get a beautiful garden to lay back in, and you get other facilities like in-house laundry, internet access. You also get ACs and TVs in your rooms. The best thing, however, is that you will get parking facilities here. Maya opens her doors to couples, families, and students.
Location: Kolonos
Price: Rs. 1,300 onwards
Suggested Read: 15 Greek Islands That Must Figure In Your Greece Travel Itinerary
5. Stay In The Heart

Basi has been welcoming guests to her humble home since 2015. Most suitable for 4 people altogether, the bedroom has a king size bed, with two comfortable sofa cum beds in the living room. The living room also has an office desk with a PC and a printer. Basi also offers a fully equipped kitchen to cook your own food. On top that, the host will also provide you with complimentary breakfast. The house has a WC bathroom, which also has a washing machine and a dryer. Apart from heat controlled air conditioning, the host will provide you with fresh sheets and towels. Basi welcomes couples, families, and students.
Location: Exarchia, Athina
Price: Rs. 2,926 onwards
Suggested Read: 10 Places To Visit In Mykonos For An Ideal Vacation In The Picturesque Island Of Greece!
6. Homestay For One

Here is the perfect, and probably the cheapest homestay available for someone traveling alone in Greece. Georgios has opened up his door for lone travelers since 2005. At an extremely low cost and some pretty decent facilities, this stay will make you feel like living with a flat-mate. Georgios will, even after his busy schedule, will offer to show you around. You will get fresh towels, blankets and stuff, TV, Computer, AC, hot water, and even complimentary light breakfast. But, all this, and the duration of stay with him depends upon how fun you could be. Be social, interact with your host, indulge in games, in gigs, and festivals, and you will be introduced to excellent basking spots in town. Just behave like you are living at a friend's and you will be given an intimate tour of the city. However, Georgios plays host to only females and students.
Location: Sepolia, Athens
Price: Rs. 800 onwards.
Suggested Read: 12 Best Resorts In Greece That Make You Feel Like Royalty
7. Homestay At A Central Location

We now take you to the homestay run by Kalliopi. It is a decent stay, with big, clean rooms, that get a fresh supply of towels and sheets, when asked for. In addition, you get in-house laundry, TV, and internet. With complimentary breakfast and full access to the kitchen, feel at home at Kalliopi's. But, the biggest advantage of this homestay is that it is in an area that is central to Greece. Anywhere is near to this place. It is at a place called Kato Pertalona, which is 8 minutes from both Kerameikos and Petralona metro stations when you are walking. Hence, transportation is extremely easy. Kalliopi welcomes single travelers, couples, families, and students.
Location: Petralona, Athens
Price: Rs. 2,032 onwards.
8. Experience An Artsy Place

Meet Manos. Extremely friendly, and a great artist! And he owns and runs this amazing, unusual place. These are two buildings together, an apartment and a studio, divided by the wall. Either of these will be lent out to two different groups of visitors, or both to a larger group. The rooms are quite spacious; the studio can house up to 3 people, while the apartment can accommodate 4 people, with 2 more sleeping on the bunk bed. Manos will be just next doors if you might need anything. He will give you a complimentary breakfast in the morning, while you have the kitchen all to yourself. This home again is in the central parts of the Heraklion, and hence the interesting places like pubs, and clubs, and museums are extremely close. In fact, bus stops are 50 meters away. Altogether, this is an excellent stay.
Location: Chanioporta, Iraklio
Price: Rs. 1,463
Further Read: A Honeymoon In Greece Is All You Need For A Perfect Beginning Of Your Married Life
You must be jumping on your seats by now. Why wouldn't you? After all, who wouldn't want to try staying out in one of these amazing, unusual homestays? If you have Santorini on your itinerary then there are a number of homestays in Santorini, Greece which you can opt for. Search for them, book in advance and enjoy some extremely good times on your trip to Greece. Happy holidays!
---
Looking To Book An International Holiday?
Book memorable holidays on TravelTriangle with 650+ verified travel agents for 65+ domestic and international destinations.
---