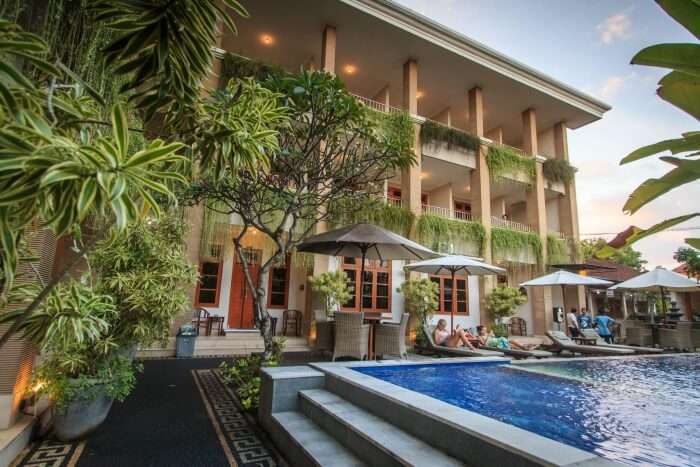 Overview
The mention of Bali brings to mind long stretches of sun-kissed sand, many beaches with jade blue waters, untouched forests glistening with a million shades of green and the smiling faces of the locals. Bali is more than just a tourist destination; Bali is a feeling, an experience that cannot be put into words. For all those planning to travel to this fantastic destination on a budget, here is what one needs to know about the best 2 star hotels in Bali where backpackers can enjoy the services of this mesmerizing Island, without burning a hole through the pocket.
The 2 star hotels in Bali do not compromise on the services and amenities that they have for the guests, just because they are budget hotels. Yes, the number of services and experiences here may be limited, but the quality is always the best. These 2 star hotels in Bali give travelers the true feel of living life like a local when on this Island. While most of Bali has been taken over by commercialization and big plush, glass-and-steel hotels, they are still those little pockets of traditionalism tucked away in quaint corners all over the Island. Located in the heart of Bali Island, these hotels are the right place where backpackers can truly experience the local life of this island. From hotels set up in the local markets where the streets are decked with small artistic cafes, to those set within the heart of the towns, 2 star hotels in Bali are sure to put a traditional spin on any Bali Vacation.
Special Experiences
If travelers research well enough, they can find some of the most amazing services that Bali has to offer even in budget 2 star hotels in Bali. From outdoor swimming pools to lounge areas with unparalleled views of the mountains and surrounding, these hotels are indeed the ultimate place to relax and rejuvenate. These hotels are also preferred by couples traveling either for their honeymoon or simply to celebrate their love for each other. The hotels provide amazing services like couples massages, and special candlelit dinners arranged in the most romantic settings. One hotel that comes to mind when talking about couples-service is the Green House located in Ubud. These hotels also seem to understand that their guests want to feel one with the ocean even when staying a little way from the beach and as such certain 2 star hotels in Bali like the Shanti Natural Panorama View Hotel offers a saltwater swimming pool for their guests to lounge in.
Facilities
The budget should not always mean compromise and the 2 star hotels in Bali are a very good example of this fact. Though these hotels seem traditional, they are all equipped with world-class amenities for the ease of their guests. The hotels make sure that the guests are giving all the necessary facilities and can gout of their way to make the stay here a great one. For example, Kedungu Surf Camp is one of the typical 2 star hotels in Bali where guests can find services like fitness centers, swimming pools, a garden where one can enjoy a relaxing walk, game rooms with billiard and pool tables as well as dart boards and other games, as well as bicycle rental facilities. Taking care of all the entertainment needs of their guests is a specialty of these hotels.
Inside the room, daily maid services, spacious air-conditioned rooms, clean and well-stocked bathroom, television sets with international channels as well as express check-in facilities are all available at these 2 star hotels in Bali to ensure a smooth and memorable stay here. Hotels like the Pondok Nyoman located at Bedugul also offer free parking facilities for their guests who might have driven down here along with some stunning views of the area surrounding the hotel.
Dining
Food not just in Bali but all over Indonesia is a real treat for the senses. Made from fresh local produce and crisp and just caught seafood, the meals here can never be anything less than delicious. As such the hotels also give their guests a chance to savor some of the tasty delicacies of this region from within the hotel itself. 2 star hotels in Bali, generally feature a full breakfast spread for their guests as well as small 24-hour dining places like coffee shops and snack bars. The hotel Adi Bisma Inn is loved by the tourists for their full continental breakfast spread where the guests can enjoy a smashing breakfast accompanied by fantastic coffee. Bali Au Naturel is one of the few hotels in Bali featuring a beachside restaurant where guests can enjoy their meals while gazing out at the ocean.
FAQs
Q1. Is there maid or room cleaning services available in these hotels in Bali?
A. Yes, daily maid or cleaning services are provided in all 2-star hotels with no extra charges so that one can find rooms clean and organized when one returns after a tiring day.
Q2. Do hotels in Bali have in-room dining available?
A. In-room dining is a service subject to hotels, it differs from hotel to hotel. A 2-star hotel having a kitchen of their own, usually have a facility of providing the guests with in-room dining facility, however, it is best that to confirm the same with the hotel at the time of booking.
Q3. Do these hotels offer airport pickup and drop off services?
A. Yes, most of the hotels offer a free airport shuttle service as well a private pick up and drop off to the airport. The hotels may charge extra for a private pickup however the shuttle services are usually free.
Q4. Can these hotels accept foreign currency?
A. Many hotels do accept foreign currency, and they also offer currency exchange services so that the guests do not have to travel far to search for the banks. The dollar is widely accepted in most 2-star hotels, but it is best to check the details of currency exchange at the quarter.
Q5. Are these budget hotels wheelchair accessible?
A. Yes, most of the areas in these hotels are wheelchair accessible.
When travelers plan a vacation while on a budget, it does not always have to be at some motels which are far from all the nice and touristy places. The 2 star hotels in Bali are a fun experience to have when traveling here while still keeping to the budget. With multitudes of services and facilities, the tourists can surely feel pampered at these hotels. Other than the ones mentioned above, here is a list of a few hotels that one can look at when searching for hotels in Bali, Kausala at Bisma Ubud, Euro services Holiday Villa, Donald Home Stay, Wijaya Guesthouse, Akasa Transit, Bima Sakti House Canggu, Kubudiuma Villas Bali. These hotels are some great choice that one can look to when traveling on a budget to Bali. One can surely make the most of their vacation while accommodating at these hotels and enjoy a fun-filled vacation on in this island nation.