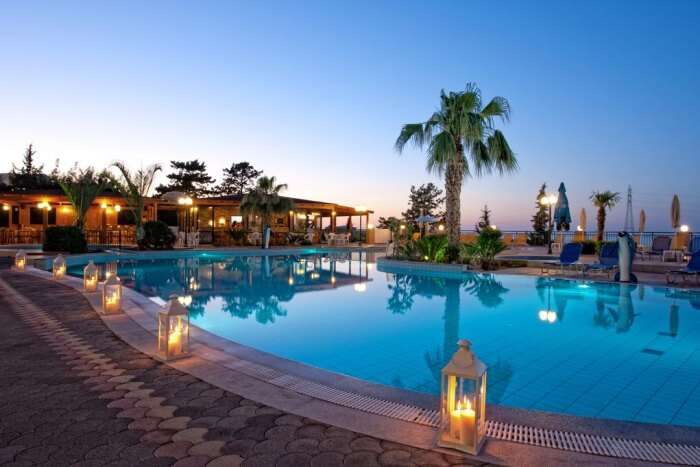 Overview
The beaches around Bali are a means of pleasure and delight to travelers from all around the world. Bali beach hotels serve the purpose of providing the ideal accommodations at these beautiful destinations. Situated at precise locations, these hotels offer beautiful ocean views. These hotels provide their customers with heart-warming hospitality and fantastic facilities. Stay inside the well designed and adequately furnished rooms of the Bali Beach hotels which are equipped with all the required amenities like Wi-Fi connectivity, flat screen TVs, minibars, room service etc.
The outdoor pools and spa centers are also to be looked out for in the hotel on Bali Beach of one's choice. Dine at the stylish restaurants that make sure to serve the guests with the best possible delicacies from cuisines coming from all around the world. The special services offered by each hotel add to the list of their perks. Guests will feel delighted at the efficiency and treatment offered by the dedicated staff and management of these hotels.
Special Experiences
Each of these hotels has got its own set of specialized services that ensure a comfortable and enjoyable stay for the guests. Legian Beach Hotel has a kids' pool and hot tubs along with private pools and outdoor showers in its villas. The hotel also offers airport shuttle service. Nusa Dua Beach Hotel & Spa offers a tranquil spa, a private beach, tennis court, and a racquetball court. Hotel Tugu Bali has the provision for classes of Balinese cooking, yoga and floral arrangement. These experiences at the Bali Beach hotels are a must to be enjoyed while staying inside the hotel premises. Guests are sure to enjoy the wide variety of experiences and amenities offered at these hotels.
Facilities
Bali Beach Hotels come with facilities which look after every aspect of the vacation with great care. The hotels have excellent locations and provide all the essential amenities like Wi-Fi connectivity, flat screen TVs, minibars, tea and coffee making facilities, balconies with beautiful views etc. Parking provisions are also available for the guests and allow one to easily find space for their cars. Furthermore, other modern-day services, such as reception care, laundry services and much more are offered.
Belmond Jimbaran Puri Hotel offers luxe rooms having private pools or patios to help one de-stress and enjoy their vacation in Bali. The spa at Hotel Tugu Bali has the requirement for a variety of spa treatments that are inspired by Balinese traditions. Nusa Dua Beach Hotel & Spa comes with upgraded units and sitting areas and bunk beds as well. Legian Beach Hotel has bright rooms, and some of them also come with ocean views. These fantastic facilities make one's stay comfortable, lavish and enjoyable.
Dining
While considering the perks of these hotels, the dining options and experiences offered at the Bali Beach hotels are hard to miss on. Legian Beach Hotel has five restaurants and 4 bars and offers free breakfast. At the Nusa Dua Beach Hotel & Spa, one can enjoy at any of its five restaurants and 4 bars in the hotel, all of which are exceptional in their service. The hotel also offers a breakfast buffet and a dinner theatre. Hotel Tugu Bali has a la carte restaurant and unique cultural dining experiences to offer. A team of highly efficient, professional and well-trained staff and management at each hotel fill one's dining experience with joy and delight.
FAQs
Q1. What are the commonly spoken languages in Bali?
A. Most of the people in Bali are either trilingual or bilingual. English, Balinese, and Indonesian are the most commonly used languages here. Some people may even understand and converse in Hindi.
Q2. Do Bali Beach hotels provide Wi-Fi connectivity?
A. Yes, the hotels do provide Wi-Fi connectivity, which might be charged for. In most cases, it is included in the hotel package. Wifi service usually reaches the room and the main lobby area.
Q3. What is the most feasible mode of payment?
A. Credit cards are mostly acceptable. Debit cards and cash payments are also allowed at some hotels. If one has exchanged currencies, they can even pay in the local currency form.
Q4. Do Bali Beach hotels have spa and wellness facilities?
A. Yes, spa facility can be availed at the best of these hotels. Most of them have in-house masseuse facilities and so skilled are these people, one is sure to return home absolutely rejuvenated.
Q5. What are the facilities available at Bali Beach hotels for kids?
A. Majority of these hotels understand the need for adults to unwind, therefore, have set up entertainment and activity centers for kids. Children can play indoor board games and carrom and chess and even indulge in playing at the pool or the open gardens at some of these places.
If guests are planning to have the perfect experience of the beaches in Bali, Bali Beach hotels stand as an ideal choice. While taking care of every minute detail and requirement of their customers, the Bali Beach hotels fill one's vacation with colors and joyful memories. Many of these hotels like Legian Beach Hotel, Nusa Dua Beach Hotel & Spa etc. provide wheelchair accessible facilities and take care of the comfort of their customers in all ways. A vacation cannot be considered complete and successful without a pleasant accommodation to stay at. The hotels take care of this fact and work with all their dedication and commitment to make the vacation successful in all aspects.