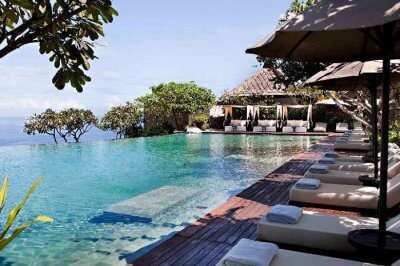 Overview
Bali is said to be an ideal stop for a vacation as it is in between Java and Lombok. Bali is believed to have some of the best family resorts in Bali the world has to offer. The Bali family resorts come with their iconic facilities for kids and spacious rooms. With chic interiors, there is nothing that one would miss. The Bali family resorts offer a home away from home in a new place to all kinds of families and help in adding more experience to the vacation.
Also, Bali is the most preferred tourist attraction, where one will have an experience of a lifetime. Bali is known for its climate, where travelers can comfortably relax and kick out negativity. Sometimes people refer to Bali as the island of flowers, temples, because of the beautiful ambiance that can be found in this island nation. Apart from all that, Bali resorts have some soothing spas which are quite a popular attraction for travelers from all over the world. Bali offers travelers a great combination of history as well as adventure. There are some of the most thrilling activities offered here such as scuba diving, which is a magnet for adventure seekers.
Special Experiences
Family resorts are always considered to be less adventurous and thrilling, but Bali has changed the definition of family resorts by offering a large variety of facilities. Ayodha Resort is one such resort where travelers can enjoy both indoor and outdoor exercising space. But the thing that makes it different is, unlike any other resort, this resort has a golf course where the guests can enjoy a game or two. The resort also features an extravagant swimming pool. The best family resorts in Bali in Bali also offer lavish spas where one can indulge in relaxing massage therapies. The resort offer concierge and travel desk facilities to help traveler plan out their stay. Space at Bali goes the extra mile to create a home away from home experience for its guests. There also a number of facilities for children such as a kids' club and playground to keep the younger guests entertained as well.
Facilities
There are multiple facilities provided by the best family resorts in Bali. But some hotels truly raise the notch. One of the most basic and essential facilities provided by some of the hotels and resorts are airport shuttle service. People who are adventurous and take the road, these hotels offer free parking facilities for them. Most of these resorts are equipped with gymnasium so that guests can carry out their regime. The resorts also offer complimentary internet access to their guests so guests can stay connected with their loved ones. Apart from this, a 24-hour front desk along with ticketing services are some of the other services that guests can avail at these resorts.
Dining
It is not always essential that a good resort restaurant should have foreign chefs, one such example of this is Kayuputi where local talents operate the kitchen. It's not only the chefs but also the location that provides a magnificent view from its lounge, bars, and upper cocktail bar. If diners are looking for something romantic Breeze restaurant is just the spot. Breeze Restaurant overlooks the Petitenget Beach where one can have a perfect evening, the ambiance and the surrounding of this particular location can make anyone's jaw drop as one can witness the sun going down and the water simply changing by the hour. For the children, the chefs also offer some specially crafted kids' menu whereas they also entertain special dietary requests. One can surely enjoy an exceptional dining experience at Bali family resorts.
FAQs
Q1. Do the hotels provide any options for city sightseeing?
A. Yes, the hotels here can offer personalized tours for their patrons where one will be taken around the city in luxury cars along with a knowledgeable guide.
Q2. Can these hotels cater to guests with special dietary needs and restrictions?
A. Yes, the chefs in the restaurants at these hotels are more than happy to welcomes guests with special needs.
Q3. What are some of the free services that one can avail at these hotels?
A. Wi-Fi connectivity throughout the hotel, access to the gym and wellness centers as well as other areas of the hotel, Spa treatments, use of the swimming pool and poolside equipment, concierge and tour desk facilities as well as luggage storage are some of the services that are free of cost.
Q4. Are hotels in Bali pet-friendly? Is it safe to travel with them?
A. Most of the hotels in Bali do not have any services to cater to pets. It is always advisable that travelers speak to the hotel before bringing their furry friends along.
Q5. Do these resorts provide airport shuttle services?
A. Yes. Most of Bali Family resorts provide shuttle services from the airport to the hotel and back. Some of them may even provide sightseeing tour shuttles, depending upon their requirement.
There are multiple options which will determine where to stay when going for a vacation. Bali is a fantastic destination in this aspect and provides resorts with amazing facilities that are not just apt for an individual, but also their families. Everything, from wi-fi connectivity to great meals, these resorts ensure a traveler has a fantastic time at this destination. The best family resorts in Bali offer a wide range of services and experiences that one can enjoy with their kids. The hotel also has special facilities for children such as a kids' club as well as child-friendly menus to ensure that the younger guests have a good time too. The proximity to the beach also makes these resorts a great choice for those who want to enjoy a variety of adventure sports. One is sure to make the most of their leisure time by planning a stay at the best family resorts in Bali.