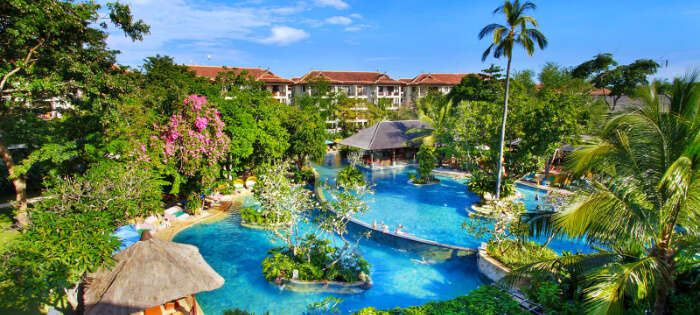 Overview
Bali is an island in Indonesia that is made up of three islands. It also experiences several volcanic activities often as well. So, people who love travel and their wanderlust leads them to this place will not only get a spectacular view of beaches or ocean but also of volcanic mountains. Indonesia's capital is Denpasar, a glorious city that is visited by several citizens all year round.The island has so many numbers of tourists that their entire economy can live on tourism. However, Bali probably remains the most popular tourist destination in this country for many, many reasons. More than 80% of people are part of the tourist business. This is driven by the fact that Bali has many tourist attractions for people like the Tanah Lot Temple, Mt. Batur, Kamra Beach, the nearby Nusa Pedina and Gili Islands among others. So, visiting this location includes fully guided tours, hop on hop off tours, sightseeing, and lavish resorts. Being a great and popular tourist spot, Bali houses a plethora of resorts that provides guests with an unforgettable stay. Bali resorts strive to offer the travelers a stay which is not only satisfactory but also a luxurious one.
Special Experiences
There are numerous special experiences that are part of Bali resorts. The resorts offer sightseeing packages to tourists. Hence, they can go around watching local fisherman catching fishes and tasting the seafood. They are also taken to pristine islands where they will enjoy several watersports. Some tourists can also go on a photo shoot across the island as well. Apart from all these, the hotels also have spa centers that offer the Balinese massage. There are separate private sessions held for couples as well. For instance, the Anvaya Beach Resort in Bali is known for its dining services, pool, and activities. While the Amadea Resort and Villas is known for its spa and restaurant.
Facilities
There are numerous facilities that are provided by the Bali Resorts which makes them renowned. The resorts have more than a handful of rooms to accommodate more than 1000 customers. They also have pool villas, suites, and family rooms as well. The rooms are provided with internet access, DVD players, flat-screen television, coffee and tea making facilities, personal safe, telephone, and accessories. They are also allowed to access the gym, salon, car hire, and computers. The resorts are also equipped with a vast main swimming pool, children's pool, and beachfront pools as well. The Seminyak Resort is known for its spa, gym, and pool. While, the Kayon Resort is rated 5 stars for having the best suites, non-smoking rooms, and minibars.
Dining
Apart from the special experiences and facilities, the dining is also all inclusive in Bali Resorts. The resorts have an international breakfast buffet that is specially designed by chefs for the tourists. They also have a lounge and a beach bar so that guests can enjoy views of the wondrous location and sip on alcohol. There is also a pool bar that is located alongside the swimming pools. The Mansion is one such resort in Bali that is known for its restaurant, bar, lounge, and minibar. One will also find the most amazing seafood at this beach destination, where guests can savour fresh fish, prawns, crabs among others. The restaurants also offer tasty cocktails in different concoctions made of different non-alcoholic and alcoholic beverages.
FAQs
Q1. What is the weather at Bali like?
A. The weather at Bali is usually hot and humid. However, it can also experience light showers and a cold breeze too.
Q2. What are the best room features of Bali Resorts?
A. The best room features of resorts in Bali are its suites, non-smoking rooms, family rooms, minibar, and air-conditioning.
Q3. What are the basic property amenities of the Bali Resorts?
A. The basic property amenities of Bali Resorts include pool, free parking, gym, spa, room service, restaurant, bar, lounge, and internet access.
Q4. What are some good resorts in Bali?
A. Some good resorts in Bali include the Melia, Komaneka at Rasa Sayang, The Patra Bali Resort and Villas, Inaya Putri Bali Resort, Wapa di Ume Ubud, Alaya Resort Ubud, Astagina Resort Villa and Spa, and much more.
Q5. Is Bali a safe place to visit with family?
A. Yes, Bali is a safe place to visit with family. However, small crimes keep occurring in the area. Hence, tourists are advised to stay cautious.
Bali Resorts provide tourists with a wide range of experiences which include going on tours to watch local fisherman catching fishes, tasting seafood, trying watersports, and photography. They also have spa centers who have experts in Balinese massage. The resorts also have numerous facilities which include more than 100 rooms to avail. The rooms have internet access, DVD players, flat-screen television, coffee and tea making facilities, personal safe, telephone, and accessories. They also have various types of pools which include the main swimming pool, children's pool, and the beachfront pool. The dining experiences at these resorts are also on point. They have an international breakfast buffet prepared by best chefs. They also have a lounge, beach bars, and clubs as well. One should not miss out and refresh the mind this vacation at the exquisite Bali resorts.