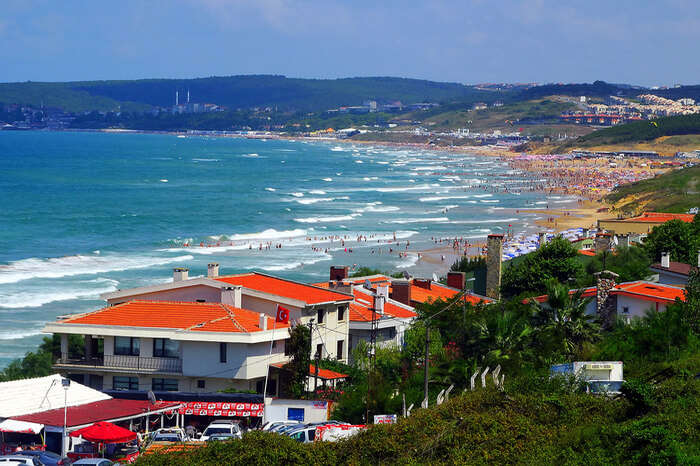 The rich culture and architecture of Istanbul are the major reasons why tourists flock in huge number to this beautiful European City. To that list, add one more reason- Istanbul beaches. Thanks to the peninsular region which is surrounded by Black Sea, Sea of Marmara, and Bosporus Strait, there are an array of beaches where you can go frolicking in the sun. The summers in Istanbul are hot which lure people to escape to the sandy warm beaches around Istanbul. Apply some sunscreen and soak in the warm sun while the soft breeze from the sea run through your hair. Indulge in the summer sports activities which run gamut on the beaches in Istanbul in Turkey.
Top 10 Istanbul Beaches
If you're willing to go on an exotic beach vacation then, make sure to visit these 10 pristine Istanbul beaches and enjoy a relaxing holiday.
Babylon Beach Sound Garden
Uzunya Beach
True Blue Beach
BURC Beach
Dalia Beach Club
Golden Beach
Solar Beach
Suma Beach Club
Nonstop Beach
Nakibey Beach
1. Babylon Beach Sound Garden
Most intimate of all Istanbul beaches, Babylon Kilyos is a perfect spot for families and youngsters to have a funny, sunny day at the beach. The mountains and the verdant greenery of the beach create a perfect beach atmosphere.
The leisure activities on this beach are endless. Sport a game of volleyball or badminton with the teens. Or get a summer tan lazing on the soft sand of the beach. The silent beach shore makes a perfect spot to get away from the city's commotion.
There are number of food carts on the beach where you can taste the grilled fish hamburgers, and cheese sandwiches. The evenings at Babylon Beach are all about live DJ music.
Location: Demircikoy, Kilyos, Istanbul.
How to Reach: Take a bus heading towards Kilyos from the bus station.
Price: Weekend – 60 Turkish Liras. Weekdays – 40 Turkish Liras.
Hours: 9AM – 8PM
Suggested Read: 10 Things To Do In Istanbul To Relish The True Charm Of The Oriental City

---
Europe Holiday Packages On TravelTriangle
Explore the most beautiful places to visit in Europe, from Paris to the Venice canals and from the Greek islands to the Swiss alps. Book customized packages by expert agents on TravelTriangle. Inclusive of airport transfers, cab, resort, sightseeing and meals. Best holiday experience Guaranteed. Book Now
---
2. Uzunya Beach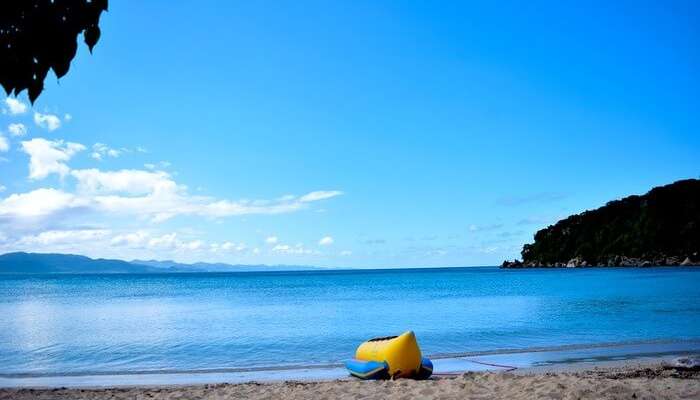 One of the picturesque beach trip in Istanbul, Uzunya Beach makes for a perfect weekend getaway. It is located in Demircikoy region of Kilyos which is about an hour drive from Istanbul.
Get one on one with nature at this hidden bay in Istanbul with the exciting caravan camping and trekking opportunities at your disposal. Do not miss the motorbikers racing on the beach.
The small cove beach provides you with familial and quiet atmosphere. Enjoy the delectable cuisine at the Uzunya Beach Restaurant which is famous for its fresh seafood.
Location: Kilyos road, Dalyan region, Demirciköy – Kilyos – Sarıyer
How to reach: Take a bus or shuttle towards Kilyos from the bus terminal.
Price: Weekday – 30 Turkish Liras. Weekends – 45 Turkish Liras
Hours: 8AM – 8PM
Suggested Read: 10 Cruises From Istanbul That Will Add A Dash Of Luxury To Your Turkish Getaway
3. True Blue Beach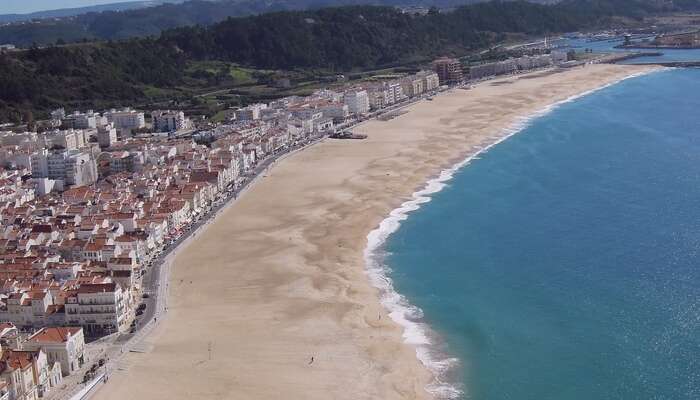 The nice sandy beach is the oldest place in Istanbul where people come to have a crazy fun-filled weekend. The alluring sunset and the lively atmosphere make True Blue one of the free beaches in Istanbul. You can see the distant sailing boats of Kalami_Marina floating into the sunset as you sit back and relax on the beach chair.
The beach club has a lavish swimming pool, a Mediterranean restaurant, and a bar where you can get tipsy on the finest of cocktails. A popular place for live music concerts and shows, you can dance away to the best of music in the evenings. The cheerful atmosphere of the beach stays on you for a long time.
Location: Fenerbahçe Mahallesi, Atlıhan Sk. No:30, 34726 Kadıköy/İstanbul, Turkey
How to reach: The beach is inside Fenerbahçe Park which is 30 minutes away from the Istanbul city. You can take an FB1 bus from Kadikoy to Fenerbahçe.
Price: Weekdays – 30 Turkish Liras, Weekends – 40 Turkish Liras
Timings: Fri-Sat 9AM- 4PM, other days 9AM – 2PM
Suggested Read: Top 15 Hotels In Istanbul To Usher You With Grandiose Turkish Hospitality

4. BURC Beach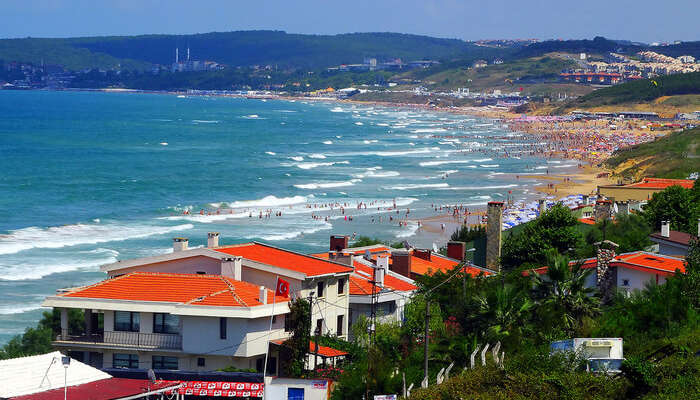 Amon all the beaches near Istanbul city, BURC is the most happening one. The warm sands and the gigantic waves invite a crowd of thousands over the weekend. Located on the coast of Black sea, the 1-km sandy beach is dotted with colorful beach umbrellas.
Get your teeth into the water sports activities which run gamut on this beach. From kiteboarding, catamaran sailing, beach volleyball, football, windsurfing, and surfing. They even host a kitesurfing tournament every year, an event you should not miss.
The beach is owned by Bogazici University in Istanbul. So if you are a student or alumni, you can enjoy great discounts too.
Location: Gümüşdere Mahallesi, Sarıtepe Kampüsü, 34470 Sarıyer/İstanbul, Turkey
How to reach: It is 15 km from istanbul. The shuttles run every weekend from Bogazici University.
Timings: 9AM – 930 PM
Price: Weekdays 15 Turkish Liras, Weekends 25 Turkish Liras
5. Dalia Beach Club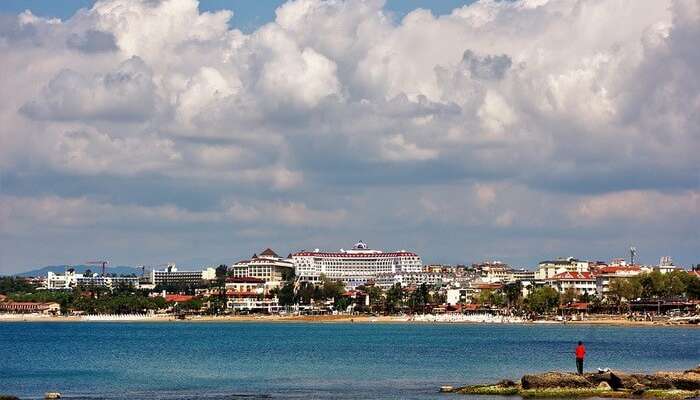 Dalia Beach Club is the most intimate of all the Istanbul beaches because of its relaxing and tranquil atmosphere. Located adjacent to Solar Beach, the bright green grass of the beach is strewn with rattan umbrellas and comfortable lounge furniture.
The adventure lovers can partake in watersports and trekking ventures in the vicinity. The paddle boats and canoes are available for hire.Do not forget to check out the beach side stands which sell regional natural village products.
The Turkish food at Dalia Beach cafe will make you drool and asking for more. The fish menu here is absolutely lip-smacking.
Location: Demirci Mahallesi, Kilyos Yolu, 34450 Sarıyer/İstanbul, Turkey
How to reach: It is almost 20 km away from Istanbul city between Kilyos and Demircikoy. You can take any bus heading towards Kilyos.
Price: Weekdays – 25 Turkish Liras, Weekends, 30 Turkish Liras.
Timings: 8AM – 6PM
Suggested Read: 20 Tourist Hot Spots That Make Istanbul A Perfect Holiday Destination

6. Golden Beach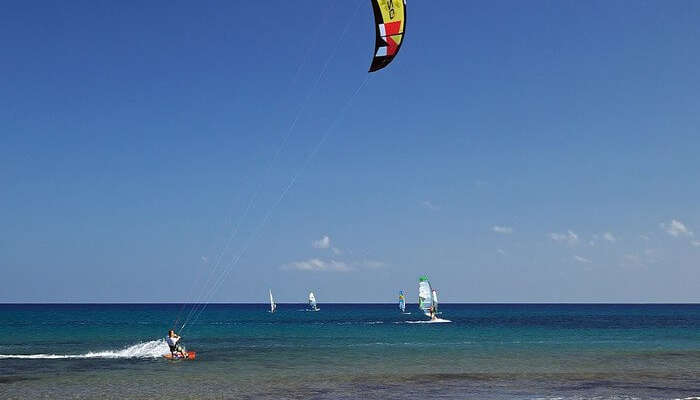 If you are looking for a beachside holiday, Golden Beach is a perfect destination out of all the Istanbul beaches. The secluded beach with the wooden bungalows and boutique hotels promises you a paradise of respite and relaxation.
Soak in the goodness of sun at the private bays or partake in sports activities like diving and surfing. There is even an enchanting lake at the Golden Beach Club which gleams blue under the sun.
Enjoy the delectable Turkish cuisine at the club restaurant which also comes with a lively bar. Of all the beaches around Istanbul, Golden Beach offer you the much-needed seclusion and quietude.
Location: Rumelifeneri Mahallesi, İskele Cd. No:6, 34450 Sarıyer/İstanbul, Turkey
How to reach: The nearest bus station and metro station is Rumelifeneri.
Price: Weekday 25 Turkish Liras, Weekends 35 Turkish Liras
Timings: 8AM-8PM
Suggested Read: 4 Best Ways To Experience Safari In Istanbul On A Thrilling Turkey Vacation In 2019!

7. Solar Beach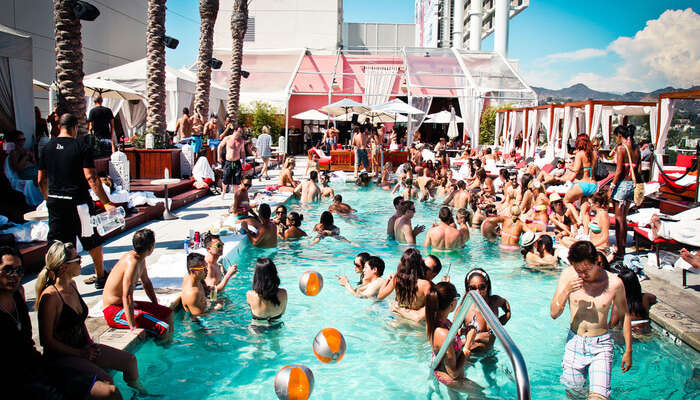 Solar beach near Istanbul is always abuzz with pool side parties and activities. Redefining the concept of 'urban holiday for urban people', you can expect sea, sun, and sport all under the same roof at Solar Beach.
There are endless activities at Solar beach to partake. There is an aromatherapy centre, surfing club, health club, and beauty centre at your disposal. Largest of all the Istanbul Beaches, this is where you can enjoy the best music concerts.
If you are not partying, you can stretch a muscle with a game of volleyball or rock climbing.
Location: Kumköy Mahallesi, Tatlısu Cd. No:4, 34450 Sarıyer/İstanbul, Turkey
How to reach: There are shuttle buses available on weekdays from in front of Ziraat Bank and Haciosman Metro Shop.
Price: Weekdays 25 Turkish Lira, Weekends 40 Turkish Liras
Timing: 8AM – 11PM
Suggested Read: The Ultimate Istanbul Shopping Guide To Discovering The Local Hideouts & Street Markets

8. Suma Beach Club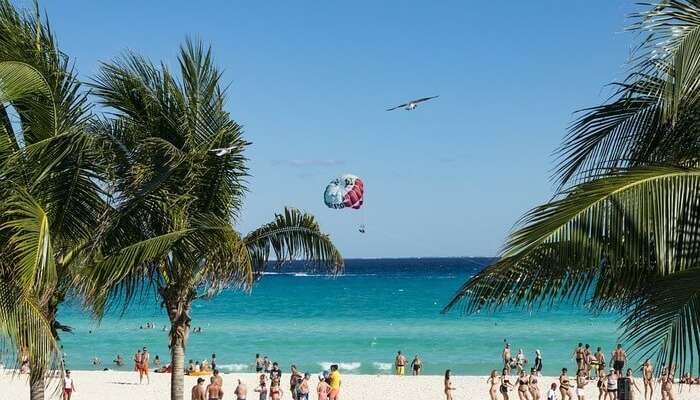 Suma Beach Club is the one of the few beaches in Istanbul near Taksim where you can loosen up a little.The nightlife here gives the clubs in Bosphorus and Taksim a run for their money. For a minute, you will even forget that you are in Istanbul.
In the night, you can join a yoga or pilates session, but in the night dancing like crazy is the best way to burn calories. Every friday and Saturday, DJs line up to play dope music till midnight. Of all the Istanbul beaches, this is where the party continues till six in the morning.
The beach shacks are strewn with hammocks where you can lay and soak up some Vitamin D. It is the best place in Istanbul for tourists to socialize in an alien city.
Location: Gümüşdere Mahallesi, Boğaziçi Kampüs Yolu 1/A, 34450 Sarıyer/İstanbul, Turkey
How to reach: It is a 45-minute drive from Taksim. The cab will take around 80 Turkish Lira to get here.
Price: 60 Turkish Liras on weekends
Timings: 8PM onwards
9. Nonstop Beach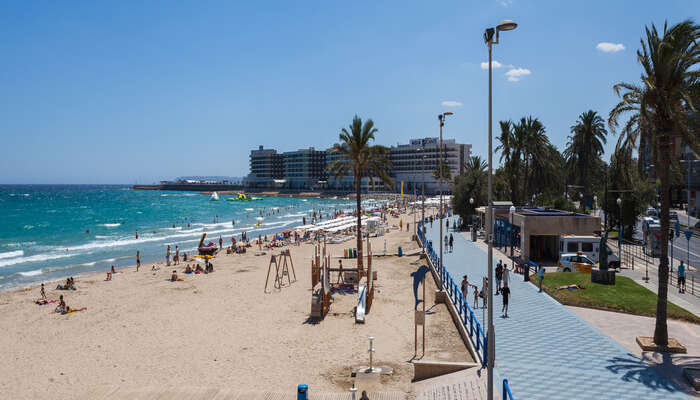 A perfect beach for those who like adventure sports and partying, Nonstop Beach in Istanbul is where fun never stops. The sandy stretch of the beach is lined up with comfy beach chairs where you can enjoy the commotion of the beach while you soak up some sun.
There are a wide range of summer sports you can get your teeth in like kiteboarding, sailing, and windsurfing. Pump up yourself with some yoga, aerobics, and pilates in the day in their health centre.
Location: Kumköy Mahallesi, Plaj Yolu Cd. No:28, 34450 Sarıyer/İstanbul, Turkey
How to reach: You can take a shuttle towards Taksim AKM.
Price: Weekday 20 Turkish Liras, Weekend 30 Turkish Liras
Timings: 9PM to 12AM
Suggested Read: Turkey Honeymoon: Relish These 10 Romantic Experiences & Let The Love Blossom!

10. Nakibey Beach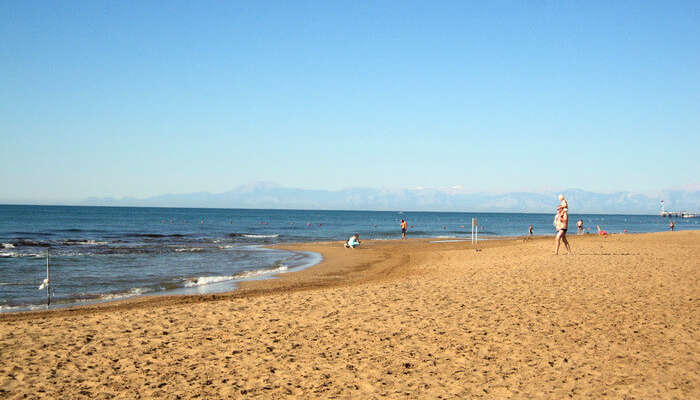 Opened in 1984, Nakibey Beach is one of the safest beaches around Istanbul. The water here is safe and shallow for a swim anytime. It provides a tranquil atmosphere for families to spend some time together.
The beach bungalows on the island are perfect place to spend a vacation with your loved ones. Get a perfect body tan lying on the warm sand of beaches or build sand castles with your kids. The food trucks on the beach side are famous for fries and mini burgers.
Location: Büyükada-maden Mahallesi, Naki Bey Çıkmazı No:17, 34970 Adalar/İstanbul, Turkey
How to reach: Take a fonikolar metro from Taksim to Kabatas. From here board the ship to arrive at Buyukada and a second free ship to Nakibey.
Price: 35 Turkish Lira for adults
Istanbul Beaches Map
Further Read: 4 Best Ways To Experience Safari In Istanbul On A Thrilling Turkey Vacation In 2019!

These scenic Istanbul beaches will make you put Turley on the bucket list, if it already wasn't. Enjoy a wonderful holiday with your family or a romantic getaway with your spouse through Holiday in Turkey with TravelTriangle.
Istanbul beaches that are open for the public are usually crowded on a warm summer day. Watch our Turkey travel video to get a sneak peek at what goes on at these gorgeous beaches. 
Frequently Asked Questions About Istanbul Beaches
Q. What are the best beaches in Turkey?
A. Some of the best beaches in Turkey are Blue Lagoon, Cleopatra's beach, Patara beach, and Iztuzu beach.
Q. Is Istanbul by the sea?
A. Istanbul is surrounded by the Marmara and Black seas which is linked by the Bosphorus and many small islands.
Q. Can you swim in the Bosphorus?
A. One can swim in the Bosphorus but it is advised to not do that as the water is highly adverted by the ships which has made the Bosphorus very polluted.
Q. Is there a beach to swim in Istanbul?
A. We would recommend that you restrict yourself to the beach house. Swimming in the beaches in Istanbul is not prohibited but they're very polluted and you will definitely not like the experience.
Q. Which is the best area to stay near Istanbul beaches?
A. You can crash at European Side, Downtown Istanbul, and Fatih if you want to stay near Istanbul beaches.
Q. Is it safe to walk around Istanbul beaches?
A. Yes, it is safe to walk around Istanbul beaches by yourselves. As a solo female traveler, make sure you exercise caution like you would in any foreign country. Carry a pepper spray and stay alert at all times.
Q. Are there sharks in the beaches at Istanbul?
A. Yes, there are sharks in Istanbul but they are completely harmless. No incident of shark attack has been reported from Istanbul.
Q. Is Istanbul a coastal city?
A. Yes, Istanbul is a coastal city. It is straddling between the Black Sea and the Sea of Marmara.
Q. What are Istanbul beaches famous for?
A. Istanbul beaches are famous for a myriad of fun things to do in Istanbul, like cooling off, going on a minibus tour, among other things.
Q. What should a woman wear at an Istanbul beach?
A. If you're a solo female traveler at an Istanbul beach, you can wear long tunic tops, sleeve dresses, and tops with pants and jeans.
---
Looking To Book An International Holiday?
Book memorable holidays on TravelTriangle with 650+ verified travel agents for 65+ domestic and international destinations.
---
People Also Read:
Europe For Couples Trip To Europe In May 8 Days In Greece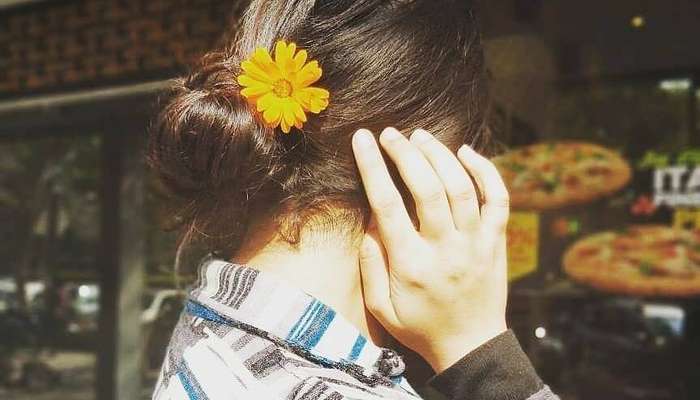 Comments
comments