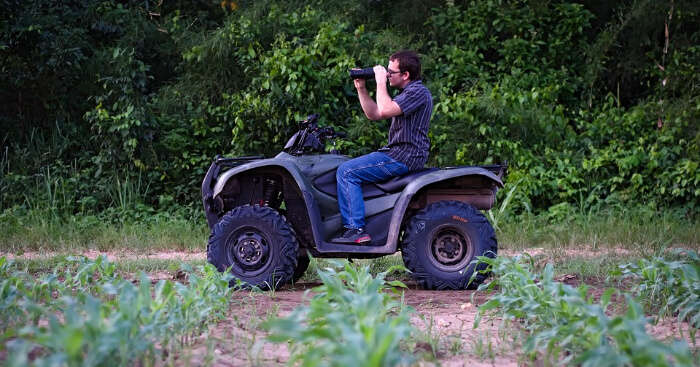 In today's age of globalization, our life is increasingly turning complex. With the advancement of technology, the associations with our family, friends are becoming virtualized. Each day we find ourselves a little closer to the stress and realize the distance we are maintaining with our loved ones. But we must take time out of hell busy schedules and get closer to the nature. An experience of Safari in Istanbul is a great idea, to enjoy and relax with your family or friends. We bet you are going to have a wonderful time with your dear ones when you enjoy safari in Istanbul. So, don't wait anymore, pick up your binoculars and leave right away!
4 Top Ways To Experience Safari In Istanbul
The kind of safari experiences that Istanbul offers is different from the Safari you would have done in any other part of the world.There are various options for modes of safari and the sights also differ a lot. This adventure in Istanbul will bring you very close to the nature. Here are 4 best ways to go on safari and enjoy the safari life in Istanbul:
1. ATV Safari
ATV or All Terrain Vehicle refers to a vehicle that can be used under every condition. ATV Safari is in fact an excitement-packed trip program that follows an itinerary in an entirely natural environment. You get to experience safe driving, feel calm and delight with ATVs like 10 KYMCO. What is more to it is that you are not bound to do Safari in a restricted area. With the distinctive natural world of Şile, rugged terrain, forests, hills, villages along with 10 different tracks to choose from the beach, you definitely are not bounded! You can also enjoy the night tours if you want. You are provided with the special boots, waterproof clothes along with the safety helmets to ensure your safety amid unexpected weather conditions.
Must Read: 10 Hotels In Turkey That Are Absolutely Stunning
2. Off Road Safari
The purpose of the Off Road is your desire to get to the places where you cannot reach with your normal vehicles. These days, the off-road is categorized under nature and motorsports. Off road is generally combined with the aspiration of people to contend with each other. Off Road has become a thing for the people who like the asphalt lines, adore the nature and are after the unacquainted surprises of life.
Off-road races are hosted amid various obstacles; say in 4X4 vehicles to fight these obstacles as early as possible. Off-Road safari is kind of a sport that provides delightful cruising possibilities, along with rock climbs, deep water crossings, steep ramps and descents, and cannot be accomplished with normal cars. Just as the other motorsports, it is essential that you take the safety measures for Off Road Safari as well.
Suggested Read: 10 Stunning Beaches In Turkey: Just Relax, Sunbathe & Indulge In Water Sports
3. Quad Safari Istanbul
You get to let go your intellect of adventure on the daily Quad Safari which takes you around the sea, amid various forests and other striking parts of Istanbul.
Here are some things about Quad Safari
Highlights:
It is a Daily Quad Safari in Istanbul.
You get to discover the sea, woods and the splendor.
You explore the Lighthouse, history of Istanbul and cultural heritage.
So, it is absolutely fine to bring your daring side out as you trip around in a stunning way on a quad to get altogether an unforgettable experience of the sea, dark woods, and serene beauty of the Istanbul city.
Thus, you get to spend a wonderful time with your family and friends in a pleasant and stress-free expedition of nature. It's a perfect safari for those who wish to experience the splendid forests and seaside close on the ancient metropolis of Istanbul. So, get prepared for piles of mud, dust, thrill and of course fun!
If you are arranging the Safari on your own, it will include:
A pick-up from your hotel at 9.00 in the morning
A fully A.C. and non-smoking coach
All the entrance fees will be involved
A professional tour guide
Return transfer to your place at around 4.00 I the evening
Defensive clothing and shielding pads
You will have to incur:
The personal expenses like lunch or any additional meals
Tips to the guides and drivers
For all types of insurance
Suggested Read: 10 Mosques In Turkey That Are Much More Than Just Prayer Halls
4. Jeep Safari Tour
Now is the time to trade the brilliant lights and lively streets of Istanbul for the filthy roads and wood trails of close at hand Izmit, and hit the road on a breathtaking jeep safari. This is going to be fun filled one day guided Istanbul tours that provides you a sight of actual Turkish life, as you storm through rustic farmlands, bring to a halt at the mountain villages and move on to little-known spots.
You will find the safari:
Warm and friendly
A great personal service
Inclusive of all the entrance fees
To be a private tour that comprises of your party and a guide or driver
Thus, the jeep safari is certainly going to be a huge adventure that can help you discover the new face of Turkey for you. The tour will run in Izmit which takes 2 hours drive from Istanbul. While going to Izmit, you will be asked to take a breakfast break. It is after this point that your jeep safari adventure begins. Amid the lush green landscapes, you get to explore the unseen natural beauty, travel around and get pleasure from the actual Turkish life together with family-friendly outdoor activities. You get to see the electrifying landscapes, canyons and watch the customarily dressed up villagers on donkeys. You will then stop for lunch and then will adore the herd of sheep or goats while enjoying your jeep safari. After the tour, you will be moved back to Istanbul to your hotel.
Further Read: Street Food In Turkey: 10 Finger-Licking Delicacies That Pamper Foodies Of All Kinds
So, do you want to enjoy the safari in Istanbul? Look no further! Plan a trip to Istanbul right away and go on one of the most experiential safaris of your life. Explore every nook and corner of the city and come back home with memories that you can treasure for rest of your life.
---
Looking To Book A Holiday Package?
Book memorable holidays on TravelTriangle with 650+ verified travel agents for 65+ domestic and international destinations.
---