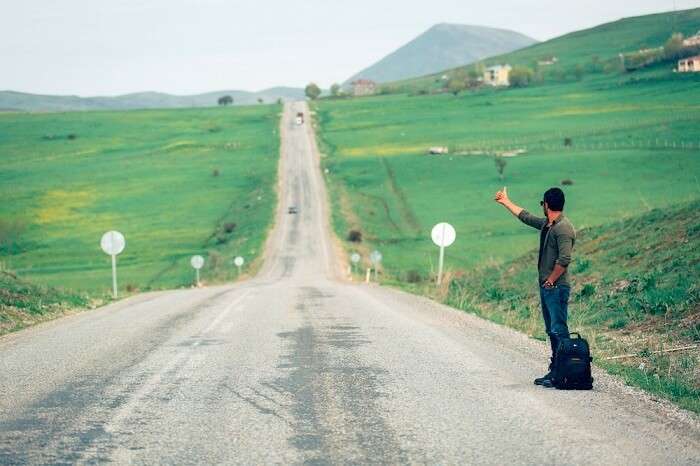 Not just for history buffs, adventure junkies, or winter lovers, Turkey is a place for the hitchhikers who see their world on a budget and believe in travelling together making new friends in the process. Yes! It helps them save a lot of money too. The time you'll spend waiting for someone to pick you up on the reasonably busy roads of Turkey will rarely exceed 15 minutes. All you need is a little etiquette, and an opposable thumb and the first vehicle passing you is likely to stop for you. Do a bit of research to learn the basics of the language as well as culture. Also, if you are a female solo traveller hitchhiking in Turkey, you should read the complete female hitchhiking guide which especially concerns Turkey. The best way to stay safe while hitching is to learn the art of interacting with Turks and you'll usually feel comfortable.
Is Hitchhiking In Turkey Free?
Image Source
The ride is usually but not always free. Though it's not mandatory to give your driver something in return for a ride but it's always a good practice and etiquettes to ask your stranger friends. For example you could offer them the gas. So do keep some Turkish currency with you before leaving the house. If you don't want to be a free hitchhiker as you are not the one who hitchhikes because you're out of money, make sure to say para(m) yok before you get into the car. In some cases, this might embarass some drivers who are kind enough and want to help you genuinely without expecting any money in return.
How To Be Safe When Hitchhiking In Turkey?
Turkey has been gaining a bad reputation for female hitchhikers following the murder of Pippa in April 2008. There are many other unpleasant stories ranging from minor harassment to near-miss murder and rape cases which might defer your desire for hitchhiking. There isn't an iota of doubt about the fact that Turkey is an extremely hitchhiking friendly country but at the end of the day, you are getting into a stranger's car. So, stay alert and buckle up and if any time you feel your security can go for a toss then jump off and run for your life.
Always keep some useful phone numbers such as emergency numbers while hitchhiking in order to avoid unnecessary problems.
It will take a little bit of travelling and exploring first to get used to this different trend, but till then be extra cautious. It's always safer if you follow a list of general guidelines for hitchhiking in Turkey especially when travelling with strangers of opposite sex.
In Turkey there is a widespread misconception concerning the Western girls who are hitchhiking. It is believed that they are looking for casual make out with random strangers. This perception may affect the female solo travelers coming from India as well. Making eye contact, smiling and accepting compliments could further lead to unwanted attention from male drivers. So be extra careful with your gestures when hitchhiking in Turkey.
Must Read: 5 Places To Visit In Pamukkale That'll Help You Witness The True Natural Beauty Of Turkey
Tips For Hitchhiking In Turkey
Turkey is definitely not the place to hitchhike in hot pants and a tank top, the least should be long trousers and an unrevealing T-shirt with sleeves down to your elbows. If your outfits are too much influenced by the westernized culture and you end up wearing anything less than this, you will usually be seen as a prostitute. Below are some safety tips for hitchhiking in Turkey.
Suggested Read: 8 Best Cottages In Turkey For Experiencing The Best Of Luxury, Comfort & Bliss!
1. Avoid hitchhiking in deserted locations
Image Source
Always choose the right spot to experience hitchhiking. Avoid standing at places where there is extreme dark and there is nobody around because taking advantage of such a situation, somebody might harm you.
Suggested Read: 8 Best Homestays In Turkey That'll Help You Experience Every Bit Of The Turkish Culture
2. Avoid wearing clothes that show too much of skin
Image Source
Keep a check on your dressing style while experiencing hitchhiking. If you try to hitch hike wearing short revealing clothes, you might put yourself in trouble as people may try to assault you and question your character. It is advisable to wear clothes which do not draw unwanted attention towards your body. If you want to be extra safe, you can also hitchhike with a headscarf and/or a long ("Iranian style") gown going down to your thighs hiding your shape.
Suggested Read: Winter In Turkey: A Land That Turns Into Heaven
3. Do not show off your costly possessions
Image Source
Avoid unpleasant situations like robbery by avoiding unnecessary show-off of your costly possessions. Hitch hiking while wearing expensive jewellery or when carrying other costly things along might risk your life and put you in an unsavoury situation.
Suggested Read: 8 Best Hostels In Turkey That Are Perfect Places To Stay On Your Next Budget Trip!
4. Govern your behaviour
Image Source
Keep a check on your behaviour and posture while hitchhiking. People might misunderstand your over-friendly behaviour as signs or hints of you trying to offer yourself (your body) to them. They might extend a sexual proposal towards you. Anywhere from simple hand gestures to a welcoming smile or your body language can attract unwanted attention.
Further Read: Turkey Shopping Guide: All That You Can Buy From Its Ancient Bazaars & Glitzy Shopping Malls
People who love hitchhiking are truly free-spirited. They like exploring places on their own. If you are one of those travel crazy people, the landscape, culture and heritage of Turkey is sure to get you spell bound. With a little preparation and caution, you can have a memorable journey through this mysteriously beautiful country. So, plan a trip to Turkey with TravelTriangle now and have a safe journey!
---
Looking To Book A Holiday Package?
Book memorable holidays on TravelTriangle with 650+ verified travel agents for 65+ domestic and international destinations.
---