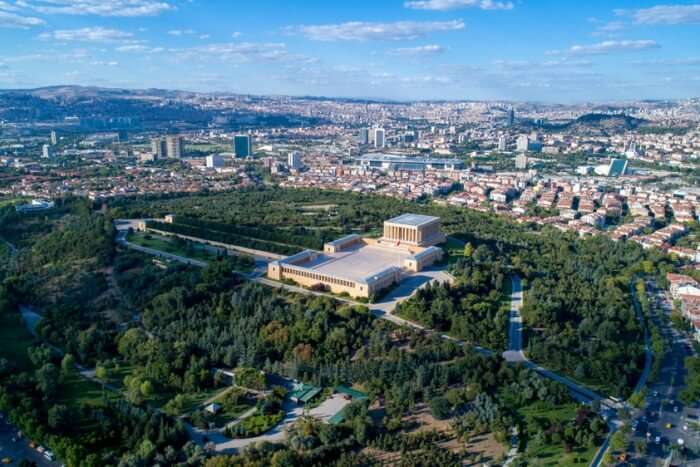 Ankara, the city which has risen remarkably from the shadows of the ruling Roman Empire to a modern industrial town housing some of the biggest industries of Turkey, can be truly defined as a melting pot of cultures and traditions. Christened as the capital of turkey and the second largest city in the country after Istanbul, this place holds many designations to make it a sought after tourist destination. The Persian and Arab influences since the ancient times make Ankara reflect architecture, history and cultures in a holistic manner making it a treat for the travelers.
Why Tourists Flock To Ankara?
Famous as Angora in the ancient times, Ankara has many fascinating facts revolving around itself which arouse the interest of holidaymakers, historians and fun lovers from across the globe.
There are a number of places to visit in Ankara meeting the social, archaeological, economic, entertainment and adventure needs of the tourist's par perfection. Archaeologists have had evidences that habitation in this place dates back to the Bronze Age which is long-long back!
Though Istanbul is the largest city in Turkey, Ankara holds the proud status of being the capital of Turkey.
This place is the home to some of the oldest animals known to humankind like the ''Turkish Angora'' and ''Angora goat''.
Though the city has a historic and traditional touch to it, some of its modern wonders and architectures have been classified as the best in the world.
7 Best Places To Visit In Ankara
The marvels of Turkish Architecture & thrills of historic remains make for a jaw dropping holiday experience. Take a look at the best places to visit!
Ankara Castle
Atakule
Roman Bath
Genclik Park
Maltepe Mosque
Kuyumcular Çarşısı in Beypazarı
Kizilay Square
1. Ankara Castle

Ankara can be viewed in full glory once you perch at the top of this castle. Opening the Ankara strength and intricacies of its age old defence mechanism in front of the travelers, the Ankara Castle attracts tourists all around the season. The fortress is built in a marvellous manner exhibiting power and artistic skills of its workers. The small stalls and shops selling memorabilia also mesmerize, as does the castles towering structure.
Must Read: 11 Best Things To Do In Ankara To Witness A Unique Side Of Turkey
2. Atakule

Ankara is certainly the epitome of modernity and freedom for Turkish people and this reflects in many of its structures and the pace of its development. The Atakule tower which started to function as the communication and observation hub in the year 1989 is a distinct structure adding to the beauty of Ankara's skyline. Its 360 degree revolving restaurant makes it a unique place where one can dine and get a pictorial view of the entire city.
Suggested Read: 6 Best Churches In Turkey That Offer A True Glimpse Of Its Cultural Beauty
3. Roman Bath

A perfect place for those who love to divulge into fascinating facts of history. Since Ankara was conquered by the Romans many of its structures reflect their way of living. Public baths were very common in ancient Rome and the Roman Baths are the remains to this interesting concept. The bath depicts three rooms for cold, warm and hot waters. Visiting this place will certainly transcend you in the historic times.
4. Genclik Park

Moving from structures and history to something more entertaining. Genclik Park is a complete paradise for some family fun. Catering to all age groups and all tastes, this place is very picturesque and houses two miniature trains, amusement park and an open air theatre. The day can be spent gorging of delectable treats served across the innumerable stalls here and the galvanizing light show can add a lot of sparkle and relaxation to the night. Making for a day well spent.
Suggested Read: Winter In Turkey: A Land That Turns Into Heaven
5. Maltepe Mosque

Religion of any place gives an insight into the thought process and the cultural setting of that area. In Ankara religion plays a very important part and it gets evident once you enter the quaint and peaceful premise of the Maltepe Mosque. Strictly following the religious code of conduct, this place is located in the heartland of the city and will make you feel contented with its simplicity.
Suggested Read: 10 National Parks In Turkey For An Escape Amidst Nature
6. Kuyumcular Çarşısı in Beypazarı

With historic adventures, theme parks and religion all covered up it now calls for some local shopping expedition. Kuyumcular Çarşısı in Beypazarı is famous jewellery market where world famous silver work is undertaken. One can chose from the wide variety of jewels at display and also lay hands on handicrafts depicting the essence of turkey. The rich history of Turkey and Ankara can be carried along by picking a piece of heritage from this market.
Suggested Read: 10 Mosques In Turkey That Are Much More Than Just Prayer Halls
7. Kizilay Square

Amongst the places to visit in Ankara the bustling city centre holds a prominent spot. The taste of aromatic traditional food and local shopping extravaganza characterize this place well. Staying here can open the Turkish world to you, but if one plans to stay elsewhere a visit to the Kizilay Square is a must while in Ankara. With innumerable supermarkets, departmental stores and transport options at bay, this place is where one can experience the modern Ankara in its full bloom.
Further Read: 8 Best Cottages In Turkey For Experiencing The Best Of Luxury, Comfort & Bliss!
Ankara is attracting more and more tourists with each passing year, as it is an amazing conglomeration of modern dreams and past memories. Here one can bask in the glory of ancient times and at the same time feel the pace of modern living in a full magnificence. So, plan a visit to Turkey with TravelTriangle , head to Ankara and get to know this place beyond the ''Ankara Wool'' and the ''Baklava''.
Frequently Asked Questions about Places to Visit in Ankara
What are the best attractions to visit in Ankara?
Some of the best places to explore during your visit to Ankara include Museum of Anatolian Civilizations, Anitkabir, Erimtan Archaeology & Art Museum, Haci Bayram i-Veli Cami, Hattusa, Archaeological Site of Alacahöyük, Gordion, and Genclik Park.
What is there to do outdoors in Ankara?
The best things you can do outdoors in Ankara include visiting various archaeological museums around the city, strolling around the picturesque neighborhood, exploring Ulus' Roman Remnants, and exploring Ankara's Art Galleries.
Is it safe to visit Ankara during covid times?
The Turkish Government has issued some important covid guidelines to contain covid from spreading. Unvaccinated individuals are required to produce a negative RT PCR report done 48 hours before departure, whereas vaccinated travelers are not required to do any kind of tests before departure. Basic guidelines such as wearing face masks and social distancing have been made mandatory in a public place.
What is Ankara known for?
Ankara is the capital city of Turkey and it includes several well-preserved archeological sites and museums. It is also known for its rich cultural heritage and various popular eateries that offer innumerable appetizing cuisines.
What is there to do in Ankara at night?
There are several things that you can relish at night in Ankara such as enjoying a performance at the opera theater, dining at luxurious cruise ships, strolling around the beautiful streets, and visiting various cafes and bars to experience the vibrant nightlife of Ankara.
How can I plan my 1 day tour to Ankara?
Some of the best places to consider visiting during your 1 day tour to Ankara include Museum of Anatolian Civilizations, Anitkabir, and Erimtan Archaeology & Art Museum. You can also dine at various cruise ships.
What are the best months to visit Ankara?
Ankara experiences huge crowds during April to June, and September to October, as it is considered as the peak season to visit this amazing city. If you wish to visit during the off-season, then you may be able to get better deals and less tourists, leading to a better experience.
How many days are required to explore Ankara?
For a brief visit to Ankara, a 2 days tour is recommended in order to explore the major attractions in the city but if you want to go for a thorough and relaxing vacation, then 3-4 days are sufficient to explore the hidden gems of the city and spend a relaxing holiday simultaneously.
People Also Read:
Places To Visit In Jordan Places To Visit In Egypt Places To Visit In Greece
---
Looking To Book A Holiday Package?
Book memorable holidays on TravelTriangle with 650+ verified travel agents for 65+ domestic and international destinations.
---