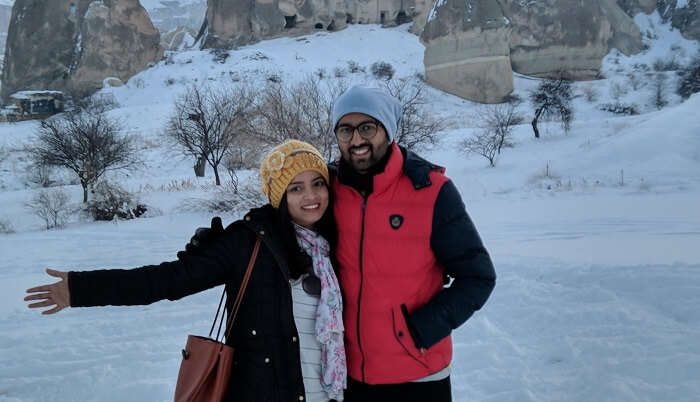 We always seek unique places to visit on a holiday. And therefore, this time we thought of Turkey as our next destination. A brief research made us even more excited, as we came to know about the natural cave structures of Cappadocia and Thermal Travertine Terrace. So we got in touch with TravelTriangle, who made all the arrangments for our trip to Turkey in January.
Table Of Content
Package Details Of Our Trip To Turkey In January
Cost: INR 74000
Duration: 6 days, 5 nights
No. of people: 2 Adults
Inclusions: Breakfast, Lunch, Hotel, Transfers, Sightseeing, English Speaking Guide, Hot Air Balloon Ride
Exclusions: Dinner, Government Taxes, Visa
Itinerary Of Our Trip To Turkey In January
Day 1: Arrive in Istanbul | Explore Grand Bazaar
Day 2: Explore valleys in Cappadocia
Day 3: Hot Air Balloon Ride & Museum visit in Cappadocia
Day 4: Visit Pamukkale
Day 5: Ephesus City tour
Day 6: Visit Blue Mosque | Departure from Istanbul
Must Read: Turkey In November: Take A Quick Rundown At This Guide For An Enthralling Vacation!
5 Places To Visit On Your Trip To Turkey In January
If you want your holiday to be a really fun and enriching experience, do not miss these top 5 places to visit on your trip to Turkey in January:
1. The Grand Bazaar – Istanbul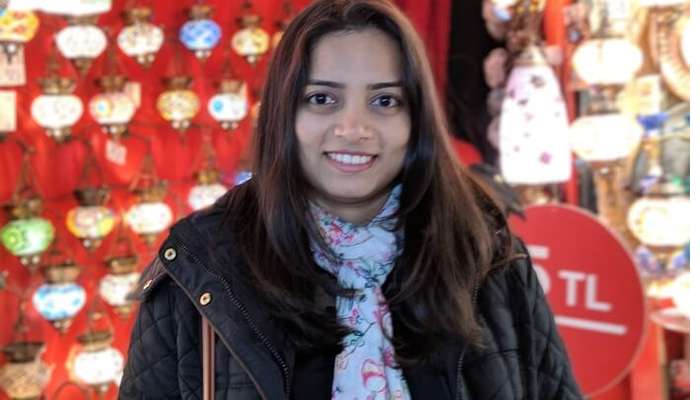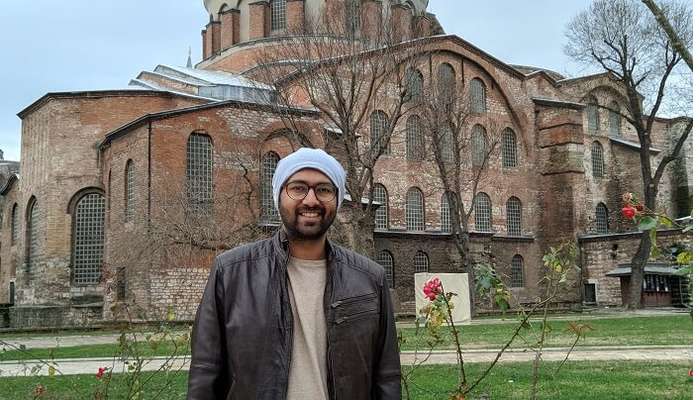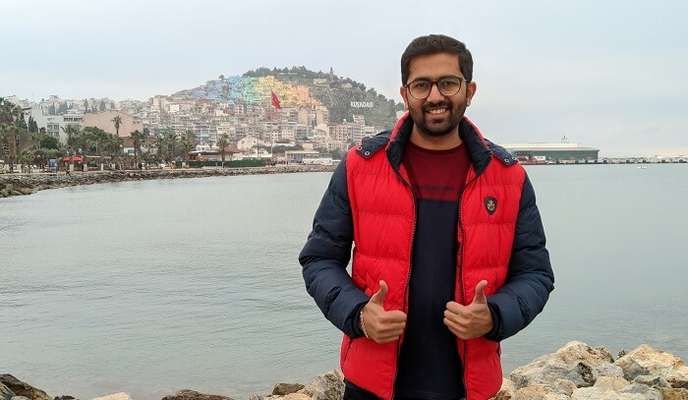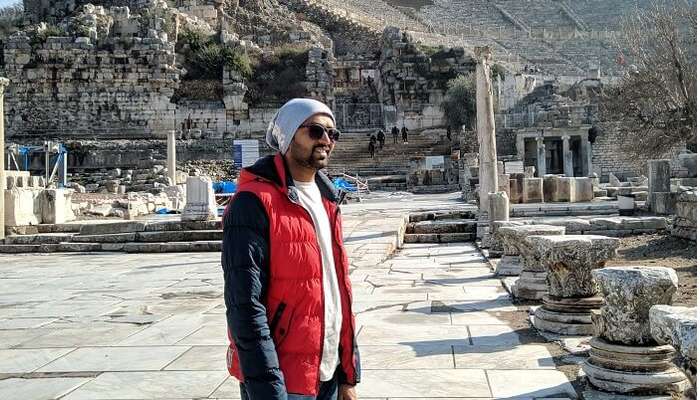 After arriving in Istanbul, a short drive to the hotel was enough to spellbind us with the beauty of the city. We crossed ways with the enchanting River Bosphorus too. We checked into the hotel, grabbed some rest and decided to make the most of this day at leisure. The feeling that there's a whole city out there for us to explore was simply wonderful. We headed out to explore some of the nearby places, including Hagia Sophia Museum, and its mosque.
We got to see the Grand Bazaar where you can find some Turkish show pieces, beautiful lamps and beautiful Turkish outfits. As its name suggests, Grand Bazaar is a huge shopping space in Istanbul with mor than 4,000 shops lining over 61 covered streets. We had a great time exploring the streets of Istanbul on foot. Out hotel was located in the close proximity of Grand Bazaar and a few other tourist spots, which made it wasy for us. In the evening, we also went to the seashore and were breathtaken by the stunning skyline of the city. The view of Galata Tower and other buildings was amazing. We ended our day with delectable dinner of Kanafeh and some Turkish sweets.
2. Pasabag Valley – Cappadocia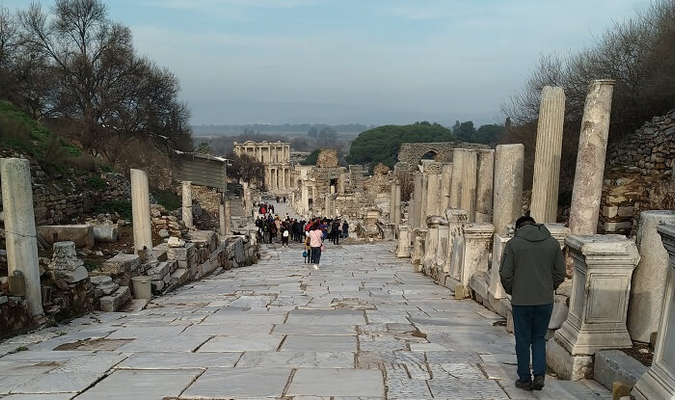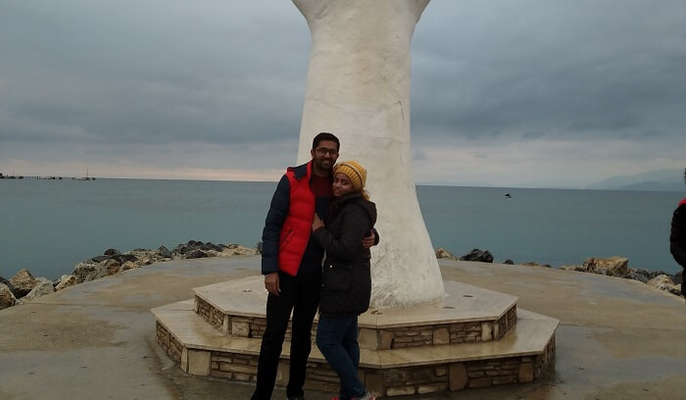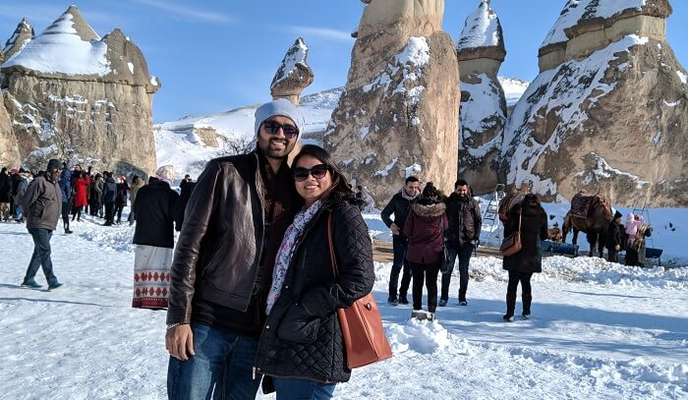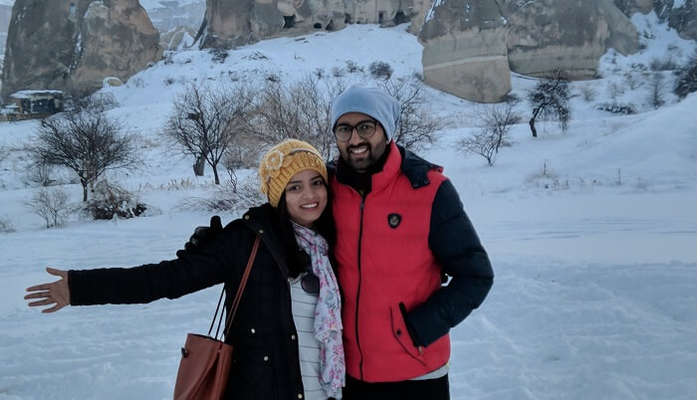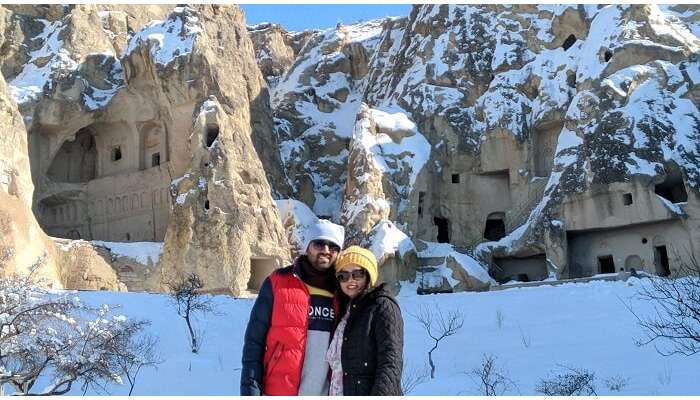 We woke up early and went to Airport for flight to Kayseri. Here was a big surprise for us. When we were about to reach the Kayseri airport, all we could see was snow all over the city from plane. We had no clue that this can be happening. We were not prepared to deal with snow. When we landed, the temperature was -8 degrees Celsius. Then one person took us from Kayseri to Cappadocia. There were amazing view in the journey. All vehicles and trees were covered in snow. It was just rained 1 day before, so the snow was white as light and clean. Sun seemed to shiny that day. We were a little late to reach cappadocia so our tourist guide Nilay joined and we started visiting places directly. We visited Deverant Valley, Pasabag Valley and Uchisar Castle. We had our lunch at a cave hotel. And then we went to our hotel. The Cave hotel was a beautiful experience. You must check the room we got. It was so romantic and cozy. We slept talked for a while and took photos of beautiful valleys outside.
Suggested Read: These 10 Istanbul Museums Showcase The Rich History Of Turkey At Its Best!
3. Goreme Open Air Museum – Cappadocia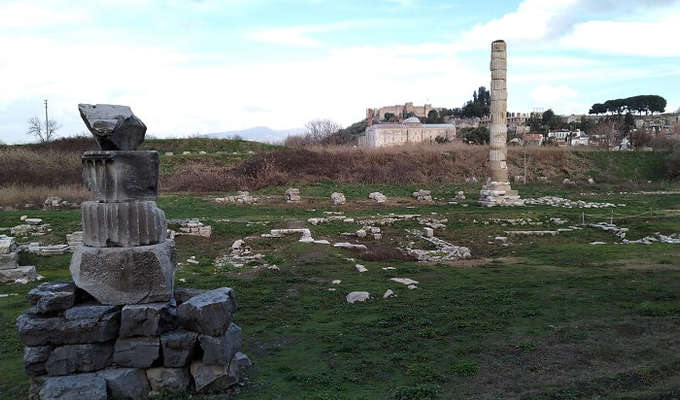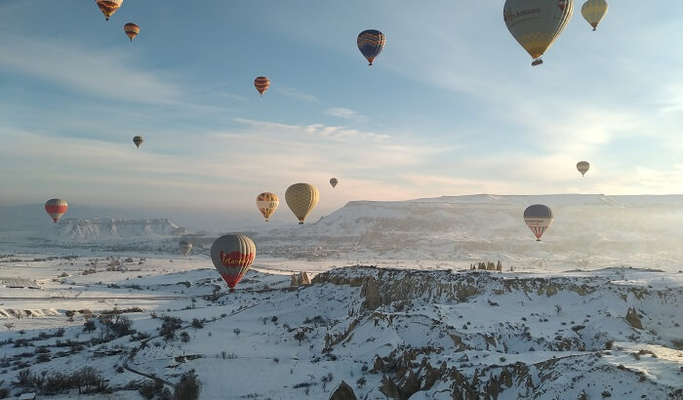 We woke up by 4am for the most awaited Hot air balloon ride. We started the ride by 7:30 and each second of the ride was worthy. It was for an hour long ride. We took so many photos and videos to remember this beautiful experience. Once we came down the balloon ride guys and all of us had a fruit Champaign and cheered. Then we return to the hotel to freshen up and left for other places by 11. We went to Goreme Open Air Museum, Underground City, Some panoramic sites, pigeon valley. We saw hundreds of pagans at the valley. It was beautiful. Then we had lunch in between and by 5 we got dropped at Airport of Kayseri. We had a flight to Izmir at 11 pm. We arrived at Izmir and there was around 2 hours drive to Kusadasi.
Suggested Read: Hitchhiking In Turkey: A Guide To Know All The Basics And Do It Like A Pro
4. Pamukkale Thermal Water Terrace – Pamukkale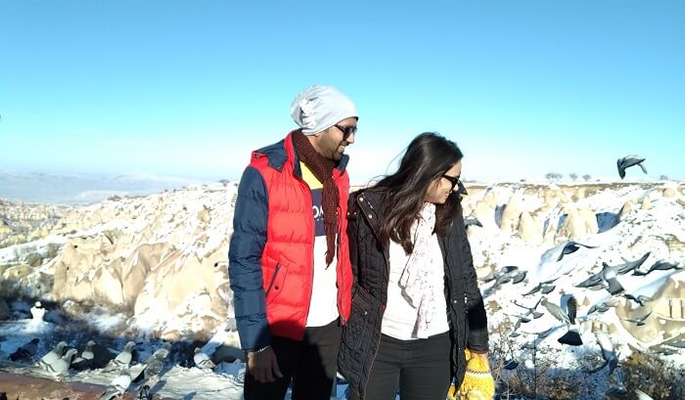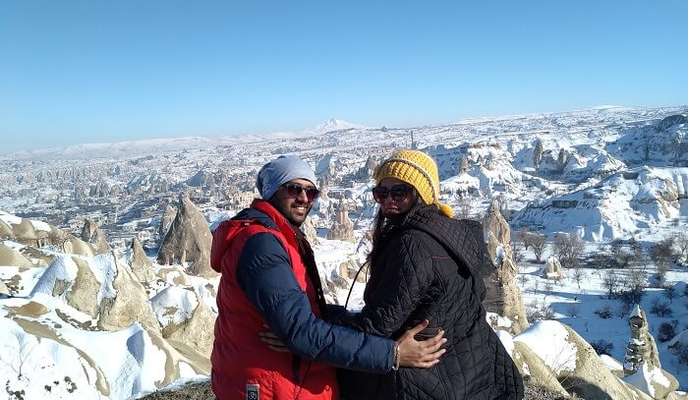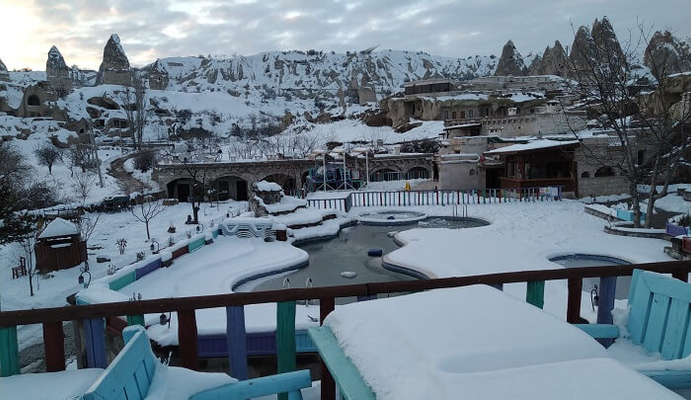 We woke up by 8 and had a heavy breakfast and went for Pamukkale. The drive to Pamukkale was of 3 hours. It was raining that day. It was a beautiful place. The hot water of the streams were a unique experience. We then went to an open air theater of old time. It was huge and beautiful. Then we return to Kusadasi by 5 pm and had lunch in between. After 1 hour of rest we went out on foot for a walk on the seashore. The statue of freedom with hands was very good. We felt so calm and peaceful there. We took many photographs and went for some shopping. After that we had yummy pizza at dominos near our hotel and went to sleep.
5. Temple Of Artemis – Ephesus City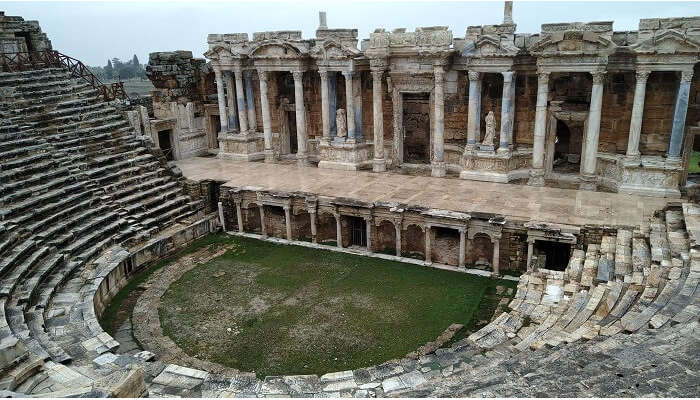 We started the day by 9:30 after having great breakfast at hotel and went to see Ephesus city. It was the whole city which went underground after time and now again arranged. It had so many stone structures and old fashioned architecture which was quite interesting to see. We saw celcius library there. It was very big. It also had one open air Theatre which had capacity of 25000 people. It was very big. After visiting ephesus, we went to see the Temple of artemis which was one of the 7 wonders. We also visited the house of virgin mary and went to the airport in Izmir for our flight to Istanbul again. We also had that Pasta in dinner which we loved on first day.
6. Blue Mosque – Istanbul
We reached Istanbul by midnight and had rest for the whole night. We knew that the next day was going to be highly exhiliarating. In the morning, soon after a delicious breakfast, we started our Istanbul city tour. A highlight of this day was the very iconic and gorgeous Blue Mosque. We also visited Hippodrome and Topakapi Palace. The cloudy – rainy weather accentuated the whole cityscape and our experience too. After an exhuberant time spent in exploring the Istanbul, we enjoyed mouth-watering Indian-Punjabi food at a place suggested by our Guide. After lunch we finally left to catch our flight, bidding a goodbye to the beautiful Turkey, taking back a bag full of good memories.
Suggested Read: 7 Days In Turkey That Gave Me And My Mom All The Time And Togetherness We Needed!
Tips For Trip To Turkey For Future Travelers
Do not miss the experience of Hot air balloon ride in Cappadocia. The view and weather is worth it
Please check the internal flight timings as you will have to wait for hours at the airport if not considered.
In winter the sunset is very early so most of the tourist places will be closed by 5 PM.
Please carry enough winter wear if you are visiting in Jan-Feb (winter months).
It's a great idea to plan your visit in Winter, if you prefer less crowded places.
Weather Of Turkey In January
We chose the offseason to visit Turkey so it was too cold and we didn't had to wait in long ques to visit the attractions. But we were fortunate enough to see lots of snow and rain as part of our trip.
Our Hotel In Turkey
We stayed in 3 different hotels in Turkey:
Ilkay Hotel, Istanbul
Holiday Cave hotel, Cappadocia
Sozer Hotel, Kusadasi
All 3 hotels were amazing with good location and service.
DO'S And DON'TS In Turkey Trip
Wear appropriate dress

Avoid planning a visit during Ramadan

Don't abuse their culture or hurt religious sentiments

Don't indulge in arguments with local residents

You can bargain while shopping in Turkey!

Do not buy stones or fossils from here
Suggested Read: Turkey In September: The Ultimate Guide For Exploring The Land Of The Legends!
How To Reach Turkey
Turkish Airlines has regular connectivity to Istanbul, Ankara, Izmir, and other popular places in the Middle East. Turkey also welcomes flights from New York, Bangkok, Singapore, Tokyo. You can board a flight to any of the mentioned places and interchange for Turkey.
Our Experience With TravelTriangle
Our travel-agent was very helpful and he tried his best to accommodate all our needs and requests in our tour package. I will definitely suggest TravelTriangle to my friends and family.
Further Read: 7 Lakes In Turkey: Meander Through The Astounding Banks Of These Natural Wonders
Just like Jayati's wonderful trip to Turkey in January, you can also plan your Turkey vacation and some most splendid memories. Turkey has a plethora of exciting experiences to offer to you.
Frequently Asked Questions About Trip To Turkey In January
Q. What clothes to wear in Istanbul in January?
A. During January, the winter is at its peak in Istanbul. So make sure you carry enough warm clothes with you. Sweaters, jackets, coats, caps, and snow boots are some of the essential clothes to carry.
Q. Which is the best area to stay in Turkey?
A. From stunning luxury hotels and villas in Istanbul and other parts of Turkey, there are exciting cave hotels in regions like Cappadocia, Turkey has several amazing places to stay at. It all depends on the kind of experience you are looking forward to.
Q. What's the currency for Turkey?
A. The currency for Turkey is Turkish Lira.
Sri Lanka In January Tanzania In Janaury Israel In January
Comments
comments