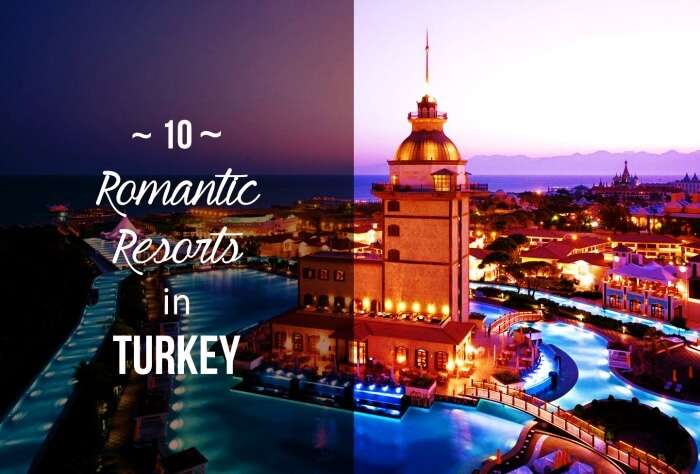 Turkey is a country that brings the best of both worlds- beautifully blending the East with the West. While it is known all over the world for its deep rooted history, magnificent architecture and cuisines, not many are aware of the abundant romantic resorts in Turkey that make it one of the best honeymooner's getaway. Turkey is a hidden gem which needs to be discovered, explored and experienced. The picturesque backdrop makes it a perfect exotic destination.
We present to you some of the most romantic hotels in Turkey which just look perfect for making everlasting memories with your better half:
1. Four Seasons Hotel, Istanbul

If you are someone interested in exploring the town side and want to dwell on the glorious past of the Turkish town while still enjoying your romantic escapade, Four Seasons Hotel is the place for you. It is one of the best honeymoon hotels in Turkey.
Suggested Room: Splurge on the royal Marmara suite, or St Sophia suite for your sweetheart to have a memorable vacation witnessing the spectacular view of the famed Hagia Sophia Mosque and the Old town from the balcony.
Things to do: Explore the town with your better half by taking a walking tour of the old town and get to experience the specialities. Visit the Turkish Bath which dates back to ancient times and celebrate the love with some authentic and delicious Turkish cuisine.
Cost of stay per night: ₹44,000 – ₹48,000
Suggested Read: 22 Best Honeymoon Destinations In Europe In Summer For A Perfect Escape!
2. Regnum Carya Golf & Spa Resort, Belek

Regnum Carya Golf & Spa Resort in Belek is the place if you are looking for a romantic getaway to spend a relaxed and laid back vacation. Regnum is a romantic resort in Turkey which offers Aromatherapy, Turkish bath, Spa and other massages all at one place to soothe your senses.
Suggested Room: Book a luxury room providing sea view or golf view for a lavish experience. Opt for their special honeymoon package that includes many attractive offers to re-kindle your romance and you could also flaunt your luxurious vacation by taking a private transfer by helicopter!
Things to do: Try playing Golf with your beloved one or laze in the pool taking out that swim suit. Savor their exclusive cuisine and hangout in their exquisite bar/lounge to enjoy various signature drinks.
Cost of stay per night: ₹30,073 – ₹55,421
Suggested Read: 15 Best Honeymoon Destinations In Turkey For A Perfect Romantic Trip
3. Gloria Serenity Resort, Belek

Number 3 on our list of romantic resorts in Turkey is the Gloria Serenity Resort. It is opulence re-defined, with excellent ambiance coupled with the unmatched grandeur. They offer some of the best facilities, remaining true to their promise – providing exceptionally peaceful vacation experience.
Suggested Room: Treat your loved one with a suite which comes with a large terrace with sundeck and a private Jacuzzi or if you want to experience luxury at a whole new level, Gloria offers various villas – pool, garden, deluxe, VIP and the serenity presidential villa.
Things to do: Walk hand in hand along the shores of the amazing beach with its deep blue water of the Mediterranean, which is just few steps away while sipping your favorite drink in one of the bars of Gloria. Indulge in their exclusive spas or unwind in the pool and get romantic!
Cost of stay per night: ₹16,473 – ₹41,757
Suggested Read:Plan A Memorable Honeymoon To Turkey With TravelTriangle!
4. Casa De Maris Spa & Resort Hotel, Marmaris

If you are planning an idyllic vacation near a beach without looking for too much of luxury, then Casa De Maris Spa & Resort is the place for you. Just a stone's throw away from the beach, Casa offers everything to make your vacation just perfect.
Suggested Room: Opt for the bigger suite rooms facing the sea which also overlooks the pool to have a perfect accommodation just for the two of you!
Things to do: Take over-night tours or daily tours to explore the town of Marmaris which is known for its ancient ports and the castle. Book a safari tour to have fun on the dusty tracks or take a private boat ride to soak in the picturesque landscape and get cozy!
Cost of stay per night: ₹6,832 – ₹70,808
5. Argos In Cappadocia

Argos in Cappadocia is a package that offers beautiful experiences all at one place -be it the historical caves, tunnels, beautiful terrace gardens and the explicit wine. Head to this resort to witness some of the most wonderful sunsets and mesmerizing horizons, which is guaranteed to make the two of you fall in love with each other all over again!
Suggested Room: Depending upon your preference, you could either choose a mansion with tunnel or the splendid suites, which is sure to make you feel special.
Things to do: Hire a local guide to discover the historical tunnel and the undergrounds of the ancient monastery.
Cost of stay per night: ₹11,876 – ₹26,050
Must Read: 15 Things Turkey Does Better Than Anywhere Else
6. Taskonaklar Boutique Hotel

If you are not a beach person or love exploring the countryside and getting familiar with the experiences of an authentic Turkish way of life, Taskonaklar should be on your list of honeymoon hotels in Turkey.
Suggested Room: Various types of wonderful suites are available to pick from, at a surprisingly good price.
Things to do: Make the words 'Love is in the air' literally come true by going on a hot balloon ride, which not only gives you some truly amazing views of the scenery but also brings a thrilling experience. Hiking, horse riding and the Red and the Green day tours are some of the ways of enjoying a perfect holiday.
Cost of stay per night: ₹8,109 – ₹12,514
7. Cappadocia Cave Suites, Goreme

Cappadocia Cave Suites is a special honeymoon resort in Turkey known for its stunning interior decors and the cave structures. Book your stay in this moderately priced hotel to enjoy the historical and romantic landscapes.
Suggested Room: The design of each room is different and it's tough to choose as every single room looks absolutely amazing! Browse through their gallery and decide the one you love.
Things to do: Get dirty with the ATV Quad bike ride or take up the Ihlara tour for hiking. Witness the beautiful Whirling Dervishes ceremony or enjoy a Turkish night show. there are plenty of activities to keep you engaged and engrossed and you could even walk around the town on your own.
Cost of stay per night: ₹8,045 – ₹11,557
Must Read: 40 Most Romantic International Honeymoon Destinations On Your Budget
8. Takaev

Located at the foot of many picturesque valleys, Takaev is a romanti hotel in Turkey. It brings the experience of a hill station combined with the traditional touch,, beautifully blending to offer a memorable holiday. A homely atmosphere and kind hosts is a plus to make you feel really special.
Suggested Room: Go for the rooms which provides a panoramic view of the valleys for the best experience.
Things to do: Explore the churches if you are interested in going around the town. You could also take up the private walking tours to get a glimpse of the good things about the town
Cost of stay per night: ₹4,980 – ₹6,576
9. Aydinli Cave House Hotel

Aydinli Cave House is a budget friendly, yet a premier resort which is located in the heart of the beautiful town of Gerome. Carved from the natural cave like stones that have been formed over many years, the hotel offers a peak into the small town beauty which gives you a peaceful holiday in a remote location.
Suggested Room: It is recommended to go for rooms on higher floors. Go for a King suit or Deluxe suite for an ultimate experience.
Things to do: Rose valley hiking which takes you through the ancient caves and mystical undergrounds will leave you spellbound. If either of you enjoy cooking, you can pick up a Turkish cuisine or two by enrolling in a cooking class held by Aydinli.
Cost of stay per night: ₹5,619 – ₹9,897
10. Sakli Konak

Sakli Konak is a boutique hotel which is a well maintained mansion. If you are looking for a hotel which provides a beautiful holiday without digging too deep into your pocket, Sakli is the best choice.
Suggested Room: Deluxe rooms come with a terrace which provides the brilliant panoramic view of the town.
Things to do: Explore the Uchisar castle and the fantastic Goreme National park which is close by. This town is the best place to have some 'our time' during your holiday.
Cost of stay per night: ₹3,129 – ₹24,071
Further Read: 25 Countries With 25 Of The World's Yummiest Breakfast
So, which honeymoon resort in Turkey would you choose for the romantic escapade?
---