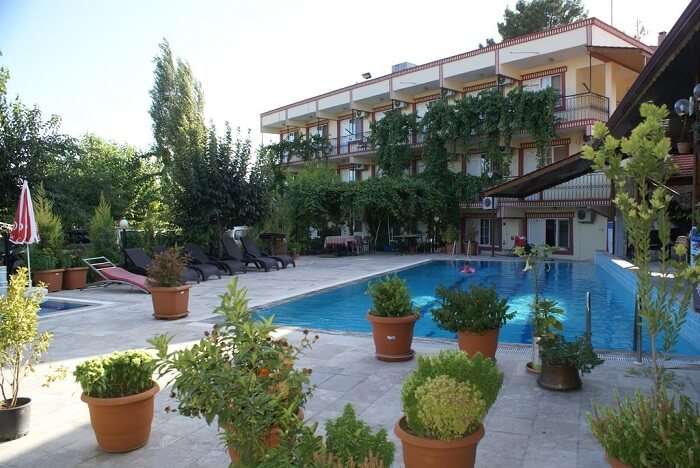 Located in Western Turkey and known for its thermal and mineral-rich water, Pamukkale is known for its UNESCO World Heritage Site white travertine beautiful terraces. Above those striking terraces, lies Hierapolis which was a town dating back to about 190 B.C of Roman and Byzantine origins. It has a museum, ancient ruins, preserved theatre as well as a necropolis with sarcophagi which runs for 2 km. Another beautiful attraction over here is the Antique Pool which is known for its submerged Roman Columns. In short, there is a lot to see in Pamukkale and as expected, it is a tourist spot as well. And just like their luxury hotels, there are super comfortable hostels in Pamukkale as well.
10 Best Hostels In Pamukkale
Here's a list of the top 10 hostels in Pamukkale that offer a comfortable and a budget-friendly stay in the city. Take a look and take your pick for your next trip.
1. Melrose Viewpoint Hotel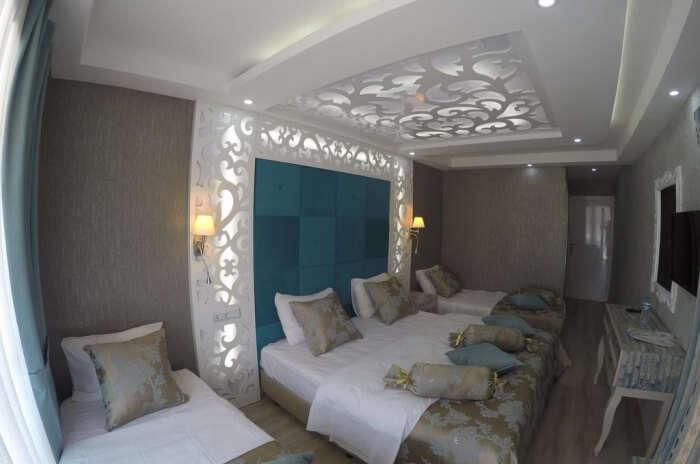 At this hotel, you are sure to get lodging according to your tastes. Melrose offers various kinds of rooms which range from single ones, twins and double going on to quadruple. There are also interconnecting rooms. All of it has 24/7 hot water, AC, Free Wi-Fi, and laundry service. Apart from this, the staff is hospitable, there are lots of activities and activities which are designed and offered as per guest's travel requirements. The place also comes with a swimming pool, garden dining, and a restaurant as well. Don't miss out on their complimentary breakfast.
Location: Pamukkale Mahallesi Çay Sokak, No; 7, Pamukkale, Turkey
Price Per Night: Private Room is $15.71
Ratings: 4.5/5
Website
Must Read: This Paragliding In Pamukkale Guide Answers What, Where And What Else About This Place
2. Aspawa Pension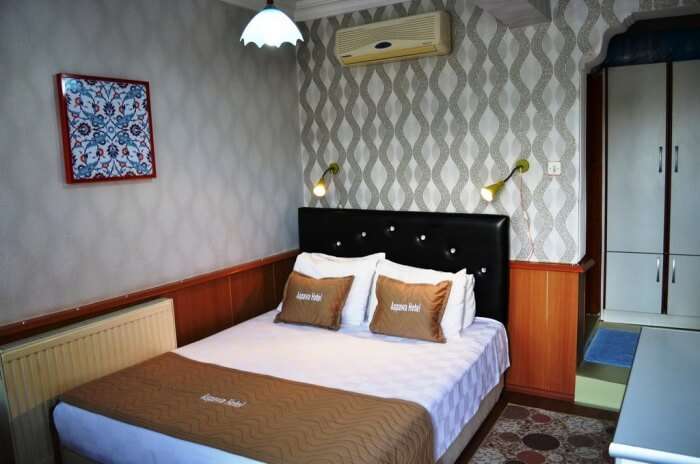 With great amenities in a beautiful location, right in the center of Pamukkale, Aspawa offers loads of amenities to look forward to. The hostel offers an outdoor swimming pool as well as free WiFi. Guests also get public parking for free in here. As for the rooms, Aspawa has 12 rooms and 28 beds in total, the place is small but is neatly decorated with each room having an air conditioning and other adjoining ensuite facilities. Guests also don't have to worry about food as the Aspawa cooks traditional home-cooked meals and Turkish specialties. The owners are friendly and hospitable. Moreover, those famed white terraces of Pamukkale along with its hot springs are just a couple of minutes walk from this place. Guests also don't have to worry about parking and breakfast, which are included in the stay itself.
Location: Pamukkale Kasabasi Denizli, Pamukkale, Turkey
Price Per Night: $1.15 for Private Room
3. Allgau Hotel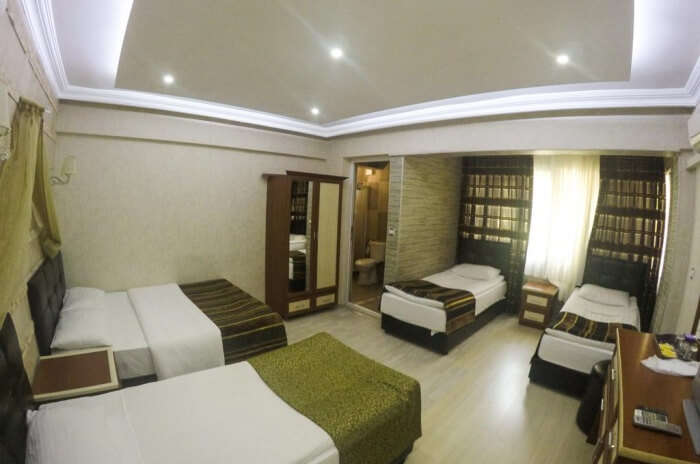 Just 15 minutes walk away from the travertine, Hierapolis and hot springs; the Allague is a cozy hotel which comes with a relaxing outdoor pool and an equally relaxing surrounding with lush trees and free Wi-Fi. The rooms here are air-conditioned and come with private bathrooms. You can have your meals over at the hotel's a la carte restaurant which serves up Turkish cuisine. But of course, there are plenty of local cafes, bars, and restaurants around town as well. If you are coming from the Denizli Cardak Airport, which is just 65 km from the hotel, and are in need of transport then this place can arrange a shuttle service with an additional fee.
Location: Pamuk mah. Hasan tah.cad. no:23 , Pamukkale, Turkey.
Price Per Night: Private Room is $10.75
Suggested Read: Pamukkale In Winter: An All-inclusive Guide To This Beautiful Turkish Paradise
4. Alida Hotel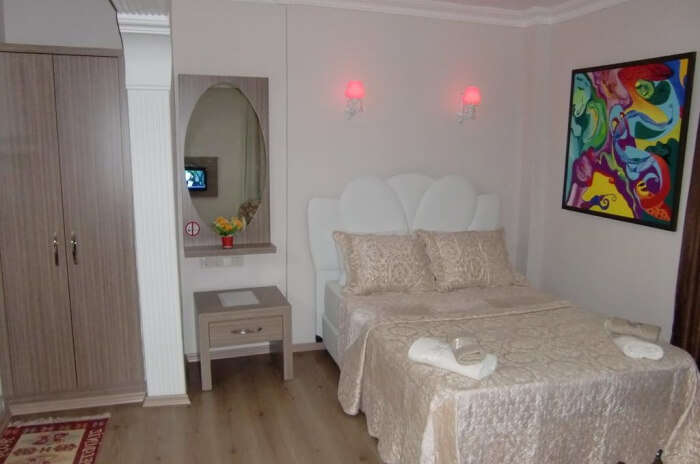 The place is located within beautiful Pamukkale views and is right across the hill with the Travertine terraces. The hotel offers a private bathroom with showers, air-conditioned rooms, an outdoor pool, a bar as well as a bike which you can rent to go for a ride into the town. You can enjoy homemade Turkish dishes in this place as well. The best part is that the place is pet-friendly too.
Location: Pamukkale mah.kuzey sokak.No: 9, Pamukkale, Turkey
Price Per Night: $5-$15
Ratings: 4.5/5
Website
5. Artemis Yoruk Hostel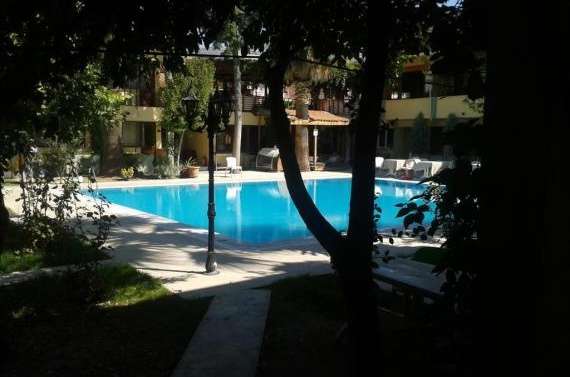 One of the best hostels in Pamukkale located just in the heart of Pamukkale, it is just a couple of minutes walk to Hierapolis and Travertine. The staff can speak English and strives to create a hospitable and relaxed atmosphere in here. The place has a sauna, a large outdoor swimming pool, jacuzzi, free Wi-Fi, air conditioning, heating, a rooftop terrace restaurant, a grill bar, and satellite TV. The hostel also has table tennis playing facilities, a DVD library, Turkish games and there is a certified massage therapist too if you want to relax. Public services are nearby as well like Pamukkale`s bus stop which is just 15 meters away.
Location: Pamukkale Centrum Ataturk cad 48/a – Pamukkale, Turkey
Price Per Night: $5-$15
Ratings: 3.5/5
Suggested Read: 10 Pamukkale Restaurants Where Fine Dine Experience Becomes A Lifetime Memory
6. Mustafa Pension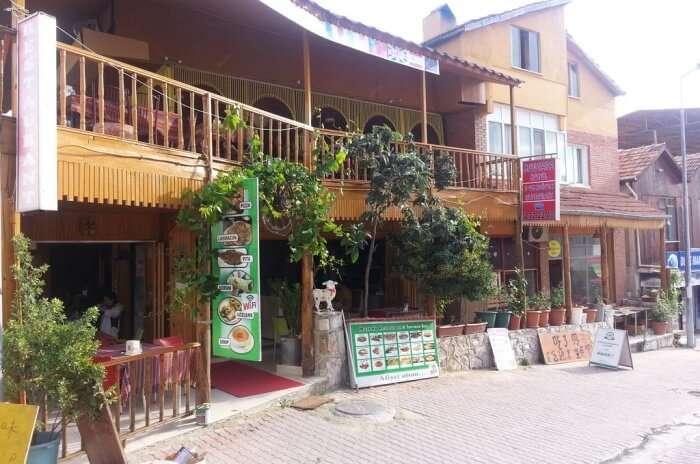 This Motel should list high up in the list of any traveler with budget concerns. Guests will experience amazing service and a great social atmosphere but at the lowest possible prices. Located in a semi-residential but safe area right in the heart of Pamukkale, it is actually the nearest pension to the Hierapolis entrance gate which is just a meager 30 feet away. You can get dorm rooms which house four guests on extra long, but comfortable single mattresses. But there are also double rooms which come with extra large king-size mattresses. The one thing in common between all the rooms is that they are all non-smoking, offer A/C and also have central heating during the winters. The place also offers meat, fish, barbecued chicken or pizza. You can see beautiful views of the White Terraces from the hotel's rooftop terrace or if want to stay in a bit, then board games and movies nights are there too.
Location: Kale Street Ataturk Street No:22, Pamukkale, Turkey
Price Per Night: Private Room is for $13.90
Ratings: 3.5/5
7. Meltem Guest House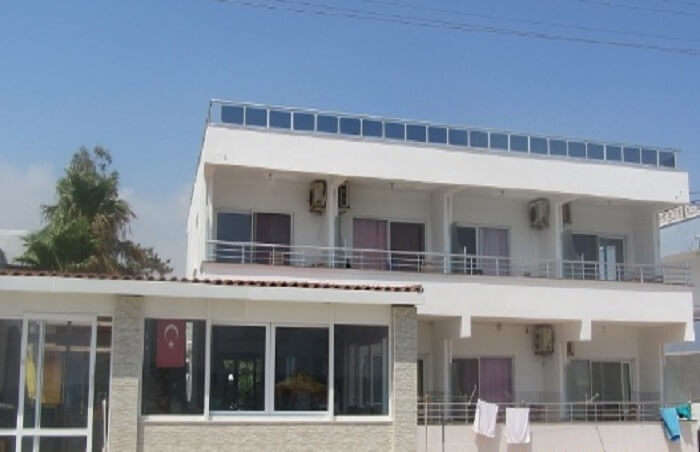 Located in one of the most frequented parts of Turkey, staying here will let you discover Pamukkale with a minimum cost but with maximum satisfaction. This is also one of the only Backpackers places in the city. This Pamukkale hostel offers ensuite bathroom, 24/7 hot water, central heating, Wifi, swimming pool and they offer a variety of games to keep their guests entertained. You can get a very diverse variety of Turkish meals here to enjoy as well.
Location: Pamukkale village – Pamukkale, Turkey
Price Per Night: $5-$15
Ratings: 4.5/5
Website
Suggested Read: 6 Best Things To Do In Pamukkale To Slay In This Turkey Town Like Never Before!
8. Beyaz Kale weißenburg Hostel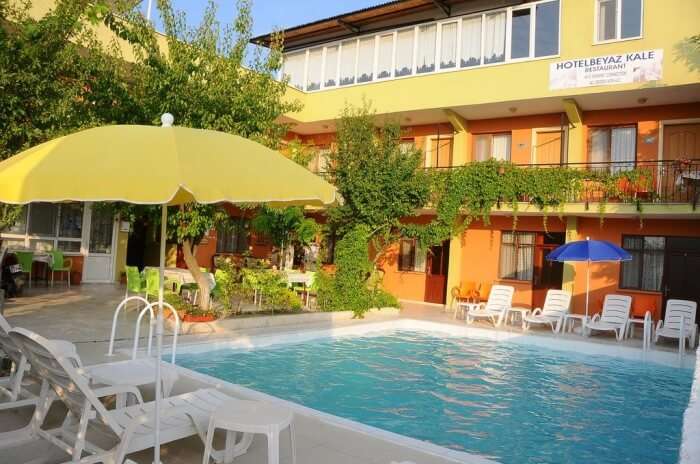 This hostel is 5km away from the Hierapolis by a car and is 100 meters if you are going to go by walking. This is a family friendly place which has a warm and hospitable atmosphere. You can get single, double, triple or even quadruple and more such family rooms as well as suits. The showers are clean and you will get 24/7 hot water. Here you are going to get vegetarian, grilled or barbecued amazing family food. This place also comes with an open-air pool restaurant, free Wi-Fi and a swimming pool of thermal water.
Location: Pamukkale kasabası oğuzkaan cad: no:2 – Pamukkale, Turkey
Price Per Night: $5-$15
9. Hotel Dort Mevsim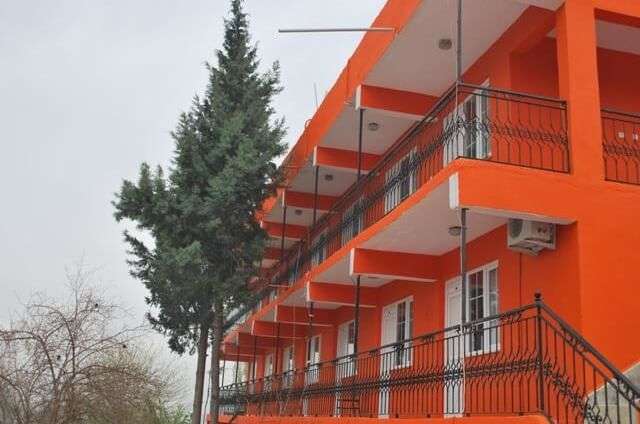 This is a family friendly and family run place. The hotel is just a minute walk away from the center of the town and is just two minutes away from Pamukkale's Travertines. The place is quiet and luscious green. The place serves breakfast, lunch, and dinner; all of the meals are also cooked in Turkish traditional homemade style. The hotel has a large pool which is fed by Pamukkale's natural spring water and is just the perfect place to cool off after a hot travel day. You can get free Wifi, hot drinks, parking, air conditioning, and 24/7 hot water. The place also allows day trip from Pamukkale, Mud Baths, Aphrodisias, Ladokiya, Karahayit and more.
Location: Pamukkale village Denizli Turkey – Pamukkale, Turkey
Price Per Night: $5-$15
Ratings: 4.5/5
Website
Suggested Read: Pamukkale In January: Visit This Renowned Dreamland In Astounding Turkey On Your Next Trip
10. The Ozen Turku Pension Hotel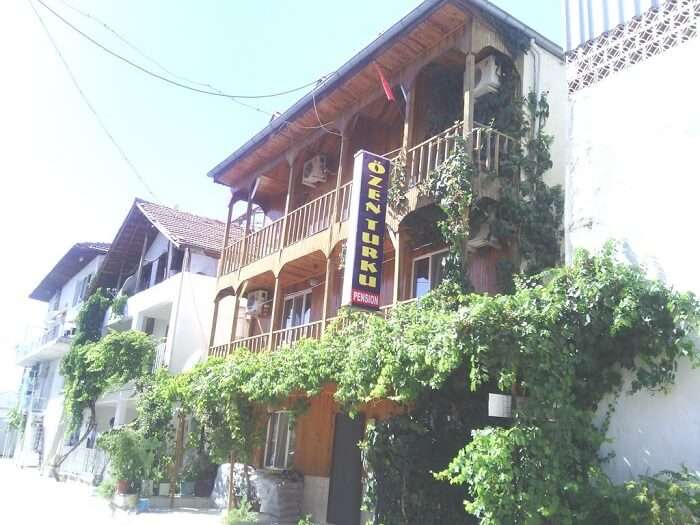 This is a little family run hotel which has been operating for more than 25 years. Situated just a 100 meters from Hierapolis and Travertines, this place offers a rooftop restaurant which serves traditional Turkish food all day. The place is friendly and ideal for relaxing. All rooms come with air conditioning, private ensuite, Wi-Fi, 24/7 hot water, television and breakfast too.
Location: Atatürk kale Caddesi şirin Sokak no 7, Denizli, Pamukkale, Turkey
Price Per Night: $5-$15
Ratings: 4.5/5
Further Read: Pamukkale In December Is A True Paradise On Earth – See For Yourself
Pamukkale is a beautiful place filled with historical locations and monuments. A must visit place for all and now with these hostels and hotels featuring private dorms, travelers with budget constraints can also enjoy on their trip to Turkey with TravelTriangle without experiencing any money woes.
---
Looking To Book An International Holiday?
Book memorable holidays on TravelTriangle with 650+ verified travel agents for 65+ domestic and international destinations.
---