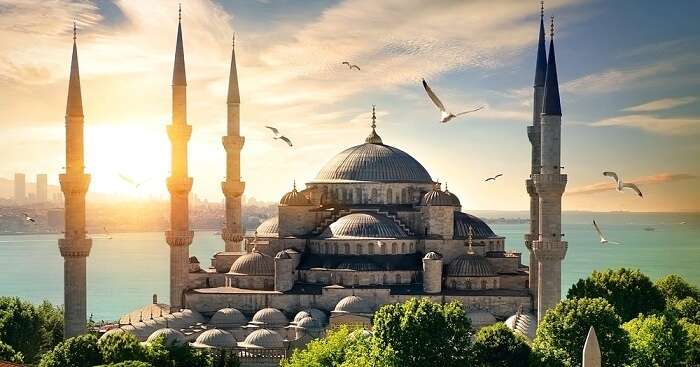 Turkey is a country in western Asia that is located at the crossroads between east and west. Turkey has a large population which is predominantly Muslim. Turkey, however, is a secular state with people of all ethnicities and religion living in this country. In Turkey, the largest city is Istanbul with a population of over 15 million people. Istanbul represents the culture of the Turkish people in the art, landmarks, cuisine, and people of the city. Istanbul is a cosmopolitan city that is both located in Europe and Asia. Part of the city is located in Europe and the rest of the city is in Asia. The city is divided between Europe and Asia by the Bosphorus Straits.
Culture of Istanbul
Istanbul is the cultural hub of Turkey. This city is thousands of years old with a rich Christian and Islamic history. In the modern era, this city has great Turkish restaurants, film festivals, shopping centers, traditional bazaars, nightlife, beautiful taverns, and a sophisticated tourism infrastructure. The Turkish cuisine plays an important role in the culture of the city and seafood restaurants and delicacies like kebabs are enjoyed by locals and tourists in Istanbul. The Mosques in Istanbul play a key role in the history of the city and have become places of worship as well as tourist sites in the city today. The following are some of the famous mosques in Istanbul:
8 Famous Mosques of Istanbul
1. Hagia Sophia
2. Suleymaniye Mosque
3. New Mosque
4. Ortakoy Mosque
5. Sehzade Mosque
6. Rustem Pasha Mosque
7. Arap Mosque
8. Blue Mosque
1. Hagia Sophia
Hagia Sophia was a former church that became an Ottoman Imperial Mosque in the 15th Century. When Constantinople fell to the Ottoman forces, this historical structure was converted into a Mosque in the Ottoman Empire. There have been many efforts to restore this mosque which remained a mosque till the 20th Century when it was officially converted into a museum.
Must Read: Top 15 Istanbul Beaches Where You Can Have Fun & Frolic In The Sun
2. Suleymaniye Mosque
Suleymaniye Mosque is an Ottoman Imperial Mosque located at the Third Hill Region of Istanbul. This mosque was built by Sultan Suleymaniye in 1557 and is known for its sublime architecture. This mosque is the second largest one in Istanbul and is a part of the tourist trail in the city.
3. New Mosque
New Mosque or Valide Sultan Mosque was constructed in 1665 and is made of stone, granite, and marble. This mosque has many domes and minarets and a courtyard. Inside the mosque you can observe have pillars, calligraphic plates, and the mosque is dotted with blue, green and white Iznik tiles. It is situated close to Galata Bridge and the Spice Bazaar and stone blocks from the island of Rhodes was used in the construction of this mosque.
Suggested Read: Top 15 Hotels In Istanbul To Usher You With Grandiose Turkish Hospitality
4. Ortakoy Mosque
Ortakoy Mosque was built in the 19th Century and was ordered by Sultan Abdulmecid on the ruins of Cantemir Palace. This mosque is designed in the neo-baroque style and includes calligraphy by Abdulmecid the 1st himself. This mosque is located in Besiktas area along the waterside in Istanbul. The architect of this mosque was Armenian and this mosque is smaller than some of the other mosques in Istanbul.
5. Sehzade Mosque
In the Fatih district on the Third Hill in Istanbul lies the Sehzade mosque. This mosque was commissioned by Suleymaniye the Magnificent in the memory of his young son Sehzade Mehmed and is also known as the prince's mosque. This mosque has minarets, a dome and is made of stone, granite, and marble. This is famous architect Mimars first major Ottoman Imperial structure and has elegant interior in pink, red and white color combination.
Suggested Read: 10 Things To Do In Istanbul To Relish The True Charm Of The Oriental City
6. Rustem Pasha Mosque
Rustem Pasha Mosque is located in the Fatih district in Istanbul, Turkey and was built in the1560 by a famous architect Mimar Sinan. Rustem Pasha was the Grand Vizier of Suleymaniye the Magnificent and the mosque now has become a religious school in the city. It has a beautiful portico; it is decorated with Iznik tiles inside and outside and has a main dome and a minaret in its design.
Suggested Read: 4 Best Wedding Venues In Istanbul For An Out-Of-The-World Experience!
7. Arap Mosque
Arap Mosque is located in the Karakoy district of Istanbul. This mosque was built in 1325 and was originally a Roman Catholic Church that was built by the Friars of the Dominican order and was dedicated to St. Paul. This mosque has medieval gothic architecture and was converted into a mosque after the fall of Constantinople to the Ottoman Empire. This building has been subsequently renovated and restored. This is one of the biggest mosques on the Galata side of the Golden Horn. The Arap mosque has a Gothic style Christian Bell Tower which is now functioning as a mosque minaret.
Suggested Read: 20 Tourist Hot Spots That Make Istanbul A Perfect Holiday Destination
8. Blue Mosque
The Blue Mosque which is also known as Sultan Ahmed Mosque was built in 1616 by the then ruler Ahmed I. This is a large mosque with a beautiful courtyard and many minarets making it an important tourist destination in Istanbul. The architectural style of this mosque is Islamic and late classical Ottoman in its style. This mosque has stain glass windows, chandeliers, ceramic tiles, paintings and sculptures making it a splendid tourist landmark in the city.
As mentioned above, there are many fabulous mosques with magnificent Architecture and design that make up the Islamic landmarks of Istanbul. Istanbul receives millions of tourists every year. Generally, many of the above-mentioned mosques are a part of the itinerary for the tourist to visit key landmarks in the city.
Further Read: The Ultimate Istanbul Shopping Guide To Discovering The Local Hideouts & Street Markets
Many of these mosques are very grand and look impressive on the skyline of the historical neighborhood of this city of Istanbul. So, plan your Istanbul trip with TravelTriangleand witness these splendid sites with your loved ones.
---
Looking To Book An International Holiday?
Book memorable holidays on TravelTriangle with 650+ verified travel agents for 65+ domestic and international destinations.
---