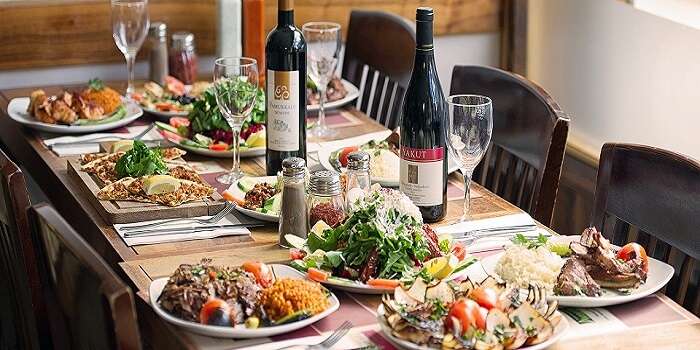 God created man, man created Turkey, and Turkey created cuisines for which gluttony can't be a sin. Rich and savory, not spicy particularly – the delicacies among the Turkish foods have been littering the menus of restaurants all over the world. Heritage of the Ottoman cuisine, a traditional Turkish food menu infamous for its meat-full skewers, but there is a lot more to it. Be it main course, desserts, appetizers, or juices; Turkish dishes will surprise your taste buds in a manner that not you'll be amazed, but you'll want more of it. Hence, from the whole big world of Turkish delicacies, we bring to you a complete menu for everyone's choice. Turkish food is more than just koftas, kebabs, and doners. You may not be able to pronounce the name of the dishes but you are going love the taste of it.
Turkish Foods: For The Meat Cravers And Chicken Lovers
Here's a list of the top Turkish cuisines that are perfect for hardcore non-vegetarians. Make your holiday in Turkish an amazing culinary experience by gorging on these delicious treats. Take a look to see what all awaits you there!
Mantı
Köfte
Lahmacun
Menemen
Şiş Kebap
Döner
İskender Kebab
Corba
Kuzu Tandir
Pide
Meze
Çiğ köfte
Pilav (Pilaf)
Yaprak Sarma
Dolma
İmam Bayıldı
Borek
Durum
Kumpir
Baklava
Lokum
Halva
Mozzaik Pasta
Güllaç
Kunefe
Balik Emek
Simit
Turkish Tea and Coffee
1. Mantı
Imagine meat-stuffed miniature raviolis! That's what Mantı is– boiled or fried beef/lamb dumplings accompanied by a various range of spices. It is the Turkish version of Italian dishes that you will definitely find pleasing to your taste buds. the spiced ground meat will just melt in your mouth and the garlic tomato sauce just tastes so good with the raviolis. It is a traditional Turkish dish that is made in every household with love. This is a popular Turkish food in India.
Must Try: With yogurt or butter
Where To Eat: Sayla Manti
Price: INR 500 onward
Must Read: Celebrate 2020 Christmas In Turkey And Make It Merry With These Fantastic Experiences
---
Europe Holiday Packages On TravelTriangle
Explore the most beautiful places to visit in Europe, from Paris to the Venice canals and from the Greek islands to the Swiss alps. Book customized packages by expert agents on TravelTriangle. Inclusive of airport transfers, cab, resort, sightseeing and meals. Best holiday experience Guaranteed. Book Now
---
2. Köfte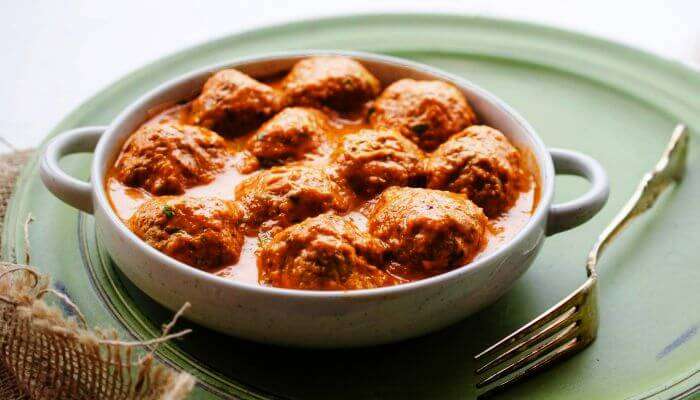 If Italians have got meatballs, Turks have got kofte. The Turkish version of meatballs, köfte are balls or patties made of lightly cooked ground beef or lamb. It is often sold in wraps with salad and some pita bread. You can even have a Turkish vegetarian food made with chickpeas and vegetables. Kofte is an important part of every Turkish household. So, you will find it at every street deli and house.
Must Try: Stewed, in sandwiches, over salads or plain with yogurt
Where To Eat: Tarihi Sultanahmet Köftecisi Selim Usta
Price: INR 300 onward
Suggested Read: 5 Historical Caves In Turkey Which Will Give You Some Serious Adventure Goals!
3. Lahmacun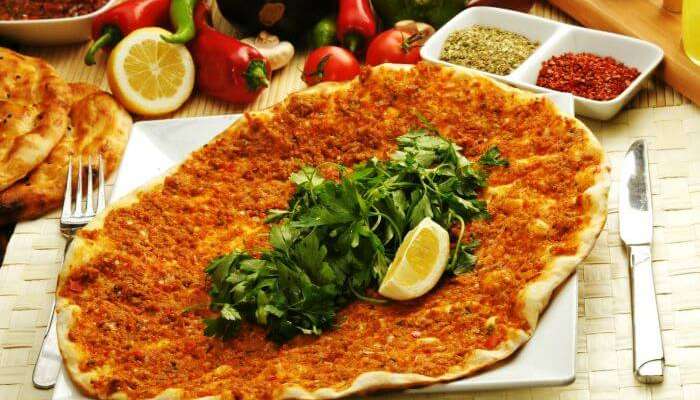 Flat and crispy, Lahmacun is like a pizza served with a topping of minced meat, salad and lemon juice on bread and can be wrapped, folded in half, or pulled apart to eat. The Turkish counterpart of pizza is full of flavors. The minced lamb and Mediterranean spices doing a party in your mouth. It is a famous street food in Turkey that you will find all over the country. So, you ought to try this on your next trip to Turkey.
Must Try: With tomatoes, lettuce, parsley; try adding some lemon on it
Where To Eat: Lahmacun
Price: INR 400 onward
Suggested Read: 6 Iconic Bridges In Turkey That Are A Paragon Of Beauty & Magnificence!
4. Menemen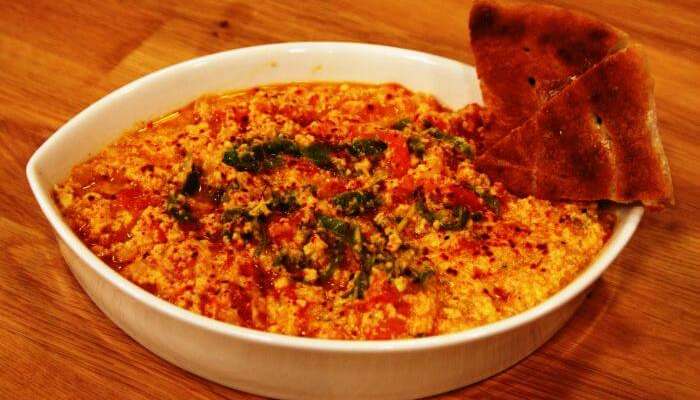 Less seen on a restaurant menu, Menemen can be a quick breakfast item of scrambled eggs cooked in sauteed vegetables. If you want to taste how Turkish like their eggs, Menemen is the answer. It is basically scrambled eggs cooked softly with onions, peppers, paprika, and oregano. It is similar to Shakshouka the only difference being that eggs in this dish are beaten.
Must Try: With fresh bread, spoon it up with some homegrown olives
Where To Eat: Lades Menemen
Price: INR 500 onward
Suggested Read: 8 Impeccable Museums In Turkey To Embrace The Deeply Rooted Turkish History!
5. Şiş Kebap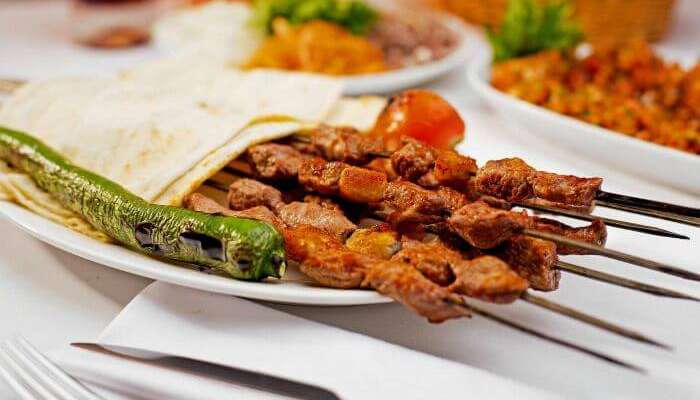 Did you know that your seek kebab originated in Turkey? Add lamb to the list of chicken or fish being served on a wooden or metal rod and you are relishing Şiş Kebab. Your mouth will start watering as soon as you smell and see the skewered meats when served hot out of charcoal. Turkey is the country that introduced the world with the skewered meat or kebabs. It is another popular street food in Turkey that you won't have enough of on your trip to Turkey.
Must Try: With yogurt
Where To Eat: Altin Sis Kebap
Price: INR 350 onward
Suggested Read: 23 Reasons Why You Should NEVER VISIT Turkey
6. Döner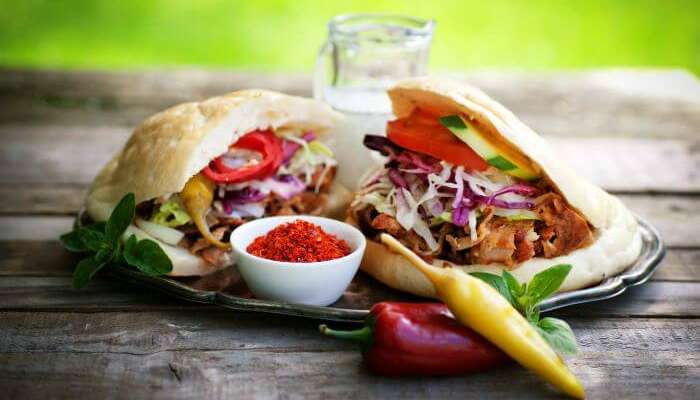 If you like subs and sandwiches, you are definitely going to love döners. Try kebab sandwich prepared with slow cooked chicken, lamb, or beef meat served with vegetables, spices, and garlic yogurt. It is goodness and fresh flavors packed inside the pita bread. Try it with hummus or traditional Turkey dips to elevate the taste. The meat is cooked on a vertical rotisserie and is full of flavors. The sliced shavings are filled inside the doner stacked along fresh veggies and dressing. Turkish fast food is generally healthy and salubrious. So, you wont feel guilty of gorging on doners. These are way more delicious than the ones they serve at food trucks in India.
Where To Eat: Kebab Xpress
Price: INR 450
Suggested Read: 8 Monuments In Turkey That Are A Reminiscence Of The Turkish War Of Independence!
7. İskender Kebab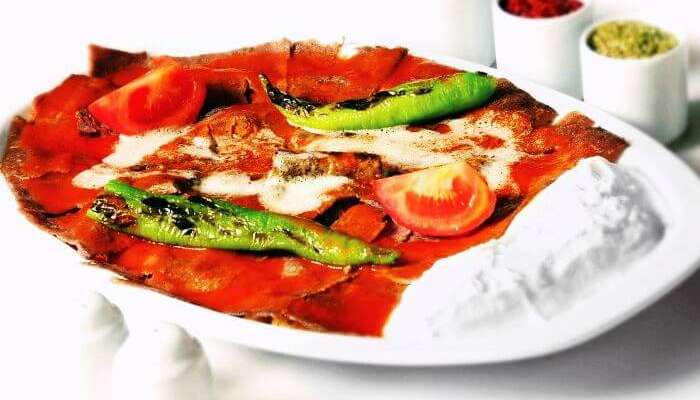 Iskender kebab is long strips of lamb cooked in tomato sauce and served over rice and pita bread with yogurt. It is named after Master Alexander (Iskender Efendi) from Ottoman Empire who lived in Busra. It is made from stripped doner meat topped with spicy flavorful tomato sauce and butter melted on top. It is a popular food in Turkey that is best have along pita bread.
Where To Eat: The Shawarma Story
Price: INR 450 onward
Suggested Read: 7 Therapeutic Hot Springs In Turkey Everyone Who Searches For Tranquility Should Visit
8. Corba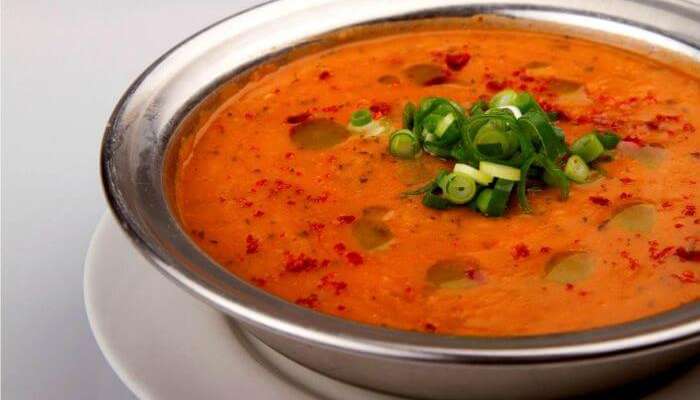 A simple soup dish – choices are lentil or tomato. Go adventurous with your culinary preferences and try it with sheep brain or tongue soup. Turkish are crazy about their soups. So, you ought to try this once while you are on your holiday in Turkey. This will become your comfort food in no time since soup is all about cozy and warm feeling in your mouth.
Where To Eat: Ayvalik Pasali Corba
Price: INR 800 onward
Suggested Read: Turkey In September: The Ultimate Guide For Exploring The Land Of The Legends!
9. Kuzu Tandir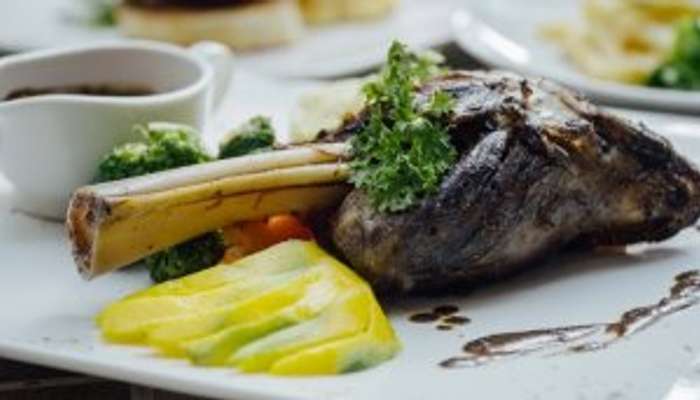 This dish is mostly loved by those people who have a thing for Turkish food. The fragrance of this dish and the well-cooked lamb will make for the best dining experience you can have here. This dish is famous since times immemorial and still steals people heart the same. Apart from Turkey, this dish can be found in India, Pakistan, Caucasus, Greece, and Afghanistan.
Where To Eat: Konyalı Etliekmek Kuzu Tandır
Price: INR 700 onward
Suggested Read: Jayati's Trip To Turkey In January Will Inspire You To Book Your Trip Soon
10. Pide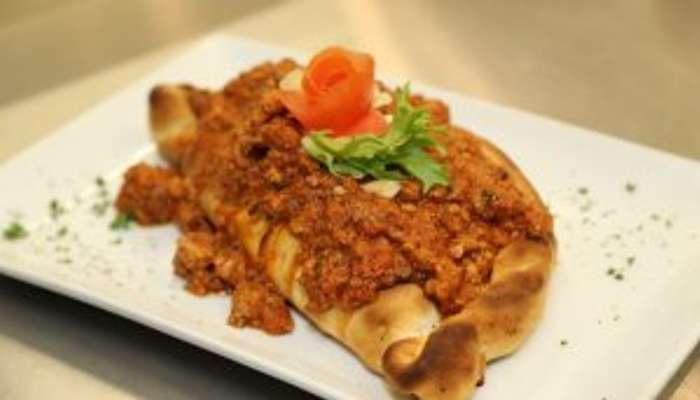 One of the most famous Turkish foods, this particular dish can be easily found anywhere in Turkey. This dish is so well prepared that its appearance would be enough to entice you to have a bite. Made like patties from a well-kneaded dough, this dish is quite scrumptious to taste and is definitely a must try. The flavor of this dish will simply explode in your mouth, making you want to have more of it. Pide is the best Turkish food in Istanbul that you can order in the restaurants.
Where To Eat: Cappadocia Pide House
Price: INR 800 onward
Suggested Read: This Is How You Can Impress Your Soulmate On Valentine's Day In Turkey!
11. Meze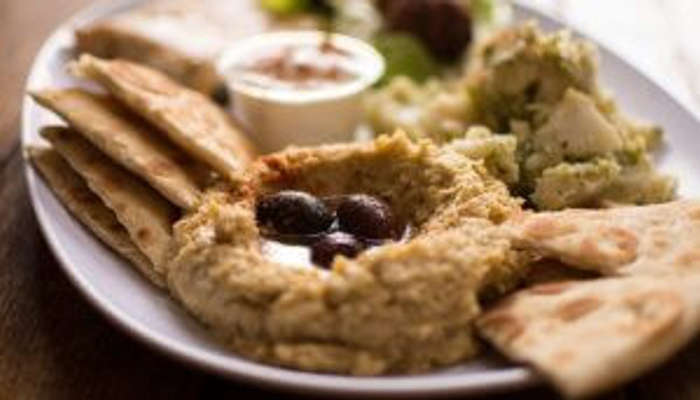 This dish is considered to be one of the best appetizers in Turkish cuisine. If you're visiting a restaurant that serves fish, then this is amongst the best starters to begin with. Turkish mezes are renowned all across the world and are admired for their taste. They don't feel heavy on your stomach so you can ask for more than one serving of this dish without thinking much. While Turkey offers a range of dishes, whole Europe is an exciting continent for foodies. The food festivals in Europe are proof of that.
Where To Eat: Meze By Lemon Tree
Price: INR 1000 onward
Suggested Read: Cruises From Turkey: 9 Liners That Will Set Your Luxury Records Straight
Veggie Delights And Experiments With Rice
Turkey also has a great array of options for vegetarians, which is why it never disappoints anyone. Take a break from vegan Indian food and try these Turkish foods for a change.
12. Çiğ köfte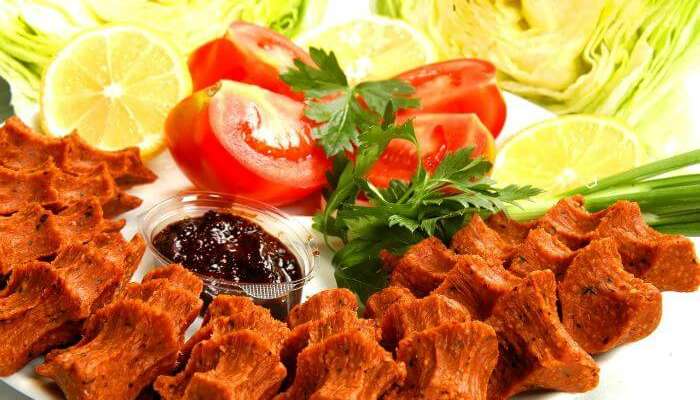 Çiğ köfte are spicy balls made with bulgur, onion, pepper and tomato pastes, spices and herbs – all kneaded together and cooked. It's sold from takeaway places in a lettuce leaf. Try this Turkish-style steak tartar which is made from fat-free minced beef. Originated in the southern part of Turkey where it is most popular, it has a lot of history behind it. You can also opt for vegetarian version dish which might be available at only a few places in Turkey.
Where To Eat: Resume çiğköfte körfez
Price: INR 450 onward
Suggested Read: 15 Things Turkey Does Better Than Anywhere Else
13. Pilav (Pilaf)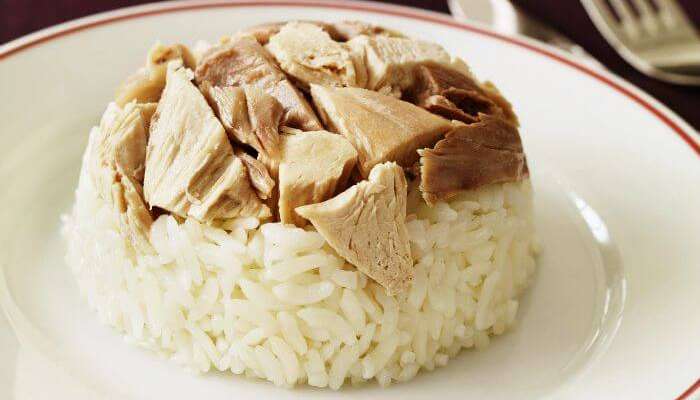 Delicious, buttery toasted! Plain rice cooked in water with butter/vegetable oil and noodle is Pilav. It is also cooked with eggplants, chickpeas, meat or liver slices with thyme, pepper, cinnamon cumin and almonds. While we Indian have pulao, you will find it as pilaf in Turkey. If you are a strict vegetarian, this is one dish you will definitely like and you must try. Notice how rice gets its golden color from being sauteed in oil and is full of flavors.
Where To Eat: Tarihi Kalkanoğlu Pilavcısı
Price: INR 500 onward
Suggested Read: Turkey Honeymoon: 10 Romantic Experiences To Let The Love Blossom In 2020
14. Yaprak Sarma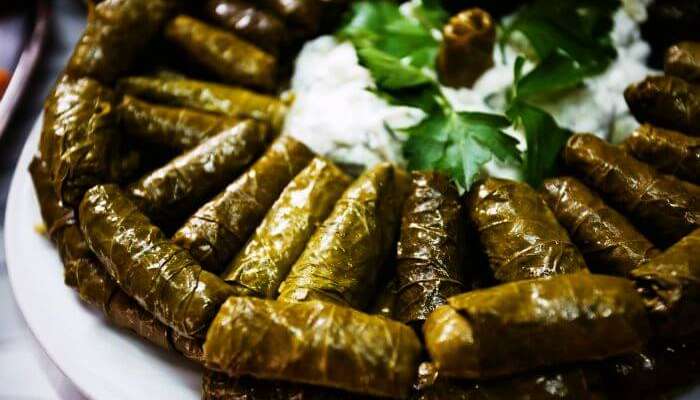 Vine leaves wrapped around a filling of rice and onion flavored with mint, currant, pepper and cinnamon are steamed to prepare what is an exquisitely healthy Yaprak Sarma. It is a traditional food in Turkey that is packed with enormous amount of flavors. This dish has an influence of ottoman Empire, and is famous from Middle East to South Eastern Europe. The preparation of this dish is a bit time-consuming but it is all worth it.
Where To Eat: Dostlar Manti
Price: INR 150 onward
Suggested Read: Hitchhiking In Turkey: A Guide To Know All The Basics And Do It Like A Pro
15. Dolma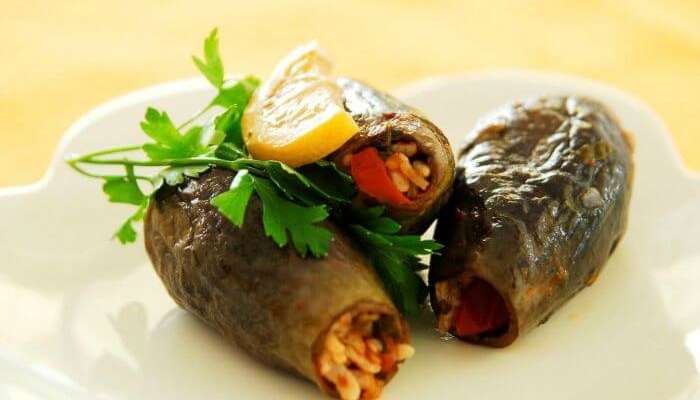 Fresh vegetables or dried eggplants, peppers, tomatoes or zucchinis are stuffed with a mixture of rice and onion before cooking in water and butter. These are usually served at room temperature. It is a popular Mediterranean cuisine and is found in regions beyond Turkey. It is believed that this dish was originated in the Ottoman Topkapi Palace back in the 17th century.
Where To Eat: Golden Midye
Price: INR 375 onward
Suggested Read: 8 Water Sports In Turkey: That Remain Imprinted In Your Mind For A Long Time
16. İmam Bayıldı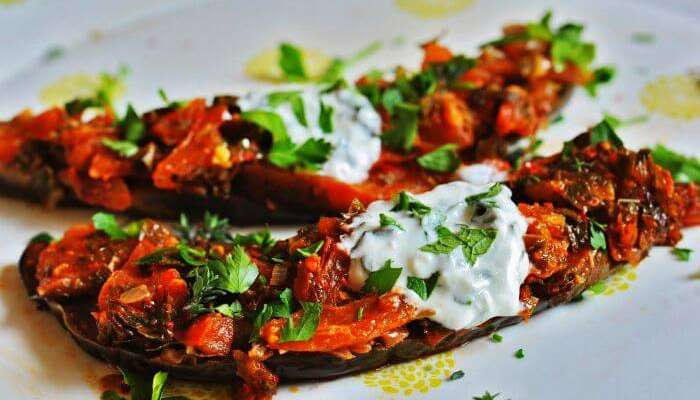 Stuffed with a tomato, onion and garlic mixture this aubergine entree is filled with rice, bulgur, and other veggies, this Turkish delicacy is baked in the oven and served with Pilaf. There is a funny anecdote related to its name that an Imam fainted when he heard the cost of ingredients that go into the making of this dish. There are also other funny anecdotes related to the history of name that will spice up the dish for you.
Where To Eat: Fuego Restaurant
Price: INR 500 onward
Suggested Read: 10 Amazing Water Parks In Turkey That Will Make Your Trip More Fun
Foods Straight From The Streets
Are you a street food lover because the streets have got the best food in Turkey? If yes, then worry not because Turkey also offers a lot of delicious street food cuisines to gorge on. It is nothing like the street food in Delhi, yet you are going to love it.
17. Borek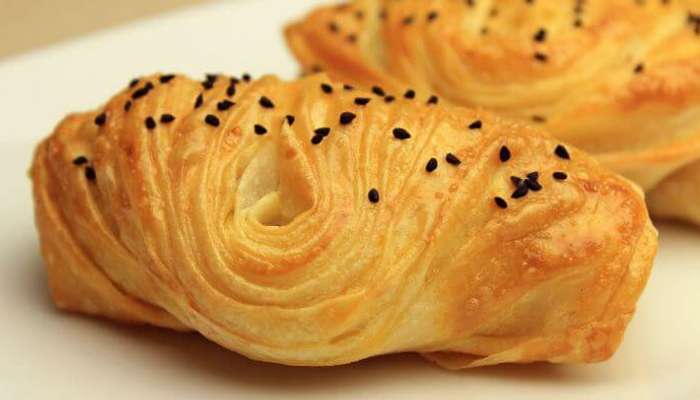 Always flaky and delicious, this Turkish pastry is filled with minced meat or spinach and cheese. It can be rolled, served as puffs, or layered like lasagna. It is a famous dish found in the regions of Balkans, Levant, and Mediterranean. This flaky pastry can either be created as a whole in a pan or individual small pastries. The sesame seeds sprinkled on the top adds a nutty flavor to the dish. The dish dates back to the Classical Era and have most significant elements of a Turkish cuisine.
Where To Eat: Citir Borek
Price: INR 200 onward
Suggested Read: Scuba Diving In Turkey: An Experience Worth Having For All The Adventurists
18. Durum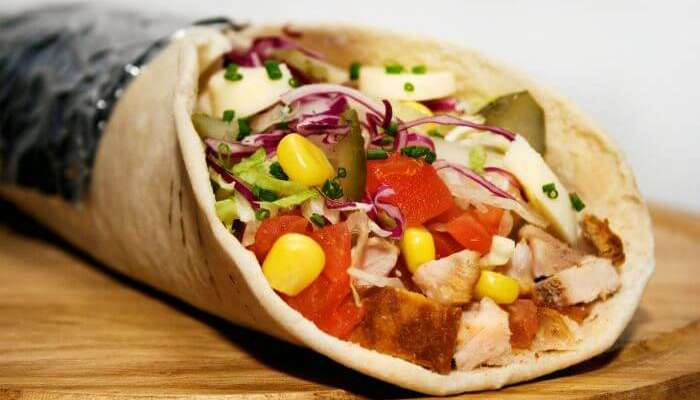 The Turkish version of a burrito, dürüm is slow cooked chicken, lamb, or beef served inside a wrap. It is made using lavash, a thin Turkish flatbread. the bread used in this wrap is way thinner than the bread used for Doners and other dishes. It has almost similar ingredients that are used in making doners like doner meat and veggies.
Where To Eat: Dürümzade
Price: INR 175 onward
Suggested Read: 7 Days Honeymoon Trip To Turkey: Amogh's Guide For A Surreal Experience In This Trans-Continental Paradise!
19. Kumpir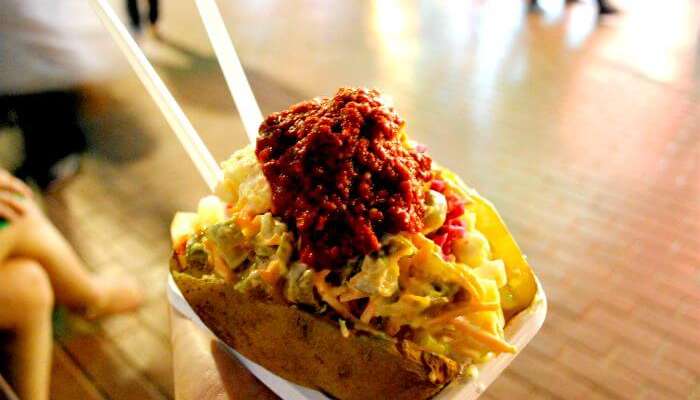 Image Source
Another street food that is popular in the beach side resorts and cities. Made of jacket potato with a crisp outer skin and soft inside, it is available with a variety of toppings to choose among– cheese, sausage, pickles, and Russian salad. Kumpir is a delicious Turkish street food that you should not miss out on.
Where To Eat: Patatos
Price: INR 100 onward
Suggested Read: These 8 Days In Turkey For Our Honeymoon Were Full Of Love and Magic
20. Balik Ekmek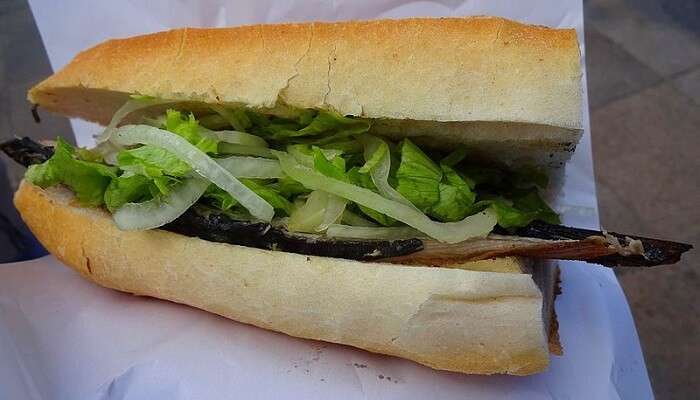 One of the best things about Turkey is that you will find a variety of delights while roaming in the streets. One such delightful Turkish street food is Balik Ekmek. It is a savory sandwich made grilled fish. The best thing about this street food is the taste of the fresh fish from the sea. You can almost taste it on your lips. It is eaten all across the country with gusto that you can say it is the national food of Turkey. Also, it's cheap.
Must try: Served in a Turkish bun along with variety of vegetables
Where to eat: You will find plenty of places along the Bosphorus shore
Price: INR 20-60
Suggested Read: Snorkeling In Turkey: 10 Places Where You Can Have This Thrilling Experience
21. Simit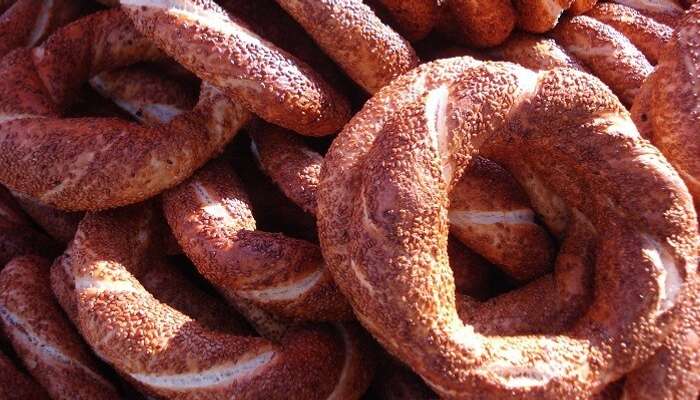 If you love pretzels, then you should definitely try the Turkish version on your holiday here. Simit is the best food in turkey food to eat in Turkey in breakfast. The dish has its roots from Ottoman Empire.
Must try: With hot Turkish coffee or tea
Where to eat: Simit Sayari, Istanbul
Price: INR 18
Suggested Read: 9 Handy Turkey Travel Tips To Make Your Vacation Memorable And Hassle-free
Sweet Tooth? Time For Some Desserts
Got a sweet tooth or teeth? Irrespective, the Turkish delicacies have an amazing variety of desserts and sweets to soothe your taste buds. Find out!
22. Kunefe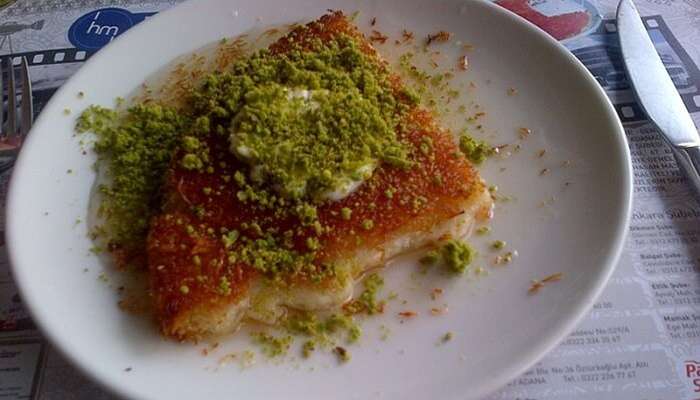 If you have a sweet tooth, then Kunefe is a special food in Turkey that all dessert-lovers must try on their vacation. The delightful dessert is made with cheese, bread crumbs, and pistachio nuts. The dessert is so delicious and sinful that you won't be able to stop yourself from having a single serving.
Must try: With cheese. Served hot, cold, or warm
Where to eat: Keyfeder Künefe Katmer
Price: INR 85-150
Suggested Read: Turkey In October: Witness The Land Of Aladdin At Its Best!
23. Baklava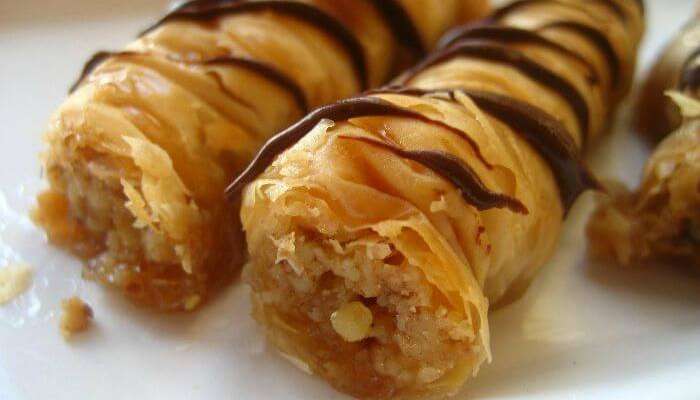 Possibly the most popular Turkish desserts, Baklava finds its fan in anyone with a sweet tooth. It is made of layers of filo pastries stuffed with nuts.
Must Try: With ground pistachios. Must be eaten fresh
Where To Eat: Bilgeoglu Baklava
Price: INR 200
Suggested Read: Theme Parks In Turkey: 10 Places That Will Bring Out The Adrenaline Junkie In You
24. Lokum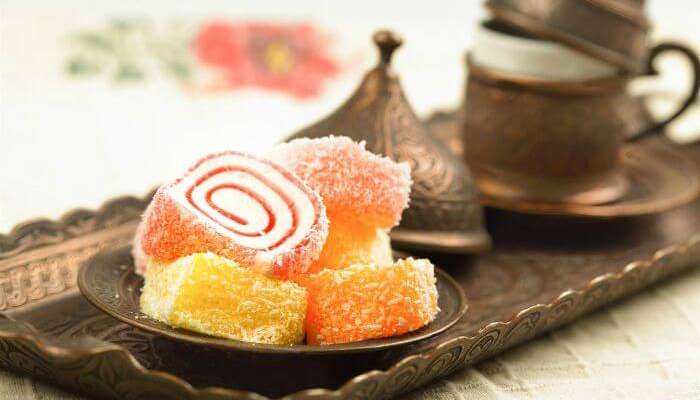 Also known as Turkish Delight, this nougaty dessert is a firm jelly-like cube flavored with rosewater, lemon, or mastic, and dusted with powdered sugar, but there are many variations. It truly is a privilege to taste this dessert at the place where it was originated. People even bring back boxes of balaclava as a souvenir because that is how good it is.
Must Try: With pomegranate and pistachio flavor
Where To Eat: Citir Borek
Price: INR 75-150
Suggested Read: 7 Lakes In Turkey: Meander Through The Astounding Banks Of These Natural Wonders
25. Halva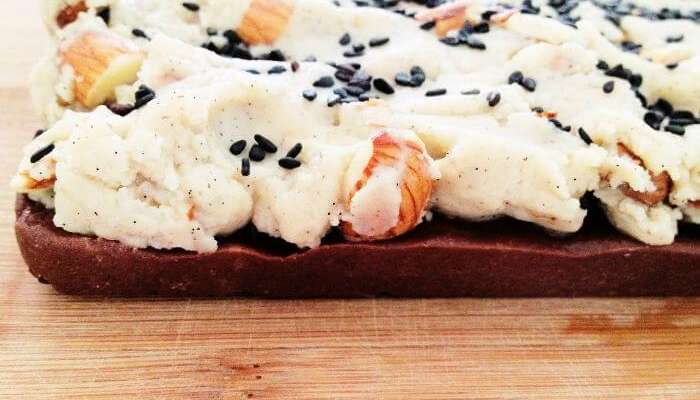 The Turkish halva is made from tahini (crushed sesame paste) and sugar, sometimes with other ingredients added. This is nothing like what you have in India apart the name it shares. It tastes way different than over conventional halva dish and the method of preparation is entirely different. You have got to try this on your vacation in Turkey. You might end up falling in love with this one over Indian version.
Must Try: With pistachio
Where To Eat: Hafiz Mustafa
Price: INR 400 onward
Suggested Read: 20 Intoxicating Things To Do In Turkey In 2020 That Will Sink Deep Into Your Soul
26. Mozzaik Pasta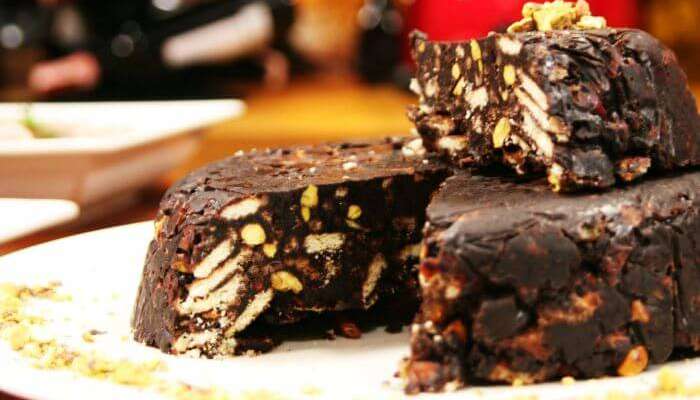 Fancy a chocolate cake with broken biscuits– that's what Mozzaik Pasta is. Available in almost any café, it is one of the most delicious and artistic Turkish foods. Every Turkish mom makes this dish for her children and nearly every pastry shop in Turkey has it on display. Therefore, you ought to taste what the hype is all about. You will end up falling in love with this no-bake dessert. That is a promise!
Where To Eat: Goreme
Price: INR 500 onward
Suggested Read: Turkey Visa For Indians: How To Apply In 2020, Requirements And Tips
27. Güllaç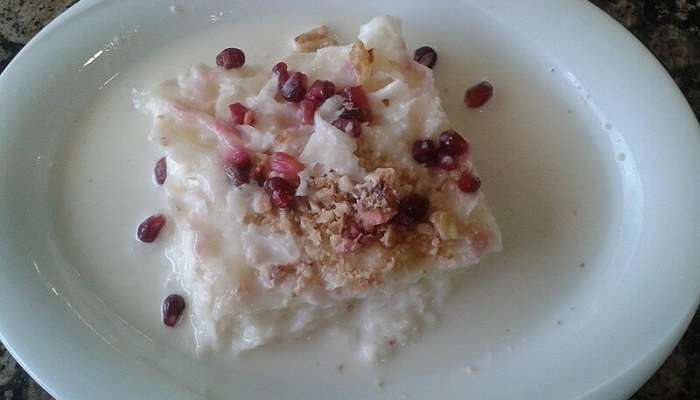 Amongst the top Turkish foods, Gullac is a traditional dessert, mostly served and relished during Ramadan. It is a uniquely textured treat that is made with dough, milk, rosewater, nuts, and pomegranate seeds. Even if you're visiting sometime other than the month of Ramadan, try and scout for these desserts because they are surely nothing less than heaven.
Where To Eat: Karaköy
Price: INR 350-500
Suggested Read: 12 Adventure Sports In Turkey: Must Try
28. Turkish Tea & Coffee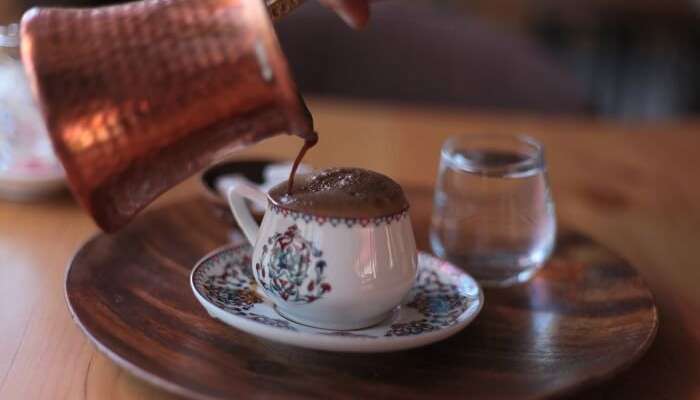 You must have seen videos on Instagram of Turksih brewmasters making coffee on hot sand. If that has fascinated you, then you must try this Turkish street food beverage. Turkish coffee is thick, biter and served in a small cup. Turkish teas, on the other hand, are flavorful and aromatic. Teas are an integral part of Turkish foods. So, you must have a traditional experience on your vacation.
Must try: Turkish apple tea, traditional Turkish tea
Where to have: Kurukahveci Mehmet Efendi, Nuri Toplar
Price: INR 12-18
Suggested Read: 5 Day Trips From Turkey For An Enriching And Exciting Vacation
Honorable Mentions
29. Kayısı Tatlısı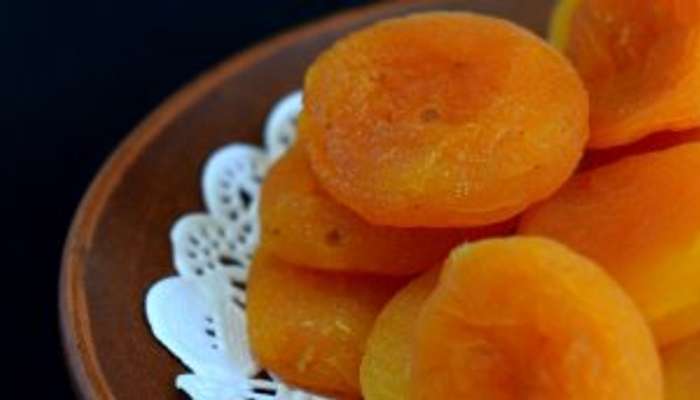 This is one of the most delicious desserts amongst Turkish traditional food options. Kayısı Tatlısı is basically dried apricots that are stuffed with walnuts. This dessert is an healthy option, and great for serving at parties, enjoying among family and friends, or just indulging in all by yourself. This Turkish food will be hard to miss on your vacation.
Where to have: Balikci Sabahattin
Price: INR 100-200
Suggested Read: Turkey Visa For Indians: How To Apply In 2020, Requirements And Tips
30. Mercimek Köftesi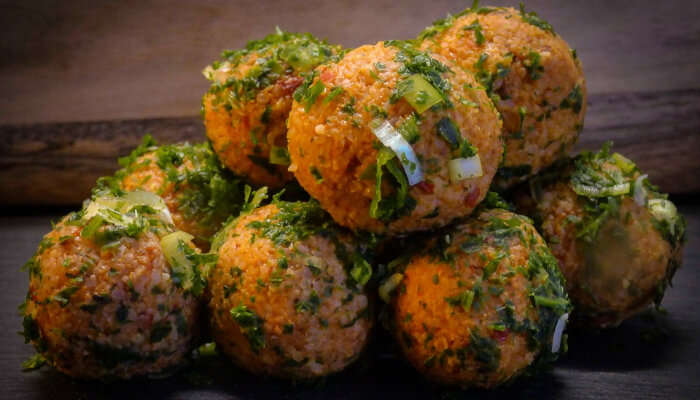 Ever heard of vegetarian meat balls?! As absurd as it may sound, it is one of the most famous food in Turkey. Mercimek Köftesi is a vegetarian meat ball that is made up of lentils, bulgur, and chopped vegetables. It is mostly served as an appetizer, and is a must try Turkish food when vacationing in Turkey.
Where to have: 360 İstanbul, Taksim
Price: INR 350-500
Suggested Read: 11 Fun Things To Do In Antalya That'll Help You Learn The Cultural Aspects Of Turkey
31. Haydari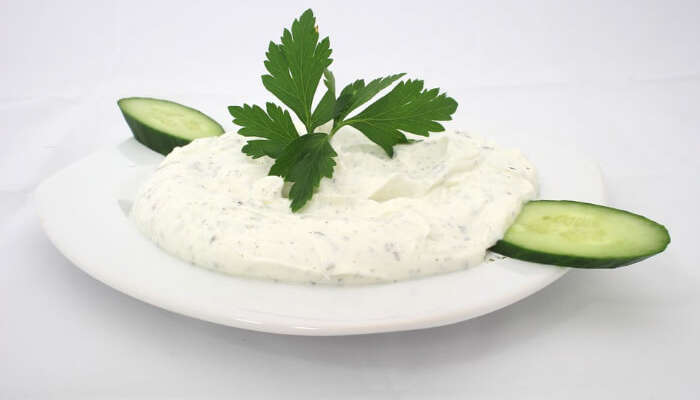 Does food you send you on a frenzy? Do you love dips with your choice of food? Then, this Turkey food is for you. Haydari is one of a kind meze dip that is prepared by adding garlic, and fresh herbs such as mint, basil, and dill to thickened yogurt. Thick texture, and tangy flavor of this Turkish food makes it a companion of pita bread, kebabs, and vegetables.
Where to have: İsmet Baba Restaurant, Istanbul
Price: INR 30-70
Suggested Read: New Year In Turkey: For A Happening Start Of 2020 In The Ancient Land Of Dervishes
32. Tursu Suyu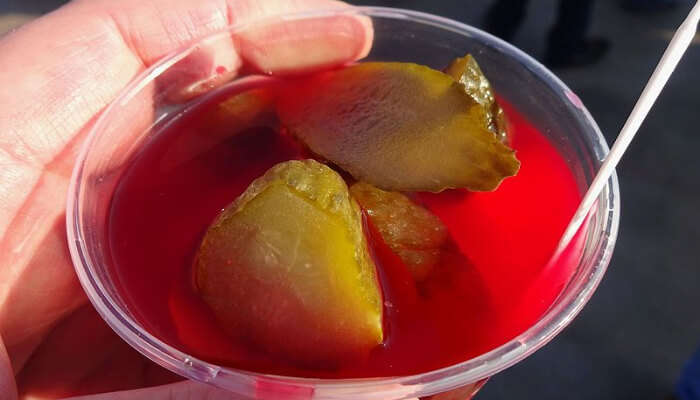 Tursu Suyu is a kind of juice, and no not the kind of juice you are accustomed to. Tursu, a famous Turkish food, is a variety of fresh pickle juices – eggplant, zucchini, garlic, grape leaves, and more. While Tursu is often served as appetizers, Tursu Suyu, flavored pickle juice, is served as a refreshment, especially in summer season.
Where to have: Pelit Turşucusu, Istanbul
Price: INR 18-28
Further Read: 76 Best Places To Visit In Turkey That Must Be On Your Itinerary In 2020
Phew..did you just drool? It has been tough to keep it dry behind the teeth while compiling this list of Turkish foods. And am I the only one to see a striking similarity with the Indian cuisine? Try all these food delicacies on your next trip to Turkey, a beautiful country to spend a vacation.
Frequently Asked Questions About Turkish Foods
Q. What is traditional Turkish food?
A. Kebabs, Kofte, and Balaclava are two of the traditional Turkish dishes.If you are interested in eating these authentic dishes then check out the stalls and restaurants in popular places to visit in Turkey for a perfect taste.
Q. What is Turkey's national food?
A. Manti is Turkey's national food.
Q. Is Turkish food spicy?
A. Some of the dishes are. But the flavors are not too strong for your palette, just full of flavors.
Q. Can you eat pork in Turkey?
A. You can but it is hard to find since it is not socially and conventionally acceptable.
Q. What kind of food do they eat in Turkey?
A. Turkish food comprises of meat, aubergine, fresh salads, olive oils, nuts, and Mediterranean spices.
Q. Do they eat turkey in Turkey?
A. It is not a common food. Lamb, buffalo, and chicken meat are widely consumed.
Q. Is there bacon in Turkey?
A. No, since pig meat is not socially acceptable.
Q. Is Turkish food healthy?
A. Consisting of stews, salad, low-fat cheese, freshly made bread, and more, Turkish cuisine has everything that defines a healthy diet. However, it depends on you, what you're eating and from where you are eating.
Q. Is vegetarian food available in Turkey?
A. Turkey is a great place for vegetarians as most of the dishes are made with vegetarian bases. Almost every shop or restaurant sells vegetarian options for travelers who strictly don't like meat or chicken in their meals.
Q. Is Turkish Delight vegetarian?
A. Also known as Real Lokum, Turkish Delight is amongst the best Turkish foods. These sugar cube sweets are mostly vegan since they are made with cornstarch.
Looking To Book An International Holiday?
Book memorable holidays on TravelTriangle with 650+ verified travel agents for 65+ domestic and international destinations.
---
Comments
comments