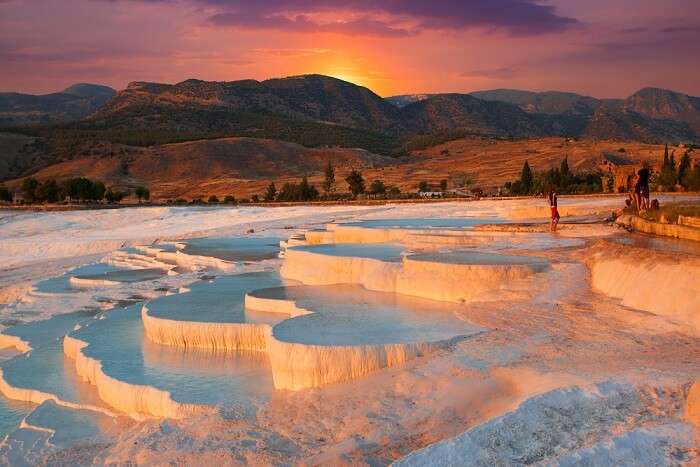 Pamukkale's picturesque hot pools terraced along a mountainside feature in almost every tourist brochure about Turkey. Egyptian legend claims that Queen Cleopatra herself bathed in these springs. It comes as no surprise that these magnificent pools, perched below the ancient city of Hierapolis, are a UNESCO heritage site. But there's more to Pamukkale than just natural springs.
If you like ancient ruins or enjoy paragliding, then you will have a blast in Pamukkale. Read our Pamukkale travel guide to learn about fun things to do here, must-visit tourist attractions, food joints you can't ignore and most importantly, how to reach Pamukkale by various means. You will be surprised by how incredible this place is.
Best Time To Visit Pamukkale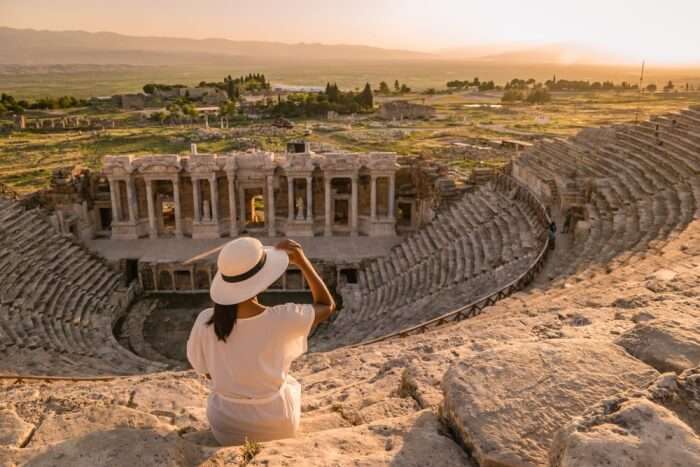 The best time to visit Pamukkale is from April to May. The weather is moderate and the days are long. September to October is also said to be a favorable time. September marks the onset of autumn. The weather is mild and the days are short. June to August is the hottest period, so avoid traveling during this time. The temperature hovers around 40°C in the day. Make sure to pack light clothes.
Places To Visit In Pamukkale
We have shortlisted some of the places to visit in this gorgeous Turkish town that travelers shouldn't ignore at any cost. Pack your bags and let your instincts follow the white snow:
1. Travertine White Terraces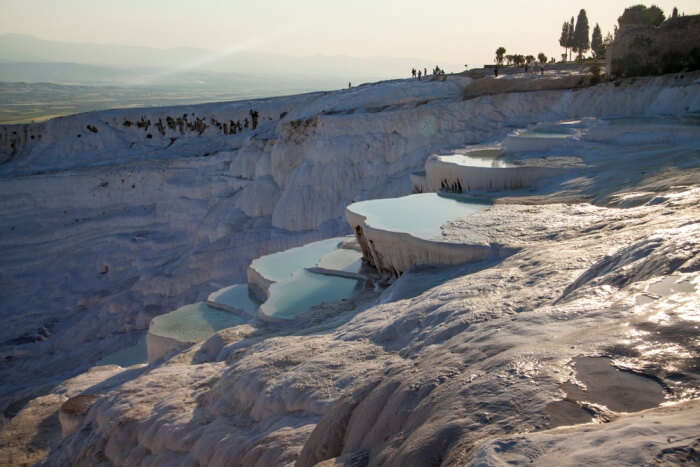 Travertine White Terraces feature on every Pamukkale Turkey travel guide. Explore the incredible travertines and enjoy paddling in the crystal blue waters. This mineral-rich water has health-giving properties and one can even take a dip in them. And yes, no Instagram filters needed for the beautiful pictures here.
The travertine floor can be slippery in places and some of the limestone pieces have sharp edges. Be careful on the floor. Rest assured, it is one of the best places to visit in Pamukkale.
Must Read: 10 Popular Festivals In Turkey That Make It An Irresistible Holiday Destination In 2022!
2. Pamukkale Nature Park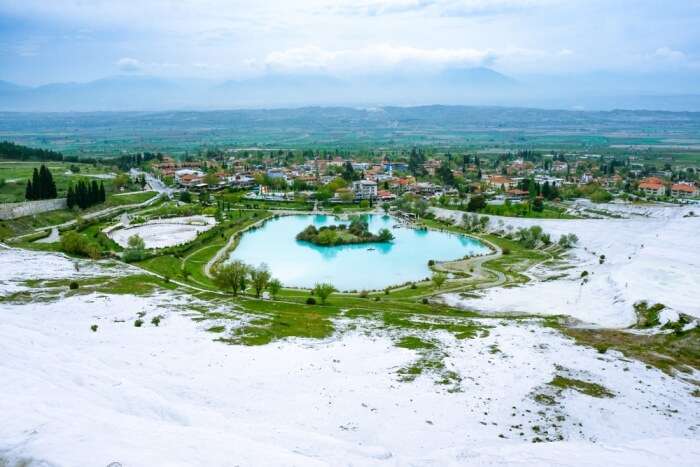 You will find every Pamukkale tourist guide raving about this nature park. You can see multiple Turkish families spending their leisure time here. If you are an outgoing person, you can even join them. They are known to be warmly hospitable. This outdoor park is a perfect spot for picnics and spending time with family and friends.
There's a café around the place, where you can relax, grab a bite and initiate some best conversations. This is also a popular wedding destination, so you might see some women in bridal attire hanging around.
Suggested Read: Mosques In Istanbul: Experience Calmness & Divinity At Their Best In This Scenic Land Of Turkey!
3. Denizli Arma Restaurant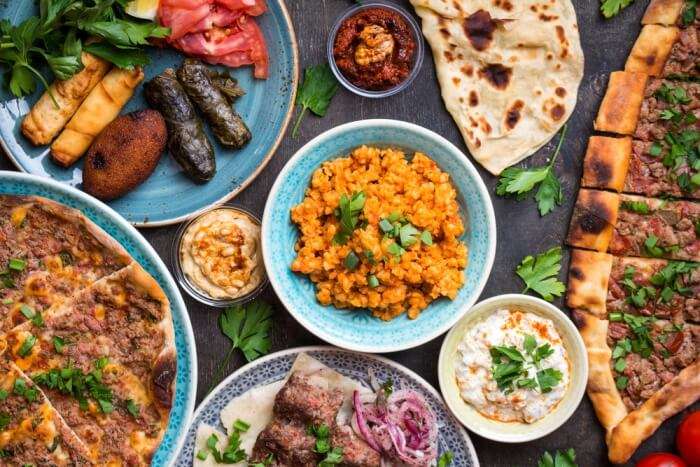 This restaurant is located in Forum Camlik Avm Yolu, Pamukkale. It is known to serve a wide range of cuisines, but the restaurant's specialty is Turkish food. Make sure you try the Turkish breakfast and Turkish coffee. The staff is courteous and is more than willing to help you decide what to order. It is thronged by both locals and tourists. The ambience is peaceful. It is well-suited for hosting family dinners too.
Suggested Read: Pamukkale In January: Let This Dreamland In Turkey Be Your Next Trip Destination
Things To Do In Pamukkale
You may feel overwhelmed because of the variety of things that you can do in Pamukkale. We have shortlisted some of the best activities that will suit travelers of all types:
1. Paragliding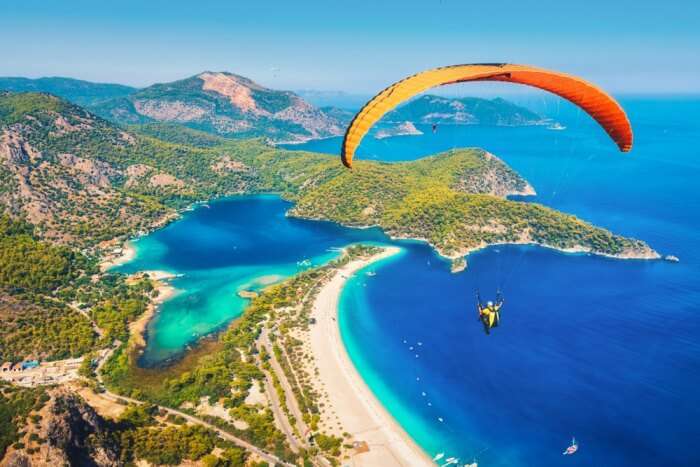 The cost of paragliding in Pamukkale is pretty cheap as compared to other European towns. Dinamit and Cokelez are the perfect spots for paragliding. We recommend the sunrise or the sunset flight to view the shimmering thermal baths and the gorgeous ancient ruins. You will have to shell out extra bucks in order to collect the photo and video recordings of your adventure. You will also have to sign a waiver form before you jet off.
Suggested Read: Turkey Nightlife 2022: 8 Experiences To Enjoy The Buzzing Scenes Post Sunset
2. Sightseeing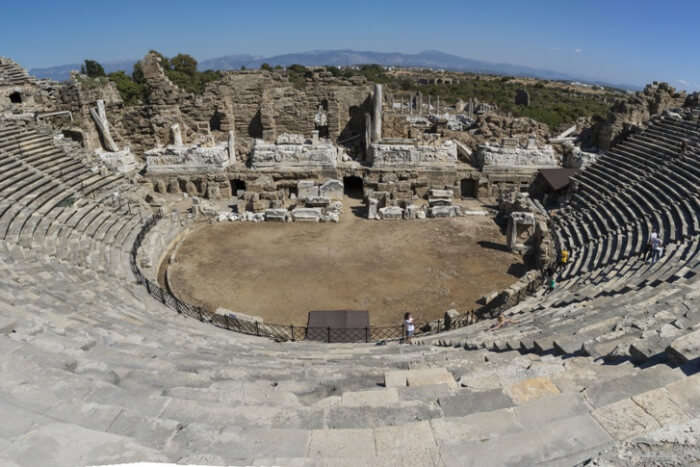 The major part of Pamukkale was built out of limestone deposits from the adjacent thermal bath terraces. Make sure you visit the majestic Roman Amphitheatre and Pamukkale thermal pools. An archaeological museum is also located in the ancient Roman bath quarter. The museum is relatively small but holds some precious artifacts from the Roman empire of Laodicea and Hierapolis. Sightseeing is one of the most popular activities to do on your Pamukkale trip.
Places To Stay In Pamukkale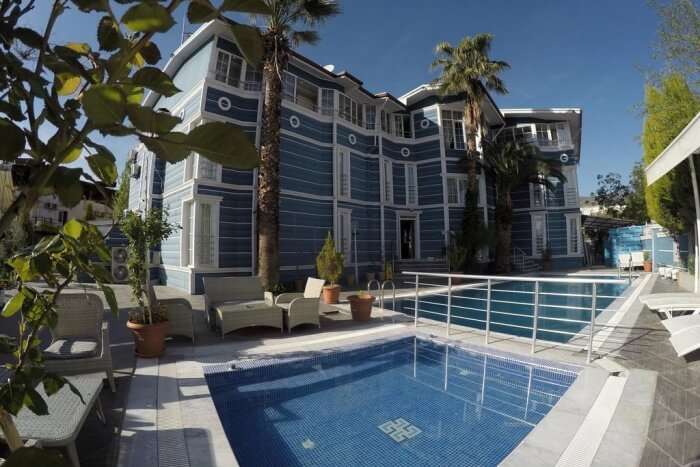 If you're looking for a budget friendly stay in the city, we recommend you to crash at a hostel. Having said that, there are a range of places that you can stay at in Pamukkale. Melrose Viewpoint Resort in Pamukkale Mahallesi Çay Sokak offers several kinds of rooms which range from single, twin and quadruple sharing. It is equipped with a swimming pool, garden dining, and a restaurant as well. It will set you back by INR 1037/- per night.
Those looking for a cheaper option can stay at Alida. The room comes with a view of the Travertine White Terraces. It has an in-house restaurant and a bar. The rooms are priced at INR 345 per night.
Suggested Read: 4 Best Ways To Experience Safari In Istanbul On A Thrilling Turkey Vacation In 2022
How To Reach Pamukkale
There are many ways to get to Pamukkale depending on where you're coming from. Here are some of the fastest and/or cheapest options. Check the bus and rail prices online since they tend to fluctuate depending on the tourism season:
From Istanbul: You can avail direct flights from Istanbul to Denizli Cardak (which is the nearest airport to Pamukkale). You have a choice between Turkish Airlines and Pegasus Airlines.
From Selcuk: The cheapest and most reliable way to travel from Selcuk to Pamukkale is by train. The train from Selcuk to Denizli takes a little over three hours. You can refer to the Pamukkale map to see the distance between Selcuk and Denizli.
From Cappadocia: There are no direct flights from Cappadocia to Denizli so your best bet would be to take the overnight bus. Every seat on the bus has a touch screen where you can play games and watch movies. You even have a USB port where you can charge your devices. A direct bus ride from Cappadocia to Denizli in Pamukkale is ten hours long.
Further Read: 11 Best Things To Do In Ankara To Witness A Unique Side Of Turkey In 2022
If you plan on doing anything physical like horseback riding or paragliding in Pamukkale, then you should definitely get travel insurance. Also, If you're interested in taking a dip in one of the pools, you'll want to bring your swimsuit. Having settled that, plan your trip to Turkey right away and explore the well-preserved ruins that we have mentioned in Pamukkale. Keep our Pamukkale travel guide handy to make the most out of your time in town.
---
Looking To Book An International Holiday?
Book memorable holidays on TravelTriangle with 650+ verified travel agents for 65+ domestic and international destinations.
---