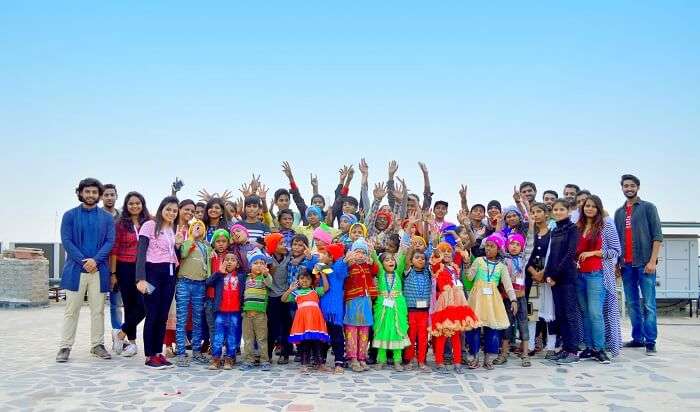 Catching up with childhood friends, sharing pictures from the old sweet times on social media, reminiscing the school moments over a phone call, and indulging in fun activities at our workplace is pretty much what we all do when Children's Day hits the calendar. But this time, we at TravelTriangle did something new, and it felt like a breath of fresh air.
In association with Bucket List, an NGO based in New Delhi that supports underprivileged children, we organized a full day event at our Gurgaon office with an aim to broaden their smiles and make it a celebration they'll cherish lifelong!
What is Bucket List?
Bucket List is an NGO that works for and with underprivileged children through creative mediums of storytelling, sports, and arts to enhance their social and physical well being. These kids are mostly residents of the slums located below the Jasola flyover in New Delhi, and are aged between 6 to 16. With programmes like 'Tell A Tale', 'Genie In A Bucket', 'Streets To Field', and more, they aim to bring a change in their lives, and help them in making the most of their talent and skills.
How Did We Come Across Bucket List?
Like every year, our HR team sat down to plan an employee engagement for the day and it was then that it struck them that what could be better than making our employees meet these children than just organizing a few activities for them? Well, nothing! (Sweet folks with even sweeter ideas.)
It felt like the perfect occasion to express our gratitude and share all we have with the little kids. And as they had heard about "Bucket List" already, they closed the call by getting in touch with them and inviting them over for a sweet celebration. It all began with a donation drive for a week, and then ended with a happy day on 14th November.
What Did The Children's Day Celebration Look Like?
With around 43 kids aged from 6 to 16 years and five volunteers in our office, it became the most special day of the year in our lives. And it couldn't have been truer when we say that kids lighten up every environment with their positivity and chirpy giggles.
The celebration kick-started with a warm welcome and breakfast for the kids, followed by a 'breaking the ice' session. We must say that we haven't met such confident and talented kids till date! From mimicking the sounds from the movie Jungle Book whilst watching it to enacting their old Snow White play, these little ones won our hearts completely. (Future superstars, definitely!)
The joy that came from watching them swing on the chairs and hearing them narrate cute poetries like they have the power to change the world (which they do) brought a sense of peace and happiness to us as well. And in between all this, let's not forget how much they relished the meals and a dozen of chocolates given to them by our employees.
The day ended with cake cutting and distribution of gifts that everyone had contributed for the kids. The innumerable boxes of colorful stationery, sports equipments, chocolates & juices, and clothes made them dance with joy, and left us overwhelmed. And the warm woolens on their head made them look even cuter!
What added on to the fun further was a really cool photo session at the end. We were filled with delight after seeing how the same kids who walked in with shy faces felt so homelike in no time.
Later, we bid them a warm farewell with a hope to see them again this Christmas. As part of their 'Genie In A Bucket' programme, where these kids share their dream wishlist like "Eating a besan ka laddu" or "Taking admission in a school", we decided to meet them as their Santa before the year ends. Until then, we only wish good health and luck for them!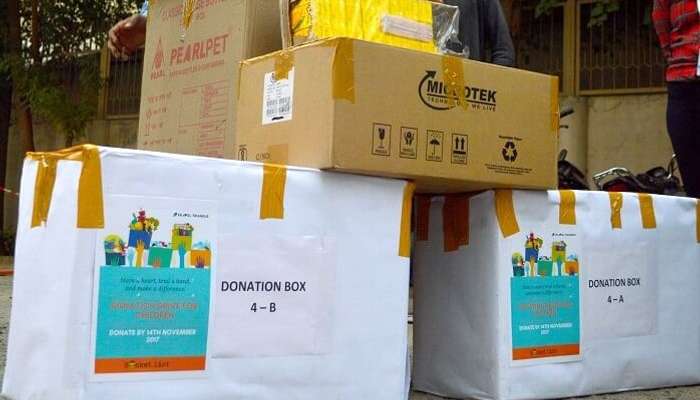 It's truly commendable that how from arranging their transportation to providing them the best of everything while they were in our office, our HR and Admin team at TravelTriangle played the role of a superhero every kid dreams of. A big thanks to them that we could meet these little munchkins and do something special to make the day equally memorable for them. And just like it takes two to tango, it was amazing to see how our employees also came forward and contributed wholeheartedly, supporting both the teams to make the celebration a grand one!
Comments
comments