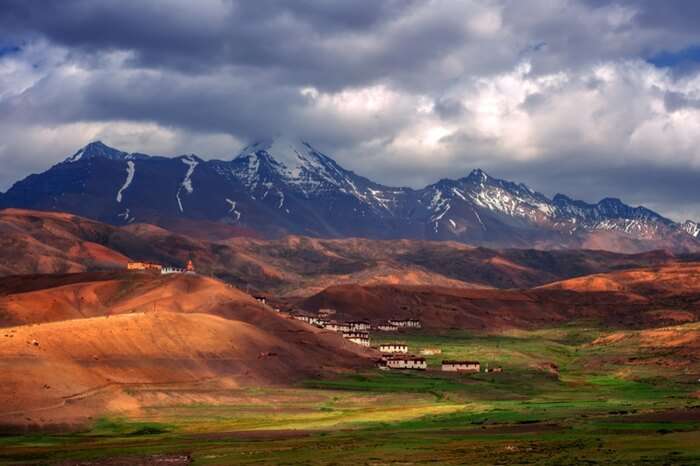 Dream of snow-crowned mountains dotted with picture-perfect villages? Fancy a stay amid mountainous terrains outlined by restless rivers making merry on the rocks? If yes, you must plan a vacation in Spiti! The 8 days Spiti Valley trip is the most engrossing vacation you need to revitalize and rediscover yourself.
At a distance of 202 km to the northeast of Manali, the scantily populated land of Spiti separates Indian mainland from Tibet autonomous region. For tourists, it offers everything serene – from lush green land looming into the vastness to pre-historic monasteries resembling paintings on a canvas.
Go around, exploring the picture-postcard villages, crossing narrow mountain passages, and feeling the chilly wind penetrating your skin. As you embrace the wilderness at altitudes touching almost 5000 meters above sea level, Lahaul-Spiti tour plan perfectly feeds your soul!
About Spiti Valley

Unique geographical features make Spiti more desirable by explorers of different age groups belonging to different walks of life. But there are a few things that one must be aware of before sealing the Lahaul Spiti tour plan.
The average elevation of the entire valley is 4270 m and weather is highly unpredictable.
The valley boasts of wide varieties of flora and fauna. Snow Leopards and Himalayan Wolves are also spotted in the Pin Valley National Park during winters.
Trekking and camping are a must when you are in the valley.
Brace yourself for a detached life when you are in the valley. Network connectivity is obscure and Spitians are pretty cool with it. You may get lucky with BSNL signals at some places.
The place is almost a mirror image of Tibet in terms of culture and lifestyle.
Best Time To Visit Spiti

May end to the beginning of October is considered the best time to visit Spiti because that's the time when Shimla – Kinnaur highway is open, which makes the valley accessible to the rest of the world. These are the best months for planning your Spiti Valley road trip.
Temperature
Summer – Ranges from 18 – 25 degrees celsius
Winter – Experiences heavy snowfall in the valley region; all mountain passes leading to the valley are blocked making it impossible for any vehicle to enter the region.
Must Read: Couldn't Get Leh'd During The Summer? Ride To Lahaul And Spiti This September-October!
Is Spiti The Right Destination For You?

Image Source
Taking a Spiti Valley bike trip or even a normal trip to this place is every traveler's muse and is, but is it the right destination for you? Let's figure out.
With its rough terrains, Spiti is definitely not for the weak-hearted. It faces extreme weather conditions, and you need to pass through risky routes to reach the valley. Expect only basic facilities on the way as well as in the hotels you stay in. In some places, stay options will be limited to monasteries and homestays only. So clearly, a trip to Spiti is not everyone's cup of tea.
Of the few people who brave these odds to reach Spiti, some seek solace, some do it in the name of adventure, and some are keen to explore the hidden riches in the of the Trans-Himalayan region. Mostly, we see adventure seeking youngsters and mountain lovers taking a Spiti bike trip, or some tired souls who desperately want to unplug from the mundane city life by engaging in meditation and some volunteer work in the valley.
And in case you are an adventure loving couple, who don't care much about the luxury part of the honeymoon, Spiti is the ultimate destination for you! Begin a new chapter of life in a perfect set up around the colossal sky, vast mountains, and glittering stars, thus making the moments most romantic and perfect.
But Spiti is also a great destination to be in, if you are a wandered and love exploring new lands alone. A Spiti Valley solo trip is an experience that can only be lived and not explained. Extreme tranquility, massive land forms surrounding you, fresh air and so much more! If this though excites you, take a solo trip to Spiti.
If you are among any four of the above – an adventure seeker, a spiritual seeker, or a daring couple who love adventure as crazy as this, here is what Spiti has in store for you!
Suggested Read: 11 Travel Tips For Himachal Pradesh That Will Come In Handy For Your Trip
8 Days In Spiti Trip- Let's Plan The Best Vacation Of Your Life

7 nights 8 days in Spiti is a fairly long stay. It gives you ample time to see the best places in Spiti and also soak in the beauty of its landscapes and culture. Before we start with the itinerary, here is a quick view of the route:
In the Spiti valley map above, you can see the keystops of the route I am suggesting in the itinerary below.
Route: Manali – Kaza – Ki – Kibber – Tabo – Dhankar – Mud – Pin Valley National Park – Demul – Komic – Hikkim – Langza – Chandratal lake – Rangrik – Ecosphere – Kunzum La Pass – Manali
Here is your Daywise itinerary for your 8 days vacation in Spiti. Take a look!
Day 1: Kaza – Ki – Kibber

A perfect weekend getaway from Manali, Shimla, Chopta, and Kanatal, Kaza is decked up with rocky mountain slopes and bustling market. Kaza has plenty of attractions and boasts of a world-class facility for travelers.
Elevation: 3800 meters
What's there for youngsters: Yak safari, camping, trekking, go ahead and buy some fuel from world's highest petrol pump, enjoy the panoramic view of the beautiful village, Cafe Sol, Kibber – Chicham ropeway, Kibber Wildlife Sanctuary
What's there for spiritual seekers: Ki monasteries, Komic village– Asia's one of the highest village and the only village with polling station in the town
What's there for honeymooners: There are plenty of places and experiences in Kaza for the honeymooners. Starting with a jeep safari to monasteries, a romantic stargazing session under the colossal sky, and an expedition to snow clad peaks, Kaza leaves everyone asking for more. Local handicrafts, and woolen products at state government handloom center and cooperative society run shops are a few places of interest for honeymooners.
Suggested stay in Kaza: Zostel Spiti, Banjara Retreat, Hotel Spiti Valley, Sakya Abode, Hotel Deyzor
Suggested Read: For The Love Of Mountains And Nature: Young, Wild, And Free In Spiti Valley
Day 2: Tabo – Dhankar

Image Source
Located on the banks of Spiti river, Tabo is a dreamy village with humble roads and hospitable locals. Tabo has ancient attractions and things of religious importance that would certainly make your Spiti trip all the more special.
Elevation: 3280 meters
What's there for youngsters: Prehistoric Tabo caves with plenty of photography options inside monastery complex, Dhankar Monastery (detour of 8 km from the main road, recommended only if you have a booked taxi or your own vehicle), mummy in Giu village (7 km detour from the main road, the village falls 1 km before Sumdo village)
What's there for spiritual seekers: Prayer session at Tabo Monastery, library with books on Buddhist, a museum with artifacts and photos, prayers offered at Tabo gompa. Water driven prayer wheel in Dhankar, Tabo meditation caves
What's there for honeymooners: The picturesque view of Tabo caves and local life of Tabo village and adjoining areas offer a lot to explore. A stay at one of the homestays is the best opportunity to interact with the locals at length. Their hospitality is an experience you wouldn't like to miss. Dhankar lake, rock art, wall paintings, and mud statues, the confluence of Spiti and Pin rivers from Dhankar gompa.
Suggested stay: Tabo Monastery guest house, Dhankar monastery guest house, Dekit Norphel Tiger Den Restaurant
Note: A night stay at the Tabo Monastery is highly recommended for everyone traveling to Spiti to get an experience of a lifetime.
Suggested Read: Travel To These Buddhist Monasteries In India To Find Inner Peace
Day 3: Mud Village – Pin Valley National Park

Image Source
While traveling back from Tabo to Kaza, the roads divert in two directions at Atargo bridge. Head left to take the road leading to Pin Valley national Park, heading straight will take you to Kaza. Another 1-hour drive takes you to Pin Valley – a popular reserve of flora & fauna in North India.
Pin Valley National Park boasts of adventurous escapades and lush greenery. It is also home to the rare breed of Snow Leopards.
Altitude: 3500 – 6000 meters
What's there for youngsters: Sight of picturesque Mudh village – the official entry point of Pin Valley national Park, opportunity to capture amazing shots of vivid flora and fauna, Pin – Parvati trek, ibex and snow leopards (mostly seen during winters)
What's there for spiritual seekers: Best of flora and fauna in the Himalayas, Sagnam Monastery, Khungri Monastery, stay at Mudh village
What's there for honeymooners: Nature, wildlife, picture postcard view of valley, brown mountains, hanging glaciers, and fudgy white snowfields
Suggested stay: A homestay in the Mudh village is recommended by people who have already been there
Note: Don't be too preoccupied with the thought of spotting the snow leopard, they rarely come down below an altitude of 5000 meters, if they do it's mostly during the winters.
Suggested Read: 26 Spellbinding Places To Visit In Spiti Valley For A Surreal Holiday
Day 4: Demul – Komic – Hikkim – Langza

Image Source
These villages fall in the fossil zone in Spiti and form the most amazing belt for sightseeing. In the Lahaul-Spiti tour itinerary, a tour of these villages is of the unique experiences you can have here.
Altitude: 4580 meters
What's there for youngsters: Komic village – the second highest village in Asia, fossils near Langza village, highest post office in the world in Hikkim, Demul – the village with only one telephone, picture-perfect locations around Komic monastery for photo bugs
What's there for spiritual seekers: Komic monastery, village tour, the gigantic golden Buddha statue in Langza with snow capped mountains is a near-perfect spectacle
What's there for honeymooners: Go around for a romantic walk with your partner in the picture perfect environs of the Komic village, write a letter to family/friends and post it from the highest post office in the world.
Suggested stay: Homestay in Langza
Suggested Read: 23 Offbeat Destinations In Himachal Pradesh That Will Help You Calm Your Senses
Day 5: Langza – Chandratal Lake

Langza to Chandratal is a 5.5-hour drive and it is recommended to start early in the morning, mostly by 7 am. Motorable road ends a kilometer before the lake and the remaining distance must be covered on foot.
Chandratal – a crescent-shaped lake makes for one of the most awe-inspiring escapades. It is one of the key highlights of the 8 days Spiti Valley trip. The lake has also remained in the news after people confirmed UFO-like objects sighted in the area.
Altitude: 4250 meters
What's there for youngsters: Campsite – 2 km before the lake, picturesque view of frozen lake (before the onset of summer) with majestic mountains in the backdrop, ideal photography set
What's there for spiritual seekers: An ultimate place for solace seekers, Chandratal Lake is a perfect peaceful retreat for soul searching. Come here to bask in the charm Chandratal's natural beauty.
What's there for honeymooners: Thrill and romance define the moments spent by the Chandratal lake – one of the highest lakes in India. Here you can go trekking and camp by the lake's side. Also, at 4000 meters plus altitude, nothing beats the crazy view of twinkling stars in Spiti.
Suggested stay: Banjara Camps, Parasol Camps, and Retreat, self – camping by the lake, Himalayan Quest Chandratal Camp
Suggested Read: 50 Of The Most Beautiful Places In India You Have To See To Believe!
Day 6: Activities In Rangrik

As you get back to Kaza the next morning, you can spend the day at leisure or youngsters can take up some adventure activities in the Spiti river. River rafting in Spiti river is one of the most adventurous things to do in your Lahaul-Spiti tour itinerary.
Altitude: 3800 meters
What's there for youngsters: Make your 8 days Spiti valley trip even bigger and better as you get a booking for river rafting session in Spiti river. Rafting in Spiti is one of the most exciting things to do in the valley. Even better the exceptional escapade here keeps your eyes glued to it.
What's there for spiritual seekers: Not much, spend the day at leisure by going for a walk in the village and exploring more about the place.
What's there for honeymooners: Take some private moment and go around Kaza or you can make the day more exciting by booking a river rafting session in the Spiti river.
Suggested Read: Spiti Valley In August: A Guide For Visiting The Heaven In The North
Day 7: Ecosphere

Spend a day amid the environment unique environment of Ecosphere headquartered in Kaza. Of many, you can take up volunteer traveling programs that they have to offer while spreading a word about responsible traveling. Spiti and Pin Valley come in the Carbon Neutral zone, and Ecosphere constantly runs programs for the betterment of the environment.
Altitude: 3850 meters
What's there for youngsters: Volunteer travel, photo tour, experience of responsible traveling, experience of wild habitats
What's there for spiritual seekers: An experience of sustainable living, organic farms, sustainable practices initiated in the valley, spiritual sojourn
What's there for honeymooners: Local handicrafts of Spiti, eco-friendly tour programs, volunteer activities
Suggested stay: Traditional homestays
Suggested Read: These 7 Spiti Valley Hotels Are The Perfect Places To Blend In The Local Himalayan Culture
Day 8: Kunzum La Pass – Manali

Image Source
You can end your 8th day Spiti valley tour on a high by taking a break at Kunzum La Pass while getting back to Manali. The pass is your official exit from the Lahaul Spiti valley. With snow-capped peaks, and hundreds of prayer flags fluttering around, Kunzum Pass is a piece of paradise! By visiting this place at the end, you'd ensure the best 8 days trip to Spiti Valley.
Elevation: 4590 meters
What's there for youngsters: Camping, driving session one of the highest motorable mountain passes in the world, nature photography
What's there for spiritual seekers: Sign off from the wonderland of Spiti by seeking divine blessings. Offer your prayers at the temple of goddess Kunzum, and look around, you'll find nature thanking you for being there.
What's there for honeymooners: Look around and you will find too much of nature's awesomeness overloaded everywhere. Kunzum Pass acts as a topping on your Lahaul-Spiti tour plan. Bara-Sigri – the second longest glacier in the world, surreal view of Chandra – Bagha mountains, and Spiti valley.
Suggested Read: 18 Things To Do In Spiti Valley That Would Satisfy Your Wanderlusting Soul
How To Reach Spiti Valley?

By air – If you want to go for a Spiti Valley tour from Kolkata, then your flight would land either at Bhuntar Airport or Kullu Airport. The distance from there is approximately 245 km that you can cover via a cab which is easily available from the airport.
By rail – The nearest major railhead to Spiti is Shimla Railway Station. The valley can be reached by a cab from the railway station.
By road – Reaching Spiti by road is mostly preferred by travelers. Government buses, as well as private vehicles, ply from Manali and Shimla to Spiti.
Manali to Spiti is a 4-hour journey. It is preferred because it is less time consuming (195 km), easily accessible, less prone to landslides, and crosses the iconic Kunzum Pass and Rohtang Pass. A bus from Manali to Spiti runs every day from 6 am from mid-June to September. That's the time the road to Spiti is open for public use.
P.S: No permits are needed to enter the valley. Only if you take the Shimla route and enter the valley from Kinnaur side you would be required to take a permit.
Note: Given the number of detours that you would be required to take during the 8 days Spiti Valley trip, it is recommended to travel to Spiti in your own vehicle or book a taxi from Manali.
Further Read: Test Your Grit, Take The Spiti Valley Trek
Lahaul Spiti never turned its back on a single soul! So, what are you waiting for? Get packed, book your trip to India with TravelTriangle and go, find out what's in there for you! Let the cold mountains welcome you warmly.
Disclaimer: TravelTriangle claims no credit for images featured on our blog site unless otherwise noted. All visual content is copyrighted to its respectful owners. We try to link back to original sources whenever possible. If you own the rights to any of the images, and do not wish them to appear on TravelTriangle, please contact us and they will be promptly removed. We believe in providing proper attribution to the original author, artist or photographer.
Frequently Asked Questions About Spiti Valley Trip
Is it safe to travel to Spiti valley during COVID times?
You need to follow all the mandatory guidelines mentioned by the government such as maintaining social distance, wearing a mask at public places, washing or sanitizing hands after entry & exit, etc.
When should I go to Spiti?
April to mid-May is the time when you should visit Spiti.
What is Spiti valley famous for?
Spiti Valley is famous for its old monasteries, cold deserts, and stargazing scenes at night. The valley has a tourist appeal due to its natural beauty, lush green landscapes and a serene environment.
How do I get to Kaza Spiti?
To reach Kaza Spiti, the nearest airport is Bhuntar (250km) and Shimla (445km). From the airports, Kaza can be reached via road by hiring a cab.
People Also Read: