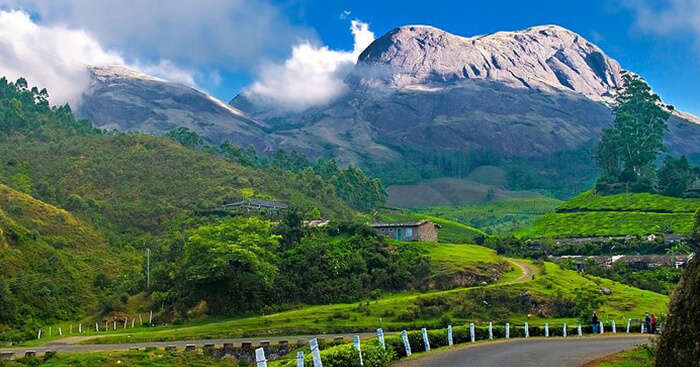 Munnar is a motley canvas of sloping lush green tea plantations, gushing streams by the hillsides, and winding undulating paths. And there are some absolutely delightful activities to absorb the overwhelming beauty of the largest tea growing region of peninsular India. Activities that everyone must try depending on the time and duration of the visit.
Munnar is the ultimate destination for a peaceful and rejuvenating retreat in the hills. Tourist attractions in and around Munnar are plenty. And all of them are perfect to spend the entire vacation with your favorite book and a cup of hot tea. Read on to know about the best things to do in Munnar.
Top 35 Things To Do In Munnar In 2020
There is no dearth of interesting things to do in Munnar. Plan your itinerary picking your preferred activities from our list below that will enhance your holiday experience in Munnar on your blissful vacation in Kerala. 
Plantation Resort
Kolukkumalai
Echo Point
Eravikulam National Park
Suryanelli
Lakkam Waterfalls
Rock Climbing
Kundala Lake
Mattupetty Dam
Carmelagiri Elephant Park
Ayurvedic Spa
Retail Therapy
Cuisine
Chithirapuram
Kathakali
Kalari Kshethra
Srishti Welfare Centre
Rose Garden
Mount Carmel Church
Lakshmi Hills
Mount Carmel
Church
Cheeyaparra Waterfalls
Blossom International Park
Pothamedu Viewpoint
Camping
Staycation In A Tree House
Mathikettan Shola Rainforest 
Anamudi Peak
Wonder Valley Adventure Park
Chokramudi
Attukal Waterfalls
Thoovanam Falls
Marayoor
Thirumeni Cultural Centre
1. Plantation Resort – Tree House Stay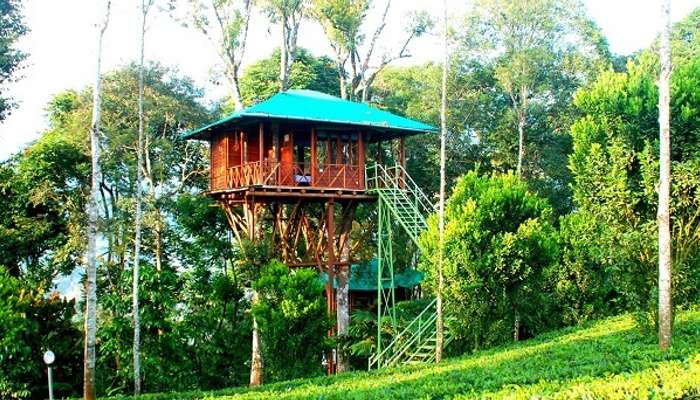 Image Source
Locally called Erumadam, tree house is an eco-accommodation facility made of natural materials like bamboo, coir, hay and straw. It is a new concept coming up in various parts of Kerala like Munnar, Thekkady and Wayanad. If you're planning a trip to Kerala in May then go for a tree house stay at Dream Catcher Plantation Resort.
Located amidst tea and spice plantations, 19 km from Munnar town, Dream Catcher Plantation Resort comprises of 4 luxurious tree houses built at an elevation of 20 to 60 ft. The stay is nothing less than dreamy, and to keep it that way, food, smoke, and liquor are strictly prohibited inside the tree house. This is certainly one of the offbeat things to do in Munnar. Have a great time staying here during your Munnar trip.
P.S. The accommodation is only for couples with children above 10 years.
Cost: INR 13,000 for twin sharing for two nights including breakfast
Must Read: 7 Incredible Places Near Kumarakom That Make The Best Road Trips!
2. Kolukkumalai – Tea Estate Tours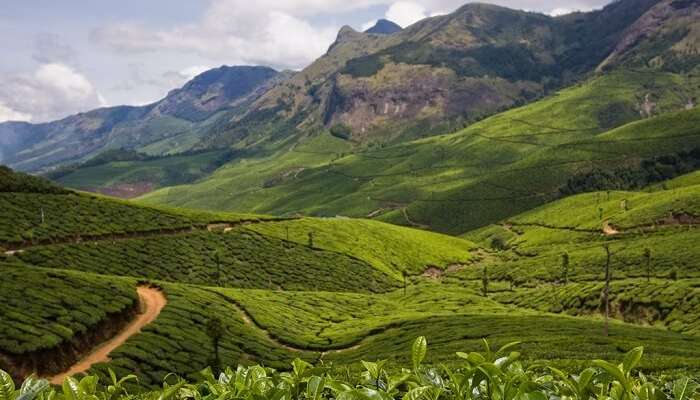 Image Source
Feel the refreshing aroma of the golden beverage at Kolukkumalai Tea Estate – one of the highest tea plantations of the world. It is situated at an elevation of 7900 ft, and the zigzag road along Kolukkumalai Hills leading to this tea garden in Munnar is truly jaw dropping. A key tourist attraction in Munnar, the plantation is renowned worldwide for its flavoured tea leaves. The century old tea factory is also an interesting place to understand the traditional methods of tea production.
Timings: Good news for tea lovers. Open on all days except Sunday, this tea factory allow visitors to taste different types of aromatic teas and buy the same from the retail outlet.
Entry Fee: INR 75
3. Echo Point – Camping And Trekking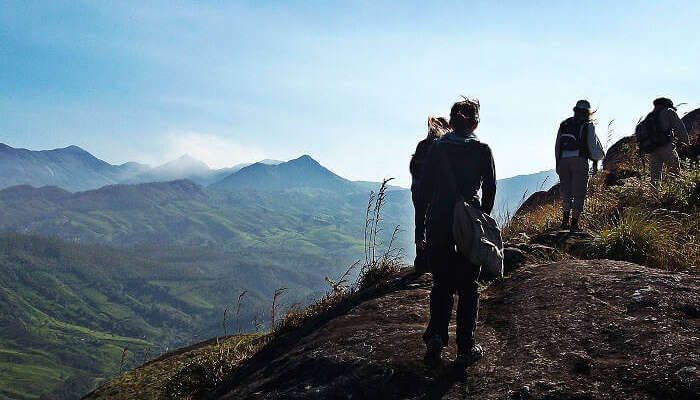 Image Source
There are plenty of adventure sports in Kerala to indulge in and Munnar is bliss for adventure enthusiasts and fitness freaks, especially trekkers. Trekking till high elevations like Echo Point and Top Station is one of the most preferred things to do in Munnar. Located 15 km from Munnar, Echo Point is a spellbinding destination where voice resonance occurs naturally. Top Station is the highest point in Munnar and offers stunning view of the town surrounded by hills and valleys. Trekking 32 km up to Top Station is quite exhaustive and requires lot of stamina. If one can accomplish the target, the workout quota for the entire week is taken care of. Do not forget to carry your walking shoes and trekking gears.
If camping is your idea of fun, you can go for mountain camping tours to Shola National Park organized by Go Bananas.
Suggested Read: 20 Most Amazing Places To Visit In Kerala In December 2020
4. Eravikulam National Park – Spot Rare Species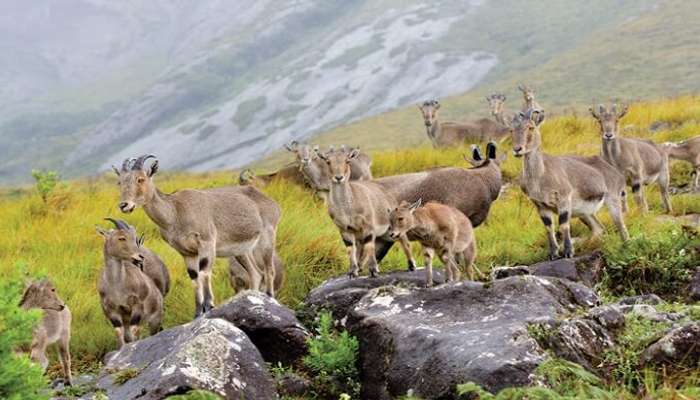 Image Source
Daring hearts! Let's explore the thick and dark forests, biosphere reserves, national park and sanctuaries of Munnar. Who knows, you could be lucky to spot some endangered and nearly extinct animals and birds.  The most visited and popular wildlife areas of Munnar are Eravikulam National Park, Chinnar Wildlife Sanctuary and Salim Ali Bird Sanctuary.
Eravikulam National Park, is located in the Kannan Devan hills of Munnar. The national park is famous for endangered Nilgiri Tahr. The forest spread over an area of 97 sq km is divided into; core area, buffer area and tourism area.
Chinnar Wildlife Sanctuary is located 60 km from Munnar and is a habitat to elephants, deer and leopards. You may be lucky to spot the nearly extinct grizzled giant squirrel.
Salim Ali Bird Sanctuary is also known as Thekkady Bird Sanctuary and located 73 km from Munnar. It houses plenty of local and migratory birds – crimson-fronted barbet, crested serpent eagle, peninsular bay owl, fairy bluebird and rose billed roller to name a few. Malabar grey hornbill, Sri Lanka frogmouth, and Indian hornbill and Nilgiri wood pigeon can also be spotted.
Timings: All of them are open from 7 in the morning to 6 in the evening.
Entry Fee: INR 90 for Eravikulam National Park; and both Chinnar Wildlife Sanctuary and Salim Ali Bird Sanctuary charge INR 10 to Indians and INR 100 to foreigners.
5. Suryanelli – Mountain Biking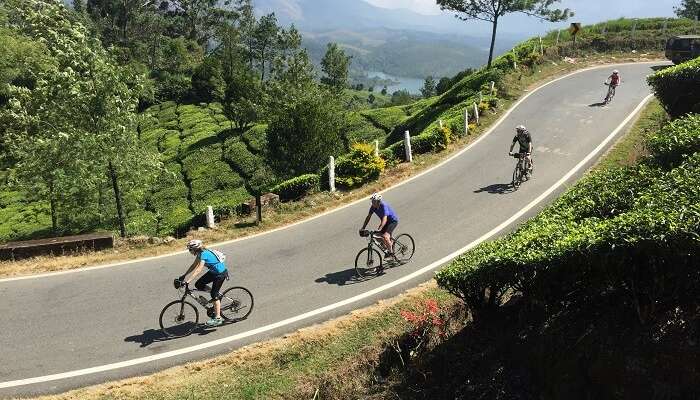 Even cycling enthusiasts have a chance to rejoice in the tea estate town of Kerala. Some areas of Munnar like Suryanelli, Anamudi Shola, Kundala, Marayoor, and Vandanmedu are suitable for mountain biking which is one of the popular adventure activities in Munnar. It is ultimate fun to ride along the hairpin bends and rolling roads, conquering the hills and meadows on a two-wheeler. This is one exciting thing to do in Munnar.
Many hotels and resorts arrange biking trips for their guests, or you can rent a cycle from cycle rental services in Munnar. KDHP House in Idukki District and Gokulam Bike Hire are two popular ones.
Cycle Rent: INR 300 for the day
Suggested Read: Kerala Honeymoon Guide For Couples Looking To Spice Up Their Love Life In 2020
6. Lakkam Waterfalls – Have A Picnic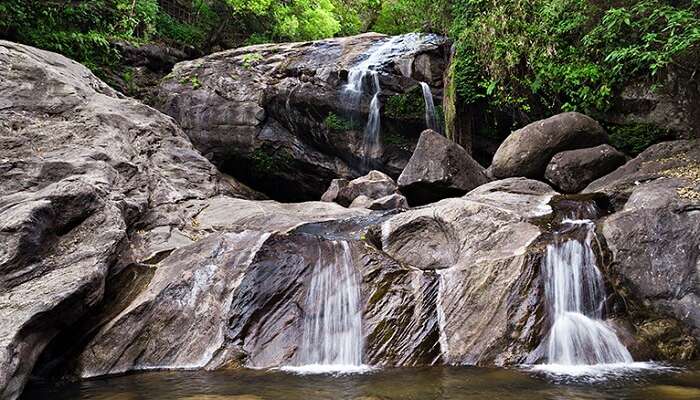 Image Source
Munnar has several hilly streams falling from height thereby forming a plunge pool. Attukal, Lakkam, Chinnakanal, and Thoovanam, are some famous waterfall in Munnar and their plunge pool areas serve as lovely picnic spots for tourists as well as locals.
Located on the Munnar-Marayoor route, Lakkam waterfalls is surrounded by vaga trees and surging cascades, and is an ideal picnic spot in Munnar. While on a picnic in Attukal waterfalls, in the outskirt of Munnar town on the way to Pallivasal, also plan a small trek along the surrounding hillocks. River Pambar drops as Thoovanam falls near Chinnar wildlife sanctuary, forming a breathtaking stream. Its base is a nice place to go for a day picnic, especially with kids.
7. Fun Forest Adventure Park – Rock Climbing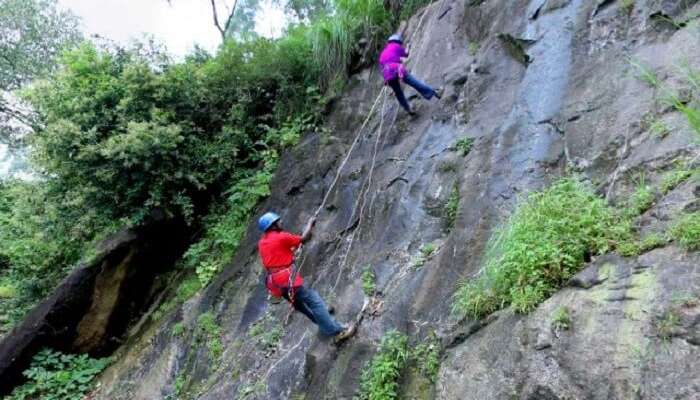 Image Source
The enthralling hilly landscape of Munnar is what makes it popular among adventure lovers. Rock climbing and rappelling are tremendously thrilling activities, and professional guidance is available for all. National Adventure Foundation organizes rock climbing and rappelling activities along with other adventure sports in Munnar. Add this to your list of things to do in Munnar, Kerala.
Also, Fun Forest Adventure Park is an wonderful amusement park in Munnar to indulge in moderate adventure activities.
Timings: 7 am – 7 pm
Entry Fee: INR 600 per person
Duration: 2 hours
Suggested Read: 15 Places To Visit Near Munnar That Are Pretty As Well As Exciting!
8. Kundala Lake – Enjoy Shikara Ride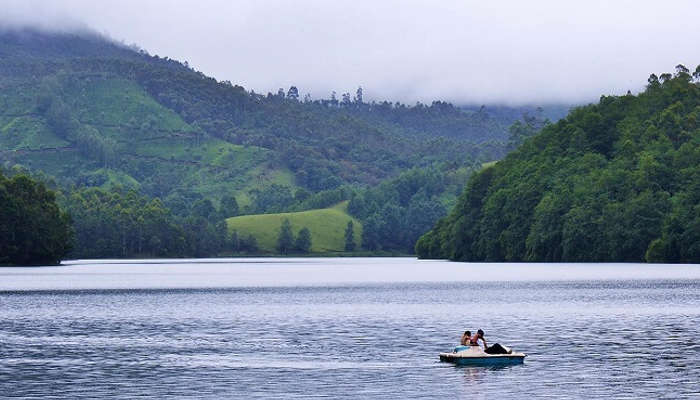 Image Source
On the way to Top Station, you come across Kundala dam and lake. Kundala dam is an artificial dam, Asia's first arch dam. Though it pulls with its serenity and beauty, you could be lucky to spot the rare Neelakurinji flowers, which blossom once in 12 years in the adjacent hills and valleys of Kundala Lake. Boating in Kundala offers options of pedal boating, row boating and shikara rides which is one of the top things to do in Munnar. This is definitely one of the top things to do in Munnar.
Entry Fee: INR 10 per person for the lake
Boating Charges: INR 350 for 15-20 mins.
Tip: Do negotiate on boating charges.
---
Planning your holiday in Kerala but confused about what to do? These Kerala travel stories help you find your best trip ever!
---
9. Mattupetty Dam – Try Watersports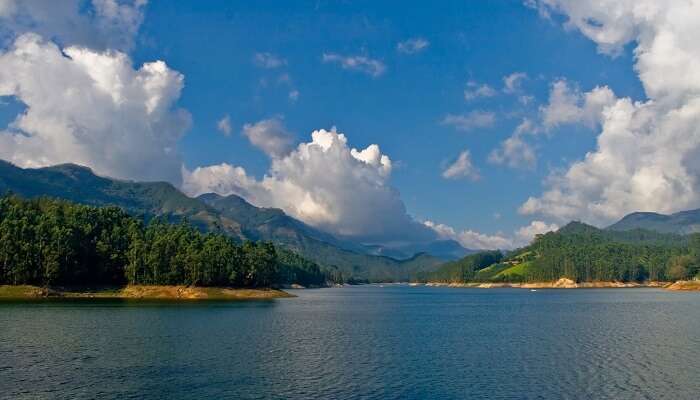 Image Source
Mattupetty Dam and the lake are beautiful scenic spots of Munnar, located near Anamudi peak and surrounded by tea plantations, spice gardens and rolling hills. The dam area is also an ideal picnic spot and a lovely trekking path. The District Tourism Promotion Council runs boating facilities in Mattupetty Lake, you can choose from speedboats and motorboats.
Entry Fee: INR 10 per person for Mattupetty dam
Boating Charges: INR 500 for 15 minutes in a speedboat shared by 1 to 5 people
Suggested Read: 6 Gorgeous Trails For Trekking In Munnar
10. Carmelagiri Elephant Park – Take An Elephant Safari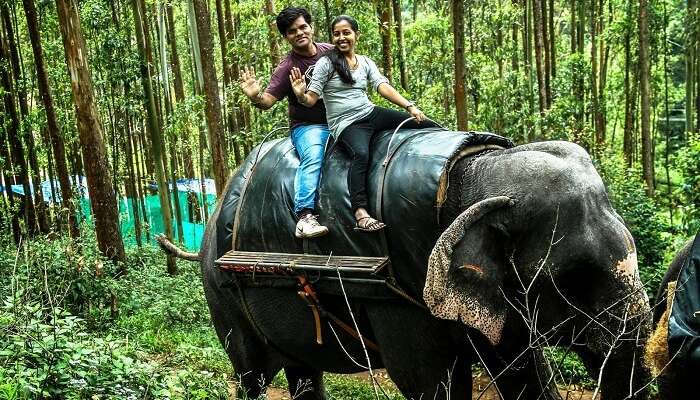 Image Source
How about an elephant safari, that too in the rocky topography of Munnar? It's fun for kids and adults alike to have a 'haathi mere saathi' moment at Carmelagiri Elephant Park. Located on Mattupetty Road, the park is one of the popular Munnar tourist attractions and offers short elephant rides of 10-15 minutes. It is one of the most fascinating tourist attractions in Munnar, especially for kids.
Timings: Carmelagiri Elephant Park is open every day from 9 in the morning to 5 in the evening.
Cost: In INR 1,150 one can take the ride, click pictures and gift a fruit hamper to the elephant.
11. Ayurvedic Spa – Enjoy A Therapy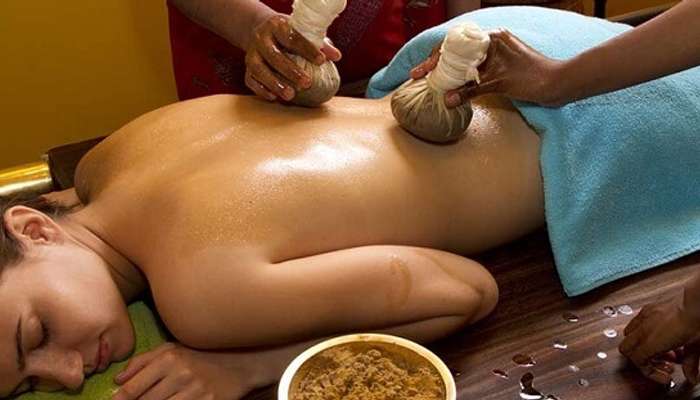 Image Source
Kerala is well known for Ayurvedic therapies including refreshing spa and wellness massages. Munnar is not an exception. Ayurvedic wellness treatment, and a rejuvenating body massage at various resorts and spa centres are magical ways to relax your mind and body. Choose from Balinese massage, classical deep tissue massage or an authentic shirodhara.
Some of the renowned spa resorts and spa wellness centers in Munnar are:
Antara AyurSpa in Misty Mountain Resort
Spandini Spa in Ragamaya
Tattavam Spa in The Panoramic Getaway
The Bliss Mountain Spa in Spice Tree
Mayura Ayurvedic centre
The Grandspa Ayurvedic Wellness & Research Centre
Cure Monastery Spa
Ayurvedic Massage Charges: The cost for spa varies with the type one is opting for. Generally, the duration for spa treatments and Ayurvedic massages is 60-90 minutes and the cost is between INR 1,800 and 2,500 approximately. We recommend checking individual resort or Ayurvedic centre website for accurate details.
Suggested Read: 15 Captivating Tourist Places In Munnar All Nature Lovers Must Visit
12. Munnar Markets – Go Street Shopping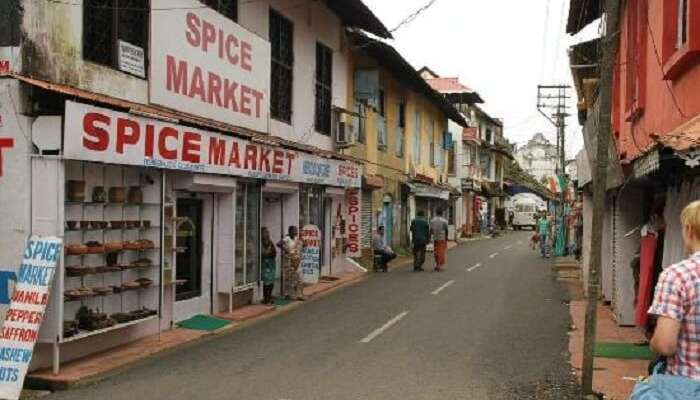 Image Source
Attention shopaholics, your turn now! Go crazy shopping for your favourite tea and coffee variants, spices, and aromatic and natural oils. Available locally, aromatic essential oils like eucalyptus oil, lemongrass, and citriodora are very good for treating body and joint pains. And it's as spoiling for tea lovers! Be it long leaf black tea or Elaichi flavored green tea, aromatic cardamom or freshly ground coffee, Munnar has it all. One can buy best quality tea from outlets of Tata Tea Museum and Kolukkumalai Tea Estate  which also happens to be one of the most popular Munnar tourist attractions.
13. Tea Museum – Explore History Of Tea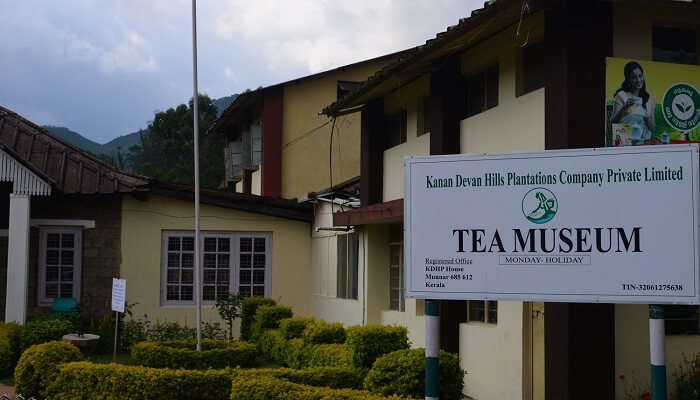 Image Source
Tata Tea Museum is one of the significant sightseeing spots in Munnar. It is home to exclusive exhibits like traditional tea roller known as 'Rotorvane' used for processing of CTC tea; power generating 'Pelton Wheel' and Kundale Valley Light Railway Engine; model bungalow furniture besides old typewriters, wooden bathtub, magneto phone, iron oven, manual calculators and EPABX of the 1909 telephone system. But the biggest delight for tea lovers is the fascinating experience of plucking tea leaves and tasting different types of tea.
Timings: Open from 9 am to 4 pm. Closed on every Monday.
Entry Fee: INR 75 for adults and INR 35 for children. However if you want to capture the tea tasting process in a still camera, pay a nominal charge of INR 20.
Suggested Read: Best Things To Do On A 3 Day Honeymoon Trip To Munnar
14. Munnar Restaurants – Try Kerala Cuisine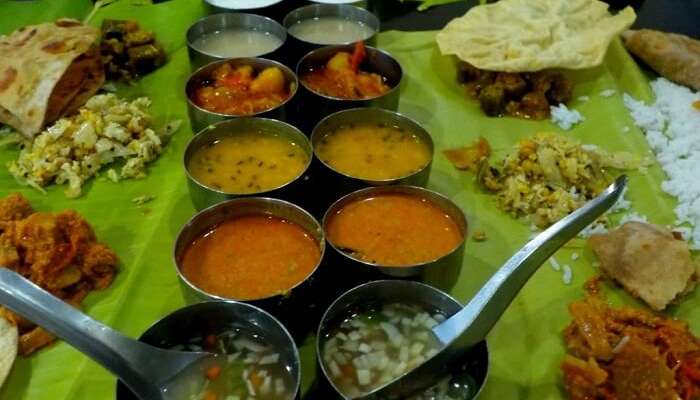 Image Source
When in Rome, do as the Romans do. When in Munnar, try the authentic local cuisine. Saravana Bhavan is one of the best in town to try the Malabar cuisine. Besides, Bamboo Hut, Mezbaan Hotel and Mayabazar are among the most famous eat out places in Munnar.
If you want to pick up some cooking lessons, classes by Nimi Sunil Kumar are quite famous in Munnar. Nimi is a famous culinary specialist and runs cooking classes not only for locals but also for tourists. It is an amazing idea to return back from vacation after learning a few mouth-watering dishes of God's own country. Exploring Kerala Food Paradises is one of the fun things to do in Munnar.
Note: There are different courses running on different slots. For details, see here.
15. Chithirapuram And CSI Church – Visit & Explore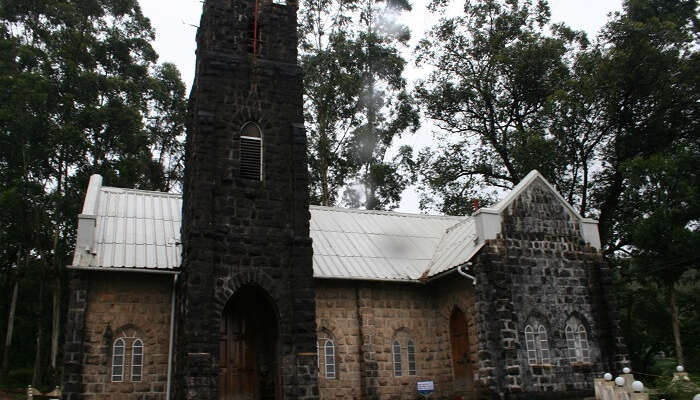 Image Source
Built in 1910, CSI is a protestant church constructed by Scottish tea estate manager and workers. One of the tourist attractions in Munnar, it is decorated with stained-glass windows, brass plaques, rows of rosewood benches and a lavish chandelier which makes it one of the prettiest Munnar attractions. Spend some time in solitude here and feel blissful.
Timings: Open from 8 am to 5 pm
Suggested Read: 10 Best Homestays In Munnar For A Refreshing Holiday!
16. Punarjani Traditional Village – Enjoy Kathakali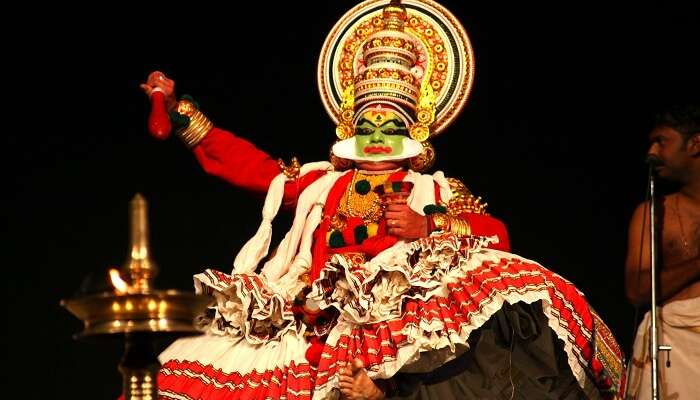 Image Source
Punarjani Traditional Village is a performing art theatre in Munnar in Kerala. And if you are still wondering about what to do in Munnar, then watching a Kathakali performance here is one of the fun things to do in Munnar at night. Enjoy the true essence of South India through this dance and musical performance. It is definitely one exciting activity to be a part of when in Munnar.
Location: 2nd Mile Kochi – Madurai – Dhanushkodi Road Pallivasal, Munnar, Kerala 685565
17. Kalari Kshethra – Watch Kalaripayattu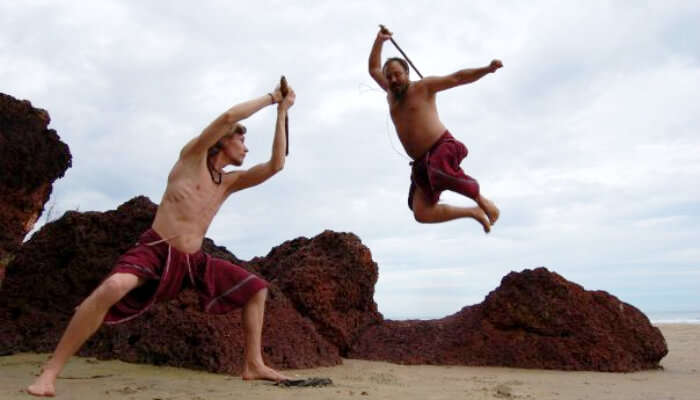 Kalaripayattu is a traditional form of Martial Arts popular in the South Indian state of Kerala. Kalari Kshethra in Munnar is one of the best places where you can watch a performance of this highly skilled fighting style. Used by the warriors in the past, it represents the history, culture and bravery of the people. You would also get to see a variety of traditional dance and art forms performed here.
Location: Kochi Road, Chithirapuram South, Munnar, Kerala 685655
Timings: 8 AM to 8 PM
Price: INR 200 – INR 500
Suggested Read: 15 Budget Hotels In Munnar For A Cozy Yet Pocket-Friendly Retreat
18. Srishti Welfare Centre – Street Shopping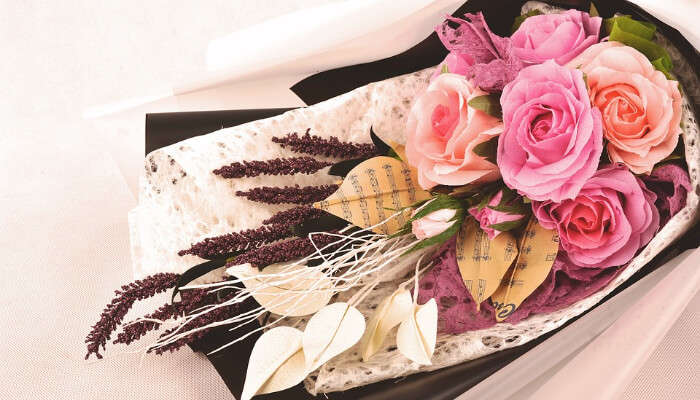 Street shopping in Munnar is an amazing experience in itself. You get to shop and also enjoy the beautiful landscapes and weather. A place like Srishti Welfare Centre will let you buy some souvenirs for your friends and family. There are eco-friendly products including handmade paper and clothing items. You can also go to the the Mattupetty Dam Market to buy some artistic works.
Location: Srishti Complex, Near Tata Business Support Services Ltd, Nullatanni Estate Road, Munnar, Kerala 685612
Timings: 8 AM to 5 PM
19. Rose Garden Munnar – Buy Some Saplings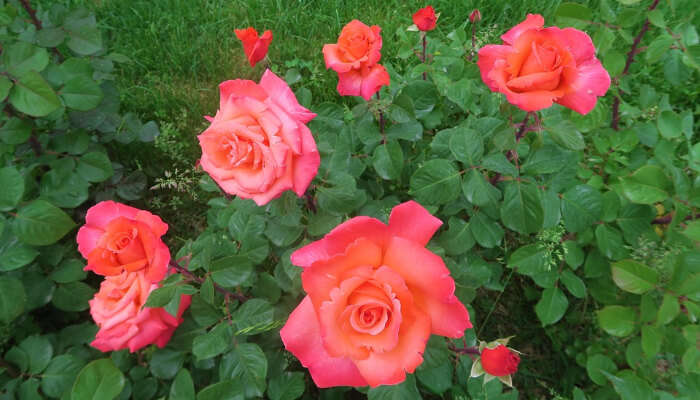 Find yourself surrounded with vibrant colours and fragrance at the Rose Garden in Munnar. This is one of those places that will refresh your mind instantly. Spread across 2 acres of land, this garden is home to a variety of spice, flower, fruit, and tree species. This includes amla, litchi, cauliflower, bananas, and strawberries. But the highlight of this place are the wide range of rose species. Spending time in this garden with your partner is one of the most romantic things to do in Munnar.
Location: National Highway 49, Munnar, Kerala
Timings: 10 AM – 5 PM
Entry Fee: INR 20 – INR 50 | Camera fee – INR 30 – INR 50
Suggested Read: Here's Why Aditya's Trip To Munnar With Kids Was An Experience To Remember!
20. Dreamland Fun & Adventure Park – Ride An ATV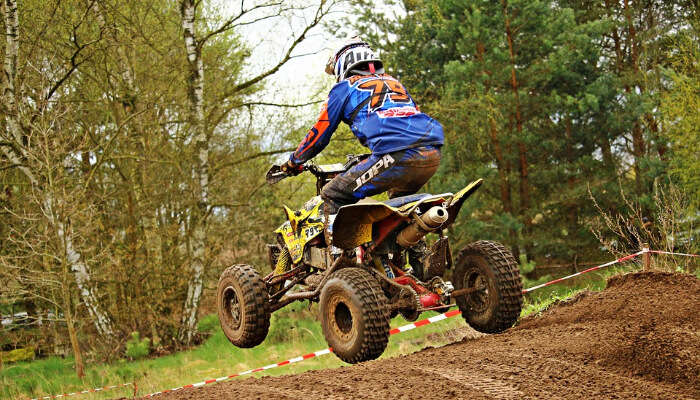 Dreamland Fun And Adventure Park is an open-air adventure park in Munnar. It is one of the best places to enjoy with your family. The park hosts a variety of fun and thrilling activities including camel rides, horse rides, mountain biking, ziplining, and cable car rides. It also has a haunted house. But one of the key attractions of Dreamland Fun And Adventure Park is the ATV ride. So, make sure you visit this exciting place with your family on your next holiday in Munnar.
Location: PO, Anachal, Chithirapuram, Kerala 685565
Timing: 9 AM to 7 PM
Entry fee: INR 1,500 – INR 2,000
21. Lakshmi Hills – Trekking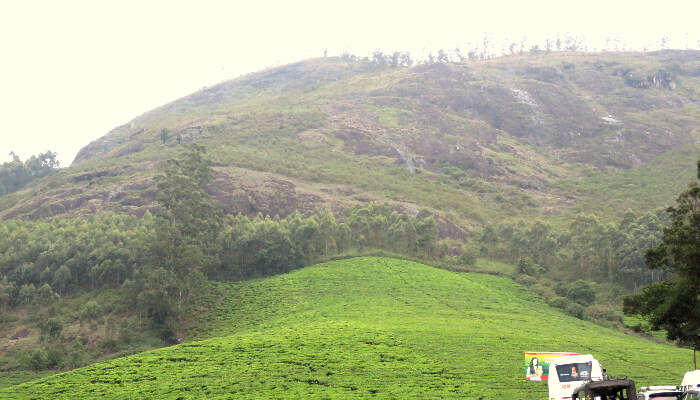 Lakshmi Hills is one of the most picturesque locations in Kerala. A trekking journey to the summit of the hill will take you to some of the most splendid sights. This is one of the best things to do in Munnar during monsoon. Rains washout dust and accentuate the natural beauty of lush green valley. You will be exploring tea plantations and around 7 different hills during this trek journey.
Duration: 5 hours
Suggested Read: Luxury Hotels In Munnar: Perfect And Ideal Stays For A Lavish Holiday
22. Mount Carmel Church – Seek Blessings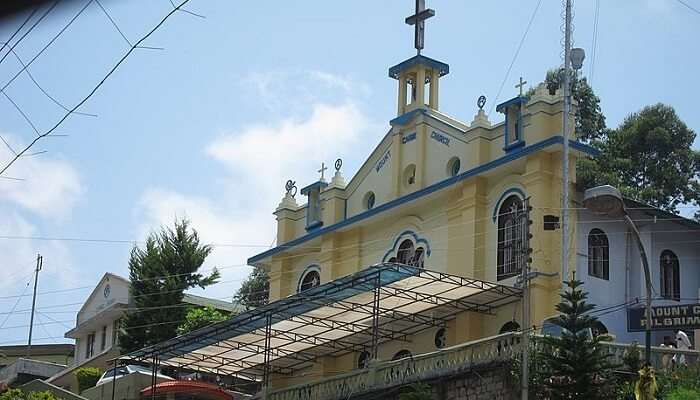 One of the most popular Munnar attractions, the Mount Carmel Church was established in the year 1898 and is quite well known for being the first Catholic Church in Munnar. It is believed that this church was an initiative of Father Alponse and post his demise his body wa buried in this sacred church. You can spend some peaceful time here and introspect.
Location: General Hospital Rd, Nullatanni, Munnar, Kerala 685612
Timings: 6 AM-10 PM
23. Cheeyaparra Waterfalls – Take A Trek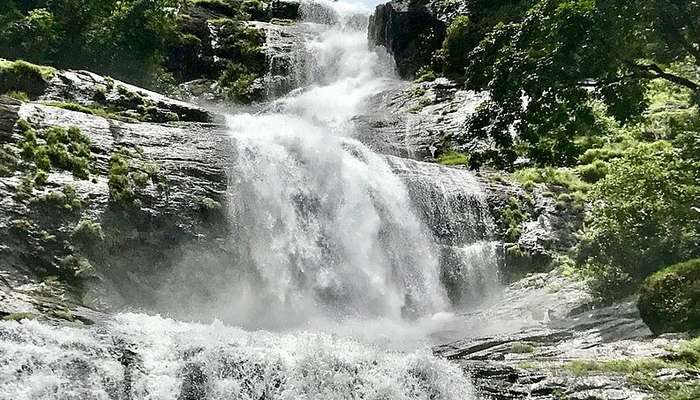 Lying 1000 feet above sea level, Cheeyaparra Waterfalls are one of the most beautiful things to see in Munnar. This is not your regular waterfall. Situated on the Kochi-Madurai highway, Cheeyaparra Waterfall is a seven step waterfall and is nestled amidst lush green forests. As said already, this waterfall is beautiful and very popular among tourists and you will have an opportunity to trek as well. 
Location: Idukki district, Kerala, India
Timings: Sunrise – Sunset
Suggested Read: 25 Hotels And Resorts In Munnar For That Divine Holiday
24. Blossom International Park – Witness Rare Flowers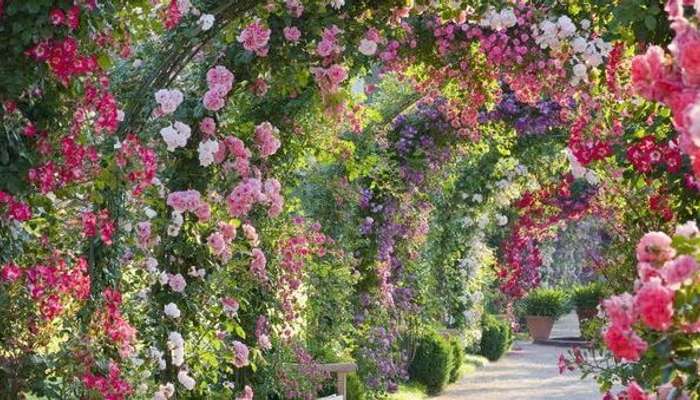 Located just 3 kilometers away from the main city, Blossom International Park is home to some rare species of trees and flowering plants which makes it one of the offbeat things to do in Munnar as not many people explore it.. The interesting part is that you can indulge in many other interesting activities such as cycling, boating, and roller skating at this park.
Location:  Aluva – Munnar Highway, Near KSRTC Bus Stand, Moolakadai, Munnar, Kerala 685612
Timings: 9 AM-9 PM
25. Pothamedu Viewpoint – A Panoramic View Of Munnar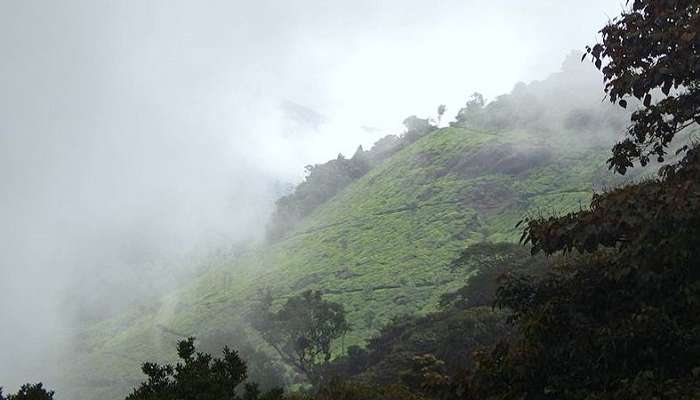 Just 5 kilometers away from Munnar, Pothamedu Viewpoint is nestled amidst tea and coffee plantations and offers a panoramic view of Munnar and the valleys. One of the best adventure activities in Munnar is taking a trek to this viewpoint which makes this place popular amongst trekkers and hikers. If you don't want to do that then just being close to nature is reason enough for you to visit the place.
Location: Pothamedu Viewpoint, Kerala, 685565
Timings: Open 24 hours
Suggested Read: 35 Amazing Things To Do In Kerala For An Incredible Holiday In 2020!
26. Camping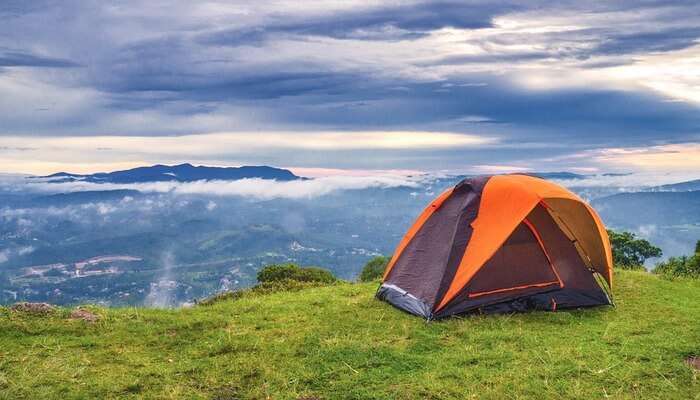 If you're wondering what to do in Munnar then the scenic beauty and the plush surroundings of Munnar make for perfect conditions to set up a base camp and enjoy the raw beauty of nature with your friends or family. With the most beautiful landscape, scenic mountains and serene valleys, mesmerizing waterfalls and an exotic wildlife – Munnar is a picturesque town with delightful views to enjoy by indulging in camping at various sites that is certainly amongst the best activities in Munnar. 
Where: Top Station Camp, Munnar, Kerala
Price: INR 1500 onwards
Distance from Munnar – 38 km
27. Staycation In A Tree House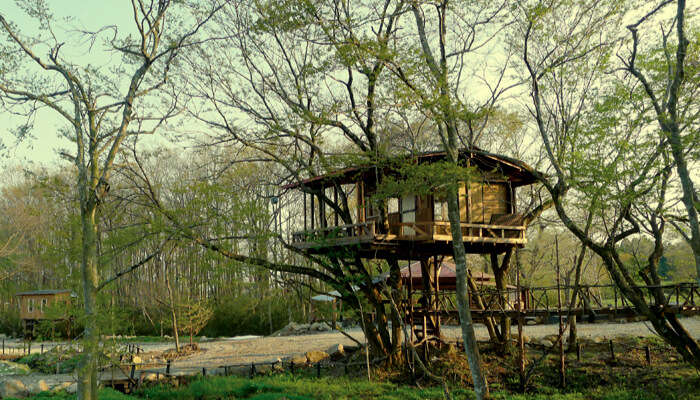 Apart from other honeymoon resorts in Munnar, this is one of the most extraordinary and exquisite things to do in Munnar by staying at a treehouse amidst lush surroundings. You can enjoy a perfect moment of tranquility that is perfectly blended with comfort, luxury and nature for the best of Munnar activities.
Where: Mary land, Anachal, P.O, 685565, Munnar
Price: INR 5,000 onwards
Suggested Read: 15 Best Tree Houses In Kerala That Are Perfect For An Intimate Date With Nature
28. Mathikettan Shola Rainforest – Trekking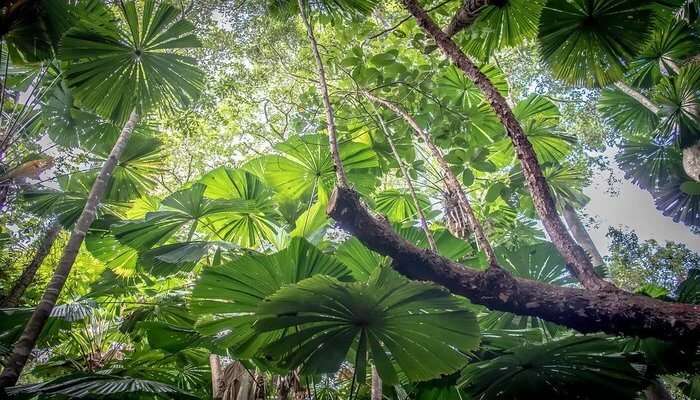 If you're wondering what to do in Munnar then trekking is the most exuberant sport that lets you explore the exotic wildlife, scenic landscape and the splendid beauty of nature amongst the best activities in Munnar. Famous for rich flora and fauna, this place is a green paradise with trekking expeditions through several tea plantations and more. 
Starting Point: Thondimala
29. Anamudi Peak – Hiking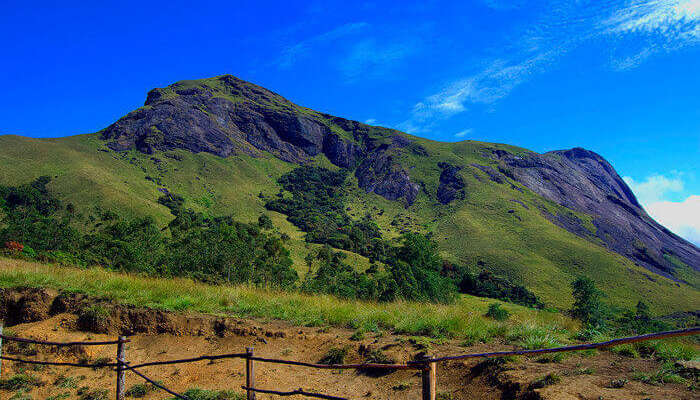 A Hiker's paradise, Anamudi Peak is a beautiful hill that is absolutely stunning when explored on foot to get the best of Munnar activities. Go on a hiking expedition and enjoy a stunning display of nature and serene brooklets. Soak in the good vibes and breathe in the fresh air on your climb to the peak that is brimming with a rich flora and fauna. If you're planning a trip during the winter, this is one of the best things to do in Munnar in December.
Location: Located at a distance of about 8.7 km from Munnar
Suggested Read: Indulge In These 10 Bali Hiking Tour Experiences To Seek Its Hidden Charm In 2020
30. Wonder Valley Adventure Park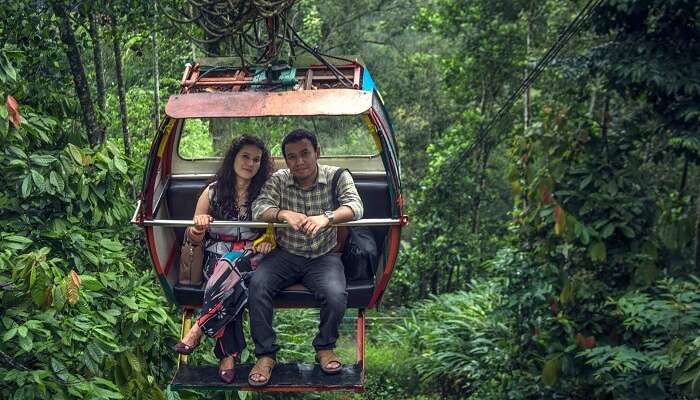 A paradise for adventure enthusiasts, this amusement park in Munnar is a beautiful natural terrain theme park that incorporates several attractions and activities for you to indulge in. You can enjoy the river dancing area, a wave pool, a blissful waterfall, Bungee jumping, and nature trails. 
Location: No. 89, Chithirapuram P.O, Anachal, Idukki District, Munnar, Kerala 685565
Timings: 8:30 am – 5:30 pm
Entry Fee: INR 800
31. Chokramudi – Trekking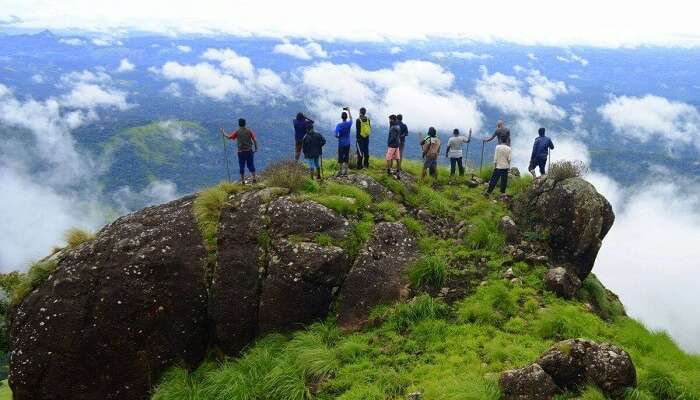 Munna is famous for the best panoramic views of the stunning landscape, you can indulge in an exhilarating trekking adventure to unravel the splendid beauty of Munnar. Embark on a beautiful journey with your friends and go on a nature trail on the rocky mountain slopes with Shola forest on one side that will be a treat to your eyes. 
Location: Idukki, Kerala 685565
Suggested Read: 35 Amazing Things To Do In Kerala For An Incredible Holiday In 2020!
32. Attukal Waterfalls – Trekking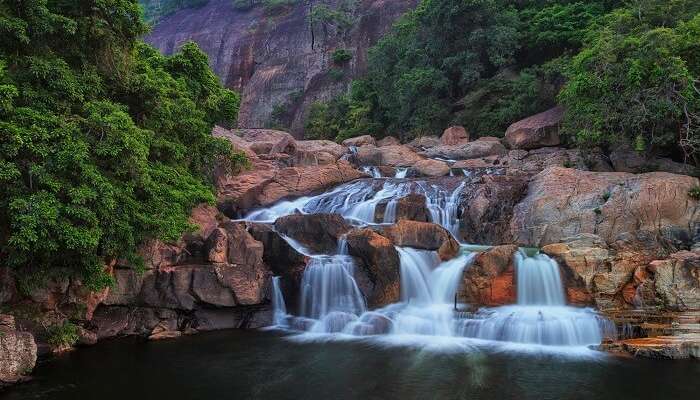 An ideal trekking destination, this stunning waterfall falls from a great height making it a spectacle to witness and marvel at. You can enjoy a day outing at this waterfall and enjoy a picnic with your friends or family. The water levels are usually low and shallow for you to traverse the waters.
Location: Udumalpet Road, Marayur, Kerala
Timings: 10 am – 6 pm 
33. Thoovanam Falls – Trekking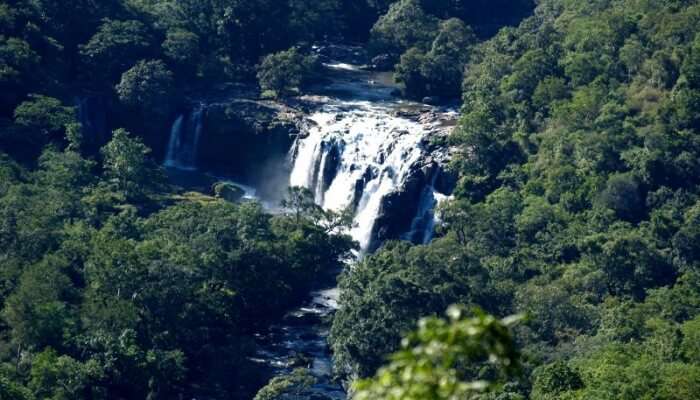 An absolute delight for nature lovers who can plunge into the blue waters of the Pambar river, this waterfall is located inside the Chinnar Wildlife Sanctuary that lies on the Tamil Nadu border. A popular destination for trekkers and water babies, this place is ideal for planning a day outing and enjoying the lush surroundings away from the urban chaos.
Location: Chinnar Wildlife Sanctuary, Idukki District, Marayur
Distance from Munnar: 43 Km
Suggested Read: 25 Best Places To Visit In Thrissur To Make Your Kerala Holiday In 2020 One Of A Kind!
34. Marayoor – Explore The Abode Of Clouds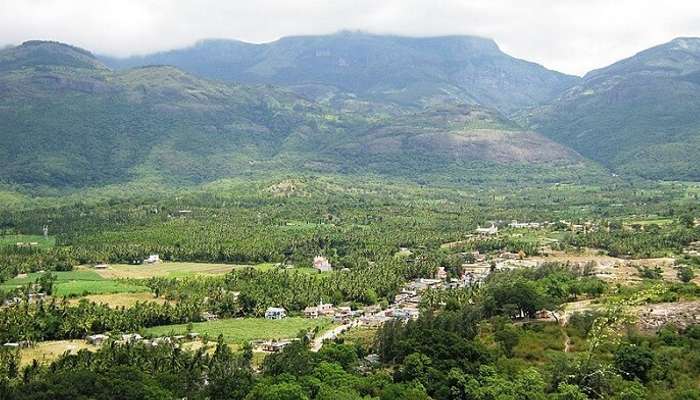 Explore the aromatic sandalwood forest in Marayoor that will soothe your soul and make you want to unwind amidst the lush green surroundings. Marayoor is an unexplored territory that exudes a certain charm and positivity that tourists love to explore.
Location: Marayoor, Kerala
Distance from Munnar: 39 Km
35. Thirumeni Cultural Centre – Unravel Art & Culture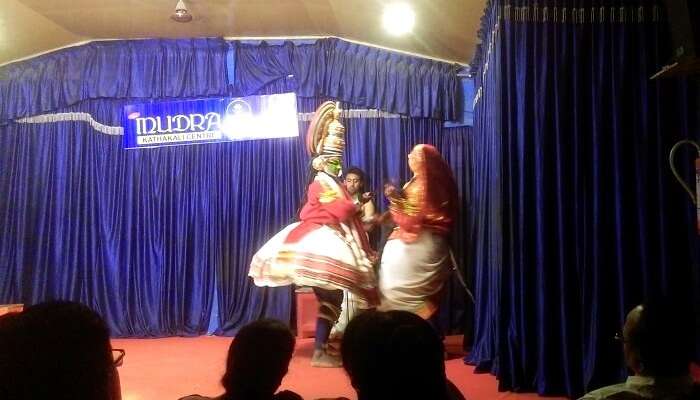 Any trip is incomplete without participating in getting to know its rich culture, history and heritage. Kerala is home to some of the most treasured gifts of history and boasts rich culture that tourists love to unravel. One such spectrum of Kerala's vibrant culture is its original dance form called Kathakali. Witness how this dance form unfolds with an elaborate makeup and costume from up and close at the Thirumeni Cultural Centre.
Location: Thirumeni Cultural Centre, Silent Valley, Munnar, Kerala 685612
Timings: 5 pm – 6 pm, 7 pm – 8 pm
Entry fee: INR 300 onwards
Further Read: 15 Cottages In Munnar For Homelike Warmth, Luxury & Comfort
Know of any other mind-blowing experience or Munnar's key tourist attractions? If yes, do share with us, and if not, there is enough motivation to go exploring with this amazing list of things to do in Munnar. Munnar also happens to be the most popular pick among many beautiful honeymoon destinations in South India. But you can also plan a friends or family trip to Munnar and have a fun experience. So, what are you waiting for? Book a trip to Munnar with TravelTriangle and have an amazing vacation!

Frequently Asked Questions About Things To Do In Munnar
Q. What is Munnar famous for?
A. Munnar is mainly famous for its natural beauty, especially hilly tea-plantations. It is also known for its exotic resort and wildlife experience.
Q. What's special in Munnar?
A. With the abundance of nature's blessings, Munnar's vegetation includes a wide range of plant species that have medicinal benefits. Its fertile hills and the high range weather conditions are also highly suitable for tea-plantations. This town is also has a rich wildlife. So, there are countless special things to experience in Munnar.
Q. What are the best places to visit in Munnar in one day?
A. Some of the best Munnar tourist places you must not miss on a day's trip are:
1. Tea Estates – Fragrance of tea plants
2. Echo Point – Unique echoing phenomenon
3. Tea Museum – Fully automated tea factories
4. Eravikulam National Park – Safari & Nilgiri tahrs
Q. What are the popular things to do in Munnar?
A. Munnar has no dearth of fun activities. Visiting places like Pothamedu viewpoint, Tea Museum and Blossom Park are some of the best things to in Munnar. You can also enjoy activities like trekking and shopping.
Q. How many days are sufficient for Munnar?
A. Munnar has several places to see and things to do. A minimum of two to three days would be sufficient to completely to comfortably explore the place.
Q. What is the best time to visit Munnar?
A. The best time to visit Munnar is during the months of September to March. The weather is pleasant during these months. The summer months that last from April to June are also good to visit. The weather during summer is a bit warm.
Q. What are the best things to do in Munnar at night?
A. High Range Club and Mountain Club are the best places to head for a memorable night in Munnar. To get a flavour of Kerala's culture, you can also spend an evening visiting the Punarjani Traditional Village and enjoying show of Kathakali.
Q. Is Munnar open for tourists?
A. Yes, Munnar is always open for tourists both national as well as international.
---
Looking To Book A Holiday Package?
---
Comments
comments