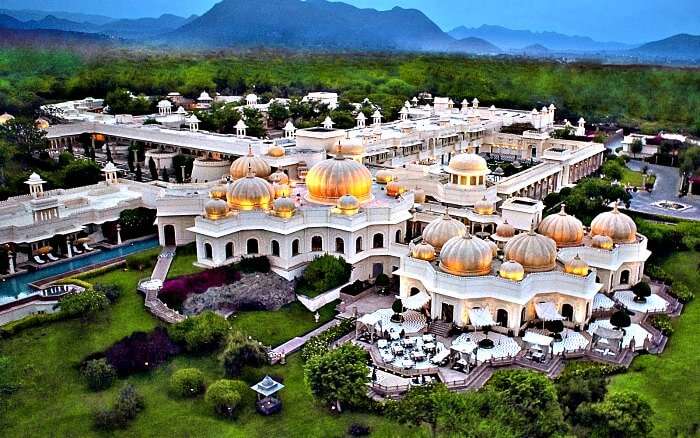 With its rich royal history complete with Kings, Queens, Nizams and Lords, there is no dearth of magnificent palaces in India. These lavish palaces, with many of them being converted to hotels are a unique way of experiencing the fascinating heritage of the country. Visiting these palaces is the best way to witness the lifestyle that was led by the Maharajas. So, have a look at the list of famous palaces in India that would give Buckingham palace a run for its money. 
33 Famous Palaces In India
This list of famous palaces in India might give you a major fear of missing out. So, check them out and choose the next one that you are heading to.
Udaivilas Palace, Udaipur
Rambagh Palace Hotel, Jaipur
Raj Palace, Jaipur
Devi Garh, Udaipur
Laxmi Niwas Palace, Bikaner
Wildflower Hall, Shimla
Jai Mahal Palace, Jaipur
Umaid Bhawan Palace, Jodhpur
Fernhills Royal Palace, Ooty
Taj Lake Palace, Udaipur
Samode Palace, Jaipur
Taj Falaknuma Palace, Hyderabad
Deogarh Mahal, Rajasthan
City Palace, Udaipur
Mysore Palace, Mysore
Bangalore Palace, Bangalore
Lakshmi Vilas Palace, Vadodara
Chowmahalla Palace, Hyderabad
Amber Palace, Jaipur
Neemrana Fort Palace, Neemrana
Ujjayanta Palace, Agartala
Jai Vilas Palace, Gwalior
Lalgarh Palace, Bikaner
Deeg Palace, Bharatpur
Chettinad Palace, Chettinad
Tipu Sultan's Summer Palace, Bangalore
Kowdiar Palace, Thiruvananthapuram
Gajner Palace, Bikaner
Prag Mahal, Bhuj
Mubarak Mandi Palace, Jammu
Hawa Mahal, Jaipur
Taragarh Palace, Kangra
Leh Palace, Leh
1. Udaivilas Palace, Udaipur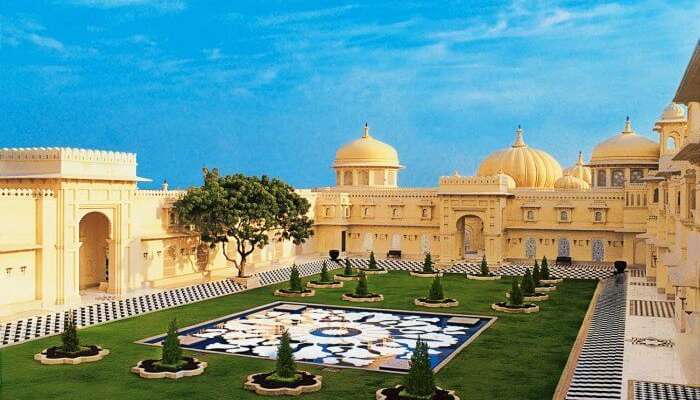 Located in Udaipur, the city of palaces in India and nestled in idyllic splendour, with the blue waters of Lake Pichola on one side and against the backdrop of the Aravalli Hills, the Udaivilas Palace is the embodiment of the old world charm of princely India. Every room has generous garden space with a patio, and some have a semi private, infinity-edge pool. This pool actually stretches along a bank of rooms, making it possible to swim from one room to another.
Tariff: INR 25000 per night
Must Read: 12 Luxurious Hotels In India That WILL MAKE YOU SELL YOUR KIDNEY!
2. Rambagh Palace Hotel, Jaipur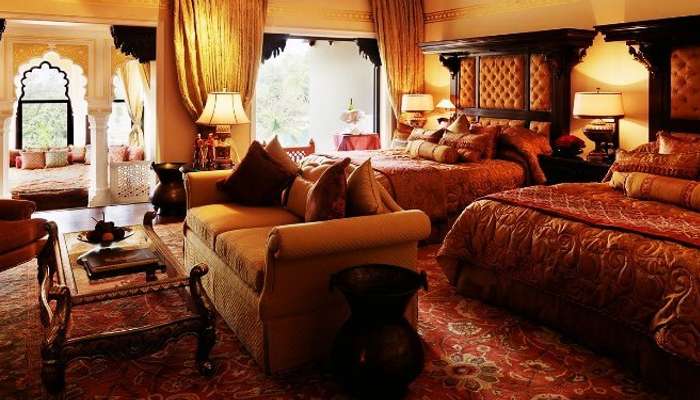 Rambagh Palace is a living legend in Jaipur and was home to the royal family for over 30 years. Built in 1835, it was first converted into an upscale palace hotel in India in 1957. It's elegantly appointed rooms, marbled corridors and majestic gardens echo with history. For an extravagant experience, request the Peacock suite, which overlooks the Mughal Terrace and the garden where the Maharaja used to celebrate Holi.
Tariff: INR 28000 per night
3. Raj Palace, Jaipur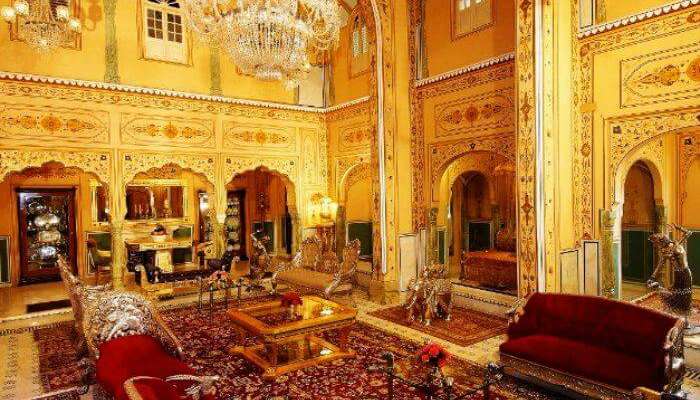 The charming Raj Palace Hotel was built in 1727 and is Jaipur's oldest mansion. A perfect example of old world charm with Royal architecture, gardens and beautiful courtyard, its breathtaking Durbar Mahal Suite was used by the Maharaja himself. The Swapna Mahal Restaurant here has been richly decorated with real gold leaf work, a majestic rare crystal chandelier and a crockery museum housing centuries old collections.
Tariff: INR 14000 per night
Suggested Read: 6 Incredible Indian Destinations Under 20k You Need To Explore This Year!
4. Devi Garh, Udaipur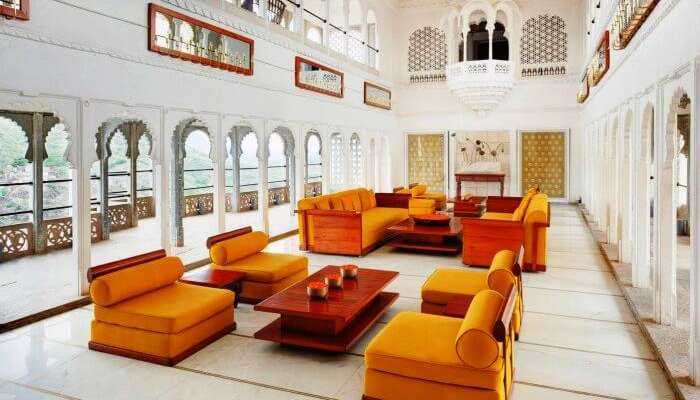 Nestled in the Aravali hills the Devigarh palace was royal residence for rulers of the Delwara until the 20th century. Today the palace hotel boasts of opulent suites decorated with semi-precious stones, local marbles and a black marble swimming pool. Despite the new facilities, the palace has managed to hold on to the old-world charm, making the stay there a fascinating experience.
Tariff: INR 15500 per night
5. Laxmi Niwas Palace, Bikaner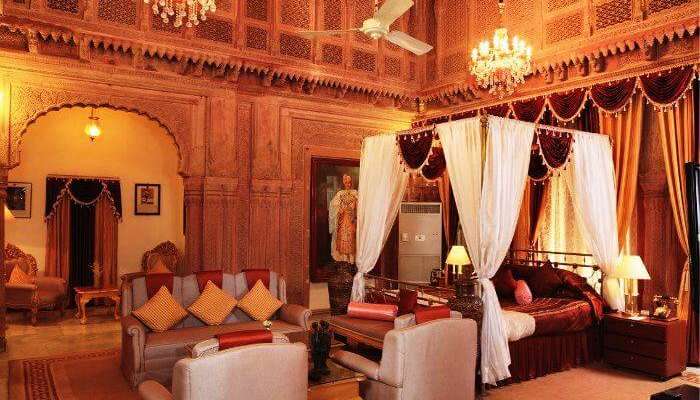 Built in 1904, Laxmi Nivas Palace in Bikaner catered exclusively to princelings, select statesman and architects of history. It is considered to be one of the most royal palaces in India. Gaze at hand-painted friezes and gold-laden walls. Examine up close the inspiration behind Lutyens' and Baker's architectural style.
Tariff: INR 8,999 per night
---
Planning your holiday but confused about where to go? These travel stories help you find your best trip ever!
---
6. Wildflower Hall, Shimla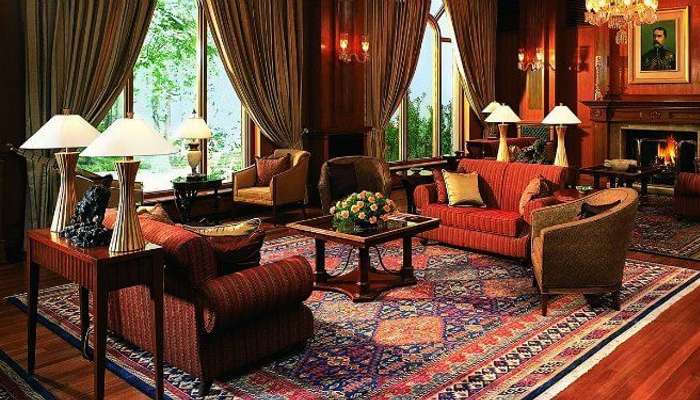 Once home to the Lord Kitchener during the rule of the British Raj, Wildflower Hall recreates the grand style of the colonial era in the Himalayas. Filled with original artwork and wood paneling the hotel creates an aura of old world charm and provides a panoramic views of snow covered peaks.
Tariff: INR 22000 per night
Suggested Read: 10 Best Places To Visit In Shimla To Relax And Unwind
7. Jai Mahal Palace, Jaipur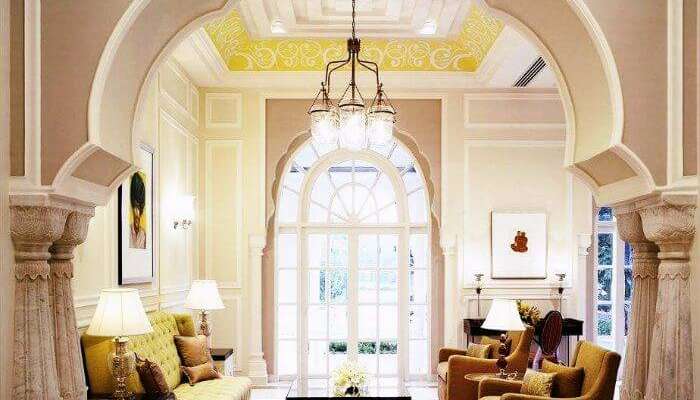 Amongst the many famous palaces in India, set amidst 18 acres of beautifully landscaped Moghul gardens, this incomparable palace dates back to 1745 A.D. A masterpiece in the Indo Saracenic style of architecture, it blends spotlight-grabbing opulence with tantalising comforts that transport guests to a world of Rajasthan magnificence.
Tariff: INR 12,600 per night
8. Umaid Bhawan Palace, Jodhpur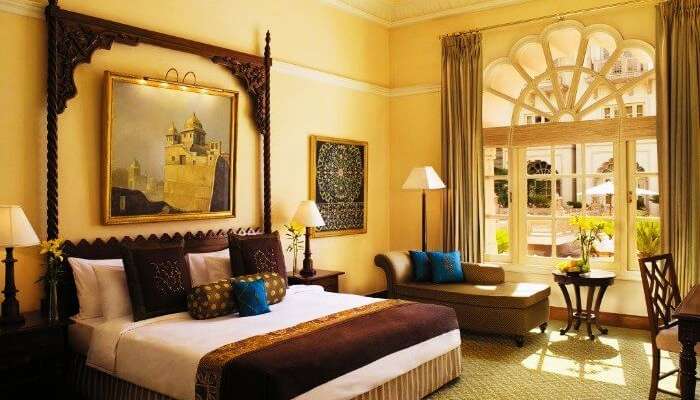 This grand and imposing yellow sandstone palace was completed in 1944 after 15 years in the making and was one of the last great palaces to be built in India. Its majestic 105 – foot high cupola is influenced by the Renaissance, while the towers draw inspiration from Rajput tradition. Built over 26 acres of land it is one of the largest private residence with 347 rooms.
Tariff: INR 30000 per night
9. Fernhills Royal Palace, Ooty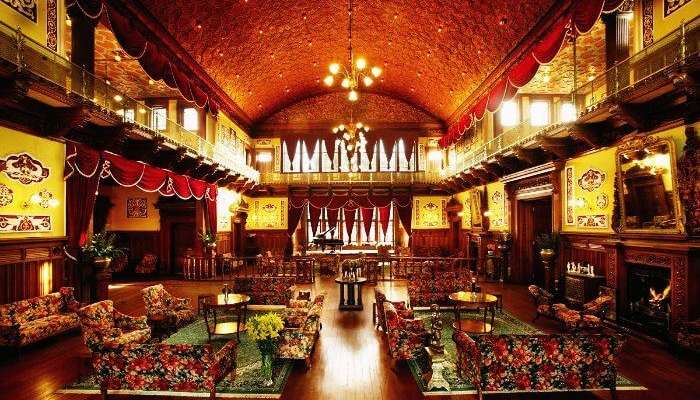 Ferrnhills Royale Palace was Built in 1844 as a summer Palace of the Mysore Maharajas. Bought by a 12 year old prince for a sum of INR 10,000/-in 1873, the palace has been with the Wadiyar dynasty ever since. The Palace is superbly finished with Burmese teak, features a magnificent ballroom with a highly valued ornamental papiermache ceiling.
Tariff: INR 11,000 per night
Suggested Read: 19 Photos That Will Make You Want To Leave For Himachal NOW!
10. Taj Lake Palace, Udaipur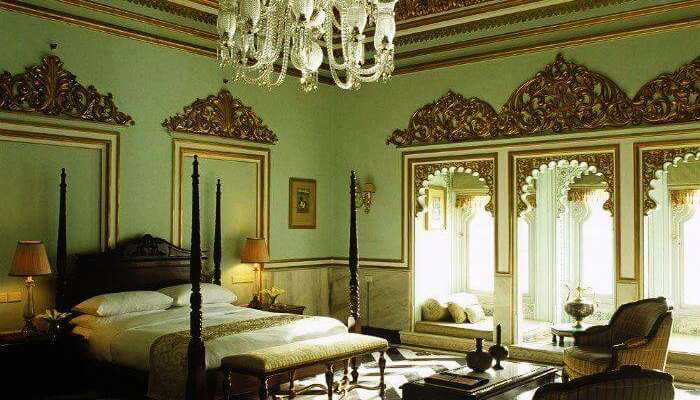 The list of palaces of India is incomplete without the mention of the Taj Lake Palace in Udaipur. Built between 1743-1746 as a royal summer palace, this ultra-luxe white marble hotel has been voted as the most romantic hotel in India and in the world. The 'Royal Butlers' working in the hotel today are descendants of the original palace retainers – who served the maharajas in their time.
Tariff: INR 20,079 per night
Suggested Read: 7 Dreamy Taj Hotels That Will Make You Feel Like Royalty
11. Samode Palace, Jaipur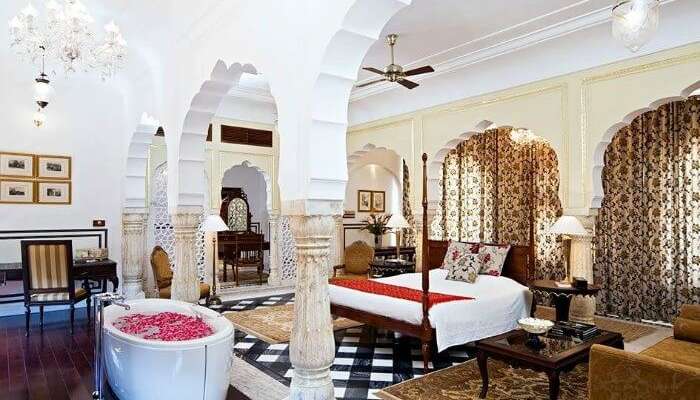 The 475 year old Samode Palace, another magnificent palace in India, is famous for its courtyards, hand-painted walls, silver armchairs, chandeliers and lounges that boast exquisite mirror work. Wander through the Sheesh Mahal, a series of mirror-tiled and mural-lined rooms, each more breath-snatching than the last. Once a royal reception space, it's now used for chichi cocktail sessions.
Tariff: INR 6300 per night
12. Taj Falaknuma Palace, Hyderabad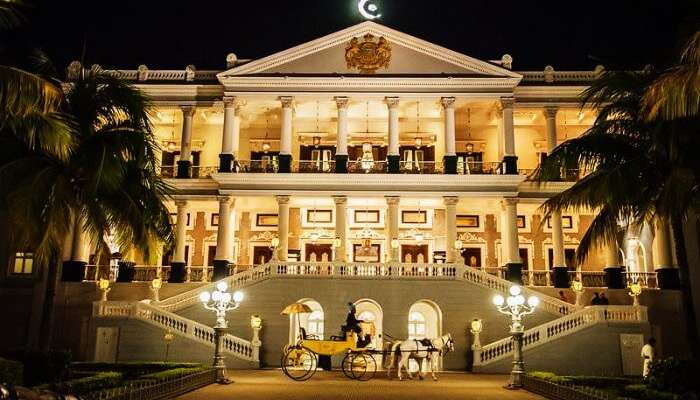 Previously the residence of the Nizam of Hyderabad, Taj Falaknuma Palace sits on a hill 2,000 feet above overlooking Hyderabad and is lauded as one of the most beautiful palaces in India. Entirely built of Italian marble, the incomparable Palace boasts of large Venetian chandeliers, rare furniture, grand marble staircases, priceless statues and art works, a world-class collection of crystals and Mughal, Rajasthani and Japanese gardens personally conceived by the Nizam.
Tariff: INR 30000 per night
Suggested Read: 26 Reasons Why I Would Rather Be From Hyderabad Than Anywhere Else
13. Deogarh Mahal, Rajasthan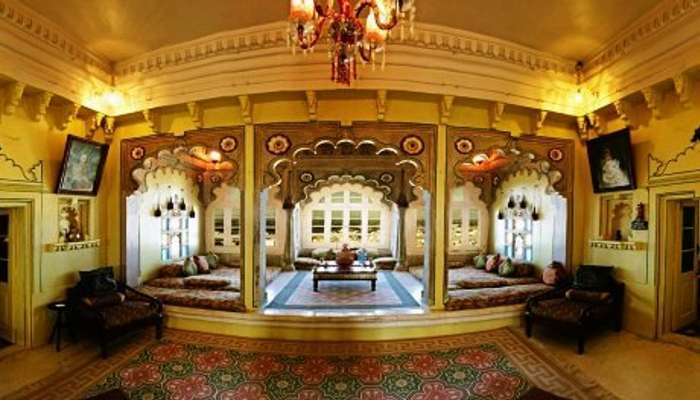 Partially occupied by the family of the Rawat Nahar Singh, this sun-coloured fort in the Aravali hills, poised between Jodhpur and Udaipur. The Mahal is an exceptional work of architectural magnificence, complete with graying battlements, domes, gun enclosures, jharokhas and gigantic entrances.
Tariff: INR 8,531 per night
Suggested Read: 10 Real World Destinations That All Disney Lovers Must Travel To
14. City Palace, Udaipur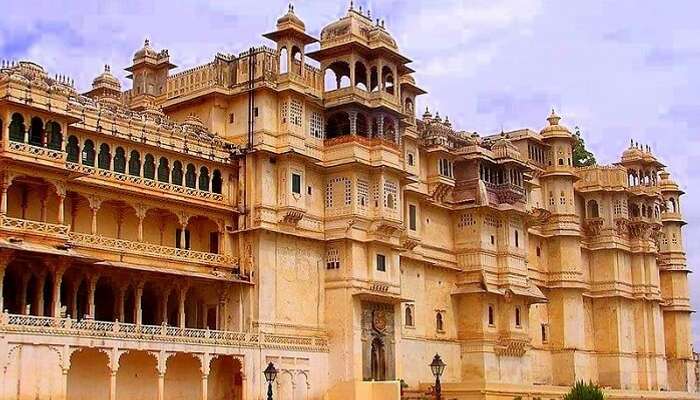 Image Credit: Henrik Bennetsen for Wikimedia Commons
If you want to taste the true luxury in India then you cannot miss out on the famous palace that is nestled on the banks of Lake Pichola, the City Palace of Udaipur. Constructed by Maharana Uday Singh in the year 1559, City Palace is full of beautiful courtyards, decked up corridors, hanging gardens, and lit rooms that leave the visitors in an awe of the beauty. Moreover, every here and there, you will find paintings of the architecture that have been contributed by famous painters. If you are looking for famous palaces in India, then this one should be on the top of your list.
Location: Old City, Udaipur, Rajasthan 313001
Timings: 9:30 am – 5:30 pm
Entry Ticket: INR 100 (Children & Students), INR 300 (Adults)
Suggested Read: 5 Popular Hill Stations In Rajasthan For A Refreshing Escape From The Desert In 2020!
15. Mysore Palace, Mysore
Image Credit: Guldem Ustun for Wikimedia Commons
The list of famous palaces in India remains incomplete without the mention of Mysore Palace which is a perfect example of Indo-Saracenic style of architecture. Developed for the 24th Ruler of the Wodeyar Dynasty in 1912, this palace is also famous as Amba Vilas Palace. The palace is a reminiscence of the hardships and works of different rulers which is why you will witness a hint of Gothic, Hindu, Rajput as well as Muslim styles in the architecture. You might not be aware of the fact that it is the secondmost visited palace in India after the Taj Mahal. It is one of the biggest palaces in India which is always buzzing with foreigners as well as local tourists.
Location: Sayyaji Rao Rd, Agrahara, Chamrajpura, Mysuru, Karnataka 570001
Timings: 10 am – 5:30 pm
Entry Ticket: INR 10 (Study tour for students), INR 30 (Children), INR 70 (Adults)
Suggested Read: 34 Best Places To Visit In Mysore In 2020
16. Bangalore Palace, Bangalore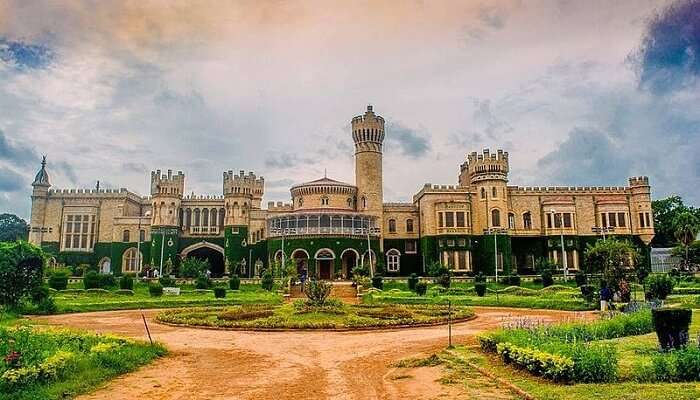 Image Credit: Mukesh Barnwal for Wikimedia Commons
Praised for its beauty and intricate architecture, Bangalore Palace makes it to the list of the top palaces in India. The construction of this palace can be dated back to the year 1878 and it is acquires an area of around 45,000 square feet. To witness the royal culture, pay special attention to the details of the wooden structure of the palace that is adorned with amazing carvings. The grand palace that we see today is a mixture of Scottish Gothic and Tudor style of architecture. The best part about this palace is that it hosts a variety of events like rock shows that are worth attending as the palace lits up in a different way.
Location: Vasanth Nagar, Bengaluru, Karnataka 560052
Timings: 10 am – 5:30 pm
Entry Ticket: INR 230 (Indians), INR 460 (Foreigners)
Suggested Read: 6 Adventurous Road Trips From Mysore That You Can Challenge Yourself To In 2020!
17. Lakshmi Vilas Palace, Vadodara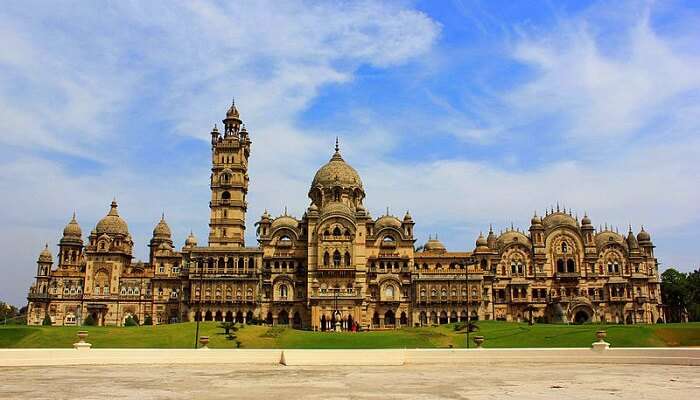 Image Credit: Birsa Murmu for Wikimedia Commons
Earlier the private residence of Maharaja Sayajirao Gaekwas III, Lakshmi Vilas Palace is now one of the majestic palaces in India that oozes with history and culture. The size of this palace is four times the size of the great Bukungham Palace which makes it even more magnificent. Starting from the year 1890, it took around 12 years to fully construct this beautiful palace. Reflecting the Indo-Saracenic style, it is an amalgamation of Mughal, Hindu, and Gothic forms that are visible in the minarets and domes of the palace.
Location: J N Marg, Moti Baug, Vadodara, Gujarat 390001
Timings: 9:30 am – 5 pm (Closed on Monday)
Entry Ticket: INR 150 (For Palace), INR 60 (For Museum)
Suggested Read: 6 Hotels Near Udaipur That'll Ensure A Wonderful Stay In Rajasthan
18. Chowmahalla Palace, Hyderabad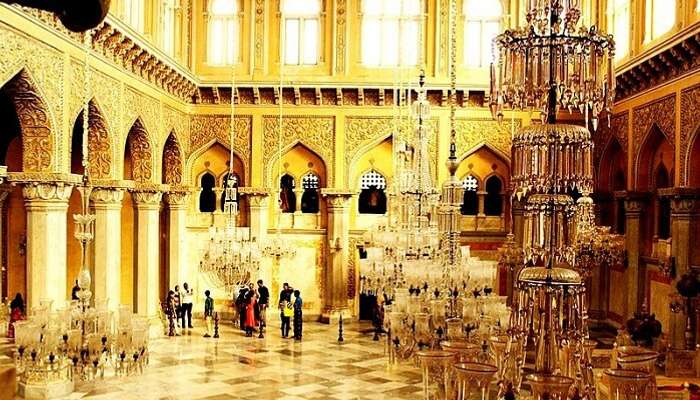 Image Credit: Chennoju Kranthi for Wikimedia Commons
Literally translating into 'Four Palaces, the Chowmahalla Palace was built between the years 1857 and 1869. It is home to two huge courtyards and dining hall that are known as 'Khilawat'. Earlier the official residence of the Nizams of the state, it is now given to Barkat Ali Khan Mukarram Jah. The palace is decorated with fountains, gardens, halls, and clock tower. Take a close look at the meticulously carvings that are made on the pillars, domes, arches, windows, and everywhere.
Location: 20-4-236, Motigalli, Khilwat, Hyderabad, Telangana 500002
Timings: 10 am – 5 pm (Closed on Friday)
Entry Ticket: INR 10 (Children), INR 80 (Indians), INR 200 (Foreigners)
Suggested Read: Top 15 Places To Visit In Bundi In 2020 That Will Take You Back To The Golden Days Of Rajasthan
19. Amber Palace, Jaipur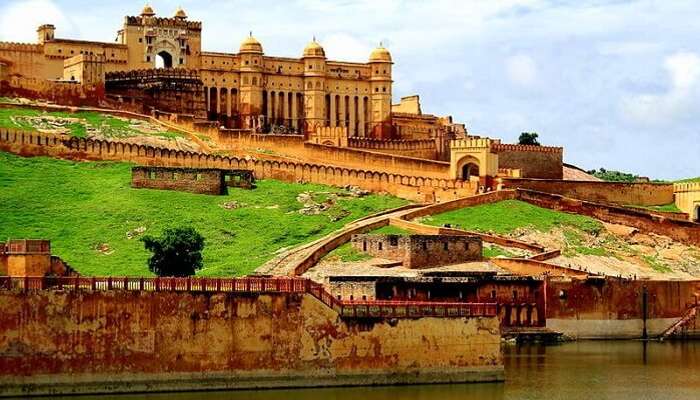 Located in the famous Pink City of Jaipur, Amber Fort is perched on the Aravali Hills and is counted among the famous palaces in India. If you have not visited this palace then you must have seen it in some movies. Great movies like Veer, Jodha Akbar, and Bajirao Mastani were shot here due to the extravagant halls of the palace. The place has a great significance among the locals due to its rich history. Made with pink and yellow sandstone, this palace stands strong since 1592 and has been the main residence of several Rajput rulers.
Location: Devisinghpura, Amer, Jaipur, Rajasthan 302001
Timings: 8 am – 5:30 pm, 6:30 pm – 9:15 pm
Entry Ticket: INR 10 (Student), INR 25 (Indians), INR 200 (Foreigners)
Suggested Read: Budget Trip to Rajasthan: 10 Reasons To Enjoy The Royal State At Its Best In 2020!
20. Neemrana Fort Palace, Neemrana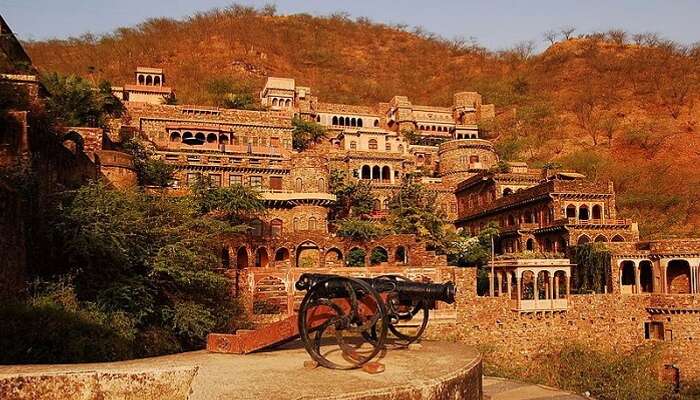 Image Credit: Abhinav Swara for Wikimedia Commons
An epitome of great beauty and architecture, this 15th-century palace has now been converted into a heritage hotel that receives a heavy footfall every year. Earlier, it was under the reign of Rajput Maharaja Prithivi Raj Chauhan III. Covering an area of 10 hectare, it is perfect place to witness the alchemy of traditional Rajasthani designs and modern interiors. If you wish to take a whiff of true luxury and want to indulge in the lavish activities then a stay at the Neemrana Palace is a must.
Location: 15th Century, Delhi-Jaipur Highway 122nd Milestone, Delhi – Jaipur Expy, Neemrana, Rajasthan 301705
Timings: 9 am – 3 pm
Entry Ticket: INR 500 (Weekdays), INR 750 (Weekends)
Suggested Read: 5 Star Hotels In Rajasthan: Pick One Of These And Say Yes To A Royal Staycation In 2020!
21. Ujjayanta Palace, Agartala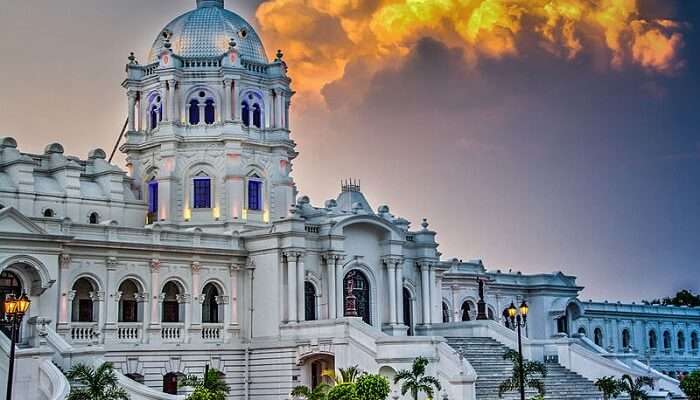 Image Credit: Sharada Prasad for Wikimedia Commons
Another one that has made it to the list of the best palaces in India is the Ujjayanta Palace that is located in Agartala. It was not constructed long back but in 1901 with wooden ceilings, tiles on floor, and majestic doors. This palace gots its name by the famous writer Rabindranath Tagore which was a regular visitor of Tripura then. The palace is home to several halls like The Reception Hall, Durbar Hall, The Chinese Room, and more. Now a museum and one of the top attractions of Tripura, it served as a meeting place for the State Legislative Assembly earlier.
Location: Agartala, Tripura, India
Timings: 10 am – 5 pm (Closed on Monday)
Entry Ticket: INR 10 per person
Suggested Read: 16 Handpicked Places To Visit In Agartala One Should Not Miss On Their Trip To North East In 2020!
22. Jai Vilas Palace, Gwalior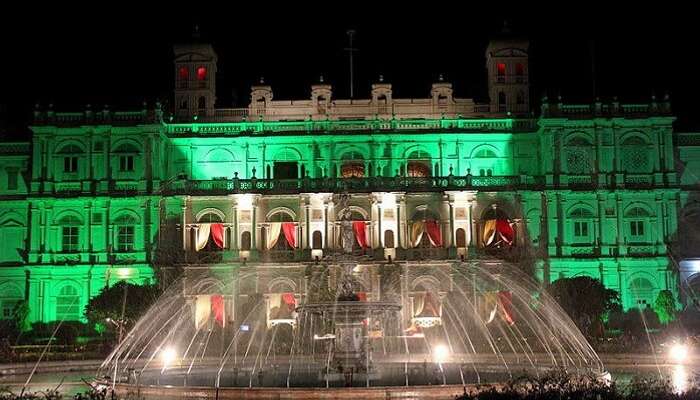 Image Credit: Shobhit Gosain for Wikimedia Commons
A symbol of Indian culture and royaly, Jai Vilas Palace was built by Jayaji Rao Scindia for a grand welcome of King Edward VII in 1874. Now, it is a residence of the descendants of the Maratha Scindia family. The palace is now home to a library, an art gallery, and a museum that stretches to 35 rooms. One cannot miss out on the Durbar Hall which is adorned with golden carvings. While exploring the palace, you will see a collection of swords and antiques in the room that once belonged to the maharajas.
Location: Lashkar, Gwalior, Madhya Pradesh 474007
Timings: 10 am – 4:45 pm (April – Sept), 10 am – 4:30 pm (Oct – March)
Entry Ticket: INR 100 (Indians), INR 600 (Foreigners)
Suggested Read: 8 Best 4 Star Hotels In Rajasthan That Aim To Provide You An Unforgettable Experience!
23. Lalgarh Palace, Bikaner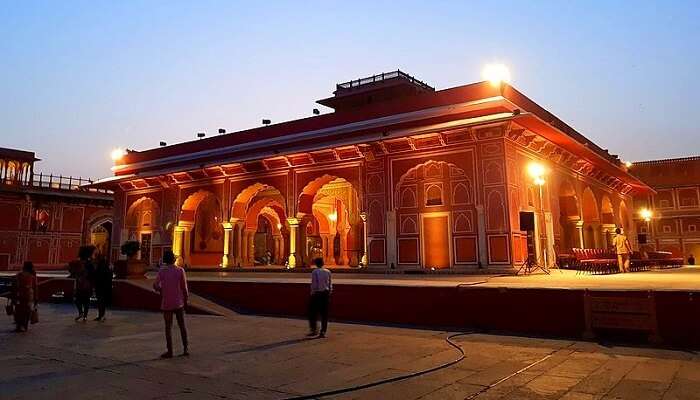 Image Credit: Mahesh Karnapu for Wikimedia Commons
Constructed between 1902 and 1926, Lalgarh Palace makes it to the list of famous palaces in Rajasthan. It is built in the European style and now serves as a heritage hotel to all. The palace also houses a museum which goes by the name Chri Sadul Museum that displays a variety of antiques and gives a glimpse of the exuberant lifestyle that the maharajas led. If you wish to taste this luxury then you can book a room for yourself and live like a royal person for a few days. Take a stroll through the corridors, relax in the garden, and you will not feel anything less than a royal person.
Location: NH15, Samta Nagar, Bikaner, Rajasthan 334001
Timings: 10 am – 5 pm (Closed on Sunday)
Entry Ticket: INR 20
24. Deeg Palace, Bharatpur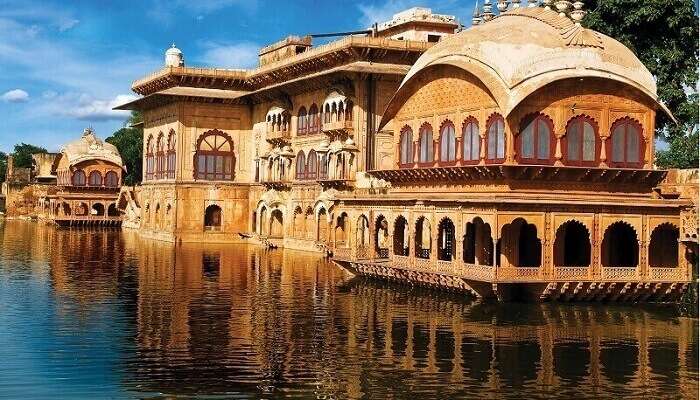 The Deeg Palace is Bharatpur is an embodiment of the rule of Jats and their successive victories. The palace is a perfect blend of the Mughal and Indian aesthetics as the rulers were influenced by the glorious Mughal architecture.  It was built in 1772 and used as a luxurious summer resort for the rulers. The palace is enhanced by wonderful gardens, water tanks and a palace complex. The highlight of the palace is the use of marble and quadrilateral walkways.
Location: Deeg Mahal ke pas, Deeg, Rajasthan 321203 
Timings: 9 am – 6 pm
Entry Ticket: INR 25
25. Chettinad Palace, Chettinad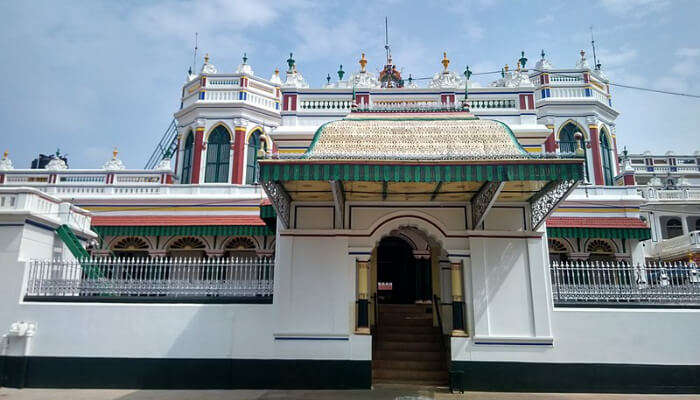 Image Credits: Thamizhpparithi Maari for Wikimedia
The Chettinad Palace is a beautiful architectural marvel located in a small and historical region of Tamil Nadu. It is the perfect combination of tradition, architecture and art which are a constant reminder of the time they served. The palace was designed by Dr Annamalai Chettiar and its construction completed in 1912. The materials used in this palace were mostly imported from eastern Asia and Europe. 
Location: S Beach Ave, MRC Nagar, Raja Annamalai Puram, Chennai, Tamil Nadu 600028
Timings: 9 am – 5 pm
Entry Ticket: Free entry
26. Tipu Sultan's Summer Palace, Bangalore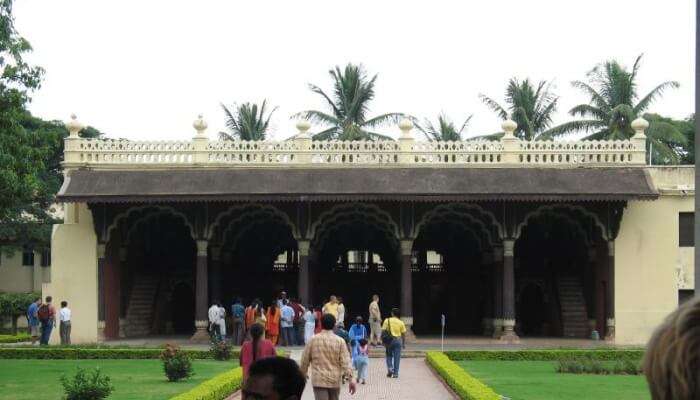 The Tipu Sultan's Summer Palace in Bangalore is a huge example of the Indo-Islamic architecture. As the name suggests, the palace was the summer residence of the Mysorean ruler Tipu Sultan. The palace is a part of the Bangalore fort and together they make some of the best places to visit in Bangalore. The two-storey palace is built entirely from teak. Carved archways and columns sit beautifully while the stone staircases complement them perfectly. The Durbar Hall is the prime attraction of the palace which is flanked by  4 other rooms.
Location: Tipu Sultan Palace Rd, Chamrajpet, Bengaluru, Karnataka 560018
Timings: 8:30 am – 5:30 pm 
Entry Ticket: INR 15 (Indians), INR 200 (Foreigners), INR 25 (camera)
27. Kowdiar Palace, Thiruvananthapuram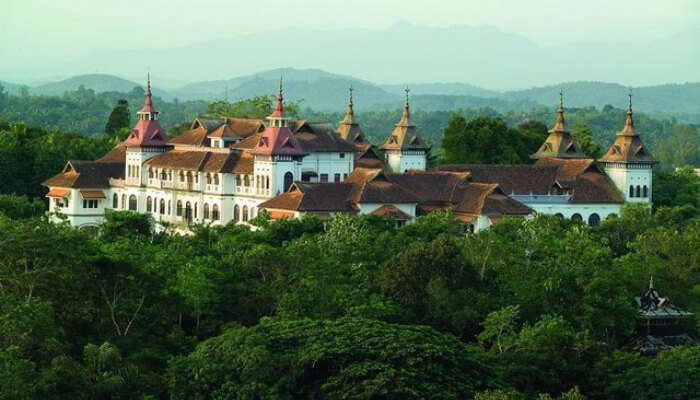 Image Credits: Manu Rocks for English Wikipedia
The Kowdiar Palace was built in the year 1934 by Maharajah Sree Chithira Thirunal Balarama Varma on the occasion of his sister's wedding. Quite simplistic but elegant, the palace is an architectural wonder with over 150 rooms spread across three-storey. The construction is largely made up of wood and follows the traditional Kerala architecture. Quite interestingly, the palace also has a wooden elevator. There are absolutely beautiful views of the Western Ghats close by. 
Location: Kowdiar Gardens, Kowdiar, Thiruvananthapuram, Kerala 695003 
Timings: 10 am – 4 pm
Entry Ticket: Free entry
28. Gajner Palace, Bikaner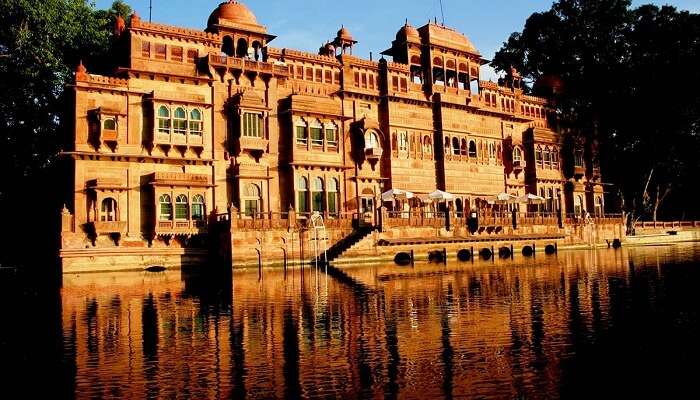 The Gajner Palace is one of the top places to visit in Bikaner and one of the best heritage hotels in India. Built completely of red sandstone, the palace is located in the humble abode of nature, with Gajner Lake and Gajner Wildlife Sanctuary, close by. There are plenty of opportunities to relax and rejuvenate within the premises with activities like nature walks, horse riding and cycling. The beautiful palace is a testament to luxury, royalty and heritage. 
Location: PBM Hospital Rd, PBM Hospital, Bikaner, Rajasthan 334001
Timings: 9 am – 8 pm
Entry Ticket: INR 100
29. Prag Mahal, Bhuj
The Prag Mahal is a marvel of Italian Gothic style of architecture located next to the popular Aina Mahal. Designed by Colonel Henry Saint Wilkins in the 1860s, Prag Mahal seems like a monument from France or western Europe. There is a bell tower located which you discover after climbing up stairs of 45 metre. The palace cost 3.1 million Indian rupees during its completion in 1879. Some of the main features of the palace include Corinthian pillars, decaying taxidermy in halls, a Durbar hall, and Jali work depicting European flora and fauna.
Location: Darbar Gadh Rd, Old Dhatia Falia, Bhuj, Gujarat 370001
Timings: 9 am – 12 pm, 3 pm – 6 pm
Entry Ticket: INR 20 
30. Mubarak Mandi Palace, Jammu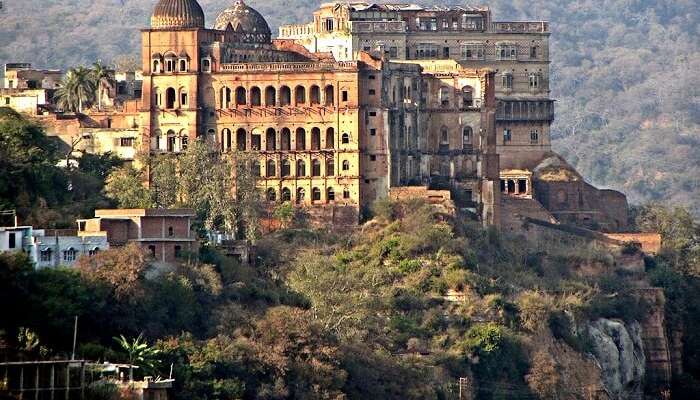 The Mubarak Mandi Palace is a grand building in Jammu showcasing the royal nature of the Dogra dynasty. The palace overlooks the Tawi river near the old-walled city. The palace has a rich history dating back to 1824 and a series of battles. Several rulers have added parts into the palace with architecture ranging from Rajasthan to European baroque and Mughal. You can expect several courtyards and buildings inside including the Rani Charak Palace, the Toshakhana palace, Darbar Hall Complex, Sheesh Mahal, Gol Ghar Complex, etc.
Location: Panjtirthi, Jammu, Jammu and Kashmir 180001
Timings: 10:30 am – 4:30 pm (Winters), 8:00 am – 1:30 pm (Summers), closed in Monday
Entry Ticket: INR 20 
31. Hawa Mahal, Jaipur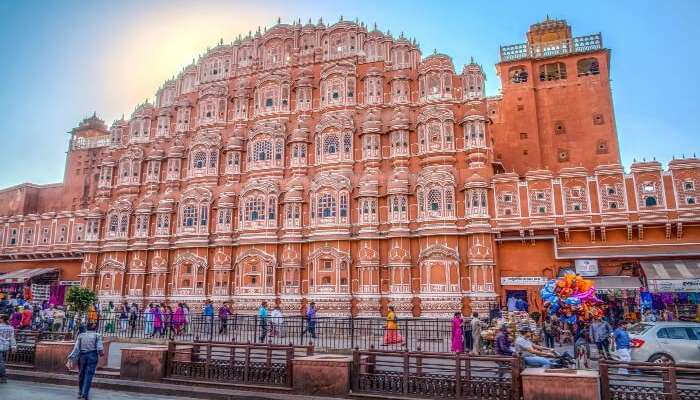 The grand heritage of Jaipur adds another dimension when we add Hawa Mahal to it. This historic building is one of the most-distinctive landmarks of the city. Extraordinarily painted in pink and honeycomb-like hives rise to 5 amazing storeys. The construction of the mahal was completed in 1799 by then and the most popular ruler of Jaipur, Maharaja Sawai Pratap Singh. The palace was built for the ladies of the royal family to witness the grandeur of the city.
Location: Hawa Mahal Rd, Badi Choupad, J.D.A. Market, Pink City, Jaipur, Rajasthan 302002
Timings: 9 am – 5 pm 
Entry Ticket: INR 50 ((Indians), INR 200 (Foreigners)
32. Taragarh Palace, Kangra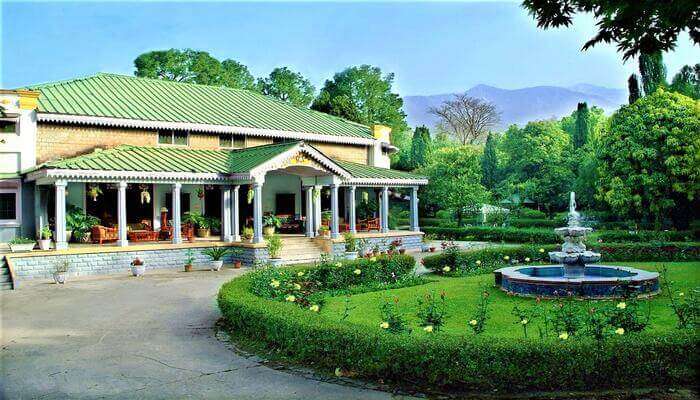 The Taragarh Palace is another heritage hotel in India set amidst the beautiful Kangra valley. You can observe the splendour and mighty Dhauladhar peaks from the palace. A haven for nature lovers, the palace is a perfect resort during the summers to enjoy the tranquility of nature. The palace is equipped with premium facilities including an imperial dining hall, a gift shop, a durbar hall and a patio overlooking the mountains. 
Location: Taragarh, Dist. Kangra, Dharamshala, Road, Palampur, Himachal Pradesh 176081
Timings: Open 24 hours
Tariff: INR 2600 per night
33. Leh Palace, Leh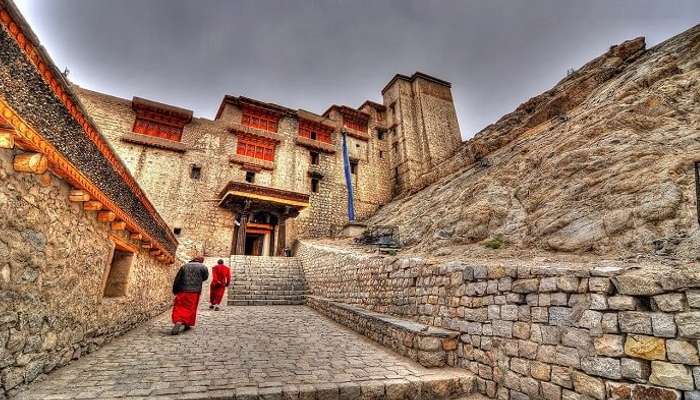 The Leh Palace, also known as Lhachen Palkhar is one of the most glorious attractions in Leh. The palace was one of the tallest structures with about 9 storeys in its earlier days. You won't be able to express your gratitude when you watch the views of the breathtaking Ladakh mountains and Stok Kangri from the top of the palace. The palace was built in 1553 by Tsewang Namgyal, the founder of Ladakh's Namgyal dynasty. The palace stands tall with the traditional medieval Tibetan style of architecture inspired from Lhasa nearby.
Location: Namgyal Hill, Leh, Jammu and Kashmir 194101
Timings: 7 am – 4 pm 
Entry Ticket: INR 15 ((Indians), INR 100 (Foreigners)
Further Read: 6 Cozy Hotels Near Nathdwara For A Comfortable Stay On Your Next Rajasthan Trip In 2020!
There are still many more spectacular palaces, some still owned by royalty or converted to museums. And though you can only make a day trip to them, these heritage properties allow you to experience the luxury that was once limited to the royal families. Share with us your own trips to these famous palaces in India. And if you want a hassle-free vacation to India then plan it with TravelTriangle and share you experience. 

Disclaimer: TravelTriangle claims no credit for images featured on our blog site unless otherwise noted. All visual content is copyrighted to its respectful owners. We try to link back to original sources whenever possible. If you own rights to any of the images and do not wish them to appear on TravelTriangle, please contact us and they will be promptly removed. We believe in providing proper attribution to the original author, artist or photographer.
Frequently Asked Questions About Famous Palaces In India
Q. How many palaces are there in India?
A. There are over 80 palaces in India spread across states like Assam, Rajasthan, Karnataka, Gujarat, Telangana, Kerala, West Bengal, and many others. Located usually in princely regions or those that were ruled by the Mughals, these palaces reflect the skilled masonry and architectural heritage of the country.
Q. Which city is called the City of Palaces in India?
A. Calcutta (Kolkata) is referred to as the City of Palaces in India owing to the numerous British Raj buildings and palaces this city has. After Calcutta, Mysore in Karnataka is known to have a huge number of palaces.
Q. Which is the biggest palace in India?
A. The Umaid Bhawan Palace in Jodhpur, Rajasthan is known to be the biggest palace of India. It is one of the largest private residences in the world.
Q. How many palaces are there in Jaipur?
A. There are various famous palaces in Rajasthan that travelers must visit. There are more than 10 popular palaces in Jaipur itself, the royal city of Rajasthan. Some of these are:
Amer Fort
Bissau Palace Hotel
City Palace
Diggi Palace
Hawa Mahal
Jal Mahal
The Raj Palace
Rambagh Palace
Sisodiya Rani Bagh
Samode Palace
Hari Mahal Palace
Rajmahal Palace
Q. Which is the oldest palace in India?
A. The Rambagh Palace in Rajasthan is known to be the oldest palace in India. It serves as a living legend in the city of Jaipur and it was previously the home of the royal family of Jaipur for more than 30 years. The Rambagh Palace was built in the year 1835 and was later converted into an upscale palace hotel in 1957.
Q. Which is the biggest fort in India?
A. Chittorgarh Fort is the biggest fort in India and also the grandest. It is located in the Indian state of Rajasthan and is tucked on the left bank of the Berach river that flows through this state. Other big forts in India include the Mehrangarh Fort in Jodhpur, Red Fort, Bhujia Fort, Gwalior Fort, Bidar Fort, and Orchha Fort.
Comments
comments