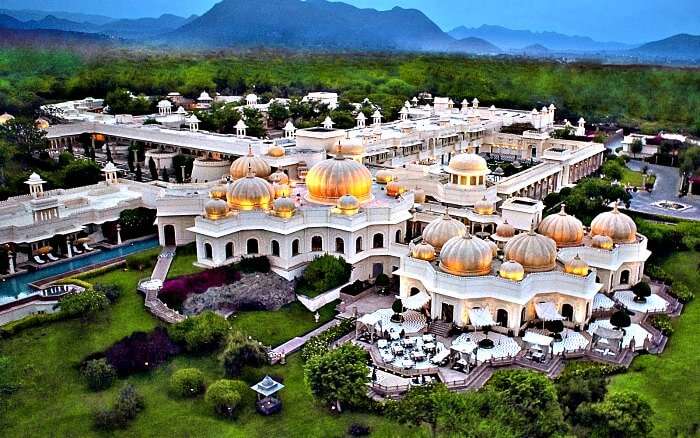 With its rich royal history complete with Kings, Queens, Nizams and Lords, there is no dearth of magnificent palaces in India. These lavish residences, with many of them being converted to hotels are a unique way of experiencing the fascinating heritage of the country.
Have a look at the list of famous palaces in India that would give Buckingham palace a run for its money.
1. Udaivilas Palace, Udaipur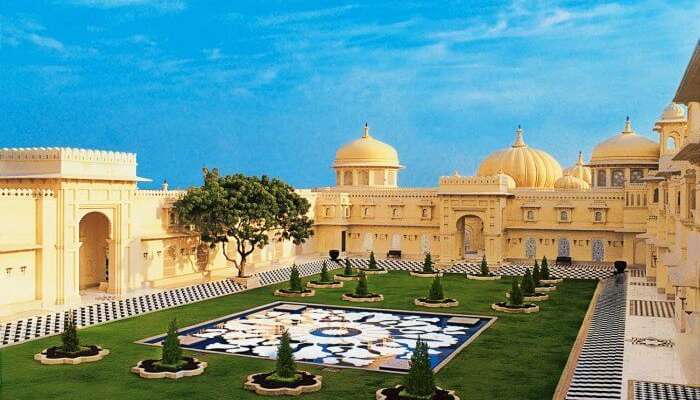 Located in Udaipur, the city of palaces in India and nestled in idyllic splendour, with the blue waters of Lake Pichola on one side and against the backdrop of the Aravalli Hills, the Udaivilas Palace is the embodiment of the old world charm of princely India. Every room has generous garden space with a patio, and some have a semi private, infinity-edge pool. This pool actually stretches along a bank of rooms, making it possible to swim from one room to another.
Tariff: INR 25000 per night
Must Read: 12 Luxurious Hotels In India That WILL MAKE YOU SELL YOUR KIDNEY!
---
Looking To Book A Holiday Package?
Book memorable holidays on TravelTriangle with 650+ verified travel agents for 65+ domestic and international destinations.
---
2. Rambagh Palace Hotel, Jaipur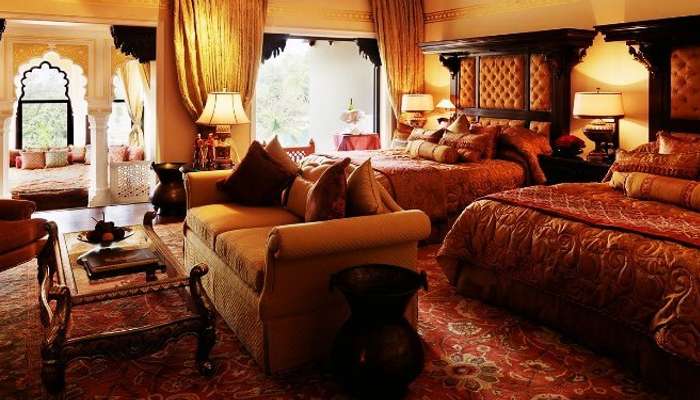 Rambagh Palace is a living legend in Jaipur and was home to the royal family for over 30 years. Built in 1835, it was first converted into an upscale palace hotel in India in 1957. It's elegantly appointed rooms, marbled corridors and majestic gardens echo with history. For an extravagant experience, request the Peacock suite, which overlooks the Mughal Terrace and the garden where the Maharaja used to celebrate Holi.
Tariff: INR 28000 per night
3. Raj Palace, Jaipur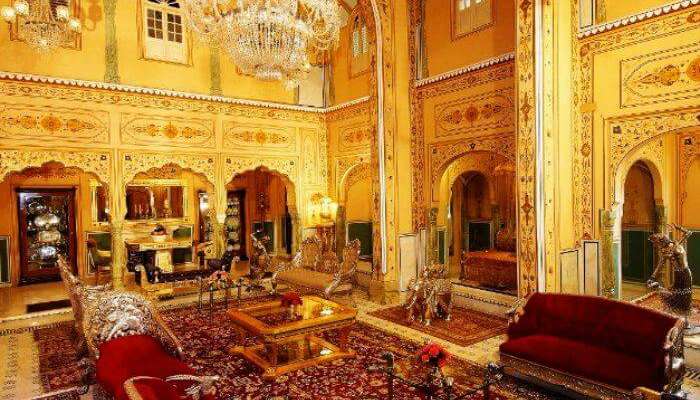 The charming Raj Palace Hotel was built in 1727 and is Jaipur's oldest mansion. A perfect example of old world charm with Royal architecture, gardens and beautiful courtyard, its breathtaking Durbar Mahal Suite was used by the Maharaja himself. The Swapna Mahal Restaurant here has been richly decorated with real gold leaf work, a majestic rare crystal chandelier and a crockery museum housing centuries old collections.
Tariff: INR 14000 per night
Must Read: 6 Incredible Indian Destinations under 20k you need to explore this year!
4. Devi Garh, Udaipur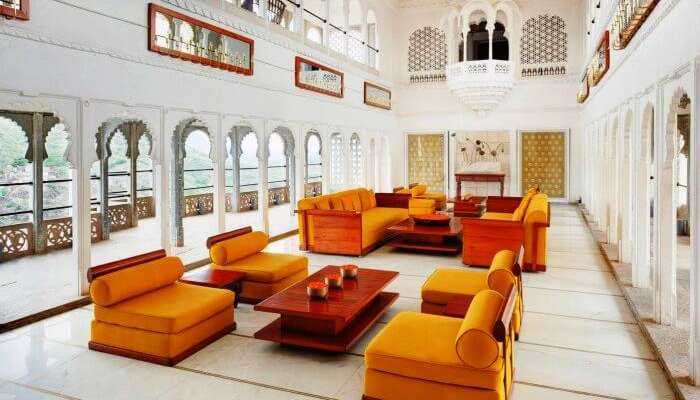 Nestled in the Aravali hills the Devigarh palace was royal residence for rulers of the Delwara until the 20th century. Today the palace hotel boasts of opulent suites decorated with semi-precious stones, local marbles and a black marble swimming pool. Despite the new facilities, the palace has managed to hold on to the old-world charm, making the stay there a fascinating experience.
Tariff: INR 15500 per night
5. Laxmi Niwas Palace, Bikaner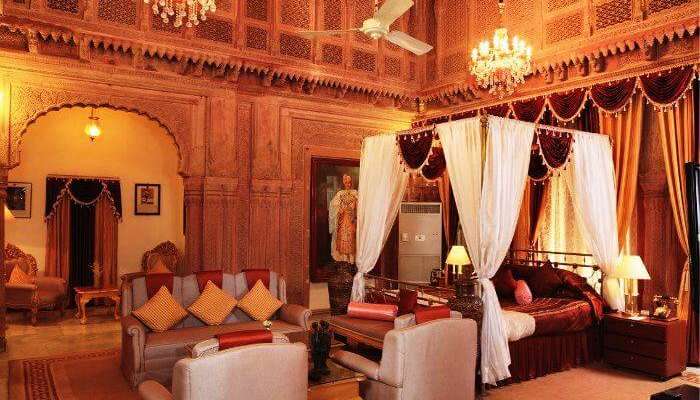 Built in 1904, Laxmi Nivas Palace in Bikaner catered exclusively to princelings, select statesman and architects of history. It is considered to be one of the most royal palaces in India. Gaze at hand-painted friezes and gold-laden walls. Examine up close the inspiration behind Lutyens' and Baker's architectural style.
Tariff: INR 8,999 per night
---
Planning your holiday but confused about where to go? These travel stories help you find your best trip ever!
Real travel stories. Real stays. Handy tips to help you make the right choice.
---
6. Wildflower Hall, Shimla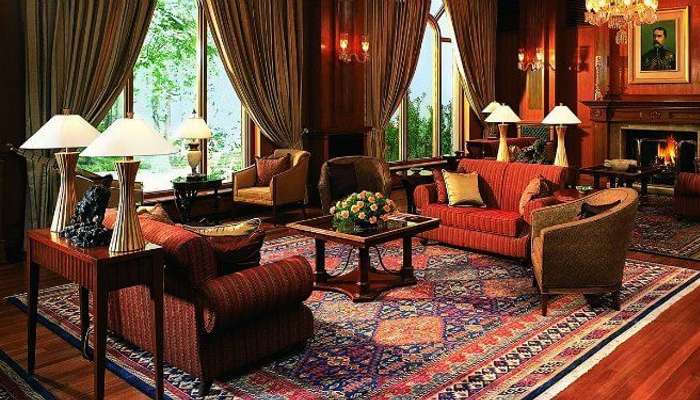 Once home to the Lord Kitchener during the rule of the British Raj, Wildflower Hall recreates the grand style of the colonial era in the Himalayas. Filled with original artwork and wood paneling the hotel creates an aura of old world charm and provides a panoramic views of snow covered peaks.
Tariff: INR 22000 per night
Must Read: 10 Best Places To Visit In Shimla To Relax And Unwind
7. Jai Mahal Palace, Jaipur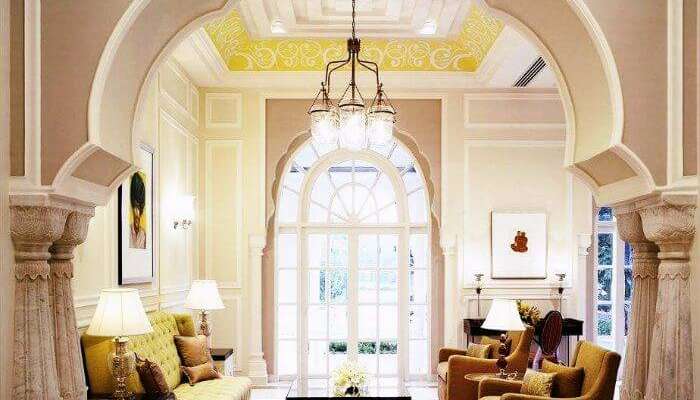 Amongst the many famous palaces in India, set amidst 18 acres of beautifully landscaped Moghul gardens, this incomparable palace dates back to 1745 A.D. A masterpiece in the Indo Saracenic style of architecture, it blends spotlight-grabbing opulence with tantalising comforts that transport guests to a world of Rajasthan magnificence.
Tariff: INR 12,600 per night
8. Umaid Bhawan Palace, Jodhpur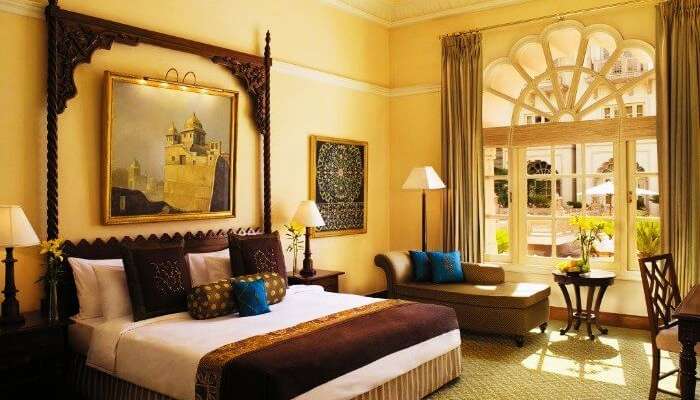 This grand and imposing yellow sandstone palace was completed in 1944 after 15 years in the making and was one of the last great palaces to be built in India. Its majestic 105 – foot high cupola is influenced by the Renaissance, while the towers draw inspiration from Rajput tradition. Built over 26 acres of land it is one of the largest private residence with 347 rooms.
Tariff: INR 30000 per night
9. Fernhills Royal Palace, Ooty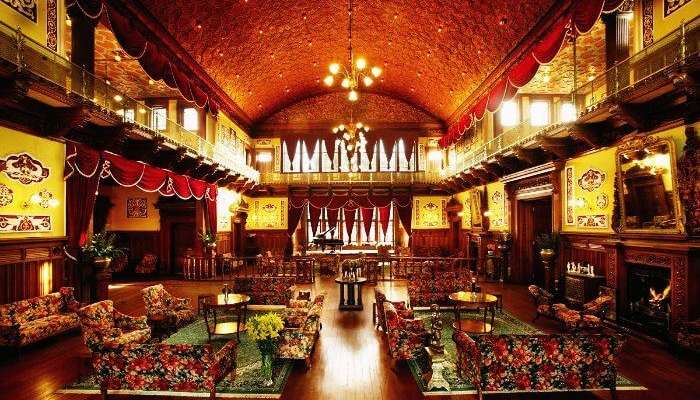 Ferrnhills Royale Palace was Built in 1844 as a summer Palace of the Mysore Maharajas. Bought by a 12 year old prince for a sum of INR 10,000/-in 1873, the palace has been with the Wadiyar dynasty ever since. The Palace is superbly finished with Burmese teak, features a magnificent ballroom with a highly valued ornamental papiermache ceiling.
Tariff: INR 11,000 per night
Must Read: 19 Photos That Will Make You Want To Leave For Himachal NOW!
10. Taj Lake Palace, Udaipur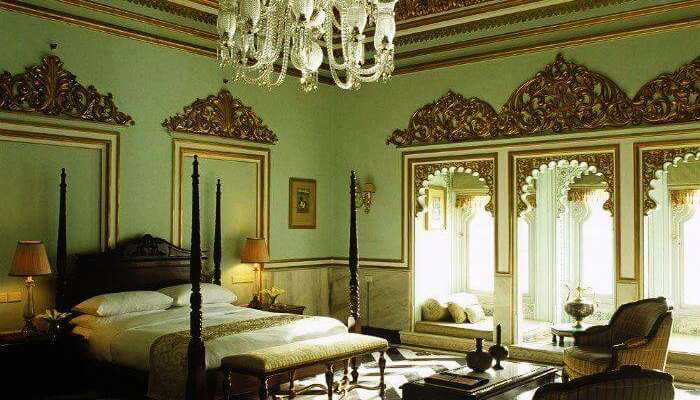 The list of palaces of India is incomplete without the mention of the Taj Lake Palace in Udaipur. Built between 1743-1746 as a royal summer palace, this ultra-luxe white marble hotel has been voted as the most romantic hotel in India and in the world. The 'Royal Butlers' working in the hotel today are descendants of the original palace retainers – who served the maharajas in their time.
Tariff: INR 20,079 per night
Must Read: 7 Dreamy Taj hotels in India
11. Samode Palace, Jaipur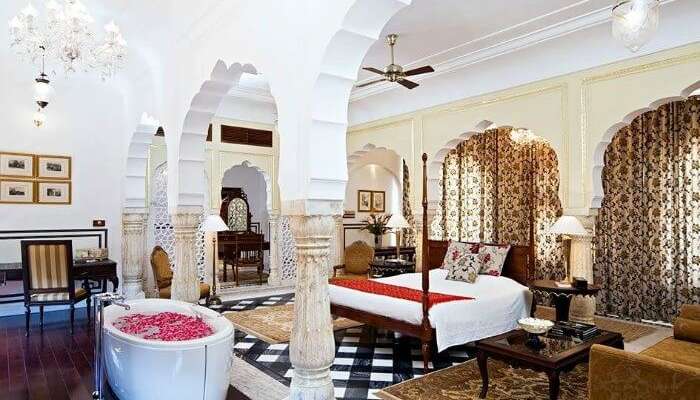 The 475 year old Samode Palace, another magnificent palace in India, is famous for its courtyards, hand-painted walls, silver armchairs, chandeliers and lounges that boast exquisite mirror work. Wander through the Sheesh Mahal, a series of mirror-tiled and mural-lined rooms, each more breath-snatching than the last. Once a royal reception space, it's now used for chichi cocktail sessions.
Tariff: INR 6300 per night
12. Taj Falaknuma Palace, Hyderabad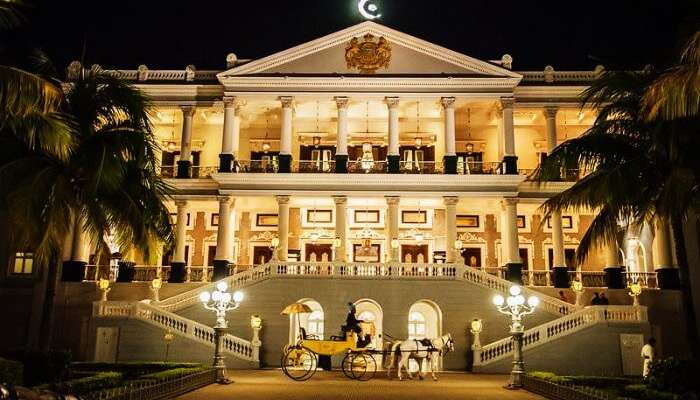 Previously the residence of the Nizam of Hyderabad, Taj Falaknuma Palace sits on a hill 2,000 feet above overlooking Hyderabad and is lauded as one of the most beautiful palaces in India. Entirely built of Italian marble, the incomparable Palace boasts of large Venetian chandeliers, rare furniture, grand marble staircases, priceless statues and art works, a world-class collection of crystals and Mughal, Rajasthani and Japanese gardens personally conceived by the Nizam.
Tariff: INR 30000 per night
Must Read: 26 Reasons Why I Would Rather Be From Hyderabad Than Anywhere Else
13. Deogarh Mahal, Rajasthan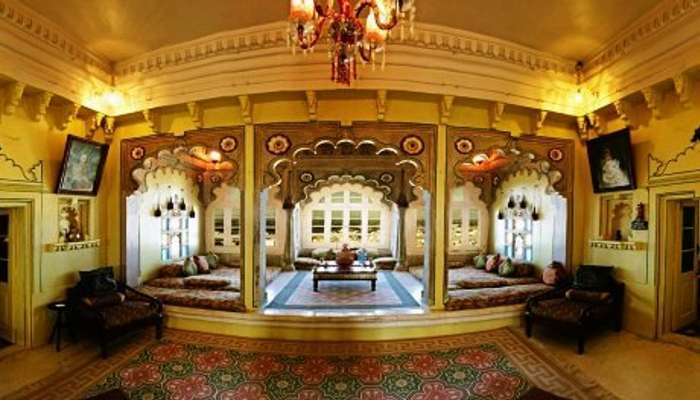 Partially occupied by the family of the Rawat Nahar Singh, this sun-coloured fort in the Aravali hills, poised between Jodhpur and Udaipur. The Mahal is an exceptional work of architectural magnificence, complete with graying battlements, domes, gun enclosures, jharokhas and gigantic entrances.
Tariff: INR 8,531 per night
There are still many more spectacular palaces, some still owned by royalty or converted to museums. And though you can only make a day trip to them, these heritage properties allow you to experience the luxury that was once limited to the royal families. Share with us your own trips to these breathtaking mansions when you were nothing less than a king or a queen. We are waiting!
Further Read: 10 Real World Destinations That All Disney Lovers Must Travel To
Frequently Asked Questions About The Famous Palaces In India
Q. How many palaces are there in India?
A. There are over 80 palaces in India spread across states like Assam, Rajasthan, Karnataka, Gujarat, Telangana, Kerala, West Bengal, and many others. Located usually in princely regions or those that were ruled by the Mughals, these palaces reflect the skilled masonry and architectural heritage of the country.
Q. Which city is called the City of Palaces in India?
A. Calcutta (Kolkata) is referred to as the City of Palaces in India owing to the numerous British Raj buildings and palaces this city has. After Calcutta, Mysore in Karnataka is known to have a huge number of palaces.
Q. Which is the biggest palace in India?
A. The Umaid Bhawan Palace in Jodhpur, Rajasthan is known to be the biggest palace of India. It is one of the largest private residences in the world.
Q. How many palaces are there in Jaipur?
A. There are various famous palaces in Rajasthan that travelers must visit. There are more than 10 popular palaces in Jaipur itself, the royal city of Rajasthan. Some of these are:
Amer Fort
Bissau Palace Hotel
City Palace
Diggi Palace
Hawa Mahal
Jal Mahal
The Raj Palace
Rambagh Palace
Sisodiya Rani Bagh
Samode Palace
Hari Mahal Palace
Rajmahal Palace
Q. Which is the oldest palace in India?
A. The Rambagh Palace in Rajasthan is known to be the oldest palace in India. It serves as a living legend in the city of Jaipur and it was previously the home of the royal family of Jaipur for more than 30 years. The Rambagh Palace was built in the year 1835 and was later converted into an upscale palace hotel in 1957.
Q. Which is the biggest fort in India?
A. Chittorgarh Fort is the biggest fort in India and also the grandest. It is located in the Indian state of Rajasthan and is tucked on the left bank of the Berach river that flows through this state. Other big forts in India include the Mehrangarh Fort in Jodhpur, Red Fort, Bhujia Fort, Gwalior Fort, Bidar Fort, and Orchha Fort.
Comments
comments