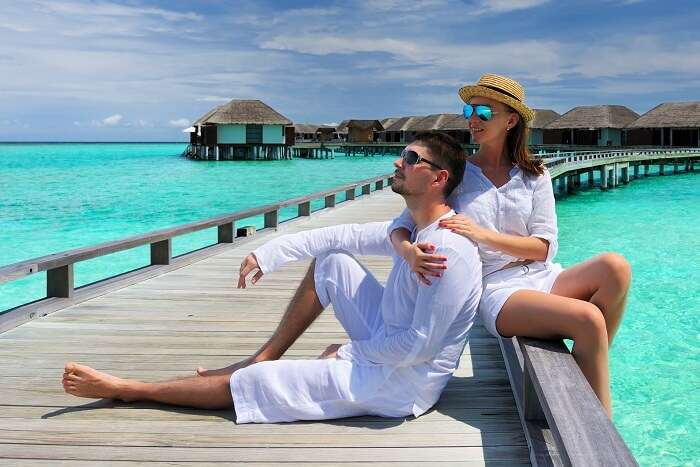 Maldives, a destination consisting of 26 oval-shaped atolls & over 1,000 coral islands, has established a reputation for itself as one of the exotic honeymoon destinations and for a good reason. The destination has a large number of privately owned artificial resort islands, created especially to cater to those looking for a romantic vacation. And the newlyweds across the globe seek one or more of the best islands in Maldives for honeymoon. Though Maldives is not as big in size as them other honeymoon destinations in Asia, it never disappoints the hopeless romantics. And the credit goes to its stunning white-sand beaches, turquoise lagoons, beautiful corals, and chic overwater villas.
Malé Island
Hulhumalé Island
Biyadhoo Island
Fihalhohi Island
Maafushi Island
Alimatha Island
Veligandu Island
Nalaguraidhoo Island
Vaadhoo Island
Villingili Resort Island
Milaidhoo
Kuredu
Mirihi
Olhuveli
Baros
The Best Islands In Maldives For Honeymoon
There are many islands in the country that offer unique romantic experiences. However, we have prepared a list of 15 best islands to visit in Maldives for honeymoon. Have a look!
1. Mal- Island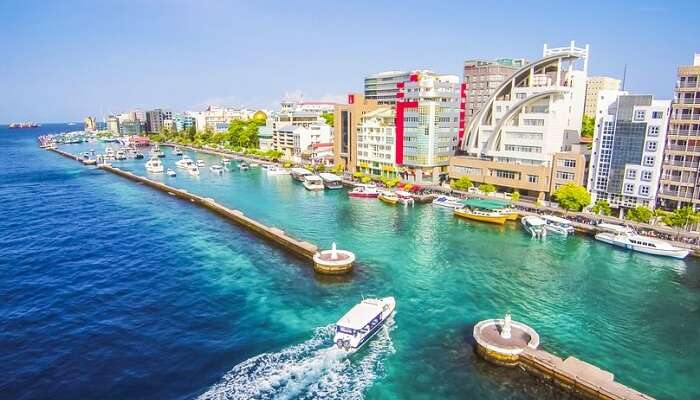 Mal- is the best island in Maldives for luxury-seeker honeymoon couples. It is on this island that the major international airport of Maldives is located and you should ideally visit this island at the very beginning or the end of your honeymoon in Maldives. Though it is often dismissed as a destination with little sightseeing options, it must not be missed. For it is here that you experience the true Maldivian culture.
Major attractions at Mal-: Grand Friday Mosque, Mal- Fish Market, Mal-s National Museum, Tsunami Monument, and Sultan Mosque
Whats romantic: Take a dip in Male's protected ocean pool called the Artificial Beach, enjoy a seaside lunch, indulge in snorkeling & underwater scooter riding, and take island hopping trips to nearby islands.
---
Maldives Honeymoon Packages On TravelTriangle
Romance on paradise island of Maldives. Go on a snorkeling trip, visit the coral islands, go fishing, or explore the sandy beaches. Honeymoon packages at best rates. Get customized honeymoon deals from expert agents on TravelTriangle. Book Now!
---
2. Hulhumal- Island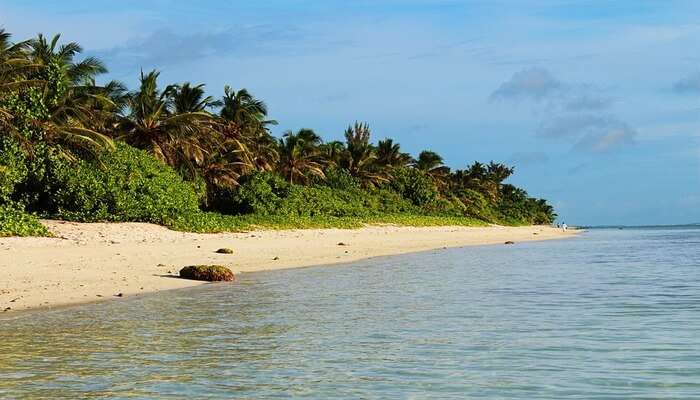 Located very close to Maldivian capital, Hulhumal- is a reclaimed artificial island that was planned in order to decongest the population of Mal-. It might not be the most beautiful settlement, but its pretty coastline and lack of tourists makes it a decent option for a honeymoon in Maldives.
Whats romantic: The very fact that it is a less frequented destination makes is one of the best islands to visit in Maldives for honeymoon.
Suggested Read: 30 Most Romantic International Honeymoon Destinations Of 2019 For Every Budget
3. Biyadhoo Island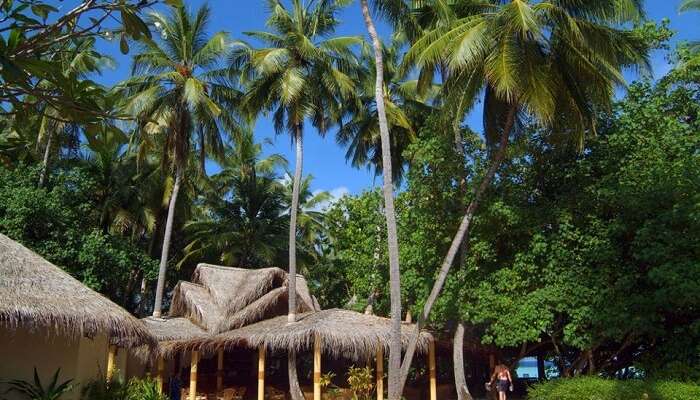 Stationed in the South Mal- Atoll, Biyadhoo is one of the famous islands in Maldives for honeymoon for couples planning a serene honeymoon. It has an abundance of vegetation growth; including bananas, coconuts, mangoes, cucumbers, cabbage, and tomatoes. However, its sparkling waters and a wide range of watersports are what makes the island so popular.
Whats romantic: Couples can go for snorkeling, scuba diving, and canoe-paddling, which makes it one of the best island in Maldives for couples.
4. Fihalhohi Island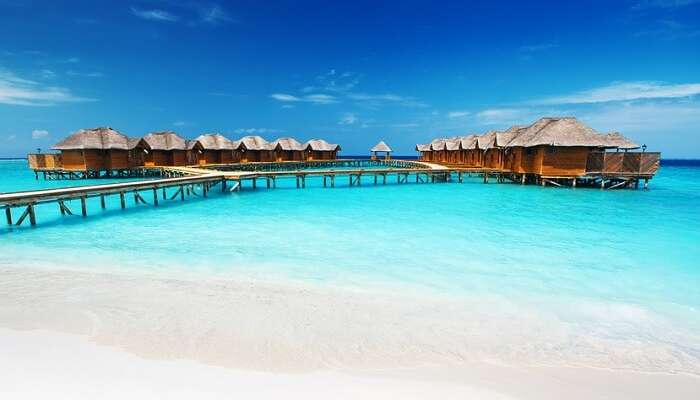 Situated in the Kaafu Atoll of South Mal-, is among the most beautiful places to visit in Maldives for the honeymooners. The Fihalhohi Island Resort here is, in fact, is one of the most romantic Maldives island resorts that has a number of overwater bungalows to stay in.
Whats romantic: In addition to its well-equipped overwater properties, its Palm Groove, Aeolus Dive Centre, and Anggerik Spa make the Fihalhohi Island Resort a splendid stay option. And the pristine beaches on the island that shaded by coconut palm trees are truly romantic.
5. Maafushi Island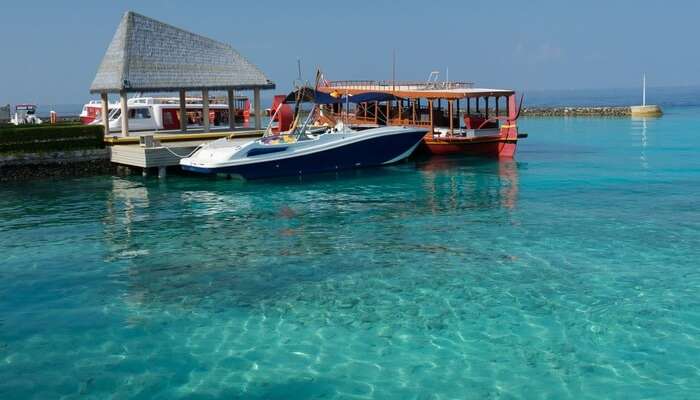 Another tropical paradise in the Kaafu Atoll of South Mal- is the Maafushi Island. Thanks to its sparkling ocean waters, splendid resorts, and thrilling activities, the island ranks among the best islands to visit in Maldives for honeymoon.
Whats romantic: Couples can go for snorkeling & catamaran rides, sunbathe on the sand bar in the north, and take an island hopping tour on boat.
Suggested Read: 10 Romantic Things To Do In Maldives On Your Dream Honeymoon
6. Alimatha Island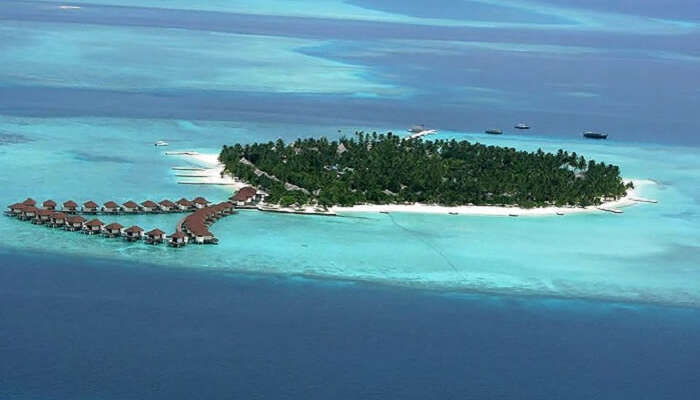 Alimatha Island sits on the eastern edge of Maldives in the Vaavu Atoll. Its crystal clear waters, sun-kissed beaches, aquamarine lagoons, and spa centers make it one of the best honeymoon islands in Maldives. The Alimatha Aquatic Resort on the island offers exquisite stay options in the form of beach bungalows and overwaters properties, in addition to the wide array of watersports.
Whats romantic: Couples can enjoy massage & spa sessions at Ayurvedic massage centers & spas, try snorkeling & scuba-diving, or go on boat trips on the azure waters.
Suggested Read: 10 Exciting Water Sports In Maldives For Your Adrenaline Fix
---
Planning your honeymoon in Maldives but confused about what to do? These Maldives honeymoon stories help you find your best honeymoon trip ever!
Real honeymooners. Real stays. Real opinions to help you make the right choice.
---
7. Veligandu Island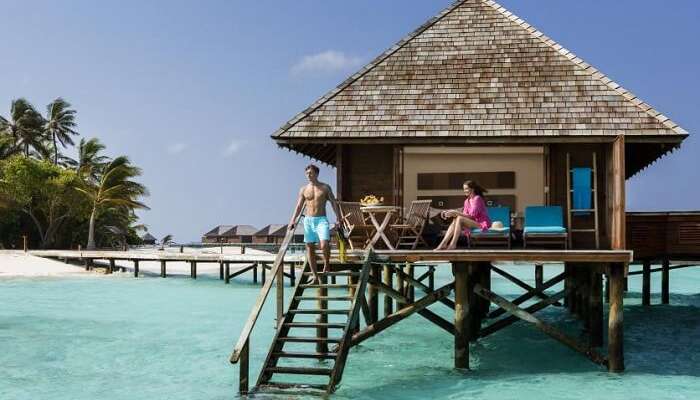 Another important name in the list of the best islands in Maldives for honeymoon is of the Veligandu Island. Located in North Ari Atoll, it is replete with greenery and shimmering waters that add a serene aura to the romantic destination.
Whats romantic: Couples can go for scuba-diving & snorkeling at the astonishingly beautiful lagoons here, savor delicious seafood on fishing village tours, and rejuvenate at the Duniye Spa of Veligandu Island Resort.
Suggested Read: 11 Spellbinding Water Villas in Maldives For A Calming Vacation
8. Nalaguraidhoo Island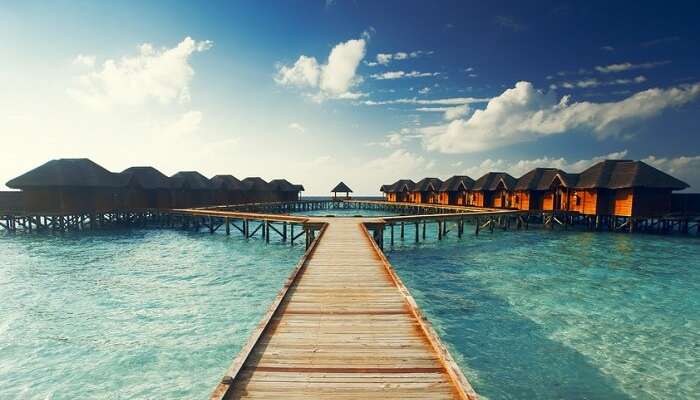 Nalaguraidhoo Island is the prime attraction of the South Ari Atoll in the Maldives. The island is known for its picturesque setting and natural beauty. And the Sun Island Resort & Spa on the island ensures a romantic stay for the honeymooners.
Whats romantic: Adorned with stunning beaches, charming blue waters, beautiful flowers, and lush greenery; the island serves as a perfect escape for the honeymooners.
Suggested Read: 10 Best Resorts in Maldives For Honeymoon
9. Vaadhoo Island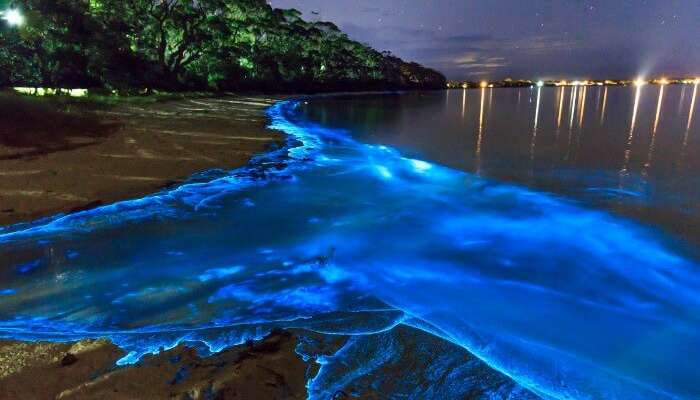 An inhabited island in Raa Atoll of Maldives, Vaadhoo promises some unique experiences to the honeymooners. The bioluminescence observed in the waters surrounding the island at night is no less than a mystical surprise for the visitors.
Whats romantic: Witness the Sea of Stars at night or simply relax on the beaches.
Suggested Read: 20 Best Beaches In Maldives For Your Honeymooning Mood!
10. Villingili Resort Island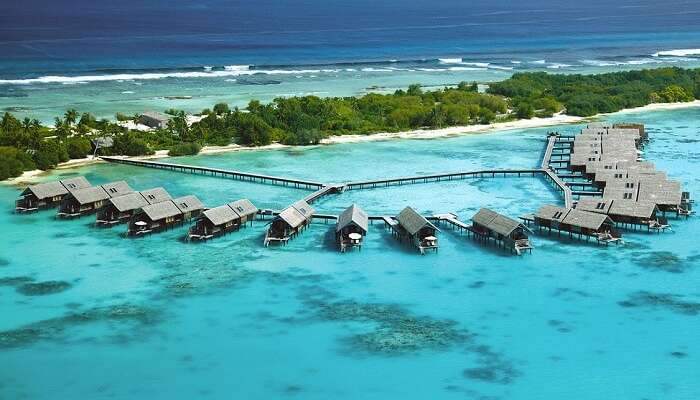 The Shangri-Las Villingili Resort Island & Spa is the best island to stay in Maldives for honeymoon. Located in the Addu Atoll, the resort offers luxurious villas, white sandy beaches, infinity pool, and spa.
Whats romantic: Couples can indulge in tranquility of CHI: The Spa, hike through the tropical forest, relax on the sandy beaches, and head on an oceanic adventure by trying the various water sports.
Suggested Read: Maldives In December 2018: A Guide To Explore This Tropical Paradise, The Way You Want To!
11. Milaidhoo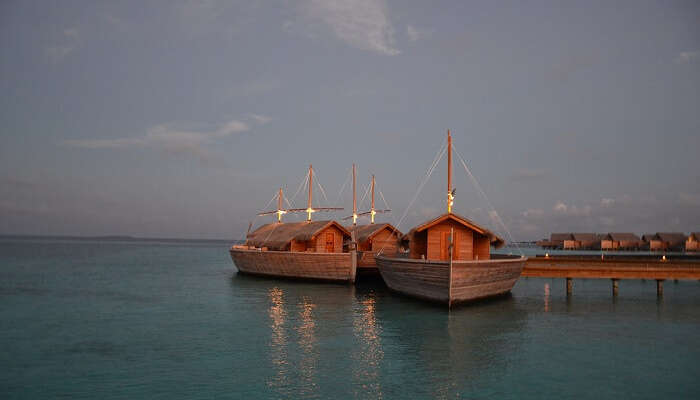 Hidden in the heart of UNESCO biosphere reserve, Milaidhoo is a tropical island with abundant greenery and picturesque views. The turquoise blue water here could not be more crystal clear and the sand on the beaches couldnt be more white. For couples who seek peace, privacy, and adventure there couldnt be a best pick from the bucket of Maldives Islands.
Whats romantic: For adventure loving couple, the island has outstanding snorkeling and diving sites.
Suggested Read: 10 Pristine Places To Visit In Maldives
12. Kuredu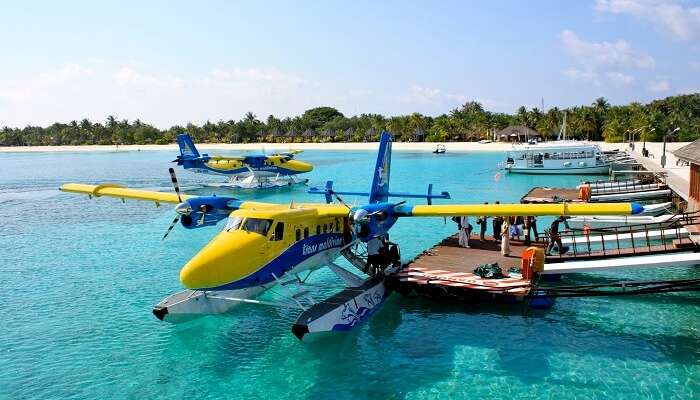 Kuredu Islands is the home of one of the top rated and popular resort where a couple can relax overlooking the mesmerizing views of the ocean. The resort has a private swimming pool which merges straight into the ocean. Have a romantic meal on the edge of the ocean while you enjoy the sun setting into the ocean. The aircraft ride over the island will make you drop your jay in amazement and admiration.
Whats romantic: Dine at the underwater restaurant in Kuredu which is appealing in each and every sense.
13. Mirihi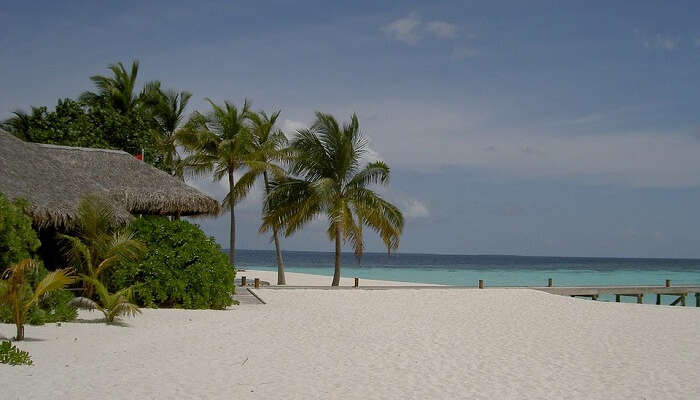 One of the smallest islands of Maldives, Mirihi is your tropical retreat. If you and your partner want to have nothing but a laid-back vacation, then hop onto this island. Even though it is a small island, there is so much to do here.
Whats romantic: Take your boat to the point where you can spot sharks. Even if you dont spot any, you will have a few private moments of romance in the middle of nowhere in the ocean.
 Suggested Read: Honeymoon In San Francisco: Begin Your Journey With Your Beloved In San Francisco!
14. Olhuveli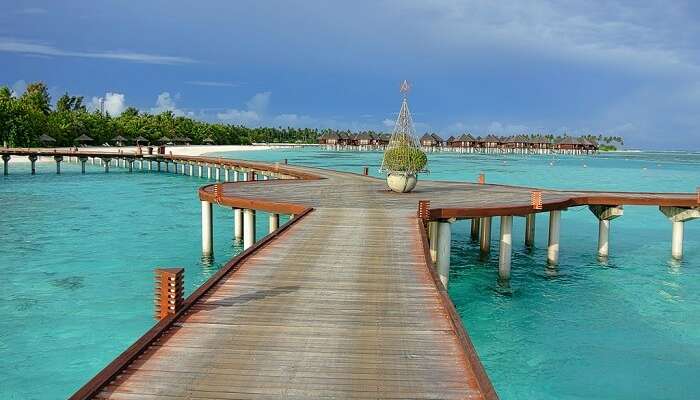 If you wish time to stand still while you and your partner share romantic moments on your honeymoon, come to Olhuveli. One of the pristine and uninhabited islands of Maldives, the white sandy beaches of Olhuveli are meant to put your feet up, sit back and relax as you look over the endless views of the ocean.
Whats romantic: Get all the quietude you seek at Olhuveli because the only sound you will be listening here is that of swishing waves.
15. Baros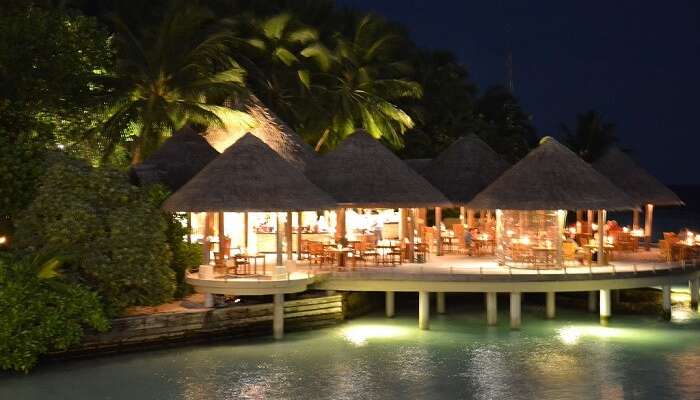 Let your hair down at Baros, one of the most picturesque Maldives island and have your share of sun and fun on the sandy beaches. Explore a myriad of attractions on the island and have fun snorkeling in the azure waters. Spend a romantic vacation at the water pool villas at Baros which are also the star-attraction of the island.
Whats romantic: Take your spouse on a romantic dinner date at one of the fine-dining restaurants on the island.
Further Read: Here's What Nisarg Has To Say About His Honeymoon In Maldives
Have you made your choice for the best islands you can add to your itinerary when planning a vacay in Maldives with your loved one? Each of the best islands in Maldives for honeymoon listed above will make you never want to leave this place. So, don't forget to add most of them in your travel plan!
Frequently Asked Questions About Maldives Islands For Honeymoon
Q. What is the best honeymoon resort in the Maldives?
A. Some of the most romantic and luxurious honeymoon resorts in Maldives are:
1. Bandos Maldives
2. W Maldives
3. Meeru Island Resort & Spa
4. Kuredu Island Resort & Spa
5. Kanuhura – Maldives
6. Veligandu Island Resort & Spa
7. Banyan Tree Vabbinfaru
Q. Which is the best Maldives island for a vacation?
A. Some of the most gorgeous and peaceful pocket-friendly islands in the Maldives for a vacation are:
1. Hulhumalé
2. Nalaguraidhoo
3. Komandoo
4. Kuramathi
5. Moofushi
6. Biyadhoo
Q. How much does a honeymoon in Maldives cost?
A. A honeymoon in the Maldives won't cost more than 50,000-60,000 per person if you are planning for a 4-5 day long honeymoon. Therefore, keeping a budget of 2-2.25 lakh will totally do.
Q. Is Maldives good for a honeymoon?
A. Yes, Maldives is a great honeymoon destination known for its surreal white sand beaches and luxurious resorts. The exciting underwater world here gives one a chance to indulge in enthralling water activities.
Q. What can I do on a honeymoon in Maldives?
A. Some of the best things to do on a honeymoon in the Maldives are:
1. Island Hopping
2. Couples Massage
3. Underwater Dining
4. Luxury Cruising
Q. What can I buy in Maldives?
A. If you are looking for souvenirs to get back home, then buy the miniature versions of the Maldivian sail boats in the Maldives.
Q. Is Passport required for Maldives?
A. Yes, one needs a passport to travel to the Maldives, and one can obtain a visa on arrival once they reach there.
Q. Is Indian currency accepted in Maldives?
A. No, Indian currency is not accepted in the Maldives. The currency in use here is Maldivian Rufiyaa which one can exchange for USD.
People also read:
Secluded islands in Singapore Honeymoon trip to Mauritius Private islands for honeymoon
Comments
comments