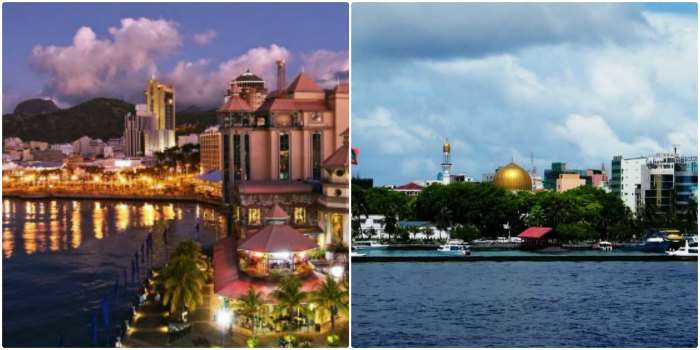 Stunning white-sand beaches and the turquoise waters of the Indian ocean are some of the similarities between Mauritius and Maldives. But the two could not be more different in terms of experience and what they have to offer. Mauritius Vs Maldives for holiday, wondering where to go?
Most people confuse Mauritius and Maldives in terms of experience but there is a huge difference. Even though there is no comparison between two, people still find themselves at loggerheads when choosing a holiday destination between the two. Maldives, with a far more closed economy, has lesser attractions for tourists but more than compensates for it with extreme natural beauty.  Mauritius, on the other hand, provides a great combo of beauty and culture. So, if you're stuck in the 'Mauritius or Maldives' battle, here's your Maldives vs Mauritius for honeymoon guide to help you find your perfect abode. Let's take a quick peek and compare Maldives and Mauritius. Maldives or Mauritius which is better?
Underwater Attractions: Ship-Wrecks Vs Sharks
While knowing about Mauritius Vs Maldives for holiday, there are many tourist attractions to explore in both Mauritius as well as Maldives, knowing what to expect in these tropical paradises, will help you have a soothing holiday! Scroll down to know more!
Mauritius

If your question is "is Mauritius a good honeymoon destination?", then the answer is right here. Mauritius marine life is a spectacle of 18th century ship wrecks and a few recent ones that have created beautiful artificial reefs. It is home to many sponges, sea anemones, Damselfis, Trumpet, Boxfish and Mauritian scorpions. If your'e a couple who enjoy being in water and exploring the underwater-world, then it certainly is a perfect honeymoon place for you.
Underwater Attractions In Mauritius:
Underwater Waterfall – Located on the southwest off Le Morne is a fascinating optical illusion. The sand and silt run off in a manner that it seems like a waterfall is pouring down under the currents, forming a dramatic image.
L'Orient – A shipwreck that is in reach of only professional divers. Originally the ship was supposed to be placed 30 mts deep but the cyclone shifted this fishing boat further to 40 mts. Now, it's extremely rich is sea-life and is a favorite among divers.
Tian Xiang – This is a shipwreck that happened recently in 2014. Being the biggest and deepest shipwreck in Mauritius, Tian Xiang is only for those to explore who are done with their deep and wreck diver courses!
Marine Wildlife – Some of the most unique and attractive marine life is found under the waters of Mauritius. Some common sights are Spotfin porcupinefish, giant moray-eel, yellow-edged lyretail, crown squirrelfish, and sting ray.
Start Planning Your Romantic Getaway to Mauritius.
Must Read: 33 Things To Do On Mauritius Honeymoon For A Ultra-Romantic Affair
Maldives

Image Source
Is Maldives better than Mauritius? This group of islands offers some of the best diving and snorkelling opportunities in the world. Baby sharks, huge coral walls, caves, schools of tropical fish, manta rays, turtles, and the world's largest fish, the whale shark. And none are dangerous.
Underwater Attractions In Maldives:
Ithaa Undersea Restaurant – A part of the Conrad Rangali Island Maldives resort, this undersea restaurant is a marvelous underwater glass structure that leaves spectators in awe.
Maldives Viceroy – Sitting in North Male Atoll, this Singapore cargo ship slammed into the sea in 1981 and now, is a crowd pleaser amidst divers. From corals to fishes, it has become a home to many.
Kuda Giri – Another one of the shipwrecks, this one is found in the South Male Atoll. The ship is full of stony staghorn and stunning corals which is truly a sight to behold.
Marine Wildlife – The wildlife of Maldives is certainly breathtakingly beautiful. Mammoth whale sharks, colorful reef fish, turtles, rays, dolphins, octopus, squid, and milkfish are common sights when diving.
Start Planning Your Romantic Getaway to Maldives.
Activities: Abundant Vs Relaxed
For enjoying to the fullest, trying all there is to these scenic places is surely a must! So, why not know certain things beforehand to be prepared for what shall follow! No matter what you decide – Mauritius vs Maldives!
Mauritius

Image Source
Mauritius has heavily promoted attractions, including undersea walks, semi-submarine rides, SSR Botanical Garden, Le Morne Cultural Landscape, Black River Gorges National Park, Crocodile & Giant Tortoises Park and Nature Reserve. There would be no shortage of activities to indulge into if you get bored of sun-bathing.
Activities In Mauritius:
Water Sports – Mauritius is nothing less than heaven on earth for all the water babies. There is no dearth of water sports that one can be a part of in Mauritius such as snorkeling in Mauritius, scuba diving, kitesurfing, parasailing in Mauritius, water skiing, and more.
Adventure Sports – If one is not a water baby but still seeks thrill, Mauritius is a destination that covers it all. One can engage in various trekking and hiking escapades when in this destination. Black River Gorges National Park and Trou aux Cerfs are two of the best ones.
Cave Sea Kayaking – One of the most exciting activities waiting in Mauritius is cave sea kayaking that allows one to explore the mysterious and intriguing caves on various islands!
Deep Sea Fishing – Deep sea fishing happens to be one of the famous activities of Mauritius. Just like the locals, get a chance to be a part of something cultural and catch those big fishes in the sea!
Suggested Read: Mauritius Vs Bali: Where Would You Like To Go On Your Next Vacay?
Maldives

Image Source
Maldives is not a destination with a variety of attractions and more for the relaxed traveler. Take a ride on dhoni, a coconut palm timber cruise boat. Swim and snorkel during the day, enjoy fresh seafood barbecue and spend every evening on the different island. With a good population of birds, there is some good bird watching to do here too.
Activities In Maldives:
Sunset Cruise – Maldives is for a laid-back vacation. Take a boat or a dhoni and cruise around the island to witness it better. From landscapes to sunsets, this cruise gives a remarkable experience.
Snorkeling – The best water sport is surely snorkeling in Maldives. Neither too difficult nor too easy, this water sport is perfect from witnessing the underwater life from up above, yet so close.
Walking Tour – Maldives is home to deeply rooted history and culture. A half-day walking tour is one of of the greatest things to do here.
Whale Shark Sighting – For those who get fascinated by docile creatures should definitely try this activity when in Maldives.
Suggested Read: Maldives Honeymoon: An Guide For An Exquisite Romantic Escapade!
Beaches: Mauritius Vs Maldives
Knowing the best analysis of Mauritius Vs Maldives for holiday will make you plan a better holiday. Whether it's about taking a stroll down the gorgeous beaches or simply relaxing under the sun with your partner or loved ones, these beaches will not disappoint you at all.
Mauritius

Mauritius's beautiful beaches are all public, with parking areas and toilets. As is the case with most commercial beach destinations, hotels have claimed the best ones. The north has the greatest variety including small coves while the most celebrated stretches are found in the east.
Beaches In Mauritius:
Belle Mare Beach – This is one of the best beaches of Mauritius. White sand, clear blue waters, palm trees, and luxurious resorts define the vibes of this beach.
Pereybere Beach – A top choice for locals and tourists alike, Pereybere Beach is not only famous for sands and waters but is also famed for the Red Chapel.
Blue Bay Beach – This Beach is a go-to whenever someone plans on just strolling and soaking in the comfort of the beaches. This beach is famed for different tones of blue in different seasons.
Le Morne Beach – For that perfect beach holiday with white glittering sands, bright blue water, abundant sunshine, hammocks, cocktails, and water sports, this is the perfect option.
Suggested Read: Maldives Vs Seychelles For Honeymoon: Where Would You Like To Go?
Maldives

Image Source
The Maldives consists of hundreds of paradisiacal uninhabited islands and pristine beaches. Almost every one of the country's nearly 1200 islands are consistently perfect. In addition, the Vaadhoo Island is famous for the rare glowing tides that rinse the shore at night, the only beautiful difference between Maldives and Mauritius. The beaches in Maldives are purely an out-of-the-world sight.
Beaches In Maldives:
Bikini Beach – Maldives is a conservative nation, and hence home to dress codes even at the beaches. Bikini Beach is one of those few beaches in Maldives that gives travelers a chance to sunbathe in their favorite pair!
Hulhumale Beach – One of the most famous beaches of Maldives, Hulhumale is perfect for those who seek to spend some time with nature.
Veligandu Island Beach – With fresh turquoise water, Veligandu Island Beach is one of the most tranquil, calm, and soothing beaches of the Maldives. The beach also offers numerous water activities.
Gulhi Beach – Apart from strolling around and relaxing by the beach, Gulhi gives one a chance to buy some souvenirs for the family and friends back home by virtue of the shops surrounding it.
Suggested Read: Mauritius In March: A Blueprint To Explore The Blue Waters!
Money: Budget Vs Expensive
Along with knowing other factors of Mauritius Vs Maldives for holiday, there are monetary aspects as well that must be kept in mind. Planning a trip can be so much of a hassle, especially with respect to your budget. Be it a family holiday or a solo trip, money matters a lot. Scroll down to know how much you'll have to spend on an average basis! Now you don't need to think which is more expensive Mauritius vs Maldives for honeymoon? Read more:
Mauritius

Image Source
Which is more expensive Maldives or Mauritius? Let us see! Mauritius has some of the best value deals for travellers which includes activities like spa treatments, catamaran cruises and water-sports. The food prices are moderate and it is possible to go either extreme luxury or mid-budget depending on how much you want to spend.
Suggested Read: 55 Best Places To Visit In Mauritius To Surf, Dive, And Relax Under The Sun
Maldives

Image Source
Maldivian resorts are generally expensive, but of a high standard. For those with a modest budget, the best options is to get an all-inclusive package (including food, and drinks) that includes flights and transfers. It is not known to be a bag-packer friendly destination.
Suggested Read: Mauritius Vs Maldives Vs Seychelles Infographic: Which Is Your Ideal Holiday Paradise?
Food: Gastronomic Extravaganza Vs Simple
Thinking whether is Mauritius better than Maldives? Digging in the authentic flavours of the land is one of the most important things that you shouldn't miss out on, no matter where you go! Some of the best ones are listed right here for more information!
Mauritius

Image Source
There are variety of culinary traditions to be experience here inherited from France, India, China and Africa at local eateries and gourmet restaurants in Mauritius. It also has a variety of locally produced cane rums and liquors. In addition, the street food is amazing ranging from hot curries to Chinese fried noodles.
Food In Mauritius:
Street Food – Curries, Farata (variety of Indian paratha), Alouda (variant of Indian Falooda), Dim Sums, Mauritian Biryani, Crab Curry, Fried Squid, Dholl Puri (white bread stuffed with split peas), Coconut Cakes, Millionaire Salad
Desserts – Bread Pudding, Flan, Corn Pudding, Macatia Coconut, Neapolitan
Restaurants/Cafes – La Chaumière Masala Restaurant, Asian Restaurant in Pointe de Flacq, Dewa Dholl Puri in Rose Hill, La Capitaine, La Terrasse
Suggested Read: 28 Best Islands In Maldives For Honeymoon For An Instant Cupid-Strike
Maldives

Maldivian food is a fairly limited, consisting of fish, fruit and spicy curries. The local cuisine is best available in the island of Malé, where cafés selling traditional snacks (hedhikaa). The cuisine served in resorts is mostly international. It's not possible to drink alcohol anywhere in Maldives outside of the resorts.
Food In Maldives:
Street Food – Garudhiya (fragrant fish soup), Mas Huni (shredded smoked Tuna), Masroshi (chapati stuffed with Tuna and Coconut), Bis Keemiya (spring roll), Boshi Mashuni (Banana Flower Salad), Fried Yams, Maldivian Live Lobster
Desserts – Gabulhi Boakiba (coconut cake),  A Base De Tapioca. Sliced Custard, Dhonkeyo Kajuru (fried banana cake)
Restaurants/Cafes – Iberry Café, Crystal Sands, Cafe Rio, Sea Fire Salt, Anantara Dhigu, Ithaa Undersea Restaurant
Suggested Read: Mauritius Vs Maldives: What Will Be Your Pick For A Relaxing Beach Vacation!
Cities: Cultural Explosion Vs Scarce
Getting to know about the special places inside these lands is an essential point before you head here. So, while you may be still thinking which one to choose between Mauritius vs Maldives, this will help you make up your mind!
Mauritius

Mauritius is a journey through civilisations and cultures. The cities including Port Louis, Beau Bassin, Rose Hill, Curepipe, Grand Baie and Blue-Bay all provide much to see and do. There is so much to explore including traditional Mauritian products, luxury goods, designer boutiques and the famous volcanic crater Trou aux Cerfs.
Places To Visit In Mauritius:
Chamarel Colored Earth – Exhibiting a land full of seven different colors of sand, this place is one of the must-visit on Mauritius honeymoon. One can witness the various shades of red, cyan, purple, and black.
Parc Francois Leguat – It is one of the best turtle parks in Mauritius. One can witness thousands of different turtles residing in this park, and that too of various age groups.
Port Louis – The capital city of Mauritius, this offers a perfect blend of concrete jungle and natural wonders. From French colonial architecture to centuries old race-track, there's plenty to see.
Rose Hill – This town in Mauritius is perfect to witness the true city life of an island nation up close. One can also engage in shopping when at Rose Hill.
Suggested Read: 8 Waterfalls In Mauritius To Witness The Prodigious Work Of Nature!
Maldives

There are two main towns in Maldives, Malé, and Seenu which make for a day trip. The towns are small enough to walk around in an hour with almost all sights are concentrated on the North Shore. The British, Dutch and Muslim influences which have created the modern Maldivian culture.
Places To Visit In Maldives:
Male Atoll – The largest city of the Maldives, Male Atoll is a great place to visit in Maldives for those who seek to embrace urban vibes in the island nation. There are also architectural marvels sitting in Male.
Sun Island – Maldives is all about leisure. The Sun Island is an amazing point of interest. It offers some of the most stunning beaches and is popular among couples on honeymoon in Maldives.
Utheemu Ganduvaru – This is a small island that is shaped in the form of a jellyfish. One can feel the ancient vibes and witness historic monument when in Utheemu Ganduvaru.
Kudadoo Island – This island is perfect for honeymooners and couples who seek solitude. It is a private island that offers stay, beaches, and water sports away from the bustling city.
Suggested Read: 13 Maldives Resorts For A Luxurious Vacation With Your Loved Ones!
Best Time To Visit: Mid-Year Vs New Years Fun
In case you're hoping to make it to both these places one by one, here's what you need to know to visit around the perfect time of the year and have a fun holiday!
Mauritius

Image Source
The most pleasant time to visit Mauritius is in the months of April to June and September to December. January and February are the peak cyclone months and should be avoided by divers.
Suggested Read: 6 Best Homestays In Maldives For Your Budget Maldives Vacation
Maldives

Image Source
The best time to visit Maldives is between November and April. April is the best time for diving because of clear waters and hot weather. So, what are you waiting for? Planning a trip to Maldives can't get any better than this!
Suggested Read: 5 Days In Mauritius Are All You Need For A Fabulous Honeymoon
Weather In Mauritius Vs Maldives For Holiday
If it isn't the average weather about a place that attracts you to travel around a specific time, then what else does? Read on to know when all the beach-lovers are more than welcomed to explore Mauritius and Maldives!
Mauritius

Mauritius has a tropical climate with moderately high temperatures and humidity throughout the year. The wettest period is from January to April when tropical cyclones occasionally strike the island.
Suggested Read: Planning A Cruise To Maldives And Don't Know Where To Start? Look No Further!
Maldives

Image Source
The Maldives have a tropical climate with abundant rainfall and high temperatures around the year. The northern islands have a rainy season from May to October and are occasionally affected by tropical cyclones between August and November. Maldives in summer may not be the best time to visit yet it is still doable.
Shopping In Mauritius Vs Maldives
A perfect vacation is surely incomplete without shopping! Be it souvenirs or a change of your entire wardrobe, adding a few stops to your reviving holiday isn't a problem! Or is it?
Mauritius

Mauritius offers a lot of options for all kinds of shoppers. There are luxury malls, shopping centres and the local Mauritian markets. You can shop for branded items or buy the beautiful sea shelled souvenirs. Something for luxury seekers to products for those who are traveling on a budget, the markets and malls in Mauritius cater to every kind of traveler, irrespective of their budgets.
Shopping In Mauritius:
Places To Shop: Le Craft Market, Caudan Waterfront, Curepipe, Plaines Wilhems District, Bay Bazaar, Grand Baie, Rivière du Rempart, Arsenal, Pamplemousses District
Things To Buy: Clothing items, footwear, electronics, home decor, cashmere products, handmade oils, textiles
Souvenirs Of Mauritius: Rum, Phoenix Beer, Tea, Sugar, Dodo Magnets, Sarongs, Small Bottle Of Colored Sand
Suggested Read: This Couple's 7 Days Trip To Mauritius Is Like A Dream Come True
Maldives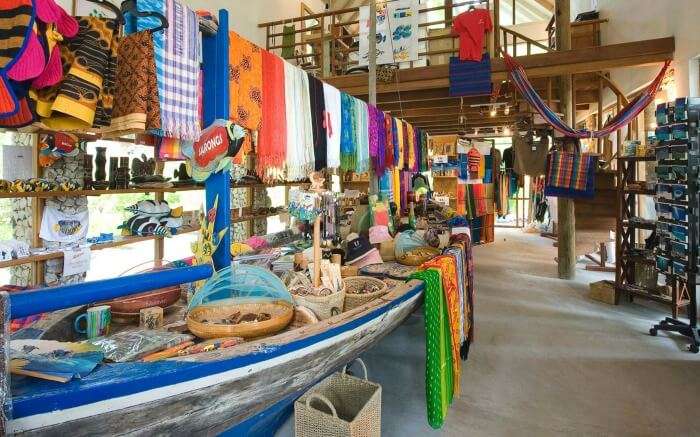 Maldives has beautiful local markets, sprawling street markets, and an Island Bazaar. The vibrant markets has beautiful momentos for you to take back home. Buy stylish beachwear, wooden boats, beach toys and more here.
Shopping In Maldives:
Places To Shop: Nala Boutique, Chaandhanee Magu, Le Cute, Majeedhee Magu, STO Trade Centre, Centro Mall, Chaandhanee Magu
Things To Buy: Packaged sweetmeat, home decor made of seashells, local jewelry, dried fish chips, perfumes, handicrafts
Souvenirs Of Maldives: Handmade Necklaces, Miniature Dhonis, Animal Statues, Native Ships, Local Clothes, Fridge Magnets
Suggested Read: 13 Festivals In Mauritius To Experience Its Vibrant Culture And Heritage
Nightlife: Mauritius Vs Maldives
Nightlife is one such experience that makes your vacation an enthralling one! Whether you are a party animal or looking for some adventurous expedition during late hours on your holiday, check out these details that will surely make you have the best time!
Mauritius

Mauritius nightlife is known for its exciting parties at popular clubs, pubs, and bars. As the sun sets, you will see party lovers heading to Banana Beach Club, Kenzi Bar, Lambic etc. You can also visit a popular casino to try your luck!
For Party Lovers: Banana Beach Club, Kenzi Bar, Lambic, Big Willy's, C Beach Club
For Casino Lovers: Casino Senator, Trou Aux Biches Casino, Le Caudan Waterfront Casino
Suggested Read: Mauritius In November: A Handy Guide To Enjoy A Tropical Vacay On This Paradisiacal Island!
Maldives

Disclaimer: The image is for representation purposes only
You would be surprised to know that the beautiful island nation does have electrifying night clubs for those who love indulging in parties and interacting with new people. There are also numerous other excursions during night that will surely make you have an awesome time such as outdoor cinema, crab racing, karaoke nights, etc. 
For Party Lovers: Kurumba, Subsix, 15 Below, Babuna Bar
For Outdoor Cinemas: Jungle Cinema, Cinema Paradiso
For Night Fishing: MVR 540 and other popular resorts
Suggested Read: Beach Hopping In Mauritius: Witness The Beauty Of Pristine Waters
How To Reach: Mauritius Vs Maldives
Find the comparison between the two destinations on how to reach from India. There is no major difference between the two but you decide for yourself.
Mauritius

Air Mauritius and Air India offer direct flights between Indian citiies and Mauritius airports. The flight takes upto 7 hours. Mauritius offers a 60-day visa on arrival to Indians. Just keep your flight and accmmodation details handy at the immigration. The cost of return flight from New Delhi to Port Blair is aorund INR 16,000.
Suggested Read: Your Pocket Guide To Explore Sultan Park In Maldives!
Maldives

GoAir provides non-stop flight from New Delhi to Maldives. The return flight cost from new Delhi to Maldives costs around INR 20,000 on average. The duration of the flight is about 5 hours. Maldives also offer visa on arrival to Indians for 30 days. Another thing you should keep in mind is that you would have to take a boat ride to reach your island resort. Some resorts n Maldives provide airport transfers while some don't.
Further Read: 14 Important Things To Know About Mauritius: A Travel Guide For All Travelers
Are you still thinking about Mauritius Vs Maldives for holiday? Check your preferences and plan a trip to your best destination with TravelTriangle and get an exclusive itinerary drafted according to your preferences! Whether its a holiday in Mauritius or a vacation in Maldives, these destinations will not fail to impress you!
Disclaimer: TravelTriangle claims no credit for images featured on our blog site unless otherwise noted. All visual content is copyrighted to its respectful owners. We try to link back to original sources whenever possible. If you own the rights to any of the images, and do not wish them to appear on TravelTriangle, please contact us and they will be promptly removed. We believe in providing proper attribution to the original author, artist or photographer.
Please Note: Any information published by TravelTriangle in any form of content is not intended to be a substitute for any kind of medical advice, and one must not take any action before consulting a professional medical expert of their own choice.
Frequently Asked Questions About Mauritius Vs Maldives For A Holiday
Has COVID-19 affected Maldives also?
No, Maldives is free from Coronavirus till now due to the strict measures that the country's government is taking. Along with this, any case that emerged in January in Maldives was tested negative. So, the country is safe from coronavirus outbreak.
Is Maldives better or Mauritius?
If you are thinking which is better Maldives or Mauritius for a vacation, then you must know that with untouched beauty and with a laidback environment then head to Maldives which is located off the Sri Lankan coast. For a lively place full of tourist destinations to explore, many people choose Mauritius over Maldives. Pick your option according to your mood.
Are Maldives and Mauritius the same?
No, Maldives is a place located off the Sri Lankan coast while Mauritius is a single island in East Africa marked with coral reefs and many beaches.
Which is expensive Maldives or Mauritius?
Maldives is way more expensive than Mauritius as the stays and food are available at higher rates to the tourists.
Which is better Bali or Mauritius or Maldives?
Among Bali, Mauritius, and Maldives, Bali has always been the ideal option for a vacation. It is not only a honeymoon destination but also a family place where one can enjoy to the fullest. On the other hand, Maldives is one of the most expensive options among the three.
What is the best month to go to Mauritius?
The weather in Mauritius is cool and pleasant from May to December which is why it is the best time to visit Mauritius.
Is food expensive in Maldives?
Maldives is an expensive destination where food is also available at higher rates when compared to other destinations like Mauritius and Bali.
How far is Maldives from Mauritius?
The air distance between Mauritius and Maldives is 3,125 kilometers and can be covered in 3 hours and 30 mintues by a flight.
What can one eat in Mauritius?
There are many things that one can try out in Mauritius. The best things to eat here are various curries, coconut cakes, dholl puri, dimsums, fried noodles, crab curry, and much more.
What are some underwater attractions in Maldives?
Some underwater attractions of Maldives are Ithaa Undersea Restaurant, Maldives Viceroy, Kuda Giri, and the vibrant marine wildlife.
Is Mauritius expensive?
Mauritius is expensive than destinations like Thailand and Bali yet it is one of the cheapest destinations to visit from India.
---
---
People Also Read