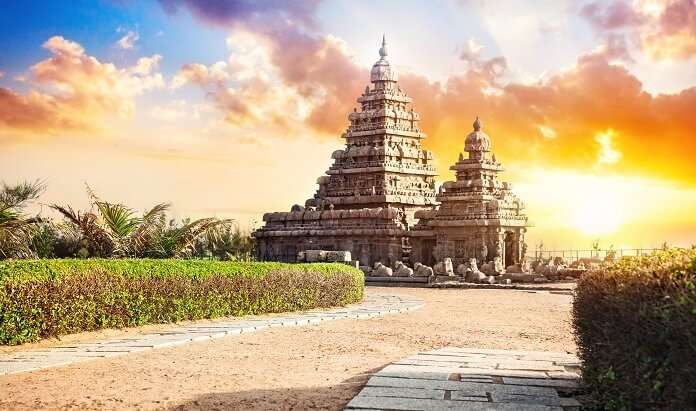 Though India is a secular country, Hinduism is the predominant religion in the country. Hence, the presence of a sacred Hindu temple is also quite high in India because, for the several hundred years, rulers from numerous dynasties built those to leave behind their presence in the life of the citizens of the country. Since Indus Valley civilization, the religion which has been practiced in Hinduism and it was prevalent well before the foundation of other vital faiths like Islam, Christianity, and Buddhism. India has witnessed several rules, monarchies, and rulers, along with them well before the rise of any other religion in the world.
In this blog, you will get the knowledge about some of the most famous temples in India that have been a large part of national history as well as the world-history for several hundred years.
19 Temples In India
The temples mentioned below have been constructed by some of the prominent rulers of different dynasties that ruled in India. In the following list, you will get to know about the details of these temples and how you could reach them without any hassle.
Kedarnath Temple
Ramanathswamy Or Rameshwaram Temple
Badrinath Temple
Brihadeeswara Temple
Somnath Temple
Vaishno Devi Temple
Golden Temple
Jagannath Temple
Meenakshi Temple
Amarnath Cave Temple
Sri Venkateswara Temple
Kashi Vishwanath Temple
Dilwara Temples
Swaminarayan Akshardham Temple
Mallikarjuna Swamy Temple
Kandariya Mahadev Temple
Brihadeshwara Temple
Sree Padmanabhaswamy Temple
Shore Temple
1. Kedarnath Temple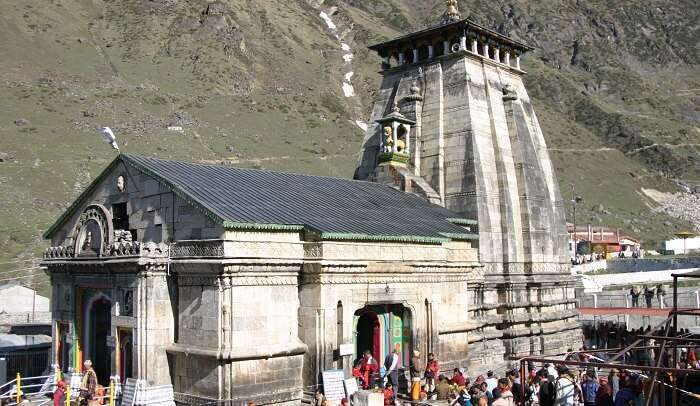 Kedarnath temple is not only famous among the tourists who are religiously inclined, but it is tremendously famous among other nature lovers as well because of its location. The temple is located amid the majestic Himalayan glaciers, and during the winter, the entire area gets covered in snow. That is why it remains closed for half the year. This temple is built for Lord Shiva and is claimed to be built by the Pandavas from the Mahabharata. Pilgrims have to walk over a distance of more than 14 km to reach there.
How to reach: Tourists reach Kedarnath by trekking from Gaurikund, which can be reached by traveling through a bus from Rishikesh. Reaching Rishikesh is not that tough since it is connected to several cities of India via trains.
Must Read: Jaipur Railway Station Becomes The Cleanest Railway Station In India
---
Looking To Book A Holiday Package?
---
2. Ramanathswamy Or Rameshwaram Temple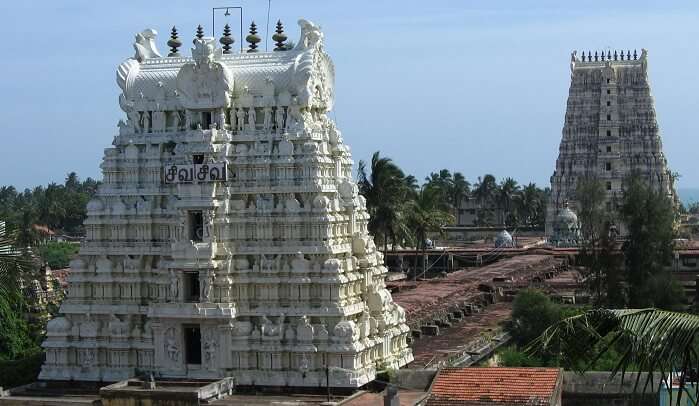 Rameshwaram temple is quite famous and believed to be sacred by the people of Hindu religion all around the world because it is believed to be the first site where Lord Rama came with his wife Devi Sita after defeating Ravana. It is located on an island situated in Tamil Nadu, known as Rameshwaram. It is considered to be tremendously holy since it is one of the four sacred places in India or Char Dham. Not only is the temple architecturally masterful, but it is located in a beautiful location as well.
How to reach Rameshwaram temple: Rameshwaram can easily be reached from any part of India since the Rameshwaram railway station connects all the major cities of India.
Suggested Read: 38 Romantic Honeymoon Places In South India For That Cast Utter Magic
3. Badrinath Temple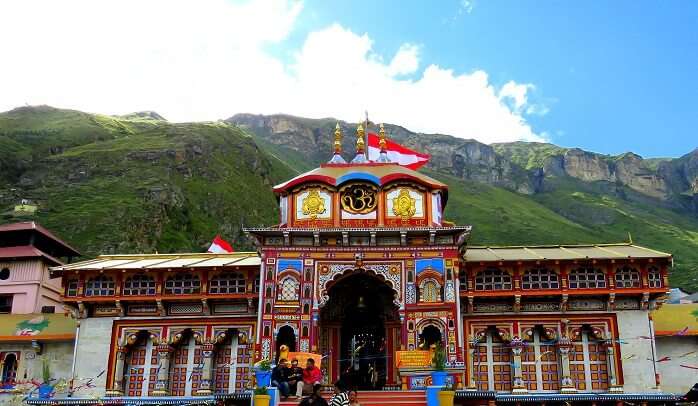 Badrinath Temple is quite sacred among the Hindu people because it is believed to be one of the 108 temples created for Lord Vishnu in the world. It is located in Uttarakhand and is adorned by tourists of all religious beliefs. It is not only one of the four Dhams of the Char Dham pilgrimage in India, but it is quite beautiful as well. If you want to visit Badrinath, visit it between April to November because it will be impossible for you to visit the temple during winter due to the immense snow.
How to reach Badrinath: Badrinath is quite correctly connected via roads to several railway stations and airports in India, namely Rishikesh, Haridwar, Dehradun, Chamoli, and many others.
Suggested Read: 15 Captivating Honeymoon Destinations In North East India To Cover
4. Brihadeeswara Temple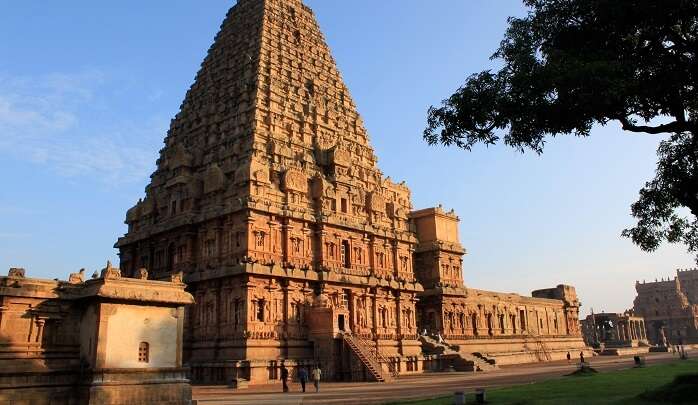 Brihadeeswara temple is located in the Thanjavur city of Tamil Nadu, and it is one of the most famous and ancient temples in India. Not only is the site named the UNESCO heritage site in the world, but it is truly a genuine piece of brilliant architecture as well. The temple was constructed by the ruler of the Chola dynasty named Raja Raja Chola I, and it is dedicated to Lord Shiva. Even if you are not religiously inclined, you must visit the temple once in your life to soak in the glory of the fabulous architecture.
How to reach Brihadeeswara temple: The nearest railway station to the temple in Thrissur railway station and Madurai railway station. The nearest airport is Tiruchirapalli airport. So, reaching there would not be a problem.
Suggested Read: Top 51 National Parks In India: A List You Just Can't Ignore!
5. Somnath Temple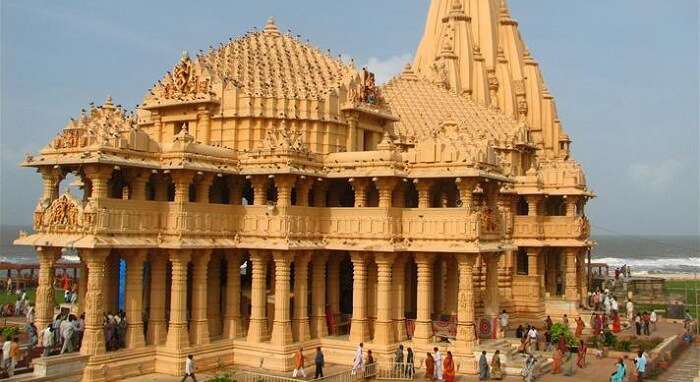 Somnath temple is one of the most ancient architectural masterpieces in India that is located in the Saurashtra of Gujarat. It is dedicated to the Moon God and has an interesting history involved with it. The temple was destroyed and rebuilt several times in the past thousand years. Legend says Lord Shiva built the temple, and it is one of the twelve Jyotirlingas in India. Even if you are not inclined to history, you should come to Saurashtra once to see the glory and hear about the exciting stories about the temple by yourself.
How to reach Somnath Temple: The temple is located at a distance of 6 km from the nearest railway station and 65 km from the Diu airport. Hence, you can reach there via trains or planes whichever you prefer.
Suggested Read: 25 Places To Visit On New Year In India
---
Planning your holiday but confused about where to go? These travel stories help you find your best trip ever!
---
6. Vaishno Devi Temple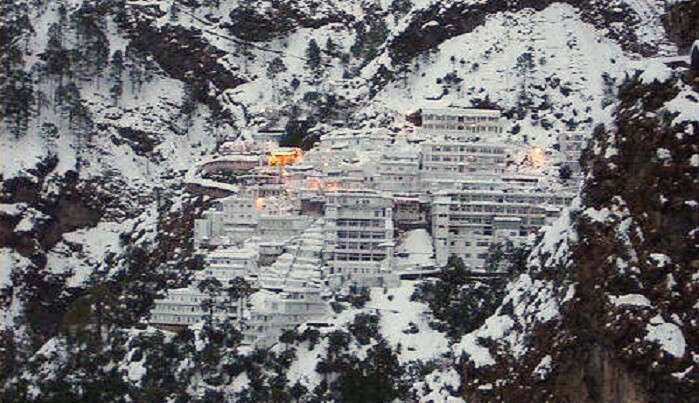 Vaishno Devi temple is widely famous and quite sacred among the people of the Hindu religion all around the world. Not only is the temple is famous for its religious integrity, but the trek that is accompanied by the trip from Katra is mind-blowingly beautiful. Millions of pilgrims come here to visit Maa Vaishno Devi and also enjoy the snow-capped hills surrounding the temple. People consider themselves to be quite lucky if they get to visit Maa Vaishno Devi because not everyone gets the chance to meet her.
How to reach Vaishno Devi temple: The nearest airport is located at a distance of 47 km from the temple, that is Jammu Tawi airport. But you have to trek about 20 km from Katra to reach Vaishno Devi because there is no direct transportation between these places.
Suggested Read: 20 Best Places To Visit In India During Christmas Holidays For A Grand Celebration
7. Golden Temple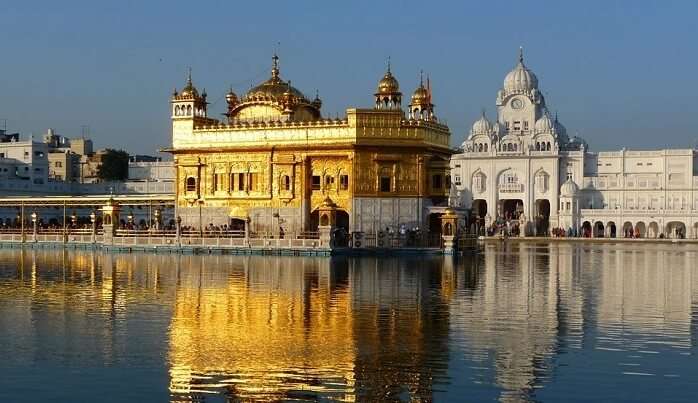 Golden temple's original name is Sri Harmandir Sahib temple. It is located in Amritsar and is one of the most famous temples all around the world. Not only is the majority of the temple built of gold, but the Langar Khana of the temple feeds more than thousands of people each day without any cost. Any people who want to help can cook the food and wash dishes in the kitchen of the temple. The temple's significance lies in the universal generosity it offers to the ordinary people. It is primarily a Sikh temple but is loved and cherished by the people of every religion in the world.
How to reach Golden Temple: The temple is conveniently located at a distance of 2 km from the Amritsar railway station and can be achieved quite easily by anyone.
Suggested Read: 30 Budget Honeymoon Destinations In India To Sweep You Off Your Feet
8. Jagannath temple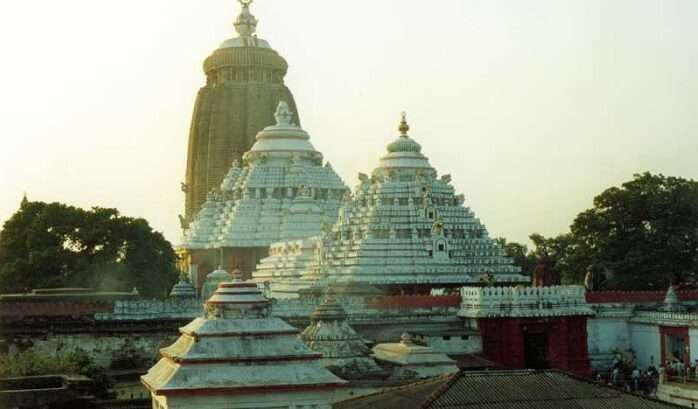 Jagannath temple is located at Puri in the state of Odisha, and it is one of the most famous temples in the entire world due to multiple reasons. Ratha Yatra is a festival that happens around the ancient temple every year to commemorate Lord Jagannath and his siblings. The festival is so famous that even people from all around the world gather around Puri to witness it. Jagannath temple is dedicated to Lord Krishna, and if you visit there, you will get to see the majestic kitchen situated inside the temple. In the temple, the dinner for the lord is prepared regularly, and it is a sight to behold.
How to reach Jagannath temple: Reaching the temple is quite accessible since it is located quite close to the Puri railway station. Hence, you can contact there quite easily via auto or rickshaws.
Suggested Read: 10 Vegan Indian Food Items That Will Turn You Into A Vegan Overnight
9. Meenakshi Temple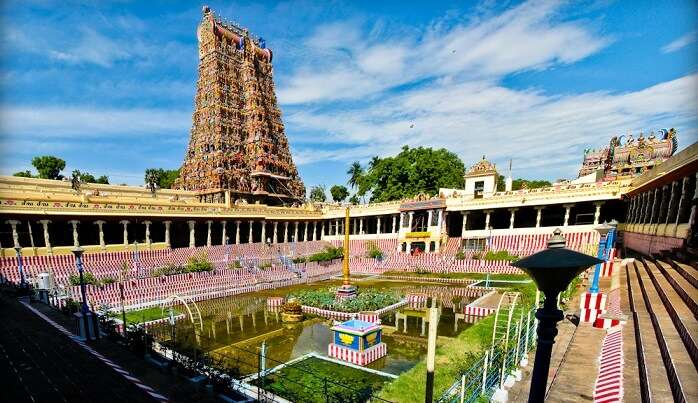 Though Meenakshi temple was built in the 12th century, the architectural magnificence of the temple does not say so. It is epic and hence was nominated to be among the new seven wonders of the world. The temple is located at Madurai in the state of Tamil Nadu and is dedicated to Goddess Parvati. Nine hundred eighty-five pillars decorate the entire temple, and every one of them has been carved quite differently. Tourists from all around the world visit the temple not just because of religious inclinations but because of the grandeur of the temple as well.
How to reach Meenakshi temple: The temple is located at a distance of 1 km from the Madurai junction and hence can be reached easily via rickshaws or autos.
Suggested Read: Andaman In October: Guide To Enjoying A Fun And Paradisaical Vacation!
10. Amarnath Cave Temple

Amarnath cave temple is located in the state of Jammu and Kashmir, and it is over 5000 years old. The temple is situated at the height of 3900 meters and hence cannot be traveled during the winter season because the road to the temple gets blocked due to significant snowfalls. The temple is dedicated to Lord Shiva, but interestingly the temple is not human-made.
It is a natural cave that is formed from ice, and a lingam of ice is worshipped since it eerily resembles Lord Shiva. Millions of travelers all around the world trek to this cave, and it is quite challenging to reach. You will have to cover a distance of 40 miles on foot to enter the cave. Not every tourist is capable of handling such adverse situations.
How to reach Amarnath cave temple: The trek to the cave temple starts from Baltal or Pahalgam, and both of these places can be contacted via cars from the nearest airport that is located in Jammu, which is 178 km away from Pahalgam. You can reach the temple through trekking for five days.
Suggested Read: 40 Interesting Places To Visit In Kollam On Your Trip To South India!
11. Sri Venkateswara Temple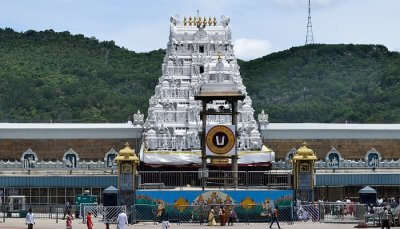 Image Credit: Nikhilb239 for Wikipedia
This is one of the auspicious and revered temples in India, which is flooded with tourists throughout the year. Considered to be one of the wealthiest and holy temples in the world, people come in large gatherings to say their prayers and seek blessings. The temple is massive and welcomes around 50,000 pilgrims every day which is a vast number. But the entire process of dealing with a crowd is planned and effectively laid so that people can experience the darshan.
How To Reach Sri Venkateswara Temple: The temple is located in Tirumala which is situated at a distance of 22kms from Tirupati which is easily accessible by road. People can hire a taxi or take a bus to reach the place from the railway station or city center. 
Suggested Read: 39 Best Places To Visit In October In India
12. Kashi Vishwanath Temple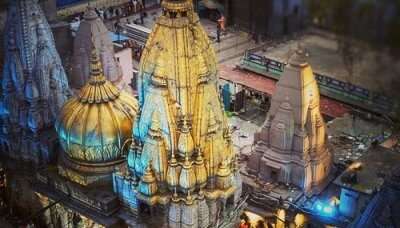 Image Credit: Shrikashivishwanath.org
Resting by the western bank of river Ganga in Varanasi, Kashi Vishwanath which is also one of the 12 Jyotirlingas which is dedicated to Lord Shiva. This temple is located at Varanasi which is the cultural capital of India. The temple is plated with 800 kg gold on its tower and boasts a magnificent architecture. Inside the temple, there is a well which is called Jnana Vapi and can be only visited by the Hindus. Apart from the main temple, there are other small temples like Kaalbhairav, Virupaksh Gauri, Vinayaka, Vishnu, and Avimukteshwara.
How To Reach Kashi Vishwanath Temple: Varanasi has its own railway station which is also just 2 km away from the temple. 
Suggested Read: 17 Places To Visit In Thanjavur That Portrays South India's Architectural Beauty!
13. Dilwara Temples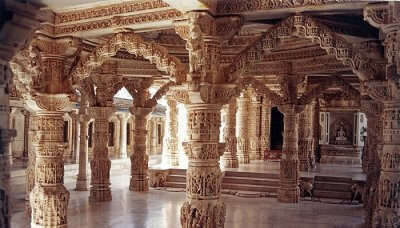 Image Credit: Akshat patni for WIkipedia
Surrounded by the lush green Aravalli hills of Mount Abu, the Dilwara Temple is a beautiful architecture and pilgrimage site for the Jains. Built between the 11th and 13th century, this temple is designed by the Vastupal Tejpal and built by Vimal Shah. Holding quite an austere, this temple is built with marble and intricate carvings. The architecture of the temple is breathtaking and designs and patterns on the roofs and walls are a view to catching.
How To Reach Dilwara Temples: The temple is located at a distance of 2.5 kms from the city centre and quite easily accessible. For the people coming in their own vehicle, they can take the Delwara road or the Pilgrim road. 
Suggested Read: 20 Mysterious Places In India To Visit More Bizarre Than The Bermuda Triangle
14. Swaminarayan Akshardham Temple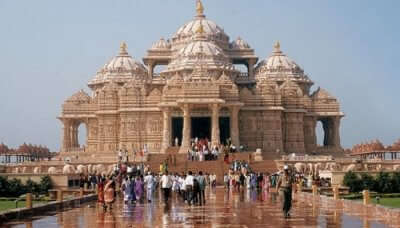 Image Credit: Swaminarayan Sanstha for Wikipedia
Reflecting the beauty of the Indian culture and splendid architecture, Akshardham Temple is a beautiful Hindu temple and also a spiritual complex. Also called the Swaminarayan temple, this temple holds the Guinness Book of World Records as the World's largest comprehensive Hindu temple. There are around 20,000 deities, this place reflects the beauty of the rich Indian history.
How To Reach Swaminarayan Akshardham Temple: The temple is well-connected by the metro in Delhi and the nearest metro station is the Akshardham metro station on the blue line. From there, its hardly 5 minutes walk. 
Suggested Read: 19 Exhilarating Amusement Parks In India That Will Leave You Mind-Boggled
15. Mallikarjuna Swamy Temple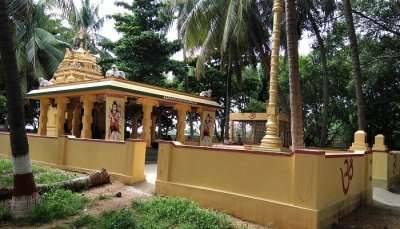 Image Credit: Naidugari Jayanna for Wikipedia
Located at the southern bank of Krishna River, this temple is situated in the town of Srisailam. The Mallikarjuna Swamy Temple is known as one of the famous temples in India which finds its roots from 6 past centuries down history. Built by King Harihara Raya of Vijaynagar, this temple has sage Bringi's idol standing on three legs after he was cursed to stand by Goddess Parvati for worshipping only Lord Shiva. The walls and pillars are worth looking at which adds grandeur to the temple.
How To Reach Mallikarjuna Swamy Temple: This is located at the Komuravelli village and easily accessible by road through Karimnagar – Hyderabad highway located in Cherial Mandal. This temple is located at a distance of 85 km from Hyderabad. 
Suggested Read: 5 Super Amazing Snake Parks In India For Your Next Vacay!
16. Kandariya Mahadev Temple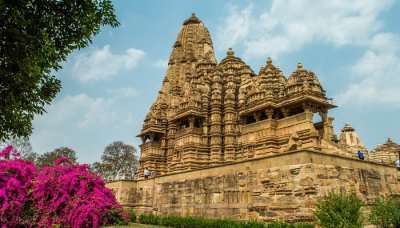 Image Credit: Bhajish Bharathan for Wikipedia
Built during the 1025-1050 AD, this temple boasts a fine and grand architecture reflecting the rich heritage. The temple walls are adorned by magnificent frescos of women standing in various postures. This temple is considered to be one of the finest sights of Khajuraho which is visited by many tourists. The Kandariya Mahadev Temple is engraved with shrines of around 800 women statues which are around 3 feet high. Dedicated to Lord Shiva, this place has a shiva lingam situated at the center of Garba Griha.
How To Reach Kandariya Mahadev Temple: NA
Suggested Read: 10 Best Offbeat Places In North India Which Will Definitely Leave You Surprised!
17. Brihadeshwara Temple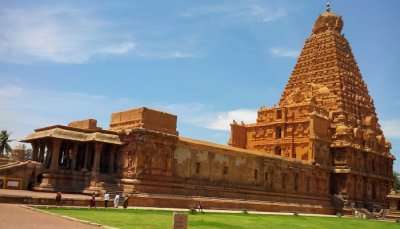 Image Credit: Abhikanil for Wikipedia
This is one of the gems of Thanjavur which is also known as the Big Temple. The Brihadeshwara Temple is an architectural marvel that was built during the reign of Raja Raja Chola who was a great Chola emperor. Surrounded and protected by the deep trenches on one side and Grand Anaicut river on the other hand. The shrine located inside the temple is itself a 216 feet structure and there are also paintings which represent the Chola and Nayak periods.
How To Reach Brihadeshwara Temple: This temple is located at Thanjavur which is well connected with rail and roadways. The city has no airports, but one can fly down to Tiruchirapalli and hire a taxi to reach the place. 
Suggested Read: Hitchhiking In India: The Tips And Routes You Must Take
18. Sree Padmanabhaswamy Temple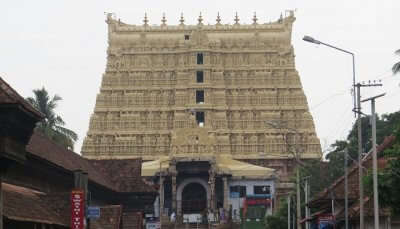 Image Credit: Vinayaraj for Wikipedia
This temple is one of the 108 Divya Desams which is situated in Thiruvananthapuram, the capital city of Kerala. Plated with gold, the temple holds much importance among the Hindus. The main deity of the temple is Lord Padmanabha which is one of the avatars of Lord Vishnu. This is one of the prime places for Vaishnava worship in the dharma of Vaishnavism. This temple is a replica of the Adikesavaperumal Temple in Thiruvattar. This is well-preserved antiquity which is believed to have existed for about 5000 years. This temple also has a mention in the Bhagavad Gita.
How To Reach Sree Padmanabhaswamy Temple: The temple can be reached through the Chalai Market road by taking an auto. This temple is easily accessible by road. 
Suggested Read: Street Food In India: 17 Scrumptious Treats For Your Food Spree
19. Shore Temple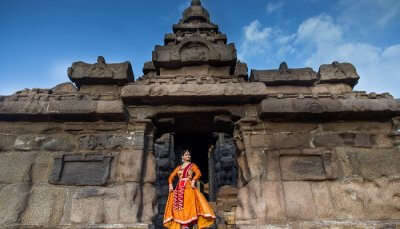 Image Credit: Namrta Rai for Wikipedia
One of the oldest temples in South India, it was built during the 7th century and boasts Dravidian style architecture. Reflecting on the royal taste of the Pallava Dynasty, this temple is listed as one of the World Heritage Sites by UNESCO. Located in Mahabalipuram, this place is one of the most photographed monuments in India resting by the shores of Bay of Bengal. This temple is no more a living temple and was initially built as a representation of art. This temple is also a host of the annual Mahabalipuram Dance festival.
How To Reach Shore Temple: The temple can be visited from Mahabalipuram bus stand which is 443 meters away and Mamallapuram which is 450 meters away. 
Further Read: 25 Amazing Wildlife Sanctuaries In India For Adventurous Safaris And Encounters With The Wild
All the temples mentioned in the list above hold their integrity in their ways because every one of them is not only sacred to the people of Hindu religion but people from other religions too. Several tourists across the entire world come to India to visit these temples and know more about the culture and traditions of the country. So now when you plan a vacation to India, make sure to enjoy a time exploring these temples.
Disclaimer: TravelTriangle claims no credit for images featured on our blog site unless otherwise noted. All visual content is copyrighted to its respectful owners. We try to link back to original sources whenever possible. If you own rights to any of the images and do not wish them to appear on TravelTriangle, please contact us and they will be promptly removed. We believe in providing proper attribution to the original author, artist, or photographer.
Frequently Asked Questions About Temples In India
How many temples are there in India?
There are around two million temples in India, and each year the number gets increased substantially.
Which cities are famous for the number of temples in India?
Several cities in India have a massive number of Hindu temples, but some of them have more than thousands of temples, namely Varanasi, Jaipur, Kashi, Gaya, Chennai, and many more.
Which temple in India is the oldest?
Though it has not been scientifically proven, the Mundeshwari Devi temple is claimed to be the oldest temple located in India. The temple is situated in the Kaimur district of Bihar and has been in existence for several centuries.
Which temple is the richest in India?
The Padmanabhaswamy temple, located in Thiruvananthapuram in Kerala, is the richest in the country.
Which God is present in the Meenakshi temple?
The famous Meenakshi temple of Tamil Nadu is dedicated to Lord Shiva. It was built with King Malayayadwaja Pandya of the Pandy dynasty.
What is the apt time to visit Badrinath temple?
Badrinath is located in the state of Uttarakhand in India, and you will be able to reach there comfortably if you visit the temple between May to June, or you can visit from September to October.
When does the temple of Badrinath close?
The temple of Badrinath stays closed for six months, and the date lies around October 29 or the time of Bhai Dooj, which occurs after Diwali.
What is the age of Puri Jagannath temple?
The Jagannath temple of Puri is quite ancient, and it was built over 1900 years ago.
---