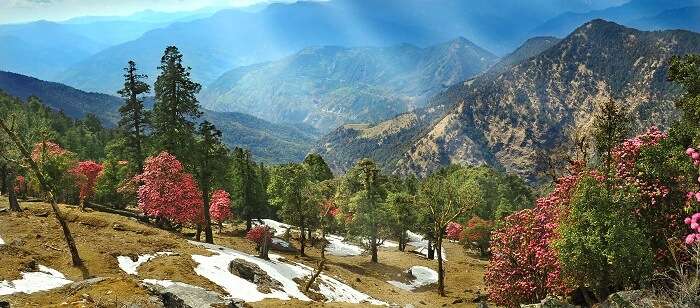 Located in the Bageshwar district of Uttarakhand, Kausani is a perfect getaway away from the hustle and bustle of the city. However, with a lack of info and a proper knowhow people can often find themselves strolling around aimlessly in Kausani, Uttarakhand.

Kausani is famous for its 300 km wide scenic views of some of the tallest peaks of Himalayas like Nanda Devi and Panchachuli. Reliable information for travelers about a new and exciting destination like Kausani is like a gold mine. Now let's help you sort out your concerns regarding the 'when', 'where', 'what' and 'how' of 3 days in Kausani.
Useful snippets about Kausani
Altitude: 1890 m above sea level.
Ideal for: Families and nature lovers make up the bulk of travelers who visit Kausani, Uttarakhand. Although, Kausani sightseeing manages to appeal all tourists in general.
Best time to visit: The summer months of April to June is the ideal time to visit Kausani, Uttarakhand. Kausani weather is mild and hovers around 9 to 26 degrees.
Snowfall: Yes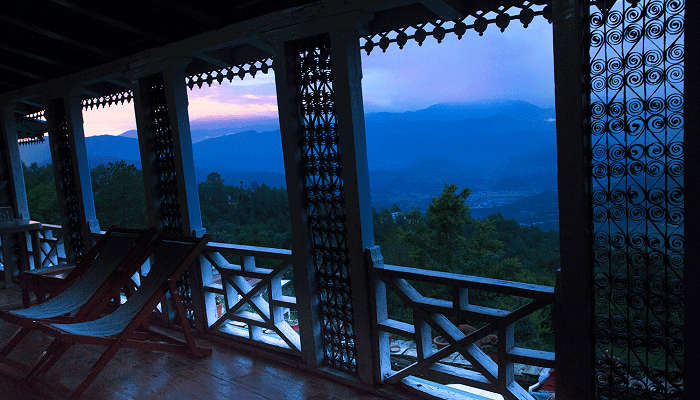 Weather in Kausani:
Summer: The summer months in Kausani start from March and go on till May end. The temperature during these months remains considerably moderate ranging from 11 degrees to 25 degrees celsius.
Monsoon: The monsoon season in Kausani starts from June and goes on till August end. Kausani is known to receive moderate to heavy rainfall (300-450 mm) during monsoon.
Winters: The winters begin in Kausani around September and last till February. In the core winter months of December and January, Kausani also receives snowfall. The temperatures in Kausani are known to dip as low as minus 5 degrees.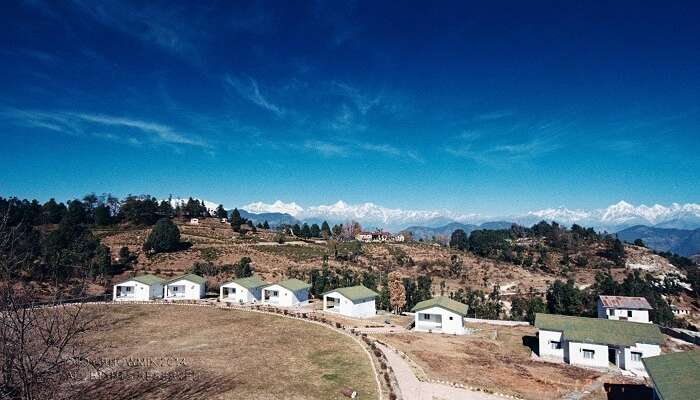 How to reach
By car: most commonly visited by car due to it's proximity to major north Indian cities. You can hire a cab from New Delhi or your drive your own car to cover the 401 km distance which will take up to 10 hours. Alternatively, a car journey from Chandigarh (536 km) would take 12 hours.
By train: One can take a train from anywhere in India to Kathgodam near Nainital, and further take a short bus ride of 4 hours (136km) to reach Kausani.
By air: The nearest airport to Kausani is Pantnagar (177 km). There are 9 flights per week that fly from New Delhi to Pantnagar giving travelers plenty of options to fly in.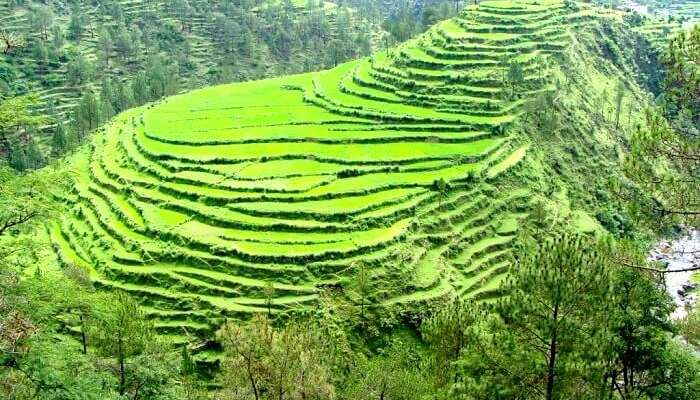 Suggested Read: Reasons Why A Weekend Trip To Kausani Will Totally Spoil You
Best Time To Visit:
The summer months of April to June are mostly considered as the ideal window in which you would see the best of Kausani, Uttarakhand. The temperatures are mild and warm at best hovering around 9 to 26 degrees. The Kausani weather certainly provides it's visitors a welcome relief from all the unrelenting heat endured in the summer.
Places to visit
1. Anasakti Ashram (Gandhi Ashram)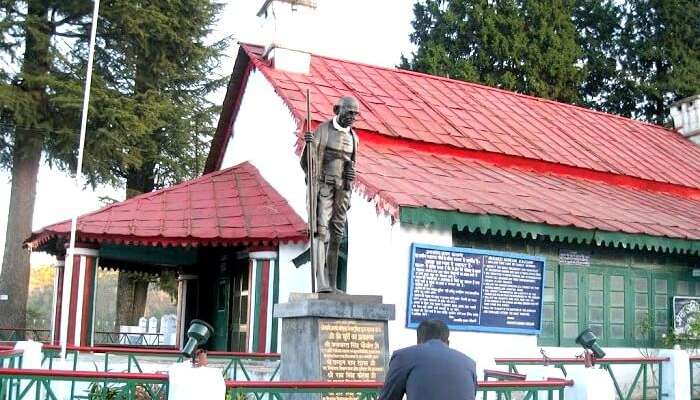 Suggested Read: 15 Most Beautiful Places To Visit In Uttarakhand In Winter
Exploration Time: 1 hour 30 mins
Entry: Free
The iconic ashram is famous to be as the place where Mahatma Gandhi stayed in 1929. Mahatma Gandhi fell in love with the beauty of Kausani so much so that, he described the hill station as the Switzerland of India.
2. Rudradhari Falls and Caves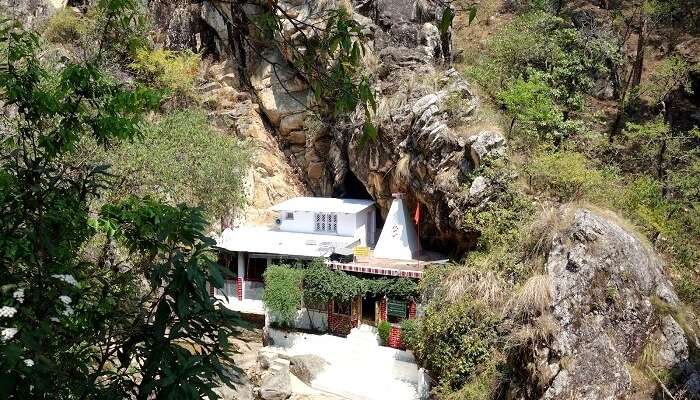 Exploration Time: 1 Hour
Entry : Free
Situated at a distance of 12 km on Almora Road from Kausani, and 2 km inside the village Kantani. Rudradhari Falls and Caves is an interesting mix of natural beauty and adventure. Ignite the explorer inside yourself by visiting all the ancient that link stories to Hindu mythology.
3. Baijnath Temple, Bageshwar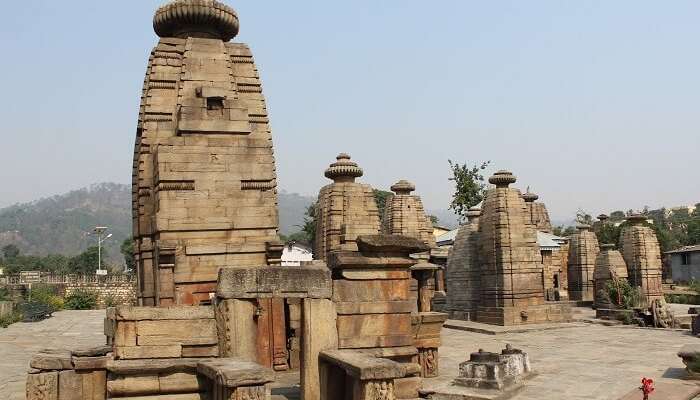 Exploration Time: 1 Hour
Distance from Kausani: 36 km
Located at the banks of the Gomti river, Baijnath is famous for it's ancient dating back thousands of years. Many tourists flock to this temple during Mahashivratri as the temple is dedicated to an avatar of Lord Shiva.
4. Sumitranandan Pant Gallery
Exploration Time : 3 Hours
Entry: INR 10 per person
The only renowned person to belong from Kausani, Sumitranandan Pant was a famous poet whose excellent literary works are present in this gallery in both Hindi and English.
5. Visit the apricot and pear farms in Kausani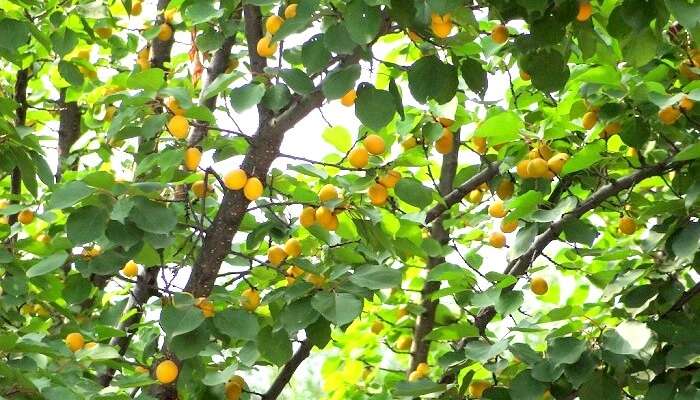 Roam around Kausani long enough and you'll surely be able to locate some patches of land where apricots and pears are grown in Kausani either by farmers or by hotel owners.
Exploration Time: 1 hour
Entry: Free
6. Tea Estate in Kausani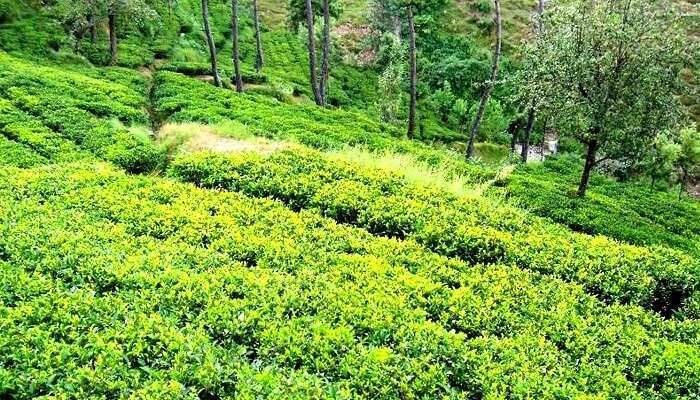 Suggested Read: 10 Extraordinary Destinations Around Delhi That No One Talks About
Exploration Time: 2 hours
Entry : Free
Located 5km from the main city on the Bageshwar Road, the Kausani Tea Estate is spread out over 200 hectares and is biggest industry in the small and quaint Hill station of Kausani, Uttarakhand. Keep a keen eye as the Estate is also a prime location for bird lovers to spot a few rare species.
---
Planning your holiday but confused about where to go? These travel stories help you find your best trip ever!
Real travel stories. Real stays. Handy tips to help you make the right choice.
---
Things to Do
1. Shop at Kausani Shawl Factory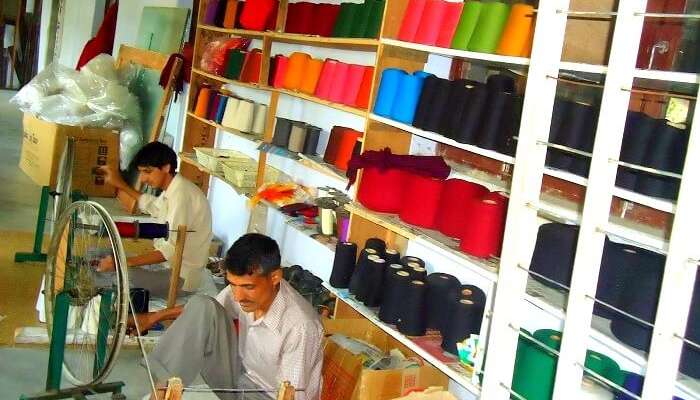 Time Needed: 1-2 hours
This shawl factory is an initiative taken by the local people to help create employment and growth opportunities for the people of Kausani, Uttarakhand.
2. See the sunrise over Nanda Devi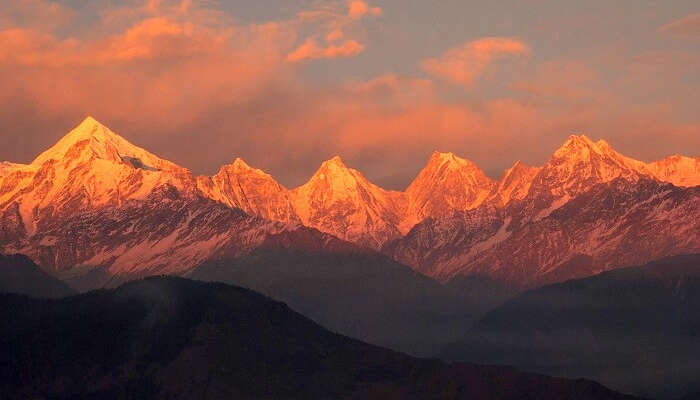 Time Needed: 1-2 Hours
Wake up early morning and witness one of the best places to visit a distant and panoramic Sunrise in the Himalayas.
Sunrise in summer months: 6:05- 6:15 am
Sunrise in winter months: 7:00- 7:10am
3. Birdwatching in Kausani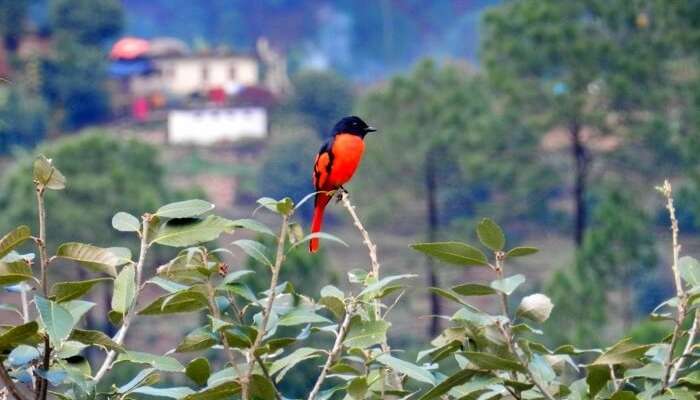 Time Needed: 2-3 Hours
One of the much revered Kausani sightseeing activities is bird watching in Kausani. Home to more than 50 different species of birds, Kausani is a bird lover's delight. Birds like woodpecker, barbet, parakeet, robin and forktail are found in abundance here.
4. Trek to Pinnath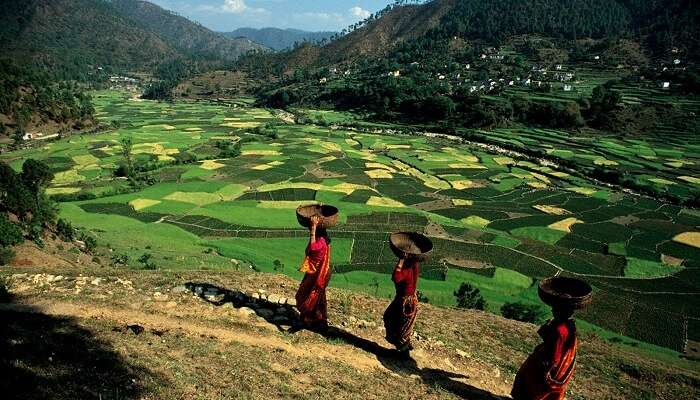 Suggested Read: 10 Unexplored Recreational Spots For Camping Near Delhi
Exploration Time : 5 hours (to and fro trek)
Entry : Free
After a 5 km (2 hours) trek from Kausani, you reach the foot of Gopalkot peak to reach the village end the trek. There is also a temple located in the village dedicated to Bhairon that works as a marker for explorers venturing out for the trek.
Where to eat in Kausani
1. Yogi Restaurant, Kausani- Indian food.
Tripadvisor Rating – 4/5 (17 reviews)
2. Garden Restaurant, Kausani- Indian, Chinese, and Continental Food
Tripadvisor Rating- 4/5 (34 reviews)
3. Valley Restaurant, Kausani – Indian, Chinese, and Continental food
Tripadvisor Rating- 4/5 (3 reviews)
Recommended Places To Stay:
1. Kausani Best Inn
Kausani Best Inn enjoys a prime location as it's situated right next to the popular Kausani view point, enroute to the State Guest House Bungalow. Its comfortable rooms lead to a balcony that provide a panoramic view to peaks like Trisul, Nanda Devi, and Panchachuli.
Average Room Price: INR 3,500
Tripadvisor Rating – 4.5/5
2. Himalaya Darshan Resort
Suggested Read: 15 Amazing Places To Visit Near Delhi For New Year Celebrations 2021
A resort that'll make you feel closest to nature located in the heart of Kausani secluded from the noise, crowd, and commotion of the day to day crowd. Experience the wide range of flora as you'll be surrounded by lime and pear trees inside the resort.
Average Room Price: INR 4,300
Tripadvisor Rating: 4.5/5
3. The Buransh Hotel
Image Source
Located near the Baijnath Temple, The Buransh Hotel is one of the most popular and reliable properties in Kausani. They are known to specialize in organizing bird watching sessions and jungle treks in and around Kausani.
Average Price: INR 4,200
Tripadvisor Rating: 4.5/5
Website | Reviews
Average Budget for Kausani: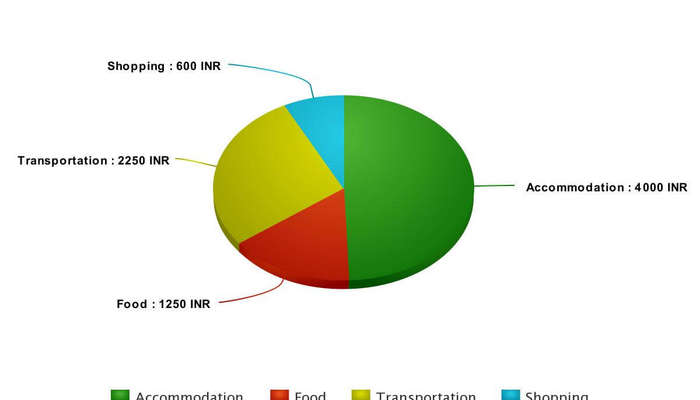 Budget for a 3 days/2 nights stay at a nicely equipped, comfortable 3-4 star property (like Kausani Best Inn and Himalaya Darshan Resort), and travel to Kausani by car is –
Self drive car (Basic Sedan) – INR 9000 (for 4 people)
Stay in a 3/4 star hotel – (INR 2,000 per person per night) INR 4000 per person
3 Meals a day for 2.5 days – (INR 500 per person per day) INR 1,250 per person
Misc Expenses for shopping (Tea, apples, apricots) INR 600 per person
Itinerary
Here's a recommended itinerary for 3 days in Kausani
Day 1: Sightseeing in Kausani
Arrive early morning in Kausani with a whiff of fresh air welcoming you to the writer's paradise. Check-into one of our top recommended hotels and B&B's. After checking in a warm, comfy, and welcoming place, it's time to head out for some Kausani sightseeing. Start your Kausani tour package with a visit to the iconic Gandhi Ashram (Anasakti Ashram), Rudradhari Falls, Sumitranandan Pant Gallery, and wander in the apricot farms in Kausani.
Day 2: Full day Trek to Pinnath
Begin the day with a hearty breakfast, for you would need to be loaded with carbs on a day you would trek for 5 km to the beautifully isolated village of Pinnath. Not many people except the locals know about this less talked about Kausani sightseeing place. Come back in the evening and enjoy the evening in front of a bonfire giving your legs a much needed rest.
Day 3: Day Trip To Baijnath
Head out 37 km west of Kausani to the city of Baijnath to explore the ancient Lord Shiva Temple. Afterwards, come back post lunch and experience the world renowned tea estates of Kausani.
3 days in Kausani can often feel like a date with mother nature. An unwinding of life, or the rewinding of the clock that everyone needs every now and then.
Liked what you saw? Book your trip to Kausani here and experience the hilly magic of Uttarakhand like never before!
Frequently Asked Questions About Trip To kausani
Q. What is the best time to visit Kausani?
A. This hill station has the best weather during the summer which starts from April-June and September-November. During this time the weather is quite pleasant and the temperature remains between 27-degree celsius and minimum is around 10-degree.
Q. Which is better Nainital or Kausani?
A. Nainital and Kausani are both hill stations located in Uttrakhand. If someone is looking for an escape amidst the nature surreal beauty, it's quite a good option to spend 3 days in Kausani, and if you're willing to indulge into some activities like boating then Nainital is a good option.
Q. Does it snow in Kausani?
A. The snowfall starts in Kausani close to December and remains till February which makes this place a romantic vacation for honeymooners and couples. During this time the temperature remains around 2 degree celsius.
Q. How can I go to Kausani?
A. Kausani is well connected by railways and roadways. The nearest railway station to Kausani is Kathgodam which is located at a distance of 132Kms. From there one has to take a bus or taxi to reach Kausani.
Q. How far is Kausani from Nainital?
A. Kausani is located at a distance of 113 Kms from Nainital which is well-connected by roadways. It takes around 2 hours to reach Kausani from Nainital.
Q. How to reach Ranikhet from Kausani?
A. There are no direct flights, trains or buses to reach Kausani which runs between Ranikhet. The most convenient and fastest way to reach Kausani from Ranikhet is by taking a taxi.
Q. Is Kausani worth visiting?
A. Kausani is a place which is ideal for people who want a relaxing vacation away from the noise and pollution of city life . Surrounded by all the lush-greenery, this place is worth a visit.
---
Long Weekend Trips Starting @ Rs 3499/-
Take a trip to spend the upcoming long weekend with your buddies.
✓ Stay at 4 star rating hotels with local sightseeing, meals and transfers.
✓ Travel in AC coach round trip (from Delhi).
✓ All Inclusive Deal– Camping, Jeep Safari & Trekking as per itinerary
✓ Sign up NOW to celebrate the long weekend out of town!
---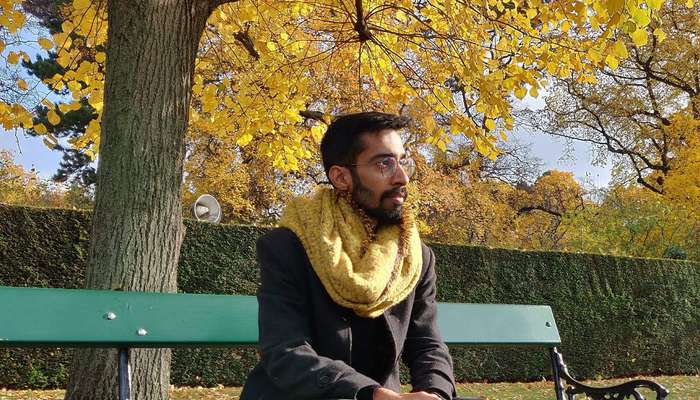 Comments
comments