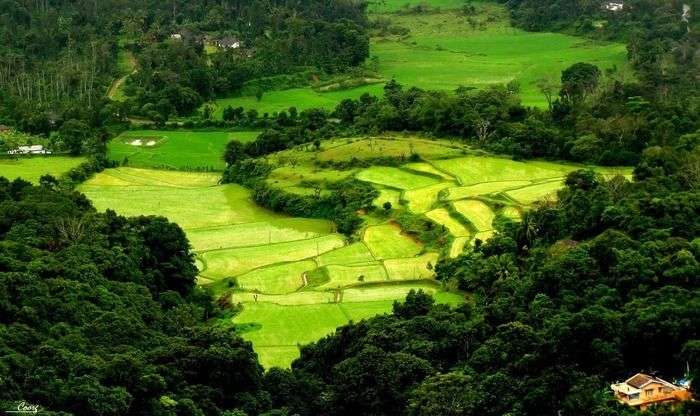 The coffee plantations of Coorg covered with stunning greenery would charm anyone. With its undiluted landscapes, lovely waterfalls and an amazing assortment of flora and fauna, it has much to offer visitors. Wake up to the view of misty mountains in the morning and enjoy a cup of freshly brewed coffee. But of all the places to visit in Coorg, the wildlife sanctuaries are the most fascinating if you are with a loved one or on a family trip. Spot a bison, an elephant and if you in luck then a Panther. Take a look below for some of Coorg's tourist places and plan your trip to the 'Scotland of India'.
25 Best Places To Visit In Coorg
Plan a trip to this hill station between November to March not just for the pleasant weather but also to celebrate Puttari, the harvest festival and indulge in some mouth-watering local delicacies. These places in Coorg are special in their own way for they encompass the best of untarnished nature of South India. Mark them on your to-do list and make sure that you enjoy every bit of your memorable vacay! Take a look at this list of places to visit in Coorg!
1. Abbey Falls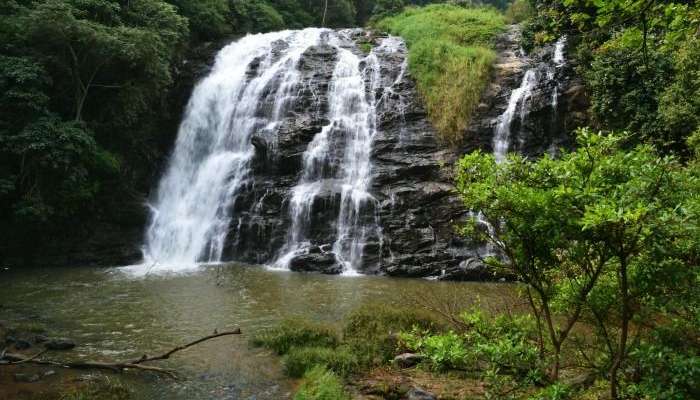 If you are heading to Coorg on a road trip with your own vehicle it is not just easy to explore the places to visit on the way to Coorg but also all the amazing tourist sites within this beautiful destination. One such breathtaking place in Abbey Falls makes for one of the most popular places to visit in Coorg. Located 1 km from the town of Madikeri, the waterfall is located between coffee plantations and spice estates. Enjoy the gushing beauty where the Kaveri River cascades down a rockface turning into the falls. The best time to visit is November and December, just after monsoons.
Distance from city centre: 24 km
Timings: 9 AM – 5 PM
Entry Fee: INR 15
---
South Weekend Holiday Packages On TravelTriangle
A trip to South India has a lot to offer – from the tranquillity of forests to charm of sizzling beaches and from lost kingdoms to chills of a hill station. Visit Kerala, Coorg, Ooty, Mysore, or Kodaikanal. Book holiday packages inclusive of airport transfers, cab, resort, sightseeing, and meals.
---
2. Brahmagiri Peak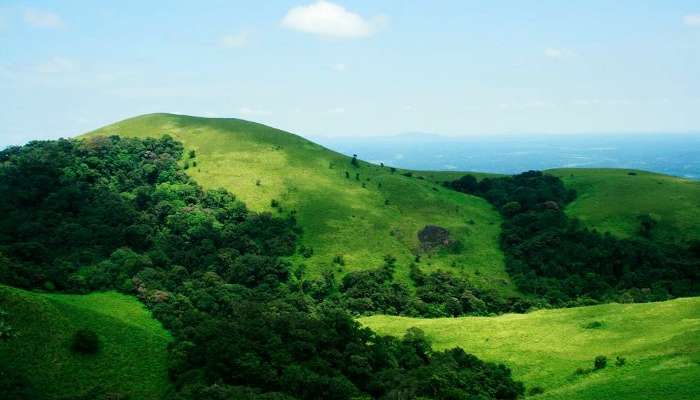 Brahmagiri Peak is a scenic spot full of forested woods and mist-topped hills. On the way to the peak, you will trek through grasslands, colorful floras and sparkling streams of clear water. It also has a wildlife sanctuary which includes Lion-tailed Macaque, Jungle Cat, Spotted Deer, Nilgiri Langur, Giant Flying Squirrel amongst others. It is one of the most beautiful places to see in Coorg in 2 days.
Distance from city center: 88 km
Timings: 6 AM – 6 PM
Entry Fee: INR 200 (Indians), INR 1,000 (Foreigners), INR 200 (Trekking), INR 500 (Guide)
Must Read: 10 Hill Stations in Karnataka To Rejuvenate Yourself

3. Dubare Elephant Camp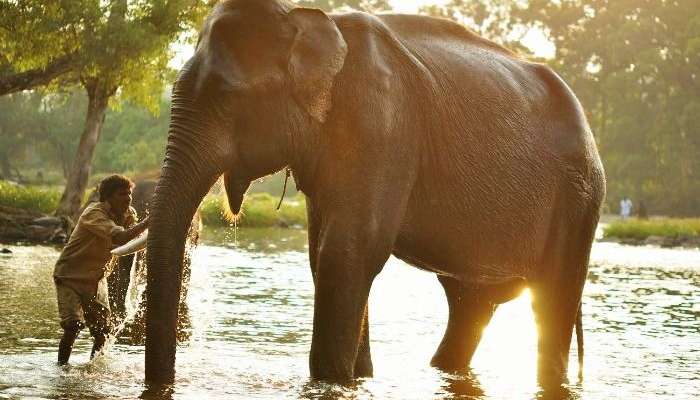 There are many interesting things to do and places to visit in Coorg in 4 days be it with your family, friends or solo. One of the most interesting things to do in Coorg is getting close to elephants at the Dubare Elephant Camp. With over 150 elephants, the camp is a great chance to get to know these enchanting creatures. Watch the elephants being given a bath, fed and trained by Mahouts. In addition, take a coracle ride on the River Cauvery and spot a crocodile, gaur, the wild dog, sloth bear, and peacocks.
Distance from city centre: 17 km
Timings: 8.30 AM – 11 AM / 4.30 PM – 5.30 PM
Entry Fee: INR 690 – INR 1330 (Indians), INR 1467 – INR 2270 (Foreigners)
4. Iruppu Falls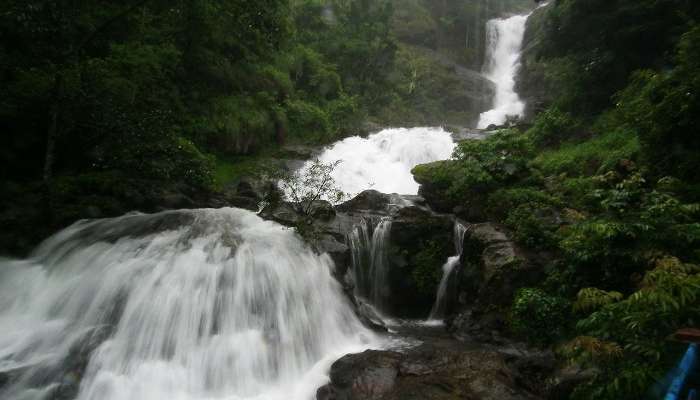 Image Source
Of all tourist places in Coorg, Iruppu waterfall is one of the most popular. River Lakshmana Tirtha takes a 60 feet plunge amidst the green mountains to turn into these falls. The picturesque view of the ferns along with the gushing sound of the falls makes for a memorable experience. The mesmerizing Iruppa Falls totally deserve to be on your bucket-list even if you are considering only the places to visit in Coorg in 1 day.
Distance from city centre: 61 km
Timings: 6 AM – 6 PM
Entry Fee: INR 60
Suggested Read: 5 Silvery Waterfalls In Coorg That Are Waiting To Be Explored
5. Nagarhole National Park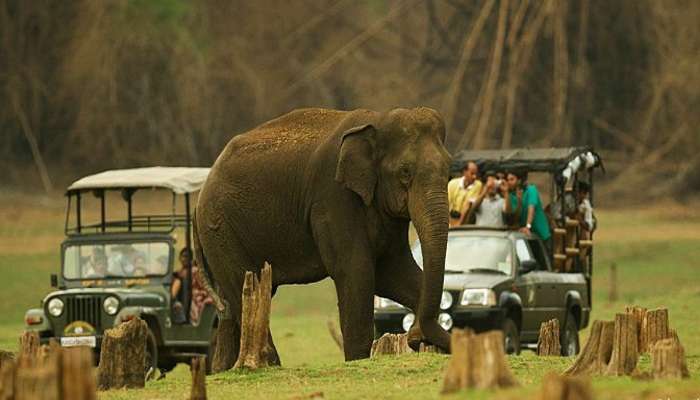 Nagarhole National Park is one of those unmissable places to visit in Coorg, Karnataka. If you are interested in wildlife, the Nagarhole National Park is possibly one of the best places to visit in Coorg in one day. Despite the dense jungle, it has open sight-lines along the river bank, which makes for a fantastic place to watch animals and over 270 species of birds. The best time to visit is during summer (April to May) or winter (November to February).
Distance from city centre: 65 km
Timings: 6:00 AM – 9:00 AM / 4:00 PM – 6:30 PM
Entry Fee: INR 50 (Indians), INR 150 (Foreigners), INR 50 (Camera)
6. Chettalli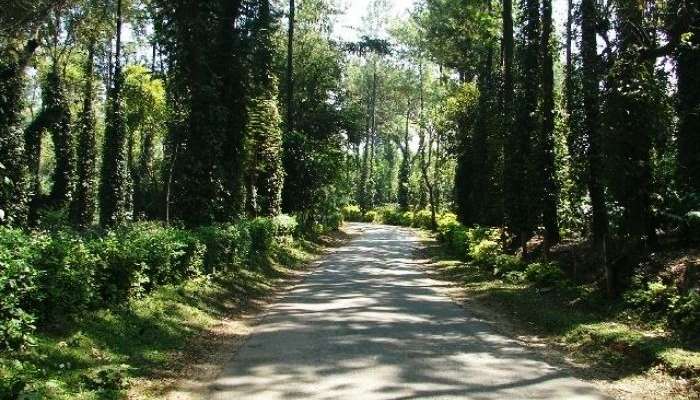 If you are into cultural tourism, an interesting thing to do in Coorg would be to visit a local village. Chettalli is a small village on the Madikeri – Siddapur Road is just the place. With the misty hills being perfectly complemented by the unending greenery it provides a great place to enjoy the serenity and relax. When shortlisting places for Coorg sightseeing, make sure you don't miss out on this one. The popular Cherala Bhagwati Temple in Chettalli also attracts a lot of tourists and visitors.
Distance from city centre: 14 km
Suggested Read: 10 Best Things To Do In Coorg For A Refreshing Escape From Urban Life
7. Raja's Seat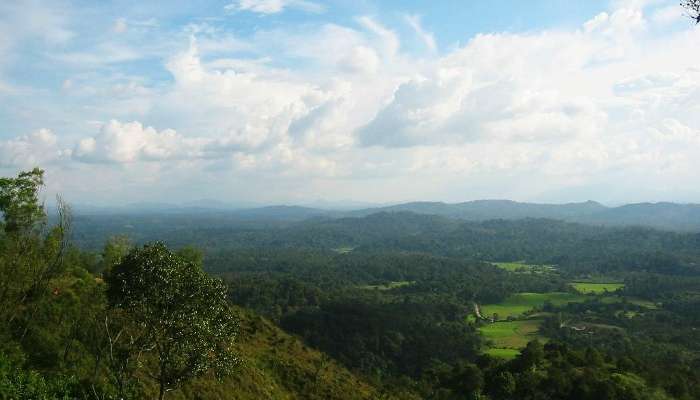 Present in the town of Madikeri, Raja's Seat is considered one of the most scenic places to visit in Coorg. A popular sunset point, it provides a breathtaking view of the green valley and the surrounding hills. It is also surrounded by a beautiful garden of seasonal flowers and musical fountains. In olden times, this garden was a favorite spot for the kings of Kodagu, who spent time here, watching the sunset with their queens. Raja Seat has many elevated spots overseeing the beautiful valley. The best time to visit is during the early morning and evening hours.
Distance from city centre: 17 km
Timings: 5:30 AM – 7:30 PM / Musical Fountain: 7:00 PM (Weekdays), 6:45 PM – 7:20 PM (Weekends)
Entry Fee: INR 5 (Garden), INR 20 (Toy Train)
8. Mandalpatti Viewpoint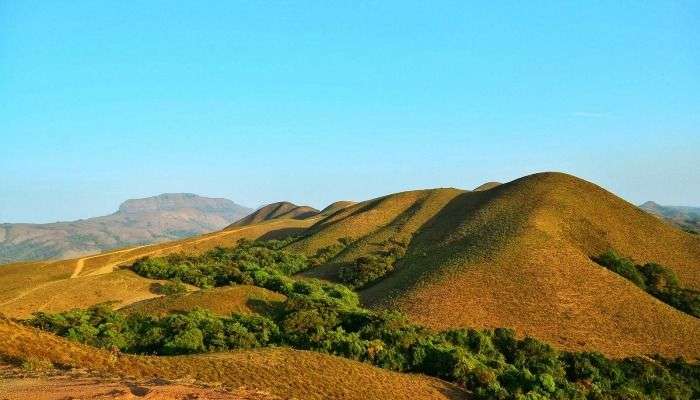 Mandalpatti Viewpoint is one of the top places to visit in Coorg. With an abundance of greenery, trekking is definitely one of the things to do in Coorg, tourist places for this activity too are in abundance here, but Mandalpatti is considered the best. Climb up towards the Mandalpatti View Point via the scenic Makkandur route but be sure to pack some water for the way as you explore one of the best trekking trip in Coorg.
Distance from city centre: 39 km
Timings: 6 AM – 6 PM
Entry Fee: Free
Suggested Read: Trekking In Coorg Is A Wonderful Exploit For Adventure Enthusiasts In The Ghats
9. Bylakuppe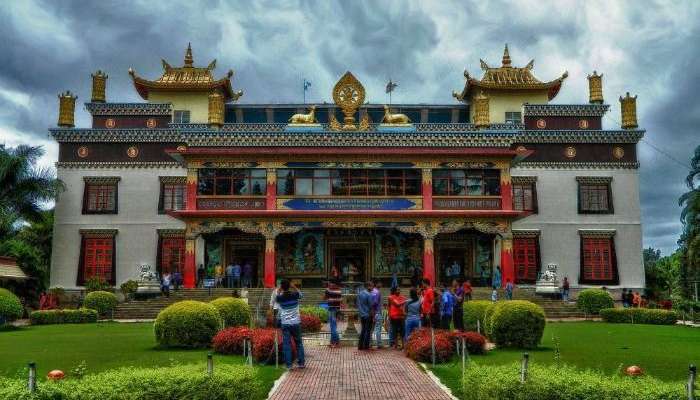 Image Source
Of all tourist places in Coorg, Bylakuppe is full of cultural delights. The second biggest Tibetan settlement in India, the main attraction in Bylakuppe is the Golden Temple or Namdroling Monastery which adheres to the typical Tibetan style of architecture. The town is especially great to visit during the festival of Losar (Tibetan New Year), which is celebrated with much fervor.
Distance from city centre: 40 km
10. Cauvery Nisargadhama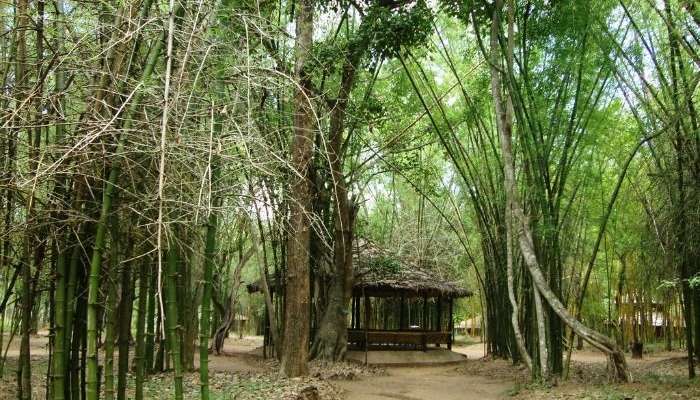 Nisargadhama is a beautiful island, 28 km from Madikeri, surrounded by thick foliage of bamboo groves, sandalwood and teak trees. The island is naturally formed by the river Kaveri (Cauvery) and is situated in the Kodagu district in Karnataka. An interesting things to do in Coorg would be to stay in the treetop bamboo cottages here, and enjoy the elephant rides and boating on the riverside. This is one of the best places to visit in Coorg at night.
Distance from city centre: 27 km
Suggested Read: Coorg Homestays For Couples: For Those Who Love The "Coorg Way Of Life"
11. Kutta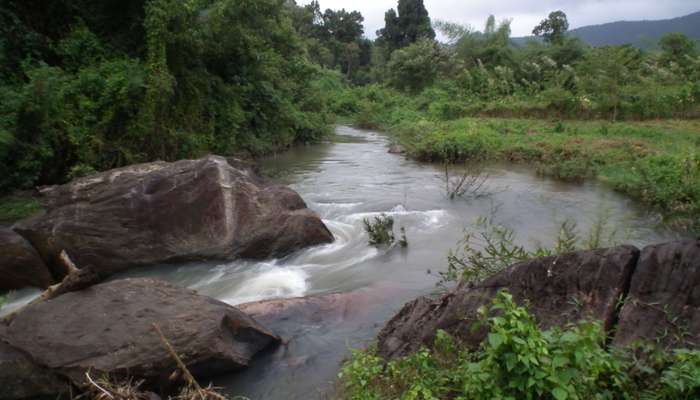 A small village in Gonikoppal, Kutta is an ideal place to unwind amidst nature, beside the Kaveri river. If you want to get an insight into local culture, Kutta is the perfect choice to make. However, this is not a tourist destination, so you will not find many people around. This aspect may come as good news for travelers wanting to go off the beaten track. You can spend some relaxing time at the riversides of Kaveri. Kutta is also the entrace point of the Nagarhole National Park.
Distance from city centre: 66 km
12. Pushpagiri Wildlife Sanctuary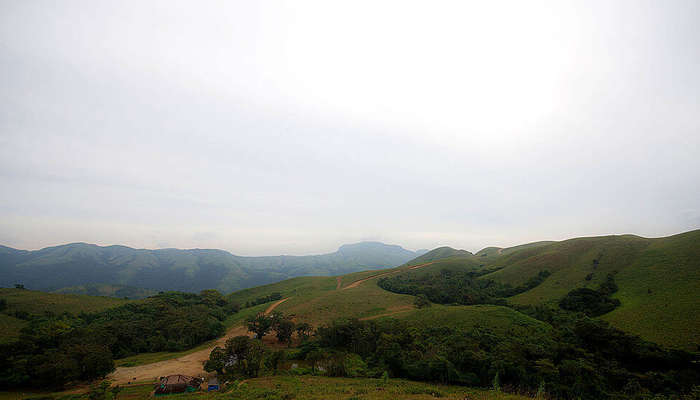 Located in Somwarpet taluk, Pushpagiri Wildlife is known to be home to endangered and rare birdlife. The wildlife sanctuary also has a forest reserve known as Kadamakkal and is named after the highest peak of the region, Pushpagiri. Kukke Subramanya Forest and Bisle Reserve Forest are adjoined with Pushpagiri Wildlife Sanctuary. While you tour, you'll stumble upon nature's utter beauty bejeweled with Kote Abbe Waterfall and Mallalli Falls.
Distance from city centre: 81 km
Timings: 7 AM – 6 PM
Suggested Read: Coorg Trip From Bangalore: A Pocket Guide For Your Next Getaway!
13. Nishani Motte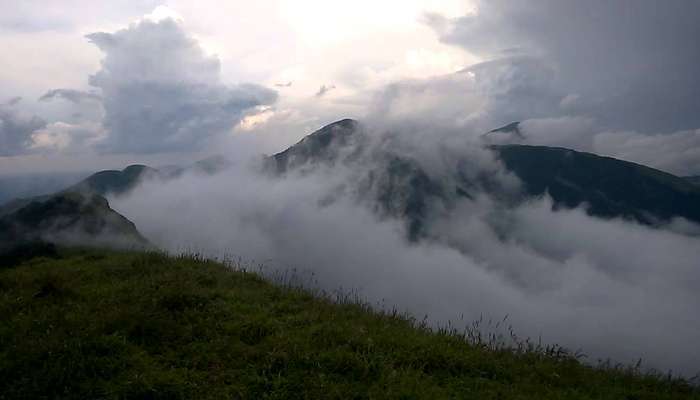 One of the lesser known places to visit in Coorg, Nishani Motte is an ideal weekend trekking trail for the people living in Bangalore. The region is a part of Tala Cauvery Wildlife Sanctuary which is home to many wildlife animals like elephants and leopards. Since this is not an isolated spot, it is recommended you take the trek in the company of a trekking guide. The ridge walk on the sides of the dense forest on the way is the best part of the trip.
Distance from city centre: 50 km
Trek Prices: INR 3000
14. Tadiandamol Peak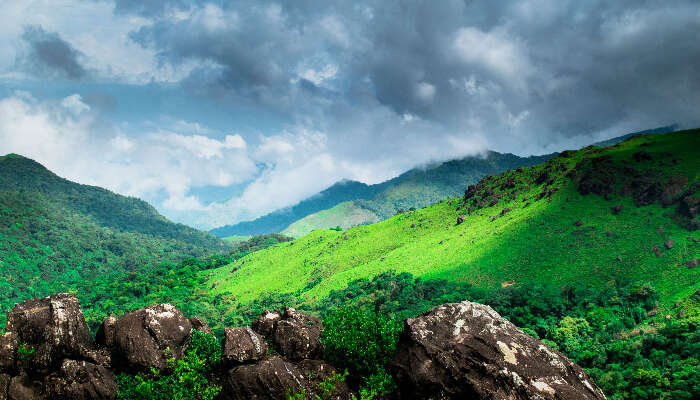 Situated at an elevation of 1748 meters, Tadiandamol Peak is the highest mountain peak in Coorg. It is also the second highest peak in the state of Karnataka. This place is one of the most sought after destinations, especially among the trekkers. There are moderate and difficult trekking routes here, but the view from the top is simply breathtaking. The climb to the Rock Point is especially a bit difficult and the trail becomes narrow from there. If you are a beginner in trekking, Tadiandamol Peak is for you too. With its green hills and misty weather, low-rise mountains surrounded by milky clouds, it is a heaven for nature lovers.
Distance from city centre: 69 km
Timings: 6 AM – 6 PM
Suggested Read: Coorg In Monsoon: Witness The Best Of Greens At This Paradise Of South India!
15. Honnamana Kere Lake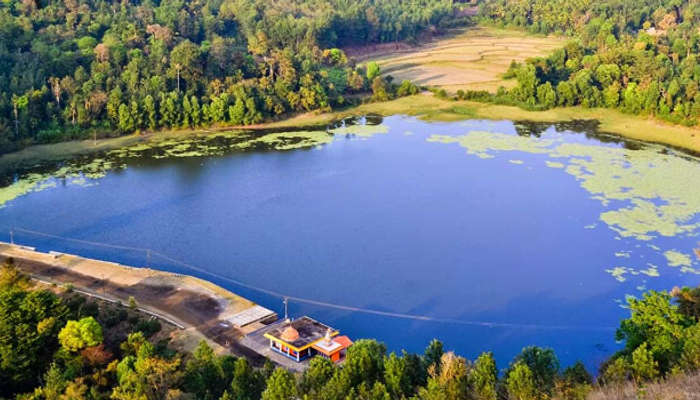 Honnamana Kere Lake located in the Daddamalthe village is the biggest natural lake in Coorg. The still and calm lake looks absolutely stunning amid the lush green hills, exotic coffee plantations and man-made caves. The festival is visited especially during the Gowri Festival, which is celebrated in the temple near the lake. A large number of devotees and visitors gather at this shrine dedicated to Goddess Honnamana, after whom this lake is also named. It is believed that the goddess had sacrificed her life to save this village. The soothing environment and the spiritual vibes will make your visit to the Honnamana Kere Lake a refreshing experience. This is also one of those popular places to visit in Coorg if you want to try boating on the round boats.
Distance from city centre: 33 km
Timings: 8 AM – 6 PM
Entry Fee: Free
16. Talacauvery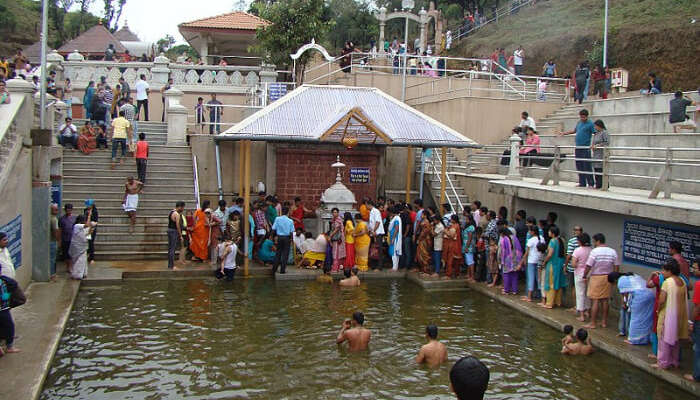 Image Source
The source of the river Cauvery, Talacauvery is located at 1,276 m above sea level on the Brahmagiri hill in Kodagu district, Karnataka. The place is visited by pilgrims throughout the year and comprises of a beautiful temple dedicated to the Goddess Kaveriamma. It is believed that the Kodavas (locals of Kodagu) erected a tank which and the river originates as a spring feeding a tank and then flows underground until some distance. This spot gives a birds-eye-view of the lush forested landscapes surrounded by the misty hills of Coorg.
Location: Near Bhagamandala in Kodagu district
Nearby attractions: Bhagamandala, Kopatty Hills, Abbey Falls
17. Omkareshwara Temple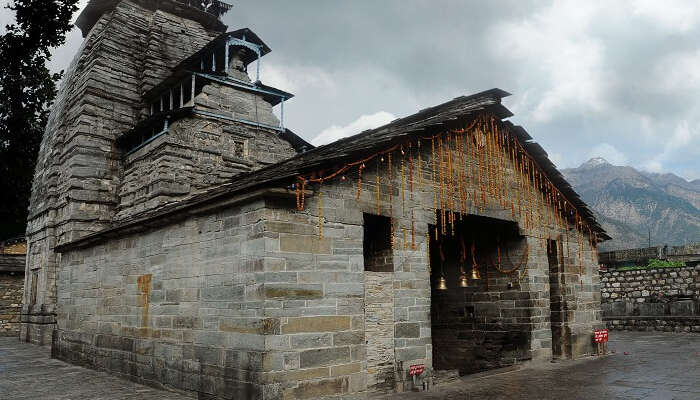 Located in the Western Ghats of Karnataka, this beautiful temple captivates the travelers with its serene ambiance and unique architecture. It was established in the year 1820 by King Lingarajendra II and exhibits an interesting architecture that lures wanderers from near and far. The amalgamation of Gothic and Islamic architecture is a unique experience, one must surely encounter while holidaying in Coorg.
Timings: Monday-Sunday (6:30 AM-12:00 PM & 5:00 PM-8:00PM)
Location: Madikeri
18. Madikeri Fort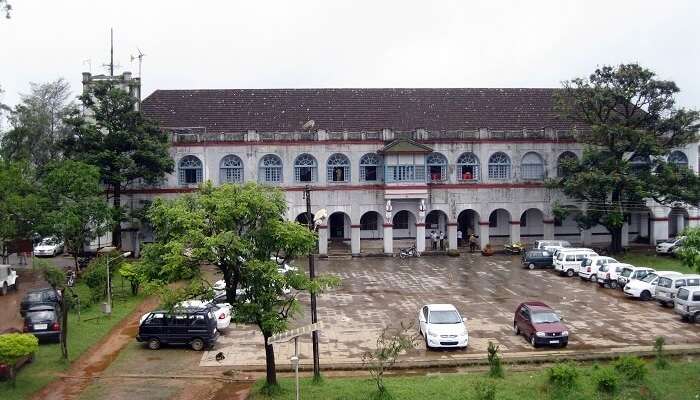 Madikeri Fort was commissioned by the king Muddu Raja in the seventeenth century. On the occasion of announcing Madikeri as the new capital city of Coorg. The king also declared the construction of Madikeri Fort which was later captured by numerous rulers, including Tipu Sultan. The basic structure of this fort underwent numerous changes and the massive ones were made by the British during imperialism. Presently, the fort comprises the office of the Deputy Commissioner along with life-sized elephants at the entrance and museum comprising rare collections and artifacts.
Location: Madikeri
Nearby Attractions: Namdroling Monastery, Trekking in Madikeri, Omkareshwar Temple.
19. Somwarpet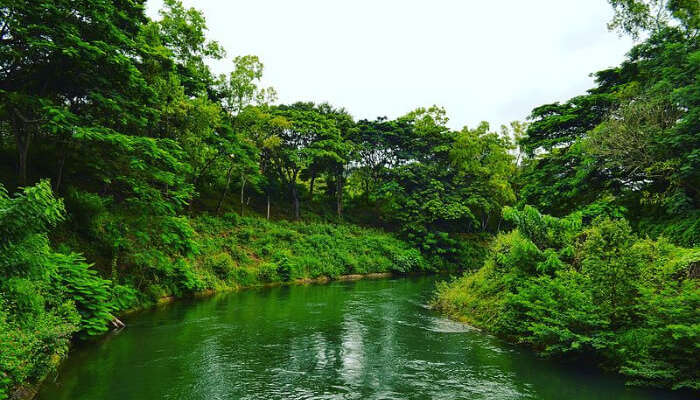 Located in the north-east part of Coorg, the main town of Somwarpet Taluka has been enticing visitors with its vicinity. The area is known for its fine quality crops including coffee, pepper, ginger, and cardamom. According to the previous census, the population of this area is less than ten thousand and are familiar with English, Hindi, Konkani, Kodava Takk, Are Bhashe, Beary base, and Tulu. The area also offers scrumptious local delicacies such as pork curry & Kadubittu, chicken curry & Akki Roti.
Location: Somwarpet Taluka
Nearby Attractions: Honnamana Kere Lake, Mandalpatti, Mallalli Falls.
20. Honey Valley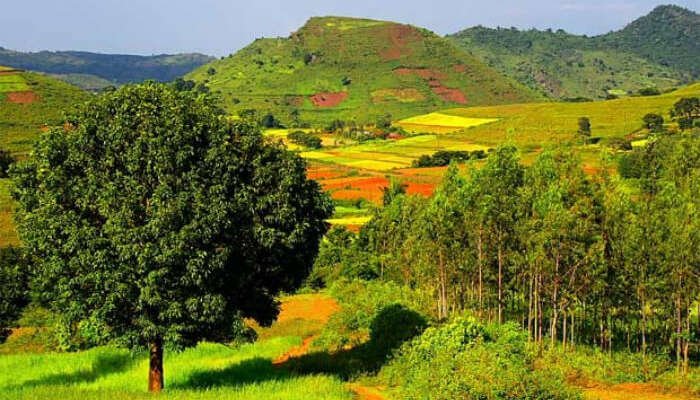 Nilakandi Falls which is popularly known as Honey Valley is a beautiful waterfall, located amidst the dense tropical forests. These Nilakandi Falls originates from Thadiyandamol range and purveys an electrifying waterfall shower to its visitors. Do plan a visit to this waterfall if you want to plunge in the natural beauty of Coorg. You will witness numerous trekkers and adventurers at this refreshing spot.
Location: Nilakandi Falls
Nearby Attractions: Nalakunad Palace, Brahmagiri Trek, Tadiandamol Peak.
21. Bhagamandala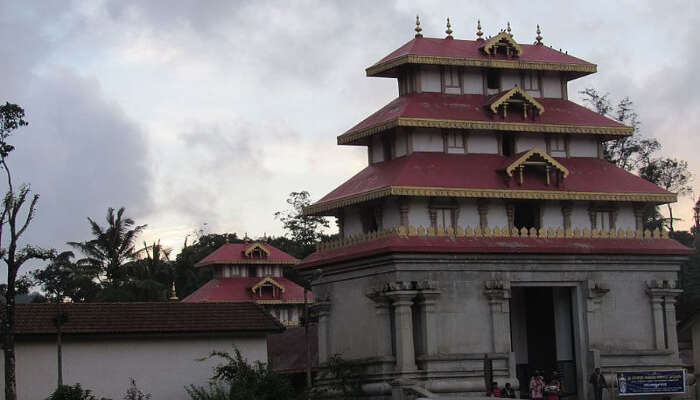 Bhagamandala is a popular pilgrimage located in the foothills of Talacauvery at a distance of 39 km from Madikeri. Locals believe that they attain spiritual upliftment through these holy baths. It is also called as 'Triveni Sangam' that's the sacred confluence of three rivers- Kaveri, Kannike, and Sujyoti. The third river is believed to be the mythical one that flows underground until Sangam.
Location: Talacauvery
Nearby Attractions: Kopatty Hills, Talacauvery, Abbey Falls.
22. Mallalli Falls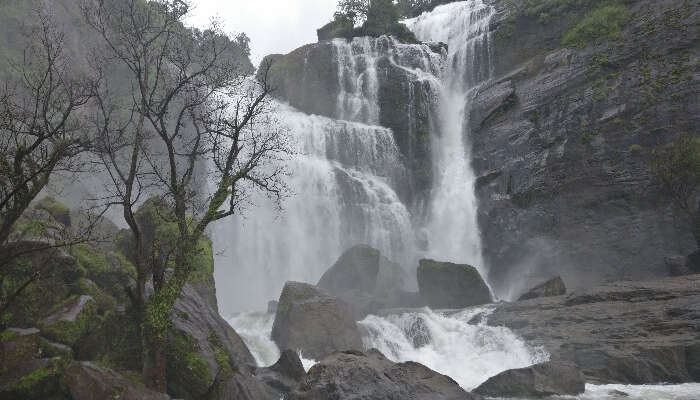 These gorgeous milky white waterfalls are located in the northern region of Kodagu district, merely 26 kilometers from Somwarpet at the bottom Pushpagiri Hills. Mallalli falls originate where Kumardhara river dives down from the height of 1000 meters, later following its natural route that ends into the Arabian Sea. This is one of the most beautiful places to visit in Coorg in 2 days as it lies quite near to the center of the town additionally these falls are surrounded with numerous other attractions, making you visit each one of them while heading to the Mallalli falls.
Location: Mallalli
Timings: 7:00 AM-7:30 PM
23. Gaddige Raja's Tomb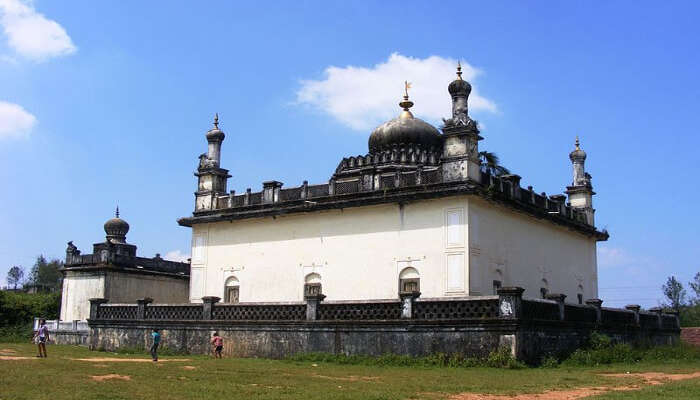 Located in Madikeri, Coorg; Raja's tomb is one of the most interesting places to visit in Coorg Karnataka. Constructed in the beautiful Indo-Saracenic style, this monument comprises the mortal remains of the Kodavas rulers and their royals. There is also a magnificent temple of Lord Shiva where the king used to organize prayers. The three tombs of this fort signify the royal dynasty. The central tomb is the largest one and belongs to Kodava king Dodda Vira Rajendra and his wife Maha Devi Amma. The other two tombs belong to his father and guru respectively.
Nearby Attractions: Golden Temple, Madikeri Fort, Omkareshwara Temple.
Location: Madikeri
24. Trekking In Kutta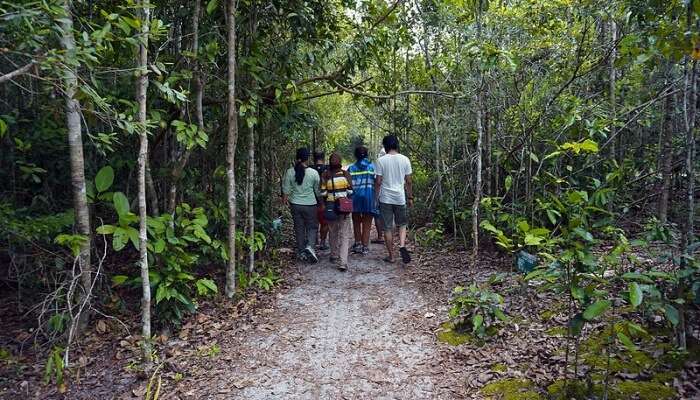 Kutta is amongst the most beautiful town in Karnataka and is located at an exclusive place which is a gateway to numerous tourists attractions. Kutta lures travelers from across the country with its enticing wildlife sanctuaries i.e. Nagarhole National Park and Tholpetty. Iruppu Falls in Kutta is known for its captivating beauty. These peaceful falls are blessed with nature's divinity and one must not miss out this mesmerizing location while holidaying in Coorg. You can plan a trek to Kutta and add an adventurous twirl to your vacation in Coorg.
Nearby Attractions: Trekking in Nagarhole, Nagarhole National Park, and Brahmagiri Wildlife Sanctuary.
Location: Kodagu district
25. Kopatty Hills Trek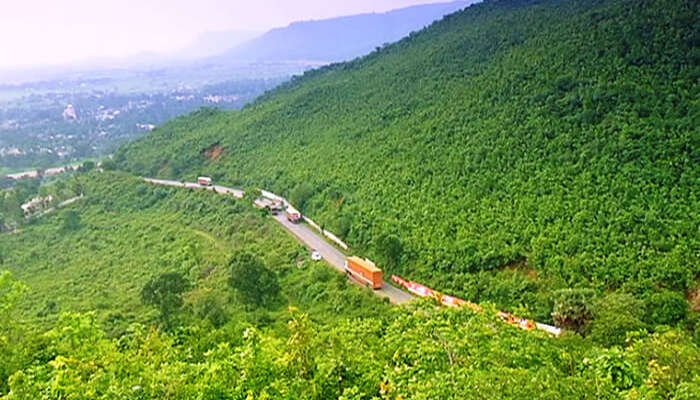 Another mesmerizing excursion in Coorg is to Kopatty which is an electrifying trek experience where one can encounter the thick forests, meadows, and valley. It is one of the few unknown trek trails in the Western Ghats which is nearly 40 minutes from Madikeri. If you love adventurous expeditions and due plan a trek to this astounding place embedded in the natural beauty of the Mother Earth.
Nearby Attractions: Bhagamandala, Talacauvery, Abbey Falls.
Location: Kopatty
Where To Stay In Coorg
There is no shortage of great resorts to stay in Coorg, each providing a different kind of experience to the visitors. While some are better suited for couples with facilities like spa, others are focused on families with options of safaris and adventurous activities. Whatever you may choose, make sure you pick a room that allows a view of the breathtaking landscape. So, here are a few best places to stay in Coorg:
1. Coorg Jungle Camp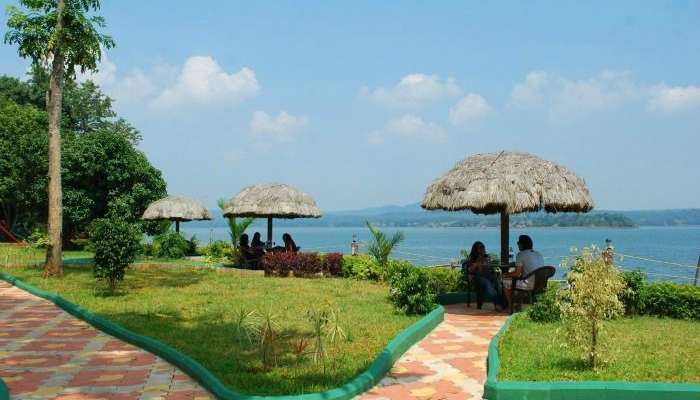 Image Source
One of the best resorts in Coorg, located near Kushalnagar, Coorg Jungle Camp is an ideal escapade for travelers. With the view of the Harangi backwaters and surrounded by dense forest and coffee plantations, it is an excellent place to take part in a jungle jeep safari, trekking and kayaking.
Location: Survey No. 56/2P2, Suntikopal Hobli, Coorg, Herur, Karnataka 571234
Price Per Night: INR 5,446
Suggested Read: 10 Light-On-Pocket Coorg Hotels That Are Worth Every Dime You Spend!
2. Old Kent Estates And Spa Resort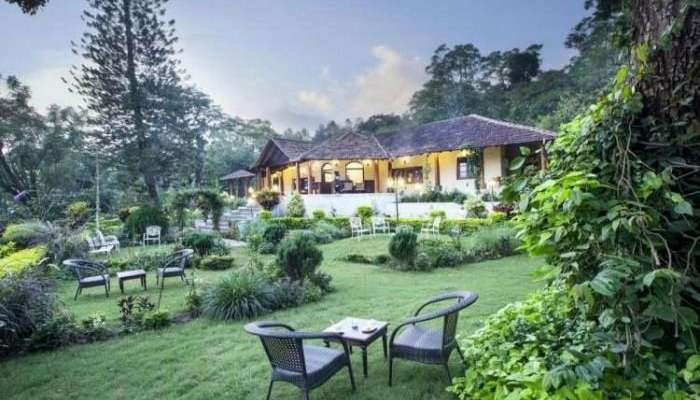 Part of a 200-acre coffee plantation, this resort is tucked away in Suntikoppa, 20 kms from Madikeri. The estate has large varieties of flora and fauna and is a wonderful place for bird watchers. The English garden in front of the lodge boasts of over 50 varieties of flowering plants commonly seen in the United Kingdom. Both families and couples are guaranteed to have a good time here. It is amongst the most amazing resorts to stay in Coorg.
Location: Thaikappa Estates, Post Box No. 4, Horoor Post, Suntikoppa, North Coorg, 571327 Suntikoppa, India
Price Per Night: INR 23,998
3. Heritage Resort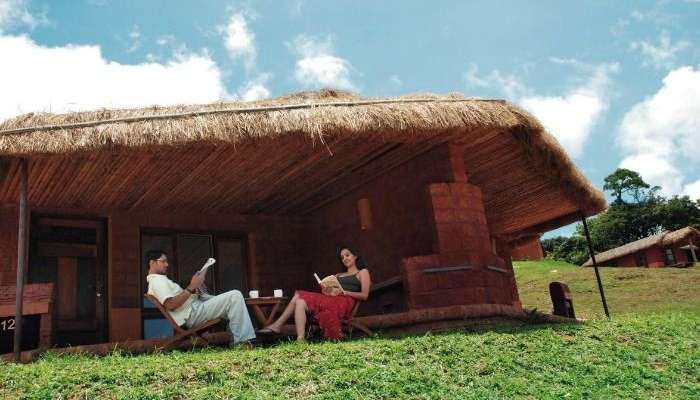 Of the many hotels and resorts in Coorg, nestled amidst plentiful greenery, the Heritage Resort offers panoramic views of the surroundings. The resort has an Ayurvedic Spa facility and is equipped with a great game parlor. The beautiful swimming pool faces the green covered mountains and the misty horizon and is an excellent place for a lazy afternoon.
Location: NH 8, Manesar, IMT Manesar, 122050 Gurgaon, India
Price Per Night: INR 5,250
Suggested Read: 10 Best Resorts In Coorg For A Luxurious Stay
4. Orange County Coorg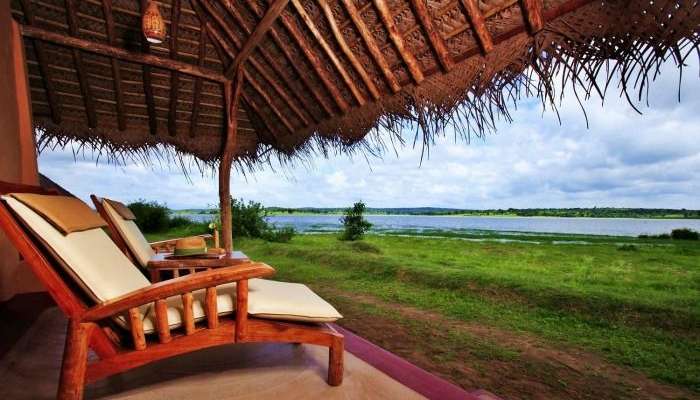 This is amongst the best resorts in Coorg for a romantic getaway. The resort is set up with thatched cottages facing the paddy fields, giving it a village feeling. And is surrounded by coffee and spice plantations, with the River Cauvery on one side and Dubare Reserve forest on the other. This resort is perfect for a romantic getaway with your partner.
Location: Karadigodu Post, Siddapur, 571253 Siddapur, India
Price Per Night: INR 17,000
Suggested Read: 10 Homestays In Coorg That Will Bring You The Exact Feel Of A Sweet Home
5. The Tamara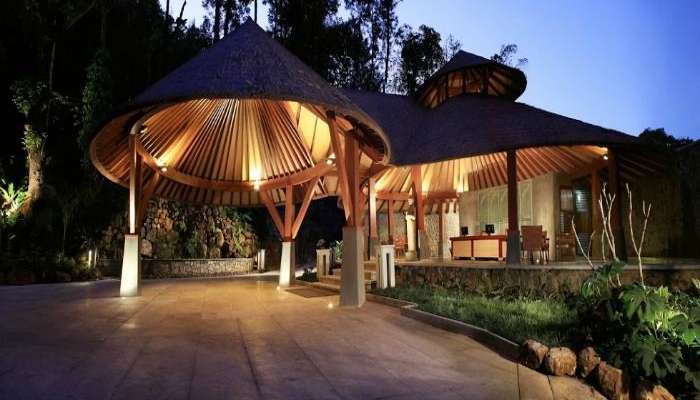 Image Source
This boutique resort is a remote, scenic hideaway with luxury wood cottages and offers an expansive view of the plantation and waterfalls. Indulge in trekking, coffee plantation tours, picking and processing berries which are offered as activities. Another attraction is the Rudraksha trail to the Giant Rudraksha Tree.
Location: Kabbinakad Estate, Napoklu Nad, Yavakapadi Village, Madikeri Taluk, Kadagu District, 571212 Kakkabe, India
Price Per Night: INR 14,000
How To Reach Coorg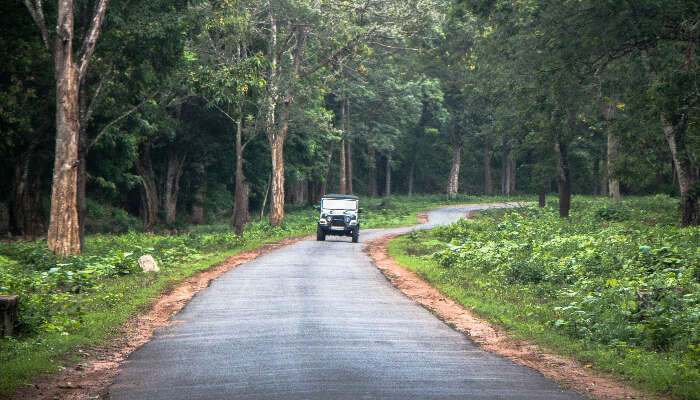 By Road: Coorg is well connected with the major cities of Karnataka including of Mysore (118 km), Bangalore (255 km) and Mangalore (139 km). You can either hire a taxi or board a bus that connects these cities to Coorg. KSRTC bus services connect Coorg to nearby Karnataka cities such as Mysore, Mangalore, and Bangalore among others.
By Train: The nearest railway station is Mysore about 120 km away.
By Air: The nearest domestic airport is the Mangalore International Airport, about 160 kilometers away.
Further Read: 13 Places You Must Visit In India With Your Family
Coorg is the 'Kashmir of South India'. Most of the above-listed places in Coorg are suitable to visit in 3 days, if you're visiting for a shorter duration you must wisely pick the best ones for yourself. So plan a trip to Coorg now and enjoy the gorgeous hill stations famous for their deep gorges, pristine waterfalls, peeking brooks, scented plantations, abundant nature and mesmerizing views. Trek along the trails and enjoy the sunset where the sky turns into hues of orange and blues and spellbind yourself.
Frequently Asked Questions About Coorg
Q. What is the specialty of Coorg?
A. Coorg is known for its natural beauty as well as for its coffee and spice plantations. The juicy and pulpy oranges of Coorg are quite alluring. The place is also known for its local chocolates and homemade wines. 
Q. What clothes to wear in Coorg?
A. Pack light clothes before heading to Coorg. One must prefer wearing light, comfortable, cotton clothing but do remember to carry a sweater or a jacket as the mornings and late evenings are a bit chilly here. 
Q. How can I go from Chennai to Coorg?
The nearest railway station to Coorg is Mysore Junction, nearly 95 km away from the city center. You can get down at Mysore Junction and board a taxi to Coorg or can directly prefer the road journey from Chennai to Coorg. 
People Also Read
Fun Places In Chennai Places To Visit In Bangalore Places To Visit In Hyderabad
Southern Karnataka's tranquil little town warrants a visit, don't you think? If you're still in two minds, watch our Coorg travel video. It will definitely inspire you to pack your bags and set off for this idyllic place!
---
Looking To Book A Holiday Package?
Book memorable holidays on TravelTriangle with 650+ verified travel agents for 65+ domestic and international destinations.
---
Comments
comments