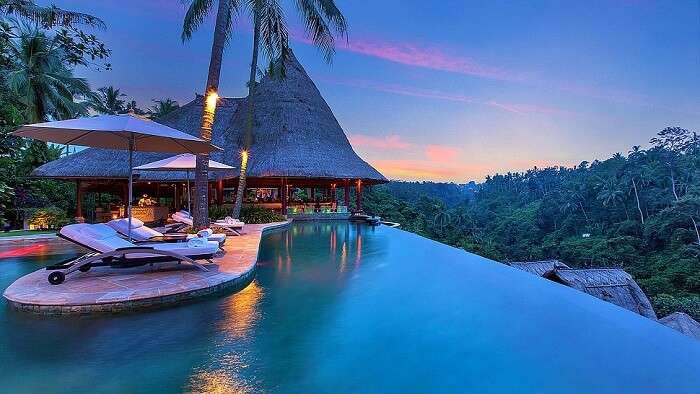 From the majestic temples and historical monuments to thrillophillic adventure spots, the tourist attractions in Bali are spread across eight regencies. This compilation of best places to visit in Bali will help you discover the mustn't miss experience treasures of this country like a native Balinese. Bali has so many attractions in its kitty that even a week-long vacation is not enough to explore the whole island. One must plan their trip with meticulous planning if they want to experience the best of Bali tourist places . So, are you feeling excited to explore the island country like a true local? Take a look to know what will suit you the best on your tropical vacay for a memorable trip with the best Bali attractions.
55 Best Places To Visit In Bali(2020)
While you're still wondering whether to visit this soothing island paradise any time soon, knowing about some of the best places to see in Bali beforehand will surely help you a long way. Take a look at the 55 best Bali tourist places that offer an experience like never before and indulge in a blissful Bali sightseeing experience.
1. Ubud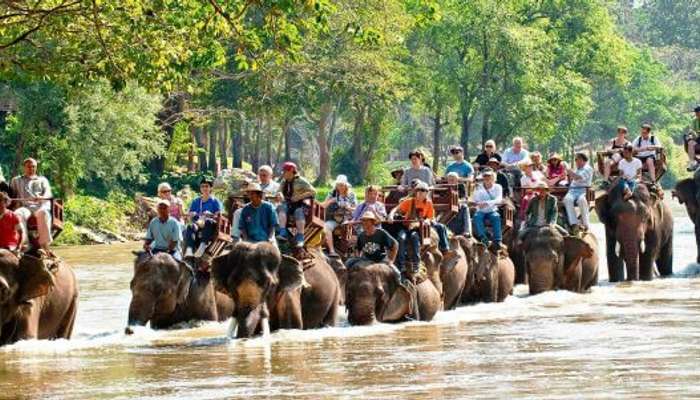 Ubud is a complete package of the best among the tourist places in Bali. From nature to culture, this place is a condensed Indonesia showcasing its culture through paddy fields, temples, street dance performances and museums. So, when you are visiting Bali, make sure you add Ubud to your itinerary!
Things to do: Explore the scenic vistas on a bike; stroll through Tegallalangs terraced rice fields; visit the bamboo mansions; encounter flocking herons at Petulu; monkey around at the macaque-inhabited Monkey Park.
Cant miss: Safari on Elephants; and firefly tour provided by various hotels
Must Read: 9 Best Places To Visit In Jimbaran For A Serene Holiday Experience In Bali!
2. Lovina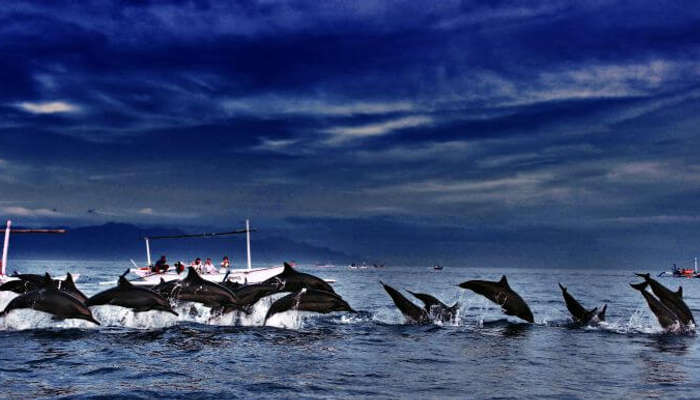 With black sand spread over an area of 5 miles, Lovina beach is the largest resort area on the north coast of Bali. Encompassing several small villages, it is a welcome break from the hustle of the Southern tourist attractions in Bali.
Things to do: Go snorkeling and scuba diving in the calm sea; watch the dolphins; take a spa; visit hot water spring at Banjar
Cant miss: Spear fishing at Kubu Lalang Hotel
Suggested Read: Kayaking In Bali 2020: A Handy Guide To Explore Balinese Sea On A Kayak!
---
80+ Bali Holiday Packages On TravelTriangle
Stay at luxurious private pool villas and resorts, Experience thrilling water sports – parasailing, scuba diving, and snorkeling – or take a sunset dinner cruise. Get best holiday deals for Bali offered only by TravelTriangle.
---
3. Mount And Lake Batur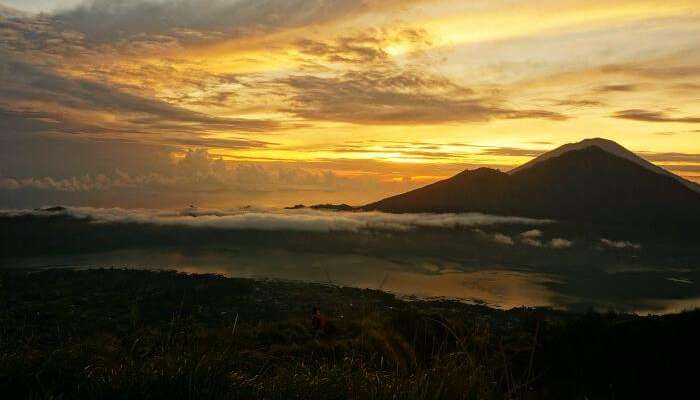 Also known as Kintamani volcano, Mount Batur is one of the most dramatic landscape for sightseeing in Bali. With the magnificent view of its a 13 sq km caldera and a beautiful lake which fills the large part of the caldera, it offers a fantastic spectacle to a visitor.
Things to do: Visit Pura Ulun Danu Batur; linger around the craters on the mountain; swim in the hot springs; ride a bike through the ancient villages
Cant miss: Trek to the peak before sunrise, soak yourself in the beautiful sunrise and have a breakfast of the eggs boiled in the volcano
Suggested Read: 7 Best Bali Luxury Resorts Where You Can Experience The True Balinese Life
4. Nusa Lembongan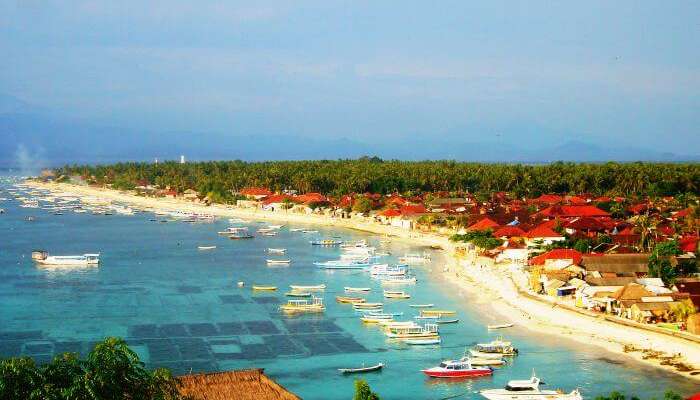 Did they ask you to take permission from an elder to enter the city if you are in a car- Welcome to Nusa Lembongan island! No hawkers, no traffic, turquoise water and a mushroom-shaped coral offshore that's how they introduce this small island located off the southeastern shores of Bali.
Things to do: Surf at Mushroom Bay; go for diving, snorkeling, and/or cruise ride; visit seaweed farms; discover the hidden dream beach
Cant miss: Boat to Mangrove Park and explore the quietude
Suggested Read: Spend 9 Days In Singapore And Bali For An Ultimate Honeymoon Getaway In 2020!
5. Sanur Beach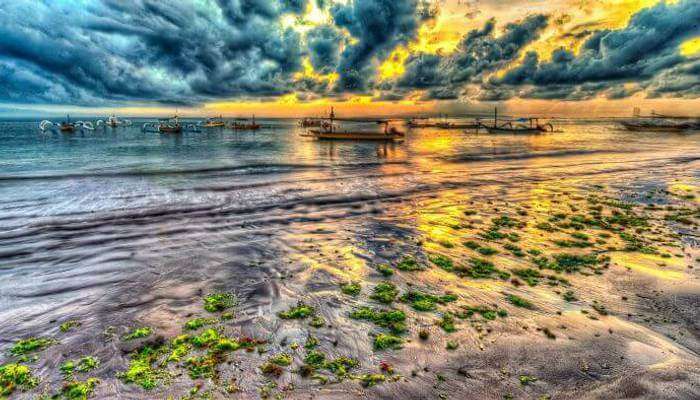 A tree lined street and shady beachfront – located in the village of Denpasar in southeast Bali, Sanur Beach has for long kept itself away from the changes of morbid world. It houses some important must see places in Bali which have preserved the histories in its temples and museums.
Things to do: Go for kite flying; kayaking; wind and kite surfing; parasailing; fishing; and a glass bottom boat ride
Cant miss: Get up early and watch the sunrise by the beach; track starfishes while the tides are low (do keep them back where you found them)
Suggested Read: 10 Famous Villages In Bali Bubbling With Life, Art, & Rich Culture
6. Kuta Beach
A melting sun over the white sandy beach in the evening flavored with sizzling seafood at the beachside cafes thats what an everyday afternoon looks like at Kuta Beach. Once a sleepy fishing village, it has remained Balis premier vacation destination ever since its renovation in late 1970s and the best western Kuta beach.
Things to do: Visit Ground Zero Memorial; experience 3D trick art at Dream Museum Zone; cruise in style on the roads with vintage rides; get wet at Circus Waterpark; pay a visit to Kuta Sea Turtle Conservation site; watch Kuta Theater
Cant miss: Ride the beach on a horse; trip to the north end and count the passing planes while the sun lowers down; drive through picturesque toll bridge
Suggested Read: Shopping In Bali: A 2020 Retail Therapy Guide On What To Buy & From Where
---
Planning your holiday in Bali but confused about what to do? These 50+ Bali travel stories help you find your best trip ever!
Real travel stories. Real stays. Handy tips to help you make the right choice.
---
7. Pura Luhur Uluwatu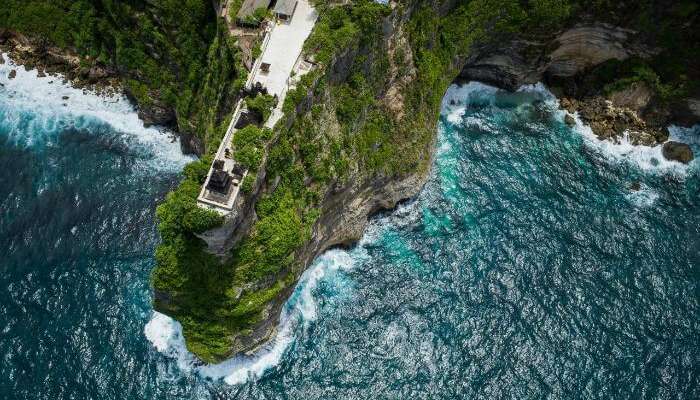 Statues of Ganesha flanking the entrance, monkeys begging for treats from visitors, evening dance shows this is just another day at Pura Luhur Uluwatu. Built on a steep limestone cliff jutting over the sea, it feels to be perched on a throne.
Things to do: Explore the sunset delight from the cliff; daily Kecak dance performances; explore the traditionally-designed gateways; historic sculptures and Balinese architecture
Cant miss: Seafood dinner at Jimbaran Beach while the sun melts down at a distance, the anniversary celebration that takes place every six months according to the Balinese 210-day Pawukon cycle
Suggested Read: I Had Fun Breaking Stereotypes. Here's How I Traveled An Entire Week In Bali On A Budget!
8. Tanah Lot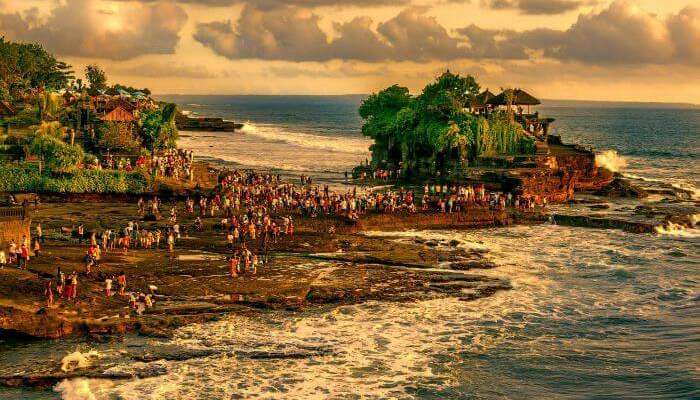 Among the 7 sea temples each within eyesight of the next, is Tanah Lot Temple tour. Situated on a large rock, it is one of the most iconic Bali tourist attractions for photography and exoticism.
Things to do: Stroll along the beach; sunbathe; watch the sunset; dine and experiment with the local cuisine
Cant miss: Surfing and swimming
Suggested Read: 34 Best Beaches In Bali For An Exotic Mix Of Serenity, Seclusion, & Snorkeling!
9. Seminyak
A small town in the southwestern coast of Bali, Seminyak is famous for its high-end boutiques, and five-star restaurants among Bali tourist attractions. With a treacherous surf, it offers a perfect adventure with a panoramic background.
Things to do: Indulge in cheap daily massage; watch the gorgeous sunset; shop; chill out at the pool parties; pose at Bali Trick Art Gallery; surf the seas; feel blessed at the Pura Petitenget temple.
Cant miss: Cocktails at a cliff at The Rock Bar; a splash in Waterbom water park.
Suggested Read: 10 Best Hostels In Bali That'll Ensure You Spend Less And Experience More!
10. Pura Besakih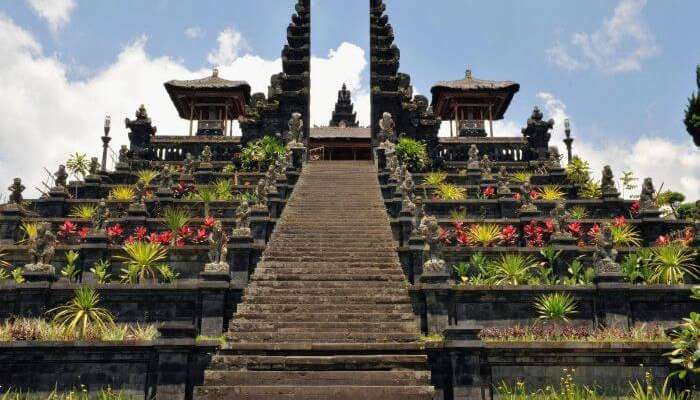 The slopes of Gunung Agung house Balis highest mountain, Pura Besakih. Legends say that this nine directional temple was built to protect the island from evil. With 28 structures on terraces, it is surrounded by scenic rice paddies, lush forests and vegetation.
Quick tip: Hire a registered guide to understand the signs and symbols through terraces. Dress appropriately!
11. Mount Agung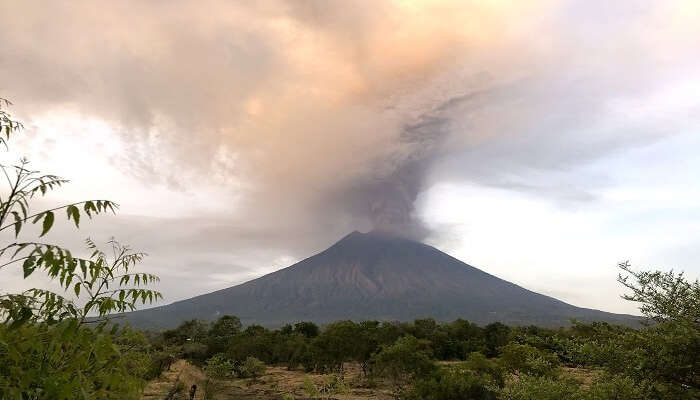 Mount Agung is the not just Bali's spiritual center but it is also the highest peak there. A very revered mountain of Bali, Mount Agung's peaks are shrouded in mist and clouds. The mountain looks scenic and a beauty to behold during dawn. Its picturesque beauty is perfect for getting some photography done. Trekking and rock climbing is a favored activity over in Mount Agung and it starts early. Each and every house in the region face the
Things to do: Take beautiful pictures of the mountain, go trekking, engage in Rock Climbing.
Can't-miss: The Mountain's beauty at dawn.
Suggested Read: 15 Exotic Places To Visit In Bali For Your Dream Honeymoon
12. Tulamben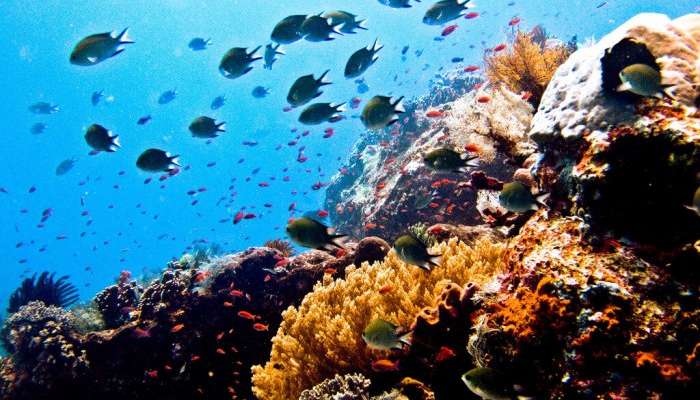 Bali's beaches are a beauty on the surface but there's more than meets the eye with them. You can go underwater as well to see a world beyond anything ever seen before. To start off this thrilling adventure you can begin from Tulamben and its shipwreck remains, and end at Pemuteran, which has the largest bio rock reef of all. Bali has something for everyone and it is suitable for all levels and kinds of divers. It's advisable to go diving during the dry months. One place which just can't be missed is the Nusa Penida Island with all its beauty.
Things to do: Enjoy Surfing, Visit the bio rocks, see shipwreck remains, take photographs and more.
13. Nungnung Waterfall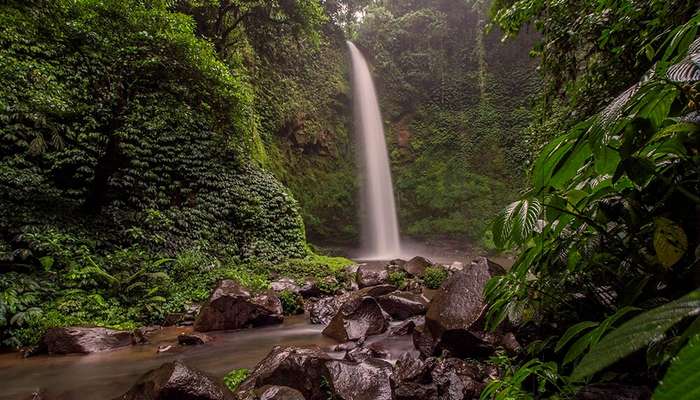 Air Terjun Nungnung, lies between Bedugul and Ubud. It is a beautiful waterfall which is just the perfect place to refresh yourself and recharge your senses. Situated around 900 meters above the sea level, the waterfall is surrounded by beautiful lush greenery and is a welcoming sight for nature lovers as well. Bring your camera with you to take some amazing photographs. It should be noted that this water isn't ideal for swimming and moreover, the 500 step pathway which leads to it can prove to be taxing for many.
Things to do: Take amazing photographs of the place, relax while there.
Can't-Miss: Even if you don't climb up the 500 steps, do take a look at it, you will surely be in awe.
Suggested Read: Ubud Monkey Forest: The Sanctuary Of Long Tailed Macaques And Ancient Temples
14. Bali Bird And Reptile Park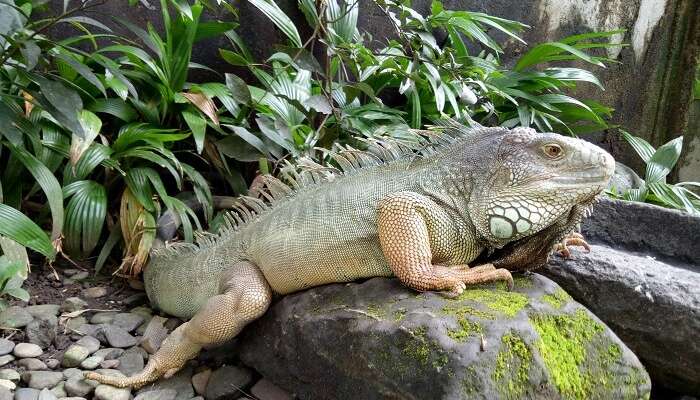 Image Source
As one can expect from the title, the Bali Bird and Reptile Park is a fun place for kids, adults, and families who love those animals. The park houses around 1000 birds along with a whopping 250 species of reptiles. It's the perfect place to head to for nature lovers and for those who want to do something different and enjoy being in a surrounding with animals. Don't forget to pack your camera for this trip as the brightly colored toucans are perfect to fill up your memory space with. If you get tired during the tour then no need to fret. There is s dining facility in there along with a shopping place from where you can get your souvenirs.
Things to do: Walk around, take in the fresh surroundings, photograph the animals.
Can't-miss: The Toucans are entertaining, don't miss them.
15. Tukad Cepung Waterfall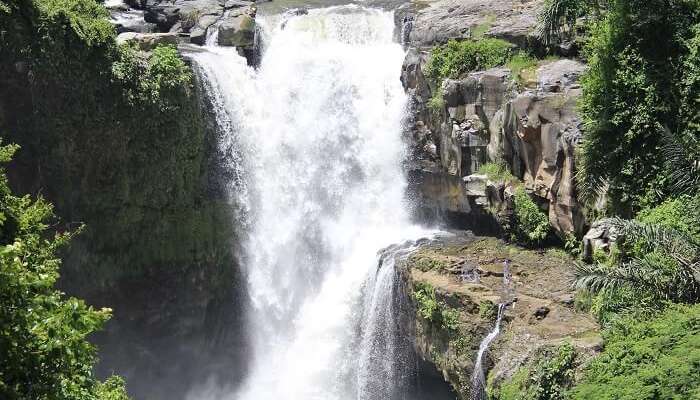 Image Source
Situated in the Tembuku region of Bangli regency; this waterfall is definitely a must visit for the amazing views it brings about. You have to undertake a 15-minute trek which would need you to wade through gravel and waist-deep water to reach the waterfall site. The whole effort is worth it, but make you are prepared for it. Once there, the sight of the beautiful waterfalls which crash as sunlight hits it through the canopy overhea to give it an otherworldly ethereal vibe.
Things to do: Go trekking, take photographs of the beautiful waterfalls
Can't-miss: The canopy of trees above which are a vision of its own.
Suggested Read: 10 Best Ubud Nightlife Spots That Are A Must-Visit For Partygoers!
16. Ayung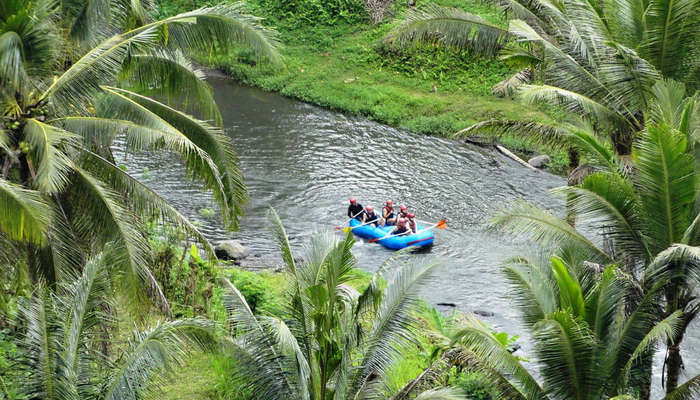 Image Source
Rafting is actually a very popular sport in Bali but white water rafting increases the difficulty level and along with it, the thrill of it all. If you want to be part of the adventure the Ayung river is the spot to head to. It is the largest river over in Bali and it is located in Ubud. A raft boat will take you over 10 km of thrill and adventure. It is suitable for all kinds of the rafter, from beginners and full families as well as there will be a professional trainer who will guide tourists and help them navigate the distance full of 2 to 3 meter long rapids successfully. Numerous safety standards are put in place to ensure that the experience in Ayung river is memorable.
17. Jimbaran Beach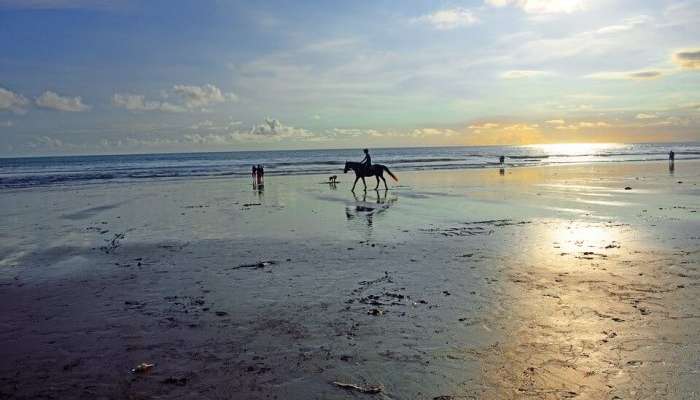 Image Source
Jimbaran Bay Beach has everything which a beach lover could ever want. There are amazing coral reefs, luxury hotels, and sun loungers as well to complete the full experience. The beach is a strip of shimmering land connecting the mainland of Bali with the Bukit Peninsula. It is a very mellow place which is perfect for relaxing and it offers tranquility as well as peace to its visitors. Enjoy the sound of the ocean in your ears as you sit underneath the vibrant green coconut tree groves. Absolutely picture perfect, this place truly offers all you could possibly want, there are diverse dining options as well so you can enjoy a scrumptious meal while watching the beautiful sunset.
Things to do: Go coral reef watching, have a delicious meal, enjoy the sunset, engage in photography.
Can't-miss: The sunset while here.
Suggested Read: 10 Incredible Places To Visit In Kintamani To Get Lost In Serenity
18. Green Bowl Beach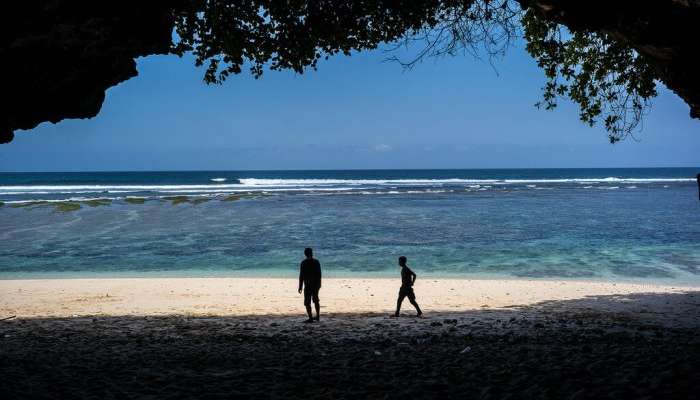 Image Source
Bali has a whole range of beautiful beaches and so the list grows along with them. The green bowl beach is one of the most secluded in Bali. It is situated in Ungasan, which is around 15 mins away from any town nearby. The beach attracts fewer visitors because to get here one has to descend hundreds of steps first and this deters many. So there are a few surfers and water adventure sports enthusiasts here. But it also makes it be a perfect spot for relaxing and just enjoy the solitariness of it all.
Things to do: Visit the limestone caves present on the beach, bring your surfboards, engage in a variety of adventure sports.
Can't-miss: Definitely the limestone caves.
19. Tirta Empul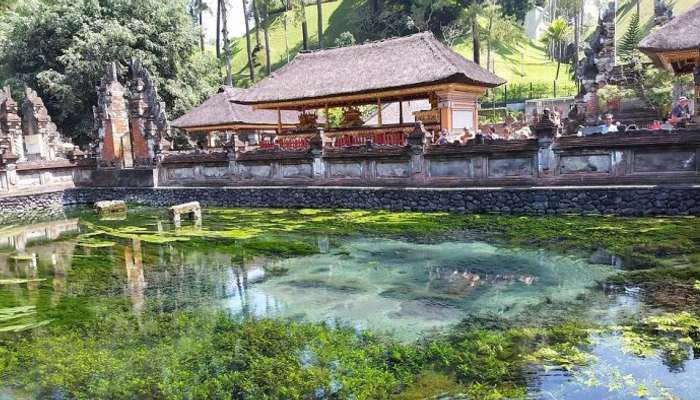 Image Source
Constructed in the year 962 AD, during the Warmadewa dynasty's Reign; the Tirta Empul (also known as the Holy water Temple) is a legacy of a tale of the victory of good over evil. It houses a mountain spring considered holy and this spring feeds into the Pakerisan river. This holy place is revered for its ability of ritual purification by the devotees. Visitors can look at the temple carvings but they can't take part in the ritual bath. Over there look out for a 10th-century beautiful structure which was dedicated to Lord Vishnu. The temple is divided into three sections called the Nista Mandala or the outer section, the Madya mandala or the middle section and the Utama Mandala. The rich carvings and lore of this place name it a place not to be missed.
Things to do: Visit the Sacred pool, admire the carvings and the deities, look at the statues.
Can't-miss: The beauty of the carvings.
Suggested Read: Visit Sidemen Valley In Bali For A Rejuvenating Tour Amid The Gorgeous Views
20. Gitgit Waterfall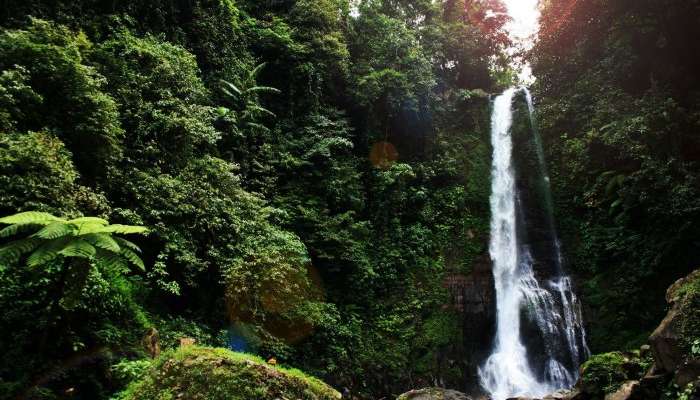 Image Source
Situated about 10 km from Singaraja. The Gitgit waterfalls are also known as Air Tejung Gitgit and they offer a refreshing experience for the visitors. To reach the 40-metre waterfall, visitors will have to traverse along a wooden walkway which leads into a rocky pool. Take a dip in that cool pond before heading over to the nearby Mekalongan waterfall as well. This is a great place to relax and be closer to nature. The water over at the waterfall actually splits into two different streams which also gives the waterfall its another name- Air Terjun Kembar Gitgit or Twin Falls. It's a great place for people wanting some peace and solitude. The cold falling water, coupled with the lush scenery makes for a perfect spot.
Things to do: Take a dip in the cold pond, see the other nearby waterfall called Mekalongan waterfall, go trekking, have a picnic.
Can't-miss: The scenery.
21. Bali Safari And Marine Park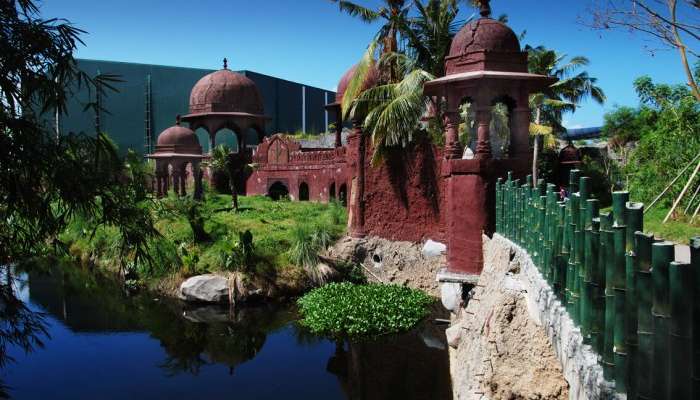 Image Source
One of the most popular theme parks in Bali, it is home to more than 100 species of animals which hail from countries like India, Indonesia and more. Situated in Gianyar, it has endangered species like white tigers, Komodo dragons and orangutans. You will get the opportunity of getting close to their amazing animals through the jeep safaris and the animals rides offered over there. This is a great place to visit with friends and family alike.
Things to do: Enjoy the safaris, take pictures, go on animal rides.
Can't-miss: The safaris.
Suggested Read: Bali Bird Park: A Personal Guide For Soaking In The Blissful Vibes On Your Next Bali Vacay
22. Tegalalang Rice Terraces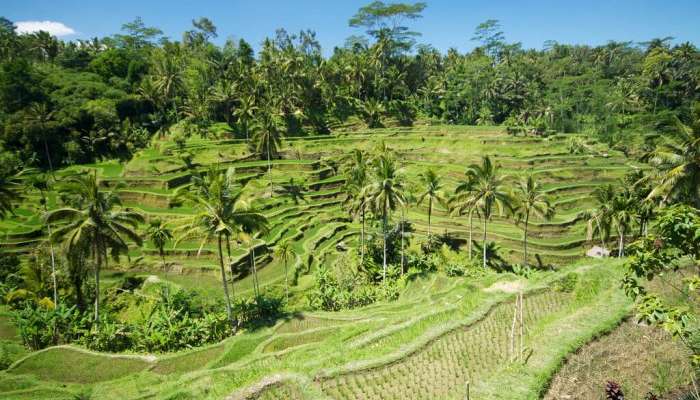 Image Source
These rice fields situated around 20 minutes to the north of Ubud are a break away from the usual types of commercialized structures that are seen. These beautiful luscious rice terraces transition softly into paddy fields across the valley. These rice terraces are famous because they use an efficient 8th-century style of rice farming called Subak. It is a great place for some stunning photographs, you can later head off to have some coffee over at one of the quaint little cafes. Later on, take a detour to the Pakudui village to look at some amazing intricate wooden crafts. The rich culture of this place is increased by the feeling that you have stepped far back in time.
Things to do: Enjoy the Coffee over there, visit Gunung Kawi Sebatu Temple, admire the scenery from the swings, take a look at the Made Ada Museum, go on a cycling tour, look at the carvings.
Can't-miss: Take in the surroundings from the swing.
23. Sacred Monkey Forest Sanctuary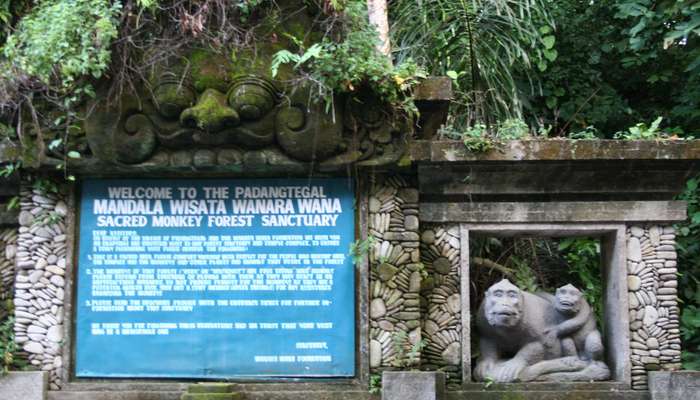 Image Source
It is a natural habitat of more than 600 Balinese long-tailed monkeys. The Sacred Monkey Forest Sanctuary is located in Ubud and it serves as a tourist attraction hotspot due to its wildlife as well as religious value. There are around 115 species of various kinds of trees there and combined with monkeys who are always on the lookout for getting some treats from the tourists, this is a delightful place for nature lovers. Spread of 12.5 hectares of land, this place is owned by the Pandangetal community. Apart from the monkeys, there are also Timor Rusa Deer who are kept because of their beauty. The temples in here dare back to the 14th century and are constructed with amazing sculptures and carvings of dragons and monkeys. This is a great place to head to for some fun time with playful monkeys.
Things to do: Play with the monkeys, visit the deer, look at the carvings.
Can't-miss: Play with the monkeys, don't forget to take treats.
Suggested Read: Amed Beach: A Pocket Guide To Experience A Blissful And Soothing Bali Vacation!
24. Uluwatu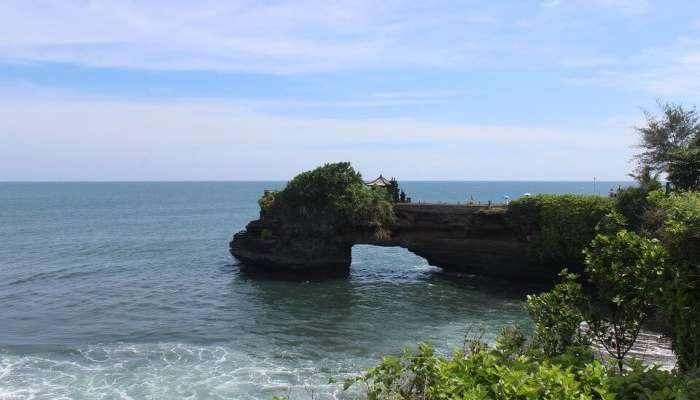 Image Source
Located at the southern tip of Bukit in Bali, Uluwatu beach attracts lots of surfers of varying experience levels from all over the world. The word Uluwatu is formed of two words- 'Ulu' which means 'land's end' and 'watu' that means rock. This is because its waves are made up of five world-class surf breaks. If you love surfing then bring your board and test your skills but if you would much rather relax then there are plenty of hotels and restaurants there which give a beautiful view of the ocean in all its glory. When here, make sure to check out the Pura Luru Uluwatu temple of this region. The clear blue waters of the place are perfect for a getaway.
Things to do: Go surfing, Enjoy the water sports, enjoy the delicious cuisine.
Can't-miss: The beautiful waves breaking over the shoreline.
25. Dream Beach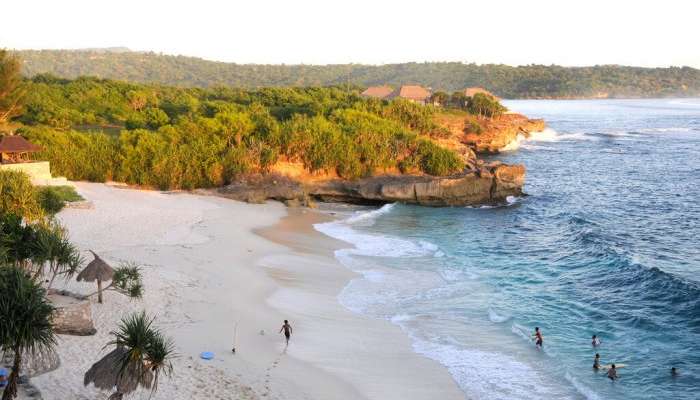 Image Source
This is definitely the most famous out of the three Nusa Islands. In the southwestern coast of Nusa Lembongan lies the Dream Beach, which is a remote 115 meter of a pristine stretch of white sand. But there's more to enjoy apart from the sand and surf. While here, make sure to check out the low lying cliffs and the rock formations as well. From the beach, you can get beautiful panoramic views of the ocean and it is known for its peacefulness as well since the usual hustle and bustle of tourists isn't here. Getting ready to explore one of the best places to visit in Bali to soak in all the charming sandy vibes-
Things to do: Go surfing, take photographs, visit the Rick formations
Can't-miss: The rock formations.
Suggested Read: Bali Fun World: A Handy Guide For A Thrilling Family Trip In The Charming Island Of Bali
26. Pura Taman Ayun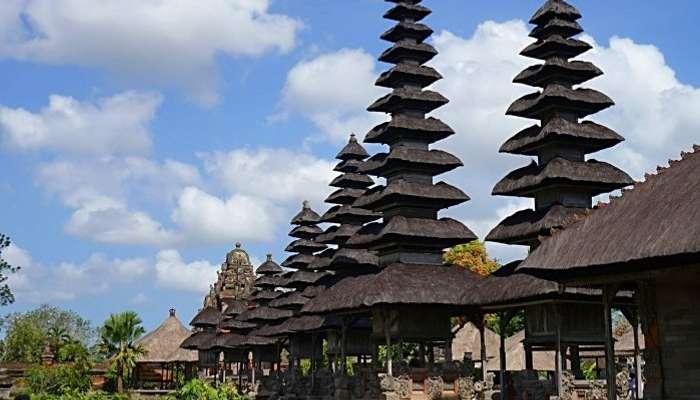 Image Source
Constructed in 1634 by the kind of Mengwi dynasty so as to honor his ancestors, the Pura Taman Ayun, translated to Beautiful Garden is an ancient temple located in Mengwi, Bali. The gateway of the Temple is beautifully ornamented and leads to a beautiful fountain that sprouts water through its nine jets. These nine jets represent the nine gods in the Hindu Pantheon. There is an old world charm to this place like it belongs to a time of past and perhaps that is the reason why visitors flock here throughout the whole year.
Things to do: Look at the carvings and sculptures, take pictures.
Can't-miss: The Fountain.
27. Waterbom Bali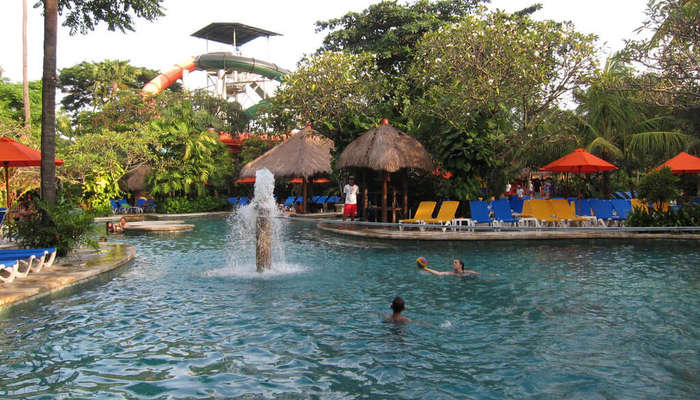 Image Source
It is called Asia's best waterpark and located in the South Kuta, this place offers a thrilling day to its visitors. Bring your family and friends to this island which has numerous rides which will suit everyone. There's the Lazy River Ride for those wanting to take the day slow and relax a little, there's also the Boomerang ride which is just full of adrenaline pumping 20-metre tall fall of thrill. The rides range from mild to extreme and this actually aids in making the park more versatile. The park is clean and green, apart from decorated in a specific way which just gives enough shade to protect visitors from the burning sun above. There lost of dining options here as well and apart from this, there are some really affordable Javanese massages along with a fish foot spa inside the park which would delight anyone.
Things to do: Go on the rides, enjoy the food, have a message.
Can't-miss: The rides.
Suggested Read: Nusa Islands: A Pocket Guide To Explore The Glorious Island Near The Stunning Bali Island!
28. Museum Negeri Propinsi Bali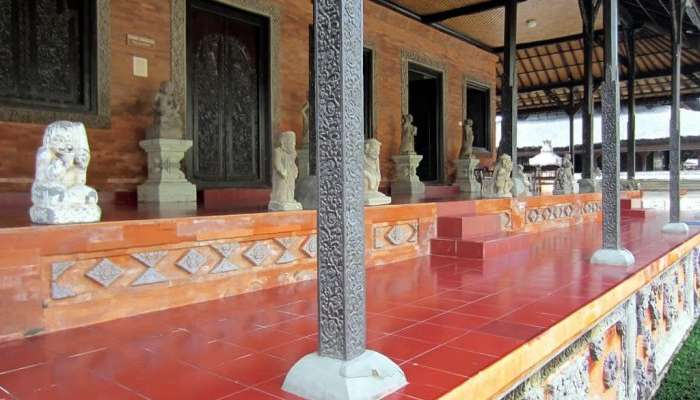 Image Source
This is the best museum if you want to explore Balinese Culture in its entirety. This central museum is situated in the provincial capital of Denpasar and houses more than 10,000 artworks. There are a lot of pieces on display in here which include everything from prehistoric sarcophagi to dance costumes as well as masks. The Museum Negeri Propinsi is also known as the Provincial Public State Museum. Make sure to see the various pavilions which examine the different facets of the history and culture of the place. The whole ambiance of the place is more enhanced by the traditional music that plays on bamboo instruments. The best time to visit this place is in the afternoon as it is less quiet then.
Things to do: Observe the artifacts, pictures, sculptures and such; listen to music.
29. Balangan Beach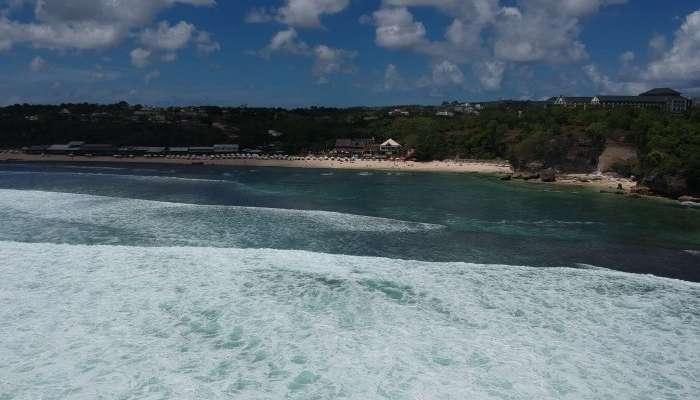 Image Source
Situated around 20 km to the south of Kuta, the Balangan Beach is a picturesque Beach which is well known for its beautiful golden sands as well as it's surfable waves. The place attracts surfers from all over the world, especially to the hill from where the beach descends, as it offers some amazing panoramic views. The beautiful beach in itself is dotted with warungs who serve refreshments. This is ideal for surfers who are looking to test themselves. Keep note that the beach is devoid of lifeguards and that makes it unsafe. Its shimmering white sandy landscape contrasts well with the glistening blue water of the ocean. Make sure to come here during sunset to see something magical.
Things to do: Surfing, photography, sunbathing
Suggested Read: A Visit To Lush Greenery Of Jatiluwih Green Land In Bali Will Calm Your Mind & Soul
30. Double Six Beach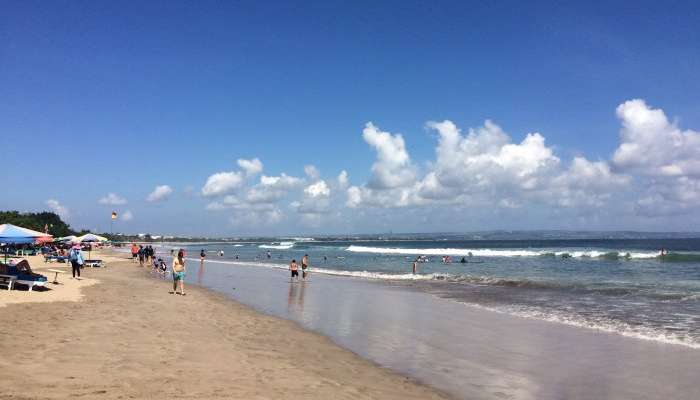 Image Source
Located in Seminyak, the Double Six Beach offers a very relaxed ambiance with its blue waters and golden sands. Tourists can relax in the sun during the day when the sun is high and hot. It is also a great place to engage in surfing. If you feel hungry while here then there are lots of restaurants which are located across the beach and they make it a very lively place to be in.
Things to do: Go surfing, open your parasols and engage in sunbathing, do some photography
31. Goa Gajah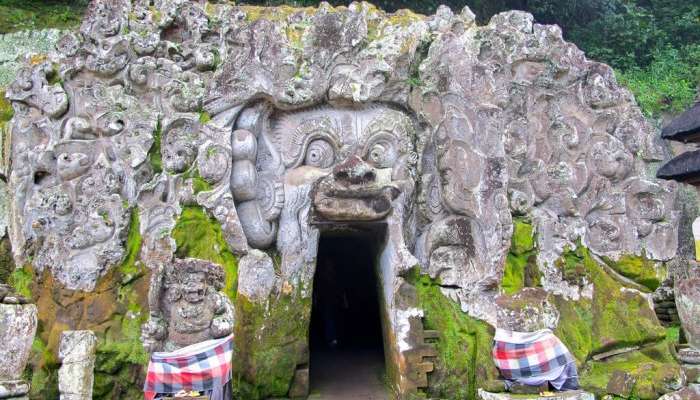 Image Source
Located just six kilometers from Ubud, the name of this place means the 'elephant cave'. It is a popular cultural and spiritual attraction site which is filled up with Shaivite relics as well as Buddhist carvings. When you enter the place, a very big demon like structure waits for you at the entrance. Then you are led to a tranquil pool inside the place. The intricate carvings and stonework of this place make it a must visit for people who want to look at Indonesian architecture and heritage in a more detailed manner. This place depicts the architecture as well as the history of Bali. This is surely one of the best places to visit in Bali if you wish to witness their glorious craftsmanship!
Things to see: The elephant structures spread all over the cave complex; see the pool, fountain, and jungle temple; admire the carvings and stonework.
Suggested Read: Return To The Pristine Blue Lagoon Beach In Bali To Leave All The Commercial Fuss Behind
32. Campuhan Ridge Walk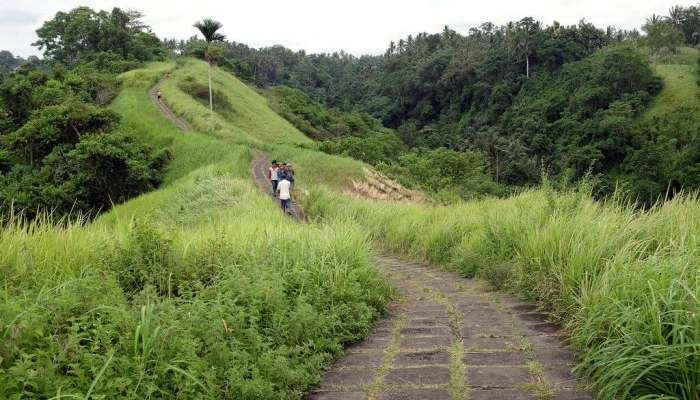 Image Source
On this trek, you will get to walk through a variety of landscapes which are the highlight of the central highland part of Ubud. It provided a pleasant escape from the congested streets of the towns and into the splendid greenery. You will get to trod on hidden trails and click amazing pictures of the scenery which encompasses the place, it's truly like surrendering oneself to nature. You don't have to worry about entry fees because it is free of cost and this open for all days of the week.
Things to do: Go trekking, explore the trails, engage in photography.
33. SkyDome Super Club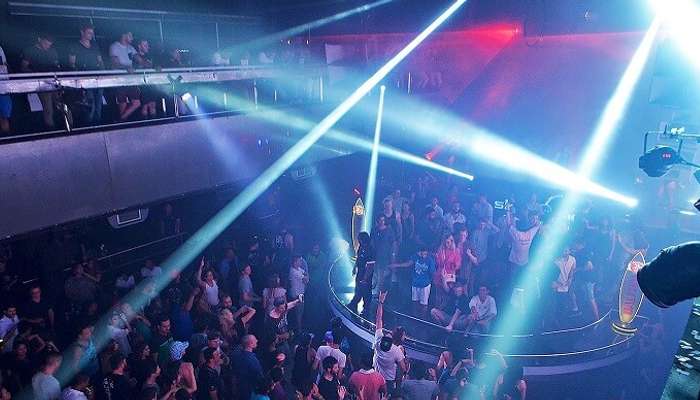 Image Source
This singular building is the main spot for spending a wild night in Legian. The SkyDome Super Club is one building which comes with a total of seven venues that has five different floors. Come here for the never-ending buffets and the beer pints. Then go off to the dance floor situated right on the rooftop where the DJ plays trending times. Dance your heart out with the crows and enjoy to your heart's content. This is definitely a night owl's favorite hanging out spot. It is open from about 9 am till 4pm on all days of the week.
Things to do: Hang out with friends, have drinks, have fun.
Suggested Read: Have You Been To Blue Point Beach In Bali Hidden Away From All The Bustle?
34. Mirror Bali Lounge And Club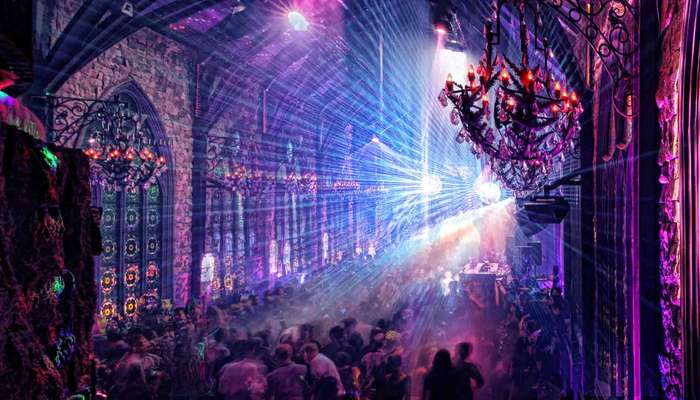 Image Source
This is a major party venue which is Gothic themed and is a destination which is hugely favored by the party goers. You will find that as you enter the venue, the place is reminiscent of a Gothic cathedral with its high ceilings and stained Windows. Internationally famous DJ's, as well as local artists, set the house on fire. This place is perfect for those who want to have fun, get wildly drinks and party like a rock star. It is open from about 11 pm to 4pm.
35. Sundays Beach Club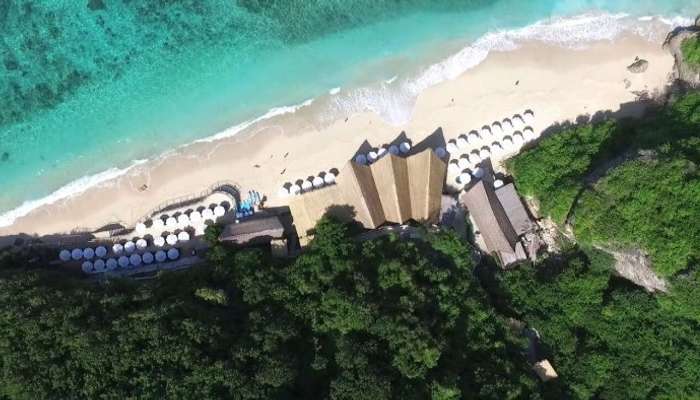 Image Source
This is a popular beach club which has an in-house party spot as part of the Ungasan Clifftop Resort. The Sundays Beach Club is a small hut like a cabin with detailed thatched roof and a beach setting. In here people can spend the whole night either by going to the beach at night to experience the serenity of the lonesome waves or watch early morning sunrise from there to enjoy the peacefulness of it all. As for drinks, the round bar is stocked full with it and the club also has a kitchen which operates on a first come first served policy. Its really like a small paradise sitting right on the edge of the Ungasan Village.
Suggested Read: Goa Gajah Gianyar Guide: An Encounter With Bali's Mesmerizing Cave Temple!
36. Rock Bar Bali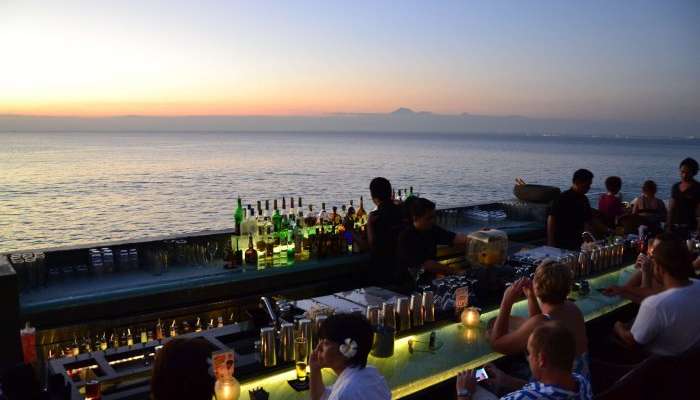 Image Source
To kick back and watch the sunset by the sea while holding a cool glass of wine or one of the signature cocktails herein is a great expense to have. The seating is on a connected limestone cliff which is also the money maker for this venue. A lineup of world famous DJs play some amazing music to set the mood. Get ready to be high from the music, setting and the view of it all. The club opens its doors from around 4 pm to 12 am.
37. DAVA Steak And Seafood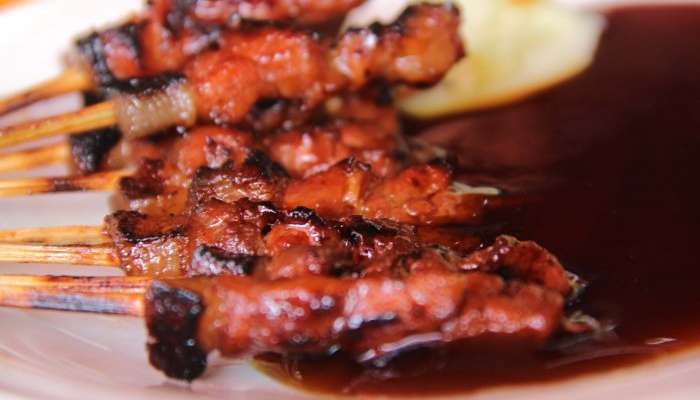 Image Source
This is a modern take on a seafood grill and steakhouse. The place is top class in its hospitality as well as servings. The background of the ocean along with the mountains just serves to make the dining even more memorable and photo worthy. The many here is innovative and the staff is cordial and hospitable. The seating is sleek and the atmosphere here is really chic. The place also serves gluten-free foods for those who want it. The place is open on all days of the week. In mood for some good seafood, be sure to check out one of the top places to visit in Bali like this one!
Suggested Read: Tegallalang Rice Terraces: A Complete Tour Guide For Bali's Magnificent Rice Terraces!
38. Yellow Flower Cafe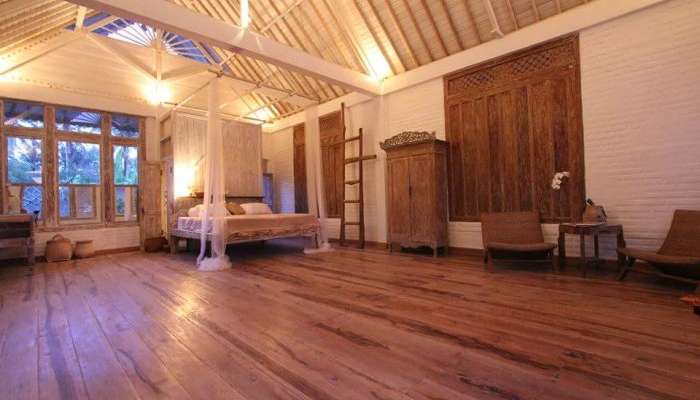 Image Source
Located right in the Penestanan hills, there is a cave which shaped like a cafe. This Yellow Flower Cafe is run by an oval family and the surroundings there are enveloped in luscious greenery. Having breakfast here is just glorious. Take a seat here to taste some authentic Asian and Balinese food. The owners have grown their own vegetable to support local farming communities so everything that their taste is fresh and healthy. The setup is eco-friendly with a simple decor so that the visitors get to experiment with the authenticity of it all. This is a must visit place for trying out the Balinese Buffet every Sunday for dinner.
39. Seasalt Seminyak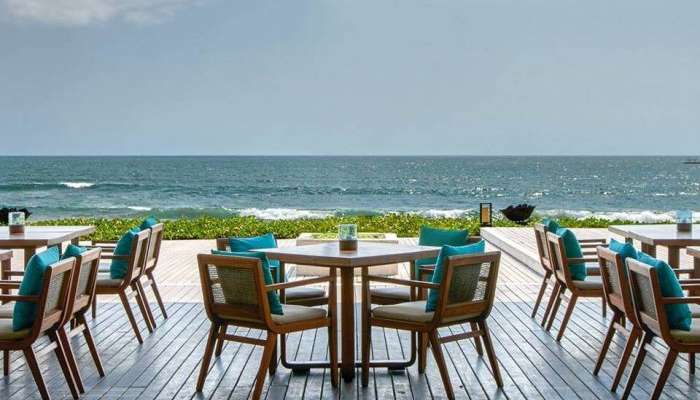 Image Source
The amazing seafood over here which is served with just a pinch of Japanese style combined with the wafting smell of the blue oceans is enough to make anyone's heart sing. Sea salt is actually the very first stylish and modern residence in Seminyak which experiments with seafood. Ge devour here is classy, the servings are well proportioned and the staff is also hospitable. There is also a live kitchen which makes people fall for sea salt. As you sit there to eat, enjoy the light and shadow play which goes on the outer deck as the waves crash around. It's an enchanting place to be in. This place is open on all days of the week.
Suggested Read: Not Just A Famous Surfing Spot, Green Bowl Beach In Bali Is A Piece Of Heaven
40. Ubud Art Market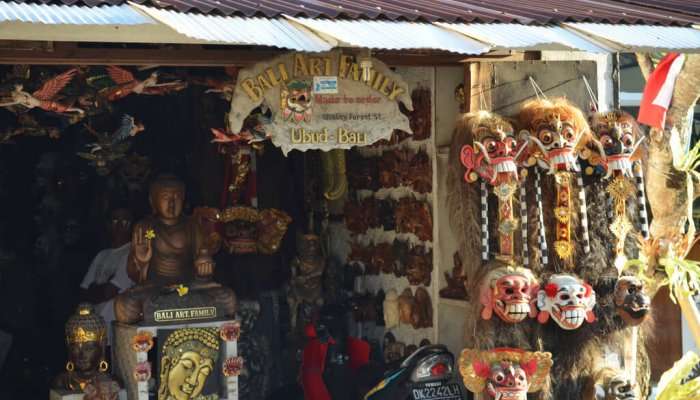 Image Source
I love art and would like to have some very unique pieces in your abode then the place to look for it is the Ubud Art Market. The handmade crafts here are just exceptional. Stroll around through this market as you look for some amazing scarves, handmade woven baskets and bags, statues, kites, and other handcrafted goods.
41. Sukawati Art Market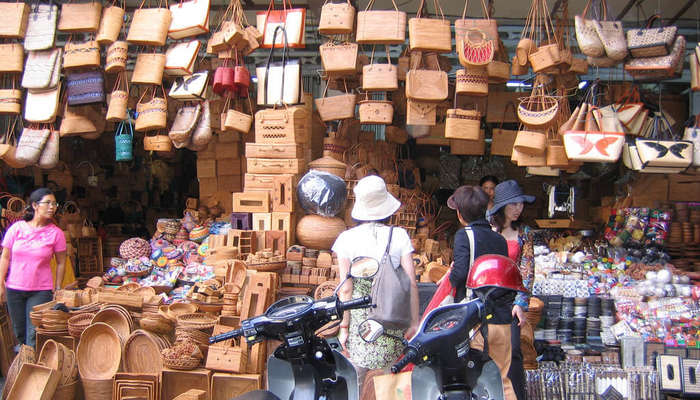 Image Source
You can find verything from contemporary art to sculptured wooden showpieces in here. Homemade Balinese products are a mainstay in this market. The Sukawati Art Market is locally popular as Pasar Seni Sukawati. This is a two story building which was established sometime in the 80s. A regular shopping spot for the vacationers, you can find everything from clothes to handbags, traditional kites and more. But art is the mainstay of this market. So, if you're in mood to find some handmade artwork in Bali, this is one of the best places to visit in Bali!
Suggested Read: Dreamland Beach: A Travel Guide To The Hidden Bali Land Of Elysium!
42. Sanur Night Market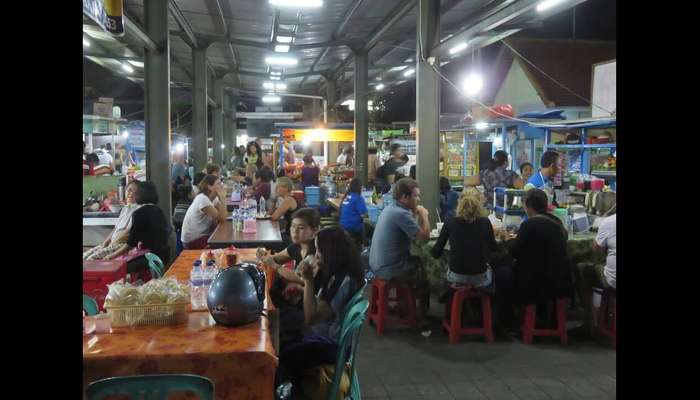 Image Source
This night market is just the perfect place to be if you are hungry and are in search of some delicious food here. Apart from food, you can also carry out your shopping here. The market has a very diverse range of good like the Balinese meals, dried fish, soups and more. The best part about being here is that everything is cooked right in front of your eyes, so you know that it is fresh and piping hot.
43. Poppies Lane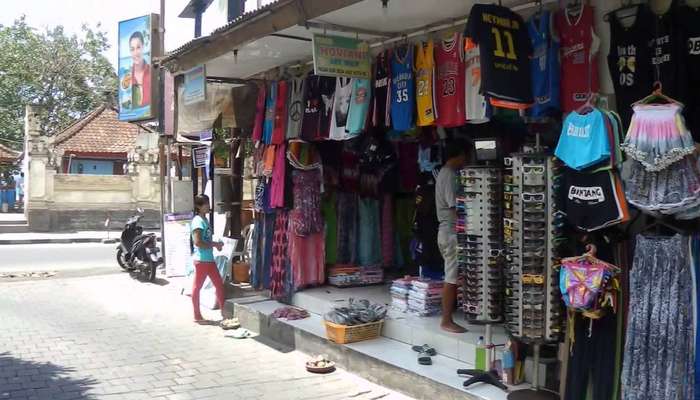 Image Source
It is a very popular shortcut road in Bali as it cuts down much of the distance for taxis, cars, surfboard scooters and more. There is the Poppies Lane 1 and also poppies lane 2, both of which come with amazing boutique resorts, hotels, restaurants and surf shops. In Lane 2, there's popular restaurants and art shops. The poppies Lane is one of the few happening places to visit in Bali which will give visitors the choice of the best hospitality chains.
Bali is an amazing destination to head to because of the sheer variety of place to visit it offers its viewers. From beaches and temples to mountains and museums, there is everything here for the traveler. Moreover, all of it combined with the delicious and unique cuisine of the place makes it just the more attractive.
44. Bali Swing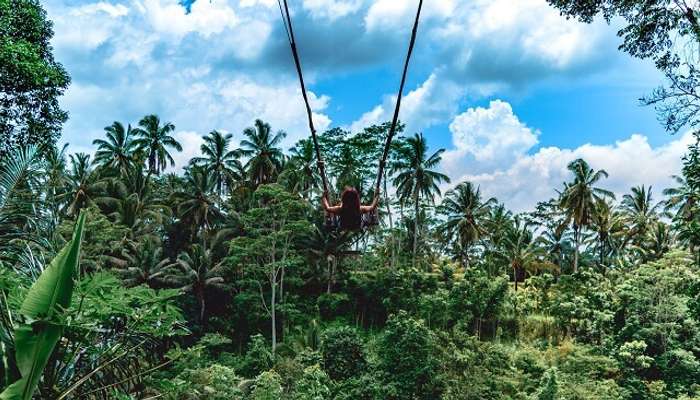 Bali Swing has become one of the must visit places in Bali among couples on honeymoon or romantic vacation. Of course, why would it not be romantic taking a swing with your loved one over the vast expanse of lush green plantations? Also, it is an amazing spot to get awesome pictures for your Instagram. Click photos with your bae and get hundreds of likes on your photos for sure.
45. Pura Ulun Danu Bratan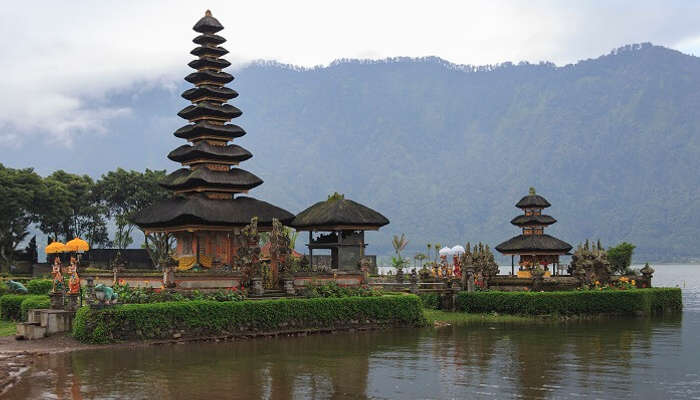 Bali is an island of temples. There are numerous temples or institutions of spirituality and faith and each one of them is unique and beautiful. Pura Ulun Danu Bratan is one of the most popular temples in Bali visited by tourists in large numbers. The 17th-century temple is located amidst picturesque scenery and is surrounded by water from all sides. The Bedugul mountain range overlooks the temple adding charm to the landscape.
Suggested Read: Bali vs Malaysia: Choose Your Kind Of Honeymoon Destination!
46. Nusa Penida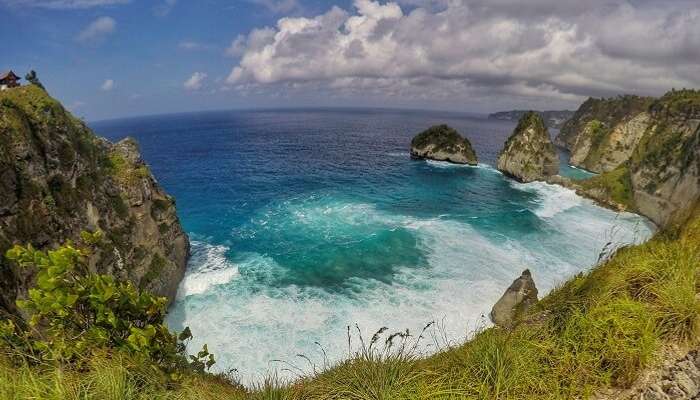 Nusa Penida island had gained quite a popularity with time that almost everyone visiting Bali take a trip to this beautiful island. If you want to get access to the unspoiled beauty of Bali, you should definitely put Nusa Penida on your list of the places to visit on your Bali vacation. You may not find many restaurants or hotels to stay on the island. Though it has numerous lagoons and temples that you can visit.
47. Sekumpul Waterfall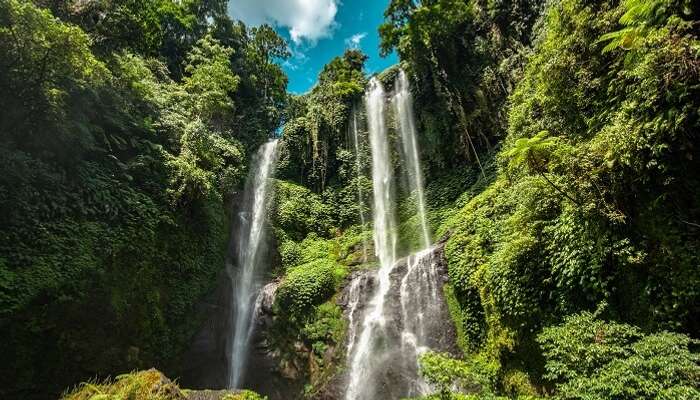 The waterfalls in Bali are galore. One of the most beautiful ones is the Sekumpul Waterfall. It is a famous tourist spot where you have to take a small hike and arrive at a cluster of seven beautiful falls. Enjoy admiring the beauty of this place and even take a dip in the cool, refreshing waters of the pond that os formed beneath the waterfalls
Things to do: Swimming
48. Garuda Wishnu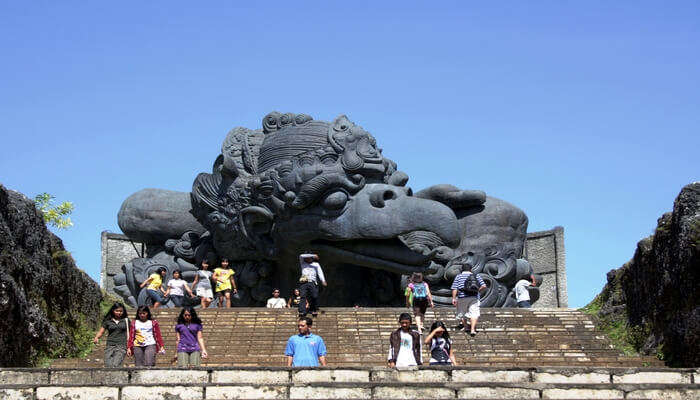 A vast cultural park sprawling in the Badung Region of Bali, Garuda Wishnu Kencana Cultural Park is where culture, peace, nature, and spirituality all fuse together. You will find a number of man-made attractions inside the park one of which is the large statue of Garuda Wishnu. It is 120 m tall and exudes peace and serenity. You should definitely visit this place if you are traveling to Bali with family. The statue stands as a symbol of the island's religious belief.
49. Jatiluwih Green Land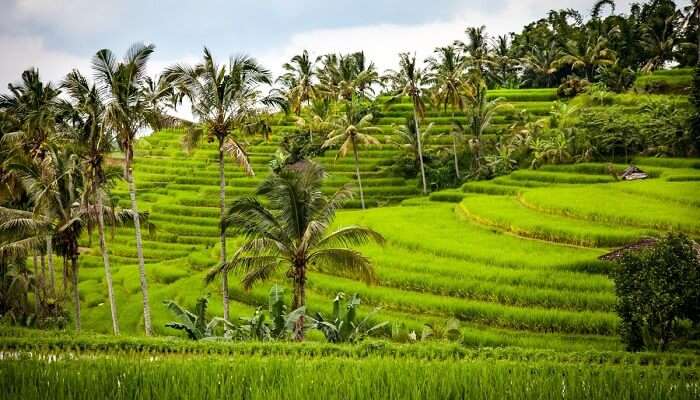 The lush green rice fields in Bali have a following of their own and it is because these fields in Jatiluwih are truly mesmerizing. The blinding hues of green will leave you invigorated and refreshed. Apart from that, you will also come across the opportunities to learn about rice farming in Bali. spend a day in the fields like Raj and Simran so what if they are rice fields in Bali.
50. METIS Bali
If you wish to enjoy a fine dining experience with your spouse or whole family on your exotic vacation, then you should make reservations at METIS Bali. It is a highly acclaimed multi-cuisine restaurant where you will find French, Meditteranean, and fusion dishes to your liking. The airy restaurant has a lounge, bar, and private seating space where you can have an intimate dinner in the evening.
51. Tanjung Benoa Beach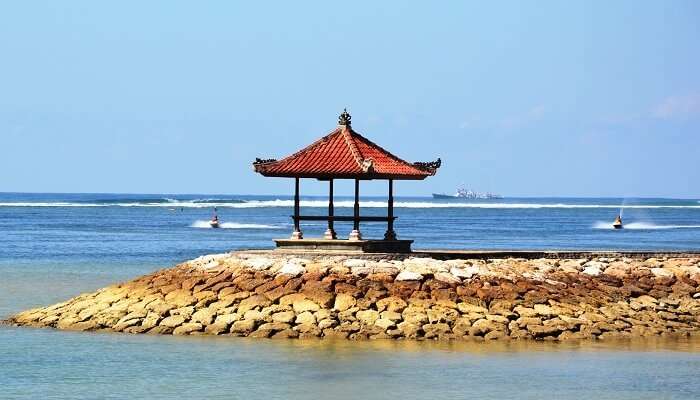 There is no dearth of beautiful beaches in Bali for beach lovers. Tanjung Benoa Beach in the southeast area of Bali offers an amazing staycation experience along with happening water sports activities. You can indulge in jet skiing, paragliding, skiing, snorkeling, scuba diving. Book a fine stay at one of the beach resorts and enjoy an amazing holiday here.
52. Blue Point Beach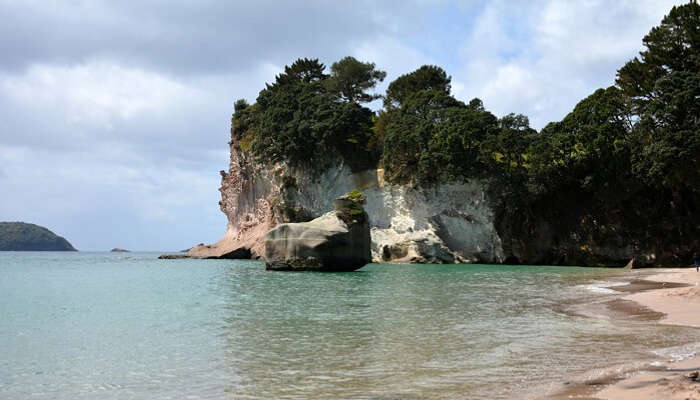 Also known as Suluban Beach, Blue Point is one of the most amazing spots in Bali offering you an exquisite scenery. The lush green vegetation and unique limestone formations add charm to the landscape. Take a stroll on the soft, white sandy beaches and enjoy moments of bliss. If you wish to stay by the beach, you can book a villa in Bluepoint Villas.
53. Tirta Ganga Royal Water Garden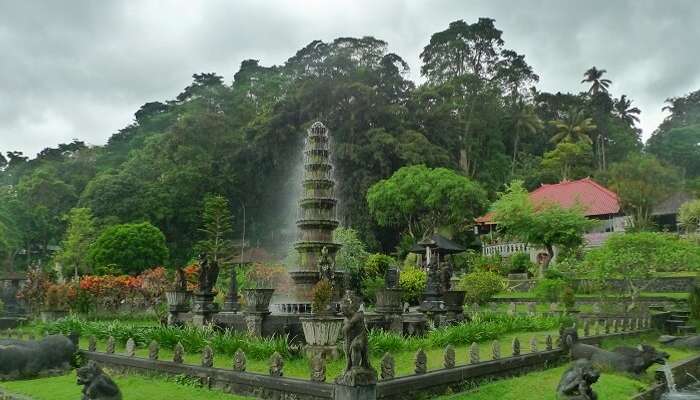 Tirta gang Royal Water Garden is one of the most beautiful places in Bali that you must visit on your honeymoon or family vacation. Built in 1948 by Karangasem family, you will find a royal palace in the center surrounded by water. You will also find numerous statues and water fountains adorning the gardens.
54. Bali Zoo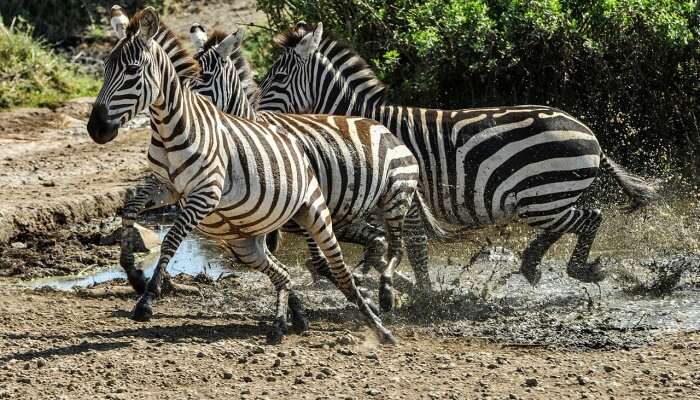 Home to a diverse range of species including African lions, white tigers, orangutans and elephants to name a few. The zoo is set amidst 8 hectares of dense tropical forest, offering absolute wilderness to explore the wildside of Bali and make friends with some of its inhabitants. The zoo also features some unique wildlife experiences like Breakfast with Orangutans, Night at the Zoo, Elephant mud fun and more.
55. Tegenungan Waterfall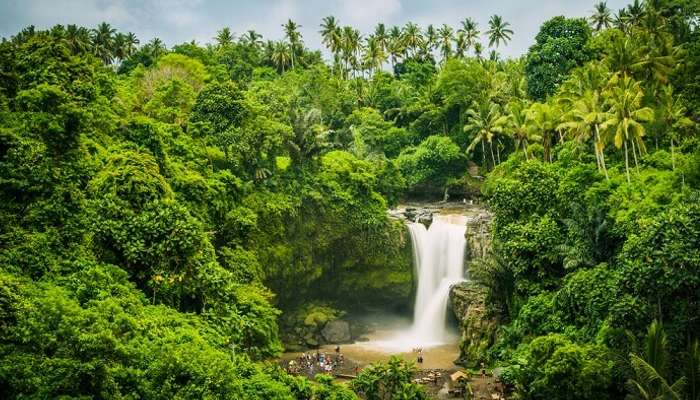 Bali is home to endless waterfalls that offer mesmerizing views and thrilling activities to indulge in with your friends. Tegenungan Waterfall is one of the most popular waterfalls if you want to capture stunning instagram-worthy shots. This magnificent waterfall lies deep in the middle of scenic landscapes.
Further Read: Blanco Renaissance Museum: A Handy Guide For Exploring The Most Unique Place In Bali
Excited to explore Bali? Make sure you add all the best places to visit in Bali and experience the best Bali tourist places in this tropical paradise! But before that, plan your Bali trip with TravelTriangle and experience the bliss!
Frequently Asked Questions About Bali Tourist Attractions
Q. What is the best area to visit in Bali?
A. Sanur beach, Nusa Lembongan, Lovina, Pura Luhur Uluwatu, Mount Batur, Kuta Beach, Pura Besakih are some of the best places to visit in Bali which are known for their tropical beauty and picturesque landscapes which are worth a visit.
Q. What is the most beautiful place to visit in Bali?
A. Some of the most beautiful places to visit in Bali is Pura Ulun Danu Bratan, Nusa Dua beach, Uluwatu temple Pura Tanah Lot and Mount Batur which are famous for its beautiful landscapes and experiences which can be cherished throughout the time.
Q. Is Bali safe to visit?
A. Bali is relatively safe if basic precautions are taken into consideration. This Indonesia island is prone to earthquake and in the past time there have also been incidents of terrorism, but on a broader aspect this island destination is safe to travel.
Q. What is famous in Bali for shopping?
A. Bali is famous for handicrafts like the Balinese silver jewellery, Batik fabric and clothing, Bali ceramics, Organic beauty products which can be bought as a souvenir along with Kopi Luwak coffee and chocolates.
Q. How many days are enough in Bali?
A. If you have a plan of exploring just the main island then a week in Bali is enough to spend in Bali. While apart from that if you plan to visit the nearby islands like the Gili and Nusa islands, it will take at least 8 days in Bali.
Q. When is the cheapest month to visit Bali?
A. February is considered the cheapest month to fly to Bali while for people planning a trip in September, the flights might be very costly.
Looking To Book An International Holiday?
Book memorable holidays on TravelTriangle with 650+ verified travel agents for 65+ domestic and international destinations.
Comments
comments