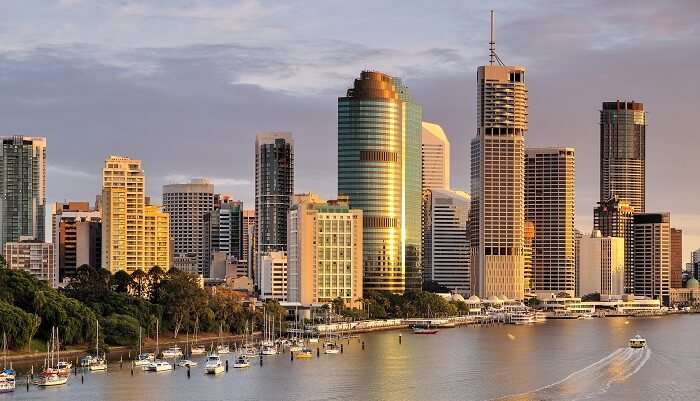 If you travel to the opposite end of the Pacific Highway that branches off from Sydney, you will find yourself in the city of Brisbane. Because of its location on the river, it is a prime destination for day trips from Brisbane or for those looking for outdoor adventures but has a thriving restaurant and nightlife scene that can help introduce this country. For those seeking an adrenaline rush, climbing Story Bridge is a must-do activity and sports enthusiasts cannot miss the opportunity to catch a rugby match at the renowned Suncorp Stadium. But another interesting aspect that this city has to offer is the accessibility to nearby destinations that really bring home the idea of exploring Australia to its truest potential.
10 Popular Day Trips From Brisbane
Day trips from Brisbane are popular and plenty and they can add an element of excitement to your itinerary. Read on to learn more.
1. Caloundra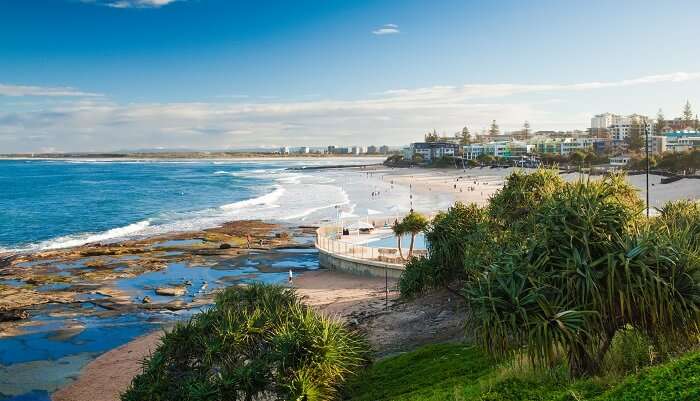 Located just a short drive of approximately an hour from the bustling state capital of Brisbane, Caloundra is a tranquil coastal destination situated on the southern tip of the beautiful Sunshine Coast. This family-friendly destination is not only a popular spot for day trips and weekend getaways for locals, but it also attracts a significant number of visitors from other states within Australia and even international tourists who are looking to experience the quintessential Australian beach holiday and one of the best beach day trips from Brisbane.
Visit Brisbane In December And Get Indulged In These 11 Activities
2. Boonah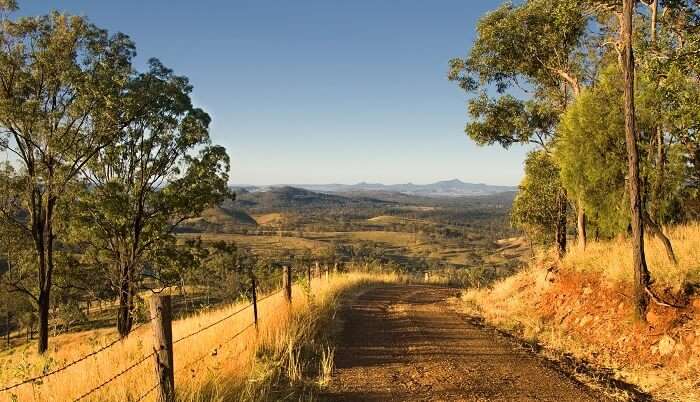 Boonah, located in the state of Queensland, Australia, is a city that offers a wealth of popular attractions, making it a highly desirable destination for visitors. Some of the must-see sights in Boonah include the picturesque Moogerah Dam, the exotic Summer Land Camels, the renowned Kooroomba Vineyards and Lavender Farm, and many more. Given its location in the midst of the Scenic Rim, Boonah is also an ideal base for visitors who wish to explore the many natural wonders that the region has to offer.
3. Glasshouse Mountains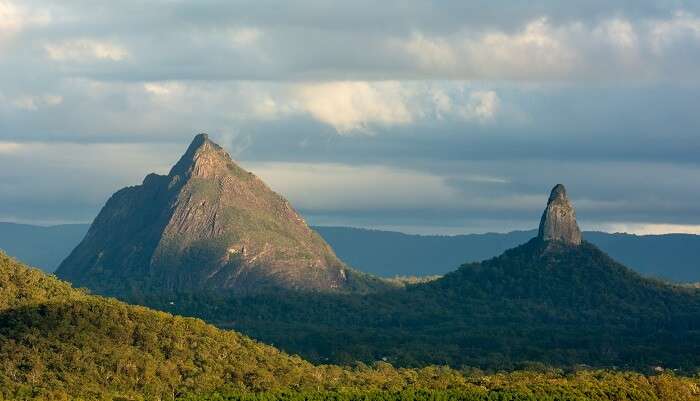 The Glass House Mountains, located in Queensland, Australia, are a group of craggy peaks that rise dramatically above the surrounding landscape, creating a striking and majestic visual spectacle. These mountains are considered to be of such great significance that they have been listed on both the Queensland Heritage Register and the National Heritage Register, as a landscape of national significance.
11 Brisbane Nightlife Essentials That Promise Nights Of Gaiety & Awesomeness
4. Moreton Island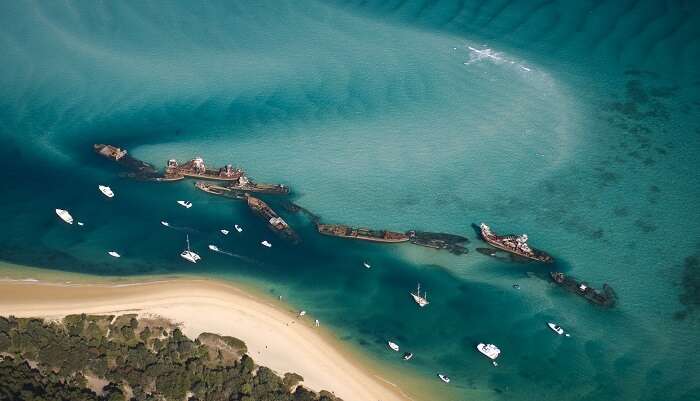 Moreton Island, located in South East Queensland, is truly a gem in the crown of Australia's natural treasures. Known for its beauty, it's a place that is truly lucky to have it right on their doorsteps. The Gold Coast and Brisbane are incredibly fortunate to be able to access Moreton Island so easily. As one of the largest sand islands in the country, Moreton Island is a truly unique and unforgettable destination.
5. Toowoomba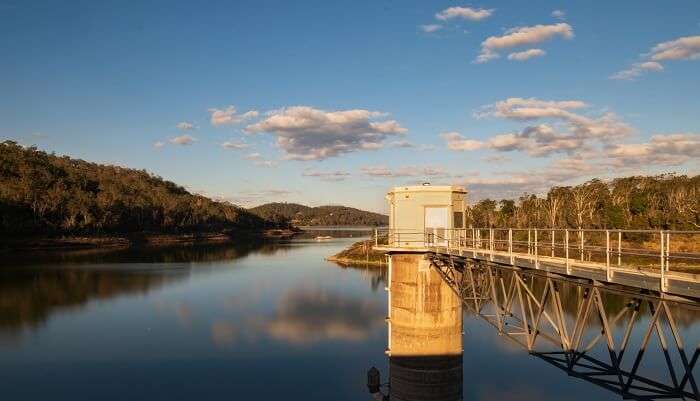 Toowoomba, a picturesque garden city located in Southern Queensland, may be known for its charming atmosphere and picturesque gardens, but it also offers a wealth of outdoor adventures that are suitable for visitors of all ages. Whether you're travelling with your family or on your own, there are plenty of exciting activities to enjoy in Toowoomba, making it one of the top day trips from Brisbane.
12 Brisbane Hotels That Bring You Peace & Comfort
6. Canungra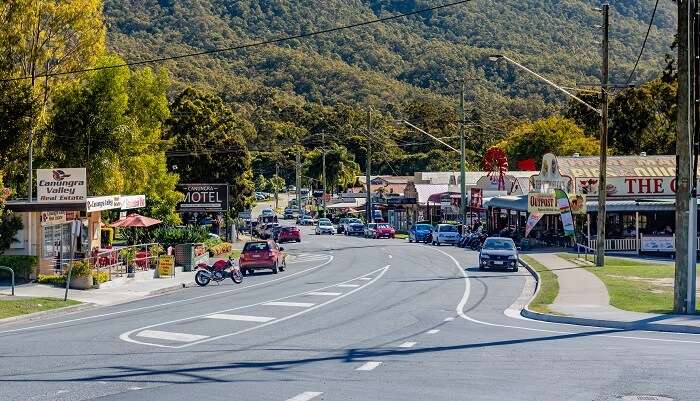 The charming and picturesque country town of Canungra, located on the Eastern edge of the Scenic Rim, is a destination that is rich in history, culture and adventure. As the gateway to the Gold Coast hinterland and the World Heritage-listed Lamington National Park, Canungra offers visitors the perfect blend of natural beauty and historical significance.
7. Queen Mary Falls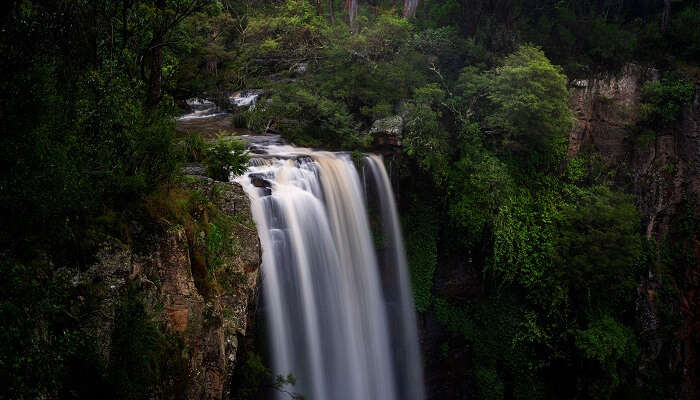 A trip to Queen Mary Falls, located near the small town of Killarney, is a journey well worth taking for those who are looking for a scenic getaway. The falls can be reached by taking a 2-hour drive South West of Brisbane, through the picturesque countryside of Queensland. The journey to the falls is an adventure in itself, as it takes you along The Falls Drive, a scenic road that winds its way through the beautiful Main Range National Park.
Top 10 Places To Visit In Brisbane: From Beaches And Hills, To Wildlife And Ferris Wheels
8. Ipswich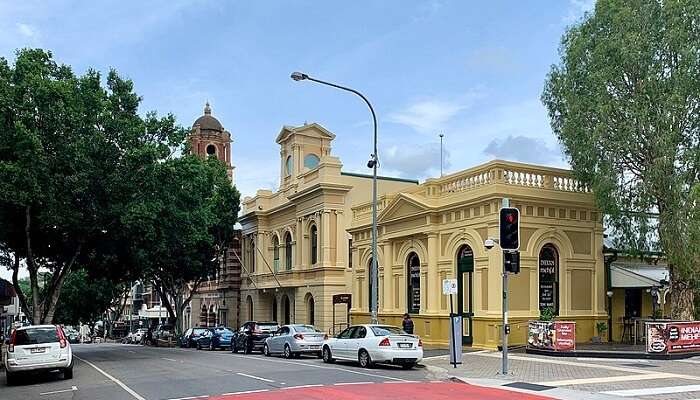 Image Credit: Kgbo for Wikimedia Commons
Brisbane has always been known for its natural beauty and abundance of outdoor activities, but now there are even more reasons to visit this adventure playground that is right on the city's doorstep. The region offers a diverse range of experiences for visitors, from world-class mountain biking and hiking trails that will test the skills of even the most experienced outdoor enthusiasts, to adrenaline-charged thrills that will appeal to those seeking an adrenaline rush.
9. Lamington National Park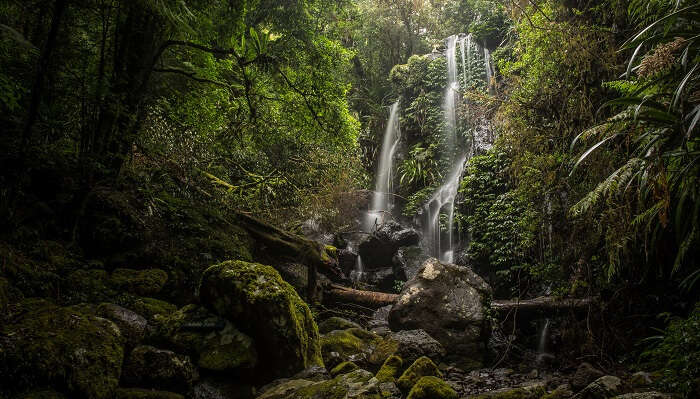 Embark on a fully guided experience to explore and discover the natural beauty of Lamington National Park, where you will have the opportunity to take in stunning panoramic views, walk through the treetops, feed wild birds, visit a vineyard, and much more. This relaxing and immersive tour will allow you to fully immerse in the natural beauty of the region and discover its many hidden treasures.
Airport In Brisbane: Your Personal Guide To Know More About The Stunning Airport!
10. Shorncliffe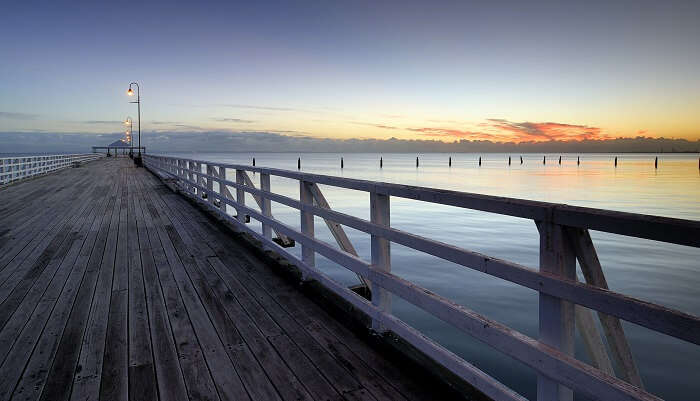 Shorncliffe Pier, located in the Shorncliffe neighbourhood of Brisbane, Australia, is a well-known and historic attraction situated near Saint Patrick's College and lower Moora Park. The pier, which features white and weathered timber railings, colonial-style street lamps placed along the length of the pier, and a resting shelter towards the end, is a popular destination for families, residents, and tourists alike to visit and enjoy the scenic view.
Brisbane is one of the most striking cities that offers a glimpse into the land down under and it is a perfect place to begin any journey. If you are planning to hop on some day trips from Brisbane or simply looking for Australia tour packages that have it all, keep on exploring our Australia guides to learn more.
For our editorial codes of conduct and copyright disclaimer, please click here.
Frequently Asked Questions About Day Trips from Brisbane (2023 Guide)
What are the best day trips from Brisbane?
Some popular day trips from Brisbane include visiting the nearby beaches of the Gold Coast and Sunshine Coast, taking a scenic drive through the hinterland to Tamborine Mountain, or exploring the nearby Moreton Island.
How far is the Gold Coast from Brisbane?
The Gold Coast is approximately an hour's drive south of Brisbane.
What can I do on Moreton Island?
Moreton Island offers a wide range of activities such as swimming, snorkelling, sandboarding, and 4WD tours. Visitors can also see the shipwreck of the SS Tangalooma, the Blue Lagoon, and the Cape Moreton lighthouse.
What is the best time to visit Brisbane for day trips?
The best time to visit Brisbane is from March to May and July to October as the weather during these months is pleasant and you will be able to explore the place comfortably.
People Also Read:
Day Trips From Venice Day Trips From Paris Day Trips From Geneva