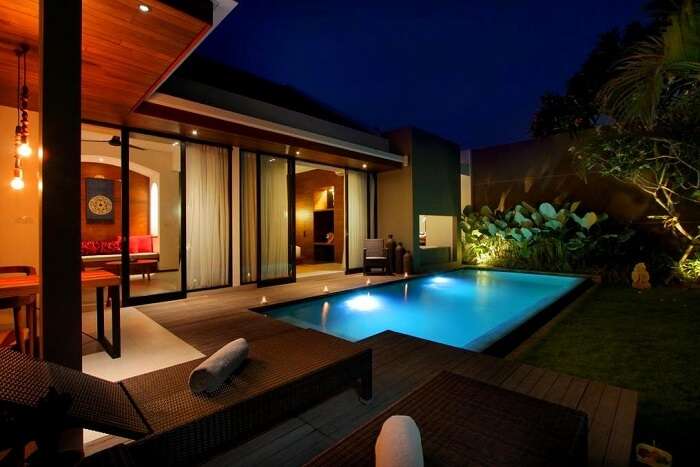 Overview
Abia Villa Legian is a 4-star hotel which is located in Legian, a suburban and beach area in Bali. Being an epitome of tropical sophistication, the hotel introduces the travelers with the privileges of island living and offers them a carefree break from the monotonous routine of daily life. Designed to bring elegance and comfort to the guests, the hotel is a well-recognized property that tops the list of every travel connoisseur. Moreover, it serves as an ideal location for honeymoon couples who are looking forward to spending quality time in one of the favorite tourism districts of Bali, Legian. The accommodation options featured by the hotel boasts of contemporary Bali designs which have been elevated with the help of original works of local artistry and particular attention given to minute details.
Amenities
Considering the requirements of the modern-day travelers, there is a range of experiences that Abia Villa Legian offer. Starting from treating oneself well with a luxurious Abia Spa to enjoying drinks at the on-site bar at Abia Cafe, there is everything that converts a stay at the hotel into a lavish hotel experience. One of the beautiful experiences of the hotel is to experience life in a tropical paradise by availing yoga sessions. Moreover, guests can access complimentary internet service throughout the property. They can also avail airport pickup and drop service but at an additional charge. In addition, the hotel provides several recreational activities like snorkeling, cycling, horseback riding and diving for the enjoyment of the guests. However, these facilities are available at a surcharge.
Dining
Abia Cafe at Abia Villa Legian is famous for its extraordinary flavors and delicacies. Known for offering an exceptional dining experience backed by a creative selection of cuisines and cocktails, Abia Cafe has never failed to tantalize taste buds with an exotic range of dishes. The menu presented to the guests introduces them to the unique traditional Balinese food, Indonesian cuisine and Mediterranean selection available at the hotel. Even the thought of such delectable dishes is enough to register a perfect culinary experience in mind. À la carte option is also available at Abia Cafe of the hotel.
Abia Villas Legian not only serves as a boutique haven for honeymoon couples but also an ideal hotel that has never failed to cater to the comfort of each and every traveler. Representing a unique combination between elegance and contemporary sense of style, it has everything that a visitor expects in a price that suits all budget constraints.
Villa Accommodation
One Bedroom Villa,
Two Bedrooms Villa
For those who wish to enjoy modern home comforts in a traditional setting, Abia Villa Legian is a suitable accommodation option in Legian. It is comprised of 15 luxury villas which have been tastefully designed by keeping alive the traditional artistic essence in a contemporary setting. The accommodation options of the hotel are categorized into One Bedroom Villa and Two Bedrooms Villa that place the comfort and convenience of the guests at their priority. Each villa of the hotel is air-conditioned and has a flat-screen TV. Every room is equipped with in-room safe and has private bathrooms with all essential toiletries.
Villa Highlights
Enjoy a heart-warming hotel experience
Relish a range of delectable cuisines at the cafe of the hotel
Indulge in several fun-loving activities like cycling and horse-riding
Get an essence of a traditional Balinese community while staying at the hotel
Celebrate love at a private pool with a sun deck and romantic night light
Get amazed by the local artistry and Bali designs that hotel boasts of
Explore an enormously popular destination Legian
Indian Restaurants Near The Villa
Atithi
Queen's Tandoor
Gateway of India
FAQs
Q1. How much time is required to get to the international airport from the hotel?
A. The hotel is approximately twenty minutes drive from Ngurah Rai International Airport.
Q2.Can guests avail airport transfer service from the hotel?
A. Yes, the hotel provides a pickup and drop service from the airport. However, it is available at a surcharge.
Q3. What are the recreational activities one can indulge in and around the hotel?
A. There is a range of things to do at Abia Villas Legian when it comes to entertainment and fun. Some of them include snorkeling, cycling, horse riding, and diving. Also, it is enlightening to partake in local cultural tours that provide a quick glimpse into the ancient culture and modern lifestyle of Bali.
Q4. Does the hotel offer the currency exchange facility?
A. Yes, the hotel Abia Villa Legian offers currency exchange facility.
Q5. Does the hotel offer special discounts to the guests?
A. Yes, the hotel offers a special discount up to 50 percent on bookings done in advance.
With an aim to bring an experience of leisure and comfort at the service of guests of all ages, Abia Villa Legian is considered to be an ideal accommodation option in the spiritually charged village of Legian. With its exceptional amenities and exemplary services, it has never failed to appeal the travelers across the country. Apart from offering well-appointed rooms, the hotel is known for multiple cuisines made with rich flavors. Here, visitors can experience the grace of living and charming traditions of Indonesian hospitality. During their stay in the hotel, guests can also explore the galleries and peaceful surroundings of Ubud and can get a quick glimpse into in Bali's rich culture by attending local temple ceremonies. Overall, Abia Villa Legian offers a complete package of enjoyment without compromising on any of the basic provisions. It is the hotel that features ultra modern facilities and covers all aspects of safety, security, and hygiene to ensure the contentment of the guests.