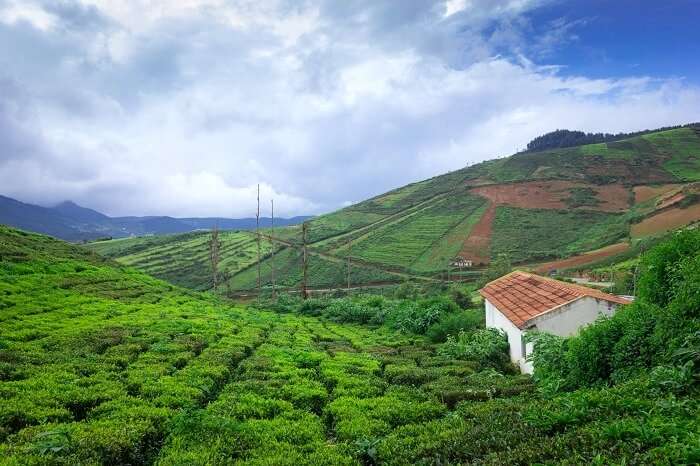 Coorg, rightly called as the Scotland of India, is the most ideal place for a trip from Bangalore. If you're someone who dreams of lush greenery, breathtaking waterfalls, hills covered with forests, and spectacular misty landscapes, Coorg is meant just for you! And to save your time from looking for all kinds of information for 'Coorg trip from Bangalore', here's our pocket guide for a mini family or honeymoon trip to Coorg.
Best Time To Plan Your Coorg Trip
While Coorg is a perfect year-round destination, the best time to travel from Bangalore to Coorg is from September to March. The weather during this time is pleasant, refreshing, and quite welcoming. This is also the peak season for tourists, so high tariff is an issue you might definitely face when booking a hotel. But, the experience is complete value for money. A trip to Coorg from Bangalore during this time will also help you witness the gorgeous rainfall that this town experiences.
35 Places To Visit In Coorg For A Mesmerizing Vacay In South India
Ideal Duration
A lot of people prefer and plan a one day trip to Coorg from Bangalore, which is usually quite hectic and packed. If you're heading out for a relaxed leisure holiday, then plan a trip of at least three to four days to soak in the peace Coorg has to offer. Of course, you can also have a week long trip, which would completely depend on your itinerary and interests. Though, the ideal duration to stay and explore Coorg is three days.
These 3 Amazing Things To Do In Coorg In May Are A Must For A Fun Vacay!
Distance Between Coorg And Bangalore
The road distance between Coorg and Bangalore is about 267.9 km which takes around 5 hours 20 minutes to cover. You can find the route map of the same right here.
5 Things To Do On Your Coorg Trip From Bangalore
Coorg trip from Bangalore will indeed be a mesmerizing experience for you and your family along with creating wonderful memories. Here is the list of the most exciting things that you can do on your Coorg one day trip from Bangalore. Keep scrolling down and read along!
1. Brahmagiri Peak
Trekking is undoubtedly one of the best ways to explore nature and push your limits. And even when you're on a relaxing holiday in Coorg, there's no reason why you should skip a trek to the beautiful Brahmagiri Peak. On your way to the peak, you'll witness hills covered with lush greenery, sparkling streams of water, and spectacular views around.
Where: Brahmagiri, Talacauvery Hills
Timings: The best time to go trekking is during sunrise.
A Guide To 21 Beautiful Hill Stations Near Bangalore
2. Mandalpatti
A jeep drive with your friends or your better half is probably one of the best things to do in Coorg. The jeep can accommodate seven persons at max at one time. It's a five hour drive that encompasses beautiful grasslands and mist-topped hills to watch the sunset at Mandalpatti, situated at a height of 1,600 m. This fascinating place gives you an obstacle-free panoramic view of the sky and the hills. An absolutely pleasant experience!
Where: Mandalpatti, North Coorg
Timings: You can indulge in this little adventurous activity at any time from 7 AM to 3 PM.
Cost: The ticket for one person costs around INR 1,250 which includes sightseeing, driving charges, and all other taxes.
3. Quad Biking
For those seeking adventure, Quad Biking is one of the many adventurous things to do in Coorg. With rubble and stones in the midway, the peaks in this hill station provide a perfect platform to those why enjoy cycling, biking, or any other on-road activity. What makes this worth experiencing is the opportunity you get to explore the lush green grasslands of Coorg and the beautiful migratory birds. Head out for quad biking with your family, friends, or your partner on your next Coorg tour from Bangalore.
Where: Kushal Nagar, Coorg
Timings: You can enjoy this 15-minute ride at any time of the day.
Cost: The cost per person is INR 600, which includes your activity charges and taxes.
29 Enthralling Spots For Camping Near Bangalore That Are Worth A Visit
4. River Rafting
Rafting along the currents and rapids of Barapole River is an experience worth living. Irrespective of whether you're on a trip with your family, friends, or your spouse, rafting is a must thing to do in Coorg. Make sure you book a slot according to your suitable time and wear comfortable clothes and shoes during the activity.
Where: Barapole, Coorg
Timings: This is a one to two hours activity that can be done from any time between 9 AM to 3 PM.
Cost: The cost for one person is INR 1,000
5. Microlight Flying
While you may not have heard of it, this is definitely one of the not-to-be-missed things to to do on your Coorg trip from Bangalore for 2 days. Imagine flying at a height of 5,000 ft and enjoying the dreamy beauty of Coorg from a bird's eye view. Thrilling isn't it?! If this pumps you up, then do make sure you add this activity in your itinerary.
Where: Ponnampet, Coorg
Timings: You can enjoy a 10 minutes or 30 minutes ride anytime between 10 AM to 5 PM.
Cost: The activity charge for one person is around INR 2,500.
These Best Places To Visit In Karnataka Will Totally Knock You Out
10 Places To Visit On Your Coorg Trip From Bangalore
Here is the list of places that you must visit on your next enticing vacation. Keep scrolling down and read along!
1. Abbey Falls
One of the most famous waterfalls down south, Abbey Falls is also the most beautiful of all. It's located some 10 km away from Madikeri and is undoubtedly the best place to visit in Coorg. The falls come down from cascading mountains of the western ghats and make for a perfect picturesque backdrop. Click some romantic pictures with your partner or enjoy the falls from the hanging bridge with your friends and family.
Famous For: Abbey Falls is famous for sightseeing, a leisure walk amidst the nature, its close proximity to the Kali Mata Temple, and trekking.
Location: Abbey falls, Madikeri, Hoskeri, Karnataka 571252
An Off The Charts Honeymoon To Bangalore, Mysore, And Coorg
2. Nagarhole National Park
For everyone who's a wildlife lover or love exploring the reserves, Nagarhole National Park is one of the best places to visit during your one day trip to Coorg from Bangalore. Despite the dense forests, you can enjoy a view of different animals walking by or over 270 species of birds from the open sight-lines across the river bank.
Famous For: This national park is most famous for wildlife spotting and the safari rides amidst the forest trails.
Location: Kodagu, Karnataka
3. Cauvery Nisargadhama
A spectacular island formed by river Cauvery, Cauvery Nisargadhama is one of the top tourist places to visit in Coorg. The island stretches across 64 km and is set amidst bamboo groves, and beautiful sandalwood and teak trees. It can be reached via a hanging rope bridge, which is actually the most adventurous part of the whole experience of visiting this island.
Famous For: Sightseeing, boating, swimming, and elephant rides are a few of the things this island is famous for.
Location: Kushalnagar, Kodagu, Karnataka
8 Coorg Travel Tips To Bear In Mind That Will Make Your Trip
4. Raja's Seat
One of the top 10 places to visit in Coorg, Raja's Seat is a perfect spot for those who love to relax in the lap of nature. This place has beautiful flowers blooming all around with the golden hues of the sun in the sky. Plan a short visit between 5:30 AM to 8 PM with your family or your partner to spend some quality time together. The entry fee for this place costs only INR 5.
Famous For: This place is known mostly for enjoying the sunset or indulging in recreational activities.
Location: Stuart Hill, Madikeri, Karnataka 571201
5. Namdroling Nyingmapa Monastery Or Golden Temple
Located in Bylakuppe, Namdroling Nyingmapa Monastery is considered one of the top 10 must-visit Buddhist Monasteries in India. This place is home to some 3000 monks today, and offers a serene environment to explore and experience the culture of Coorg. Do stop by at the traditional and handicraft stores, which sell shawls and other kind of artifacts.
Famous For: This monastery is famous for being one the largest Buddhist Monasteries in existence today.
Location: Arlikumari, Bylakuppe, Karnataka 571104
10 Scintillating Beaches Near Coorg That You Should Visit For Sheer Bliss!
6. Mallalli Falls
Located at the foothills of Pushpagiri in the Western Ghats region of Coorg, Mallalli falls is one of the most beautiful waterfalls located in Coorg. The best time to visit this place is during July to December or early winters when the water rise and thunders down in full magnitude.
Famous For: This beautiful hill station is famous for its natural beauty, coffee plantation and spice crops.
Location: Kumarahalli, Karnataka 573123
7. Omkareshwara Temple
Located in the heart of Madikeri town, Omkareshwara temple is a Hindu temple dedicated to the God Shiva. It is a mix of Gothic and Islamic-style architecture. The dome and minarets towering over the city gives the impression of a Muslim Dargah. The temple was built by King Linga Rajendra II in the 18th century.
Famous For: Omkareshwara Temple is one of the 12 revered Jyotirlinga shrines of Shiva.
Location: Coorg, Karnataka
Live The Bangalore Way: 25 Fun Places In The Silicon Valley For An Ultimate Whoopee
8. Harangi Dam
Harangi dam hosts an interesting visit in Coorg. It is one of the most popular picnic spots with mesmerizing natural settings. Located at a distance of approximately 36 km from Madikeri, it is the first Dam that was built across River Cauvery. The best time to visit this dam is during the monsoon from August to October.
Famous For: The dam is famous for recreational activities and a perfect place for those looking to spend some quality time with nature.
Location: Hudgur, Somwarpet, Kodagu, Karnataka, India
9. Chelavara Falls
Chelavara falls is one of the most enchanting falls in Coorg attracting thousands of tourists every year. You can enjoy the waterfall from a distance as stepping into the pool of water can be dangerous. Nonetheless, the beauty of the place does not stop tourists from visiting this wonderful place.
Famous For: Chelavara falls is famous for its natural waterfall formed by small stream, a tributary of Kaveri river.
Location: Cheyyandane village, Chelavara, Karnataka 571212
River Rafting In Coorg: 2 Best Spots To Give You An Adrenaline-Rush On Your Next Trip
10. Chettalli
If you are into cultural tourism, one of the best things to do in Coorg would be to visit a local village. Chettalli, a small village on the Madikeri with the misty hills, provides a great place to enjoy the serenity and relax. Kerala Bhagavathy Temple is another famous attraction at this place.
Famous For: One of the famous tourist spots in Coorg, Chettalli is famous to spend some peaceful moments in the lap of nature.
Location: Siddapura, Kodagu
5 Places To Eat At Coorg
Are you a big-time foodie and love relishing food from all around the world? Here is the list of places where you can dine on your trip. Take a look!
1. The Falls At The Tamara Coorg
A multi-cuisine restaurant in The Tamara Coorg, The Falls is one of the finest places to dine, especially for couples and family. The food is delicious and the ambience of the place is so impressive that it steals the show. Stop by here for an exquisite dining experience, and indulge in your favorite cuisine made with only locally produced ingredients.
Location: Kabinakad Estate, Napoklu Nad, Kabinakad Junction, Madikeri, Coorg
Type: Multi-Cuisine Restaurant
Cost: INR 1,100 to INR 3,000 for two
Trekking In Coorg: 15 Trails In The Ghats For Adventure Enthusiasts
2. The Peppercorn Restaurant
If a candlelight dinner with the views of a private lake amidst the greenery of Coorg is what you dream, then this restaurant is the perfect retreat for your partner and you. From kebabs to grills, this eatery offers you an intimate experience with delectable food.
Location: Orange County Resorts, Karadigodu Post, Siddapura Madikeri, Coorg
Type: Barbeque Restaurant
Cost: INR 1,000 to INR 2,000 for two
3. Atithi Restaurant
If your tastebuds appreciate vegetarian, then Atithi is a great place to try some mouth watering local cuisines of Coorg. All you need to order is a vegetarian thali and you're in for a delightful treat. You can visit this local restaurant during your Coorg trip from Bangalore with your family and friends.
Location: Mysore Madikeri Main Road, Near City Police Station, Chickpet,Madikeri
Type: Indian Restaurant
Cost: INR 30 to INR 100 for one
10 Homestays In Coorg That Will Bring You The Exact Feel Of A Sweet Home
4. East End Restaurant
Being one of the first local restaurants in Coorg to offer crockery and cutlery, East end is a good place to go for a lunch or dinner. Dive into the local cuisines and relish the savouries of the south. This place is ideal for those looking to eat within a budget.
Location: Stuart Hill, Madikeri
Type: Indian Restaurant
Cost: INR 250 for one
5. Maddur Tiffany's Restaurant
Located on the Bangalore-Mysore road, this restaurant is a quite decent and pocket-friendly place to stop by for a quick bite during your Coorg trip from Bangalore. While there are good options to choose from on the menu, the most recommended are the Maddur vada and Idly chutney.
Location: Mandya, Karnataka
Type: South Indian Restaurant
25 Road Trips In India For Couples That Will Reshape Their Future Together
6 Best Places To Stay In Coorg
Looking for places to stay in Coorg on your trip? Here is the list of best ones specially hand-picked for you. Take a look!
1. Orange County Resort
If you're looking for a fancy stay in Coorg, look no further! This resort is an epitome of luxury and makes you feel like you have transcended into a different world, away from the bustling city life. With accommodation options from villas to bungalows, unforgettable dining experience, and its heritage pool, this is the most idyllic place to stay for a romantic getaway!
Location: Karadigodu Post, Siddapura, Coorg
Price: INR 30,000 to INR 50,000 (double-sharing)
TripAdvisor Rating: 5/5
Website | Reviews
This Couple Visited Best Places In Coorg And Had A Blast
2. Vivanta By Taj Resort
Vivanta's lavish rooms and luxurious villas with a balcony and a plunge pool make it a paradise for couples. Situated at an altitude of 4,000 ft, this resort offers mesmerizing views of the beauty of Coorg, and gives you a soul-satisfying experience. It's one of the best luxury resorts in Coorg for a romantic rendezvous.
Location: 1st Monnangeri, Galibeedu Post, Madikeri
Price: INR 14,000 to INR 36,000 (double-sharing)
TripAdvisor Rating: 4.5/5
Website | Reviews
3. Coorg International Hotel
One of the oldest hotels in Coorg, built by the British in their very own style, this budget hotel offers a good sneak peek of royalty, class, and comfort. It has a swimming pool, an Ayurvedic massage center, a game room, and a restaurant to treat you on your trip away from the monotony of city life.
Location: Convent Road, Madikeri
Price: INR 5,500 to INR 8,200 (double and quad sharing)
TripAdvisor Rating: 3.5/5
Website | Reviews
35 Places To Visit In Coorg For A Mesmerizing Vacay In South India
4. Coorg Jungle Camp Backwater Resort
Located on the banks of Harangi Backwater, this budget resort is a classy retreat for couples planning to stay amidst peace and lush greenery. With numerous facilities and things to do here, this accommodation is ideal for everything you might want to head out in Coorg for. Relax in the lap of nature, while you experience an unforgettable stay here!
Location: Herur, Kushalnagar
Price: INR 5,000 and above
TripAdvisor Rating: 4/5
Website | Reviews
5. Victory Home
Set in a secluded atmosphere, this place is a home away from home! Spending your holiday at this place will not only bring you closer to nature but also to each other. With coffee plantations and silver oak trees around, this homely country house is a charming place to stay with your partner or family.
Location: Victory Estate Arthur Pollibetta, Pollibetta
Price: INR 6,000 and above (double-sharing)
TripAdvisor Rating: 4.5/5
Website | Reviews
Flee To These Best Homestays In South India For A Soulful Retreat
6. Ananda Nilaya Homestay
If you're looking for a homely stay with the comforts of luxury, Ananda Nilaya is the place to stay in Coorg! It's an ideal accommodation for families and couples. With its state-of-the-art infrastructure and spacious rooms, this place will surely help you rejuvenate and relax like never before!
Location: Block No 23, Mahadevpet End, Madikeri
TripAdvisor Rating: 4/5
Website | Reviews
Average Budget For A One Night Trip
Transport: INR 800 for around Coorg trip from Bangalore by bus.
Accommodation: INR 3,000 for a good-budget hotel or homestay.
Sightseeing and activities: INR 2,000 if you do a couple of adventure activities.
Meal: INR 1,000
Total Budget: INR 6,800
How To Reach Coorg From Bangalore
Coorg is located some 260 km away from Bangalore. If you're looking for ways for how to reach Coorg from Bangalore, here are the three most convenient options that you can consider:
1. Coorg Trip From Bangalore By Car
Since there are no direct flights or trains from Bangalore to Coorg, the best way to reach is by your own car or a cab. It's not only a convenient option but also great if you plan to take a road trip from Bangalore to Coorg. And while Bangalore to Coorg by car takes around five hours, it completely depends on your car and speed.
2. Coorg Trip From Bangalore By Bus
You can also take your Coorg trip from Bangalore via bus. There are private buses as well as a direct Karnataka State Road Transport Corporation (KSRTC) bus. It takes around six hours to reach Coorg from Bangalore by bus.
3. Coorg Trip From Bangalore By Train
While there are no direct Bangalore to Coorg trains, the Mysore Railway Station is the nearest you can get to if you plan to travel via train. After a train journey of three hours, you can take a bus or hire a taxi from the station to Coorg.
Tips For Your Coorg Trip From Bangalore
Make sure you plan at least a three-day trip to Coorg to explore the best of nature and to avoid a jam-packed itinerary.
Choose the most convenient option for commuting back and forth from Coorg as you don't want to kick-start your trip with a hassled mind.
Do check the weather before you pack your bags.
Since Coorg gets a bit chilly in the morning or later in the evening, take a jacket along.
Irrespective of whether you fancy adventure sports or not, do give Microlight Flying a shot as it's absolutely worth experiencing.
Choose the best accommodation available, because you must make the most out of your trip to Coorg.
Things To Carry On Your Trip To Coorg From Bangalore
Light and comfortable cotton clothes
Sturdy hiking shoes
Light jacket
Umbrella and raincoat
Insect repellent
Flashlight
Light snacks
8 Silvery Waterfalls In Coorg That Are Waiting To Be Explored
If the picturesque lush green grasslands and the mist-topped hills of Coorg takes your breath away, know that it's time to take a trip! Plan an exclusive trip to Coorg and explore the beauty of Coorg with your friends and family.
For our editorial codes of conduct and copyright disclaimer, please click here.
Frequently Asked Questions About Coorg Trip from Bangalore
Which is the best time to take a Coorg trip from Bangalore?
While Coorg stays pleasant throughout the year, the best months to visit are September to March.
Are there any other places to see in Coorg except the waterfalls?
Apart from the sparkling waterfalls, you can visit Raja's Seat, Namdroling Nyingmapa Monastery, Cauvery Nisargadhama, Nagarhole National Park, Dubare Reserve Forest & Elephant Camp, Pushpagiri Wildlife Sanctuary, Brahmagiri Peak etc.
How can one book a bus for Coorg from Bangalore?
You can easily book a bus trip for yourself, either through Karnataka State Road Transport Corporation (KSRTC) or the online websites of private bus services. A one-side fare for the trip would cost around INR 400 per person.
Is a one-day trip to Coorg from Bangalore enough?
While you can explore Coorg in a day, it would be too hectic and impossible to cover all the places. Rather, plan a three to four day trip with a good itinerary that covers the best places to see and adventure activities to do, allowing you ample amount of time to relax in the lap of nature with your loved ones.
Is Coorg a good honeymoon destination?
Environed with lush greenery and beautiful hills, Coorg makes for a great honeymoon destination, especially if you're looking to spend time away from the bustling city life. Luxury resorts like Orange Country, Windflower Resorts & Spa, The Tamara, etc. are perfect romantic retreats for honeymoon couples.
People Also Read:
Weekend Getaway Destinations From Bangalore 35 Road Trips From Bangalore Places To See In A Day Around Bangalore