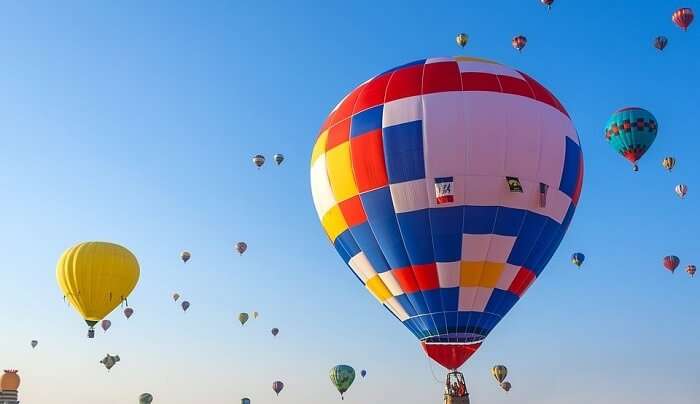 Diu is a very popular holiday coastal town which is located in the eastern part of the country. Diu is connected to the beautiful state of Gujarat via a bridge. Some of the places you must visit while in Diu includes the Diu Fort. Overlooking the stunning Arabian Sea, this Portuguese made 16th-century citadel comes with cannons and a lighthouse. You should also pay a visit to the old St. Paul's Church built in a beautiful baroque style and witness the religious artifacts and wooden carvings in the St. Thomas Church. Apart from these architectural marvels, there are another thing that Diu is famed for – adventure sports. The list of adventure sports in Diu is never-ending and thus appeals to all the thrill-seekers out there.
Top 7 Adventure Sports In Diu
When people head to Diu then they want to have fun at the beaches. You can have tonnes of fun at the two Diu beaches, especially if you love adventure sports and want to have some fun. Here's all you can do in Diu when it comes to adventure sports:
1. Parasailing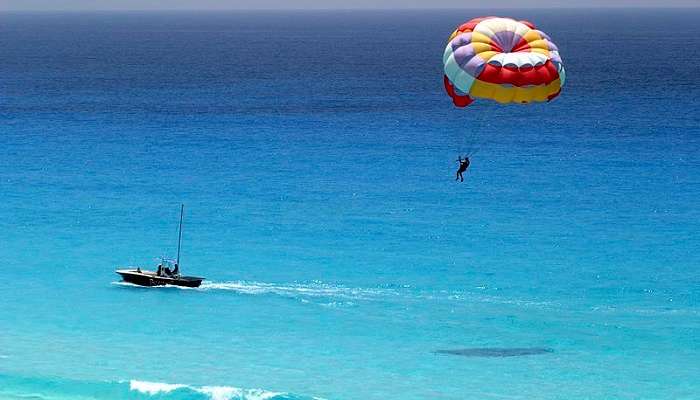 Head over to Ghogla Beach to enjoy parasailing. If you want to experience the wind in your hair then hire a speed boat and rise high up in the air. Have fun seeing the world in a whole new way. There will be an instructions officer with you who will help you out throughout the process if you haven't done it before. It's a once in a lifetime experience (for some) so some indulgence is certainly worth every penny spent.
Location: Ghogla Beach
Price: Starts from INR 500
Must Read: 10 Marvelous Places To Visit Near Diu For A Great Weekend Getaway
2. Scuba Diving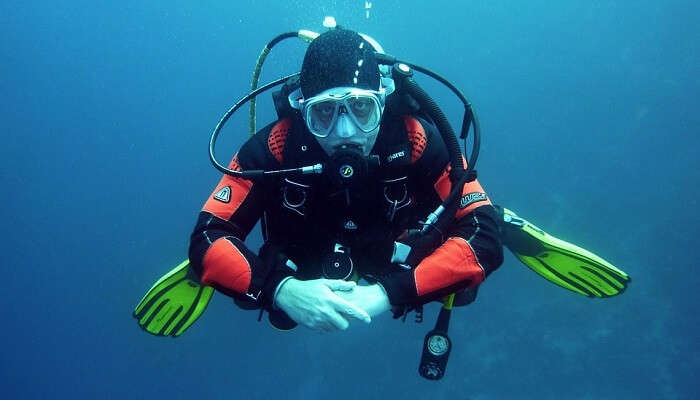 Take the chance to go underwater and explore the world underneath. Go scuba diving to see the beautiful aquatic animal, the stunning corals, and more living in the beautiful turquoise waters. Scuba diving is such a different experience that you will certainly love it once you carry it out. You don't have to be proficient in diving and swimming to sign up for a scuba diving experience in Diu. There is a guide who will go with you to and show you how it's done even if you have never once gone swimming in your life.
Location: Nagora Beach
Price: Starts from INR 500
Suggested Read: 20 Amazing Places To Visit In Diu That Should Be On Your Bucket List
3. Hot Air Balloon Ride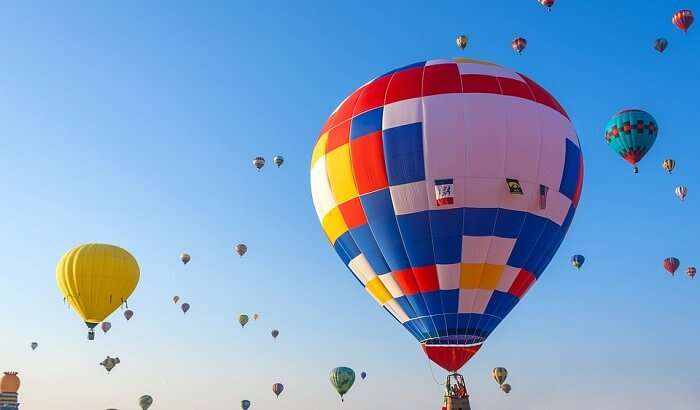 Image Credit: CarlosAlcazar for Pixabay
Ever imagined what it would like from up in the sky while you are in a big basket held up by a huge balloon? Well, you will know now by traveling in a hot air balloon in Diu. It is one of the most adventurous sports simply because of the height till which the balloon will travel and the fact that only a few people can travel at a time. Just bring some friends along and have fun in the skies as you see the shimmering blue water, churches, and forts from up in the sky. It will certainly make you admire Diu more. Also, it's highly advisable that you go during the morning rather than when the sun is about to set because the low light might make people refuse to take you up.
Location: Ghogla Beach
Price: Starts from INR 500
Suggested Read: Shopping In Diu: A Fun Pocket Guide On What To Shop & From Where!
4. Water Skiing

Image Credit: Picography for Pexels
If you love high speeds and water then this is the perfect sport for you to try out. You will be given a pair of skis and you will be pulled along via a speed boat as you skate on the water and feel the water spraying in your face. The speed and pace will be set according to what is comfortable for you. If you haven't tried out water skiing before then know that you don't need any kind of experience to do it. All you have to do is follow the instructions given there and then have fun as you feel the wind and water in your hair.
Location: Ghogla Beach
Price: Starts from INR 500
Suggested Read: 5 Homestays In Diu That Are Perfect For A Beach Holiday!
5. Dolphin Trip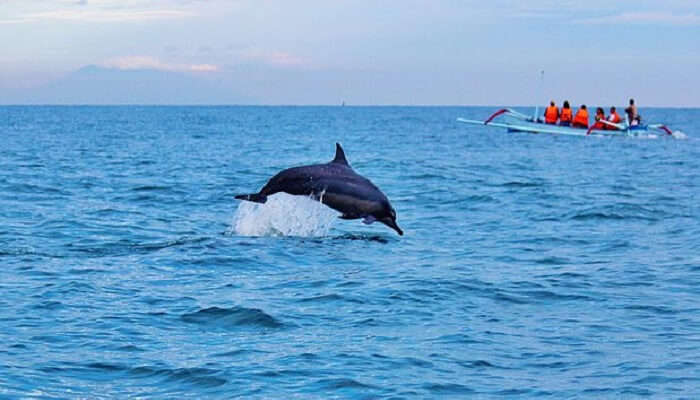 Not many people think about dolphins when it comes to Diu, but they are a popular attraction there. The best part is that you will be able to see them as well as swim with them. You will be taken on a boat to the site where the dolphins crowd and play. While not many would consider it particularly adventurous, but once you suit up and go underwater to be near the dolphins, that's when the fun begins. You don't have to know swimming or underwater diving to go near the dolphins underwater as there will be professional instructors with you there.
Location: Ghogla Beach
Price: Starts from INR 500
Suggested Read: Kevadia Zoological Park: An Upcoming Zoo In Gujarat That Is Taking All The Limelight
6. Water Scooter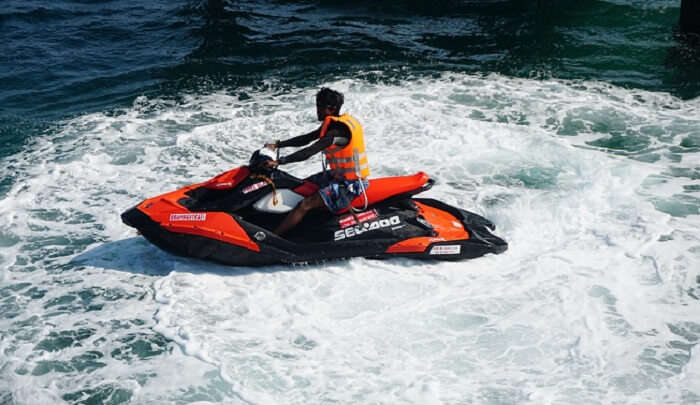 Image Credit: Shivsnova for Pixabay
If you would like to go out on the sea alone, leaving the land behind for a few minutes, then renting a water scooter would be the best way to achieve that. The scooters available are well maintained and fully functional. You will be able to operate them smoothly and without any problems. The water scooters are easy to operate as well, so there won't be problems even if you have never used one before.
Location: Ghogla Beach
Price: Starts from INR 500
Suggested Read: 11 Amazing Diu Hotels That You May Want To Opt For Your Vacation!
7. Zorbing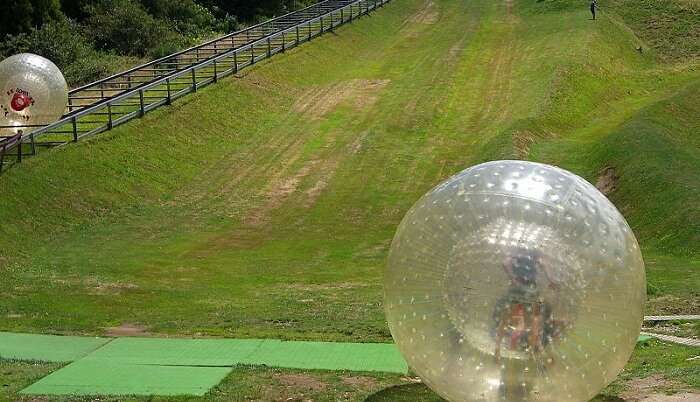 Have you ever seen those games where people are put inside a huge transparent ball and then the ball is pushed down a steep slope? Yes, that's zorbing ball and you will get to experience it in Diu. Your whole world will be turned upside down as the ball with you in it will be rolled down. But it won't hurt at all because you will be fully cushioned. Also, you don't have to worry about how you will be able to breathe in an enclosed ball, the zorbing ball has all the facilities for it.
Further Read: 7 Thrilling Picnic Spots In Gujarat That Are Worth Visiting With Your Fam!
You will have a lot of fun with all of these fun-filled adventure sports in Diu. It is one of the single best places to visit if you are looking for some adventure water sports. No matter what sport you want to try out on your trip to Diu, it will be there. All you have to do is jump right in.
Disclaimer: TravelTriangle claims no credit for images featured on our blog site unless otherwise noted. All visual content is copyrighted to its respectful owners. We try to link back to original sources whenever possible. If you own rights to any of the images and do not wish them to appear on TravelTriangle, please contact us and they will be promptly removed. We believe in providing proper attribution to the original author, artist or photographer.
Frequently Asked Questions About Adventure Sports In Diu
Do people in charge of adventure sports accept credit/debit cards?
Some people do while others don't. It's always advisable that you carry cash. If you don't feel safe carrying a lot of cash, then you will find ATMs nearby from where you can withdraw money.
Are the people operating the water sports professional?
The people in charge of the sports, as well as the instructors, are all certified and experienced. They maintain the equipment and boats required to carry out the sport. You can rest assured that the people know what they are doing and they take care of every passenger who signs up for their sport.
What are some restaurants in Nagora Beach?
The top 3 restaurants there are Chunawala Restaurant & Bar, Dev Kripa Family Restaurant and Khajura Restaurant. But you can also try out O Coqueiro and Tawa Tasks Diu while there. The food in all these places is scrumptious.
The top 3 restaurants there are Chunawala Restaurant & Bar, Dev Kripa Family Restaurant and Khajura Restaurant. But you can also try out O Coqueiro and Tawa Tasks Diu while there. The food in all these places is scrumptious.
The top 3 places to try out are OM Sagar Bar & Restaurant, Apaar Garden Open Restaurant and Hotel Sea View Bar and Restaurant. You can also try out Prince Restaurant and Mohit Bar N Restaurant while there. These restaurants are close to the beach as well so you can go right there if you get hungry after your adventure sports.
What should you wear for enjoying water sports in Diu?
You should ideally wear a pair of shorts and a T-shirt on Diu beaches, especially if you are interested in taking part in water sports. This applies to both men and women. Also, women shouldn't wear bikinis on the beaches following the social code of the place.
What is the ideal time to visit Diu?
You can visit Diu at any time of the year. But if you want to take part in water sports, then you should come between October to May.
People Also Read:
Adventure Sports In Manali Adventure Sports In Gangtok Adventure Sports In Mumbai