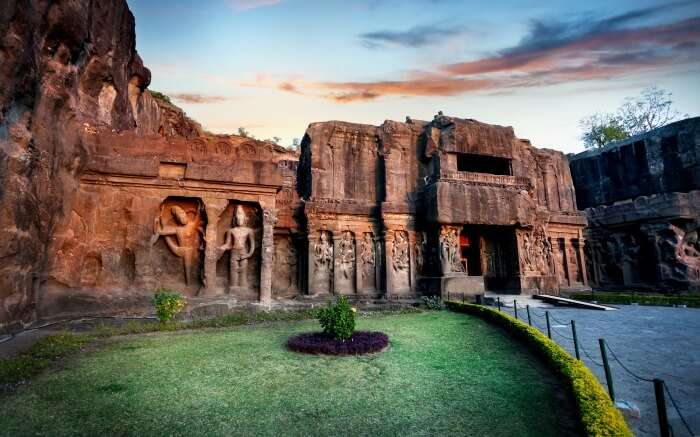 Ajanta Ellora Caves have always been recognized as the gems that represent Indian history and the impressive artistry that existed in the foregone era. These tourist attractions consist of 64 rock-cut caves, located in close proximity from the city of Aurangabad.
Today, Ajanta and Ellora Caves are a UNESCO World Heritage Site and exist in the wishlist of many travelers. Since we didn't want your research to be exhausting, we decided to jot down all you need to know before you plan a trip to Ajanta Ellora Caves.
This is your complete Ajanta Ellora Caves Tour Guide that covers history, the best time to visit, timings and fee, how to reach, map, main attractions of the caves, things to do, and places to stay.
Quick Links To Explore Ajanta Ellora Caves
Here's a list of relevant links, encompassing all the required details about the surreal Ajanta Ellora Caves. Make sure to check them out before planning your Ajanta Ellora trip.
History Of Ajanta Ellora Caves

Ajanta Caves date back to the time between 2nd century BCE to 480 or 650 CE. Walter M. Spink, the famous history scholar, have stated that the caves were built in two phases (Satavahana Period and Vākāṭaka Period). Some of the caves were not completed and some only had their construction begun for a short time.
On the other hand, Ellora Caves happen to be younger and have its history dating back to 5th and 10 century CE. The Ellora caves are divided into three parts – Hindu Caves, Jain Caves, and Buddhist Caves.
The site of Ajanta Caves was later abandoned and got covered in thick forest, until 1819 when a British officer rediscovered it. However, Ellora Caves have always had the attention it deserves. Today, the Ajanta and Ellora Caves combine to form a UNESCO World Heritage Site, as announced on 1983.
Must Read: 25 Spectacular Caves In India That Should Be Explored At Least Once
Best Time To Visit Ajanta Ellora Caves

June to March is the best time to visit Ajanta Ellora Caves due to pleasant weather. From June to September (monsoon) the region receives average to plenty of rain showers, which make the exploration experience a delight. While during months of November to February the temperature drops moderately. Summer months (March to May) can actually get hot especially in the daytime. So, try to avoid this season if you're planning a visit to Ajanta and Ellora caves.
Suggested Read: 5 Beautiful Islands In Maharashtra One Must Visit To Enjoy A Tropical Vacation!
Ajanta Ellora Caves Timings And Fee

Ajanta Ellora caves timings are as follows:
Ajanta Caves
Timings: 9 am to 9:30 pm (Mondays closed)
Entry fee: INR 40 per head (Indians) | INR 600 per head (foreign tourists) | INR 25 per camera | INR 0 for children below 15 years old
Ellora Caves
Timings: From sunrise to sunset
Entry fee: INR 40 per head (Indians) | INR 600 per head (foreign tourists) | INR 25 per camera
Suggested Read: Neemrana Fort Palace: A Brief Guide For Your Weekend Trip
Difference Between Ajanta And Ellora Caves

Ajanta and Ellora Caves, though are often addressed as one, have some differences:
1. Distance: Both the caves are 100 km away from each other. Ajanta Caves is 104 km from Aurangabad, while Ellora Caves is 29 km away from Aurangabad
2. Shape: Ajanta Caves are carved in a horse-shoe shaped rock. Ellora Caves are scattered randomly
3. Construction period: Ajanta Caves were built in the period between 200 BCE and 680 CE. On the other hand, Ellora Caves are way younger and were built between 5th and 10th century
4. Purpose of creation: Ajanta Caves has viharas and Buddhist monasteries. Ellora Caves consists of religious centers for Hindu, Buddhist, and Jain
5. Sponsored by: Funds for the construction of Ajanta Caves were provided by various rulers, mainly Vakataka Dynasty and Satvahana Dynasty. Ellora Caves were majorly built under the rule of Chalukya, Kalachuri and Rashtrakuta rulers.
Suggested Read: A Guide To Bibi Ka Maqbara: The Replica Of Taj Mahal
Key Attractions Of Ajanta Ellora Caves
Ajanta and Ellora caves are architectural marvels that are inspiring and have a historic sentiments that cannot be dismissed. These caves are a treat to witness and are one of the most famous historical places in India. Here are the major attractions or places to visit at the Ajanta And Ellora Caves.
Ajanta Caves

Ajanta Caves consist of 30 rock-cut caves, showcasing some of the finest paintings and sculptures ever recorded in the Indian history. When exploring this archeological gemstone, don't miss to visit Cave 1, Cave 2, Cave 4 and Cave 17.
The vantage point across the river allows a lovely view of the surrounding, along with this horse-shaped historical region.
Cave 1: This is one of the most popular caves in Ajanta, as all the paintings are authentic. The grand doorway is adorned with Bodhisattva murals and the sidewalls depict two important phases of Buddha's life (moment before his enlightenment and when he turned himself into many images)
Cave 2: This cave's main highlight is its ceiling, which has intricate abstract designs of devils, birds, fruits, and flowers.
Cave 4: This is one of the largest monasteries in Ajanta and still sparks the magic, in spite of being an incomplete creation.
Ellora Caves

It is apparent that back in the past, there was harmony between Hindus, Buddhists, and Jains, considering close proximity of their religious buildings. Ellora Caves has 34 caves, each of which has its own specialty. If time is a constraint, then you must make it a point to visit at least Cave 1, Cave 2 and Cave 16.
Cave 1: The cave is a simple vihara and features 8 monastic cells
Cave 2: Cave 2 has 12 ornate square pillars. Lord Buddha seated on a lion is yet another attraction. The doorway features an impressive carving of Maitreya Buddha, along with Padmapani holding a lotus.
Cave 16: One of the highlights of Ellora Caves, Cave 16 or Kailash Temple also happens to be an important pilgrimage spot for the followers of Lord Shiva. The gopurams of this architectural marvel signify Mount Kailash, the abode of Lord Shiva.
Suggested Read: 12 Jyotirlingas In India To Visit: See The Spiritual Side Of The Country
Things To Do At Ajanta And Ellora Caves
Here are some of the interesting things to do at Ajanta and Ellora Caves for best experiences:
1. Ajanta Ellora Festival – Attend In October

The Ajanta and Ellora Festival (by Maharashtra Tourism Development Corporation) is organized annually in November and attracts travelers from across the world. The dance and music festival escalates the charm of Sonehri Mahal, which was built back in the 17th century.
Ajanta Ellora Dance Festival showcases the talent of young folk and classical artists, along with the craftsmanship and architectural brilliance of the monuments in Aurangabad.
Highlights of Ajanta and Ellora Festival: Folk and cultural performances, handicrafts in Kalagram (shopping arcade) and competitions for rangoli Mehendi.
Suggested Read: The Sandhan Valley Trek: Your Pocket-guide To The Best Trek In Maharashtra
2. Shopping – Buy Cave Paintings

There are many open-air markets where you'd love to shop to your heart's desire after glancing at Ajanta and Ellora Caves paintings.
Shopping is undoubtedly one of the best things to do in Ajanta and Ellora Caves. Here, you'll come across some beautiful Buddha sculptures handcrafted by the local artisans, along with semi-precious stones and silver ornaments, footwear, clothing, Buddhist and Jain paintings; all of which combine to make this one of the best shopping destinations in India.
Must-pick: Handcrafted sculpture of Buddha and paintings
Suggested Read: Bhandardara Camping: Take A Break And Plan A Vacation To This Place In Maharashtra Amidst The Woods!
3. Staycation – Spend Quality Time With Family

Ajanta Ellora Caves offers plenty of options in terms of accommodation as well, that too for different budgets.  If you're looking for places to stay in Ajanta and Ellora Caves region, then we recommend – Ajanta T Junction Guest House, Hotel Kailas, and Ajanta Tourist Resort.
Please note most of the accommodation options come with basic necessities and range between INR 2000 to INR 4000 per night.
Suggested Read: 18 Best Places To Visit In Ratnagiri: Explore The Green Marvel Of Maharashtra!
Interesting Facts About Ajanta And Ellora Caves

Ellora Caves were carved on the volcanic basaltic formation, which is also known as Deccan Trap.
Cave 15 (Dashavatara) in Ellora depicts the ten avatars of Lord Vishnu
Cave 29 (Dhumar Lena) has similar design as Elephanta Caves
The painting style found in Ajanta Caves is believed to have inspired painting style in Tibet and Sri Lanka
The carvings of the caves are done in such a way that they somehow look like wooden construction
The main subjects of the paintings found in the caves are Jataka tales and incidences from the life of Lord Buddha
Ajanta Caves were excavated in a rock surface that looks like horse-shoe shape
The caves are more than two-thousand-year-old, but the statues are about 600 years younger, as they were added later
Ajanta Caves were abandoned post the end of Harisena's reign. The sign was later covered in dense forest.
Buddha has always been against painting or carving his images, as he preached the lesson to rise above materialistic wishes. But after he died, his followers realized the need of his sculptures and paintings, so that they had something to look up to.
Suggested Read: 43 Famous Historical Places In India To Visit
How To Reach Ajanta Ellora Caves

Being a popular attraction of India and one of the best places to visit in Aurangabad, Ajanta Ellora Caves are easily accessible through various modes of transportation.
By air: The caves are about 100 km away from Aurangabad Airport, which is well-connected with major cities in India.
By train: Jalgaon Railway Station is the nearest railway station, located at a distance of 60 km. If you're wondering how to reach Ajanta Ellora Caves from Mumbai, and other cities of the country then you've found your answer, owing to easy connectivity.
By road: Aurangabad is easily reachable via road from different neighboring places like Mumbai, Hyderabad, Aurangabad, and Ahmedabad.
Further Read: 7 Super Luxury Trains In India That Are Worth Spending A Fortune
Now that you know it all, who will you be taking Ajanta Ellora Caves tour with? We'd love to know! Why not explore the caves like royalty? Board the luxury trains in India and indulge in sheer opulence, delight, and warmest of hospitality while unfolding the legends of this gem, along with the other popular tourist destinations of India. 
Disclaimer: TravelTriangle claims no credit for images featured on our blog site unless otherwise noted. All visual content is copyrighted to its respectful owners. We try to link back to original sources whenever possible. If you own the rights to any of the images, and do not wish them to appear on TravelTriangle, please contact us and they will be promptly removed. We believe in providing proper attribution to the original author, artist or photographer.
Frequently Asked Questions About Ajanta And Ellora Caves
Is it safe to travel to Ajanta and Ellora Caves during COVID times?
You need to follow all the mandatory guidelines mentioned by the government such as maintaining social distance, wearing a mask at public places, washing or sanitizing hands after entry & exit, etc.
Who built Ajanta and Ellora Caves?
Ajanta and Ellora Caves have been built over several years. Different parts of the cave were built by different dynasties including the Satavahana Dynasty, the Mauryan Empire, Rashtrakuta Dynasty, and Yadava Dynasty.
Which caves are better, Ellora or Ajanta?
Both Ajanta and Ellora Caves have their own beauty, style, and significance. Ajanta Caves are much closer to each other and are known for their paintings. They are dedicated to Buddhism. On the other hand, Ellora caves are comparatively scattered. They are known for their mythological sculptures. They are dedicated to Buddhism, Hinduism, and Jainism.
How far is Ajanta Caves from Ellora Caves?
The distance between Ajanta Caves and Ellora Caves is about 100 km, which can be covered in roughly 3 hours.
Can Ajanta and Ellora Caves be covered in one day?
Yes, you can cover Ajanta and Ellora Caves in one day but you will be rushing through the sites. It takes 2 to 3 hours to tour each group of caves. And there's also 3 hours distance between them both. So, it is a good idea to keep 1 day for each, Ajanta and Ellora Caves.
Are Ajanta and Ellora caves the same?
No, Ajanta and Ellora are two different group caves, located about 100 kilometers away from each other.
People Also Read: