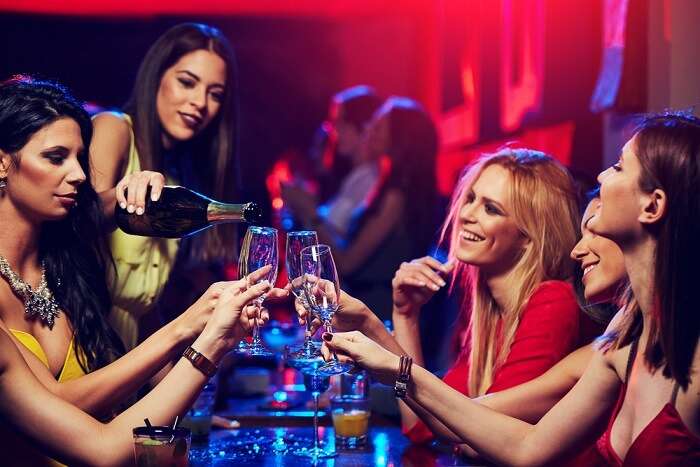 Al Ain is located in the eastern region of the United Arab Emirates. It is one of the most important cities in the interior regions of the Abu Dhabi Emirate and people living in major cities in the country like Dubai, Abu Dhabi and Sharjah have second homes in Al Ain. Al Ain is a great tourist destination in UAE that showcases the deserts and oases of UAE in an effective way. The Al Ain Museum, the Hili Archeological Site, the Al Ain Raceway and the Al Ain Mall make it a developing tourist destination. The Al Ain nightlife will sway you away with some really great nightclubs and lounges in the city.
Nightlife In Al Ain
Al Ain is a great city in the UAE and the fourth largest city in the country and is fondly called the Garden City. There are some great hotels in the city and tourists and locals can enjoy the nightclubs and bars in the city. In most places in Al Ain, alcohol is served at bars and nightclubs making it a great destination in UAE to enjoy the nightlife in the city. The following are some of the best places in Al Ain to enjoy a good nightlife:
8 Best Nightclubs In Al Ain
Moodz
Paco's
Horse & Jockey Pub
Trader Vic's
Lawrence's Bar
McGettigan's Bar
Luce Italian Restaurant and Club
Golf Club In Al Ain
1. Moodz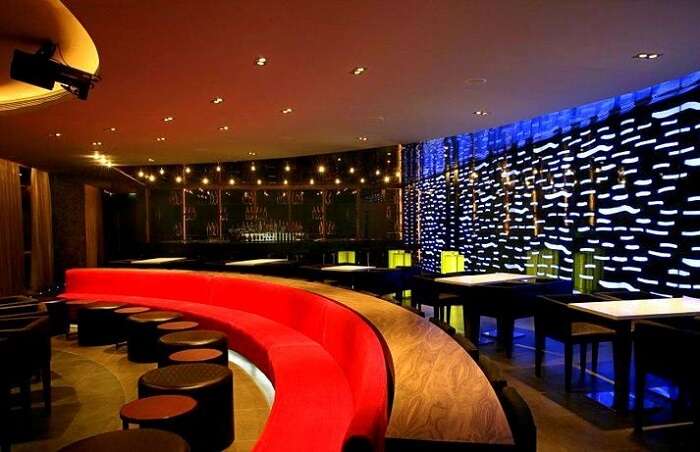 Image Source
Moodz is a nightclub that is located in the Al Ain Rotana Hotel. This is a great place to enjoy a party atmosphere, fabulous dance music and a dance floor where people can dance and have a great time at the nightclub. Special days with themes like Ladies Night and Arabian Nights draw crowds to the nightclub every week and the music scene at this nightclub is truly fabulous. Drinks are served at this nightclub and there is a great party vibe and modern décor at this bar.
Must Read: 10 Best Abu Dhabi Festivals & Events That You Must Attend On Your UAE Trip
2. Paco's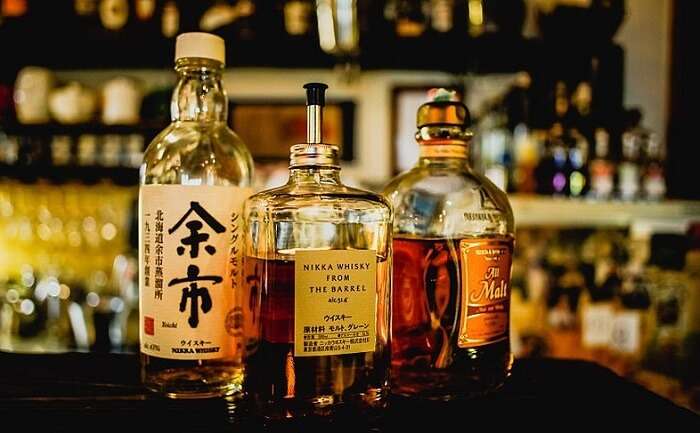 Image Source
Paco's is a great place in Al Ain. As the name suggests Paco's is a Tex-Mex venue in Al Ain. It is a great place with good Mexican food, live music by a resident band, laid-back party atmosphere and there are many drinks and house beverages that are offered to customers at this bar. Paco's is located at the Hilton Al Ain and there is access to the pool and people have many fun parties at Paco's at the Hilton in Al Ain. One of the main attractions of Paco's is the Mexican and South American food which is very different from the Middle Eastern food which gives patrons a taste of a very different cuisine.
Suggested Read: Honeymoon In Abu Dhabi: For A Romantic Rendezvous In The Charming Capital Of UAE
3. Horse & Jockey Pub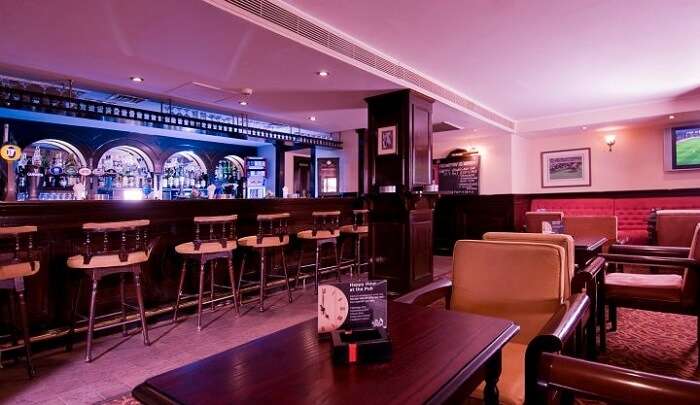 Image Source
British Pubs are famous all over the world as places to chill out, have drinks and enjoy with friends. There are many British style clubs, pubs, and bars all over the world. The Horse & Jockey Pub is a gastro-pub which means that this pub serves drinks and also serves pub or bar food to its patron. This pub is a great place to enjoy matches and other sports events as it has large screen televisions that are placed at the pub for sports enthusiasts. There is a wonderful terrace at the pub where the customers can enjoy their drinks and have a good time. The Horse & Jockey Pub is located at the Danat Al Ain Resort in Abu Dhabi, UAE.
4. Trader Vic's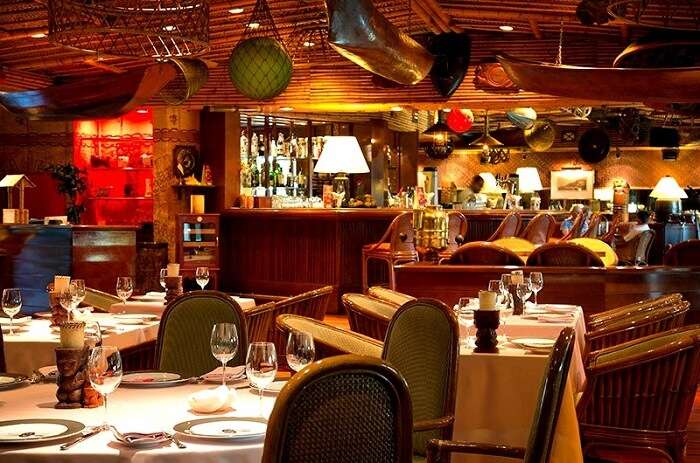 Image Source
Trader Vic's is a chain of popular Polynesian themed bar and restaurant that has outlets all over the world including in places like Atlanta, Tokyo, London, Doha, Dubai, and Al Ain in UAE among other cities in the world. The cuisine on the menu includes a variety of dishes from all over the world and this place is especially known for great tropical- style drinks. There are special events like Ladies Night and Latino Night and there are complimentary salsa lessons as well at this restaurant and bar in Al Ain.
Suggested Read: Ajman Shopping Guide: 7 Famous Places To Splurge And Shop At This UAE Capital!
5. Lawrence's Bar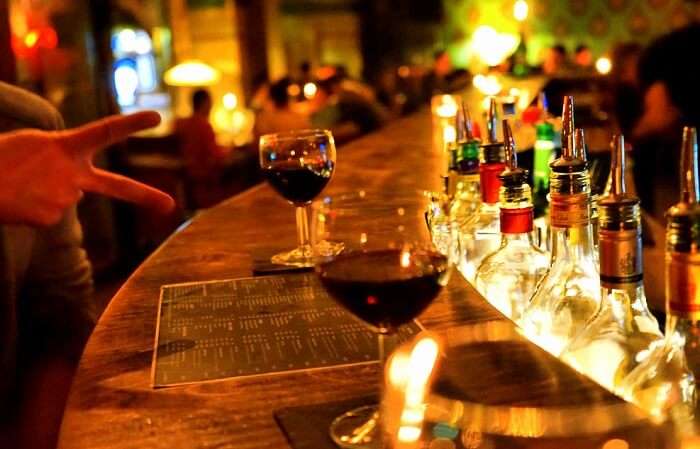 Image Source
At Jebel Hafeet at the Mercure Hotel is a great place to have a drink in Al Ain. There is Arabian live music and is a spacious and very comfortable place to enjoy with family and friends. This bar has a great view of the countryside that adds to the overall ambiance of this bar. It has a nice laid back vibe, good food and serves drinks to customers making it a great place to enjoy an evening in Al Ain, UAE.
Suggested Read: Top 5 Palm Jumeirah Resorts That Are Redefining Luxurious Lifestyle Of UAE
6. McGettigan's Bar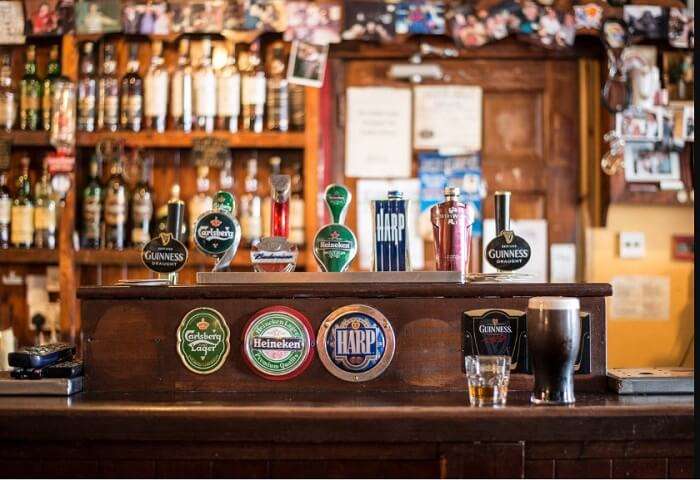 Image Source
McGettigan's is a chain of Irish Pubs in the Middle East and all over the world. McGettigan's Pubs are available in Dubai, Al Ain, Abu Dhabi, many Irish cities, London, Singapore, Jakarta, and also in New York City in the United States. People can enjoy great music; tasty bar food, entertainment, sports matches, and is a wonderful place to have private parties and functions in the private area of the McGettigan's Bar in Al Ain. McGettigan's is located in Danat Al Ain Resort in Al Ain.
Suggested Read: 10 Top Things To Do In Sharjah That'll Help You Unravel The Mysteries Of UAE
7. Luce Italian Restaurant and Club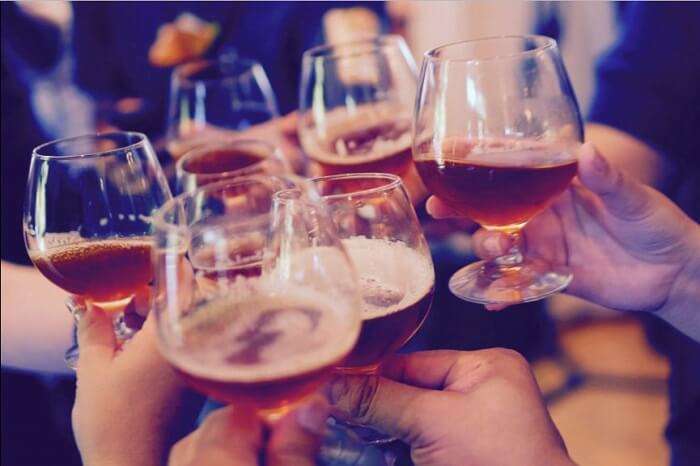 People in Al Ain, just like people all over the world love Italian food. Luce is a great restaurant in Al Ain that serves pizzas, pastas and has an excellent wine bar for its patrons. In the morning and afternoon there is a great restaurant for people to dine in Al Ain and at night after 10 pm, Luce converts into a nightclub with a dance floor and the DJ plays excellent music for the guest. This restaurant is very popular with tourists and it is a great place to enjoy the nightlife in Al Ain.
8. Golf Club In Al Ain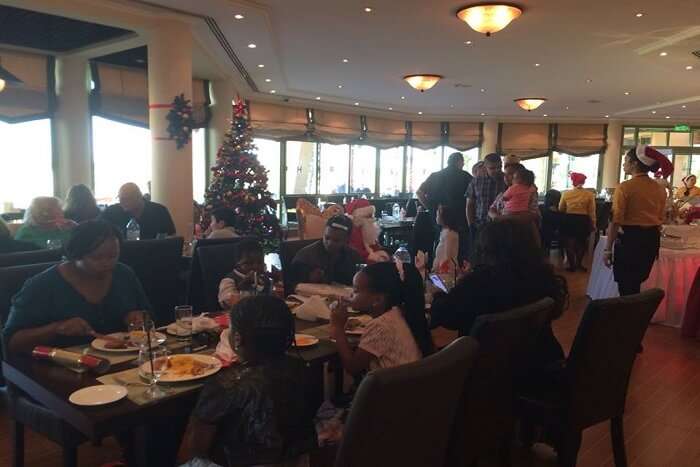 Image Source
Al Ain has a popular Al Ain Shooting, Equestrian and Golf Club which is popular in the city. This place is located in the Tawam Street in Al Ain and it has a Golf Club Bar which is quite popular with the guests at the club. This bar has television sets, great drinks, and an outdoor terrace for guests to enjoy a drink and spend time with friends in Al Ain. This is a famous place in Al Ain and tourists and locals visit this club often when in the city.
With so many fabulous places in Al Ain to enjoy a fabulous night out. People from all over the world visit Al Ain as tourism is developing in this city. Ail Ain nightlife is becoming extremely popular with people from Dubai, Sharjah and Abu Dhabi who love to vacation in Al Ain and have second homes in the city. Al Ain is a great desert city in the region that is developing into one of the best cities in the country to enjoy a vacation in UAE.
Further Read: 8 Best Things To Do In Ajman That Are Perfect For An Offbeat Vacation In The Heart Of UAE!
Made up your mind yet? Book your trip to UAE with Travel Triangle and visit all these clubs and bars to party like never before!
Frequently Asked Questions About Al-ain Nightlife
What is Al-ain known for?
Al-ain, a beautiful city in the eastern province of Emirate of Abu Dhabi, is known for its lush greenery and is also called as Garden City. Unlike its counterparts, AL-ain is quite simplistic in its lifestyle and is usually visited by those looking for some quiet and tranquility in the midst of nature.
When is the best time to visit Al-ain?
The winter months between October and April is the most ideal time to visit AL-ain as the weather is quite pleasant around this time of the year. The months of May and September is also a good time to visit as the temperature is quite bearable.
Which are the places to visit in Al-ain?
Some of the amazing places to visit in Al-ain are: 1. Jebel Hafeet 2. Al Ain Zoo 3. Al Jahili Fort 4. Wadi Adventure Park 5. Al Ain Oasis
Does Al-ain have good nightlife?
Though Al-Ain has a reputation of being a conservative place, the city completely transforms itself at night as one of the most happening nightlife hotspots and sees people coming from various places such as Dubai, Sharjah and Abu Dhabi.
Where in Al-ain has the best nightlife?
The top three places where you get the best nightlife experience in Al-Ain are: 1. Moodz 2. Tracer Vic's 3. McGettigan's Al Ain
Is Al-ain safe at night?
Pertaining to the strict rules against criminals in UAE, Al-Ain is absolutely safe for all. You can move about in the city without a worry even at wee hours of the night.
---
Looking To Book An International Holiday?
Book memorable holidays on TravelTriangle with 650+ verified travel agents for 65+ domestic and international destinations.
---