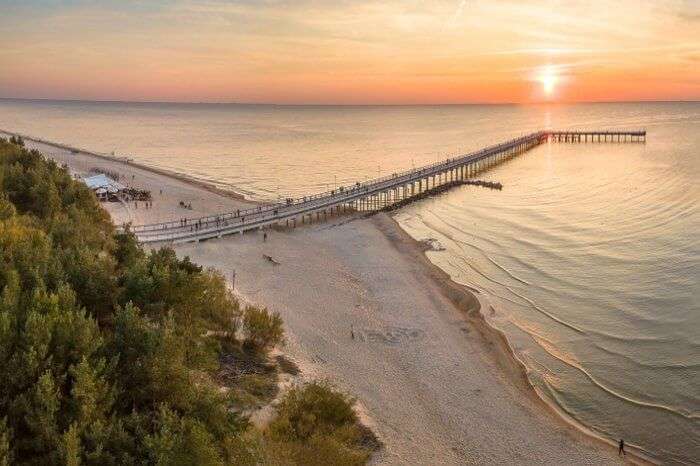 Lithuania is a beautiful Baltic country, which attracts a lot of tourists all year round. It has been named as a popular travel destination multiple times by leading travel magazines. Tourists from countries like Spain, Greece and France frequent this country quite often. The country is mostly famous for its rich historic background. Lithuania is home to many museums, monuments, churches and monasteries.
But if you are someone who wants to explore the lesser known gems in Lithuania, then you should definitely visit the beaches in Lithuania. Although the Lithuanian coastline is quite short and beaches are most definitely not the first thing that comes to mind while visiting Lithuania, but there are many beautiful undiscovered beaches in Lithuania that you will love to visit.
Top 5 Beaches In Lithuania
Though the coastline of Lithuania stretches only about 98 kilometers, there a few beaches in the country that you can explore. Here are a few Lithuania beaches that are worth exploring. Take a look.
Palanga Beach
Sventoji Beach
Melnrage Beach
Nida Beach
Juodkrante Beach
1. Palanga Beach
Palanga Lithuania Beach is arguably the most beautiful beach in the country. The beach is located in the Palanga Beach resort and stretches for about 10 kms. To enjoy a fun time with your friends, you can head to this beach. There are many snack shacks and bars lining the beach, where you can enjoy a meal and a drink. The beach also has a pier where you can sit and relax, enjoying the views of the sea. Sunset views from this point is absolutely amazing. There's also a trail running parallel to the beach, making for a perfect jog spot. The beach is family-friendly, so you can expect to see people from all age groups gathered here to enjoy a nice time.
Location: Palanga, Lithuania
How to reach: Reaching Palanga Beach is quite simple. There are bus services running from major cities like Klaipeda, Vilnius, Siauliai and Kaunas etc. You can also reach Palanga by train. Klaipeda and Kretinga have trains running to Palanga Beach.
Must Read: 13 Frolicsome Beaches In Europe For All The Excited Beach Bums Across The Globe
2. Sventoji Beach
Sventoji is a small resort town in Lithuania and a part of Palanga. This town is located on the banks of the Sventoji River,which flows into the Baltic sea. The village used to be a fisherman settlement in early ages, which later turned into Sventoji port and was quite famous during its time and it actively carried out trade with England and Denmark. Port reconstruction project is ready in Sventoji in the present day amd soon it will be taken under action. The town of Sventoji is a quaint and sleepy town and the crowd start flocking here during summertime when people come to visit the beach. There are many small wooden houses available for rent in Sventoji beach area, which makes for very comfortable and cozy stay. There is also an amusement park nearby that attracts a lots of visitors, especially families with kids.
Location: Sventoji, Lithuania
How to reach : There are two ways in which you can reach Sventoji. Take a bus from Palanga to Sventoji. There is a direct bus that runs between these two places. The bus service runs once daily and it takes about 10 minutes to reach Sventoji from Palanga. You can also drive between Palanga to Sventoji yourself. The distance between the two locations is about 16 km and it will take 15 minutes to reach from Palanga to Sventoji.
3. Melnrage Beach
If you want to experience a quiet time at the beach than you should definitely head to Melnrage Beach. Located in Klaipeda, this beach is quite clean as compared to other beaches of Lithuania and there is much less crowd making it a perfect spot to relax. The Melnrage beach extends from Melnrage 1, Melnrage 2 up to Giruliai. The 1st and 2nd beach are ladies only beach and in Giruliai a part of the beach is dedicated to nudists. During the summertime you will also spot a few kiosks selling beers, snacks and other refreshments. If you want to indulge in some beach volleyball action, then there are two volleyball courts in the beach as well. Overall the beach is a perfect spot to enjoy summer days in a nice way.
How to reach: The beach is located only at a distance of 6 km from the town of Klaipeda, so you can choose to take a public transport to reach the beach, or drive your own car up to the beach and if you are up for a nice long walk, you can also walk from klaipeda to the beach location. Since, the beach is located in the vicinity of the city, it is very easily accessible.
Suggested Read: Summer In Lithuania 2022: A Traveler's Guide To Enjoy A Vibrant Summer Vacation!
4. Nida Beach
This is yet another beautiful beach in Lithuania. Not so popular among tourists, this beach is quite the hidden gem of Lithuania. The beach has white sands and the water adjoining the beach is almost always calm, making it a suitable spot to take a dip in the sea waters. If you visit Lithuania, Nida beach is a must visit. This is undoubtedly one of the most scenic beaches of the country and offers some picturesque view of the Baltic sea. This European beach is not often frequented by people due to its location. The beach is located far away from the city and thus not many people venture here. But if you happen to visit this lovely beach, you'll be mesmerized by its beauty.
Location: Nida, Lithuania
How to reach: There are multiple ways to reach Nida Beach. You can drive from Klaipeda to Nida but the drive will be a long one. There are also buses running from Klaipeda to Nida, so you can hop on one of these buses to reach the beach. During the months of July and August there is a passenger ferry service running between Klaipeda, Nida and Juodkrante.
5. Juodkrante Beach
Juodkrante is a small village that shares the same beach as Nida, but with different access points. This village is one of the oldest settlements in the Curonian spit. Though located quite close to the Nida beach, the Juodkrante Beach attracts a lot more tourists than Nida. The beach is quite popular among tourists and a lot of people visit this beach during summertime to enjoy a refreshing dip in the cool waters of the Baltic sea. The beach is a perfect spot for sunbathing, swimming and indulging in beach sports. There are many outdoor cafes lining the beach, where you can grab a bite or get a drink. The accommodation in Juodkrante is also much less expensive. The beach is also a great spot for bird watching and gives the visitors direct access to the popular Hill of Witches.
Location: Juodkrante, Lithuania
How to reach: To reach Juodkrante Beach, first of all you have to take a cab up to the Old ferry terminal, from there you will be taken by the ferry to the other side of the Lagoon. The ferry ride will take approximately 7 minutes and then once you reach the other side of the Lagoon, you will find the bus station right next to it. The bus will take you to Juodkrante beach.
Further Read: Lithuania In Winter 2022: 10 Best Experiences That You Must Have For A Picture-Perfect Trip
There you go, these were some of the famous beaches in Lithuania that are a must visit. Don't miss out on any of these beautiful beaches on your next international trip.
---
Looking To Book An International Holiday?
Book memorable holidays on TravelTriangle with 650+ verified travel agents for 65+ domestic and international destinations.
---