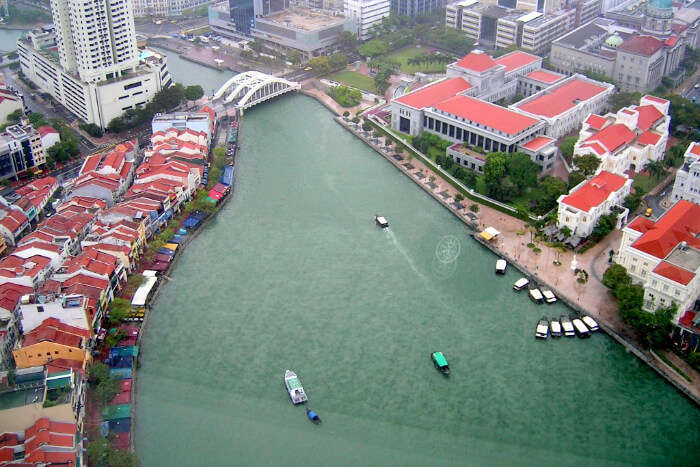 Harbourfront in Singapore is an ideal stopover for anyone who plans to travel elsewhere in Singapore. It can be reached by ferry services or air. A number of international cruise lines stop at Harbourfront before going further away in Singapore. The biggest names in the cruise business now use Harbourfront port for their Singapore stops. Due to its easy accessibility, you will see a lot of travelers and locals mingling with each other in this region. But that's not the only reason why Harbourfront is famous among locals and tourists alike. Some of the best places to visit in Harbourfront have lately caught the attention of the press and international travel publications. They are saying that Harbourfront is the go-to place on your visit to Singapore. It shouldn't come as a surprise since this place has seen major development in the last 20 years. You can easily pass your time in Harbourfront on your stopover since there are plenty of things to do and places to visit. You will be surprised by the number of choices you have. The possibilities are endless. Are you ready for a ride full of adventure and thrill? Then, let's go.
Harbourfront is chock-a-block with different varieties of world cultures. You may get a culture shock when you visit this region. But you aren't alone if you face it. Singapore comprises of Chinese, Malay and Thai residents. The way they live, eat and worship is very different from each other. Singapore embraces all cultures. They let every person perform the rituals and festivals they want to. They want people to feel loved and respected. They're very particular about that. You can have authentic Indian and Tamil food no matter wherever you are in Singapore. That is the best part. It doesn't get better than this.
6 Best Places To Visit In Harbourfront
We have shortlisted 4 best places to visit in Harbourfront that you should visit with your family and friends for a fun-filled getaway. You won't expect what will be thrown at you. The cultural differences among people means that the spices and scents of Indian, Tamil and Malay cuisine will overpower your senses and shock your nerves. Don't be alarmed. This is Singapore for you in a nutshell. Keeping that aside, you will have the best time in Harbourfront. Are you ready for some fun? Hop on the ride. We assure you that you'll have a blast:
1. Clarke Quay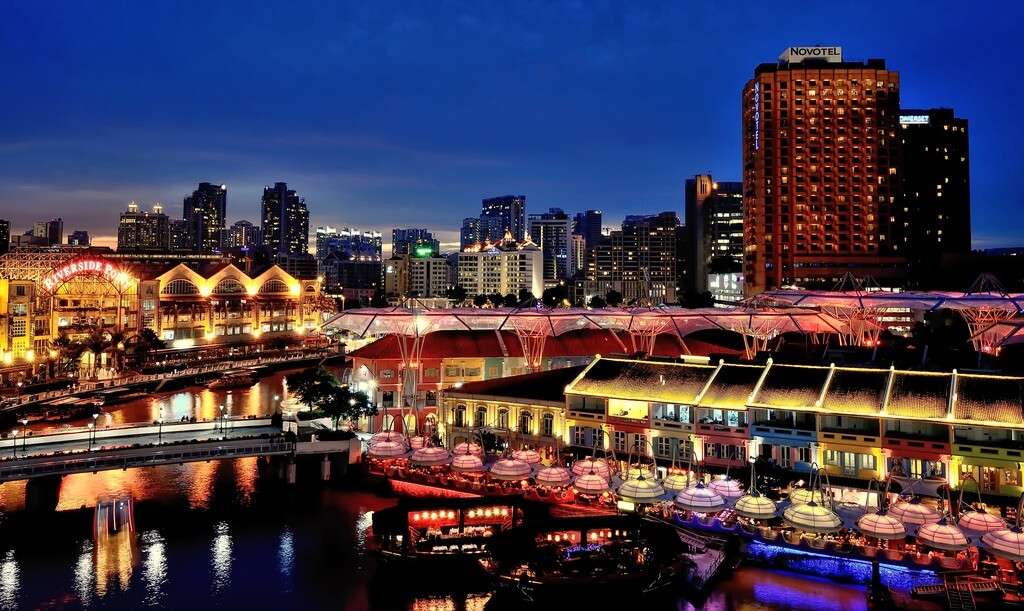 Pronounced as Clarke 'Key' and not 'kueh', it is one of the more popular places amongst the locals and is of historical significance. Its location is instrumental in positioning Singapore as the key port for the Malay states of Perak, Sungei Ujong and Selangor. It is named after the Governor of the Straits Settlements from 1824 to 1902, Sir Andrew Clarke. It was previously known simply as East and West Street in north Kampong Malacca. The pedestrian mall occupies a part of the road along the quay, which is also known as Clarke Quay.
Location: 3 River Valley Rd, Singapore 179024
Timings: 10 AM – 10 PM
        10 Things To Do In Novena To Make Your Singapore Trip More Fun
2. Beaches Of Sentosa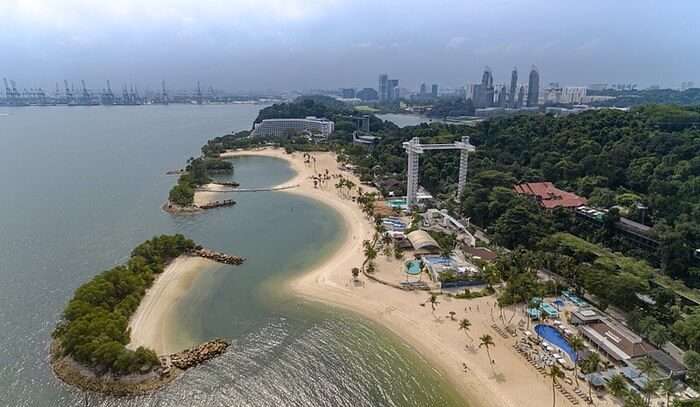 Sentosa has to be on the list of places to visit in Singapore for honeymoon. Known for its pristine beaches, sea sports and retreats, enjoy a relaxed morning on the white sands with your love. Go for a nature walk at the Butterfly Park and Insect Kingdom or a game of beach volleyball on the Siloso Beach. Also make sure you indulge in the Spa Two-Gether Day at the luxurious Spa Botanica for a romantic end to your day.
Location: Sentosa Island
           20 Romantic Places To Visit In Singapore For Honeymoon In 2022
3. Vivo City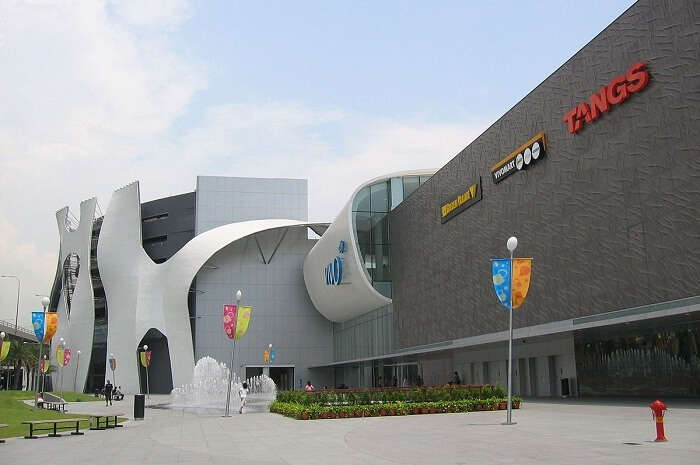 Though Vivi City is not physically on Sentosa island, it is often associated with the island as one of its best shopping malls! Vivo city, is hands down the best Sentosa island shopping mall. The mall acts as a link between the Harbourfront MRT and the Skytrain to Sentosa across the waters. This infamous Harbourfront shopping center in Singapore is the largest shopping arena in all of Singapore that serves as an one-stop-shop for all your needs, and has a large rooftop amphitheater, a 15-screen cinema, and a large playground for children. That is not all! There are art galleries and also a never-ending array of fine dining options.
Location: 1 HarbourFront Walk, Singapore 098585
Timing: 10:00 – 22:00 Daily
           Sentosa Shopping: 6 Best Places To Indulge In The Best Of Retail Therapy In Singapore!
4. The Knolls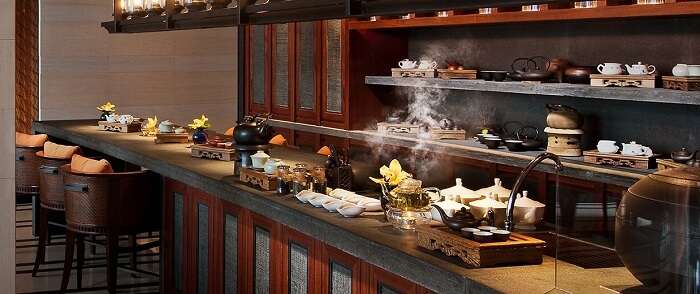 Tucked away from the noise of the island inside the luxurious Capella hotel, The Knolls has an intimate setting with a lovely view of the infinity pool and the sea beyond. Amongst the top recommendations of Sentosa restaurants for a quiet romantic dinner, this place is the best as it offers an eclectic selection of delectable international & local dishes. The friendly staff takes care of guests with so much warmth and care that you'd feel very pampered and special.
Timings: 7 AM – 11 PM
Cuisine: European
Location: 1 The Knolls, Capella Hotel Singapore, Sentosa Island, Singapore
Website
           10 Best Sentosa Restaurants For Embarking On An Unforgettable Culinary Adventure
5. SkyPark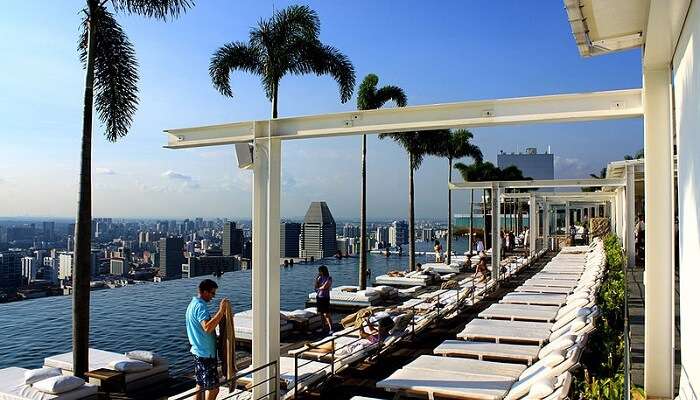 If you want to enjoy adventure activities in Harbourfront, then you can go to SkyPark where you will find a myriad of adventure activities. From bumper-car rides, mini bowling to old carnival games, you will get various options of entertainment to choose from. There is even a dedicated water play area for kids to hand out.
Location: 10 Bayfront Ave, Singapore 018956
Timings: 9:30 Am – 10 PM
6. Sentosa Boardwalk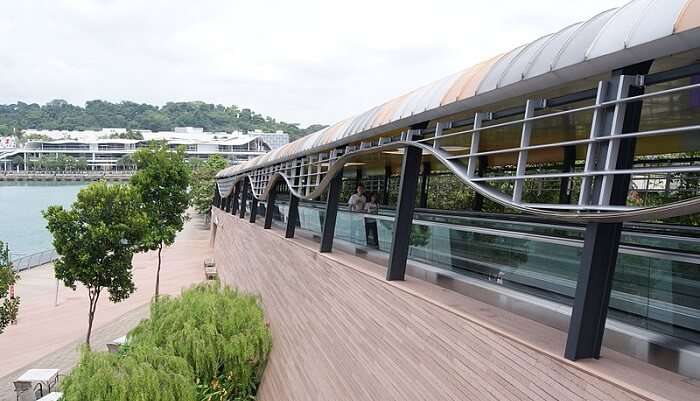 While you are in the area, you could take a walk by the Sentosa Boardwalk where you can soak in the wonderful views of the sea. This is also the place where you will find flea markets being organized on the weekends. The whole 670 m of stretch is covered with various shops where you can buy trinkets and souvenirs for friends and family.
Location: Straits View, Singapore
Timings: Open 24 hours
In Harbourfront, eating out takes place in hawker centers – open-air food courts that sell Malay, Chinese, Thai, Indian, Peranakan, and "Western" cuisine. The food is nominally priced. Harbourfront hawker centers serve as an amazing, delicious crash course on the local culture. The merging of many cultures has made the aforementioned best places to visit in Harbourfront a top favourite. You will be overjoyed on your trip to Harbourfront and enjoy everything the place is known for. Book your holiday to Singapore right away and avail exciting deals and discounts.
Frequently Asked Questions
Which is the best place to stay in Harbourfront?
There are so many great hotels and villas in Harbourfront where you could enjoy an excellent stay. Travelodge harborfront, Villa Samaadhi, Hard Rock Hotel are some of the best places to stay in here.
How do I get from Sentosa to Harbourfront?
You could easily walk from Sentosa to Harbourfront or take an MRT. You can take the monorail if you are getting out of Sentosa by 7 PM as it is free but only limited people can get on it.
How much does it cost to go to Sentosa Island?
The best way to reach Sentosa Island is taking a Sentosa Express from the mainland which costs around $4 Singapore dollars if you take a day pass. The monorail travel on Sentosa Island is free of cost.
---