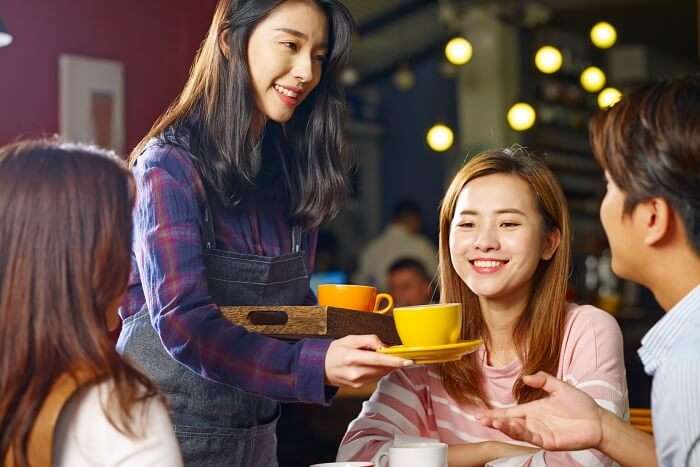 With a long history of food, Indonesia has a long list of food items which are famous all over the world. The ingredients are an amalgamation of flavors from the Middle East, India and China. All of it together represents authentic Indonesian cuisine. One of the main Balinese food, rice, comes from the breath-taking rice fields and is included in almost every meal in Bali. Hence, for you to taste the true flavors of the Island of God, we have brought you a list of 5 most blissful cafes in Candidasa Bali that are made for the flavor seekers. But before that, let's know about what Candidasa in Bali is all about.
A seaside town in eastern Bali, Candidasa stands still beside the rims of a fresh-water lagoon, which is known as Candidasa Lagoon. It is a beautiful tourist spot where you can relax and be embraced in the tranquility of the seaside. It is far away from the crowded roads and traffic of the south island. The place also boasts of a number of small shops, bars, restaurants, and cafes for you to stop by. In the list given below, we have 5 popular cafes that you will find in Candidasa Bali.
5 Blissful Cafes In Candidasa Bali
Here, go on and get enlightened about the 5 most delightful cafes that you will find in Candidasa Bali and have a great time visiting.
1. Fly Cafe And Cuisine

The Saturday Night Live music and the Friday Night Trivia event (free entry) are definitely two reasons why the Fly Cafe and Cuisine is so important for people seeking the taste of Ubud nightlife. The open-air cafe offers a variety of different cuisines, and the gourmet pizzas and grilled seafood is recommended. The adjoining Warung Fly is the best place to have Balinese food, including spicy fried rice and whole grilled fish.
Location: Jalan Raya Lungsiakan
Cost for two: INR 700
Must Read: 10 Best Ubud Nightlife Spots That Are A Must-Visit For Partygoers!
2. Yellow Flower Cafe

Located right in the Penestanan hills, there is a cave which shaped like a cafe. This Yellow Flower Cafe is run by an oval family and the surroundings there are enveloped in luscious greenery. Having breakfast here is just glorious. Take a seat here to taste some authentic Asian and Balinese food. The owners have grown their own vegetable to support local farming communities so everything that their taste is fresh and healthy. The setup is eco-friendly with a simple decor so that the visitors get to experiment with the authenticity of it all. This is a must visit place for trying out the Balinese Buffet every Sunday for dinner.
Suggested Read: 60 Spellbinding Bali Tourist Attractions To Visit In 2022
3. Karsa Cafe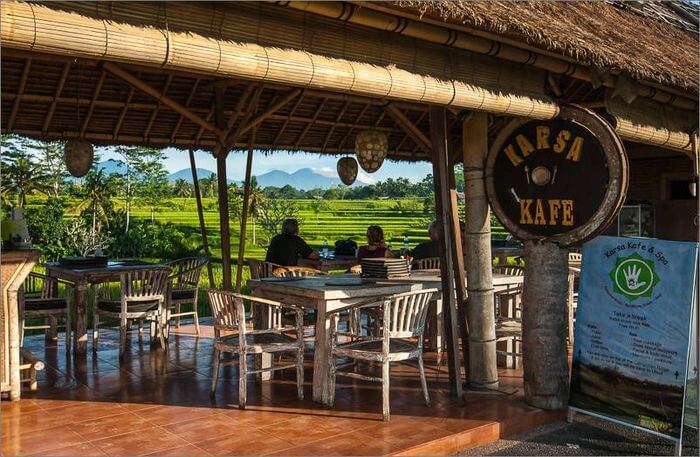 Look for the infamous Karsa cafe and grab the seat from where you can enjoy the elegant rice terraces. This cafe provides all kind of international food and they are certainly of decent quality. When you leave the place the walk will become a little morose, and this is the path to Keliki, Kedewatan and from there again back in the town. If you are too tired to walk back down you can get a shuttle from Karsa to Ubud town, but if you want a taxi, that will be a little problematic to get. There is another way you can finish this trek and that is by a bicycle.
                            Suggested Read: 60 Spellbinding Bali Tourist Attractions To Visit In 2022
4.Legend Rock Cafe

Known for its reasonable prices of drinks and mouth-watering food, the Legend Rock Cafe is one of the cafes in Candidasa Bali which is best if you want to sip on some delicious drinks with the natives and play a little pool. The friendly staff is responsible as well as quick at your services. The cafe also represents live bands for the customer's entertainment. While you visit Candidasa in Bali, this cafe is a must-visit.
Location: Jl. Raya Candidasa, Sengkidu, Bali, Kabupaten Karangasem, Bali, Indonesia
Opening Hours: 7 PM – 1 AM
5. Loaf Candidasa Cafe

A hidden gem in Candidasa, Bali, the Loaf Candidasa Cafe provides fresh breakfast, lunch and, and cakes to its visitors. The milk and bread served here are fresh and healthy. The delightful are excellent at communicating with all the customers and provide an efficient service.
Location: Jl. Raya Candidasa, Nyuh Tebel, Kec. Karangasem, Kabupaten Karangasem, Bali 80811, Indonesia
Opening Hours: 7 AM – 7 PM
We suggest that all these cafes in Candidasa Bali are definitely worth giving a pleasant visit. On your trip to Bali, hop on the journey of exploring refreshing beaches, discovering the age-old monuments and tasting mouth-watering food. Be ready to have a vacation that you will remember for a lifestyle. Get, set, travel!