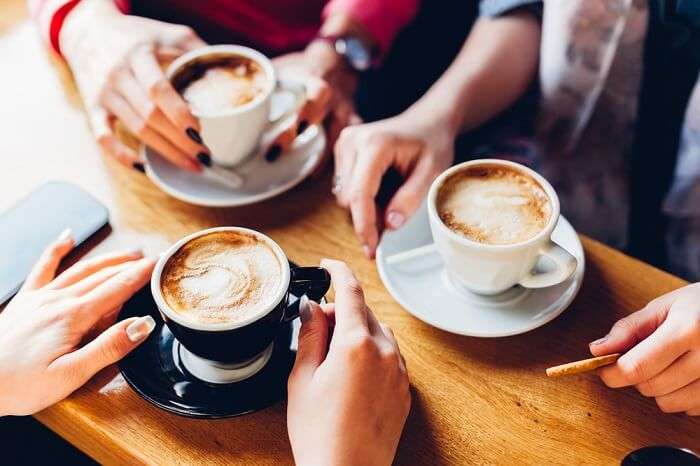 Taman Jurong is a residential area located in Jurong in Singapore. In fact, it is one of the oldest neighborhoods in the district where people have been living for long. So, it is impossible for you to not find cafes in Taman Jurong.

Taman Jurong is a fully developed area where you will find everything to make your visit convenient and comfortable. It is linked to Singapore metro through Lakeside MRT station. Apart from that, you will also find a well-established bus network in the region.
Cafes In Taman Jurong
If you are looking for cafes in Taman Jurong, here are some of the best places to eat where you can enjoy a nice evening with your friends, family, or spouse on your vacation.
1. S-11 Taman Jurong Food House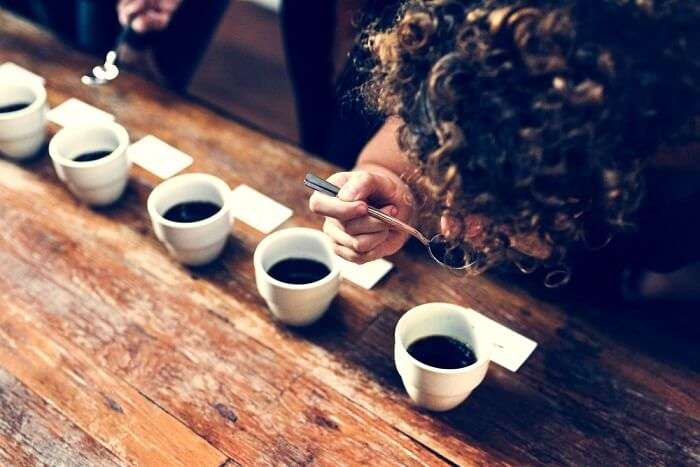 A simple coffee shop in the neighborhood, Taman Jurong Food House is a favorite place of locals. Even if you have a hankering of coffee or hot steamed food at 3 in the morning, you will find this place open. This place is open 24 hours a day. Find cheap eats to fill your tummy if the hunger strikes at odd hours. This place is a food court so you will find more stalls giving you more options.
Address: 101 Yung Sheng Rd, Singapore 618497
Timings: Open 24 hours
2. 7 Tea Cafe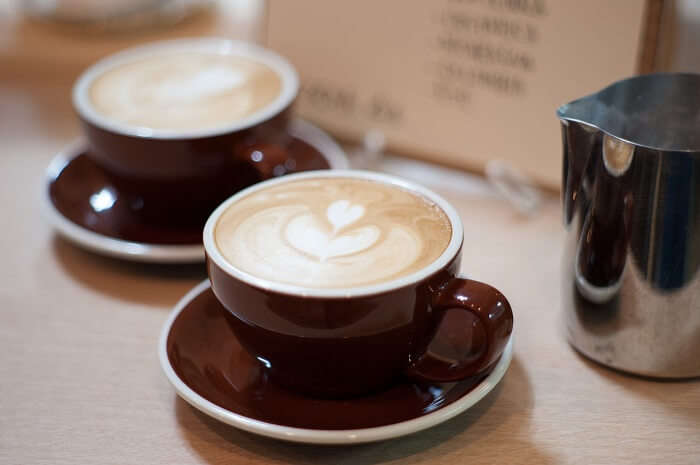 If you too have an obsession of bubble tea, then you can come to this cafe in Taman Jurong. Bubble tea is one of the favorite drinks in Singapore which people relish a lot. It is basically a drink made with tapioca and flavorings. It is sweet. Since it is shaken, bubbles appear on the top. Hence, the name. If you are in Singapore, then you should definitely give bubble tea a try and experience the local flavors of this amazing island.
Address: #03-142 Taman Jurong Market and Food Centre 3 Yung Sheng Rd, Singapore 618499
Timings: 11:30 AM – 9 PM, Sunday closed
3. Boon Lay Power Taman Jurong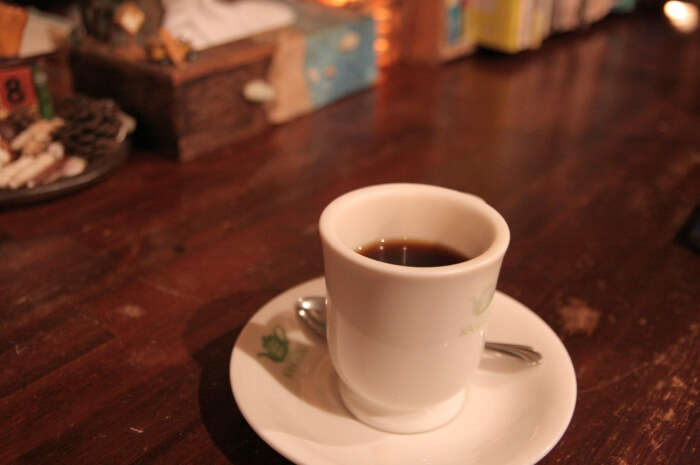 If you are looking for cafes in Taman Jurong which are appropriate for kids, then Boon Lay Power is where you can bring your family along. Enjoy a range of beverages and an extensive menu of sumptuous food. The place is simple and cozy. If your kids get hungry in the middle of the day, you can bring them here to feed them. It is a spacious cafe with enough seating space.
Address: Taman Jurong, Singapore
Timings: 10 AM – 10 PM
4. Two Tall Trees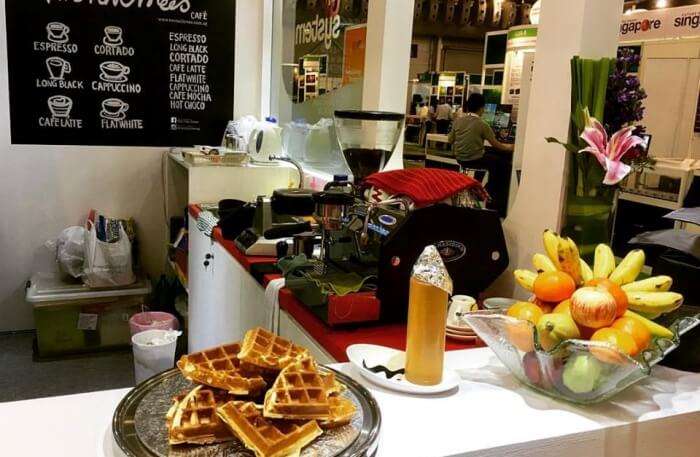 With a more than average menu selection, Two Tall trees is the perfect hangout spot with your friends and family. The place is very cozy and comfortable and offers an extensive menu. The Spam chips and the maple glazed chicken bites are some of the yummiest items in the menu.
Location: Kensington Park road, Serangoon, Singapore
Cost for two: $37
Tripadvisor rating: 4.0 / 5
                                   10 Amazing Cafes In Serangoon For Tasting The Local Delicacies!
5. Nunsongyee

Located in the outskirts of Serangoon, Nunsongyee is a little bingsu cafe. Away from the bustle of the city, this cafe serves as a peaceful eatery. The nest pick from this cafe's desserts will he the Black Saemi Bingsu, which is basically a red bean paste combined with black sesame and generous helpings of sliced almonds. The crunchy, creamy and tasty dessert will definitely make your taste buds happy.
Location: Burghley Drive, Singapore
Cost for two: $30
Tripadvisor rating: 4.0 / 5
6. Kintamani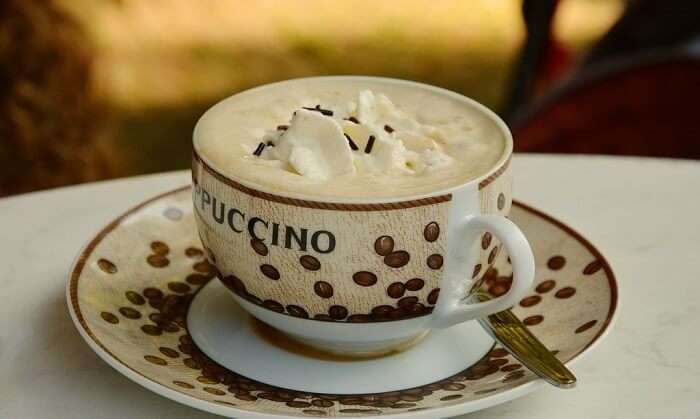 Located inside Taman Jurong Shopping Centre, Kintamani is one of the best coffee cafes in Taman Jurong where you can enjoy a cup of good coffee along with delicious baked goods. It is famous for Asian, Chinese, and seafood cuisine. So, if you ever get hunger pangs during sightseeing in Singapore, head to this place to have a sumptuous lunch or breakfast. The nearest MTR to reach this place is Lakeside. It is a budget-friendly cafe and totally appropriate for families with children.
Location: 399 Yung Sheng Road, #03-144 Taman Jurong Shopping Centre, Singapore 610399
Cost for two: $20
Tripadvisor rating: 4.3/5
7. Nam Hong Coffee Stall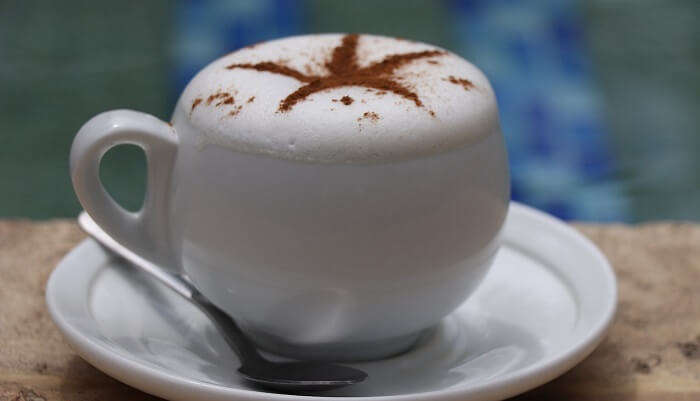 If you want a quick beverage, then Nam Hing Coffee Stal is one of the best coffee cafes in Taman Jurong. It is located inside the shopping center and serves fresh fruits and drinks. So, if you are on a restricted diet or you want to consume something healthy, then this place is definitely for you. It is one of the cheapest places to enjoy kopi-o.
Location: #02-88 Taman Jurong Market and Food Centre, 3 Yung Sheng Road, 618499
Cost for two: $10
Tripadvisor rating: 4/5
8. Devil's Kitchen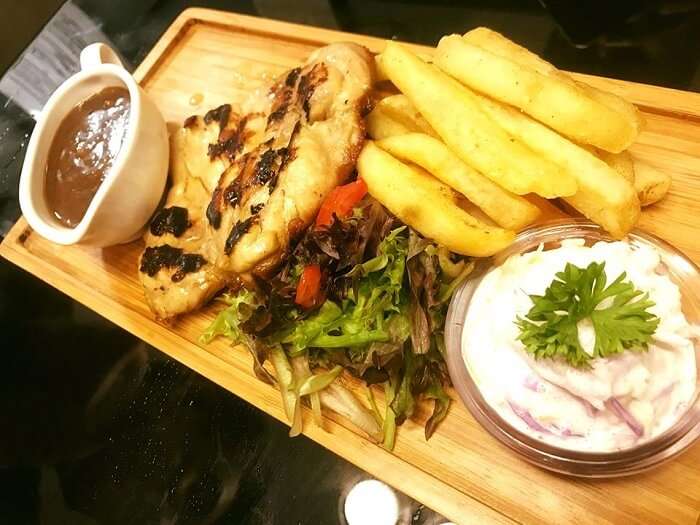 If you happen to be in Taman Jurong, check Devil's Kitchen out for good food and amazing ambiance. Their menu is so vast that you will have a wide variety of food items and beverages to choose from. The decor is chic and modern that you will definitely enjoy hanging out in this place with your friends or family. Or, if you are traveling solo, you can just hide in a corner, order a coffee, and read your favorite book.
Location: 1 Yuan Ching Road #01-03A/07 (2,574.89 mi)
Singapore 618640
Cost for two: $30-40
Tripadvisor rating:4/5
                                   10 Amazing Cafes In Serangoon For Tasting The Local Delicacies!
There is no dearth of cafes in Taman Jurong where you can satisfy your appetite on a budget and even have a good time. You will never have a problem searching for places to eat on your vacation in Singapore because there are a plethora of options for people with all kinds of taste. From budget eats to fine dining, from quaint bars to noisy clubs, you have it all in Singapore.

---
Looking To Book An International Holiday?
Book memorable holidays on TravelTriangle with 650+ verified travel agents for 65+ domestic and international destinations.
---