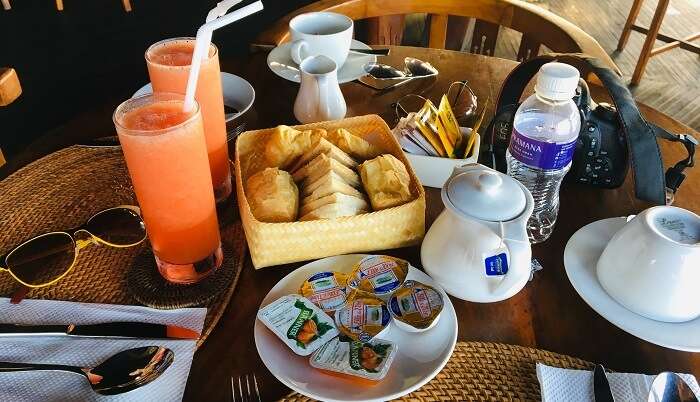 An Indonesian island, popularly famous for its tropical beaches, dramatic volcanic mountains, rice farms, and colorful coral reefs, Bali attracts millions of tourists each year. The light and fun lifestyle are what attracts the visitors here, right from the enthusiastic beach sides to the relaxing yoga retreats. Bali has something or other in an offer for all of its visitors. Here, we have another major attraction of Bali to show you, the Balinese cuisine. Check out the 5 best cafes near Double Six Beach Bali and what they have in store for you
The Double Six Beach is a 500-meter sandy beach that is a part of the Seminyak Beach in the Island of Gods. Right across from the beach stands a section of Jalan Double Six, a place aligned with some amazing bars, cafes, and restaurants. During sunset, you will find a cheerful crowd surrounding the seashore and enjoying the panoramic views that it has in store. Alongside, the fancy cafes and restaurants near the beach act as a cherry on top. Here, look at the list of 5 best cafes and restaurants that you must have a visit to. Cheers!
5 Best Cafes Near Double Six Beach Bali
Here is the list which includes 5 best cafes and restaurants that surround the Double Six Beach in Bali. Have a look!
1. Fly Cafe And Cuisine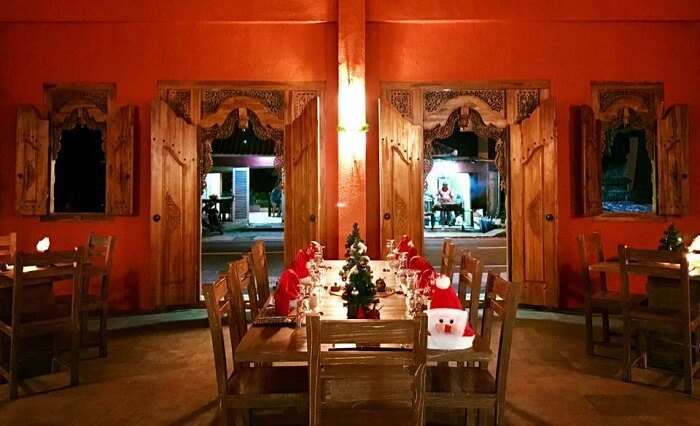 The Saturday Night Live music and the Friday Night Trivia event (free entry) are definitely two reasons why the Fly Cafe and Cuisine are so important for people seeking the taste of Ubud nightlife. The open-air cafe offers a variety of different cuisines, and the gourmet pizzas and grilled seafood are recommended. The adjoining Warung Fly is the best place to have Balinese food, including spicy fried rice and whole grilled fish.
Location: Jalan Raya Lungsiakan
Cost for two: INR 700
10 Best Ubud Nightlife Spots That Are A Must-Visit For Partygoers!
2. Hard Rock Cafe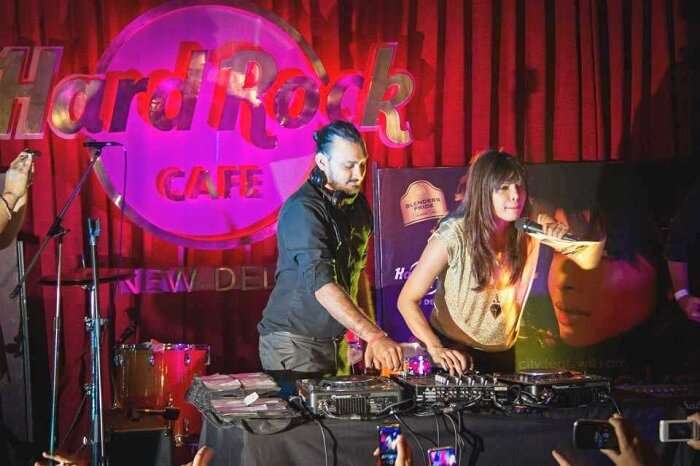 Much famed for its rock-theme ambiance and music, the Hard Rock Cafe in Bali is one place you can hang out at any time. Their inclusive Bar menu provides for both alcoholic and non-alcoholic beverages, but above all, the American cuisines they have will satisfy your taste buds to the fullest. The best time to dine here is at night since they also have live performances going on at that time. Of all the restaurants in Kuta, Bali, this one is every traveler's favorite!
Cuisine: American
Timings: 11:30 AM to 1 AM (Mon, Tue, Wed, Thu, Sun); 10:30 AM to 2 AM (Fri, Sat)
Cost for Two: 600,000 IDR with alcohol (INR 2,875)
Zomato rating: 3.9/5
Location: Jl. Pantai Kuta, Banjar Pande Mas, Kuta, Bali
Website | Reviews
14 Top Restaurants in Kuta, Bali In 2022 For Satiating All Kinds Of Food Cravings
3. Cafe Chapati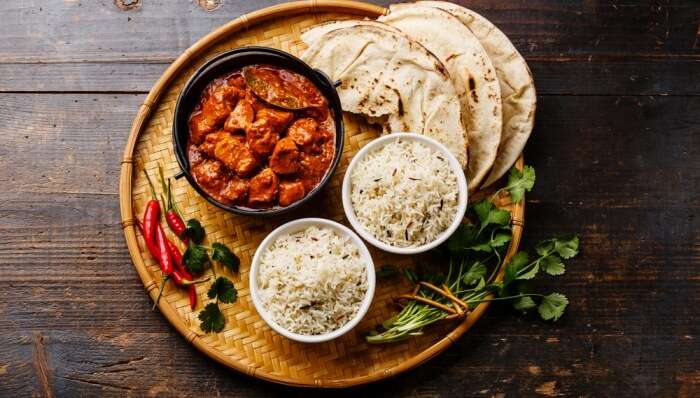 Cafe Chapati in Indonesia is a one nice casual dining or Indian snacking place. You can choose to have freshly baked Indian chapatis with curries, biryanis, quick Indian snacks or just be there to have your cup of masala tea with some tantalizing Indian quick bites. The restaurant serves vegetarian as well as meat thalis. The service is very quick and satisfying.
Must-Try: Biryani Rice, Egg curry
Location: Jl. Kunti I No. 6C, Seminyak, Bali
Cuisines: North Indian
10 Best Indian Restaurants In Seminyak For A Ravishing Dining Experience In 2022
4. Blue Water Cafe & Beach House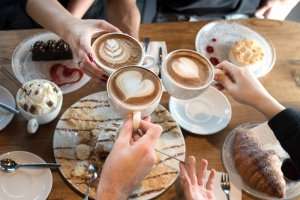 The Blue Water Cafe & Beach House is one of the cafes near Double Six Beach Bali that makes you forget about the hustle and bustle of your fast life and presents a relaxing aura. The happy and jolly staff greet you with utmost respect and friendliness. Food, being the major attraction of this place is delicious as well as good in portion. While you are here, do not forget to try the tasty and refreshing cocktails that are swiftly served here.
Location: Jl. Camplung Tanduk, Seminyak, Hotel Puri Saron, ( Ex. Jalan Abimanyu ), Kabupaten Badung, Seminyak Kuta, Bali 80361, Indonesia
Opening Hours: 10 AM – 11 PM
5. D'Joglo Beach Cafe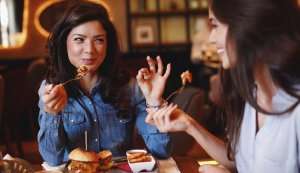 D'Joglo Beach Cafe presents its visitors with some really refreshing acoustic music from 6 PM to 9 PM in the evening. A great, reasonable meal with a fine glass of wine is perfect to enjoy with the melting sunset point. The attendants here friendly as well as helpful.
Location: Jl Pantai Camplung Tanduk, Seminyak, Seminyak, Kuta, Kabupaten Badung, Bali 80361, Indonesia
Opening Hours: 8 AM –12 PM
These were the 5 fancy cafes near Double Six Beach Bali, where every foodie must visit at least once on their trip to the Land of Gods. Have an amazing trip to Bali and find yourself savoring every flavor of the delicious Balinese cuisine. Also, do not forget to share your travel experiences with us once you come back.