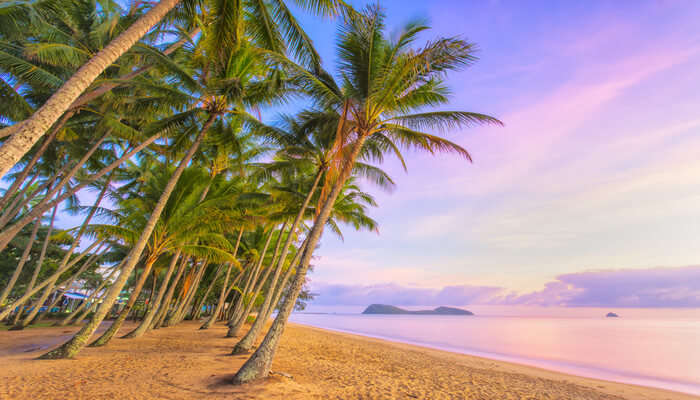 Located in the northeast of Australia, Cairns enjoys hot humid summers and mild winters with temperatures that rarely dip below 24 °C. Cairns is a popular destination for Australian families as it's the gateway to the Great Barrier Reef and offers family-friendly beaches. Here is a guide for Cairns in March. Have a look at some of the best places to visit and know what to do when visiting Cairns in March and have the best time of your life! 
Weather In Cairns In March 
March to September is the best time to visit Cairns with temperatures in Cairns in March ranges from 23 °C to 30.5 °C. In the dry season of Cairns in March, one can enjoy all adventurous activities, like bungee jumping, hot air ballooning, and more.
3 Best Places To Visit In Cairns In March
Have a look at the best places to explore in Cairns in March and enjoy a great time away from the hustle bustle if you're thinking where to go in Cairns in March.
1. Great Barrier Reef

A 2,300-kilometre (1,430-mile) reef, the Great Barrier Reef is the world's largest coral reef. The Great Barrier Reef is home to some thirty species of whales, turtles, sharks, dolphins and numerous fish. Snorkeling, swimming or scuba diving around the reef is just beyond amazing. It is a great place to develop a respect for nature, as well as seeing some amazing marine life.
Location: East coast of the Queensland mainland.
Must Read: 14 Ways To Celebrate And Enjoy Christmas In Australia In 2022
2. Kuranda

Kuranda is a mountain village, (25 kilometers) northwest of Cairns. Kuranda is located in the lush rainforest on the hills of the Atherton Tableland. This is a train journey not to be missed in Cairns in March. You can enjoy the skyrail, spectacular views of lush forests and towering waterfalls in Kuranda.
Location: Australia's northeast coast.
Suggested Read: 8 Best Indian Restaurants In Australia To Satiate Those Desi Food Cravings
3. Machans Beach

This beach is the closest beach to Cairns City. Travelers can enjoy some peaceful time, away from the busy hustle by staying at Machans Beach. One can easily access local transport in Cairns. One can enjoy local salsa nights here. The natural attraction of Machans beach is its beachfront location by the Barron River. March to May is considered the best time to visit the beach.
Location: suburb in the city of Cairns
Suggested Read: Melbourne In March 2022: Enjoy Your 2022 Vacation At This Australian Paradise!

4. Green Island 

Surrounded by the rainforest and ringed by coral reefs, this island is one of the best tropical island paradise. This place is famous for activities like Snorkeling, scuba diving and swimming. Alongsidethat there is a glass-bottomed boat or underwater observatory to witness the marine life. There is a neighbouring coral island named the Michaelmas Cay which is the nesting place for thousands of seabirds. 
Location: Coral Sea
Suggested Read: New Year In Australia: Welcome The Upcoming Year Before Anyone Else Only Here!
Things To Do In Cairns In March
Here are a few activities to enjoy in Cairns in March which one must take in consideration to have an adventure filled time here at this city in Australia if you're confused on what to do in Cairns in March. 
1. Whitewater Rafting

One of the most popular and adventurous things to do in Cairns in March is whitewater rafting. The Tully and the Barron River are two main rafting rivers in Cairns. The Tully River is a full-day trip for swimming experts and the Barron River is a half-day trip more suited to beginners. Here, the water level is maintained throughout the year. No need to fear as experts will teach you everything to enjoy the thriller experience of river rafting in Cairns.
Location: 59-63 Esplanade, Cairns City QLD 4870, Australia
Suggested Read: Paragliding In Australia: 10 Best Places For Touring The Australian Sky
2. Bungee Jumping

The other top-level fantastic adventure is AJ Hackett Bungee Jumping. The place is located 20 minutes from Cairns and 10 minutes from the beautiful Palm Cove. The location is gorgeous having the Bungy tower right over the rainforest, northern beaches and out to the waters of the Great Barrier Reef. It is the only one bungee in Australia with 50m high tower in the canopy of the Cairns rainforest.
Location: End of McGregor Rd, Smithfield .
Suggested Read: New Year Party In Australia: For Slaying The New Beginnings In An Aussie Way!
3. Skydiving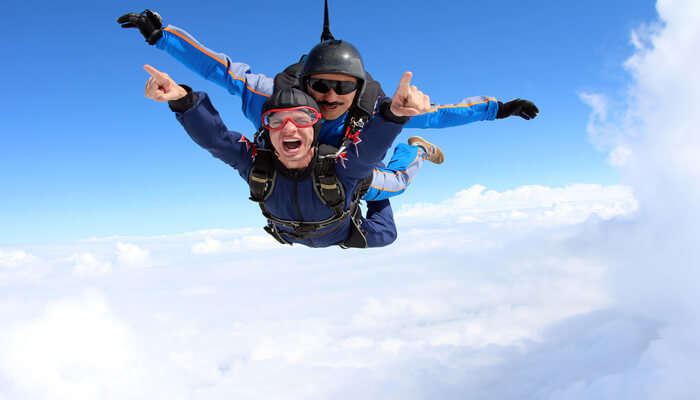 Skydive Cairns is based in Far North Queensland surrounded by the beautiful rainforest of Queensland. Come and jump out of an airplane and skydive over Australia's Great Barrier Reef. At a height of 15,000 feet, enjoy the experience with views of Cairns, World Heritage Rainforest and the Great Barrier Reef.
Suggested Read: 27 Most Beautiful Beaches In Australia To Pamper The Beach Baby In You
4. Ziplining 

Alongside the other things to do in Cairn, Zipling tour in the Daintree Rainforest is one of the must experiences. This completes your visit to Cairns. This one of the beautiful attractions which is known for more than its lush-greenery. While inside the rainforest one can witness the local wildlife like the Koalas and Kangaroos. 
Suggested Read: Canyoning In Queenstown: A Handy Guide To Have An Amazing Time In Australia!

Best Places To Stay In Cairns In March
If you're thinking where to stay in Cairns in March, then have a look at some of the best places to stay while on your visit to Cairns which will let you enjoy and have a relaxing vacation amid the finest views. 
1. Rydges Esplanade Resort Cairns

Rydges Esplanade Resort Cairns is located on The Esplanade, very close (15-minute walk) to the Cairns CBD and Cairns International Airport is a 10-minute drive away. It has all the facilities to relax like 3 outdoor pools, gym and tennis court. Visitors can enjoy the mountain and ocean views from the balcony. The resort has cozy and comfortable rooms with super comfortable beds. This 4-star property also offers a business center for commercial purposes.
Location: 209-217 Abbott St, Cairns City QLD 4870, Australia
Price: Starts from INR 7,000
Google Rating: ⅘
Suggested Read: 10 Australia Travel Tips To Swear By For A Smooth Vacay
2. Mantra Esplanade Cairns

This well designed 4-star hotel is centrally located. Tourists can enjoy ocean and city views from the balcony. All modern amenities are available such as swimming pools, hot tubs, cable TV and tea/coffee making facilities. Cairns Esplanade Lagoon (0.2 km), Esplanade Boardwalk (0.2 km), and Cairns Museum (0.3 km) are the nearby attractions to enjoy.
Location: 53-57 Esplanade, Cairns City QLD 4870, Australia
Price: INR 7,100
Google Rating: 4.⅕
3. Hilton Cairns

One of the most popular luxury hotel Hilton Cairns is located on the Cairns Esplanade. The hotel offers stylish rooms with private balconies overlooking the mountains and rainforests. The property offers a spa pool, a fitness center, restaurant, bar/lounge and free Wifi in lobby.
Hilton Cairns nearby attractions include Cairns Esplanade Lagoon (0.4 km), Esplanade Boardwalk (0.4 km), and Cairns Museum (0.5 km) from the hotel. Cairns Airport is a 15-minute drive away.
Location: 34 Esplanade, Cairns City QLD 4870, Australia
Price: Starts from INR 8,500
Google Rating: 4.⅖
Suggested Read: 21 Best Resorts In Australia For The Perfect Vacation Down Under In 2022
4. Novotel Cairns Oasis Resort 

The Novotel Cairns Oasis Resort  is located just at the heart of the city. Boasting a pristine waterfront, this resort has a laid-back vibe because of its surreal scenery. Inside the resort, there is a lagoon-style pool, tropical gardens and rooms which are airy. And when it comes to food, there is a vast option which includes delicious burgers and soft tacos. 
Location: 122 Lake St, Cairns City QLD 4870, Australia
Price: Starts From INR 7,500 
Google Rating: 3.9/5 
Suggested Read: 7 Best Brisbane Resorts For A Comfy Stay During Your 2022 Australian Vacay
How To Reach Cairns 

By Air: Cairns Airport (7 km from the city) is the main gateway to the region. The airport offers both international as well as domestic flights. All major cities in Asia, Hong Kong, Japan, and New Zealand are connected from here via Darwin. You can easily access shuttle buses (pre-booked) and taxis from the Airport.
By Road:Cairns is located along the coastline and there is a direct route via the Bruce Highway connecting Cairns and the state capital, Brisbane. A long journey of 22 hours covering 1700 km from Brisbane.
By Train: Cairns and Brisbane are connected by Sunlander and Queensland Railways twice in a week. The route covers a 24 hours journey and terminates at Cairns Railway Station.
By Boat: A number of overseas cruise ships pass by Cairns Seaport regularly.
Further Read: Gold Coast In Winter: To Travel This Glorious Australian City With Your Loved Ones!
Cairns in March is lovely. There are so many activities to do and places to visit during this month. Book a trip with TravelTriangle to Australia and have a great time exploring Cairns!
Frequently Asked Questions About Cairns In March
Is Cairns worth a visit?
Yes, it is worth visiting Cairns. You are going to experience the most fantastic adventures in Cairns.
What is there to do in Cairns on a budget?
Within a good budget, you can enjoy the local markets, Cairns art galleries, swimming in the Lagoon and enjoy the rainforest.
How many days do you need in Cairns?
Cairns, being the most popular place in Australia is a perfect holiday destination for 3-5 days.
How long does the Kuranda train take?
Kuranda train journey is one of the best parts of the journey in Cairns which takes around 2 hours.
Which months should be avoided for swimming in Cairns?
The stingers are found in the water during the time between November to May. So the swimmers can avoid these months for swimming.
What is Cairns known for?
Cairns is known for being the gateway to the world's famous natural attractions – Great Barrier Reef and the Wet Tropics Rainforest.
Is Cairns safe at night?
Cairns is quite a safe city at night, but some areas might still be affected by mugging and assaults.
---
Looking To Book An International Honeymoon?
---
People Also Read: