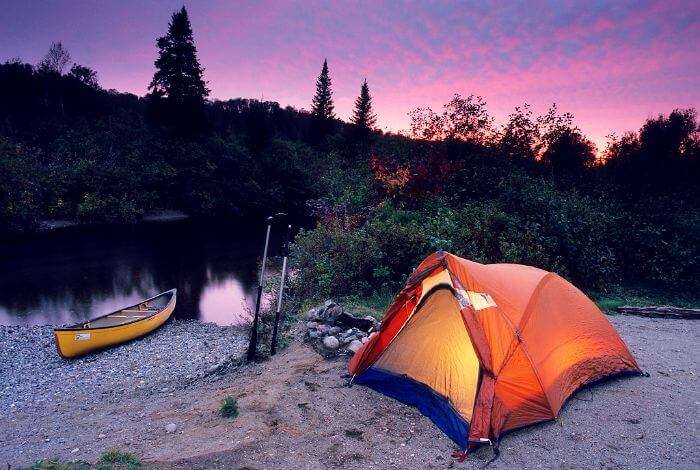 Looking for some camping adventure in a tight budget? Well, that's what many young city people are looking at. A quick, yet adventurous break from the noisy Delhi streets and cut-throat MNC culture that lets you refresh and rejuvenate. Camping gives you a chance to experience a relatively rugged life, unlike the experience of a luxury resort. Clearly there are many popular camping options around NCR, and therefore we dug up the best among the existing few – a list of rather unexplored getaways perfect for camping near Delhi!
Camping Near Delhi: Places To Visit
So, while you must be planning to create those much awaited camping plans near Delhi, take a look at these sites that will let you have a fun experience when you pitch your tents!
1. Camp Mustang, Sohna Road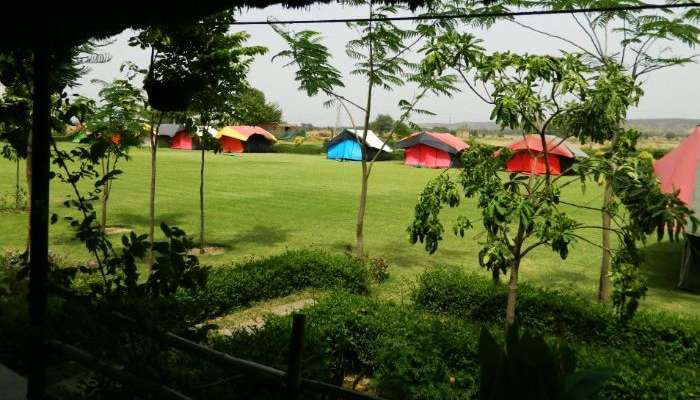 A picturesque location surrounded by the Aravalli hills and vast farms, this is the perfect place to camp with family or friends, get together, hold events etc. Look forward to trekking, rock climbing, shooting, team building activities, zorbing, cycling, farming, obstacle courses, village walks, astronomy and rocketry and a lot more.
Distance from Delhi to Camp Mustang: 50 km; 20 km from Gurgaon
Contact: To know more visit www.campmustang.com or call at 9911039423
Must Read: 32 Best Romantic Places In Delhi And Its Vicinity That All Couples Must-Visit In 2022!
2. Camp Tikkling, Gurgaon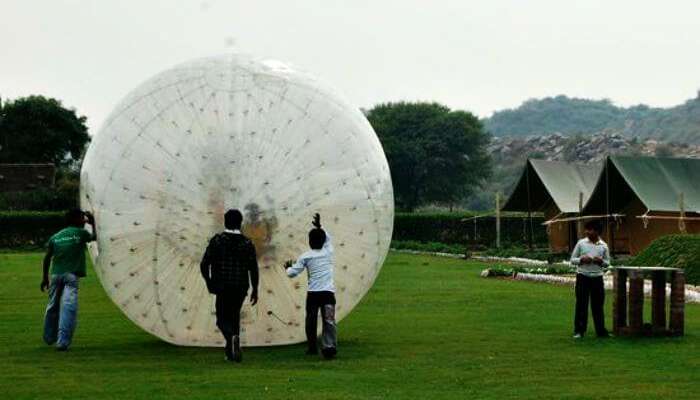 With a gamut of activities that take care of interests of all ages, Camp Tikkling arranges for activities like paramotoring, paintball, zorbing and jummaring among others. It is a rather unexplored one among various destinations for camping near Delhi. When are you planning to camp here?
Distance from Delhi to Camp Tikkling: 60 km; 20 km from Gurgaon
Contact: To know more visit www.camptikkling.com or call at 011-4509 8537
Suggested Read: 70 Incredible Places To Visit Near Delhi In 2022: Within 600 KM From The Capital!
3. Camp Wild Dhauj, Gurgaon-Faridabad Border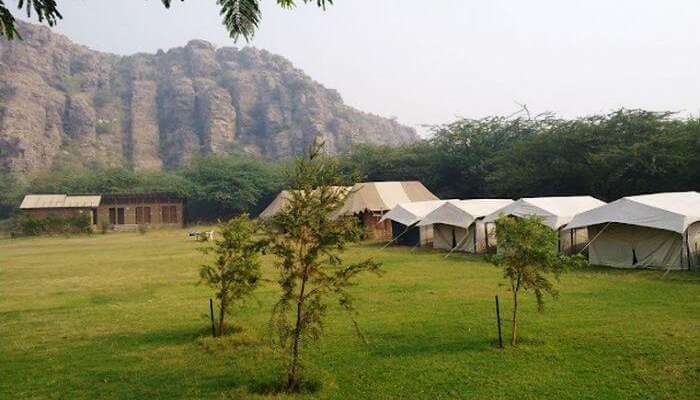 One of the popular camps near Delhi, Camp Wild Dhauj has all the possible camp facilities ranging from adventure sports to comfortable tents and delicious food. Adventure activities at Dhauj include rappelling, rock climbing, flying fox, hiking, mountain biking, ATV rides and zorbing. They also conduct DJ nights and bonfire to complete an amazing winter night.
Distance from Delhi to Dhauj: 61.5 km; 32 km from Gurgaon
Dhauj Camp Organizers: Get in touch with Camp Wild , and Adventure Nation. Contact them at 011-65100333 and 0124-3040506, respectively.
4. Damdama Lake, Gurgaon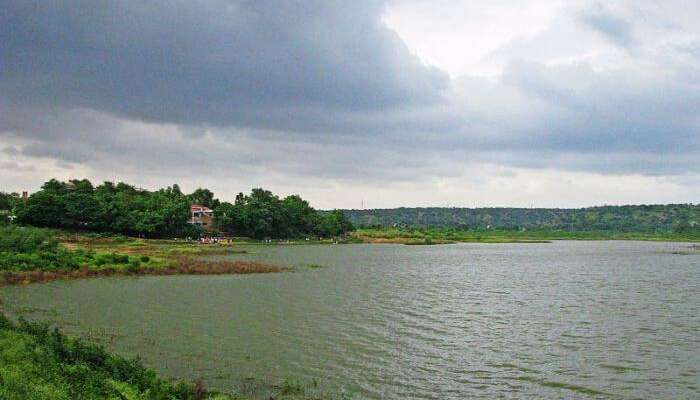 One of well-known adventure camps near Delhi, boating, rock climbing, commando net, balance walk and spider net are some of the activities you can indulge in at Damdama. Since the island is surrounded by the Aravali mountain range on one side, you can also go trekking here. So, when are you heading to Damdama Lake camping, next? Don't miss out on this charming experience as this is one of those places where you can try luxury camping near Delhi.
Distance from Delhi to Damdama Lake: 62.5 km; 24 km from Gurgaon
Damdama Camp Organizers: Damdama Adventure Camp, Wanderlust Camps, and Dare Adventures
Suggested Read: 16 Best Places To Visit Near Delhi In August For That Dreamy Escape In 2022
Adventure Sites For Camping Around Delhi
So, while there's no dearth of adventure sites for a fun camping experience, this list of the best picks will surely make your vacay more memorable! Check it out.
5. Kangojodi, Sirmaur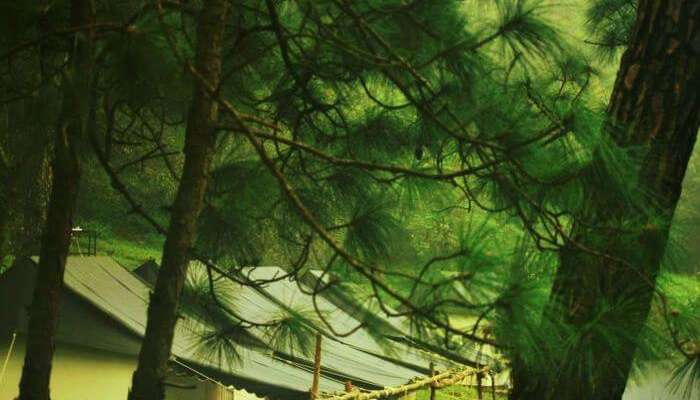 Surrounded by lush pine forests, Kangojodi offers a spectacular view and lots of peace. Here, you can engage in activities like trekking, hiking, nature walks, rope balancing, rappelling and birdwatching. This is also one of those places where you can try self camping near Delhi!
Distance from Delhi to Kangojodi: 275 km
Kangojodi Camp Organizers: MCG Camp Roxx, based in Delhi. Get in touch with them at 919911024426 for details.
Suggested Read: 22 Picnic Spots Near Delhi In Summer For A Quick Breezy Break In 2022
6. Kasauli, Solan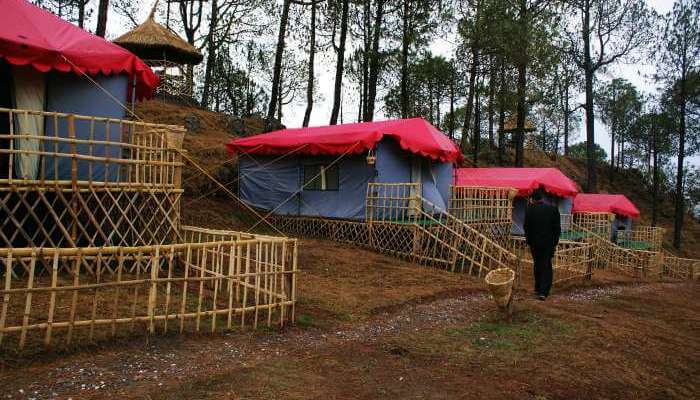 The perfect location for camping, in Kasauli you can go for trekking, cycling, archery, shooting, rock climbing, zip lining and more. It is one of the most beautiful sites for camping near Delhi. So, are you ready for this fun experience?
Distance from Delhi to Kasauli: 288 km
Kasauli Camp Organizers: Sanawar Camp. For bookings, call 09805461137/ 09418593017
7. Kanatal, Near Dhanaulti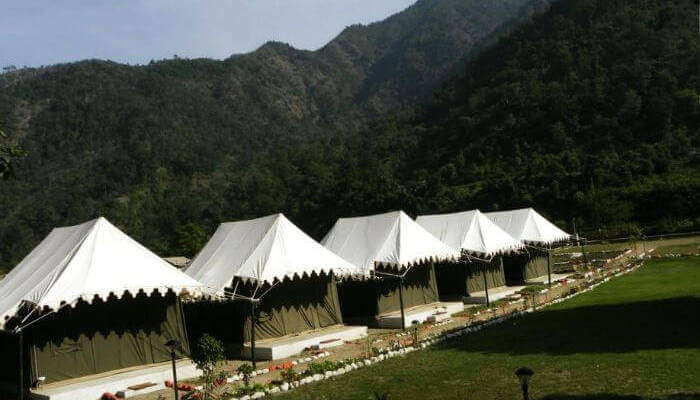 You can enjoy the comfort of well laid out camps in the middle of this picturesque adventure camp near Delhi. Experience the adrenaline rush with activities like Tarzan swings, Mowgli walks, rock climbing, rappelling, valley crossing and commando crawls. Also, you could trek to the Kaudia forest or the Surkhanda Devi temple. If you just want to unwind, bon-fire; barbeque night and outdoor games are a must-do here as it is one of the best places for night camping near Delhi. 
Distance from Delhi to Kanatal: 317 km
Kanatal Camp Organizers: Wildex, Kanatal Adventure Camp, Camp Little Jaguar, and Kanatal Camps are among the best ones. Visit their websites for complete details.
Explore The Ultimate List Of Weekend Getaways Near Delhi
8. Shoghi, Near Shimla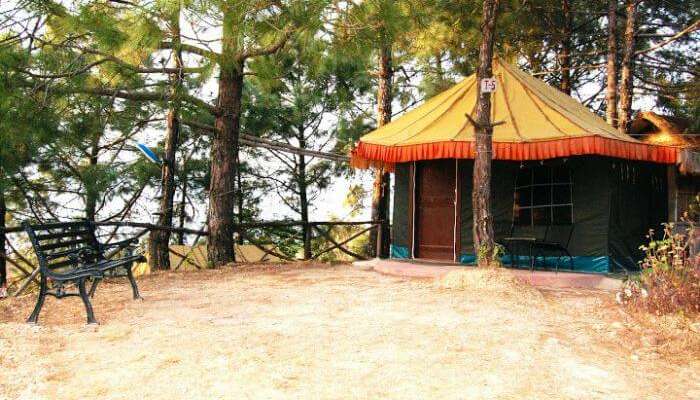 This can be one of your most relaxing mini vacations as the weather here is cool even during summers. You can enjoy the warmth of a born fire, go trekking or simply enjoy the spectacular view from the site. Adventure lovers can head for village walks, forest treks, outdoor activities like valley crossing, spider web, tyre web and target shooting. This one surely tops the list of one of the most serene camping places near Delhi.
Distance from Delhi to Shoghi: 330 km
Shoghi Camp Organizers: Parkwoods and Adventure Compass
Suggested Read: 19 Offbeat Destinations Near Delhi That You Ought To Check Out In 2022
9. Binsar, Near Almora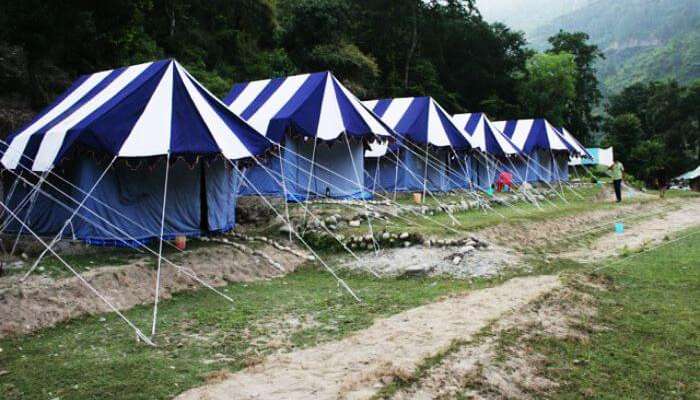 Image Source
Enjoy fascinating views of Kedarnath, Nanda devi and Panchachuli at this popular hill station. Since it's amidst a forest full of rhododendron, oak trees and around 200 species of flora and fauna, one can truly enjoy a stroll through the forest, go for bird watching or trek to the top of the hill. Camping activities include jungle camping, riverside treks, rappelling, sanctuary treks and more. This is the place where you can have a fun experience of riverside camping near Delhi!
Distance from Delhi to Binsar: 380 km
Binsar Camp Organizers: Binsar Eco Camp and Adventure Karma. Get in touch by calling at 9675544799, and 91-011-42730099, respectively.
10. Kausani, Bageshwar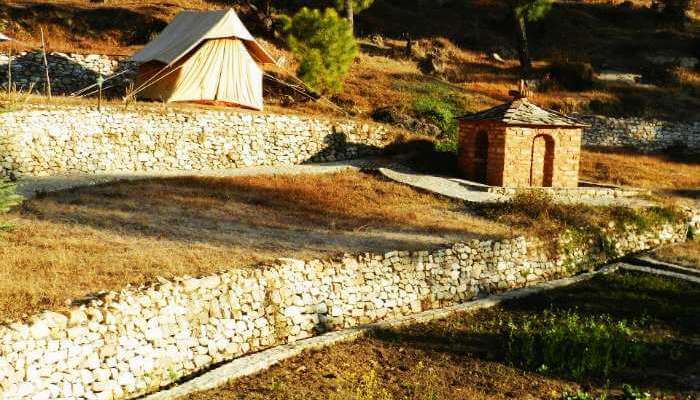 The resemblance of the Kausani hills to Swiss alps truly makes it the Switzerland of India. Untouched by commercial influences, it is home to camps that offer adventurous camping activities like bird watching, trekking, tyre web, and more. If you're looking for camping under the stars near Delhi, this is surely the place to be!
Distance from Delhi to Kausani: 440 km
Kausani Camp Organizers: Eco Adventure Camps. Call on 9412044610 for booking and enquiries.
11. Mountain Camping, Mussoorie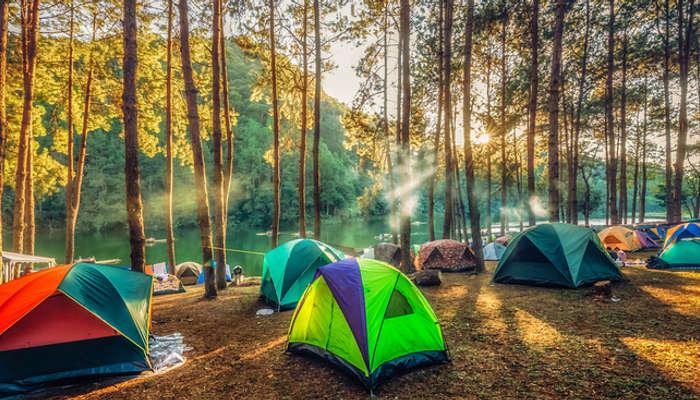 Mussoorie is one of the perfect destination near Delhi for a weekend getaway. This scenic town of Indian Himalayas is popularly known as the Queen of Hills and is amongst the popular camping places near Delhi due to its awesome weather. You can indulge in different activities including valley crossing, rafting and trekking. Enjoy the bonfire night at camp and feel the music. 
Distance from Delhi to Mussoorie: 295 km
Mussoorie Camp Organizers: Winter Line Adventure Camp. Call on 9557392101 for booking and enquiries
12. Beachside Adventure Camp, Rishikesh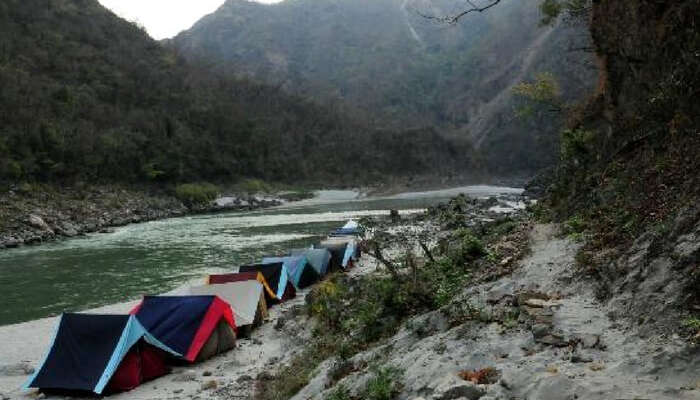 Camping sites near Delhi at the banks of the holy Ganga river is an  exciting way to spend your weekend. Indulge in fun activities like rafting and kayaking in the fast rapids of the River Ganga. Spend the night gazing the stars and enjoying barbecue at the bonfire. Stroll through the wild beaches as well as the wild jungles that cover these beaches. 
Distance from Delhi to Rishikesh: 260 km
Rishikesh Camp Organizers: Outbound Adventure. Call on 9897519897 for booking and enquiries
Suggested Read: 12 Delhi To Goa Trains: Best Rail Journeys Along The Konkan Coast
13. Mukteshwar, Nainital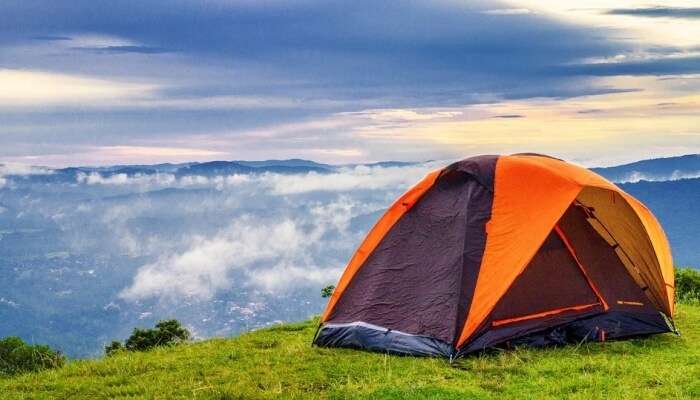 Mukteshwar is another beautiful camping sites near Delhi. This small hill town is mostly popular for adventure sports such as rock climbing, rappelling etc. Soak in the amazing view of Himalayan ranges. The other major highlight of the camping at Mukteshwar is the amazing bonfire, workshops based on forestry and endless cups of tea. 
Distance from Delhi to Mukteshwar: 344 km
Mukteshwar Camp Organizers: Wildrift Adventures. Call on 9810808448 for booking and enquiries
Tips For Camping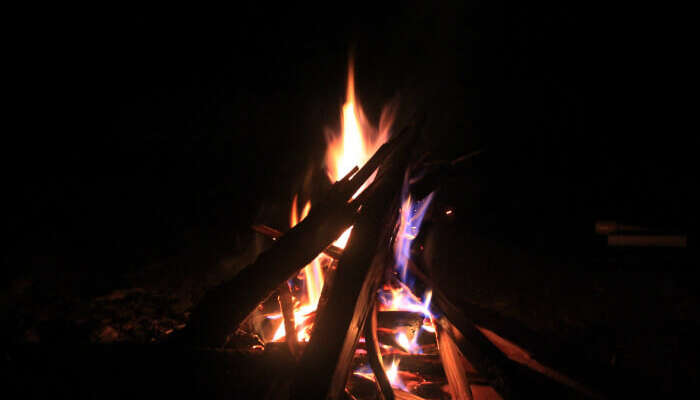 Following are the things you should keep in mind for camping near Delhi NCR for a perfect vacation.
1. If you are a first time camper, make sure to camp close to home
2. Make sure you keep sufficient clothing
3. Observe camp ground rules
4. Don't forget to carry waterproof mosquito repellents
5. Lastly, be careful with flashlights and lanterns
Further Read: 55 Hill Stations Near Delhi One Must Visit In 2022 For A Peaceful Getaway!
These camping sites, although not so famous, provide the best experience in terms of admiring the beauty of nature and enjoying the thrilling adventure sports. Since, these are located away from the bustling city, it is the perfect place to relax and get a much needed break from your busy schedules. So go out there and venture camping in the amazing forests, streams, hills, and mountains like never before. Plan your trip to Delhi for an amazing experience with your loved ones!
People Also Read:
Camping Near Hyderabad Camping Near Pune Camping Near Mumbai