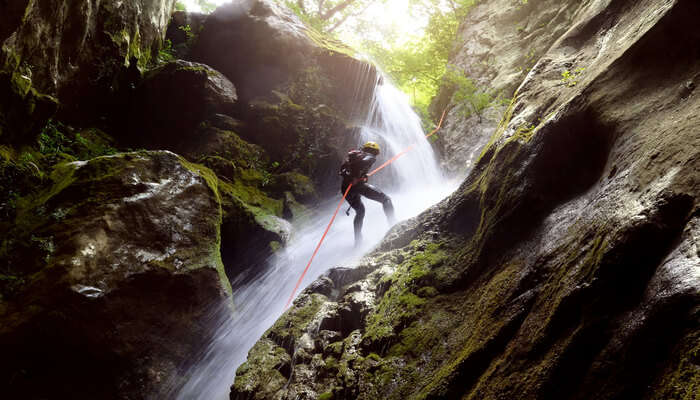 Canyoning is one of the most fun activities to do in the Swiss Alps. It involves jumping and sliding through a rushing river and is one of the coolest experiences, quite literally. It can range from secure lessons for all tight adventures for those who love thrilling experiences. Canyoning in Switzerland is rated as a unique experience and can help you discover new places of enjoyment with a new activity. Here is a list of places where you can enjoy the best canyoning in Switzerland. Check them all out and pick the ones that suit you best.
7 Best Spots For Canyoning In Switzerland
Scroll down to know the best places where you can go canyoning in this vast country and its most picturesque mountain ranges – the Swiss Alps. Find the difficulty level and location of each spot so that you know what you are up against before you take a trip.
1. La Tienda Canyon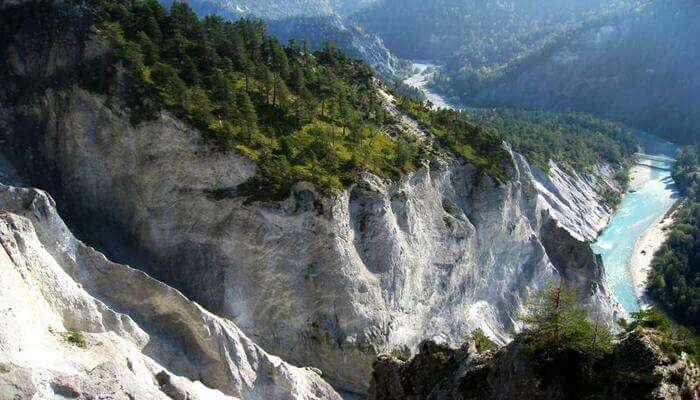 With a view of the Emanev High Mountain Pasture and many other peaks of the Swiss Alps that are visible, canyoning in La Tinda is an experience to be relished for long. Some prior experience is necessary for canyoning here since the activities are slightly challenging. They involve jumping, sliding, rappelling, and climbing, and so the person undertaking the activity must know and take full charge of what they are doing. Prior experience acts as a safety measure* so that one does not start here and get hurt.
Location: Canton of Valais, Switzerland
Difficulty Level: Intermediate
Suggested Read: 10 Fab Places To Visit In Basel On Your Switzerland Vacation
2. Interlaken Canyon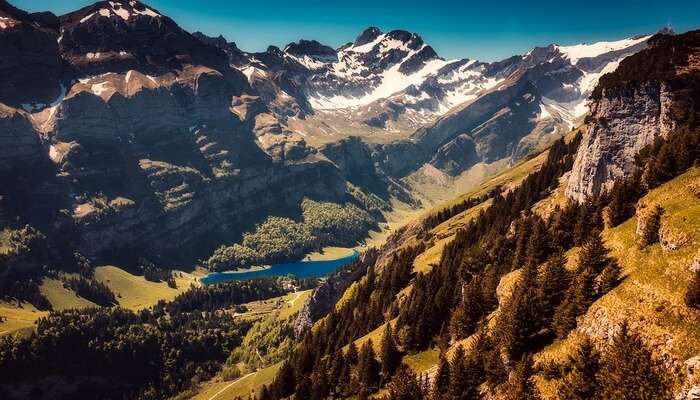 One of the most memorable and enjoyable experiences people carry are from canyoning in Interlaken, Switzerland. One can explore the beautiful hidden gorges here with the possibility of sliding down a waterfall and rappelling down a cliff. Impressive canyons and mesmerizing natural beauty are what make canyoning here so popular. As the capital of canyoning, Interlaken provides a little something fun for all kinds of people.
Location: Interlaken, Switzerland
Difficulty Level: Easy to Intermediate
Suggested Read: 10 Interlaken Restaurants Serving The Most Delicious Food In Switzerland
3. Triage Canyon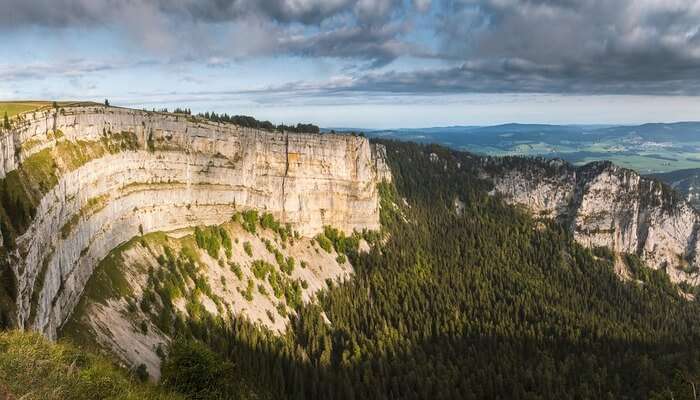 Located in the tranquility of the countryside, this canyon is fun and challenging but requires some prior experience to undertake the slides, jumps, and rappels here. It is one of the most exciting places to go to for canyoning in Switzerland. There is a bed of rocks under which there is sparkling water in the deep gorge and is one of the most popular reasons for people to come here.
Location: Canton of Valais, Switzerland
Difficulty Level: Intermediate
Suggested Read: 10 Unique Museums In Switzerland That Walk You Through History Of Humanity
4. Ticino Canyons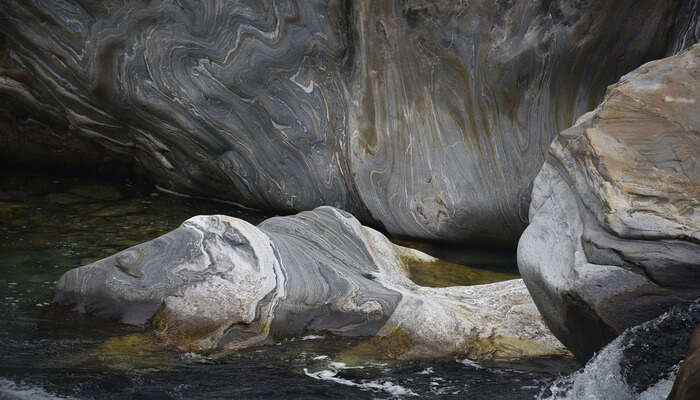 When it comes to thrill or firsts of adventures, one* needs to be careful of their choices. But for this activity, you can always look forward to canyoning in Ticino, Switzerland. Ticino has famous white-walled, emerald water canyons that are one of the most spectacular ones to enjoy when considering canyoning in Switzerland. One needs to be in excellent physical condition to do this activity but needn't be too experienced.
Location: Ticino, Switzerland
Difficulty Level: Easy
Suggested Read: 8 Enticing Festivals In Switzerland For Mirth And Merriment
5. Chili Schlieren Canyon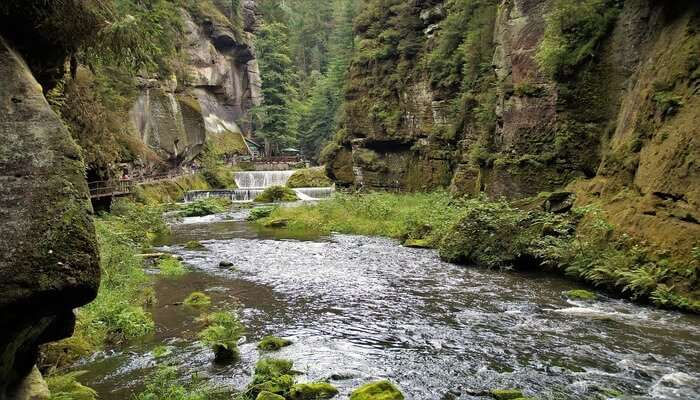 With a little complicated layout, canyoning here involves swimming, sliding, jumping, running, and abseiling, which is to say that this is a thrilling experience. Lake Lucerne and Mount Pilatus can be seen beautifully, offering you a mesmerizing scene and lure you to this special place full of adventurous canyoning. Due to the complexity, some prior experience is preferred.
Location: Canton of Bern, Switzerland
Difficulty Level: Intermediate
Suggested Read: Saxon Switzerland National Park: Your Wilderness Guide!
6. La Salanfe Canyon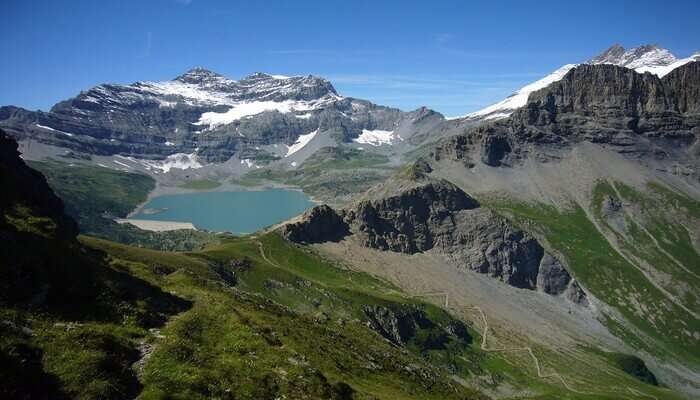 Calm and soothing sight of the water and mountains all around help you enjoy canyoning even more, and La Salanfe is the perfect place for that. The Alps majestically fall in the backdrop and add to the picturesque beauty here with the wilderness. The jumps, slides, rappels, and descents have a famous rope bridge over them as well and add to the thrill and adventure of the raw beauty available here that helps in relaxation and enjoyment.
Location: Canton of Valais, Switzerland
Difficulty Level: Easy to Intermediate
Suggested Read: A Guide To Switzerland In March Tailor Made For You
7. Geneva Canyons

To enjoy canyoning the most, one should be able to see the Swiss Alps in all their glory with the lakes, mountains, waterfalls, forests, and gorges. One of the biggest perks of canyoning in Geneva, Switzerland, is that it is close to both Lake Geneva and Morges. This makes it one of the most beautiful canyoning experiences in Switzerland. You need to be physically fit for canyoning here, but that's about all the conditions you need to meet for getting started here.
Location: Geneva, Switzerland
Difficulty Level: Easy to Difficult
Further Read: 10 Street Foods In Switzerland: Pamper Your Gastronomic Craving
Now that you are aware where all you can go for an action-packed stint of canyoning in Australia, which one would you pick? But before you answer that, make sure you book yourself and your amigos an awesome-sauce and thrilling vacation in Switzerland so that you do not miss out on the fun of canyoning in this country as well as engaging in other exciting activities that it has to offer.
Disclaimer: TravelTriangle claims no credit for images featured on our blog site unless otherwise noted. All visual content is copyrighted to its respectful owners. We try to link back to original sources whenever possible. If you own rights to any of the images, and do not wish them to appear on TravelTriangle, please contact us and they will be promptly removed. We believe in providing proper attribution to the original author, artist or photographer.
Frequently Asked Questions About Canyoning In Switzerland
What is the best time for canyoning in Switzerland?

Winter months are intolerable due to the freezing climate of the country and way too much snow for it to be plausible or safe for canyoning. May to September is the best period for canyoning in Switzerland. The weather at this time is the warmest, and because the chances of snowfall are minimal, it allows space and time for more fun and worry-free canyoning experience.

Why is canyoning popular in Switzerland?

With the natural beauty that surrounds all the canyons in Switzerland, it makes for a perfect tourist spot for people who want to relax and unwind as well as for those who want to indulge in these adventures. Beautiful lakes and gorges are complementary to dramatic twists and turns and offer breathtaking views during sliding and jumping.

What should one follow while booking a canyoning package in Switzerland?

The most important factors for booking a package are the choice of place, the difficulty level, the inclusions given, time taken, reviews, and location. If you are a beginner, you will find it extremely difficult to do the activities demanding supervision and experience. So, book only a certified and experienced agent for a safe and budget-friendly canyoning experience.
---