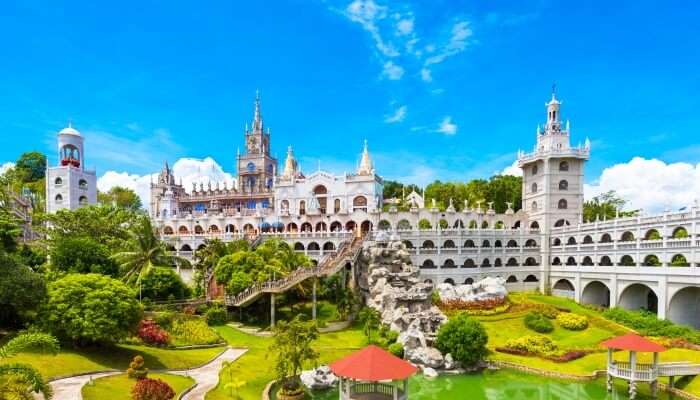 A trip to Cebu in August is beneficial in many ways. Despite the little rain and grey skies, the weather is just perfect to tour through the city and witness some of the major attractions around. The city of the Philippines has a lot of sights, events, and attractions in store for its tourists during this month. Let's see the complete travel guide to Cebu for the month of August.
Best Time To Visit Cebu
It is usually said that the best time to visit the city of Cebu is in winters. However, if you want to see some lesser crowd and enjoy a beautiful getaway in the pleasant weather, then monsoon would do the magic for you. Hence, we advise you to pack up your bags with some light, colorful clothes and have a taste of the Cebu weather in August 2022.
Why You Should Visit Cebu In August

It reflects the rich Philippine heritage.
The 10th largest mall in the world stands here.
The lesser crowd will make your trip hassle-free.
The churches in Cebu are worth taking a look at.
How To Reach Cebu
The one and the only way to reach Cebu is by Airways. Mactan-Cebu International Airport is the main serving airport in the crown city of the Philippines.
Places To Visit In Cebu
Cebu has a bucketful of breathtaking viewpoints and must-visit spots for its tourists. Here, find out the best places to visit while you enjoy your Cebu holidays in August.
1. Simala Shrine Church

This majestic church in Cebu is also popular as Cebu's Castle Church. A very pristine spot for tourists, the Simala Shrine church is huge in size and is embellished with first-class architecture. Just a few hours drive from the city, this breathtaking spot is definitely worth giving a visit to. Also, the church's wondrous events take place throughout the year and invite a large number of people here.
Location: Marian Hills, Sibonga, Cebu, Philippines
Opening hours: 8 AM – 8 PM (12 PM – 3:30 PM on Sundays)
Must Read: 9 Indian Restaurants In Cebu That Are Topping The Culinary Charts In 2022
2. 10,000 Roses Cafe Cebu

Situated at the end of Cordova Tourism Center, 10,000 roses cafe is surrounded by an oceanic view. Designed and owned by Miguel Cho, this cafe in Cebu has a romantic ambiance with over 10,000 LED roses artificially planted in the open space. The 3 feet tall roses are seen dancing in the sea breeze by the daylight and sparkling under the night sky. The delicious food and the panoramic views of Cebu Island are a real treat for the eyes.
Location: Day-as Barangay Rd, Cordova, Cebu, Philippines
Opening hours: 11 AM – 11 PM
Entrance fee: (INR 26.98
Suggested Read: 8 Fascinating Things To Do In Manila To Savor The Best Of Philippines' Culture
3. Magellan's Cross

A historical and famous landmark at the center of Cebu City, Magellan's Cross is a church that represents a cross established by Portuguese and Spanish explorers back in the year 1521. The ceiling of the beautiful church represents a display of the landing of Magellan in Cebu. The attraction is s must-visit while visiting Cebu in August.
Location: P. Burgos St, Cebu City, Cebu, Philippines
Opening hours: 8 AM – 6 PM
Suggested Read: Cebu Nightlife: 10 Bars And Nightclubs For Party Lovers To Barge In After Dark!
Things To Do In Cebu In August
While you give a visit to the city of Cebu, remember to try on some amazing activities in different places around the city and make the most out of your tour.
1. Icon Bar – Experience The Nightlife

If you are one of those people who loves to taste the nightlife and enjoy high-spirited parties, then you must visit the Icon Bar in Cebu. Be welcomed by the huge disco ball in the Icon Bar and get lost through the lively crowd that surrounds you. In the pleasant mid-night weather of Cebu, take a tour through this bar.
Location: 22 F. Cabahug St, Cebu City, Cebu, Philippines
Opening hours: 9 PM – 6 AM
Suggested Read: Best Cebu Resorts: 15 Cozy Properties To Explore This Colonial City Like A Local
2. Sm Seaside City – Go On A Shopping Spree

The 10th largest shopping mall in the world stands tall in Cebu, with a variety of shops where you can purchase everything from clothes to electronics. While in Cebu, allow yourself to shop through the colorful shopping complexes and eat at one of the many fancy cafes and restaurants here.
Location: Corner South Coastal Road and Mambaling Extension, Cebu City 6000, Philippines
Suggested Read: 15 Places To Visit In Cebu For Thrill Seekers & History Buffs
3. Feast On The Sumptuous Street Food

The delicious street food mixed with the pleasant weather of August is a perfect combination if you choose to roam around the streets of Cebu and feast on the delicious food. At every other corner of the city, you will come across an eatery which serves the best Philippine cuisine. The spicy and exotic flavors before a sweet dessert is a must-try for every foodie who visits Cebu. You will see for yourself why August is the best time to visit Cebu.
Suggested Read: A Shopaholic's Guide To Shopping in Philippines
Tips For Visiting Cebu In August
Here, find some tips which will help you in your Cebu in August 2022 trip.
Be informed about the weather forecast and rain schedule before stepping out in the city
Make sure you carry umbrellas and raincoats while stepping out
Pack light clothes for your trip to beat the humidity.
While going to the religious sights, make sure you wear full-length clothes.
Further Read: 10 Things To Do In Cebu That'll Make You Nostalgic The Moment You Leave The City
This was the comprehensive travel guide to visit Cebu in August and have an amazing holiday in the Philippines. Make notes of everything mentioned above and share your travel experiences with us once you return from your trip to this beautiful Philippines city.
People Also Read