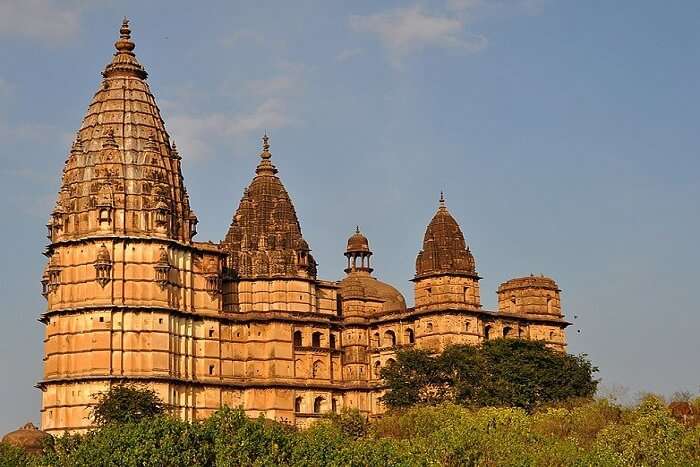 With a rapid recognition of beautiful historic places in Madhya Pradesh for the UNESCO sites list, this state is growing even more popular amongst the tourists who wish to explore the unique side of the country's past. One such place that you ought not miss is the grand Chaturbhuj temple that leaves you in great awe with just one look. Not only does the fine work of architecture worth admiring, this place also has famous legends associated that you must know more about before your visit.
So, while you're still trying to make up your mind about your next adventure in this state, scroll down to know all about this temple.
About Chaturbhuj Temple

Chaturbhuj temple, Khajuraho built by King Madhukar was completed during the period of 1558 and 1573. This famous temples marks an important time in the history of Orchha. Even though this temple has the idol of Lord Vishnu inside, it was originally meant to have Lord Rama as per the legend which states the dream of Rani Ganeshkuwari, king's wife. It is also said that Lord Vishnu's idol with four hands is the reason why this temple is called as 'Chaturbhuj'. With so many tourists visiting this temple every year, the platform made of stone and the six spires with varying heights adorning the entire temple complex is surely worth watching.
Must Read: Monsoon In Madhya Pradesh: 5 Best Places To Visit In The 'Heart Of India' In 2022
Best Time To Visit Madhya Pradesh

Madhya Pradesh is the perfect place to explore historical gems and stunning views of the country. However, an ideal time to visit the same is during the winter season as around the summer season, it becomes difficult to tour various places with vast grounds. You can surely visit the temple from October till late March to be accompanied by a pleasant weather on your trip.
Suggested Read: 10 Best Places To Visit In Madhya Pradesh In Summer For A Soothing Trip
Places To Visit Around The Temple

It is indeed true that the entire Orchha town is lined up with several historical structures as well as ancient temples that add more value to the legends and tales of great significance to the country. You can opt for a day trip to places like Raja Mahal, Lakshmi temple, Orchha Fort and Jahangir Mahal if you wish to see the best of this land when you're planning to visit Chaturbhuj temple, Orchha.
Suggested Read: 10 Honeymoon Places In Madhya Pradesh Every Couple Should Visit
How To Reach The Temple

The nearest airport is Khajuraho airport which is located at a distance of 170 kms. You can hire a cab or board a bus to reach the temple. The closest railhead to the temple is at Jhansi and from there you can board another train to get down at Orchha. You can also board any bus from the major cities of India as this place is well connected through roads. This is one of the cheapest ways to reach the temple. However, it is also more time consuming, and hence you can evaluate your travel options based on the budget.
Further Read: 20 Enchanting Tourist Places Near Indore To Experience The Magic Of Madhya Pradesh
There can be no other place when it comes to storing such architectural brilliance in one place like Madhya Pradesh. This is one of the reasons why this state is also called as the heart of the country. So, when are you planning a fun packed vacation to Madhya Pradesh? Make sure you tag your loved ones along for a perfect experience in this paradise.
People Also read