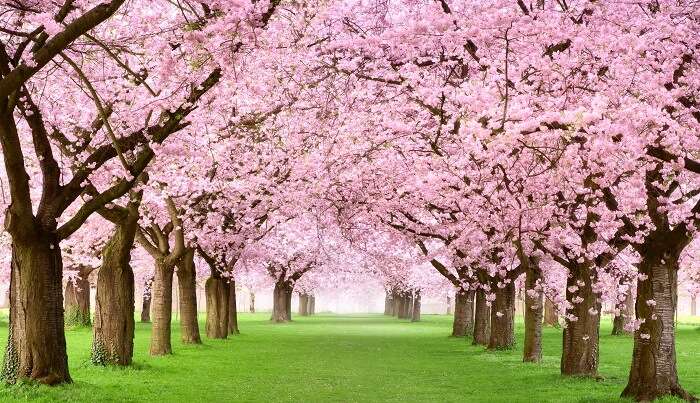 You no longer have to fly to Japan, or DC to revive your senses with the fragrance of fresh cherry blossoms as Shillong is all set to host the 5th edition of the Cherry Blossom Festival 2022 very soon.
If you are attending this Cherry Blossom In India for the first time, get prepared to be allured by the beauty of the pink cherry blossom trees lined at The India Cherry Blossom Festival in Shillong being held between 14th-17th November. The trees look more beautiful in the night sky and the whole area is beautifully lit. To keep you entertained, there are also a lot of other shows being hosted this time like music gigs, and also a beauty pageant. A lot of stalls will also fill up the space showcasing different cuisines, arts, wine and crafts of the region. Savor the taste of authentic Korean barbeque and dance to the rhythm of K-pop music this year.
Suggested Read: 31 Popular Places To Visit In Shillong In 2022 That Will Treat Your Eyes, And Calm Your Soul

Celebrating the beautiful natural phenomenon, Shillong is all set to get dressed in pink. With unique autumn flowering of the Himalayan Cherry Blossoms, nature lovers are waiting to visit this major event. Meghalaya is famous for its biodiversity that features large numbers of flora and fauna. The city hosts 5538 species of flora and 3,128 species of flowering plants and about 18 % of India's flowers and as autumn is the season of beautiful cherry blossoms, the city is engrossed in the preparations.
Further Read: 10 Best Hotels And Resorts In Shillong That Will Entice You To Explore Meghalaya!
So, save the dates this November and head to this amazing Cherry Blossom Festival in India to savor a taste of Japan! Also, plan a trip with TravelTriangle to the northeast and enjoy the festival in its full bloom.